Description
The Amaran 100x LED Lamp is a small but powerful continuous light lamp with variable color temperature. The Amaran 100x is a combination of excellent light quality, guaranteed by an industry leader, with a price affordable even for young artists just starting out.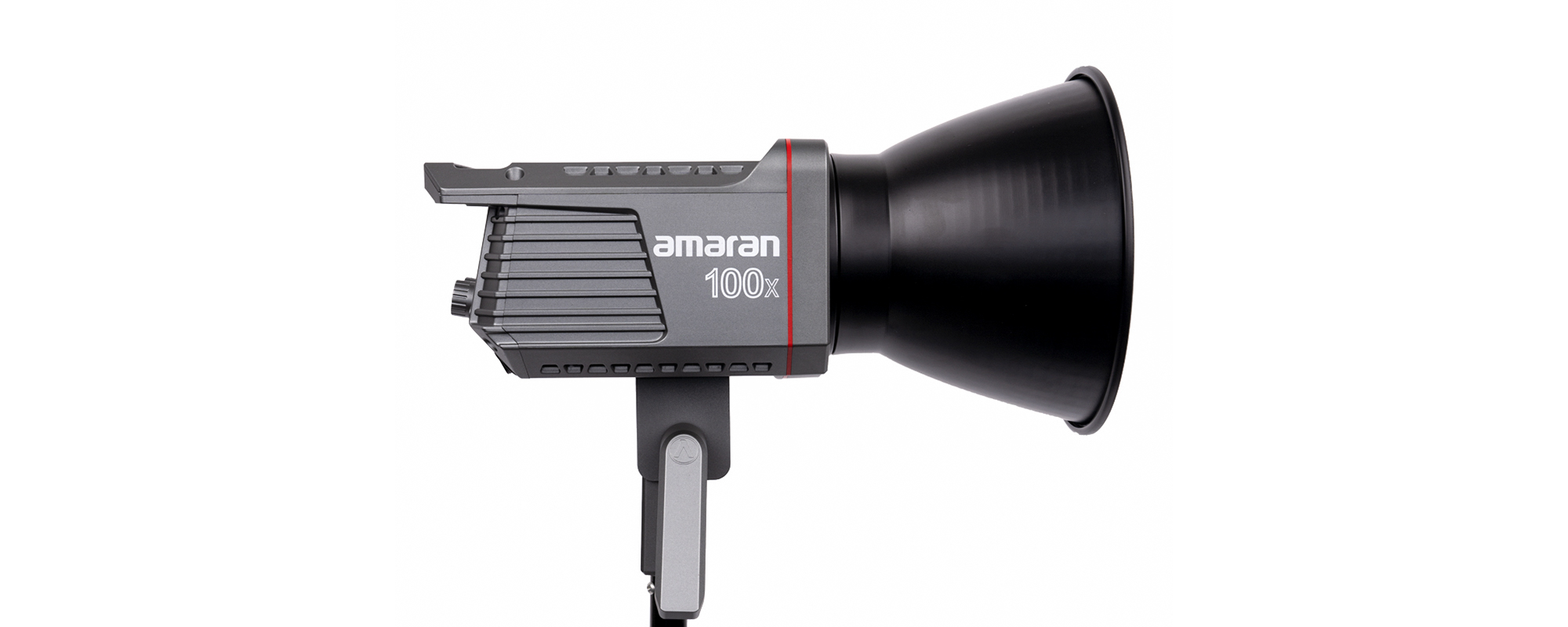 Amaran – a new brand from Aputure
The Amaran brand is a proposal prepared by the respected lighting equipment manufacturer for filmmakers and photographers with smaller budgets. Amaran products offer key features and excellent quality known from Aputure's position. Proper selection of components and materials used allowed to significantly reduce production costs, so the lamps will not ruin your wallet.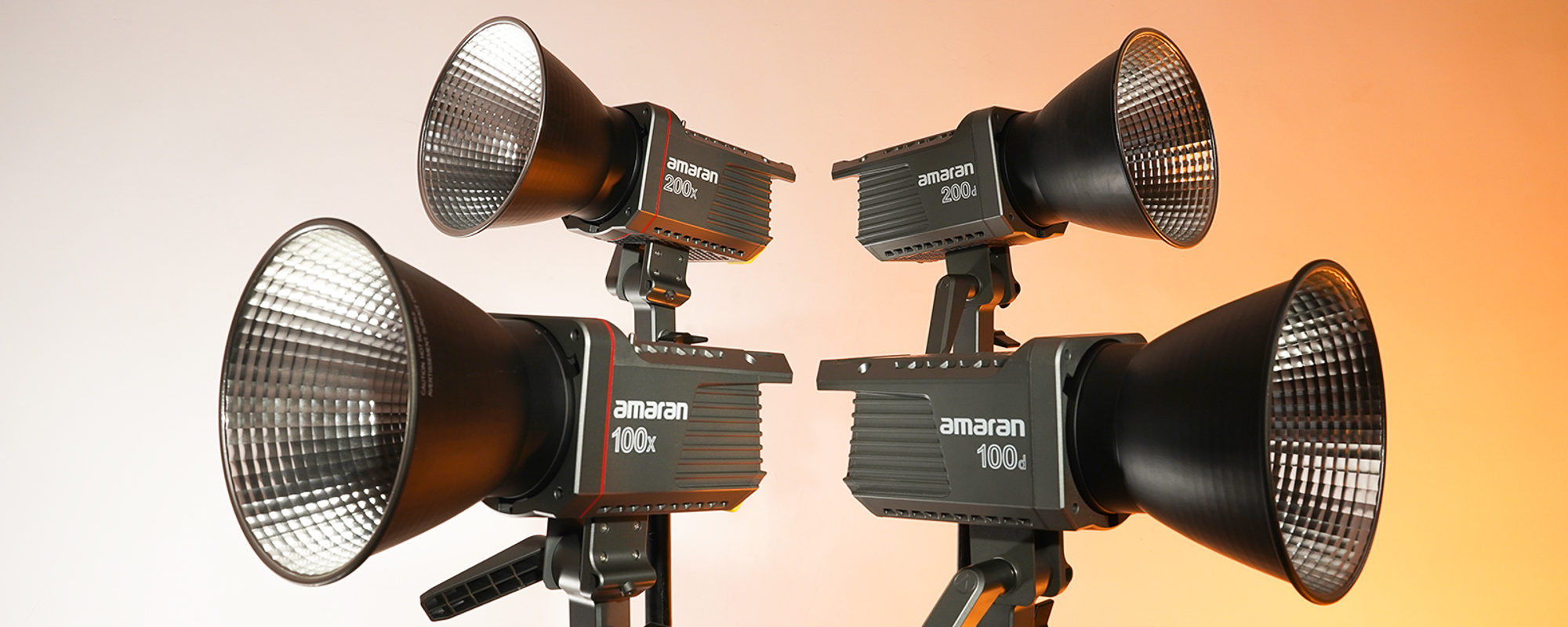 Creative options
The Amaran 100x is a two-color COB LED spotlight lamp with a stunning light output. The lamp offers flexible intensity and color temperature control, as well as wireless control from a mobile app. Amaran 100x will find its use among creators of multimedia content in the broad sense, especially product and portrait photographers, as well as filmmakers.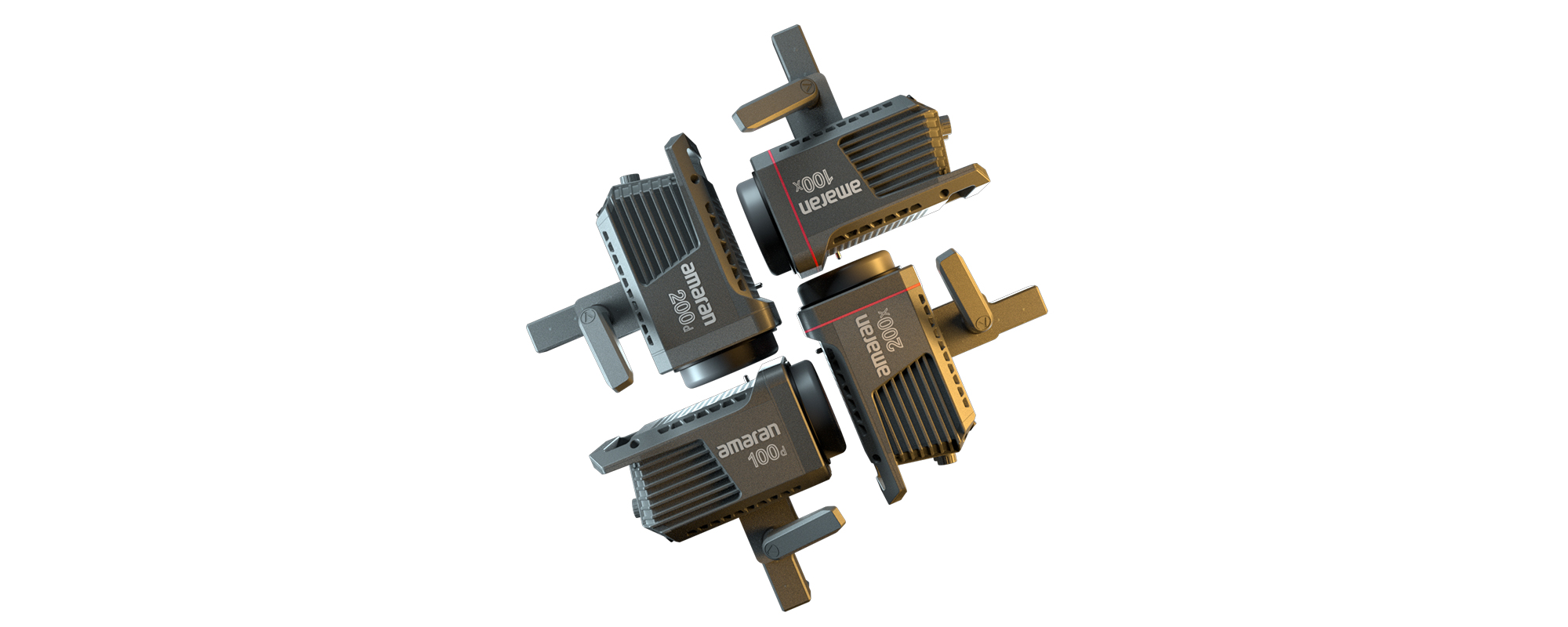 Power and performance
The heart of the Amaran 100x is a 100W COB LED. Using the latest technology allows, at a much lower cost, to generate light with a power comparable to that produced by a traditional 400 watt tungsten bulb! Such enormous power requires precise control. The Amaran 100x gives you that control, allowing you to precisely adjust the brightness from 0 to 100% so you can always choose the right degree of illumination for your scene.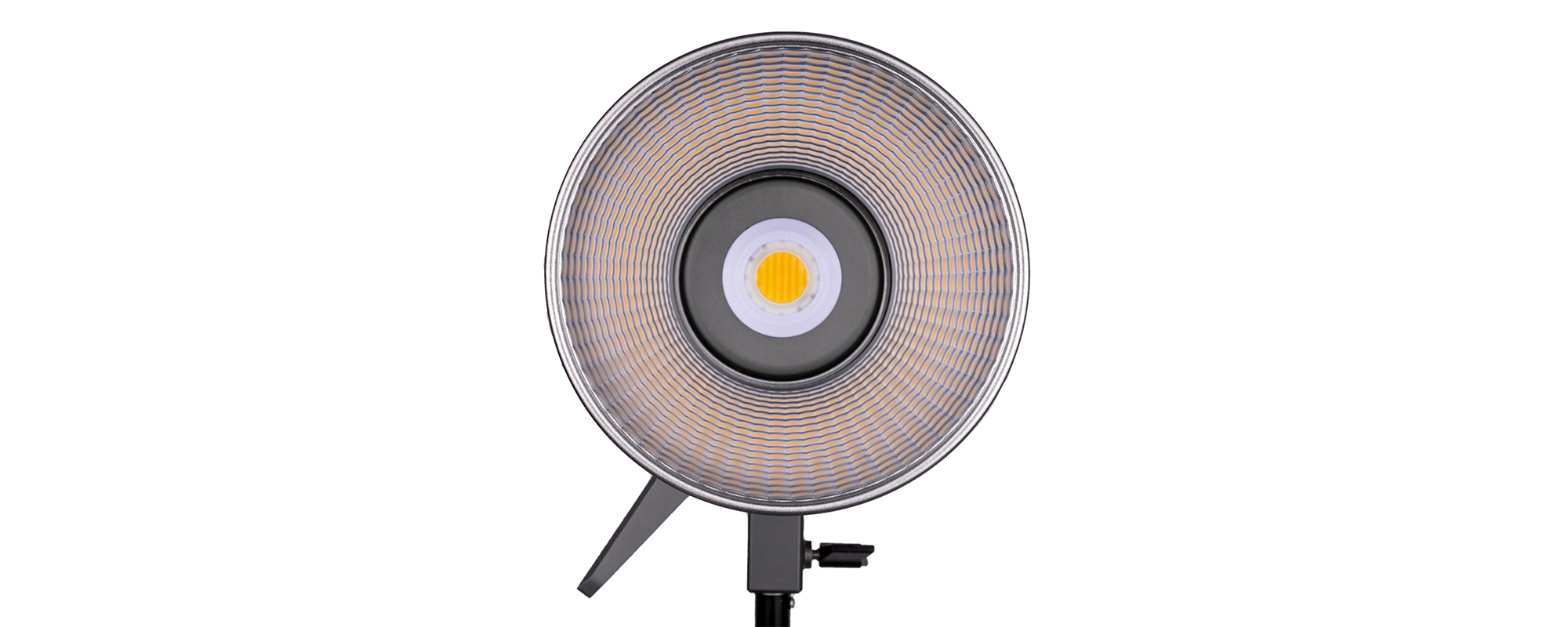 Flexible color range
In real life, the color of found, natural light and that emitted by various devices is rarely the same. On a single set, creatives can find hundreds of different color temperatures that are difficult to match. A classic lamp is much warmer than a winter sky or fluorescent light. The Amaran 100x solves this problem with a simple turn of a knob that allows you to set any color temperature between 2700 K – 6500 K. This flexibility ensures not only easy color matching, but also the ability to be creative about what colors a selected scene looks best in.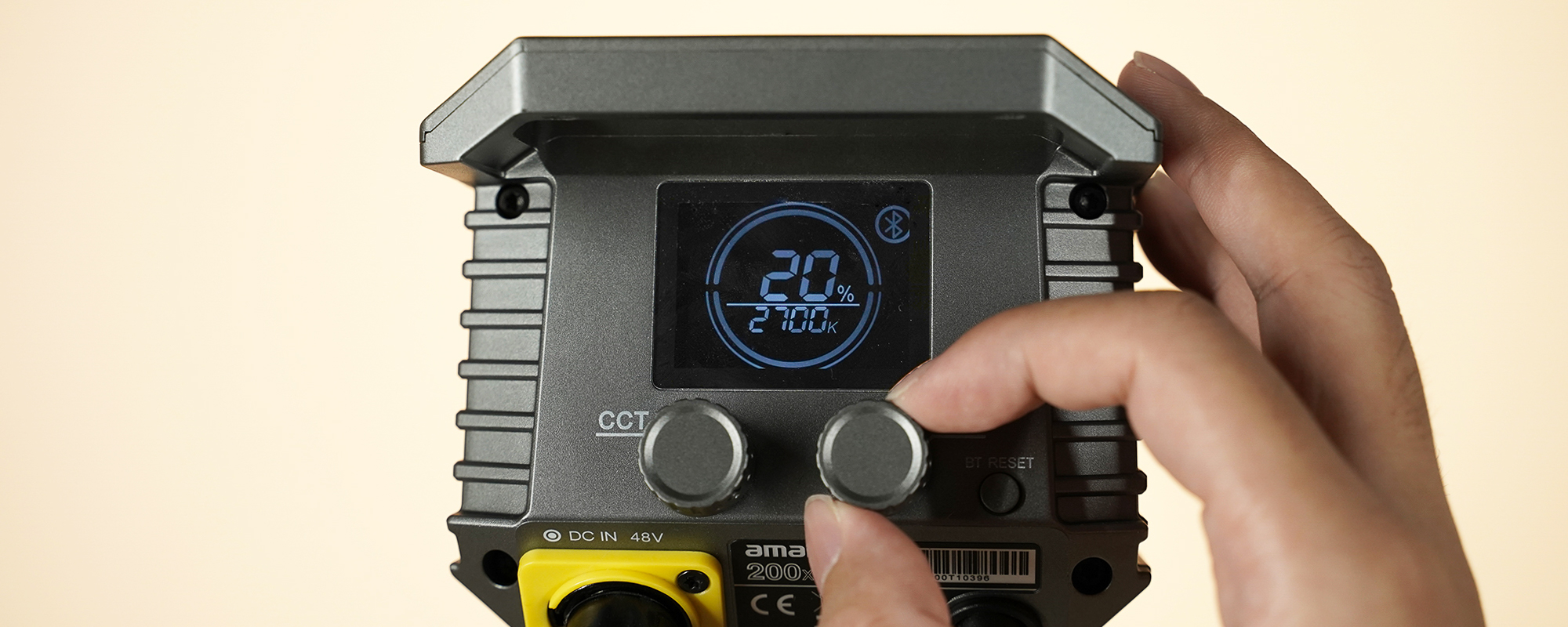 Precise color reproduction
Many of us don't realize how much influence light has on the colors we see. Low-quality light can bring out unpleasant shades of green or magenta, making the models being filmed not look favorable. On the other hand, good lighting has the power to bring out the brightest colors found in nature. Receiving a score of 95+ (out of 100) on the TLCI test, the Amaran series of lights ensures that you will see beautiful, realistic colors on each of your productions.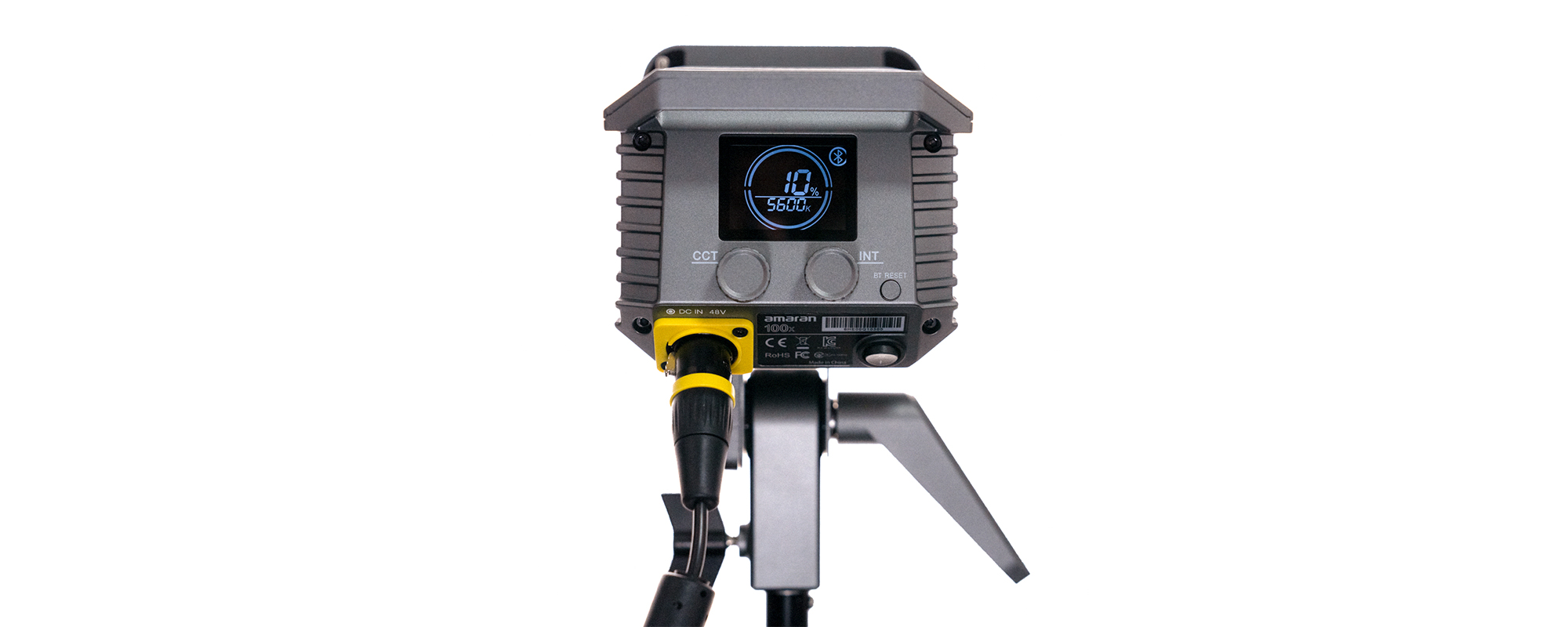 Hollywood special effects
The LED 100x lamp has nine predefined effect modes: Paparazzi, Fireworks, Faulty Bulb, Lightning, TV, Breath, Fire, Strobe, Explosion – all effects with adjustable color temperature. With them you can easily enhance your movie shots with Hollywood-like effects.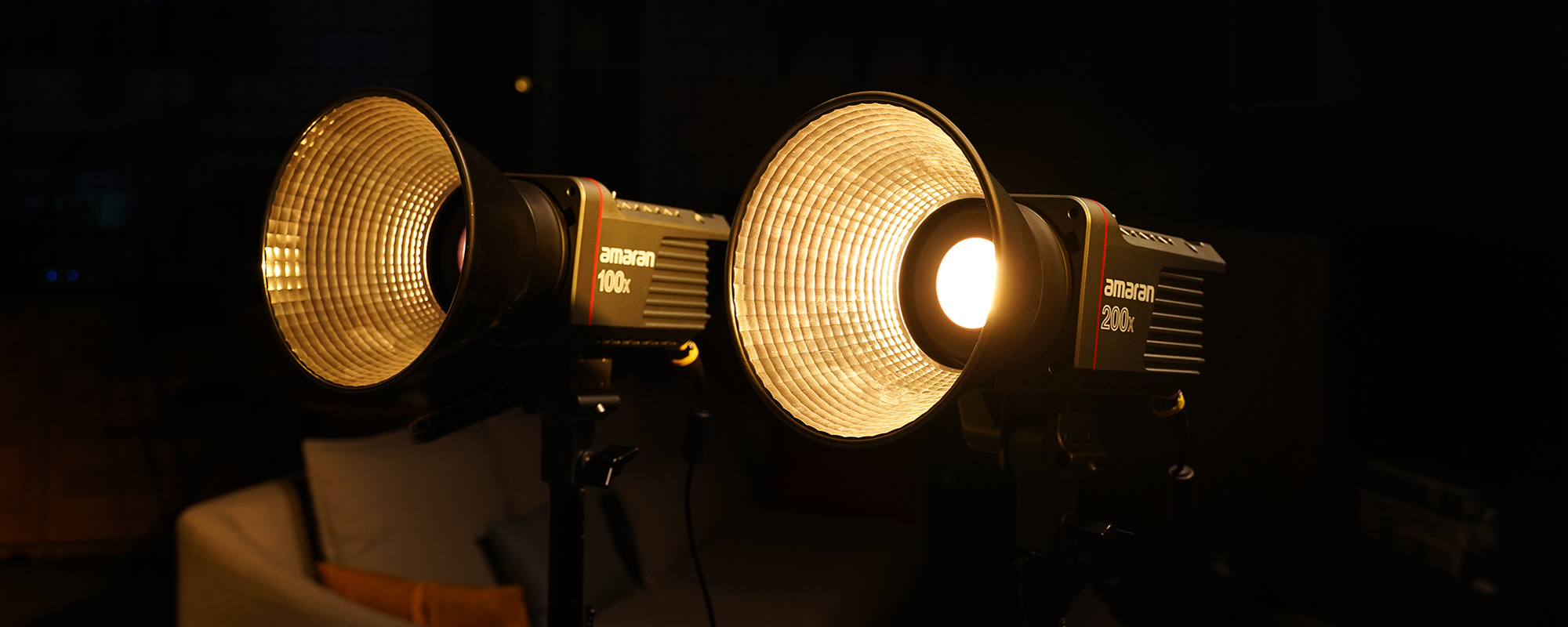 Sidus Link Ecosystem
Sidus Link is a technology that opens up a world of immense possibilities for filmmakers. It allows you to control one or more groups of Amaran and Aputure lamps from your smartphone. Using the application, you have access to all lamp functions, you can also change the standard settings and save your own. Lamps in the Sidus Mesh system automatically connect with each other, extending the range of the entire network, thus giving you great freedom when creating lighting.
Compact design
In today's fast-paced world, every second matters. The Amaran line of lamps has been designed in accordance with this thought. The compact design and low weight make them one of the easiest to adjust and transport studio lamps on the market. The Amaran 100x can be easily mounted on a tall tripod or boom, and after the session is over, it can be packed into a regular photo bag. The built-in fan ensures proper cooling even during long hours of work. The total weight of the set is less than 3.5 kg!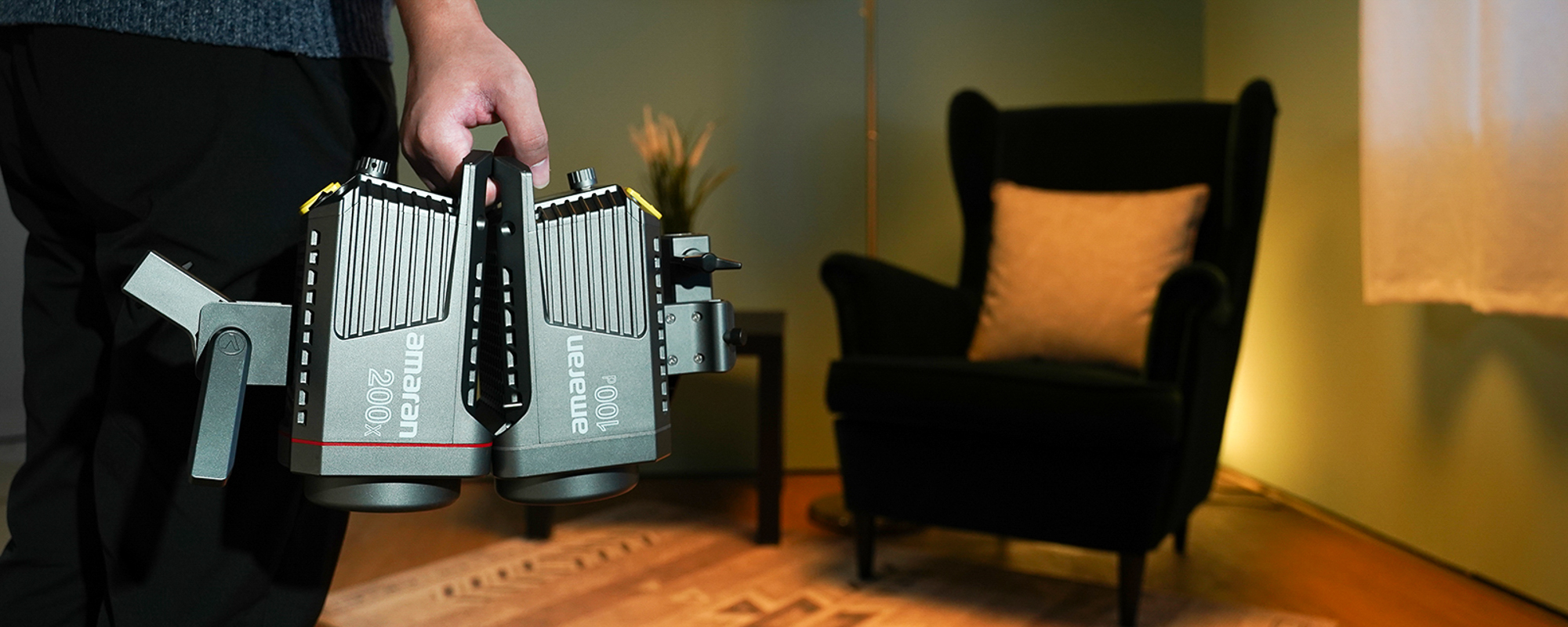 Universal accessory mounts
The Amaran 100x uses the mounting of the popular Bowens system, which will allow you to customize the nature of the light for any scene. Whether you need soft, delicate lighting, or sharp, pinpoint lighting, the Bowens system has the right modifier for you. You can use Aputure products such as Light Dome, Fresnel, Lantern or many other manufacturers' products on the market. The Amaran 100x also features a built-in umbrella holder for even greater compatibility and mobility.
Specifications
model: Amaran 100x
light color temperature: 2700 K – 6500 K
CRI: 95+
TLCI: 95+
CQS: 92
SSI (D56): 74
TLCI (Tungsten): 92
CQS: 92
SSI (D56): 74
SSI (Tungsten): 86
Lighting angle:

105° – without modifier
55° – with canopy

Modifier mounts:

Bowens mount
umbrella mount

flashlight mounting system on tripod: 16 mm pin (5/8″ – Baby Pin)
maximum power consumption: 130 W
maximum output power: 100 W
power supply: mains
Grid power supply: AC 100 ~ 240 V, 50 / 60 Hz
allowed operating temperature: – 20°C ~ 45°C
cooling: active cooling system
control:

lamp control panel
SidusLink application (Bluetooth, SidusMesh™)

Bluetooth network range: up to 80 m
display type: LCD
software update: via Sidus Link application
cable length:

3 m (cable from power supply to lamp)
1.5 m (cable from power adapter to power socket)

Power plug type: 3-pin XLR connector
Weight:

1410 g – lamp
487 g – power supply

Dimensions:

20.7 x 11.5 x 11.5 cm – lamp without mounting adapter
20.7 x 15.4 x 11.5 cm – lamp with mounting adapter
31.3 x 18.5 x 24.7 cm – lamp with mounting adapter and reflector
13.7 x 5.9 x 3.4 cm – power adapter
Photometry
326 cd
326 cd66 cd15 cd
Color temperature
Modifier
1 m
3 m
5 m
2700 K
no modifier (105°)
2470 lx
290 lx
110 lx
2700 K
no modifier (105°)
279 cd
229 cd
27 cd
10 cd
2700 K
reflector (55°)
22500 lx
22500 lx
2300 lx
800 lx
2700 K
reflector (55°)
2090 cd
2090 cd
214 cd
74 cd
3200 K
no modifier (105°)
3000 lx
3000 lx
350 lx
130 lx
3200 K
no modifier (105°)
no modifier (105°)
279 cd
33 cd
12 cd
3200 K
reflector (55°)
27850 lx
27850 lx
2840 lx
1000 lx
3200 K
reflector (55°)
2587 cd
2587 cd
264 cd
93 cd
4300 K
no modifier (105°)
no modifier (105°)
3510 lx
716 lx
165 lx
4300 K
no modifier (105°)
4300 K
reflector (55°)
reflector (55°)
32100 lx
6090 lx
1167 lx
4300 K
reflector (55°)
2982 cd
2982 cd
566 cd
108 cd
5600 K
no modifier (105°)
3700 lx
3700 lx
430 lx
170 lx
5600 K
no modifier (105°)
no modifier (105°)
344 cd
40 cd
40 cd
5600 K
reflector (55°)
34300 lx
34300 lx
3500 lx
3500 lx
1230 lx
1230 lx
5600 K
reflector (55°)
3187 cd
3187 cd
325 cd
114 cd
6500 K
no modifier (105°)
no modifier (105°)
3300 lx
290 lx
150 lx
6500 K
no modifier (105°)
307 cd
307 cd
36 cd
14 cd
6500 K
reflector (55°)
31100 lx
31100 lx
3150 lx
3150 lx
1100 lx
6500 K
reflector (55°)
2889 cd
2889 cd
293 cd
102 cd
Kit contents
Amaran 100x lamp
scope
power supply
power cable