Description
Aputure Infinibar PB12 is a 120 cm long RGBWW LED panel created for filmmakers, set designers and light designers. The innovative lamp will open up completely new possibilities for creating light installations. Thanks to its unique design, you can combine Aputure Infinibar family devices in hundreds of different ways. Control over the extensive light setup will be provided by the Sidus Link app. The lamp offers 96 sections of RGB "smart pixel" LEDs, providing smooth color transitions between zones (7 Pixel FX effects). The built-in rechargeable battery guarantees up to 80 minutes of operation at maximum power. The luminous arrangements you will create with the help of the Aputure Infinibar PB12 lamp will ideally find their way into music videos and commercials – as scenery or effect light, among other things.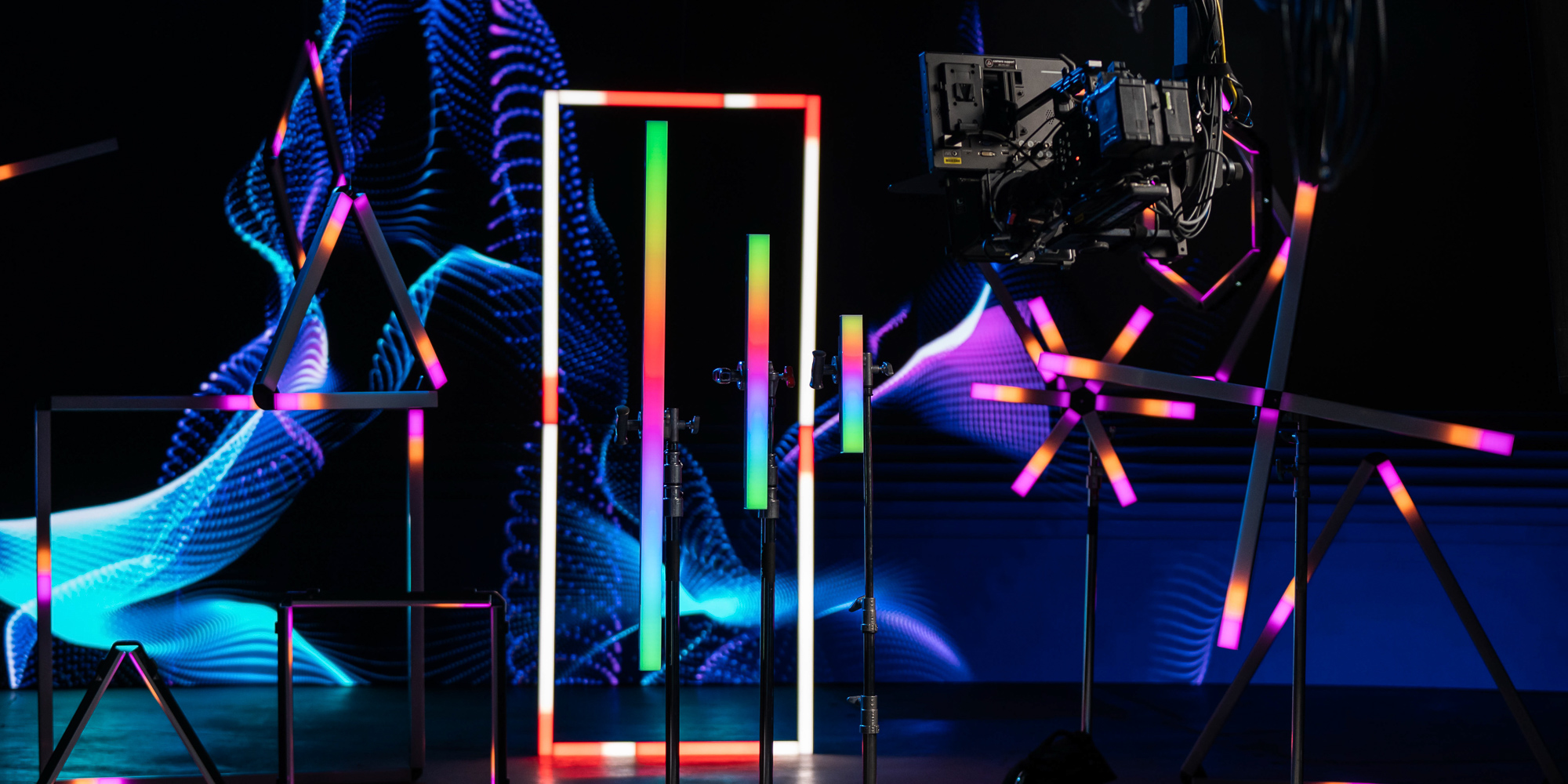 Main product features
the longest LED panel in the Aputure Infinibar product family (120 cm)
Innovative connection system with other Infinibar lamps
possibility to connect lamps at different angles on flat surfaces or create three-dimensional light structures
created with filmmakers, photographers, set designers and light designers in mind
color control within HSI and RGB color space
high CRI, TLCI, CQS and SSI ratios for excellent color reproduction
extensive color temperature adjustment range of 2000 K – 10000 K
green-magenta color correction option (G/M)
equipped with 96 sections of "smart pixel" LEDs
9 special FX effects (including police car, paparazzi, campfire, TV)
7 transition effects ("Pixel FX") between diode sections (including penetration, fire, rainbow)
Built-in 8000 mAh battery
up to 80 minutes of operation using full power
fast charging (about 2h)
remote control via the advanced Sidus Link mobile app
Sidus Mesh integration allowing you to control various Aputure lights with your smartphone or tablet
support for the LumenRadio CRMX wireless control standard
compatible with DMX standard (USB-C / DMX cable must be purchased)
includes 2 strong neodymium magnets for installation on metal surfaces
equipped with female mounting threads 3/8″ and 1/4″
in the kit you will also find: Infinibar Clamp, 48W power supply, power cable (1.5m), allen wrench, mounting adapter to connect with other Infinibar lights and carrying bag
Light installations
The Aputure Infinibar system will open up unique possibilities for you to create ambience with colored light. You can connect elongated panels together on flat surfaces or create three-dimensional constructions. Long lines, triangles, hexagons, stars – Infinibar lamps are like blocks that you can arrange in hundreds of different ways. Included with each Infinibar lamp you will find one mounting adapter that allows you to connect two panels together.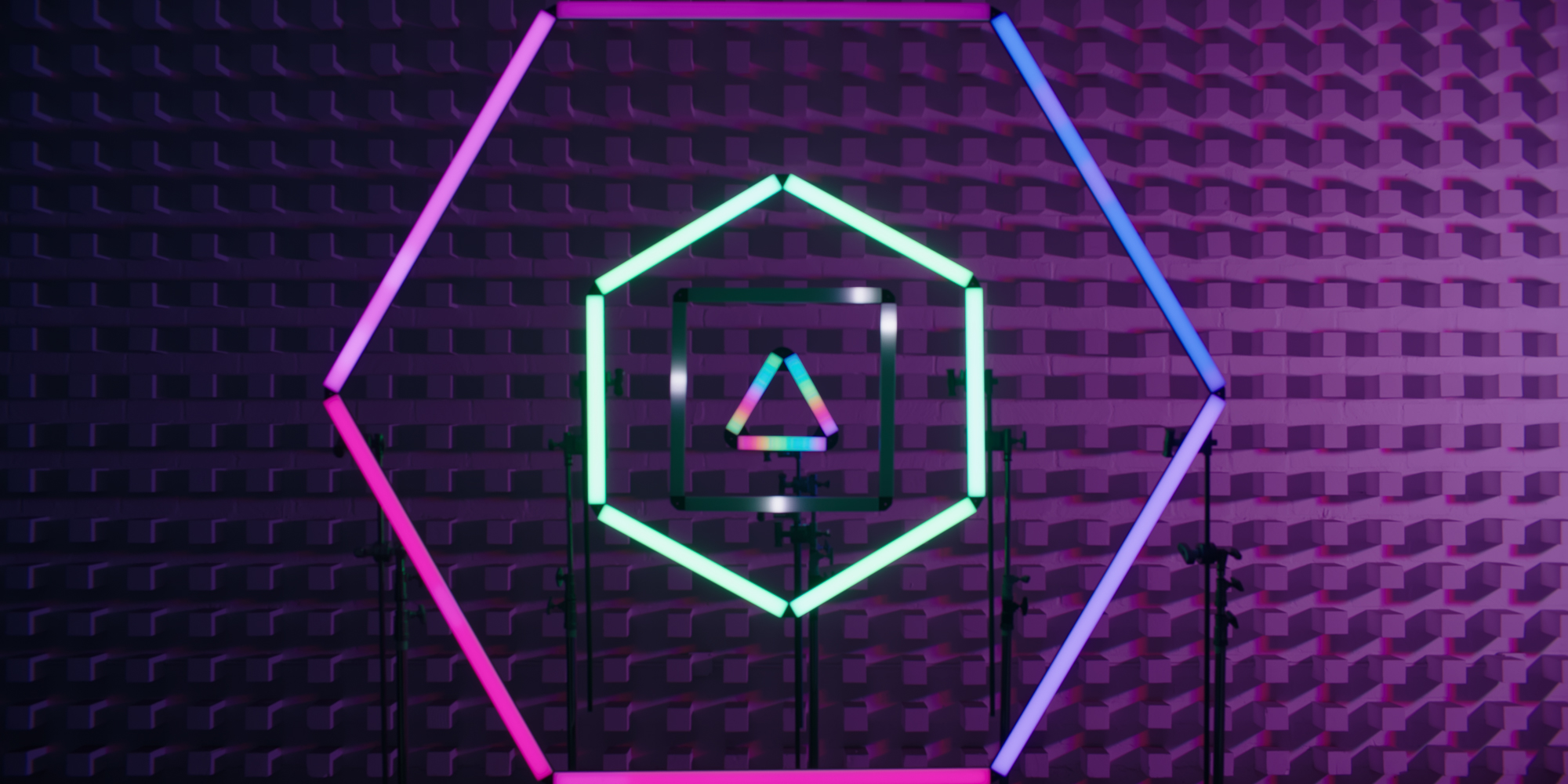 Revolutionary design
With its rectangular cross-section, elongated design and use of a special mounting system, the Infinibar series lamps can be combined in hundreds of different ways. The revolutionary design opens up completely new possibilities for stage designers and video creators to create scenes. The Aputure Infinibar PB12 LED lamp will be perfect as one of the light sources, but also as an element of stage design. Special mounting adapters will allow you to connect the panels at different angles. And when you align the lamps in a straight line, you will create a unified structure, with no visible gaps between the luminous modules.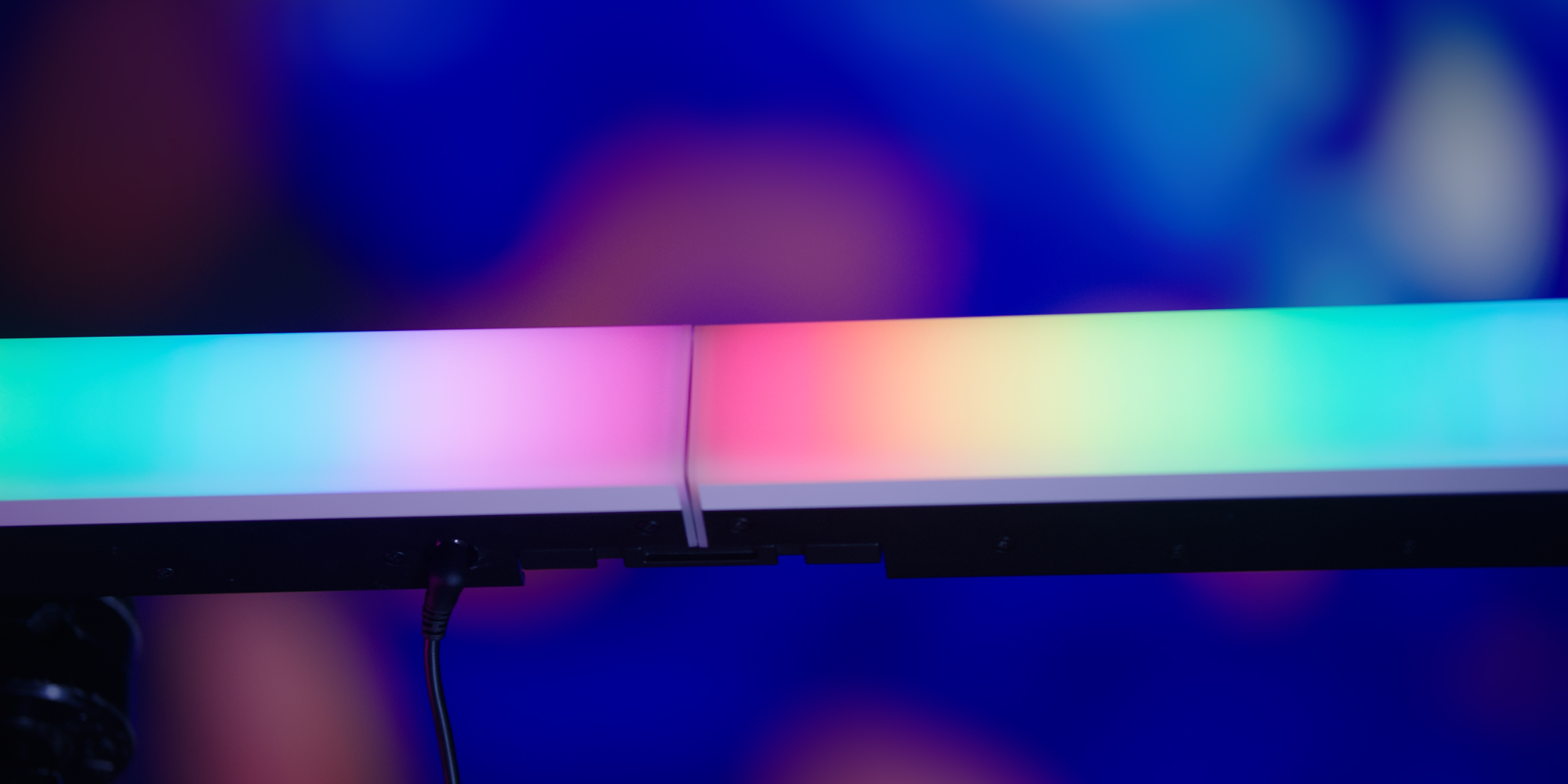 Excellent light quality
Thanks to its state-of-the-art RGBWW LED chip, the Aputure Infinibar PB12 LED lamp impresses with unparalleled color quality. The 120 cm long panel allows you to conveniently control the color of light within the HSI and RGB space. There is also a green-magenta (G/M) correction option. Precise color reproduction is confirmed by high CRI (96+), TLCI (98+), SSI Tungsten (85) and SSI D56 (74) ratings.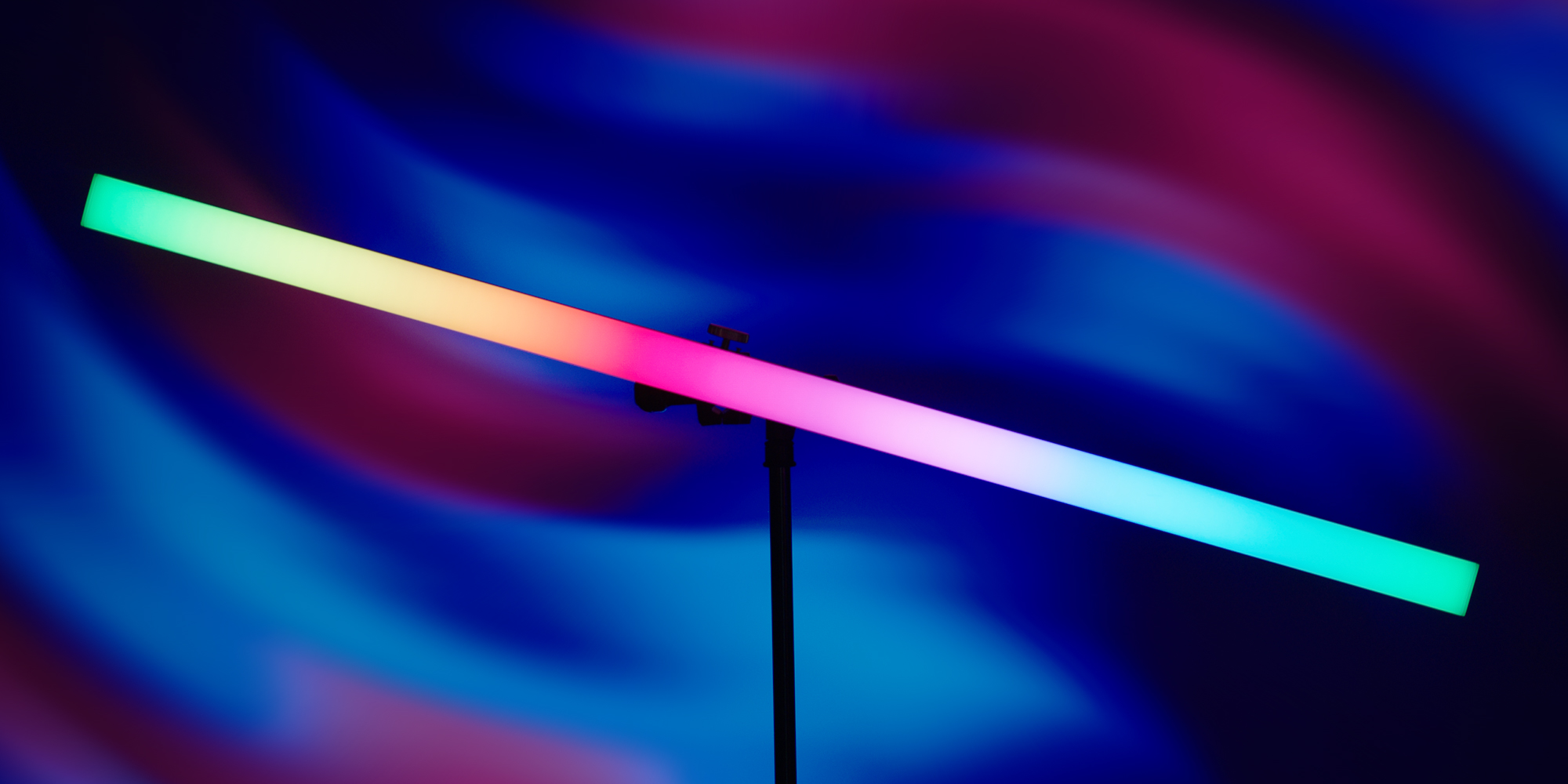 Smooth color transitions
The Aputure Infinibar PB12 lamp offers up to 96 sections of RGB "smart pixel" LEDs. Thanks to them, adjacent LED modules can shine in different colors. However, that's not all. The device also offers 7 built-in "Pixel FX" transition effects. Unique light animations, such as penetration, rainbow, fire or color cycles will allow you to show even more creativity when working on videos. If you use multiple Infinibar panels, reach for the Sidus Link app. With its help, you can control as many as 1,024 "smart pixel" sections, i.e. designs with a total length of almost 13 meters!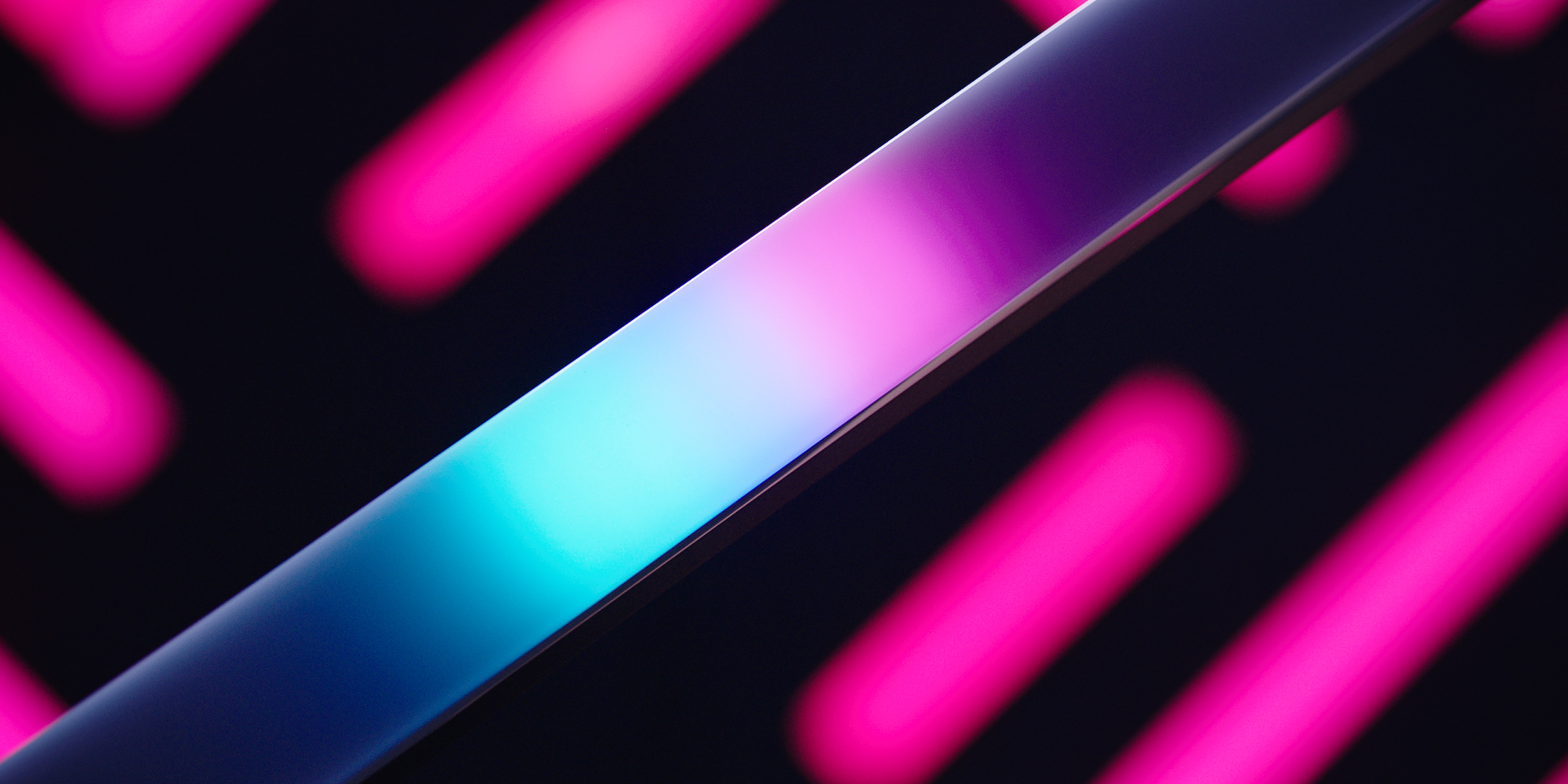 Sidus Link app
You can control the Infinibar PB12 lamp with your smartphone or tablet. Remote operation is provided by the powerful Sidus Link mobile app, which has been accompanying users of equipment from Aputure for years. It is available on Google Play and the App Store at no extra charge. Thanks to the app, the lamp can become part of a larger ecosystem of light sources. It is with its help that you will program advanced combinations of transitions, as well as personalize settings for each group of LEDs.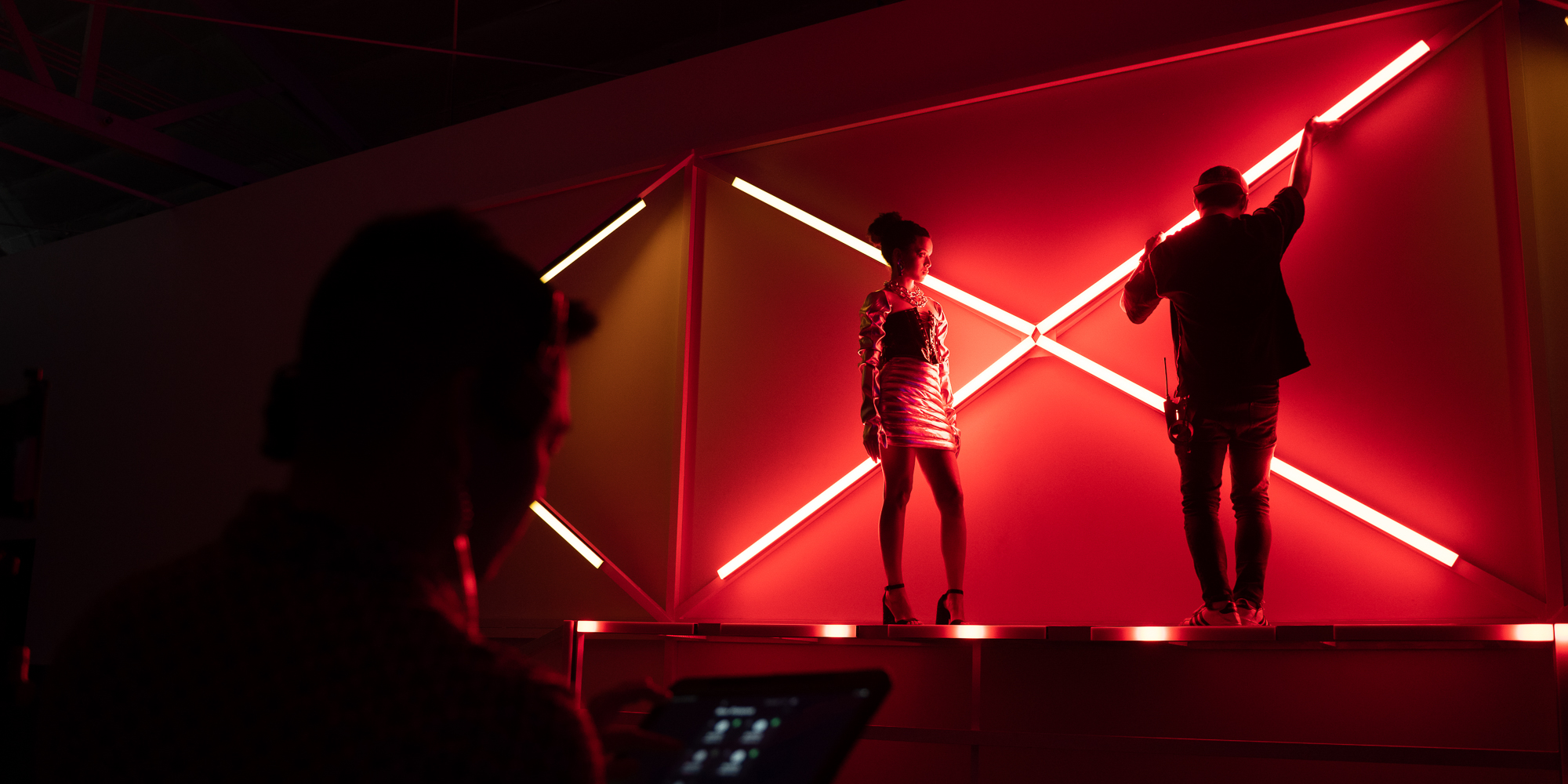 Additional control options
In addition to intuitive operation via the Sidus Link app, the Aputure Infinibar PB12 panel also offers support for the popular LumenRadio CRMX wireless control standard. This allows professionals, filmmakers and lighting technicians to remotely control lamps and individual "smart pixel" zones. The lamp is also compatible with the DMX standard.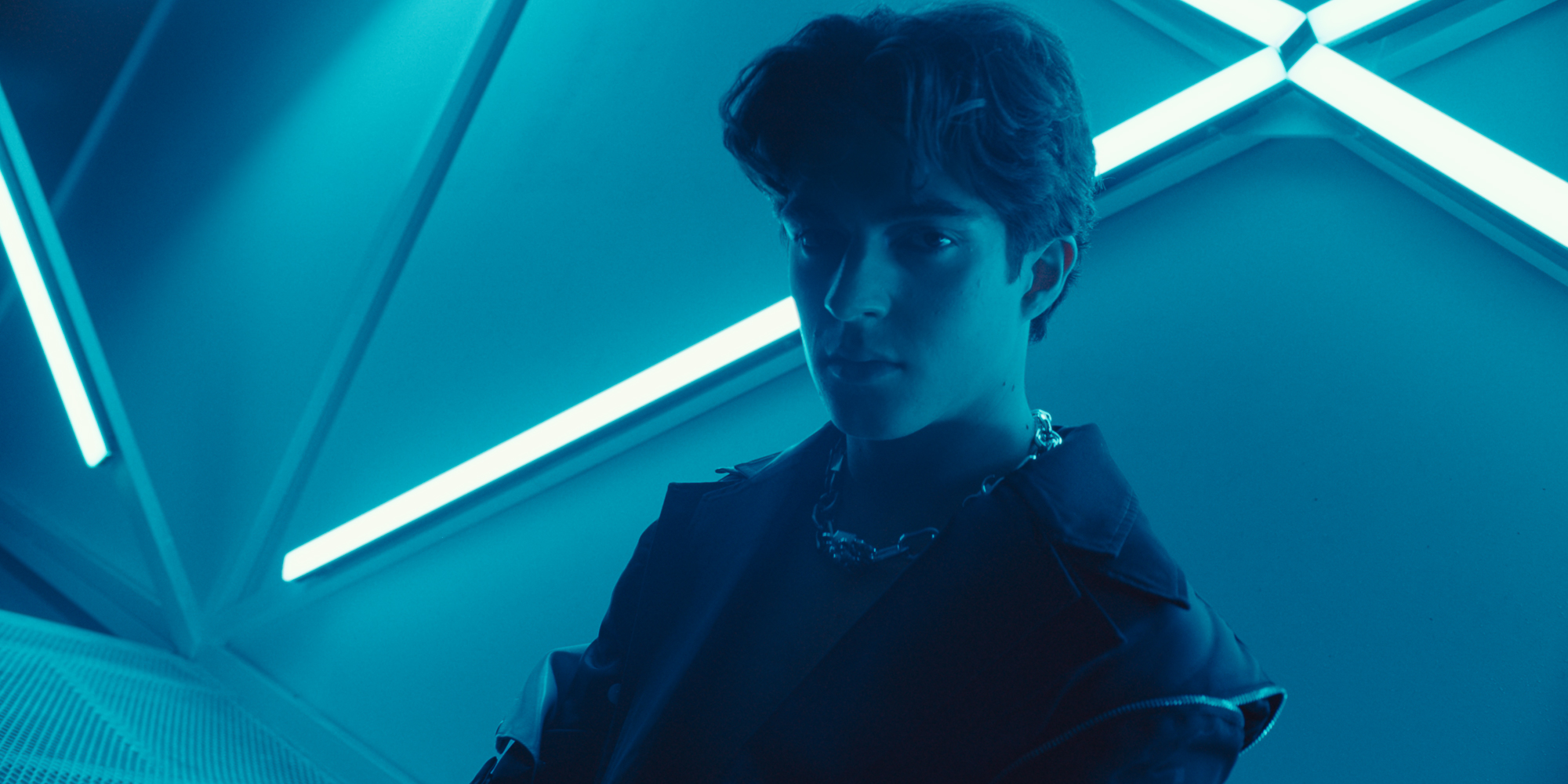 USB-C / DMX adapter MUST be purchased separately.
Adjustable color temperature
The Aputure Infinibar PB12 LED lamp allows you to adjust the color temperature of the light from 2000 K to 10000 K. Such parameters will produce light that can be warmer than that emitted by tungsten lamps and cooler than typical daylight (D55). Flexibility in the choice of color temperature will certainly facilitate your work on set and allow you to instantly adjust the parameters of the device to changing lighting conditions.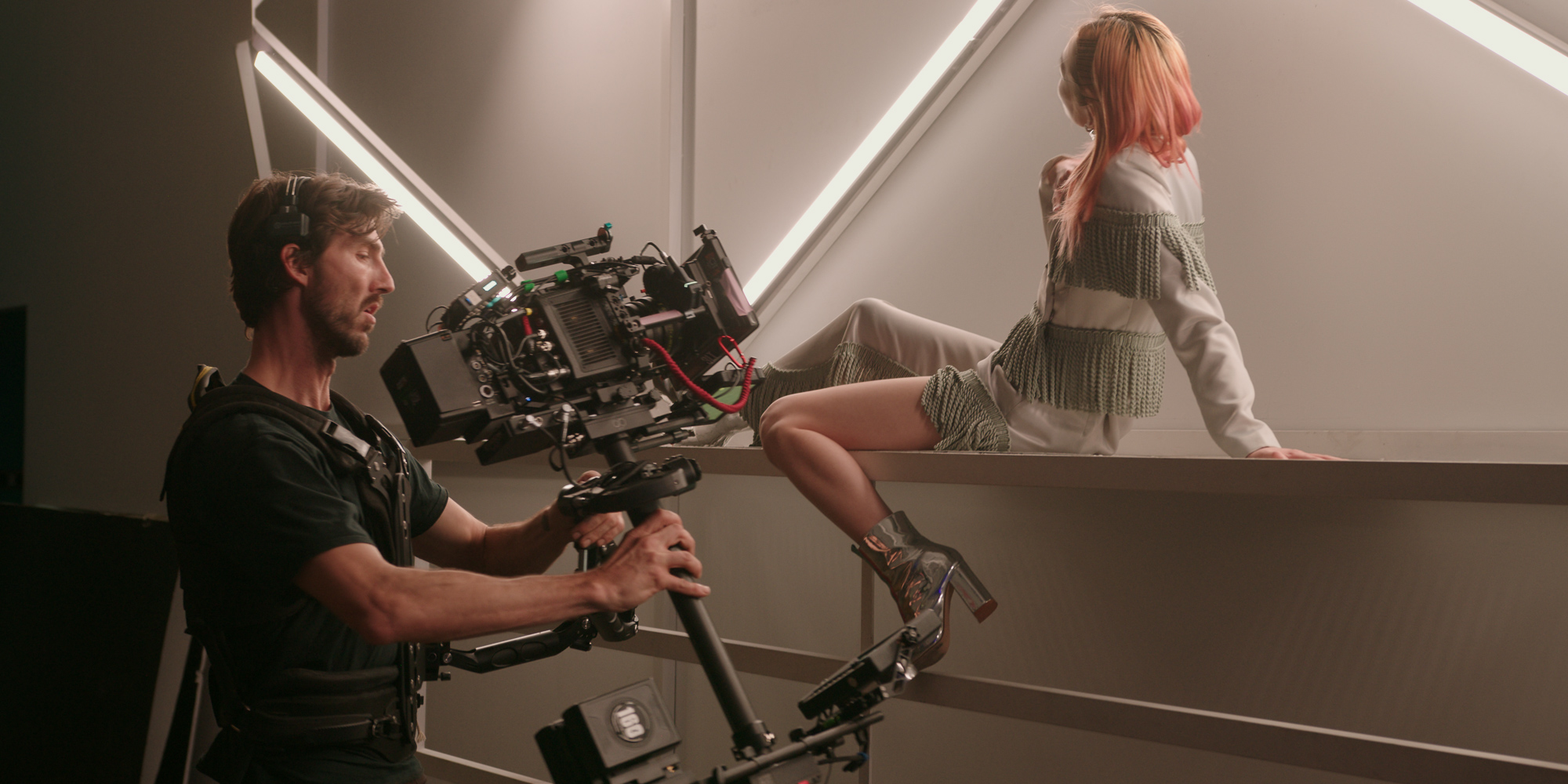 Convenient installation
The Aputure Infinibar PB12 LED lamp is great for use as part of a large lighting setup, or as a set piece in music videos or commercials. Thanks to 2 powerful neodymium magnets, you can easily connect it to metal surfaces. You will also find an Infinibar Clamp, equipped with a Baby Pin and 1/4″ thread. It takes just a few seconds to insert the accessory into the special mounting rail and connect it to your tripod or clamp.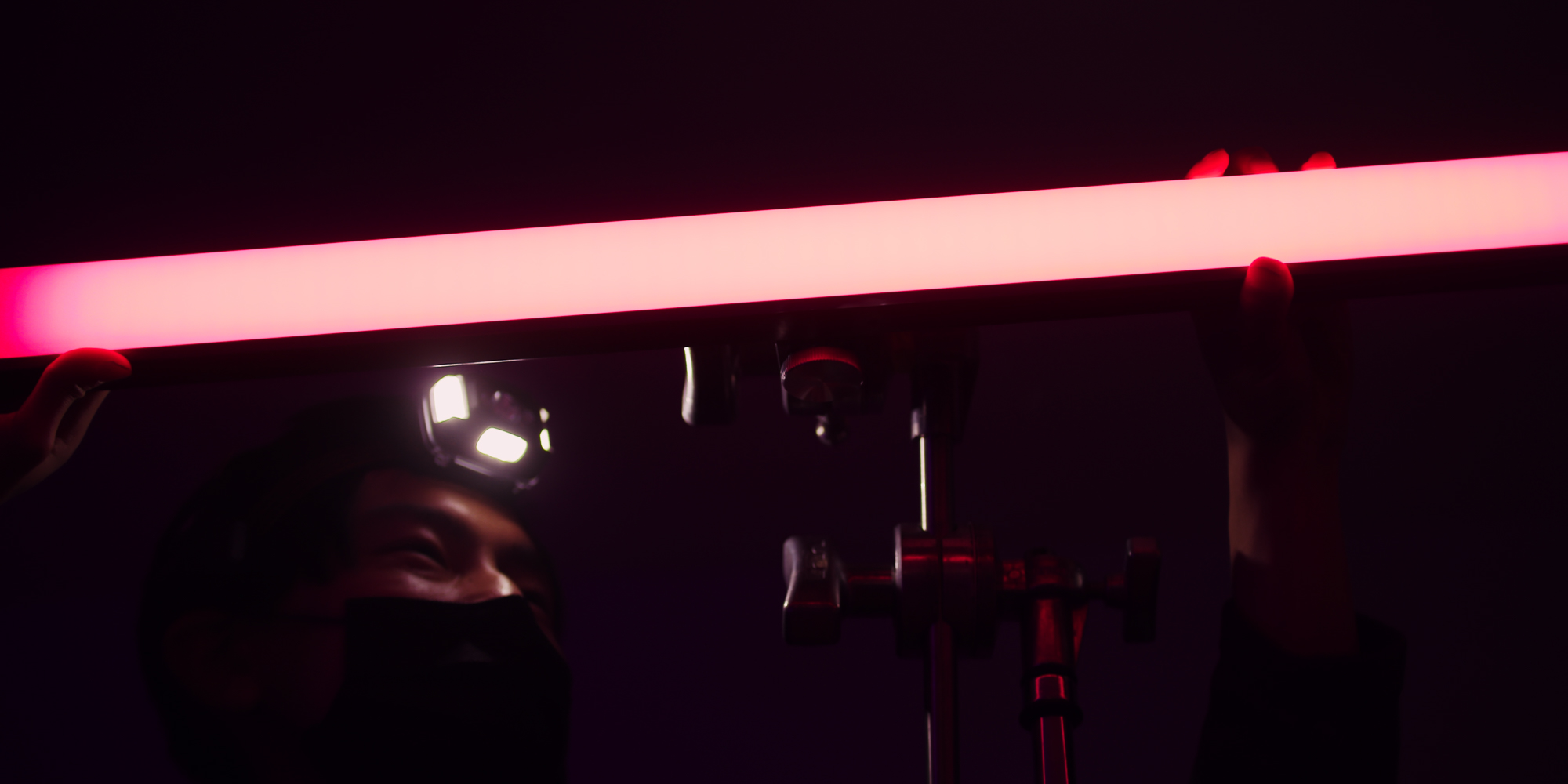 Specification
model: Aputure Infinibar PB12
Light color temperature: 2000 K – 10000 K
CRI: 96+
TLCI: 98+
CQS: 96
TM-30 RF: 94 (averaged value)
TM-30 RG: 103 (averaged value)
SSI (Tungsten): 85
SSI (D56): 74
angle of illumination: 120º
luminous flux: 2077 lm
maximum output power: 27 W
Maximum power consumption:

lamp: 36.5 W
power supply: 40 W

Operating voltage and current:

lamp: 24 V, 1.8 A
power supply: 100 – 240 V, 50 / 60 Hz, 1.5 A

rechargeable battery: 7.4 V, 8000 mAh (59.2 Wh)
operating time: about 80 minutes (using full power)
charging time: about 120 minutes (24 V/ 2.67 A)
number of sections ("pixel mapping"): 96
allowed operating temperature: -10°C – 45°C
Controls:

lamp control panel
Sidus Link application
DMX / RDM
LumenRadio CRMX

Maximum remote control range:
Tightness class: IP20
display: OLED
Software update capability:
cooling: passive
Mounting points:

Infinibar Rail
magnets
3/8 "threads
1/4″

LED life expectancy: 50000 h
estimated LED color change: 2% (after 6000 h)
certifications: CE, FCC, KC, NCC, ROHS, RCM, ICES, UKCA, PSE
Dimensions:

lamp: 120.4 x 4.5 x 4.3 cm
power supply: 12 x 5.3 x 3.2 cm
Infinibar Clamp: 12.2 x 5.5 x 4 cm
transport bag: 127.7 x 13 x 12.5 cm

Weight:

lamp: 1.96 kg
power supply: 0.49 kg
Infinibar Clamp: 0.27 kg
whole set: 2.85 kg
Content of the set
Aputure Infinibar PB12 LED lamp
Infinibar Clamp
48 watt power supply
power cable (1.5 m)
transport bag
Allen wrench
2 magnetic mounts
mounting adapter
Photometry
| CCT | 0.5 m | 1 m |
| --- | --- | --- |
| 2000 K | 975 lx | 350 lx |
| 2700 K | 1350 lx | 532 lx |
| 3200 K | 1410 lx | 542 lx |
| 4300 K | 1500 lx | 564 lx |
| 5600 K | 1600 lx | 593 lx |
| 6500 K | 1650 lx | 607 lx |
| 7500 K | 1650 lx | 617 lx |
| 10000 K | 1510 lx | 563 lx |
| Red | 227 lx | 227 lx |
| Green | 793 lx | 297 lx |
| Blue | 131 lx | 49 lx |