Description
The Light Storm LS 600c Pro is a state-of-the-art RGBWW LED lamp distinguished by its impressive levels of brightness and the ability to change the colour of the light. Among other things, the unit provides a wide range of colour temperature adjustment (2300 K – 10000 K), the ability to be powered by V-mount batteries, interoperability with modern command and control standards (including Sidus Link, LumenRadio, DMX and Art-net) and support for accessories with the Bowens mounting system. There are also 300 gel-film imitation programmes and 15 special effects. The lamp is resistant to harsh weather conditions. It will be ideal for cinematographers and lighting professionals who want versatility, durability and universal use.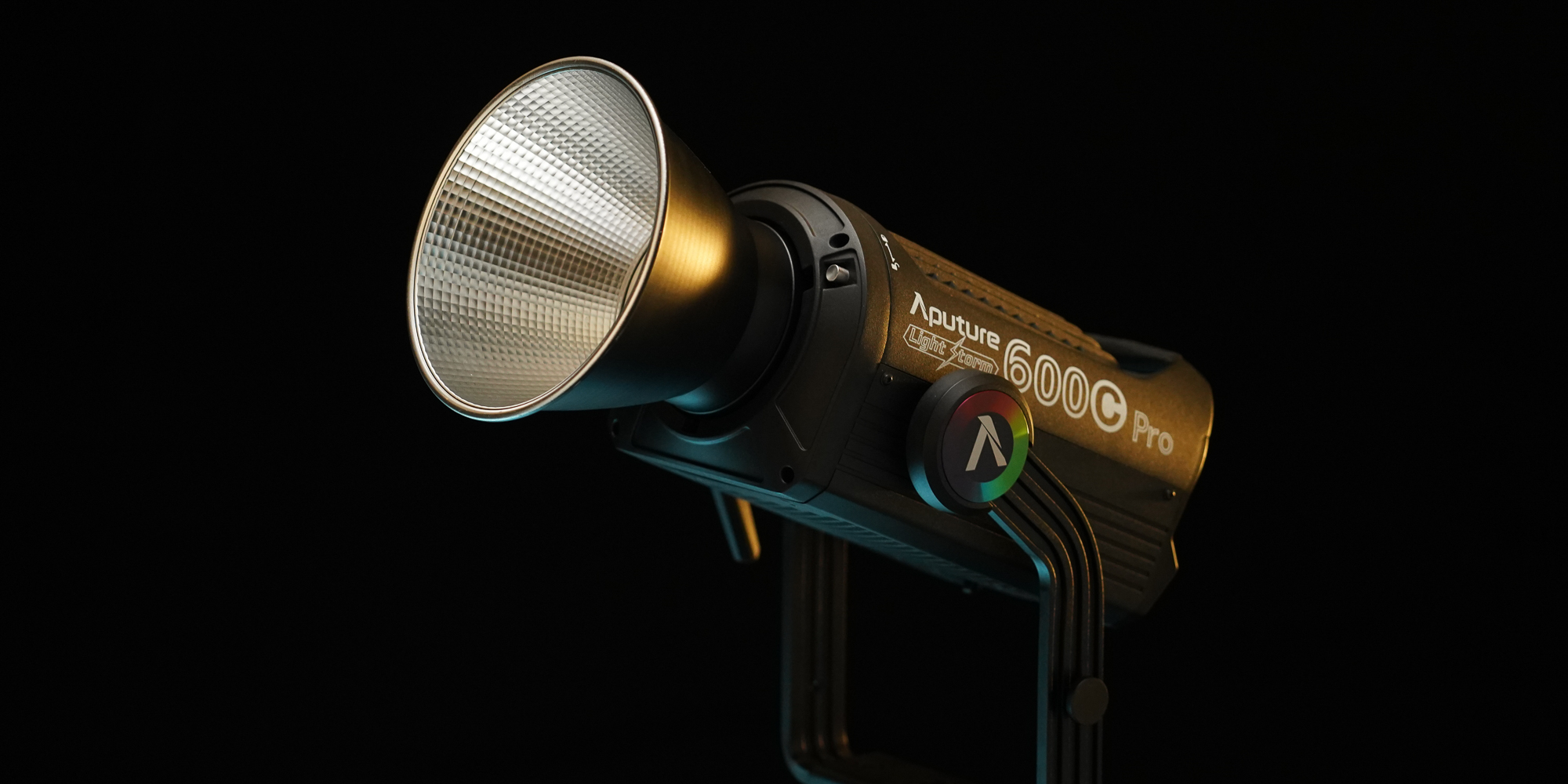 Main product features
professional RGBWW LED lamp
impressive maximum output power of 600 W
wide colour temperature control range of 2300 K – 10000 K
Wide colour temperature control range of 2300 K – 10000 K
colour control within 3 colour spaces: HSI, RGB and XY
high CRI, TLCI, CQS and SSI coefficients for excellent colour reproduction
over 300 imitation programmes for working with colour effect foils
green-magenta light colour correction option
15 built-in light effects
15 built-in lighting effects to expand the creative use of the lamp
2 V-mount sockets for convenient mounting of batteries
possibility to recharge V-mount batteries during mains operation
ergonomic Control Box controller equipped with LED screen, buttons and control knobs
intuitive interface for quick and convenient control of light parameters
alternative control and light management methods (DMX512, Sidus Link, LumenRadio CRMX, Art-net / sACN)
integration with Sidus Mesh system allowing control of various Aputure lights via smartphone or tablet
fork mount for comfortable control of the lamp position
resistant to dust, splashes and harsh weather conditions
lightning Clamp for quick mounting of the flash controller on a tripod
convenient mounting of modifiers in the popular Bowens standard
transport case equipped with wheels and telescopic handle
Magic of colours
The LS 600c Pro is Aputure's first ever RGBWW LED spotlight equipped with a Bowens mount. The tried and tested design, well known from other Light Storm models and appreciated by filmmakers around the world, has been complemented with the ability to create scenes using a rich colour palette. The RGBWW chipset used in the Aputure lamp provides significantly better results than typical RGB and RGBW LED designs. It uses the innovative 'full colour' technology known from the Nova series. It enables more than 90% of the colours in the Rec.2020 colour space to be obtained. This means more than 1 billion combinations! This model also offers more than 300 ready-made presets simulating colour gel filters.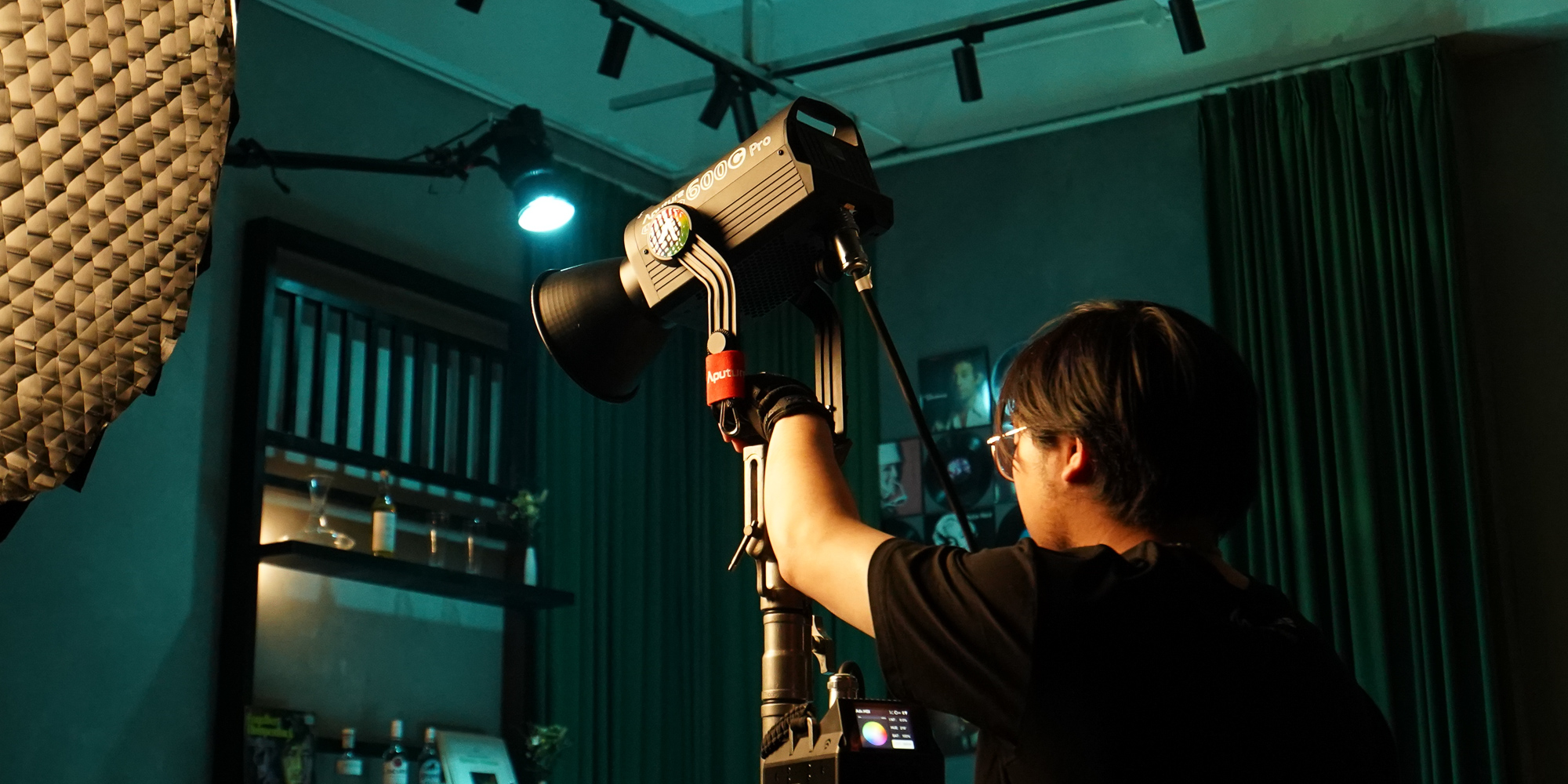 Great power
The Aputure Light Storm LS 600c Pro – V-mount is one of the most powerful lights in the brand's range. The unit combines the most innovative solutions of the flagship Nova and Light Storm series. 600 watts of maximum output combined with the included Hyper Reflector canopy will give you light (5600 K) of 5020 lux from a distance of 3 metres. This is one of the brightest colour changeable spotlight lamps you can find on the photo / video market today!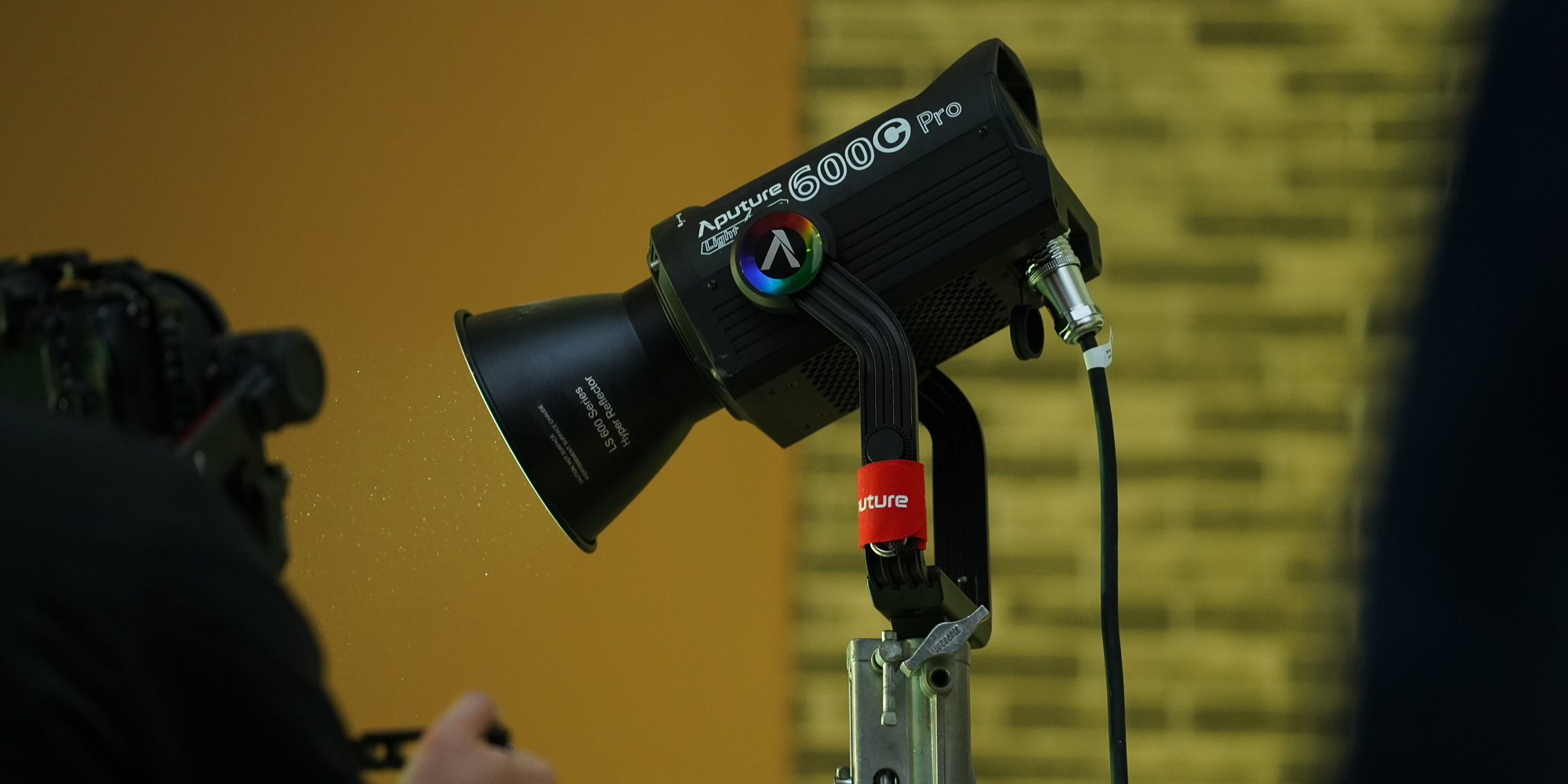 Impressive CCT adjustment range
The Light Storm LS 600c Pro – V-mount allows the colour temperature of the light to be adjusted from 2300 K to 10000 K. Such parameters will produce light that can be warmer than that emitted by tungsten lamps and cooler than typical daylight (D55). The flexibility in colour temperature selection and the green-magenta correction option definitely make it easier to work on set and adapt to changing lighting conditions.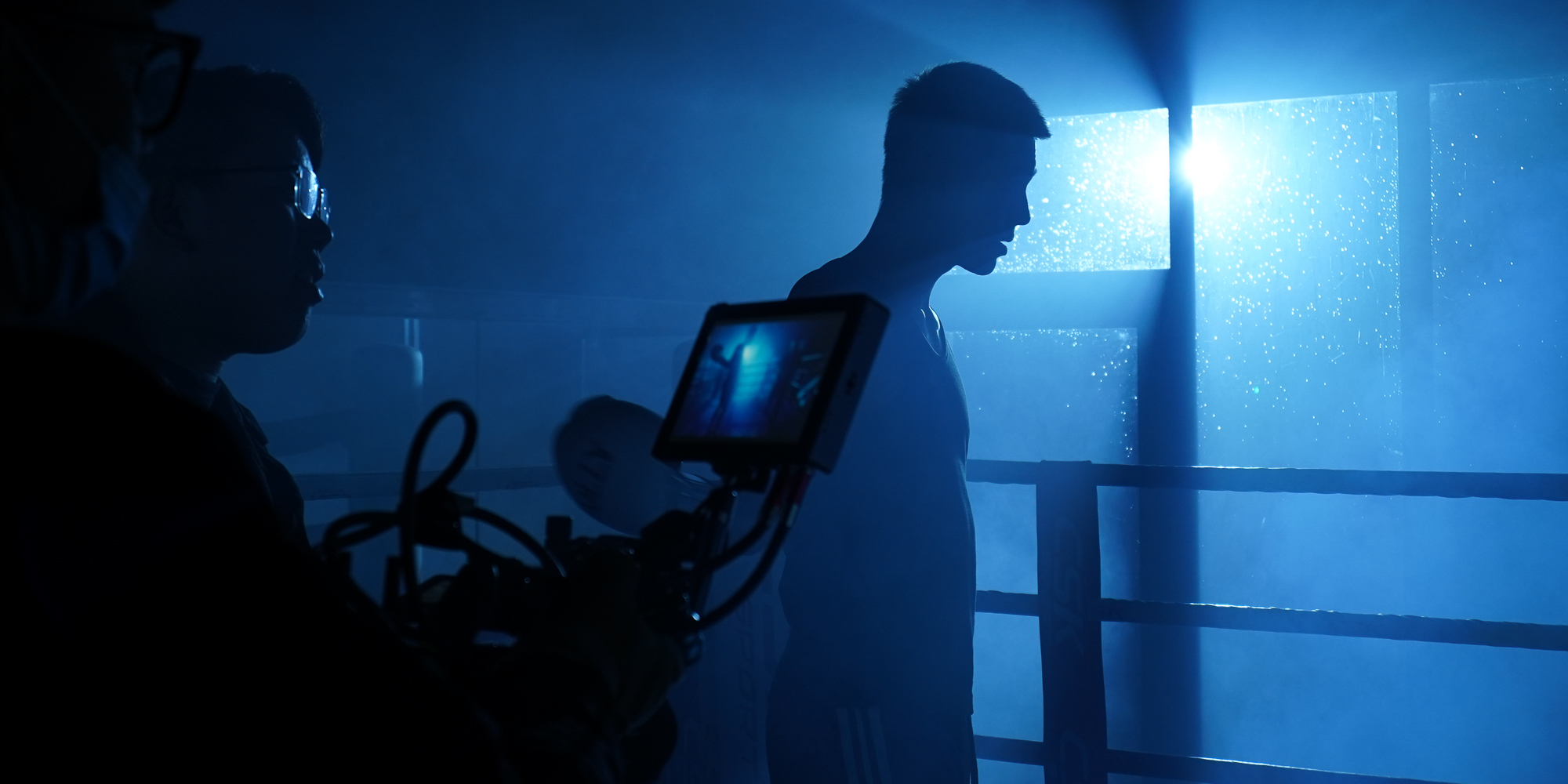 Excellent colour reproduction
The Aputure Light Storm LS 600c Pro – V-mount lamp features exceptional colour accuracy, as evidenced by high CRI (95+), TLCI (98+), SSU Tungsten (85) and SSI D56 (74). As a result, colour fidelity and correct depth-of-tone rendering are possible across the entire light colour temperature range – from 2300 K, all the way up to 10000 K.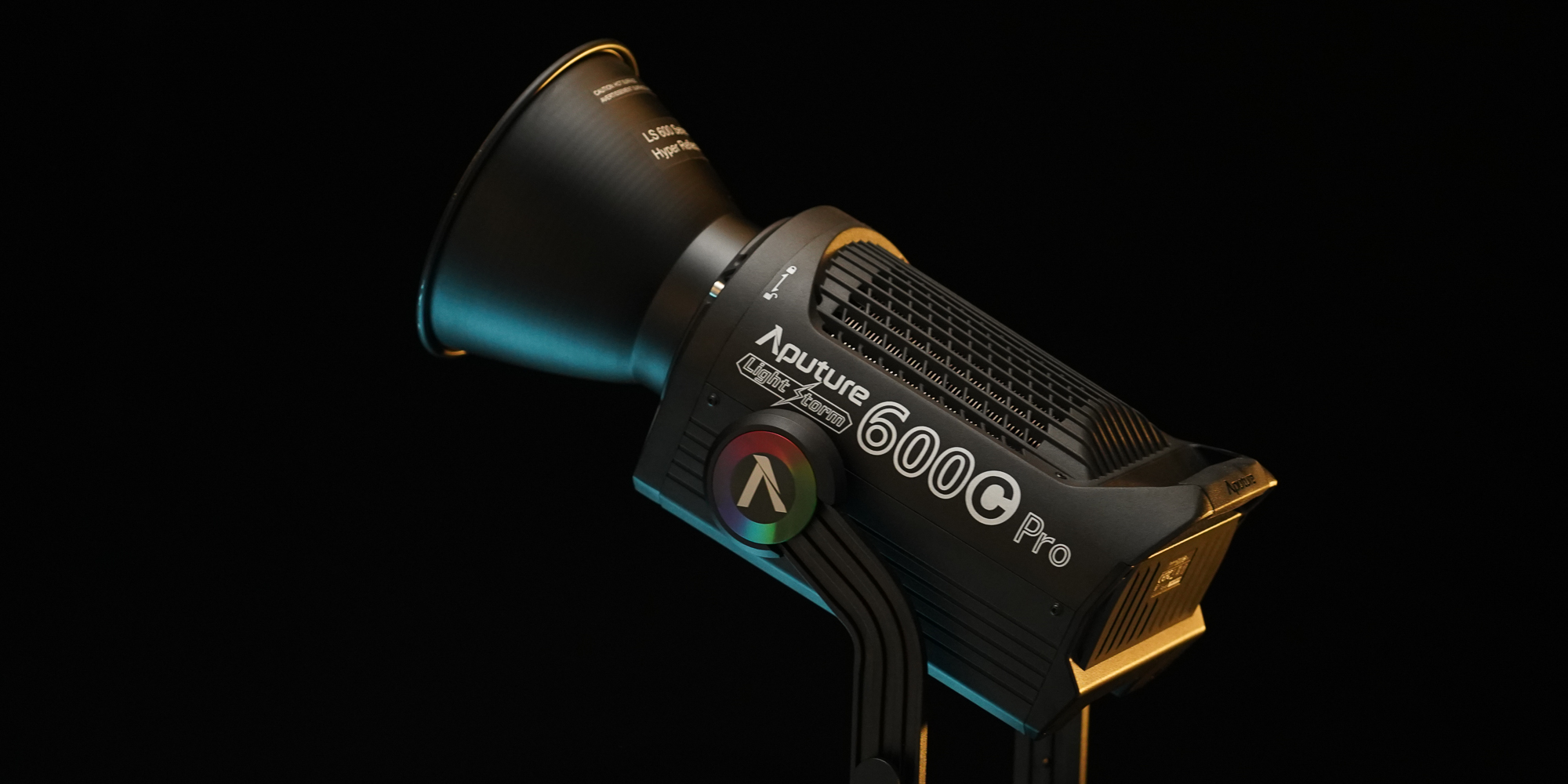 Bowens mount
The popular Bowens mount allows you to combine your lamp with dozens of commercially available light modifiers, including unique accessories from Aputure (including the Aputure Light Dome 150 and Light Dome II softbox or the Aputure F10 Fresnel lens). Included with the Light Storm LS 600c Pro – V-mount you will receive a Hyper Reflector canopy. Thanks to the mirror coating inside it, a stronger and more focused light beam can be achieved.
Intuitive operation
The ergonomic Control Box controller you'll find included with the lamp features a colour LED screen. An accessible menu interface will allow you to modify the light parameters quickly and conveniently. The device allows you to save 10 of your own presets, make use of 15 ready-made special effects, change the way the fans work, select one of 4 lighting power control curves, and easily adjust the colours to suit your shots. The unit will also allow you to avoid the flickering effect. All thanks to the controller, which can operate at a maximum frequency of 2000 Hz.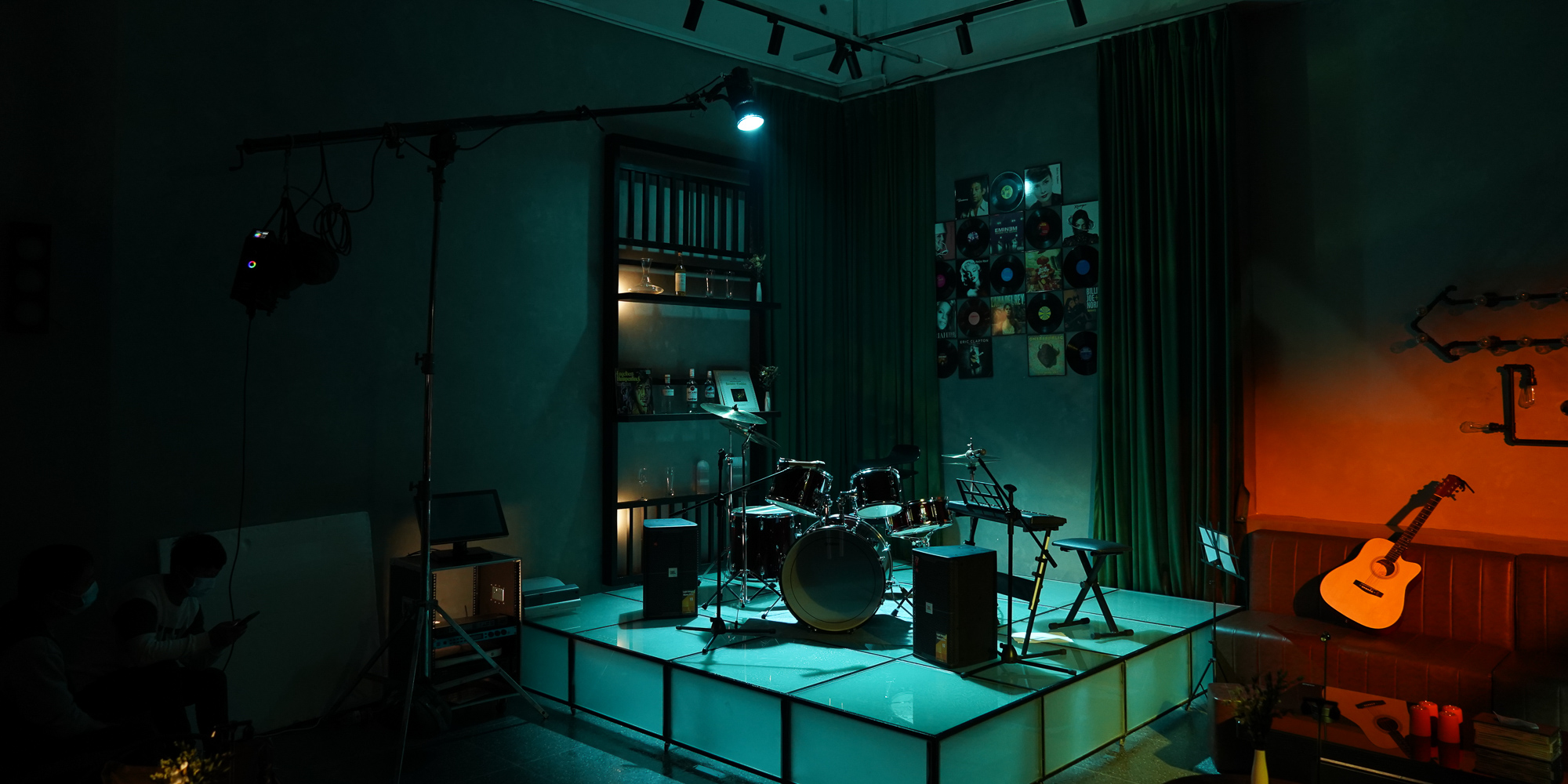 Hard-weather-resistant
The LS 600c Pro – V-mount is another representative of the Light Storm family that will successfully perform on demanding film sets. Rain, dust and rapidly changing weather conditions will not thwart your plans. Waterproof fans, internal seals, specially reinforced cables and rubber caps protecting all ports will allow you to work comfortably in almost any conditions.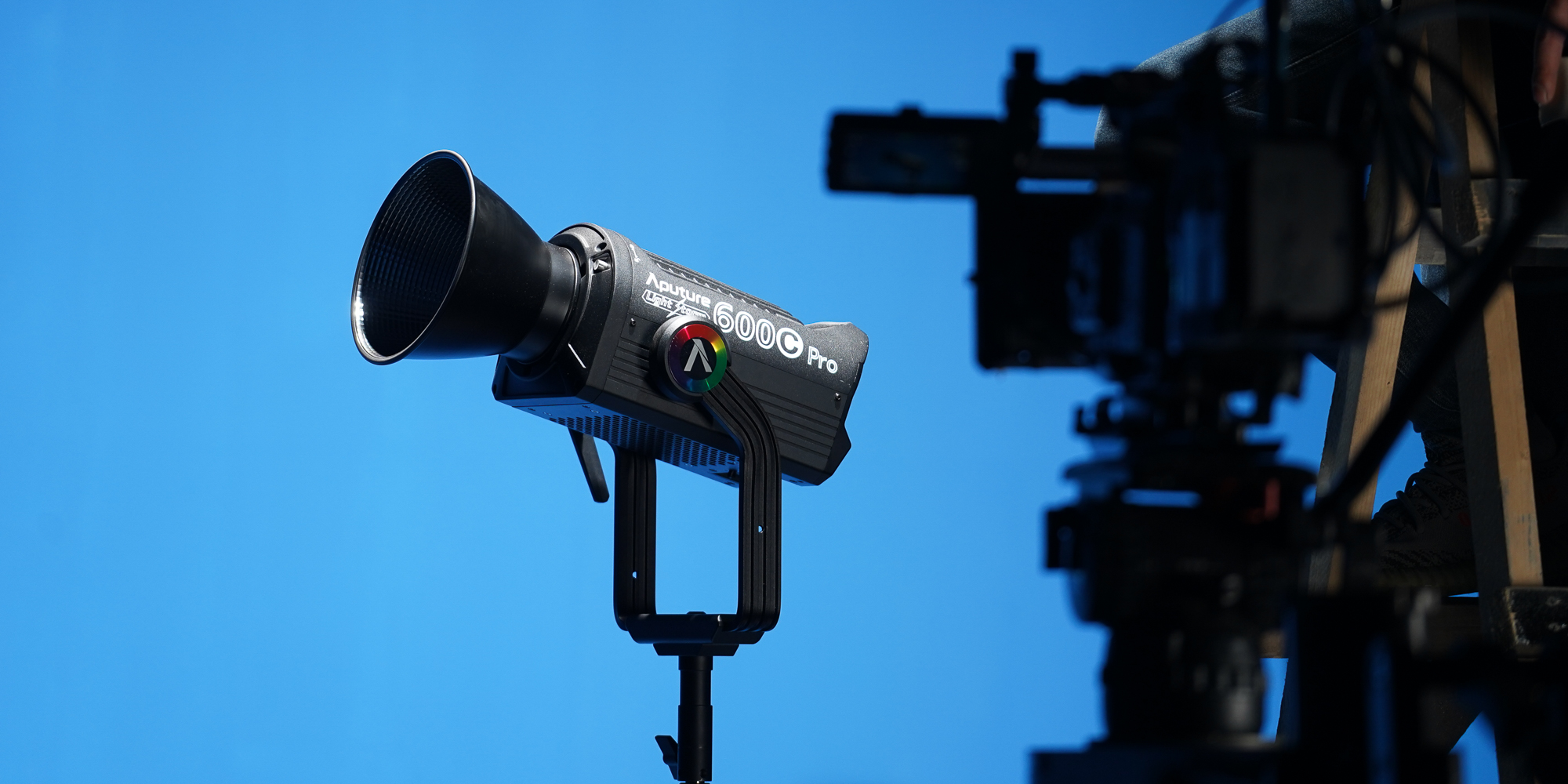 Professional light control
The Aputure Light Storm LS 600c Pro – V-mount lamp supports multiple control systems, standards and protocols. In addition to Control Box and smartphone control, the unit is compatible with technologies such as sACN, ArtNet and LumenRadio CRMX. Also on board is support for the DMX stage lighting control system and the Sidus Mesh standard being developed by Aputure.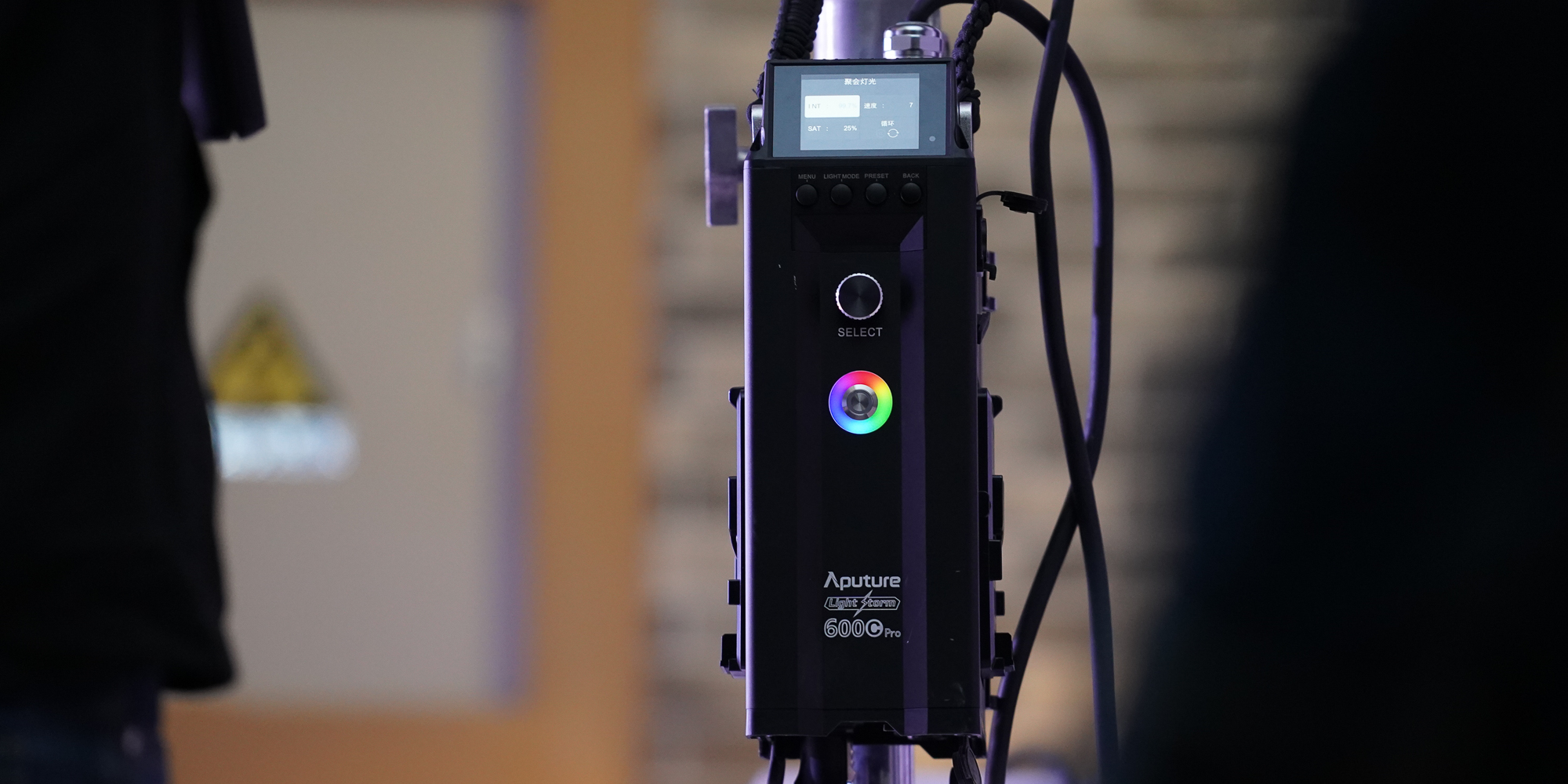 V-Mount battery power
On the Control Box housing you will find two sockets that allow you to power your lamp using V-Mount batteries. If you're using the mains cable, these will allow you to charge the batteries so they're ready to go when you want to leave the studio and shoot something outdoors! The lamp also features a 3-pin XLR socket allowing you to connect the unit to an external power station.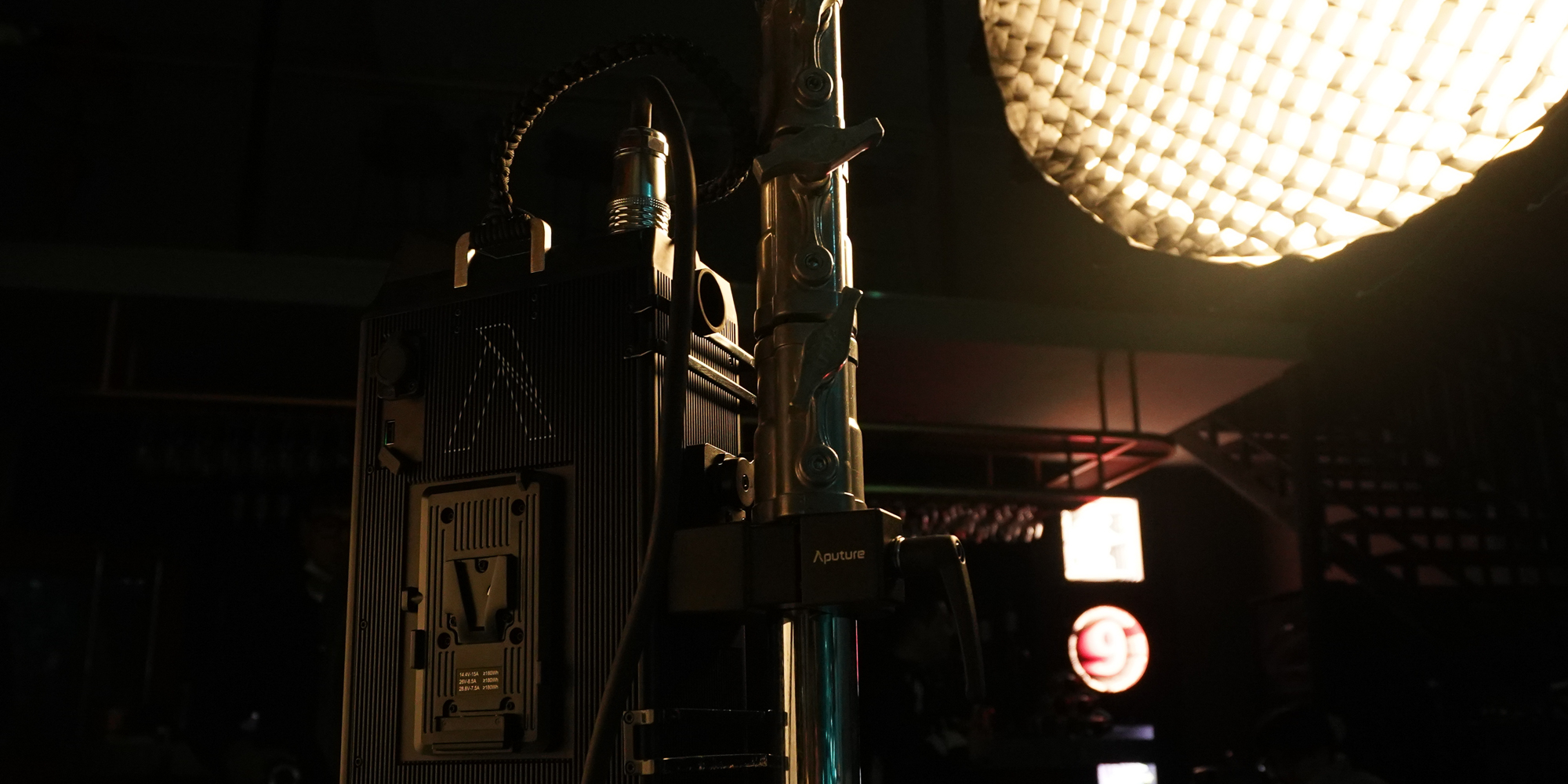 Sidus Link app
The Aputure brand opens up a world of immense possibilities for filmmakers. The Sidus Mesh ecosystem allows you to control one or more groups of lamps from a smartphone on which the Sidus Link app is installed. It is compatible not only with the Aputure Light Storm LS 600c Pro – V-mount, but also with many other devices from the Aputure family, including models such as the C300d II, LS 300x, Accent B7c, MC and Nova P300c or Nova P600c.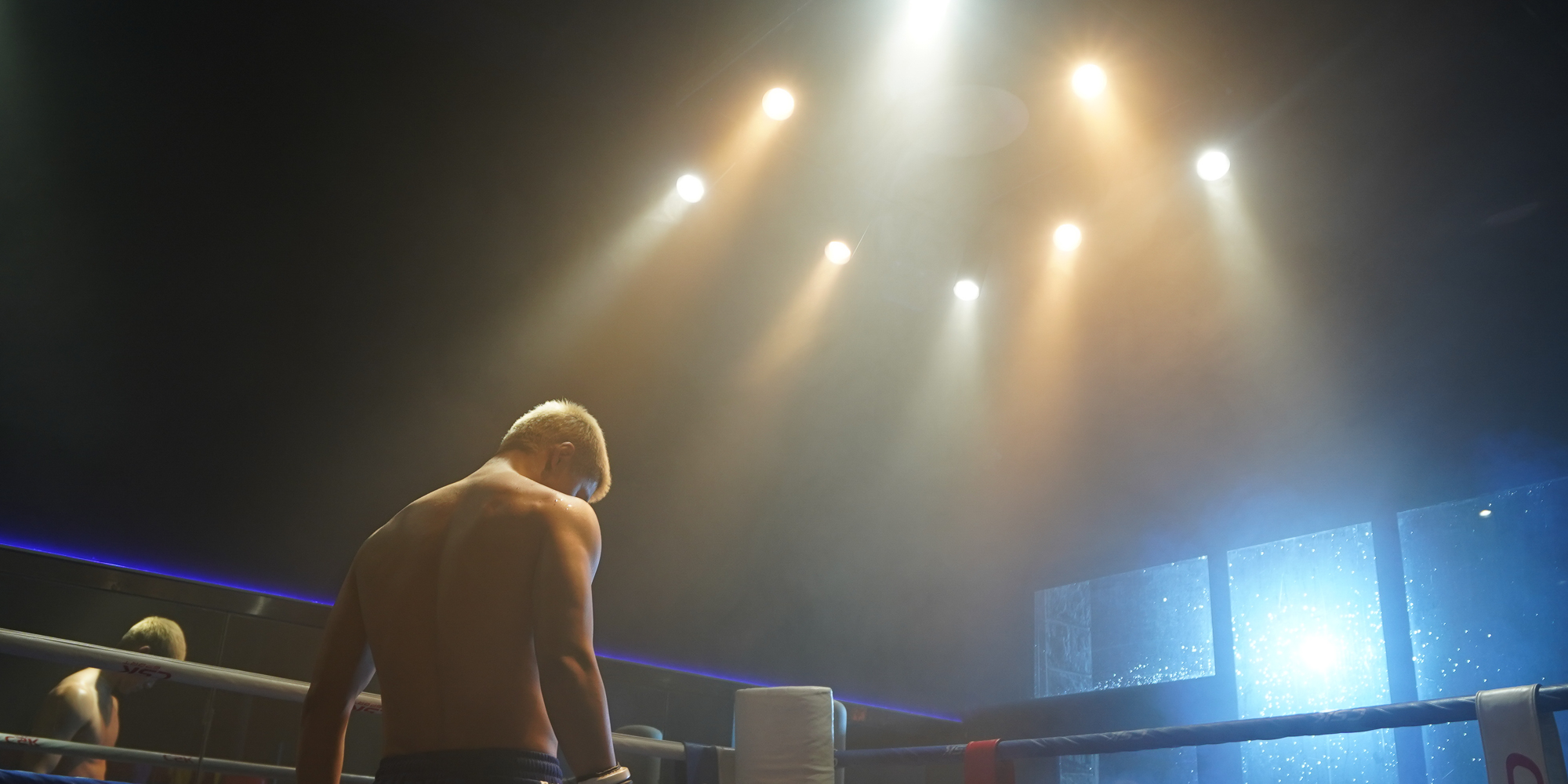 Safe transport
Safe transport of the lamp and accessories will be ensured by a professional travel case. Each piece of kit will find an appropriate compartment in it, making it quick and convenient to take out and put away equipment. The case is lined with easy-to-clean, abrasion-resistant material. It also has wheels and a telescopic pull-out handle. This solution will allow you to travel comfortably with your flash, whether you are going by car to the studio or flying to the other side of the world!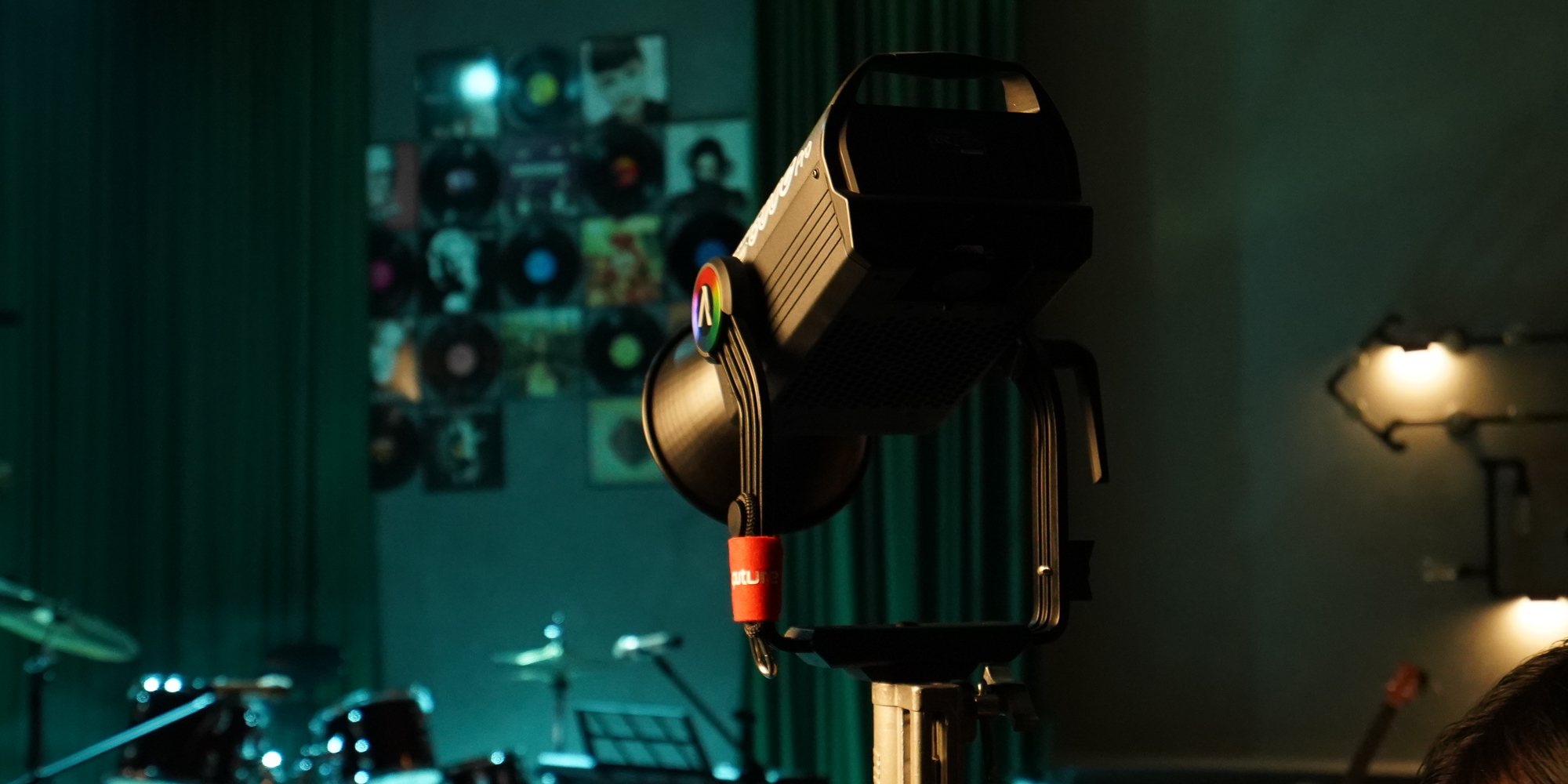 Specification
model: Aputure Light Storm LS 600c Pro – V-mount
Light colour temperature: 2300 K – 10000 K
CRI: ≥ 95
TLCI: ≥ 98
CQS: ≥ 96
SSI (D56): ≥ 74
SSI (Tungsten): ≥ 85
TM-30 RF: 93
TM-30 RG: 100
output power: ≤ 600 W
power consumption: ≤ 720 W
current capacity: 8 A
power supply: ≤ 600 W
Power supply:

network: 100 V – 240 V, 50 Hz / 60 Hz

power supply.
V-Mount (half power): 12.5 V – 16.8 V (14.4 / 15 A) 22 V – 33.6 V (26 V / 8.5 A, 28.8 V / 7.5 A)
V-Mount (full power): 22 V – 33.6 V (26 V / 18 A, 28.8 V / 16 A)
XLR 3-Pin: 48 V / 15 A

operating temperature: -20°C to 45°C
display: LED
system update: USB (FAT16, FAT32), Sidus Link
cooling: active cooling system
resistance: dust and splash proof
Control:

control panel
Sidus Link app (Bluetooth, Sidus Mesh)
5-pin DMX512 output and input
LumenRadio CRMX
Art-net / sACN protocol

Range:

Bluetooth: up to 80 m
LumenRadio: up to 100 m

Standby lamp mounting system:

16 mm pin – 5/8″ (Baby Pin)
28 mm pin – 1.125″ (Junior Pin)

modifier mount: standard Bowens
casing material: magnesium alloy
Dimensions:

lamp: 30.2 x 22.2 x 15 cm
lamp including fork mount: 45.3 x 26.7 x 15 cm
control box: 36.6 x 19.7 x 15.6 cm
lightning Clamp mounting bracket: 10.35 x 8.74 x 12.5 cm
transport case: 59 x 40 x 35.5 cm

Weight:

lamp including fork mount: 5.86 kg
control box: 5.21 kg
lightning Clamp mounting bracket: 0.67 kg
whole kit (including case): 14.36 kg
photometry
| CCT | Distance | Hyper Reflector | F10 Fresnel (45º) | F10 Fresnel (15º) | |
| --- | --- | --- | --- | --- | --- |
| 2300 K | 1 m | 39500 lx | 19930 lx | 44300 lx | |
| 2300 K | 3 m | 3770 lx | 2517 lx | 5710 lx | |
| 2300 K | 5 m | 1444 lx | 1007 lx | 2265 lx | |
| 3200 K | 1 m | 42800 lx | 21570 lx | 48700 lx | |
| 3200 K | 3 m | 4160 lx | 2770 lx | 6270 lx | |
| 3200 K | 5 m | 1586 lx | 1085 lx | 2490 lx | |
| 4300 K | 1 m | 46800 lx | 23490 lx | 52700 lx | |
| 4300 K | 3 m | 4570 lx | 3030 lx | 6840 lx | |
| 4300 K | 5 m | 1728 lx | 1169 lx | 2740 lx | |
| 5600 K | 1 m | 51100 lx | 25500 lx | 57300 lx | |
| 5600 K | 3 m | 5020 lx | 3320 lx | 7440 lx | |
| 5600 K | 5 m | 1889 lx | 1254 lx | 3010 lx | |
| 7500 K | 1 m | 50700 lx | 25300 lx | 57000 lx | |
| 7500 K | 3 m | 5030 lx | 3320 lx | 7420 lx | |
| 7500 K | 5 m | 1877 lx | 1245 lx | 3010 lx | |
| 10000 K | 1 m | 44300 lx | 22280 lx | 50200 lx | |
| 10000 K | 3 m | 4500 lx | 2950 lx | 6530 lx | |
| 10000 K | 5 m | 1651 lx | 1099 lx | 2685 lx | |
| Red | 1 m | 7520 lx | 3910 lx | 7810 lx | |
| Red | 3 m | 703 lx | 516 lx | 857 lx | |
| Red | 5 m | 224 lx | 156 lx | 456 lx | |
| Green | 1 m | 10210 lx | 5340 lx | 11530 lx | |
| Green | 3 m | 982 lx | 707 lx | 1484 lx | |
| Green | 5 m | 365 lx | 260 lx | 588 lx | |
| Blue | 1 m | 1889 lx | 1280 lx | 2258 lx | |
| Blue | 3 m | 185 lx | 102 lx | 217 lx | |
| Blue | 5 m | 69 lx | 45 lx | 108 lx | |
Content of kit
Aputure Light Storm LS 600c Pro LED lamp – V-mount
Hyper Reflector canopy
Control Box (+ strap made of paracord)
7-pin cable (7.5 m)
Neutrik powerCON TRUE1 TOP AC cable (6 m)
Lightning Clamp mounting bracket
transport case