Description
Aputure Light Storm LS 60x LED lights are lightweight, modern, high-powered, compact and versatile lamps that you can use on set, in your home studio, during photo shoots or on location. The device offers the ability to adjust the color temperature, allowing you to precisely match the light to your artistic vision, existing conditions or scenery. Thanks to the unique aspherical lens, you can adjust the level of beam dispersion without investing in additional equipment. It also features a universal V-mount to make working on set even more convenient. Light Storm LS 60x is another device from the Aputure family that works with the unique Sidus Link app for smartphones and tablets. It allows you to remotely control one or multiple light sources. With its help you can also launch unique special effects that effectively add variety to your movies. Thanks to the included adapters, you can easily power the device with popular Sony NP-F batteries, and install additional accessories supported by the Bowens standard on the front, such as gates, canopies or softboxes. The Light Storm LS 60x is also dust and splash proof, so harsh weather conditions won't derail your film or photography plans! See what you can get by choosing the latest line of products from Aputure, which includes not only lamps but also unique accessories that will significantly expand your film or photo workshop!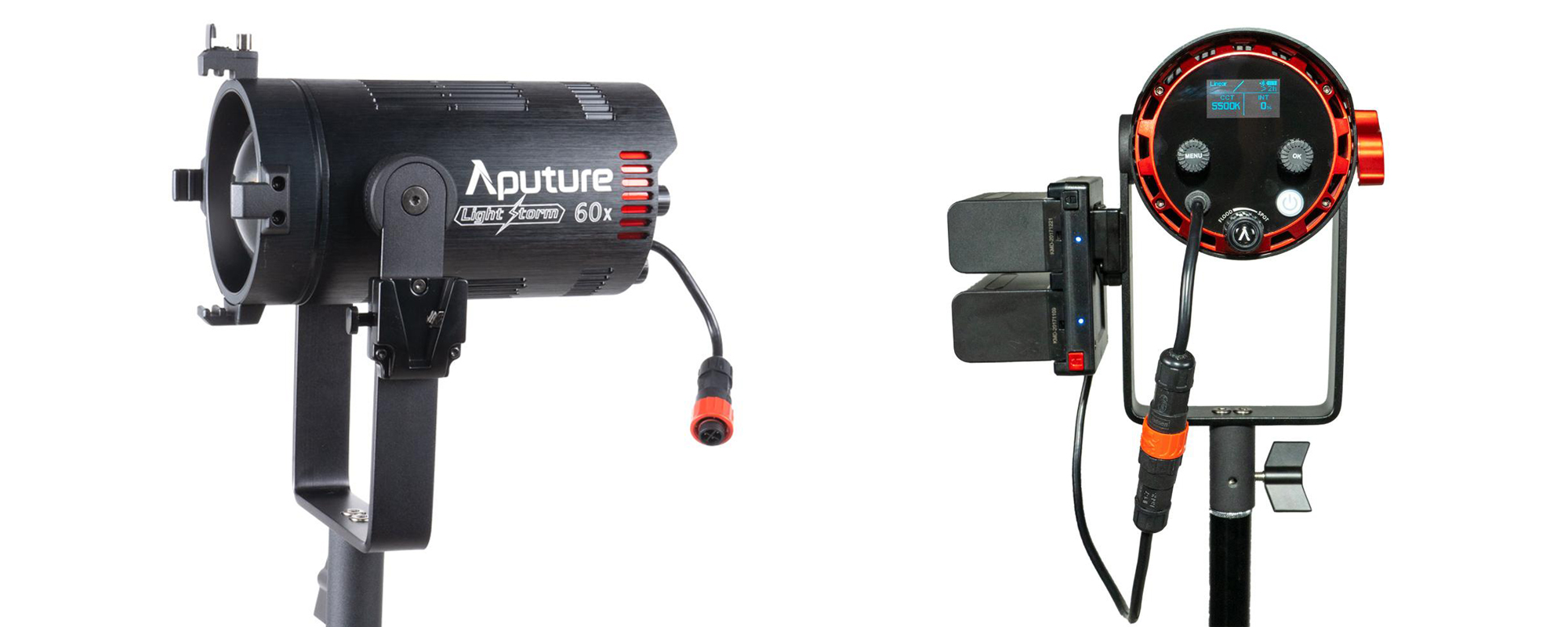 Main features of the Aputure Light Storm LS 60x LED lamp
maximum light intensity of 30,000 lux
adjustable light color temperature from 2700K to 6500K
adjustable light focus from 15 to 45°
compatible with NP-F series batteries
V-mount socket for convenient mounting of alternative power sources
Forklift mount
Fork mount for 360° lamp rotation
9 built-in lighting effects
Functional flash effect for easy and convenient mounting of alternative power sources
9 built-in lighting effects to expand the creative use of the lamp
9 built-in lighting effects to expand the creative use of the lamp
support for Sidus Link app that allows you to control one or a whole group of lights from your smartphone
resilient for use in a wide range of lighting applications
resistant to operation in harsh weather conditions (IP54 sealing standard)
adapter allowing to mount accessories in the popular Bowens system
8-winged flash wings (IP54)
8-wing gates included
Huge power, small dimensions
Say goodbye to the heavy heating lamps and see what opportunities open to you with modern bi-color LED technology. The device, whose maximum output power is only 60 watts, outclasses 300-watt Fresnel-type studio floodlights equipped with incandescent light sources! That's not all, however. Custom aspheric optics developed by the experts at Aputure allow the Light Storm LS 60x to squeeze out 30,000 lux spot light or 5200 lux diffused light.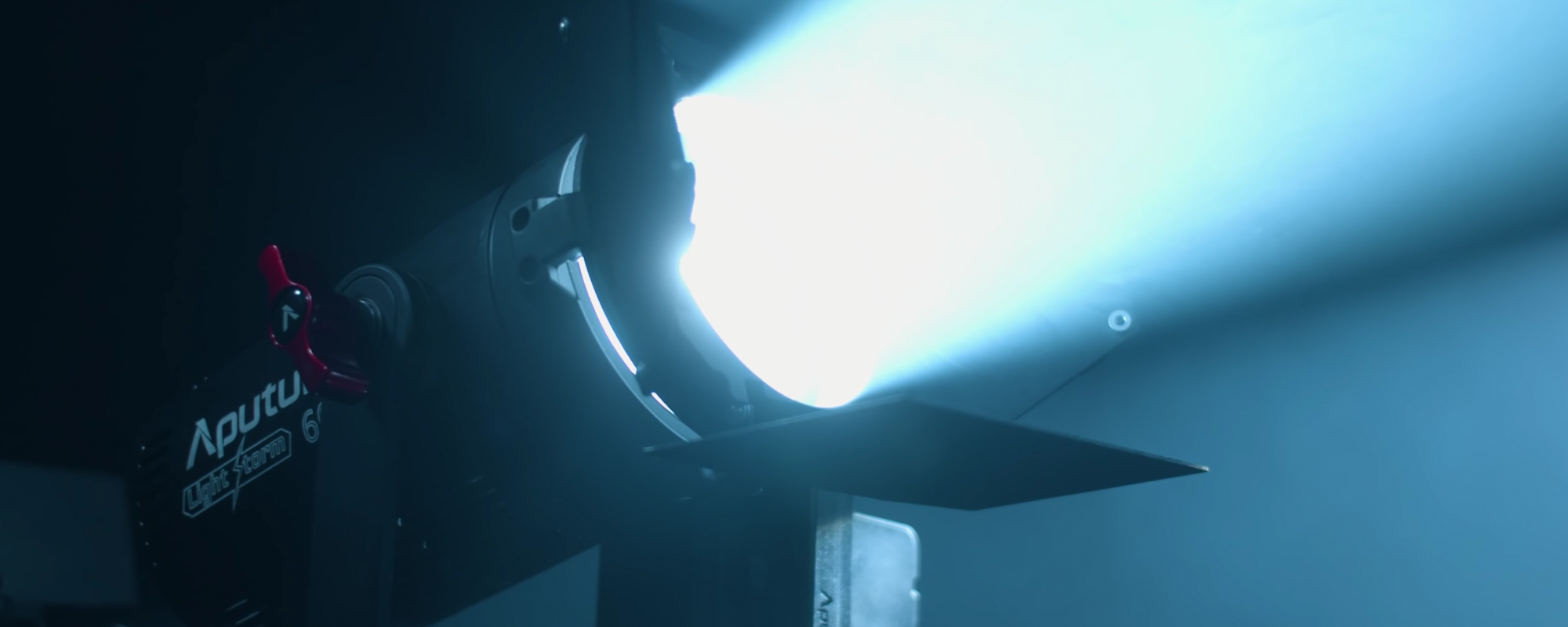 Ideal color temperature
Do you want your lamp light to perfectly reflect the atmosphere of a certain time of day, help create a warm or slightly cooler atmosphere and be perfectly matched to the scenery? Take advantage of the predefined CCT modes that make it easy to test different solutions and help you manage your ideas more effectively. The light color temperature range here is between 2700 K and 6500 K. This will make the emotions, moods and atmosphere of the created scenes even more real and natural!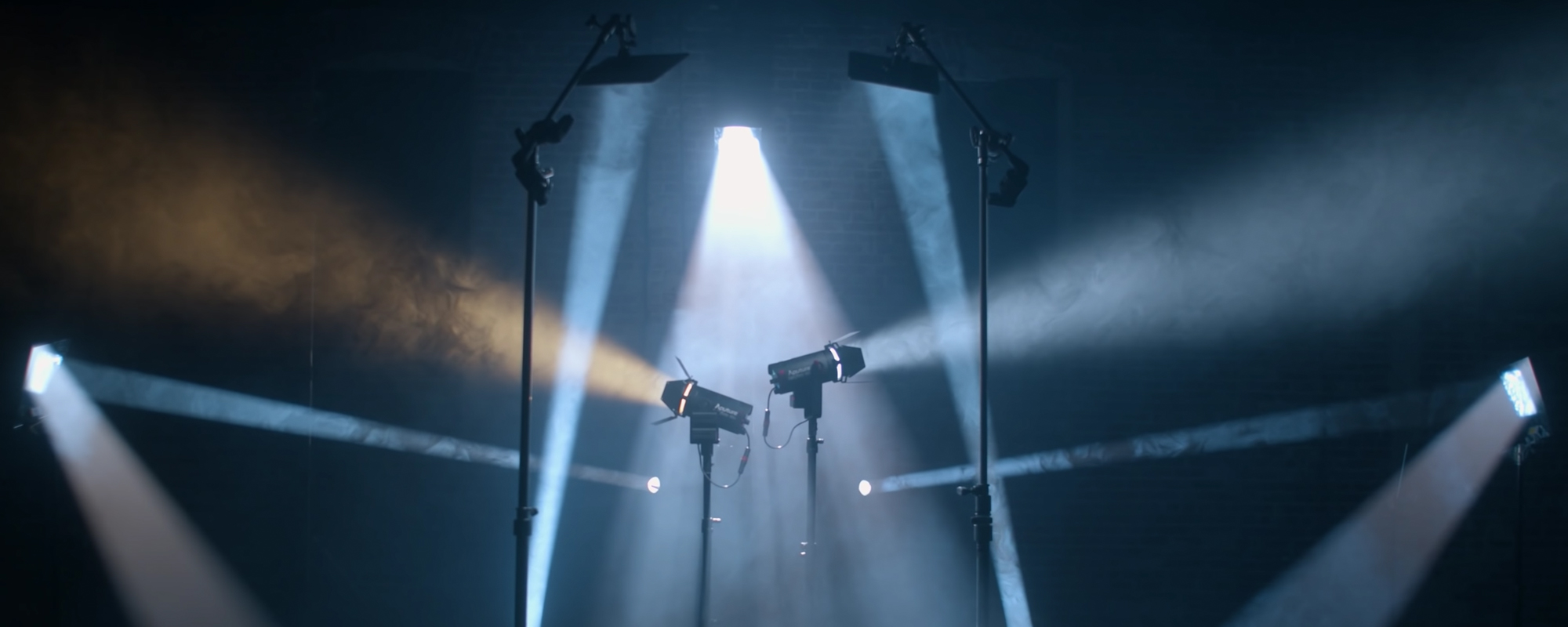 Natural light color
The use of modern bi-color LEDs in Aputure Light Storm LS 60x is another step towards even better color reproduction of the emitted light (from 2700 K to 6500 K), which is after all an integral part of unique film scenes and photo shoots. The sensational results of this model are evidenced by high values of CRI and TLCI coefficients. They define the degree of similarity of light to the spectrum of natural sunlight and range from 0 to 100. The higher the value, the better the rendered colors of illuminated objects – they look more natural. CRI and TLCI of 95+ guarantee color fidelity and correct depth of tone.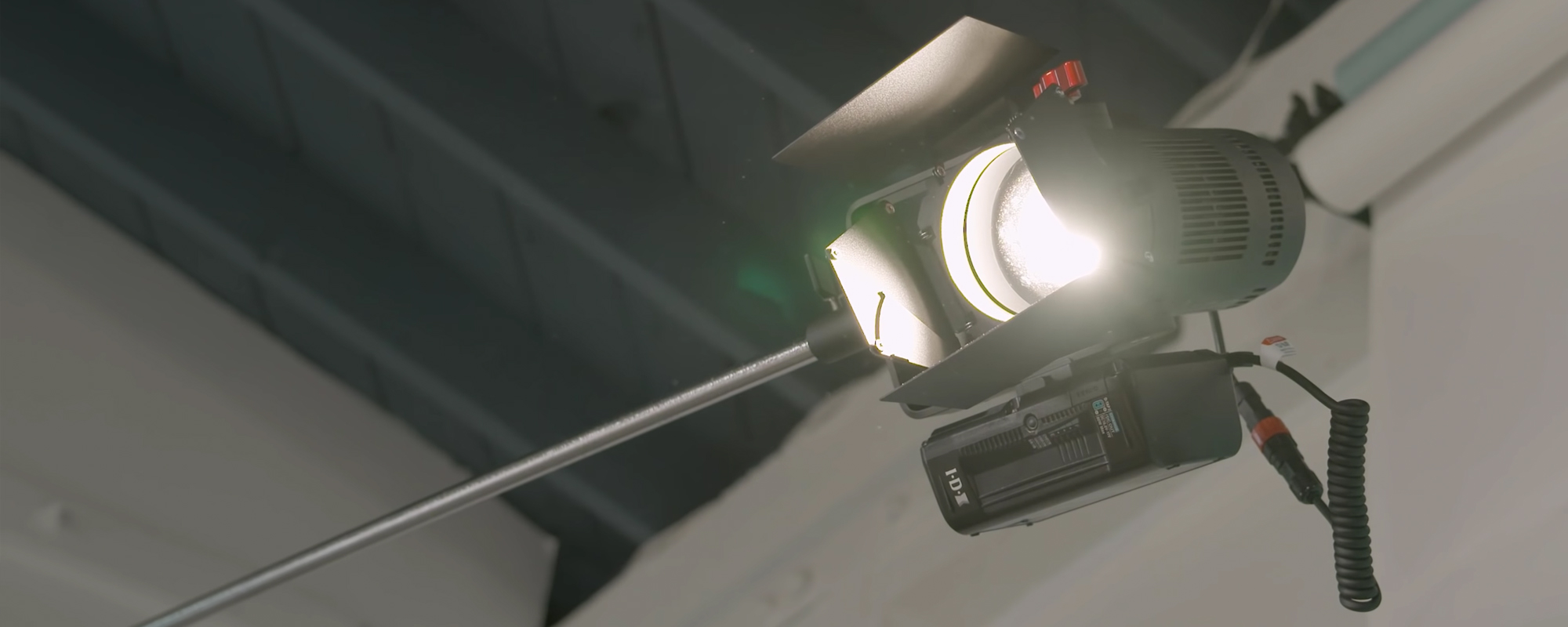 Point or diffuse light
With the Light Storm LS 60x, you don't need an additional modifier to effectively decrease or increase the diameter of the light beam. All thanks to the unique aspherical lens created by Aputure. Focus a powerful spotlight on a specific part of the frame or diffuse the light to eliminate shadows. Precise adjustment will provide an ergonomic knob, located on the housing of the lamp.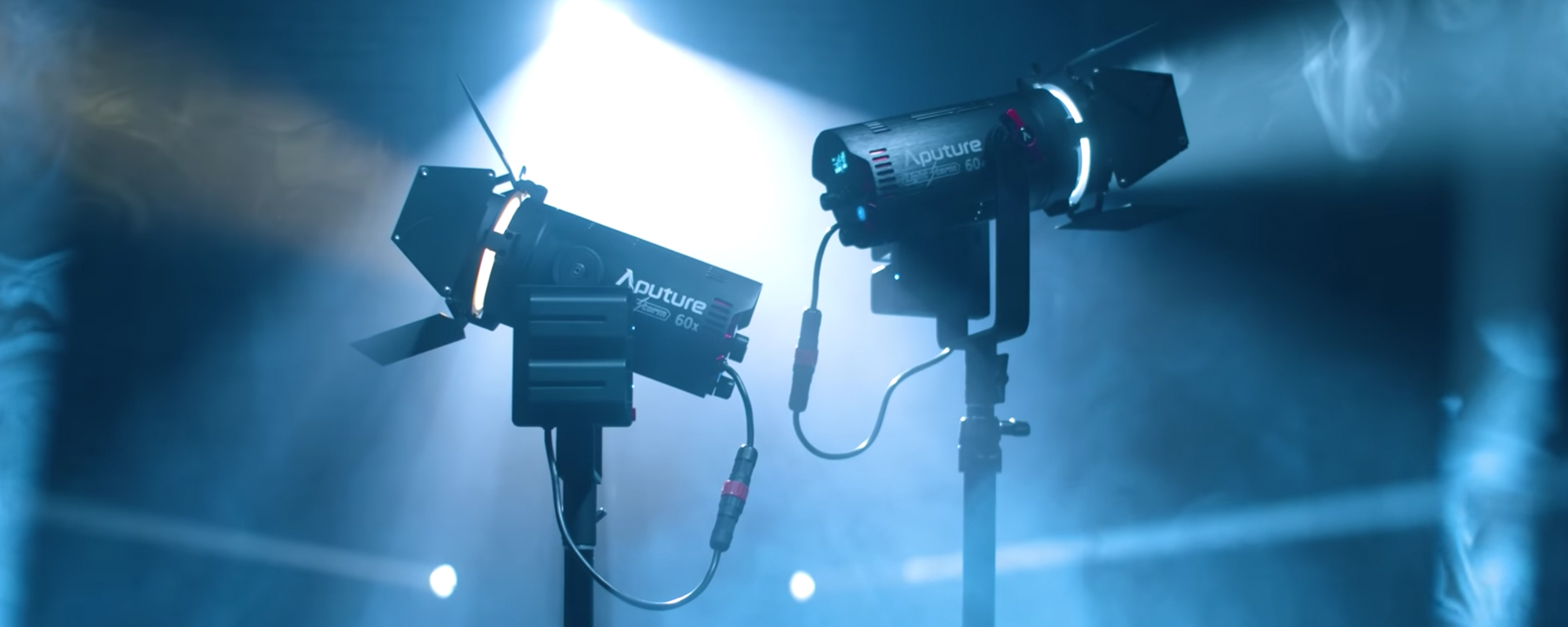 Resistant to harsh weather conditions
Do you often film outdoors? Are you looking for a lamp that works well on the go? Do you use rainmakers, fume hoods and other accessories on set that require special care? With the Aputure Light Storm LS 60x you can be sure that harsh working conditions will not interfere with your plans. Both the lamp head and all the power connections are properly protected. Regardless of the prevailing weather conditions you will realize your vision as planned.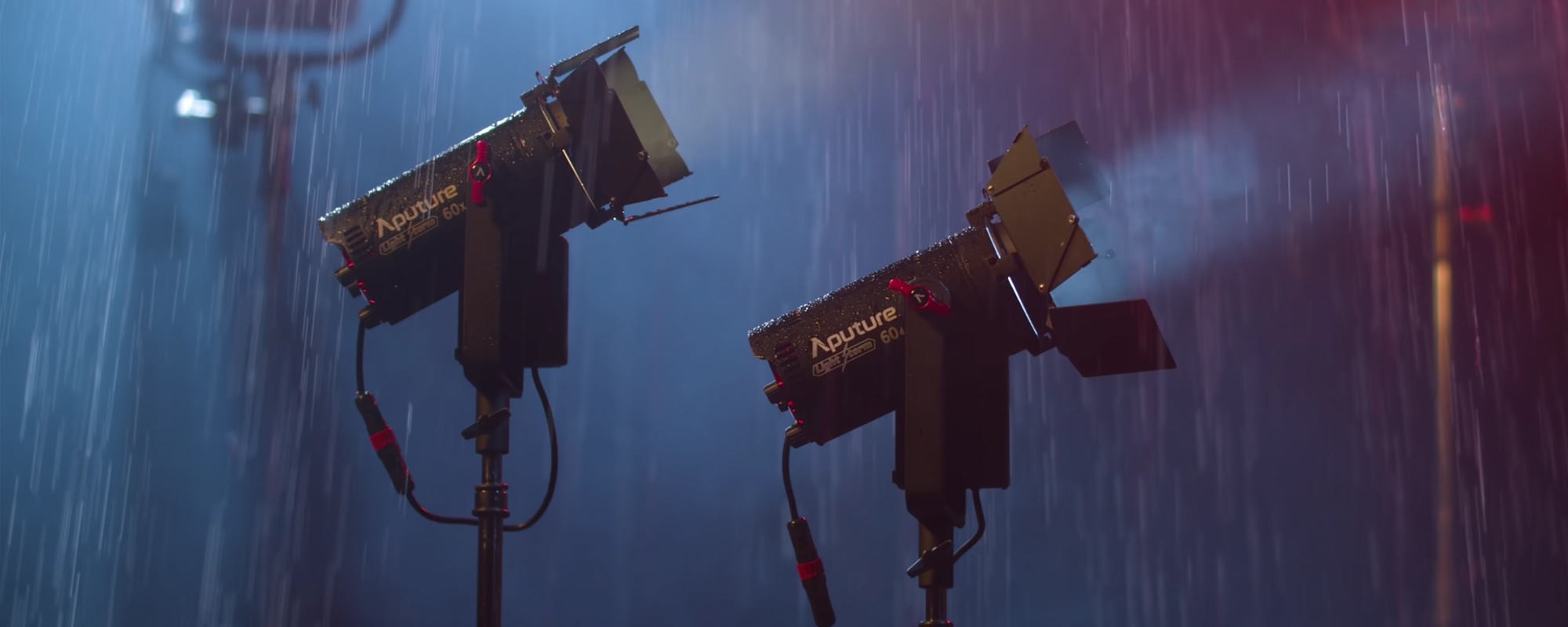 Get organized on set
On the fork mount, which allows for comfortable light direction adjustment, there is a V-mount socket. It will allow you to conveniently change batteries, as well as reduce the number of accessories tangled under your feet. The V-mount socket connects both the AC adapter and popular D-Tap batteries. Included with the Aputure Light Storm LS 60x LED flash, you'll also find a special mounting plate that will accommodate two NP-F series cells. This adapter will easily fit into the V-mount socket. Whichever solution you choose, you'll always have everything in order on set!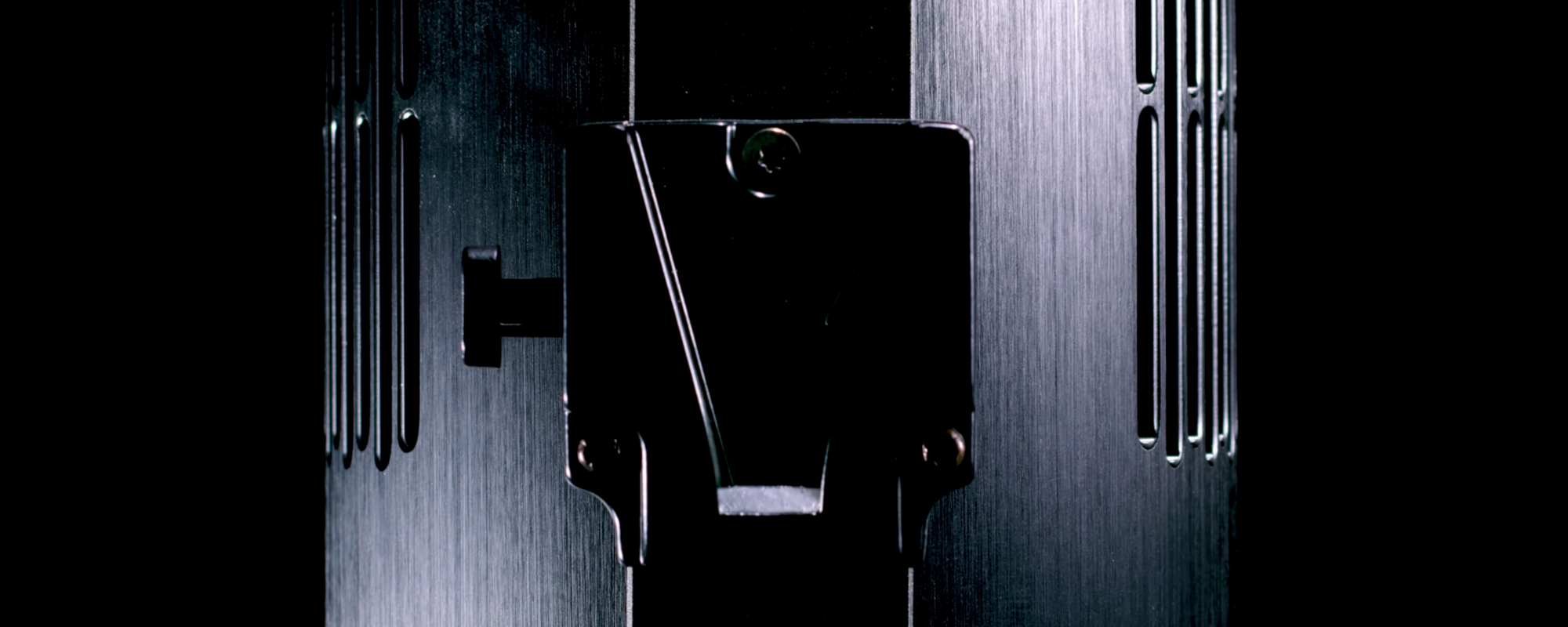 One battery is enough
Working on a rechargeable battery, you don't have to give up the full power that the Aputure Light Storm LS 60x LED lamp offers at all. The well-known and appreciated by filmmakers and photographers solution used in the Light Storm 120d II, 300d II and 300x is also here. One rechargeable battery offering D-Tap power is enough to take full advantage of the flash's capabilities. But that's not all! With the included adapter, the Aputure Light Storm LS 60x LED Lamp can be powered by popular NP-F series batteries. They are smaller, cheaper and are used by both amateurs and professionals! Two NP-F batteries are enough to give you full power – just like mains power! Importantly, one cell will also allow you to light your set. With this solution, however, the maximum light output will be half as much.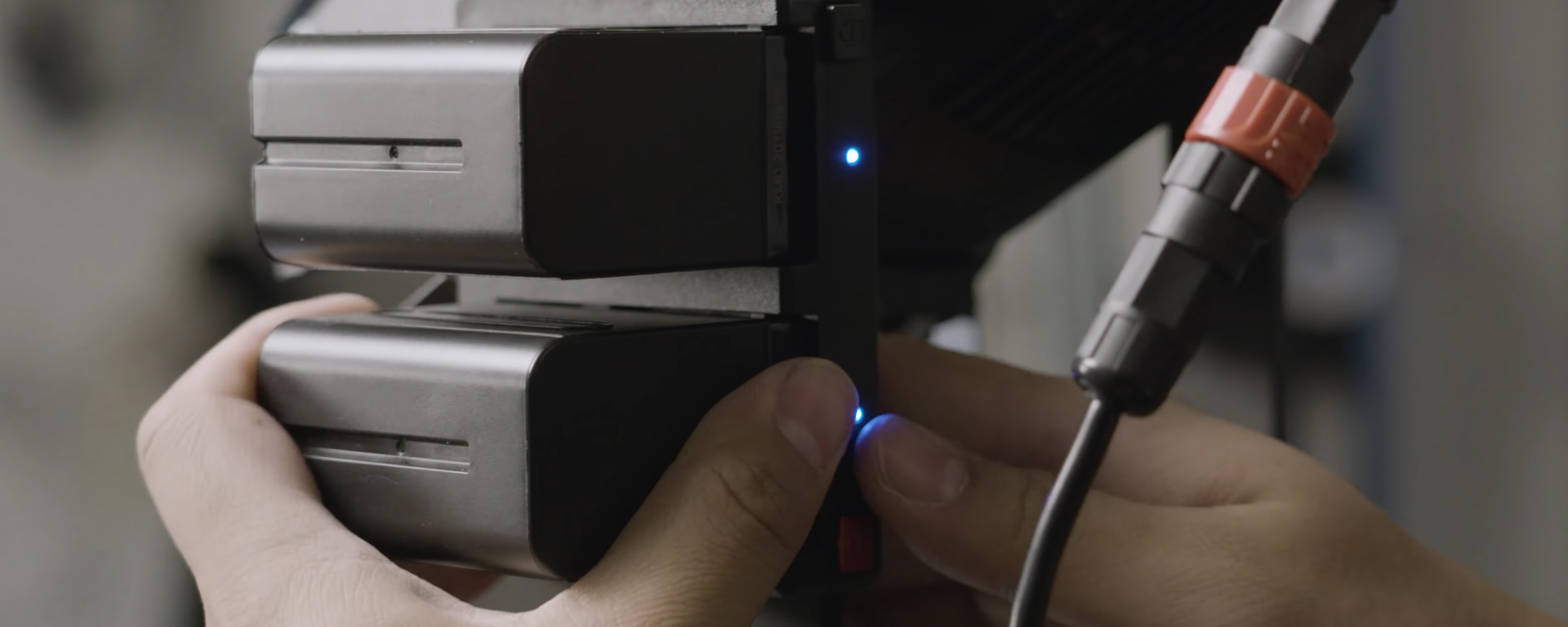 Exclusive 8-leaf gates
Included with the Aputure Light Storm LS 60x LED flash, you will find the unique 8-leaf gates. It's a modifier that offers great light shaping capabilities, often used by professional filmmakers and photographers. Ergonomic 8-blade design allows you to even more precisely adjust the character of light to the filmed or photographed scene. The additional wings, not usually offered by traditional gates, give you even more control over the shape and size of the light beam. Thanks to this you will win every battle with unwanted shadows!
Professional Bowens Mounting System
Although the LS 60 series lights offer a convenient Mini Mount accessory mounting standard by default, there's nothing stopping you from taking advantage of proven solutions that are extremely popular with filmmakers. It is the Bowens mounting system, which you can use thanks to the included adapter. Thanks to it you will be able to better adjust the character of the light to your needs, reaching both the modifiers fromputure offer (such as Light Dome II or Light Dome mini II), as well as those coming from other manufacturers of professional film equipment. If, over time, you find yourself wishing for a new gantry, canopy, or softbox, it's easy to find the accessory that meets your needs without worrying about whether or not the Mini Mount system will be compatible!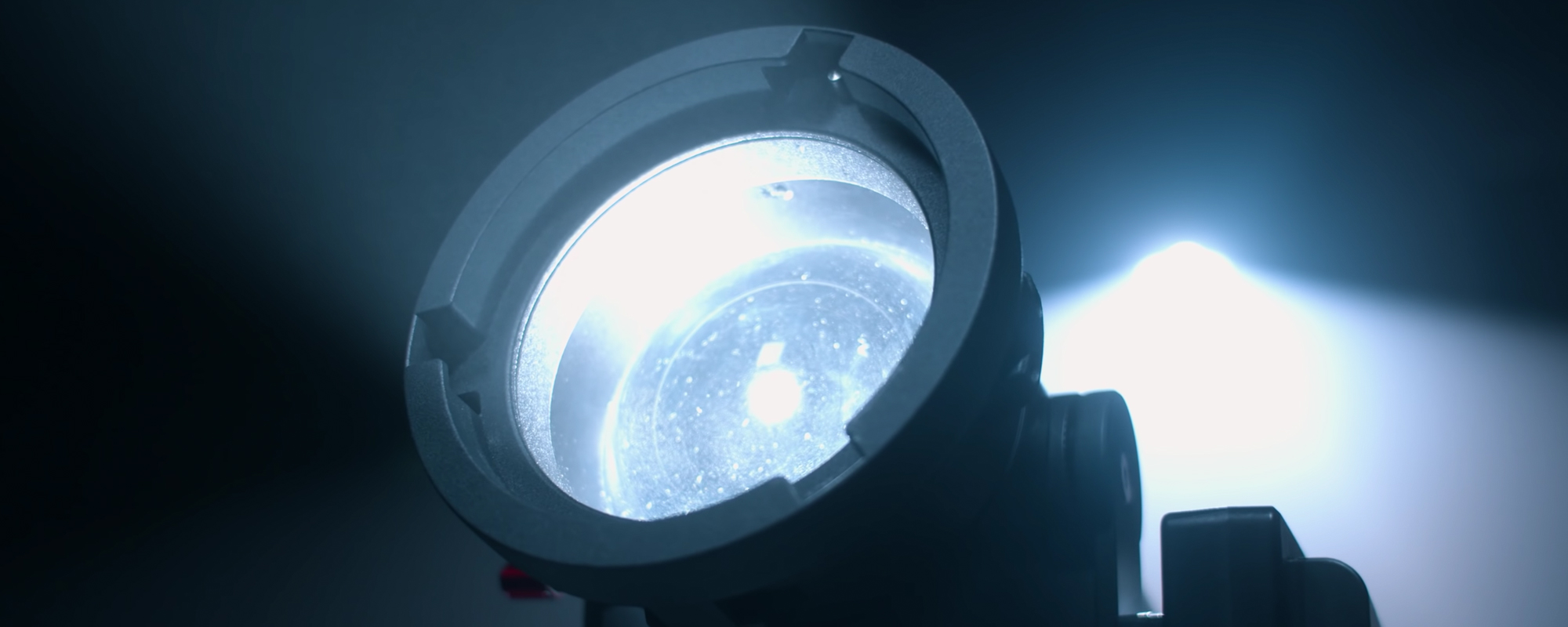 Even more possibilities
The new LS 60 series of products are not only two multi-purpose lights, but also unique accessories that will further expand the possibilities of controlling light and creating with it a unique atmosphere of the photographed or filmed scenes. The ergonomic Aputure LS60 softbox will soften and diffuse the light, add contrast and precisely illuminate selected parts of the frame. And the Aputure Spotlight Mini Zoom will let you creatively play with the shape of the light and the size of its beam. Thanks to the new Mini Mount system, you only need a few seconds to install your accessories in the right place and conveniently secure them with a special lock.
SOFTBOX APUTURE LS60 AND APUTURE SPOTLIGHT MINI ZOOM ARE NOT INCLUDED IN THE SET WITH APUTURE LIGHT STORM LS 60X LED LAMP. ACCESSORIES MUST BE PURCHASED SEPARATELY.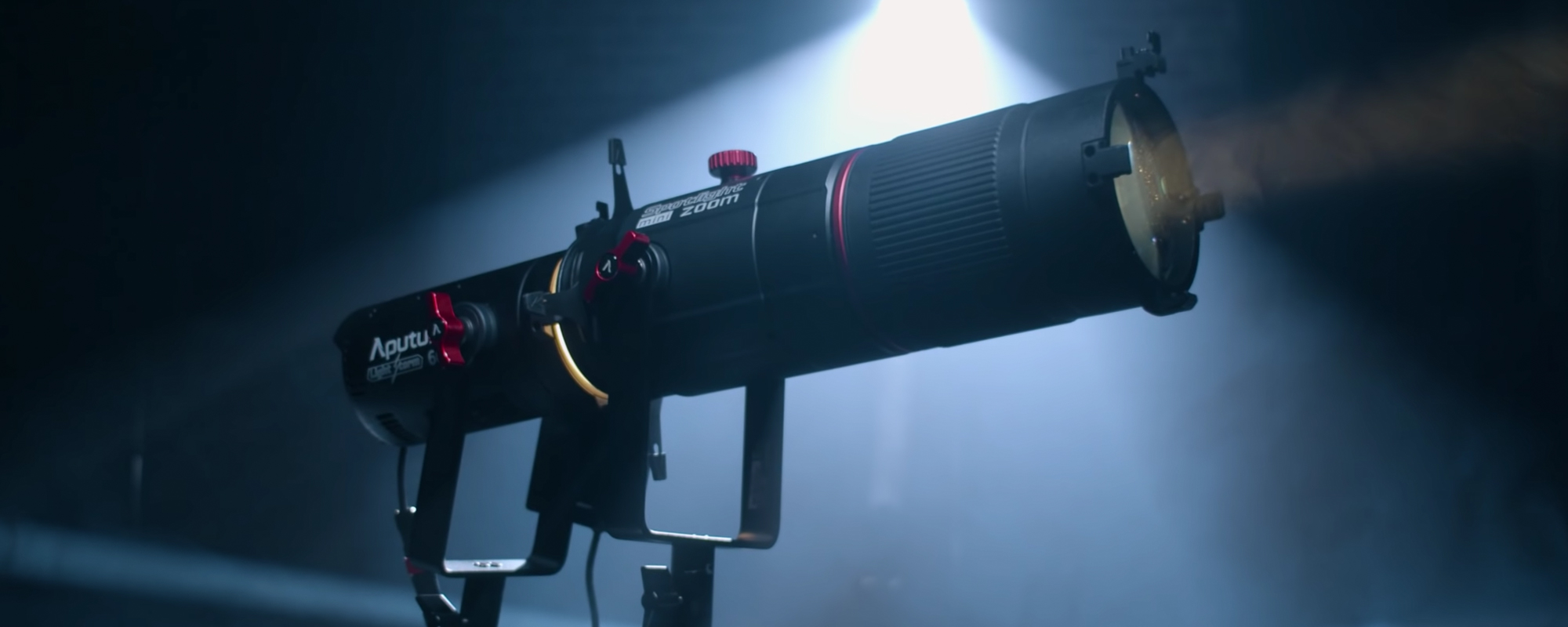 Built-in special effects
The LS 60x lamp has 9 predefined special modes: Paparazzi, Fireworks, Lightning, Faulty Bulb, TV, Pulsing, Strobe, Explosion and Fire. With these you can simulate a flash, fireworks, thunderstorm, broken light bulb, strobe, or warm campfire light in seconds. Working with special modes, you can freely adjust the color temperature to better match the atmosphere of your movies and photos. Do you want Hollywood-style effects in your productions? Use the special modes and see how easy it is!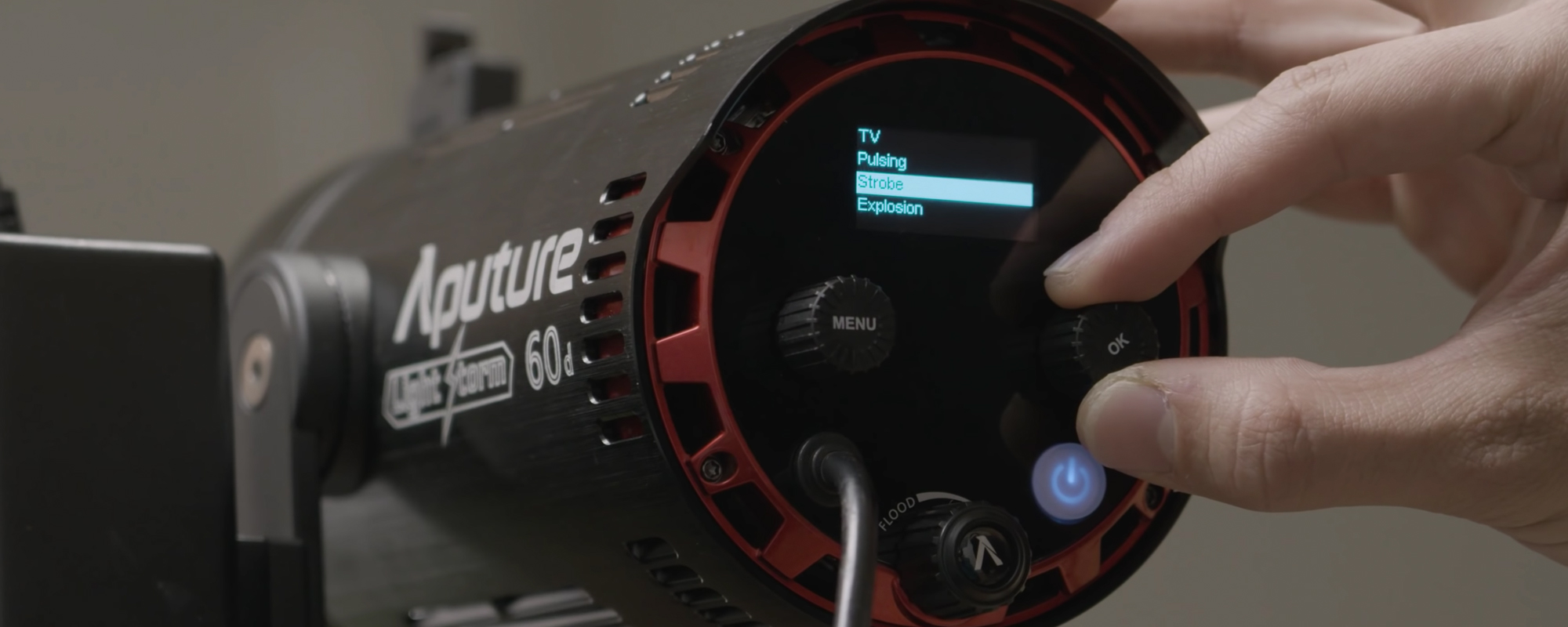 Remote control with Sidus Link app
The Light Storm LS 60x LED lamp is another device in the Aputure family that works with the proprietary Sidus Link ecosystem. The unique smartphone and tablet app available on Google Play, App Store, Huawei App Gallery and Mi App Store allows you to remotely control one or multiple light sources. This makes working on a film or shooting set even more convenient! Using the Sidus Link app, you have access to almost all functions of the physical lamp controller. With its help, you can also change the predefined settings and save your own effects.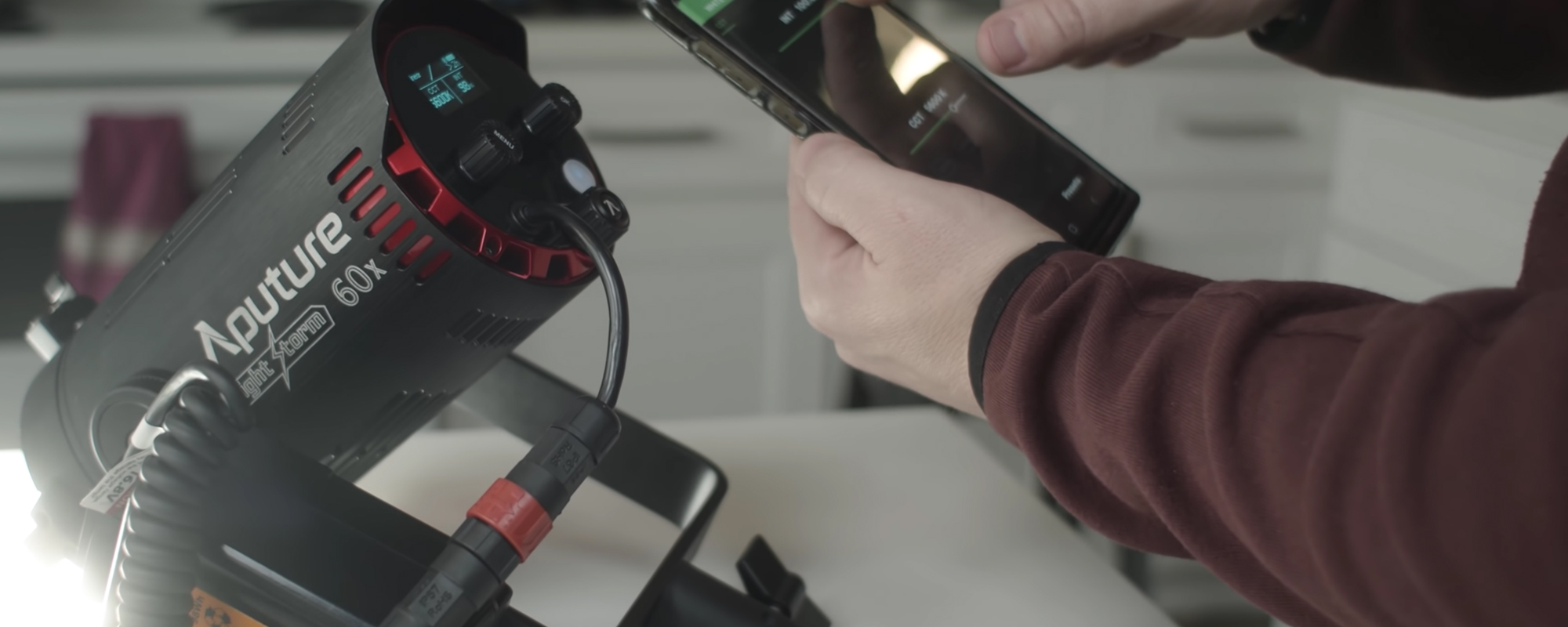 Specification
model: Aputure Light Storm LS 60x
Light color temperature: 2700 K – 6500 K
CRI: 95+
TLCI: 95+
CQS: 95 (average)
SSI (D56): 74
SSI (Tungsten): 86
Maximum power consumption: 90 W
maximum output power: 60 W
current capacity: < 6.5 A
operating voltage:

one NP-F battery: 6 ~ 8.4 V
two rechargeable NP-F batteries: 12 ~ 16.8 V
two rechargeable NP-F batteries: 12 ~ 16.8 V
two rechargeable NP-F batteries: 12 ~ 16.8 V
D-Tap battery pack: 12 ~ 16.8 V

Lighting angle: 15° ~ 45°
Allowed operating temperature: -20°C ~ +45°C
cooling system: active
control:

On-board (control panel on the lamp)
SidusLink application (Bluetooth, SidusMesh™)

Bluetooth range: ≤ 80 m
display type: OLED
weather resistance: yes
modifier mounting system: LS 60 Mini Mount
modifier mount diameter: 120 mm
tripod mount: 16 mm / 5/8″ (Baby Pin)
weight:

lamp: 1800 g
window: 222 g
power supply: 370 g
adapter for NP-F batteries: 134 g
whole kit with carrying case: 4.475 kg

dimensions:

lamp (without mounting bracket): 20.9 x 11.6 cm
lamp (with mounting bracket): 28.0 x 15.6 x 12.7 cm
inlet (closed): 13.4 x 10.8 x 3.3 cm
power adapter: 13.5 x 5.6 x 3.4 cm
adapter for NP-F batteries: 10.3 x 8.7 x 2.5 cm
carrying bag: 42 x 20 x 20 cm
Kit contents
Aputure Light Storm LS 60x LED lamp
power supply
adapter for 2 NP-F batteries
LS 60 Mini Mount – Bowens adapter
8-wing gates
AC CON Cable
D-tap DC Power Cable
transport bag
Photometry
CCT
Distance
1 m
3 m
5 m
2700 K
Spot (15°)
25110 lx
3125 lx
1116 lx
2700 K
Spot (15°)
2332 cd
290 cd
104 cd
2700 K
Flood (45°)
4464 lx
525 lx
201 lx
2700 K
Flood (45°)
415 cd
415 cd
49 cd
19 cd
5600 K
Spot (15°)
33480 lx
441 lx
1451 lx
5600 K
Spot (15°)
3,110 cd
394 cd
134 cd
5600 K
Flood (45°)
5803 lx
5803 lx
703 lx
268 lx
5600 K
Flood (45°)
539 cd
66 cd
25 cd
6500 K
Spot (15°)
32364 lx
4018 lx
1395 lx
6500 K
Spot (15°)
3007 cd
373 cd
129 cd
6500 K
Flood (45°)
5580 lx
5580 lx
670 lx
246 lx
6500 K
Flood (45°)
519 cd
519 cd
61 cd
22 cd