Description
The Aputure MC Pro is a compact 10.8 x 7 cm LED lamp like never before. It offers 4x more brightness than the previous Aputure MC model. It is made of durable aluminum and meets the IP65 standard (resistant to dust and water spray). With a wide range of color temperature adjustment (2,000 K – 10,000 K) and precise color control (HSI, RGB and XY), it allows you to adjust the light to almost any situation. It offers 300 programs to mimic color film work and 15 special effects. Its long run time on a single charge (2h at max power) and convenient USB-C charging make it an ideal tool for field work. The Aputure MC Pro lamp offers multiple mounting methods. The kit does not lack additional light modifiers and a sturdy case.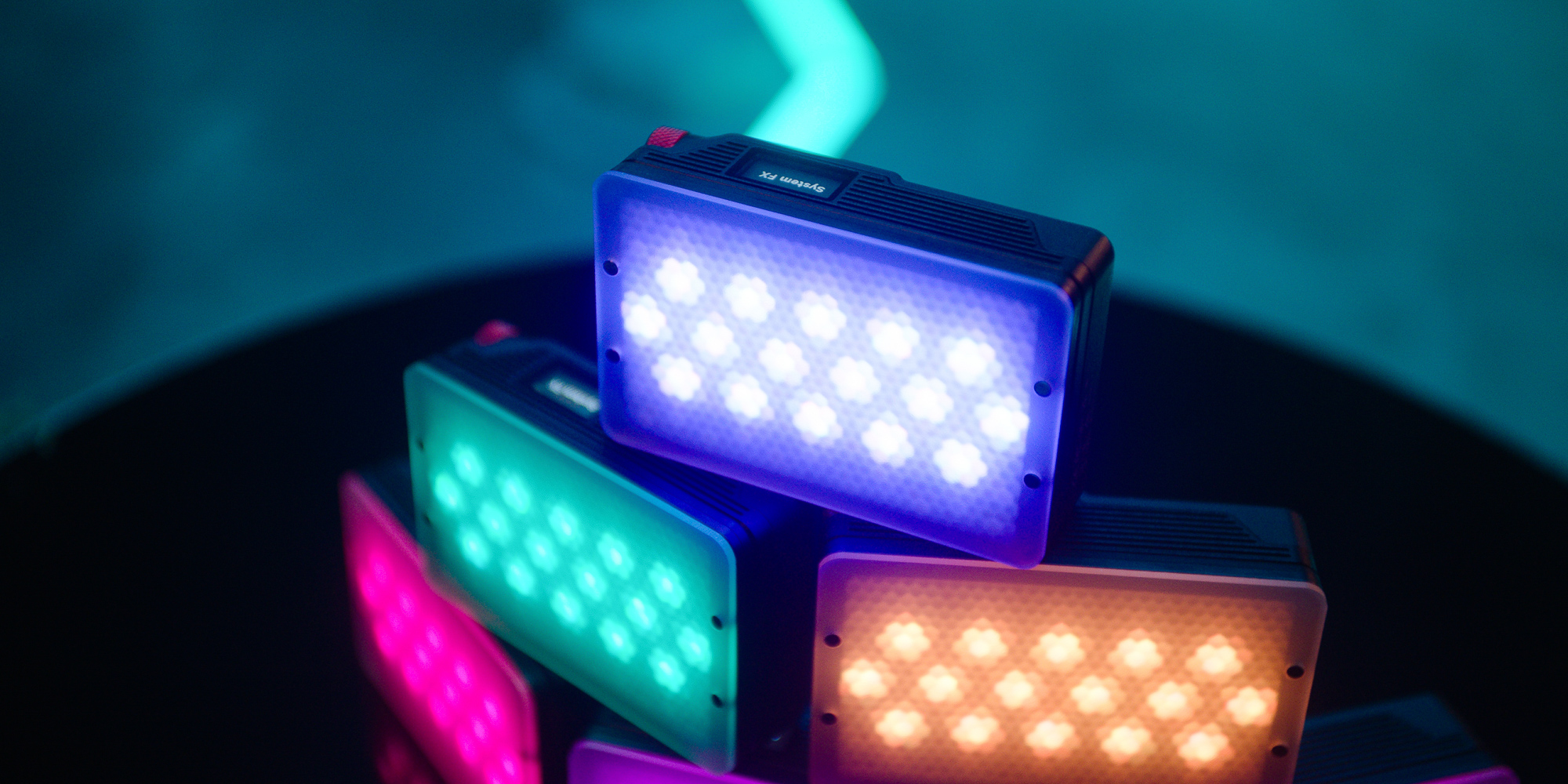 Main product features
professional LED lamp with dimensions of 10.8 x 7 cm
portable and compact design, ideal for field and studio work
4 times the brightness compared toputure MC model
durable aluminum construction for reliability and long life
resistant to dust and water spray (IP65 standard)
maximum light intensity of 1585 lux (at a distance of 0.5 m, with a color temperature of 5600 K)
wide range of color temperature adjustment (2000 K – 10000 K)
operation within 3 color spaces (HSI, RGB and XY)
precise color control with high quality reproduction (CRI: 96, TLCI: 96)
advanced RGBWW diode array (red, green, blue, warm white, cool white)
more than 300 programs imitating color effect film work
15 preset special effects (including paparazzi, explosion, fireworks and party)
alternative light control and management methods (Sidus Link app, LumenRadio CRMX, DMX / RDM)
ergonomic knob for quick and convenient adjustment of lamp parameters
backlit TFT screen for easy control of settings
long operating time on a single charge (up to 2 hours at maximum light intensity)
convenient charging via USB-C port
a full charge takes just 90 minutes
by choosing the Aputure MC Pro 8-Light Kit, you can charge your Aputure MC Pro lights with a special case
equipped with 1/4 "female mounting thread
cold shoe adapter, allowing you to mount on camera, camcorder, tripod or stand
includes a 1/4″ magnetic adapter that allows you to attach the cold shoe adapter to a metal surface
powerful neodymium magnets for instant mounting on metal surfaces
included 4 self-adhesive metal plates to allow you to use the full potential of the magnets
set of 3 magnetic light modifiers (flat diffuser, dome diffuser and grid)
magnets allow you to quickly install the modifiers on the lamp, and also allow you to connect them together
includes a sturdy, padded zippered case
A compact light source for the demanding
The Aputure MC Pro LED light is an upgraded version of the filmmakers' acclaimed RGBWW LED panel. Underneath this small aluminum casing, it hides huge capabilities. It's a sturdy design measuring 10.8 x 7 x 2.5 cm and meets the IP65 standard . This means that it is fully resistant to dust and water spray. Retaining the compact credit card-like size characteristic of the original Aputure MC lamp, the Pro variant allows you to operate a wide range of professional functions. Now you can enjoy full control of your lighting in a pocket-sized variant. This inconspicuous little guy will meet the demands of even the most demanding professionals.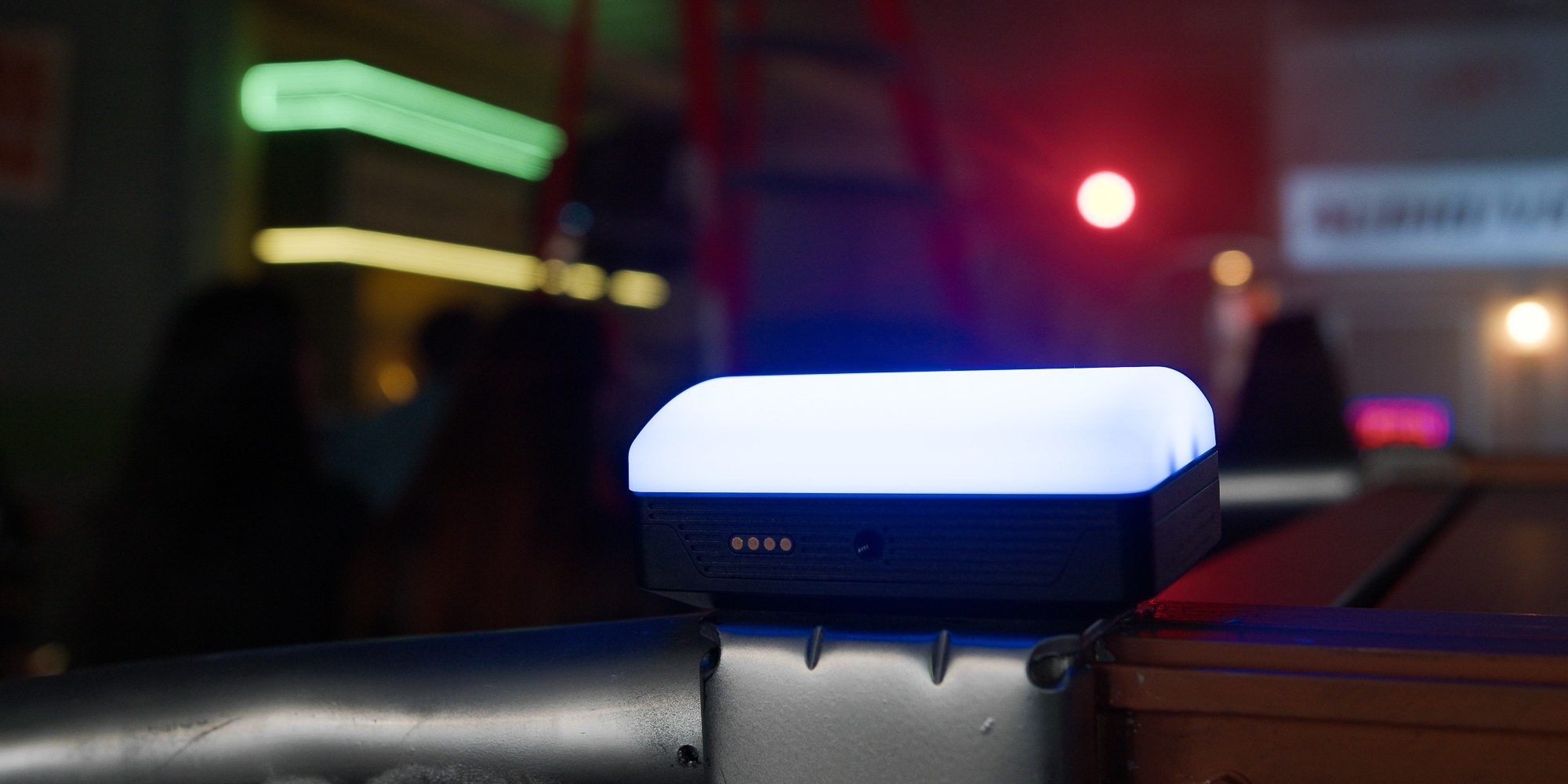 Even more power
Aputure MC Pro LED lamp is equipped with specially designed optics, featuring a narrower angle of light (45º). This design strikes the perfect balance between quality and performance. As a result, the MC Pro creates a clearer and more concentrated light, which is ideal for professional film and photography applications. The lamp will generate a beam of 1585 lux, from a distance of 0.5 m and at a color temperature of 5600K. Thus, the MC Pro model offers 4 times more brightness than its older sister, the Aputure MC!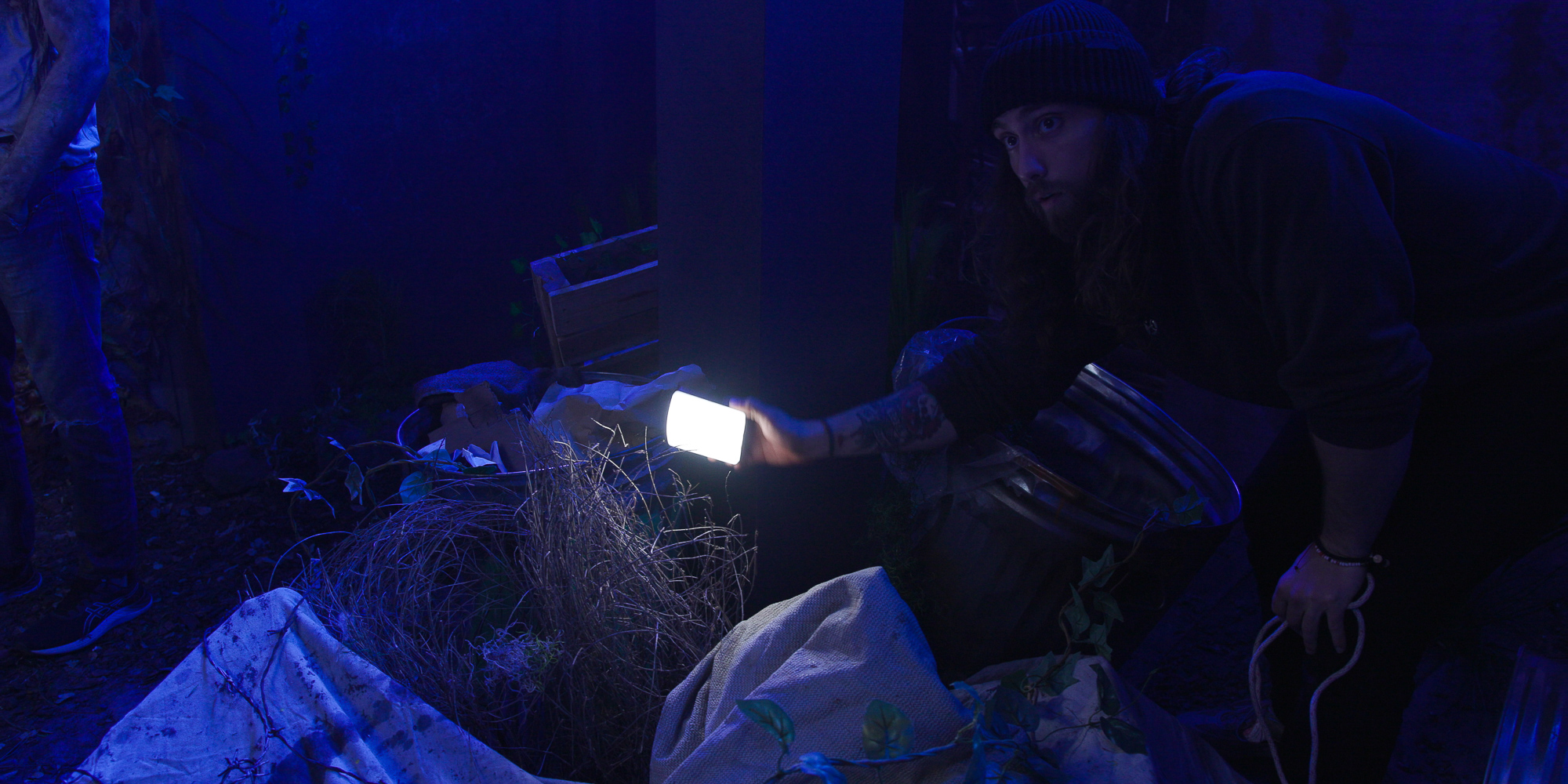 Light quality at the highest level
You'll be hard-pressed to find another lamp this small that offers such advanced technology. The Aputure MC Pro is equipped with the same RGBWW chip as the flagship Nova P600c. The unit offers a wide range of color temperature adjustment (from 2000 K to 10000 K), while guaranteeing excellent color fidelity. This is confirmed by CRI and TLCI scores of 96, SSI (D56) of 72 and SSI (Tungsten) of 82. The Aputure MC Pro mini light panel also provides a wide range of color control, within 3 color spaces HSI, RGB and XY. There are also 300 ready-made gel filter simulations on board, and 15 built-in special effects (including paparazzi, explosion, fireworks and party).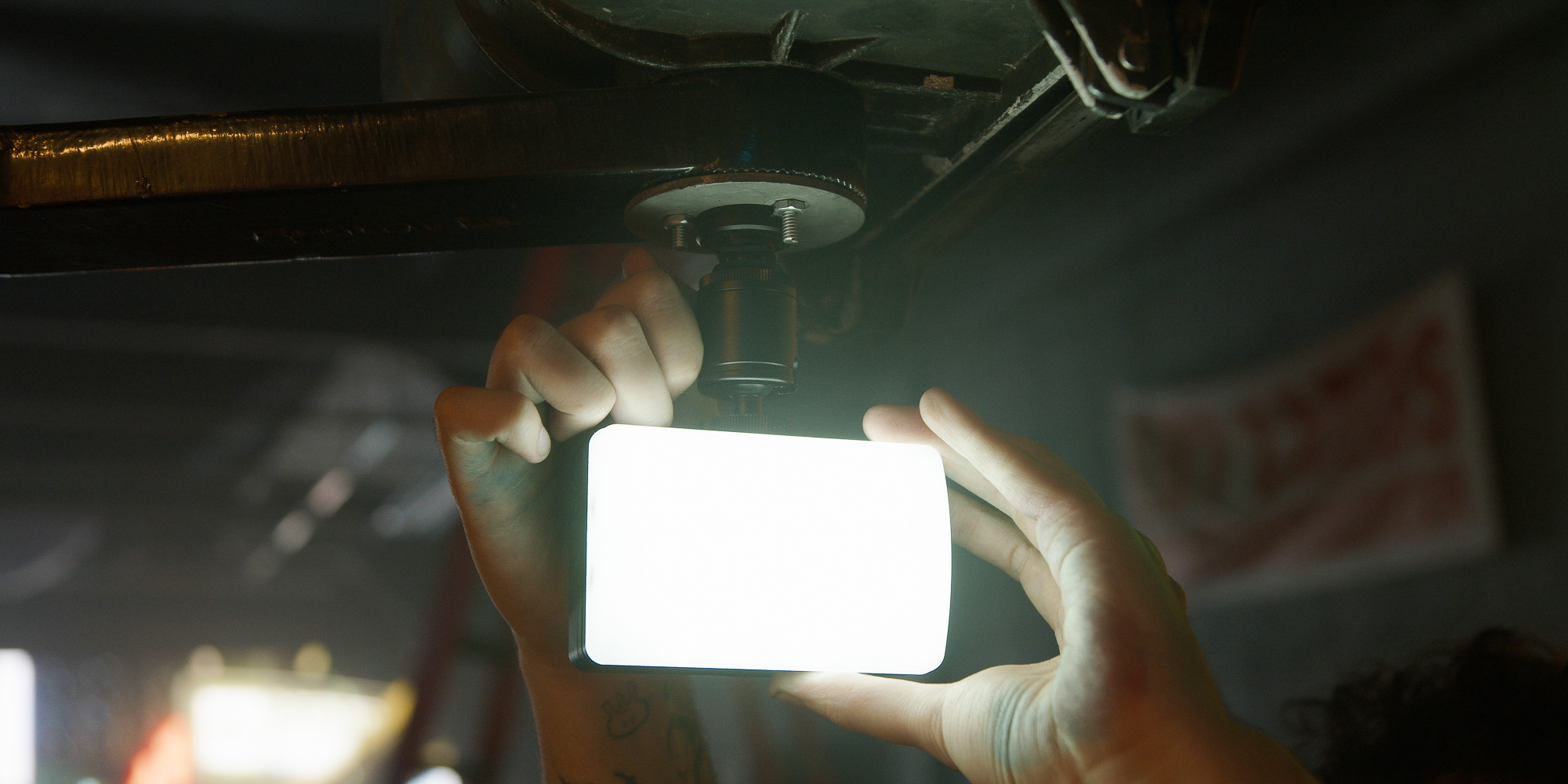 Universal and ultra-mobile
Need an effect light for portraits? Want to use a small lamp to create realistic scenery? Are you missing a fill light? Or maybe you just need a small LED panel to help you work in the dark? The Aputure MC Pro LED lamp will work well in any of these situations. This model fits perfectly into the philosophy of the Aputure M line. Its compact size makes the lamp ultra-mobile, quick to use and always at hand. At the same time, it offers advanced features designed with professionals in mind, which you can't find in vain in competitors of similar size.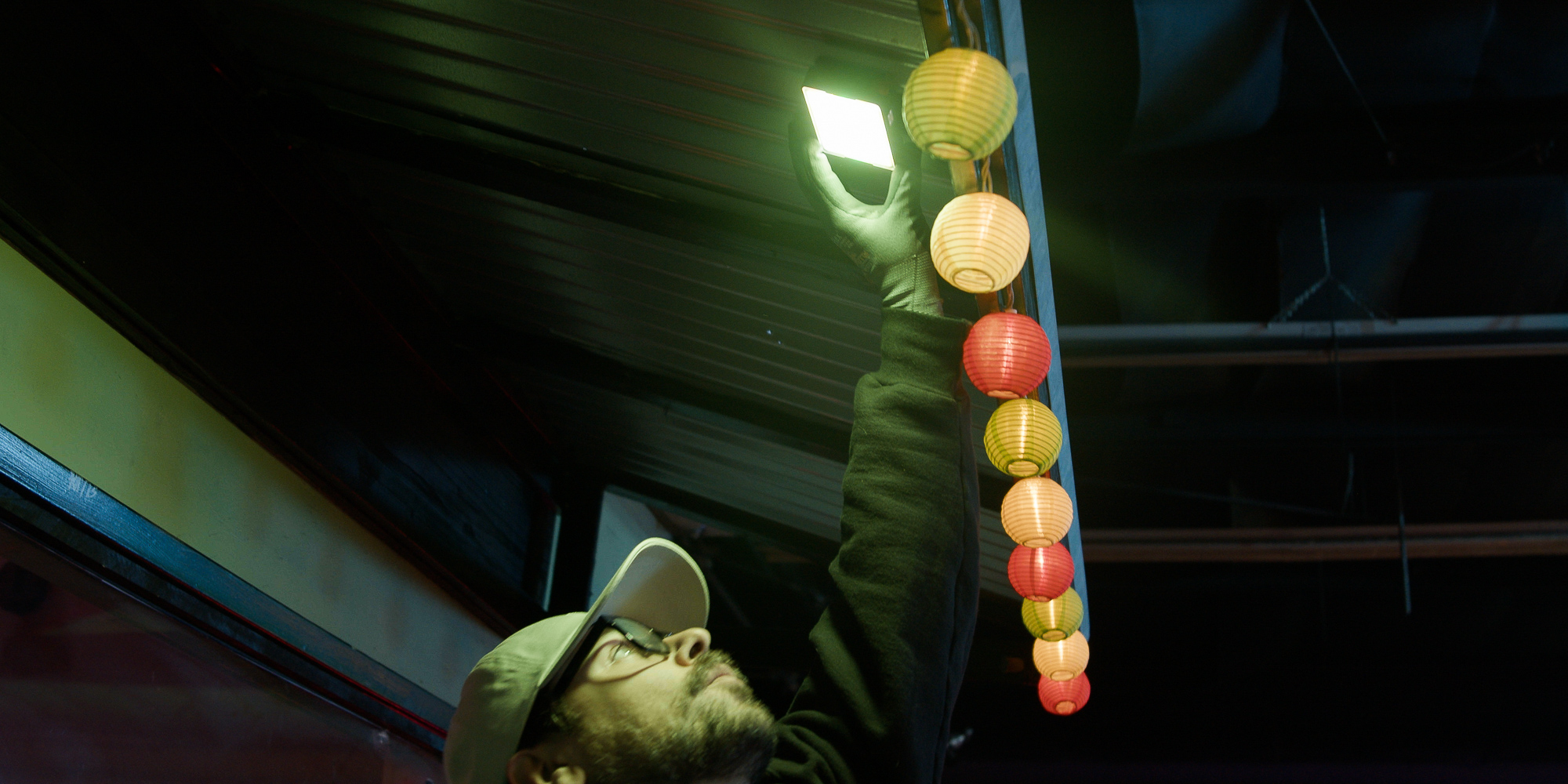 Long runtime and convenient charging
The Aputure MC Pro LED lamp will be a reliable source of light no matter where you are. The built-in 15.5 Wh rechargeable battery will meet any production challenge. The cell will provide up to 2 hours of operation at maximum light output. And when you run out of power, it only takes 90 minutes to recharge the compact LED panel using the included USB-C cable. If you don't have an electrical outlet nearby, you can use a power bank.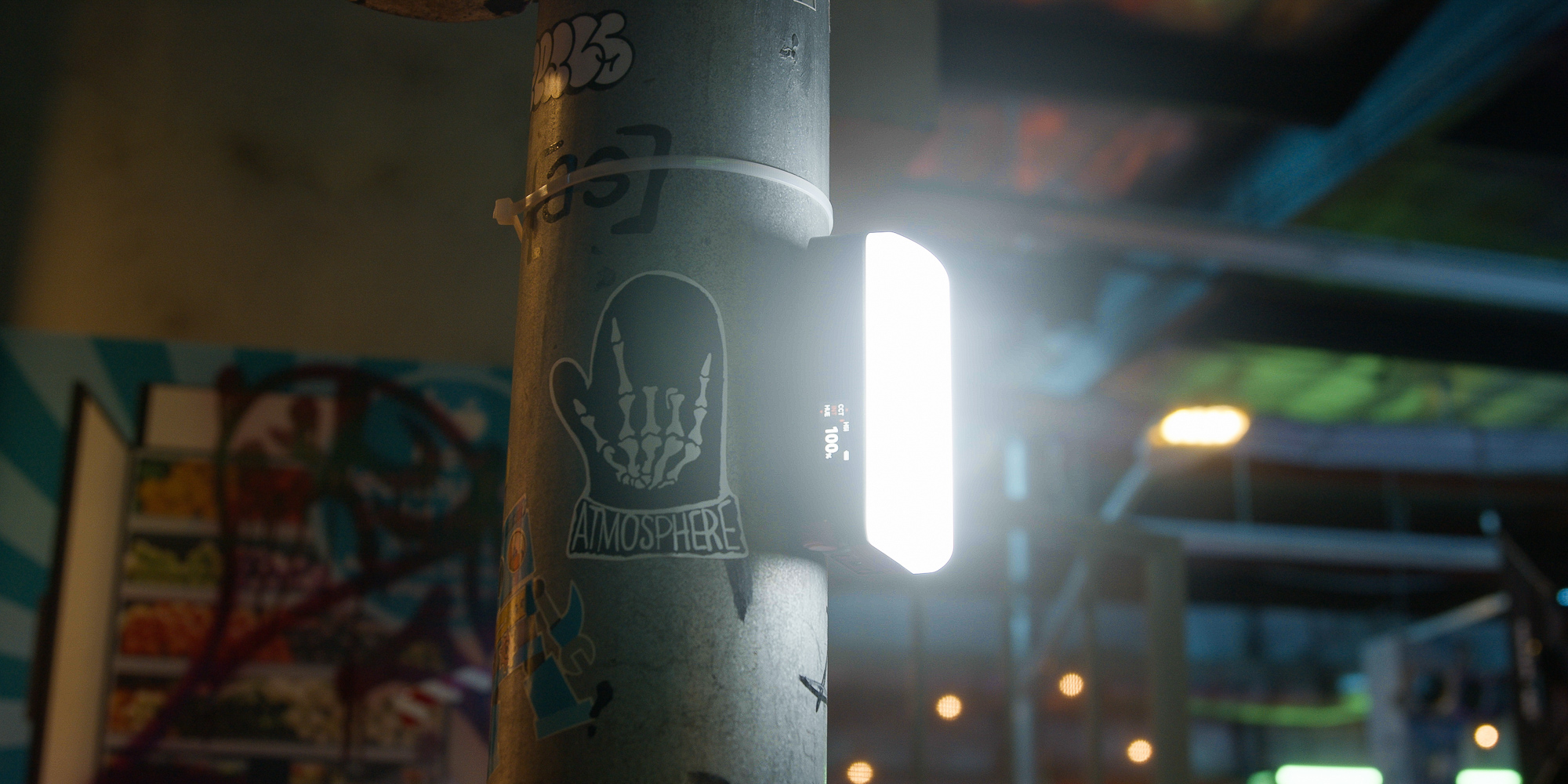 Multiple mounting methods
The Aputure MC Pro LED lamp offers a versatile mounting system that will have you ready to go in no time. You'll find a cold shoe adapter with a ball head included. It will allow you to connect the device to your camera, tripod or mount. There is also a special adapter that will allow you to attach the head to a metal surface with a magnet. However, this is not the end of the MC Pro model's capabilities. Thanks to built-in neodymium magnets and metal adhesive plates, the pocket lamp can be installed almost anywhere!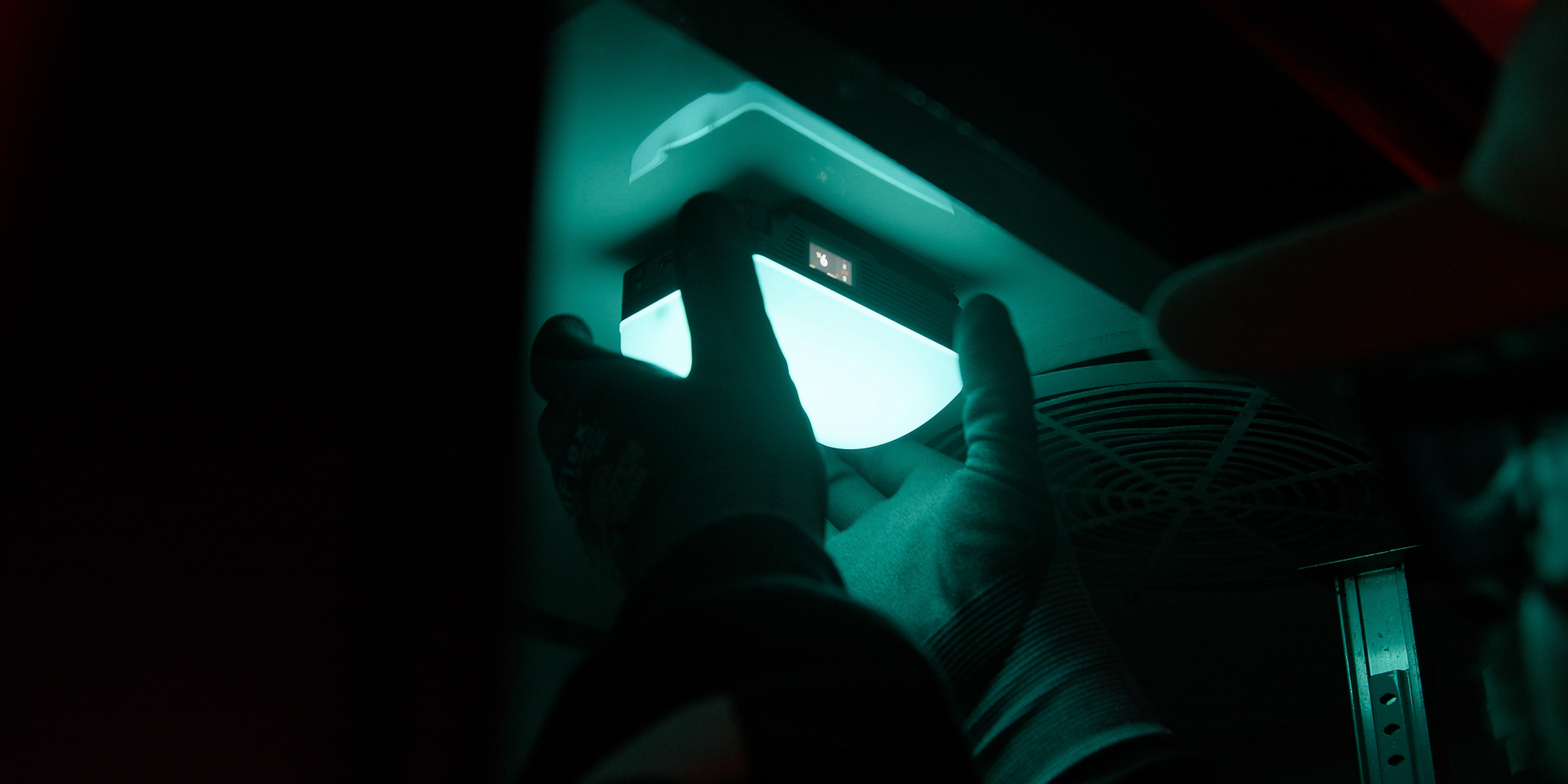 Advanced control functions
Aputure MC Pro LED lamp is not only the ability to control the device from the control panel and the free Sidus Link app (range up to 80 meters). The presented model also allows you to use the popular LumenRadio CRMX system in the film industry. However, this is still not the end of options. The most demanding users can take advantage of the DMX protocol. Just reach for the Aputure Active USB-C to 5-Pin DMX adapter to enjoy a stable wired connection. Regardless of your preferred control method, you gain full control over light parameters!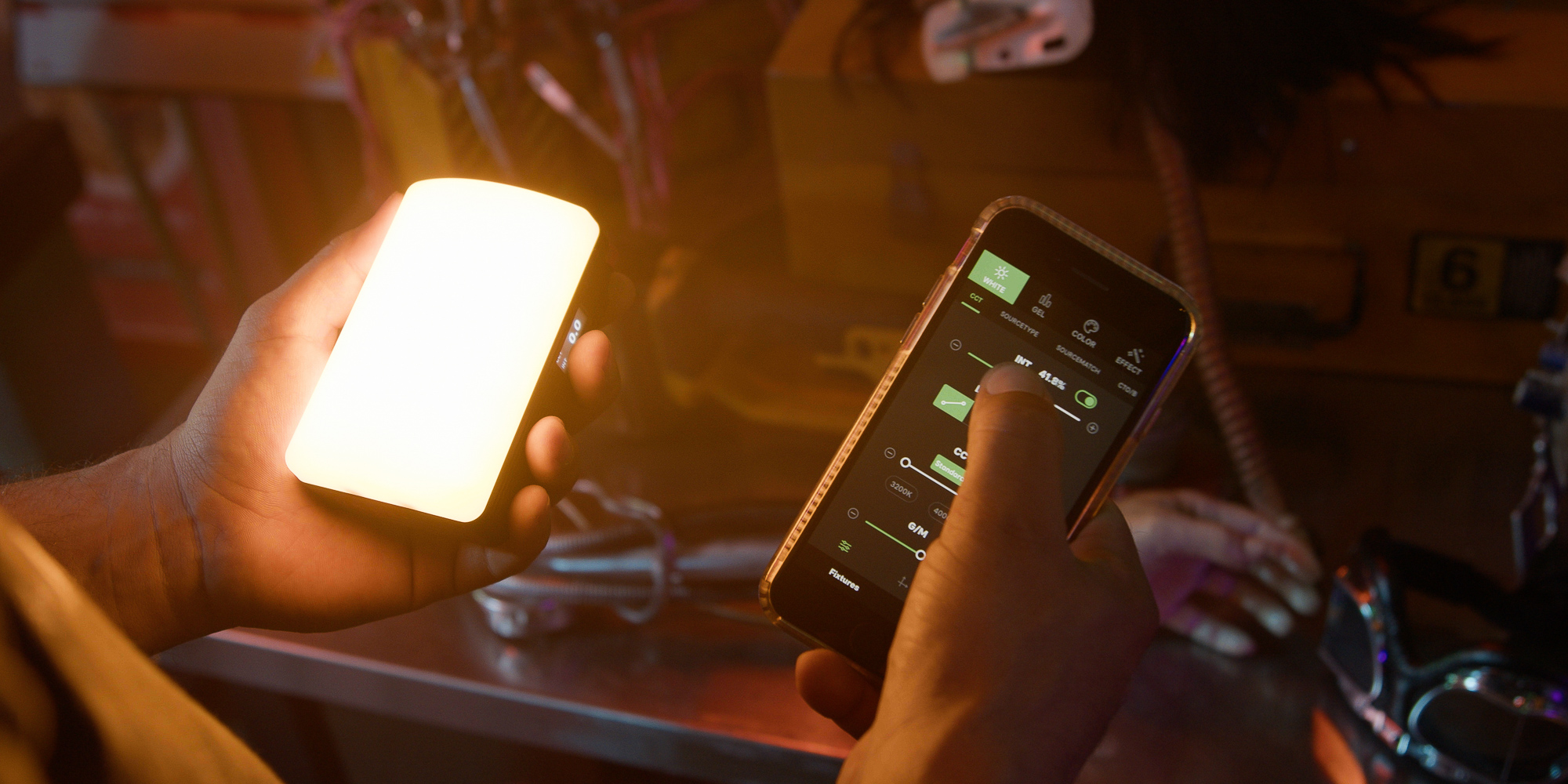 APUTURE ACTIVE USB-C to 5-PIN DMX ADAPTER IS NOT PART OF THE KIT.
3 magnetic light modifiers included
With the Aputure MC Pro light, you get a set of versatile tools that give you even more complete control over your light. Two diffusers (flat and dome) will allow you to soften the light and disperse it appropriately. The grid, in turn, will allow you to precisely direct it, effectively eliminating unwanted reflections. Thanks to the magnets, the light modifiers can be instantly connected both to the lamp and to each other.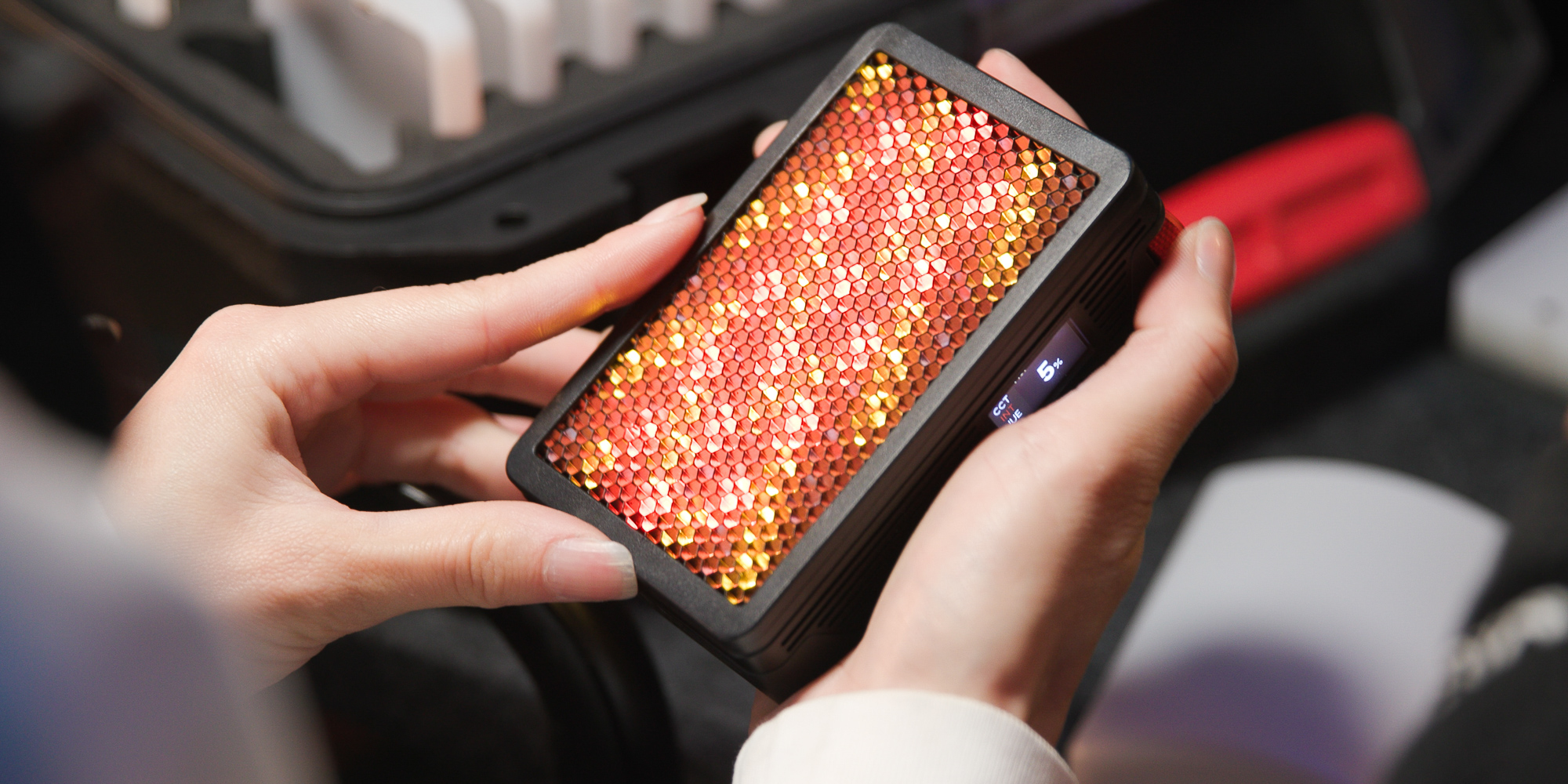 Specification
model: Aputure MC Pro
light color temperature: 2000 K – 10000 K
CRI: 96
TLCI: 96
CQS: 95
SSI (D56): 72
SSI (Tungsten): 82
TM-30 RF: 94
TM-30 RG: 103
output power: 5 watts
power consumption: 7 W
luminous flux: 563 lm
current: 0.84 A
voltage: 3-4.2 V
Power supply:

USB-C (5 V / 2 A)
contact pins (pogo pins)

Battery: 4200 mAh / 15.5 Wh
Battery life: 120 minutes (max power)
charging time: 90 minutes (5 V / 2 A)
protection rating: IP 65 (full dustproof, resistant to heavy rain)
operating temperature: from -20°C to 45°C
brightness adjustment: 0-100%
Control:

control panel
Sidus Link application (Bluetooth, Sidus Mesh)
DMX / RDM
LumenRadio CRMX

Range:
LumenRadio: up to 100 m
Display: TFT
system update: Sidus Link app
cooling: passive
dimensions: 10.8 x 7 x 2.5 cm
weight: 247 g
Kit contents

Aputure MC Pro LED lamp
magnetic flat diffuser
magnetic dome diffuser
magnetic grid ("honeycomb")
cold foot mount with ball head
magnetic 1/4 "adapter
4 metal mounting plates (self-adhesive)
USB-A / USB-C cable
stiffened zippered case

photometrics

| CCT | Distance | No modifier | Dome diffuser | Flat diffuser | Grid |
| --- | --- | --- | --- | --- | --- |
| 2000 K | 0.5 m | 1027 lx | 253 lx | 463 lx | 838 lx |
| | 1 m | 257 lx | 63 lx | 116 lx | 838 lx |
| 2700 K | 0.5 m | 1244 lx | 297 lx | 543 lx | 1014 lx |
| | 1 m | 311 lx | 74 lx | 136 lx | 254 lx |
| 3200 K | 0.5 m | 1459 lx | 344 lx | 628 lx | 1183 lx |
| | 1 m | 365 lx | 86 lx | 157 lx | 296 lx |
| 4300 K | 0.5 m | 1597 lx | 384 lx | 696 lx | 1314 lx |
| | 1 m | 399 lx | 96 lx | 174 lx | 328 lx |
| 5600 K | 0.5 m | 1585 lx | 392 lx | 706 lx | 1322 lx |
| | 1 m | 396 lx | 98 lx | 177 lx | 331 lx |
| 6500 K | 0.5 m | 1559 lx | 390 lx | 697 lx | 1304 lx |
| | 1 m | 390 lx | 98 lx | 174 lx | 326 lx |
| 7500 K | 0.5 m | 1558 lx | 385 lx | 693 lx | 1296 lx |
| | 1 m | 390 lx | 96 lx | 173 lx | 324 lx |
| 10000 K | 0.5 m | 1492 lx | 381 lx | 670 lx | 1243 lx |
| | 1 m | 373 lx | 95 lx | 168 lx | 311 lx |
| Red | 0.5 m | 442 lx | 175 lx | 295 lx | 366 lx |
| | 1 m | 110 lx | 44 lx | 74 lx | 92 lx |
| Green | 0.5 m | 849 lx | 329 lx | 570 lx | 716 lx |
| | 1 m | 212 lx | 82 lx | 143 lx | 179 lx |
| Blue | 0.5 m | 143 lx | 63 lx | 101 lx | 56 lx |
| | 1 m | 36 lx | 16 lx | 25 lx | 30 lx |