Description
The Camrock Vloger Desk Stand Pro is an innovative desk stand that allows you to work comfortably and well organized with a wide variety of equipment. The sturdy clamp ensures convenient mounting on tabletops up to 48mm thick, and the modular design allows you to optimally adapt the individual components of the kit to the current needs of studio recordings, streams, webinars or vlogs recorded from home. Articulated arms provide 360-degree operation and precise positioning of equipment such as cameras, camcorders, microphones, review screens, LED lights or teleprompters. With a microphone mount, a camera ball head equipped with a quick release plate, and an arm with the popular 1/4 inch tripod thread, you will tidy up your workstation and increase the quality of your recordings!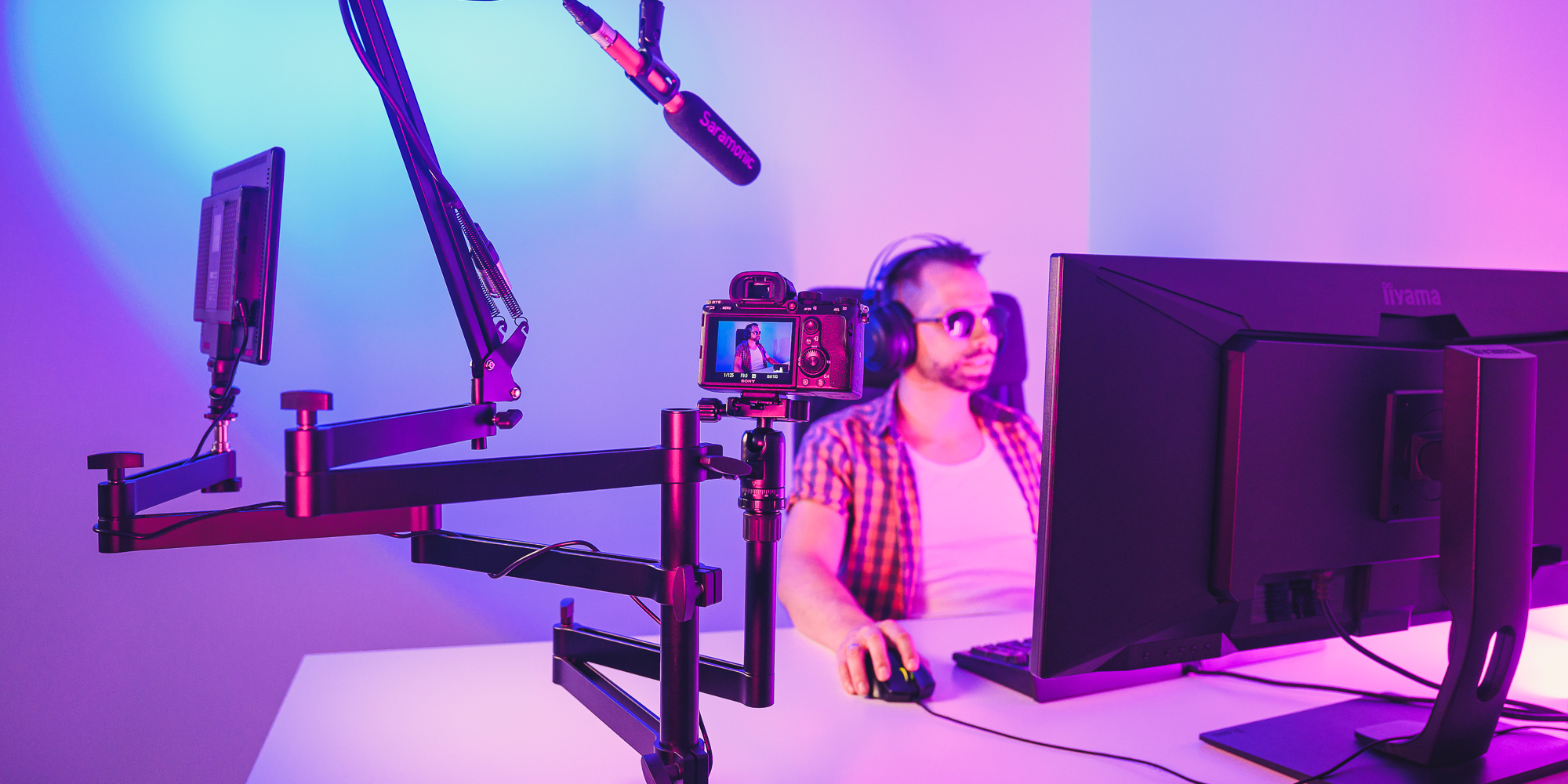 Main Product Features
professional tripod for convenient organization of a video creator's work
perfect for vloggers and streamers using platforms such as YouTube, Twitch, TikTok or Instagram
ideal equipment for a recording studio or home gaming station
conveniently mounts a camera, camcorder, microphone, viewing screen, lamp or other filming accessories
enables comfortable work with 3 devices at once
modular construction enabling work with selected parts of the set
ball head with quick disconnect coupling in Arca Swiss standard facilitating quick installation of a camera
articulated arms with a pivoting arm for a comfortable grip
articulated arms ensuring work in the range of 360 degrees
possibility of precise adjustment of tripod arm range to the space in which you record
included professional spring-loaded arm with a microphone holder
in the set
included 1/4″ male connector for mounting an additional accessory on the arm (e.g. preview screen or LED lamp)
can be conveniently mounted on table tops up to 48mm thick
Solid clamp for safety and stability
Mounting rail with cold shoe included
Tidy workstation
The Camrock Vloger Desk Stand Pro was created with video creators, streamers, youtubers, tiktokers, webinar hosts and music producers in mind. Its innovative design will prove useful wherever you need the greatest possible ergonomics when working with a camera, camcorder, microphone, additional light source, viewing screen or teleprompter. Necessary accessories can be conveniently installed on special movable arms which will allow you to prepare in a few seconds a comfortable work station providing optimal access to the various devices!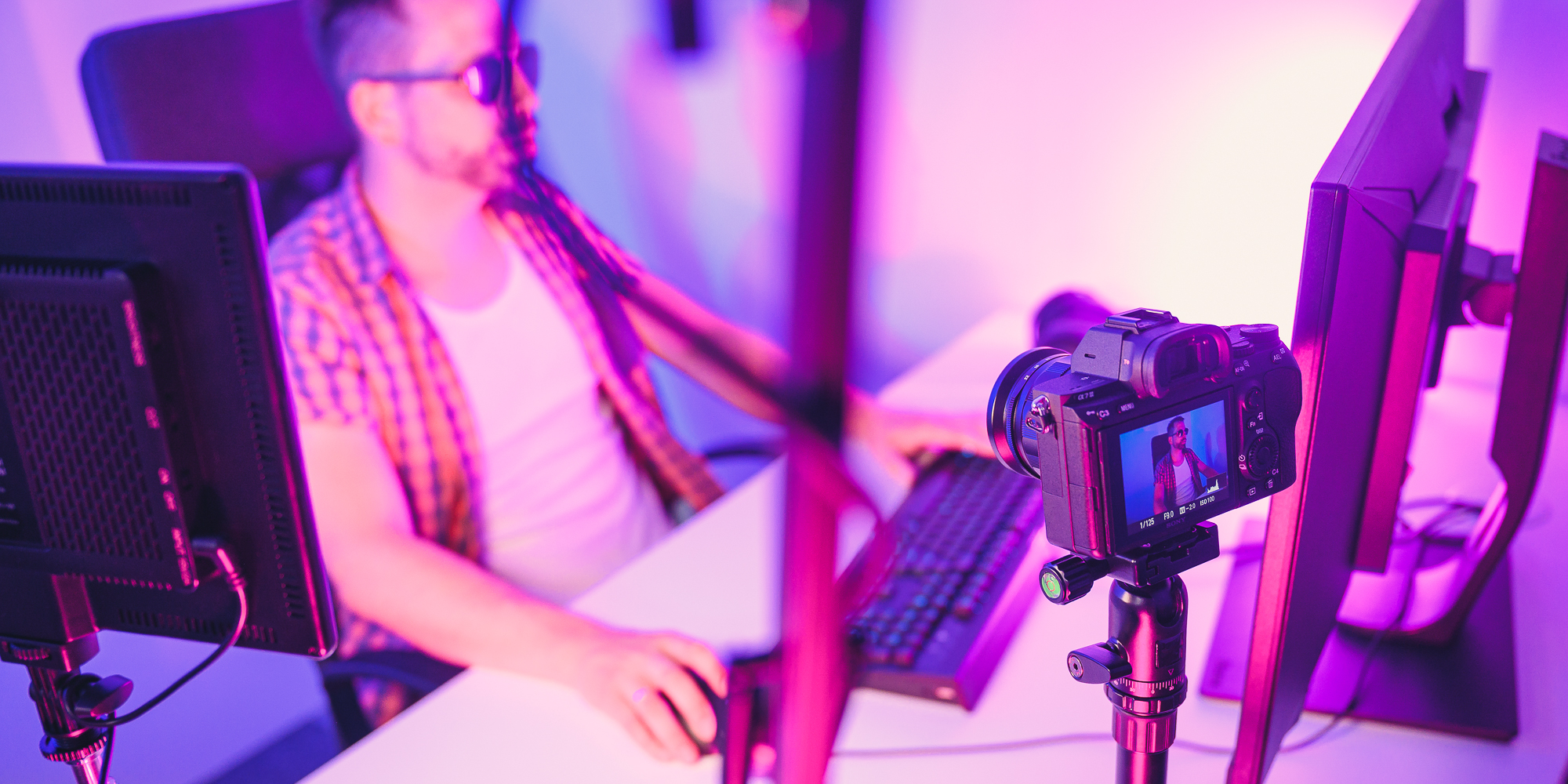 Fit to your needs
Modular design allows you to customize the tripod to meet the diverse needs of your studio. It has three articulating arms that allow you to mount different devices and fine-tune their range. If necessary, you can remove selected tripod components or swap them around. The kit also includes a cold shoe mounting rail that can replace a camera ball head. You decide which configuration to install the articulating arms on the center column to make the Camrock Vloger Desk Stand Pro the command center of your vlogs, streams or live broadcasts!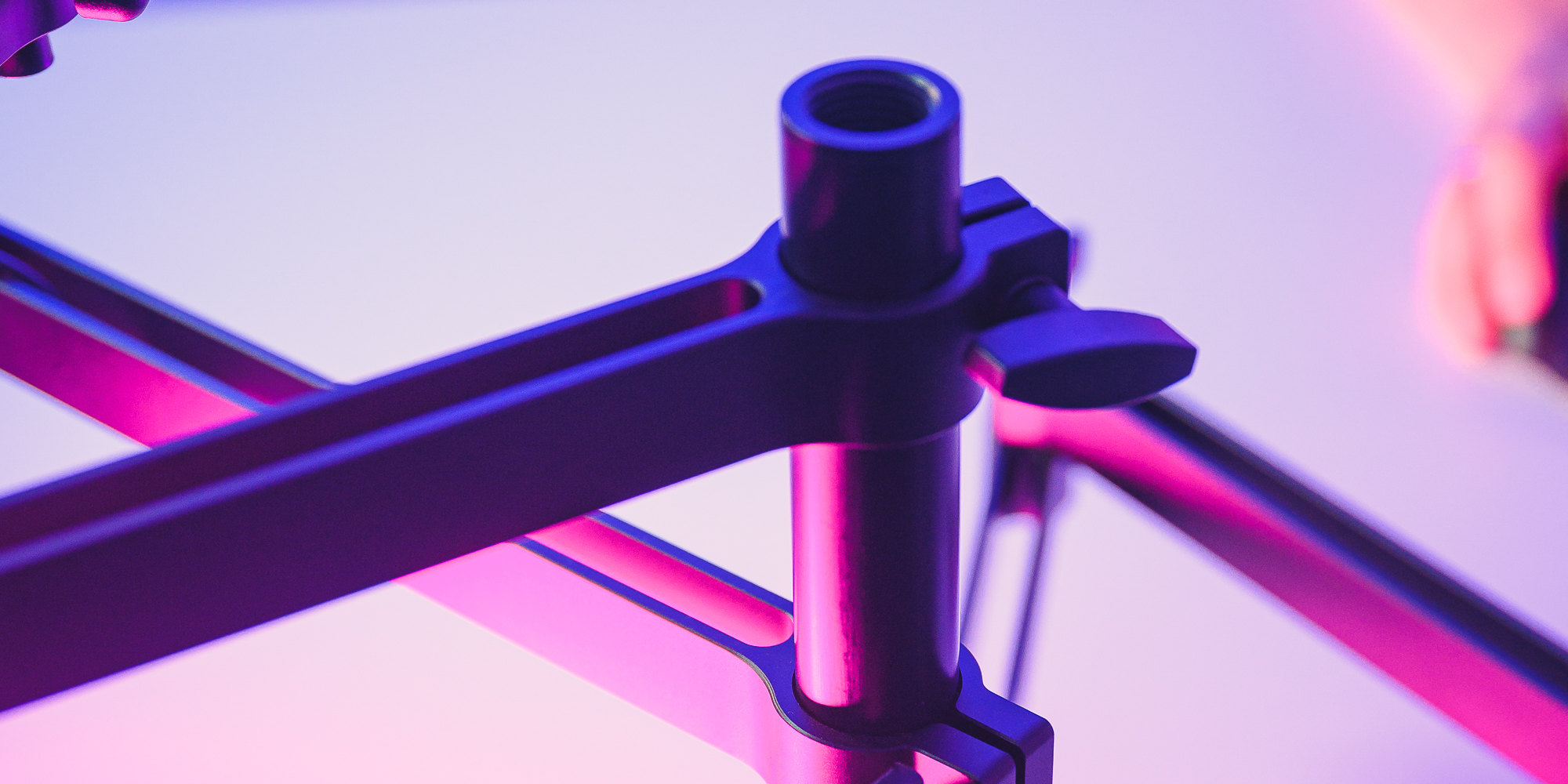 Comfortable camera operation
To make working with your camera or camcorder even more convenient, the Camrock Vloger Desk Stand Pro kit does not lack a versatile ball head. It enables quick exchange of equipment and better control of the frames. It will be installed on a telescopic central column which will allow you to conveniently adjust the position of the device. The head is equipped with two levels and an angle scale. There is also a quick release plate with non-slip lining, compatible with the popular Arca-Swiss standard. Thanks to it you can quickly install the camera on the tripod and remove it just as quickly if necessary.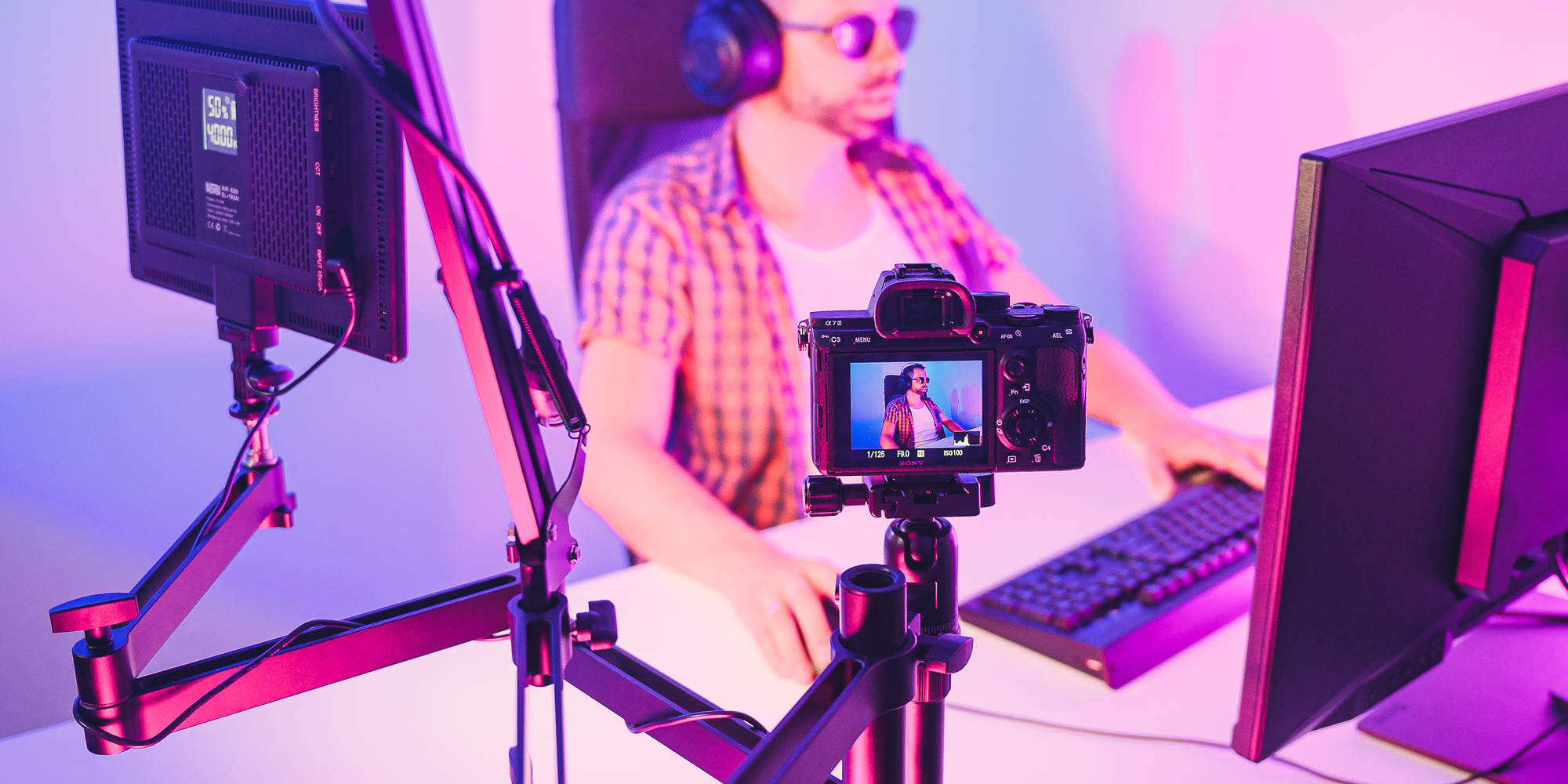 Professional microphone arm
An important element of the set is a special arm designed with professional studio microphones in mind. The use of multiple adjustment points of the tilt angle allows you to precisely prepare the equipment for recording. Robust clamps ensure that once the optimum position has been determined, the microphone will stay in place! At the base of the arm, there is also a guide for convenient cable routing. The manufacturer has also taken care of optimal shock absorption parameters. Special springs prevent the registration of vibrations and oscillations that could accidentally interfere with your recordings.
Convenient assembly
You don't need any additional tools to assemble the Camrock Vloger Desk Stand Pro in the configuration that suits you and install it on your desk. The robust clamp is compatible with countertops with a maximum thickness of 48mm. Powerful locks will allow you to fine-tune the tilt angles and maximum length of each arm, and all the devices installed on the tripod will stay in place without having to correct their position after hours of recording!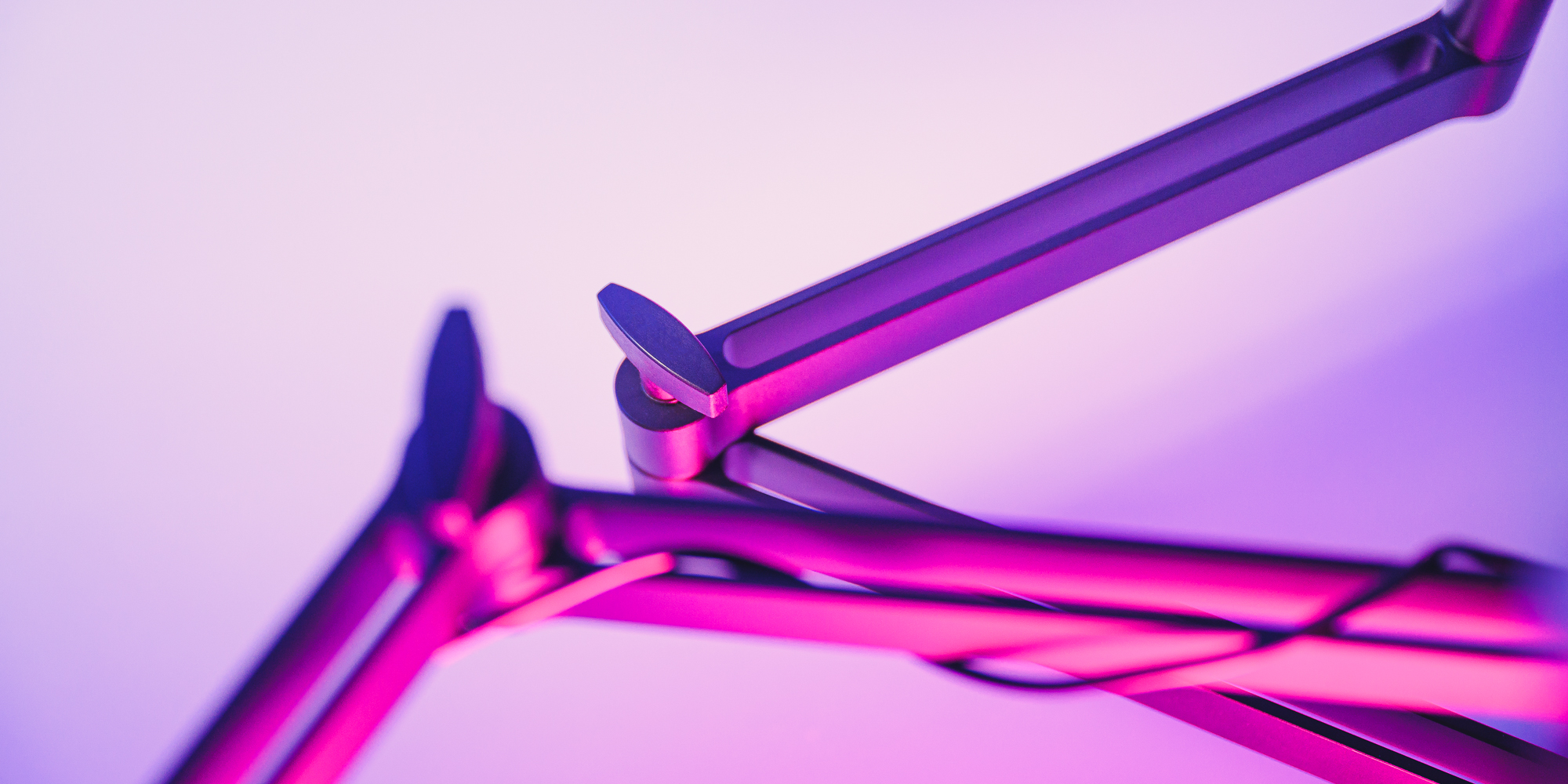 Compatibility
Desks and tops up to 48mm thick
Specification
model: Camrock Vloger Desk Stand Pro
center column height: 72 cm
Column height with camera head: 30 cm
max length of arms equipped with 1 joint: 53 cm
max. arm length with 2 joints: 76 cm
max. length of microphone arm: 86 cm
weight: 2771 g
Kit contents
Camrock Vloger Desk Stand Pro

1 x center column with mounting bracket
1 x center column extension arm
1 x telescopic column for camera head
1 x microphone arm
2 x 1-pivot arm
1 x ball head
Cold mount rail