Description
The ND4000 K-series H&Y HD MRC Circular Gray Filter – 95mm Drop in was developed with the unique H&Y K-series filter mount in mind. Thanks to the modern mounting system you need only a few seconds to reduce the light input to the sensor without affecting the color balance. The filter will allow you to achieve unique dynamic frames when shooting water, sky or moving people. With an ND4000 darkening factor, you can extend the exposure time by as much as 12 stops. Experience the innovative K-series mounting system appreciated by photographers and filmmakers around the world and once and for all forget about blocking screw-in filters!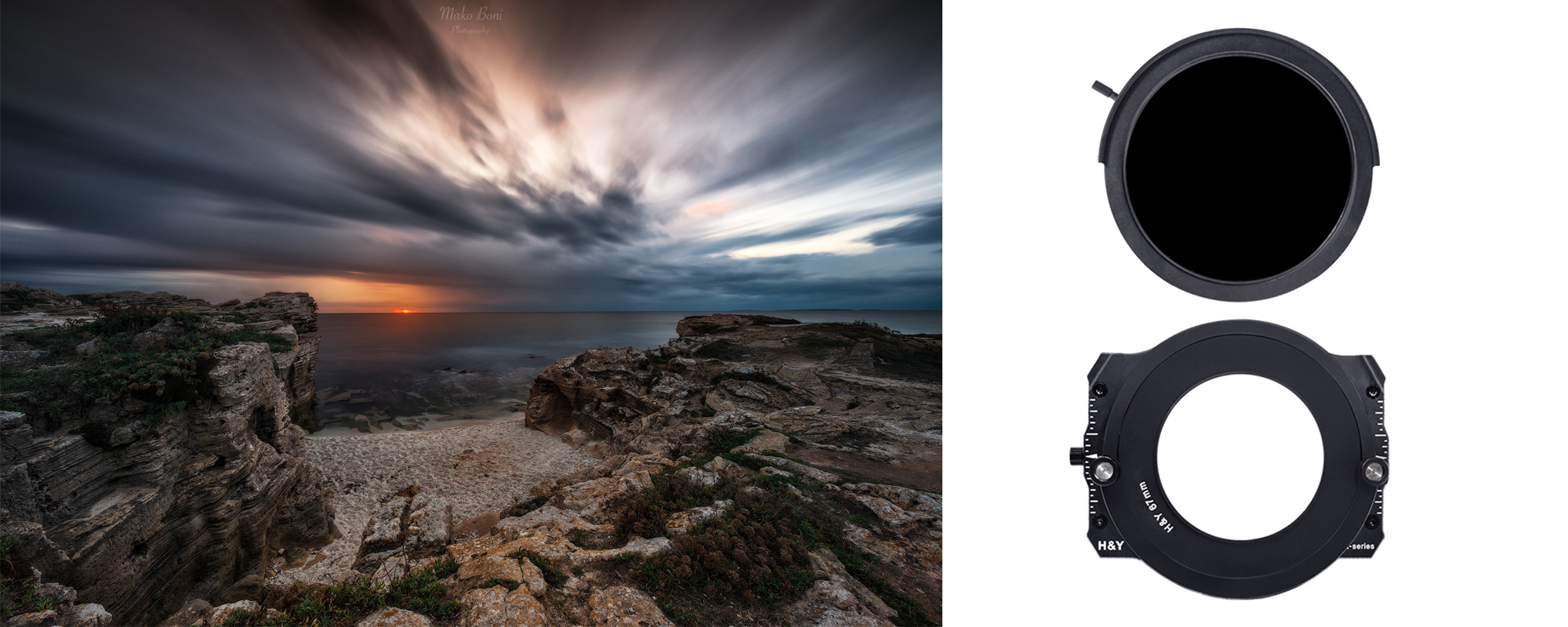 Main filter features
Gray filter (ND4000)
extends exposure time by up to 12 stops of aperture
designed to work with the H&Y K-series filter mount
developed design to eliminate any light transmission
made of lightweight and durable anodized aluminum alloy
protective case included
Pose for longevity
The filter housing is made of high quality aircraft grade aluminum. This makes it not only lightweight, but also very durable. The housing, in which the filter is placed, is covered with a black matte anodic coating, which looks great and protects the strong German Schott B270 glass from mechanical damage. The materials used will ensure a long life and ensure that for years to come, your only concern will be the desire to continually expand your collection of H&Y branded accessories compatible with the K-series product line.
"Drop-in" means installing the filter in seconds
The ND4000 K-series H&Y HD MRC – 95mm drop-in circular gray filter will place into the H&Y K-series filter holder in no time. Never again will you miss an opportunity for a fantastic photo by struggling with an accessory that screws onto your lens. Using high quality aluminum, the filter is lightweight and very durable. From now on you are one step away from endless possibilities of image creation!
H&Y K-SERIES FILTER HOLDER MUST BE PURCHASED PERSONALLY.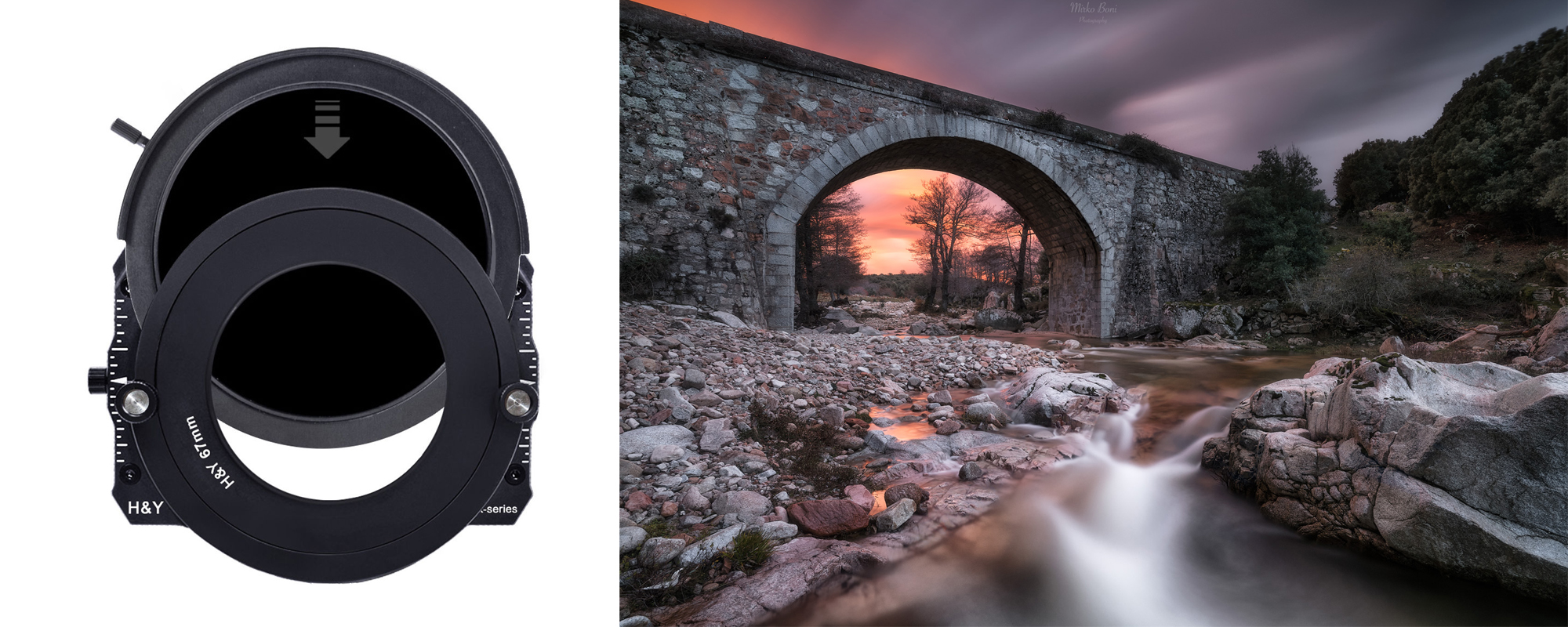 Architecture without tourists entering the frame
Photographing popular landmarks, famous monuments or unique buildings can be a hassle. Wherever you're dealing with crowds of tourists, you have to reckon that capturing the subject itself in the photo may be impossible. But not with the ND4000 K-Series H&Y filter! With an optical density of 3.6, you can extend the exposure time by 12 stops of aperture. With long exposure times of even tens of seconds, moving people will magically disappear, and the beauty of architecture will appear to your eyes in its full glory!
go wild outdoors
Excessive lighting when shooting outdoors is a common problem for many photographers. This is where gray filters come to the rescue. They limit the amount of light reaching the lens, not interfering with the colors at all. By keeping a constant ISO and aperture value you can extend the exposure time. With an ND4000 gray filter you can achieve amazing dynamic blur effects on landscapes such as water and clouds. With K-series filters you will rediscover the magic of outdoor photography!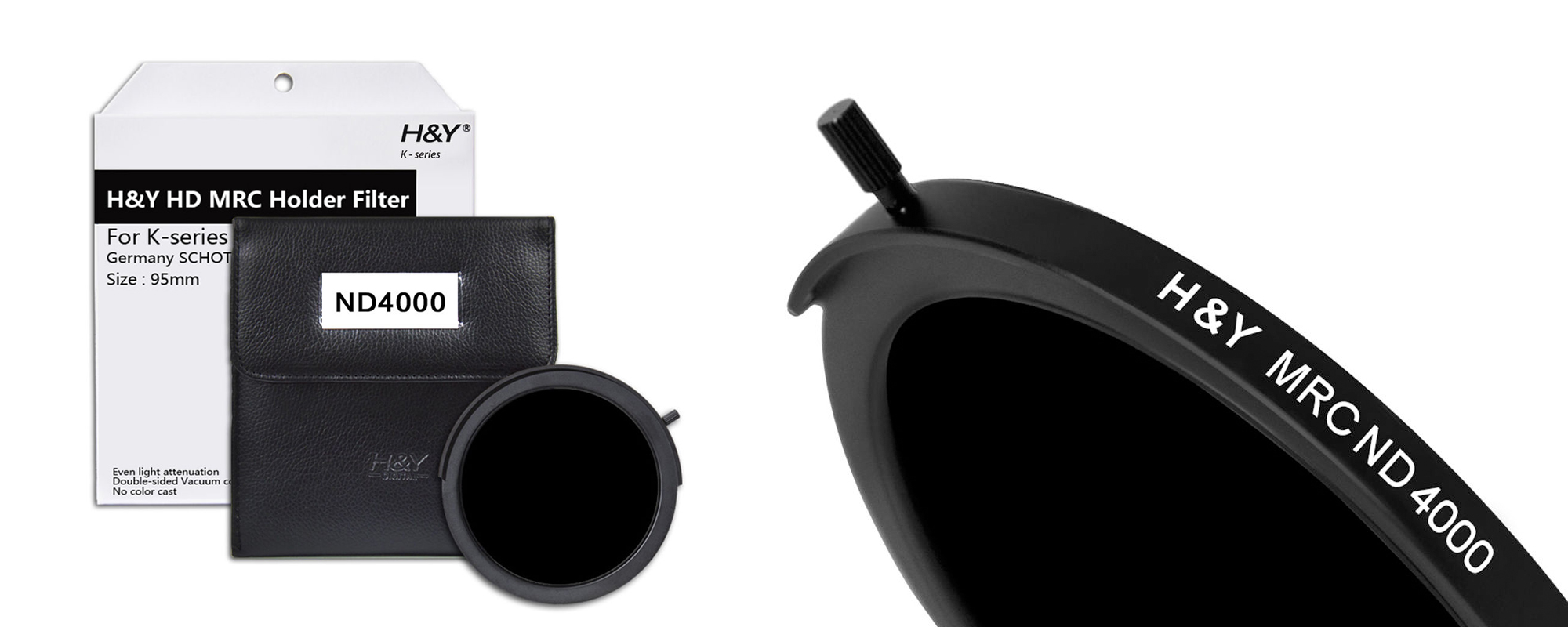 Join the H&Y family
Attaching filters to lenses has never been easier. And this is just the beginning of the revolution. Meet the H&Y family of unique photographic accessories that will make your work environment more ergonomic and take your photos and videos to a new level. Discover the German Schott B270 hard glass filters, the K-series mounting system, and the unique Revoring series mounts that will help you forget about standard reduction rings once and for all. Explore the unique H&Y ecosystem and see what true camera convenience can be!
Compatibility
H&Y K-series filter mount
Specification
model: ND4000 K-series H&Y HD MRC circular gray filter – 95mm Drop in
purpose: H&Y K-series filter holder
materials: aircraft aluminum, anodic coating
filter type: gray (ND-neutral density)
optical density: 3.6 (ND4000)
exposure reduction: 12 aperture steps
glass: German Schott B270
Applied coating: double-sided vacuum coating
Dimensions: 15.5 x 15.5 x 2 cm
Kit contents
ND4000 K-series H&Y HD MRC circular gray filter – 95mm Drop in
protective case