Description
The Saramonic Vmic Mark II is a new improved version of an active directional microphone with high sound quality. Its compact and ultra-lightweight body does not weigh down dedicated equipment such as DSLR cameras, camcorders or audio recorders. It is a great choice for filmmakers as a main microphone, as well as a wired "backup" in video productions.
Mark II
The new Vmic Mark II is primarily a reduced self-noise, which positively affects the high performance of the microphone in very difficult conditions. Updated main function panel, which helps to clearly set the desired microphone settings.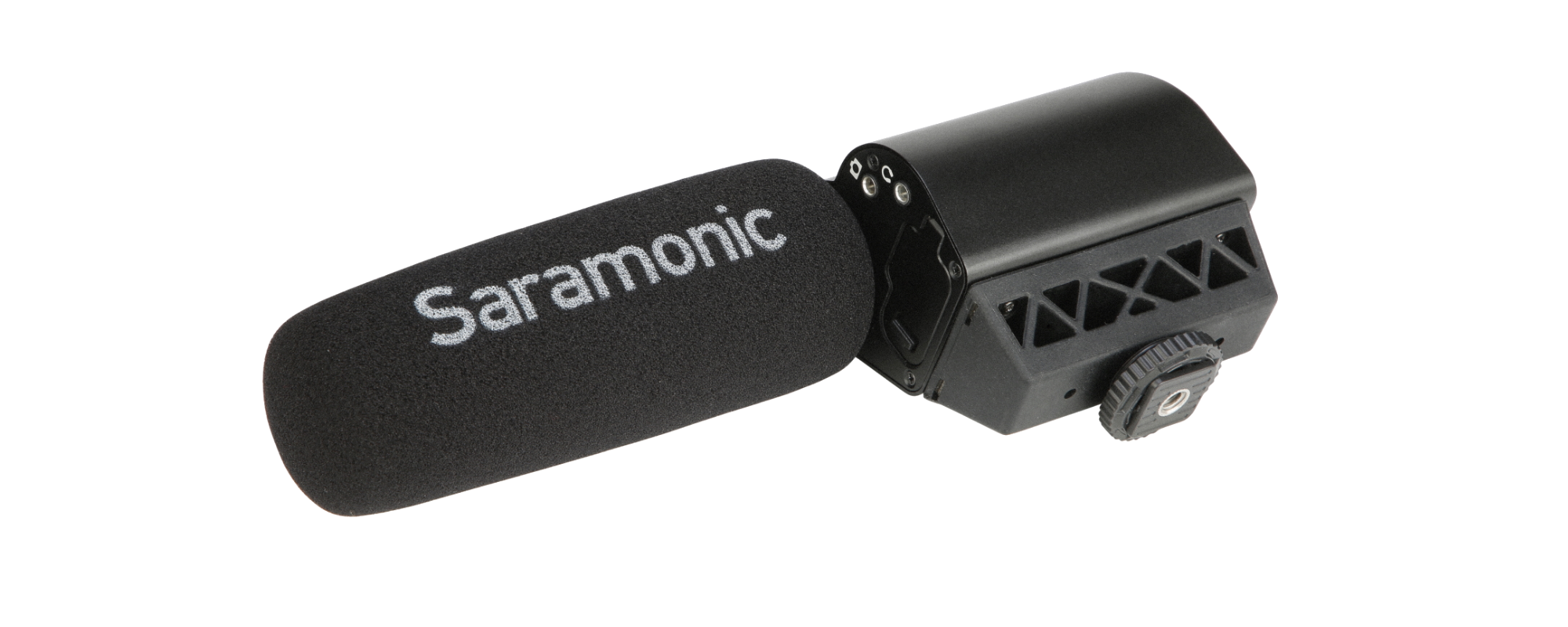 Cardioid Characteristics
The microphone's cardioid directional characteristic allows it to effectively reduce unwanted background noise, while the microphone mainly captures what you hear in front of your camera or camcorder.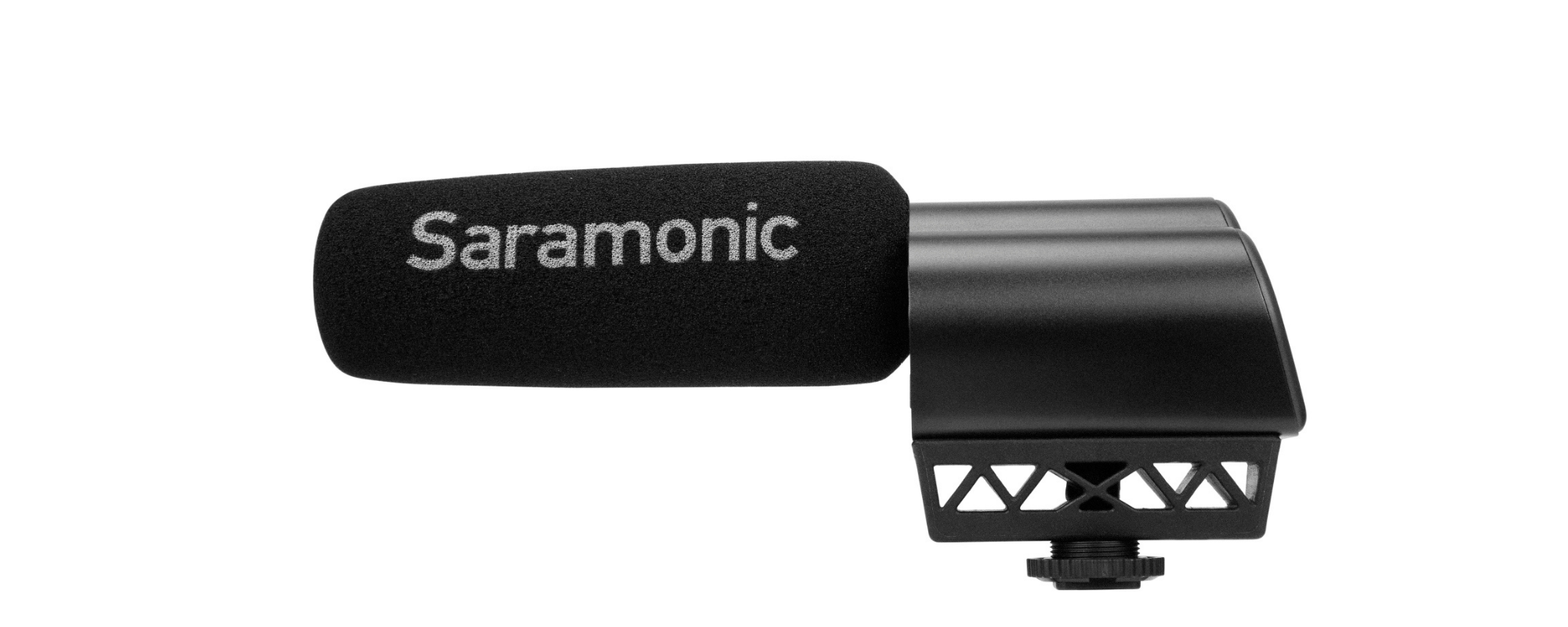 Hot Shoe and "Shock Mount"
The metal shoe with 3/8″ thread allows the microphone to be easily mounted on a variety of cameras, camcorders, various mounts and tripods. The robustly designed mounting system ensures isolation from vibrations during accidental or intentional camera movements.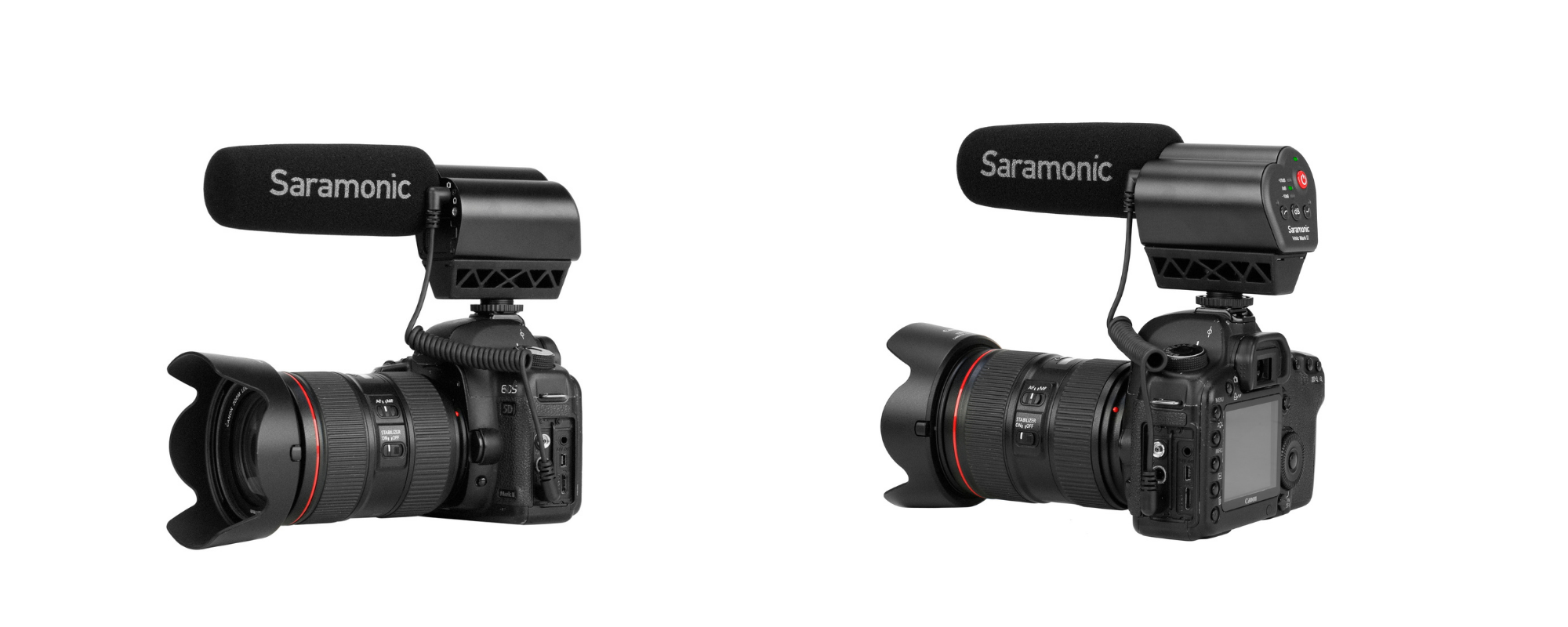 Panel Features
The Vmic Mark II is equipped with a selectable input level control in three positions (-10dB, OdB, +20dB), thus allowing you to lower or boost its volume. In addition, a high-pass filter (150Hz) attenuates low frequencies and an additional attenuator function (+6dB) will greatly enhance dialogue intelligibility.
headphone input
Unlike other brands, the microphone series Saramonic Vmic is equipped with a headphone input from the start. This is a very important feature to properly adjust the sound before recording or to correct optional settings during video recording.
3, 5mm TRS mini jack input
Use the detachable 3.5mm TRS mini jack cable to connect your microphone to your camera or camcorder. The non-integrated cable reduces the risk of distortion when connecting to other devices when using additional adapters or adapters.
Unlimited Possibilities
The microphone can be connected to smartphones using appropriate cables or XLR adapters.
Specification
Type: Condenser microphone
Characteristics: Cardioid
Frequency bandwidth: 75 Hz to 20 kHz
"Sensitivity" -42 dB±2dB (OdB-1V/Pa, at 1KHz)
Signal-to-noise ratio: 75dB
Output impedance: 200 Ohms or less
Power supply: 2x AA
Output: 3.5mm TRS mini jack connector
Filter type: high pass (150Hz)
Dimensions: 221.0×65.7×95.3 mm
Net weight: 217g
Kit contents
Microphone Vmic Mark II
Foam shield
Microphone Mark II
foam shield
3.5 mm TRS/TRS mini jack cable
Microphone cable