Description
The Desview P5II monitor will give you more control over the images you record with your camera or camcorder. With FullHD resolution and brightness of 800 nits, every detail will be clear! It features HDMI 1.4 input and HDMI 1.4 output, and the HDR function will provide even more realistic colors and contrast. It did not lack such tools as: False Color, Histogram, Waveform and Zebra. The monitor supports different screen aspect ratios, supports anamorphic images and allows the use of 3D LUTs. Convenient operation is ensured by ergonomic buttons with programmable shortcuts. With two power options (power supply or NP-F battery), you can use it both in the studio and outdoors. The kit also does not lack useful accessories that will make your work with the camera or camcorder easier.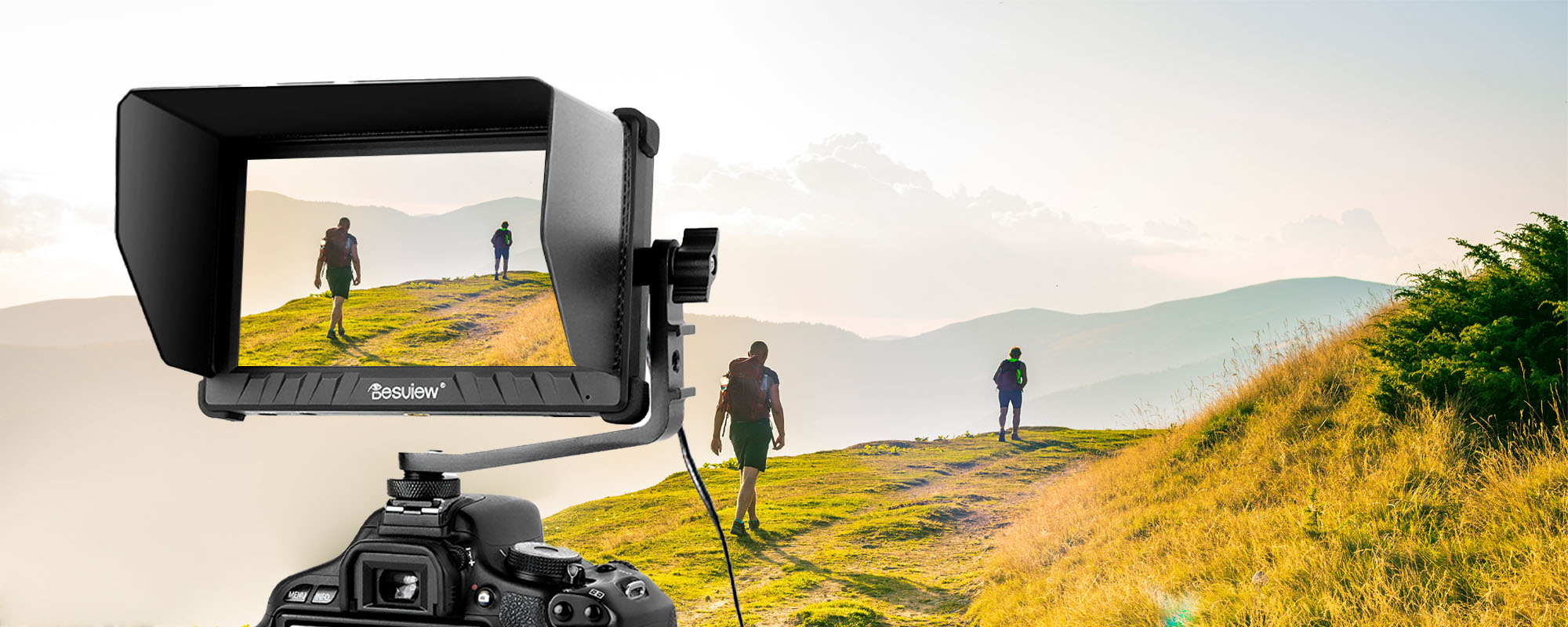 Main Product Features
5.5 "diagonal LED preview monitor
native resolution of 1920 x 1080 px (FullHD)
brightness of 800 nits
offers signal transmission with a maximum resolution of 4096 x 2160p @ 24 Hz
equipped with HDMI 1.4 output and input
includes HDMI / micro HDMI and HDMI / mini HDMI cable
HDR mode with support for HLG BT.2020, HLG Rec709, HLG DCI-P3 and PQ standards
tools to help control the captured image (False Color, Histogram, Waveform, Zebra, Peaking)
support for various aspect ratios (4:3, 16:10, 16:9, 1.85:1, 2.35:1)
support for anamorphic image (1.33x, 1.5x, 1.66x, 1.79x and 2.0x)
7 types of grid, screen markers and safe area (80-95%)
support for 3D LUT arrays (ability to upload 64 custom presets)
convenient operation with function keys
possibility to program shortcuts for the most frequently used functions and assign them to 3 different buttons
2 ways of power supply – power adapter (DC 7 – 24 V) or NP-F battery
3.5mm mini jack headphone output
2 female 1/4″ threads for installing the monitor vertically or horizontally
fast and convenient installation of the included sunshade with Velcro
option to rotate the screen (horizontal or vertical position and upside-down display)
adjustment of brightness, contrast, sharpness and saturation of the image
image zoom (x2 and x4 zoom)
lightweight design (weighs only 170 g)
included "L-bracket" mount equipped with cold shoe socket
rubber pads to protect the corners of the monitor
made of durable ABS plastic
Bright FullHD screen
With FullHD resolution, every detail displayed on the Desview P5II monitor will be sharp, clear and in line with what the camera or camcorder captures. The device provides signal transmission with a maximum resolution of 4096 x 2160p, via HDMI 1.4 input and output, allowing you to enjoy ultra-high quality images. The brightness of the screen (800 nits) guarantees excellent readability, regardless of lighting conditions. On sunny days, it is worth reaching for the included sunshade, which you can quickly and conveniently connect to the device with Velcro. The accessory will provide adequate protection against glare that could hinder your work with the preview monitor.
2 ways to power
The Desview P5II preview monitor will work well both in the studio and outdoors. This is because the device supports 2 ways of power supply. If you have an electrical outlet nearby, reach for the AC adapter (7-24V DC). And when you're working outdoors or want to avoid tangled cables, use an NP-F battery pack (NP-F550, NP-F750 or NP-F970). You'll plug the cell into a special socket with a solid locking mechanism. The monitor is also equipped with a DC 8V output, which you can use to power other compatible devices.
Power supply or NP-F battery pack MUST be purchased separately.
Detailed HDR image
Want to make the image displayed on your monitor even more detailed? Take advantage of HDR (High Dynamic Range) technology, which makes whites whiter and blacks even deeper! High dynamic range also means greater brightness, contrast and more vivid colors. With the HDR function, the Desview preview monitor will allow you to render the full scale of contrasts and enjoy an even more realistic image. The P5II supports 4 different HDR standards: HLG BT.2020, HLG Rec709, HLG DCI-P3 and PQ.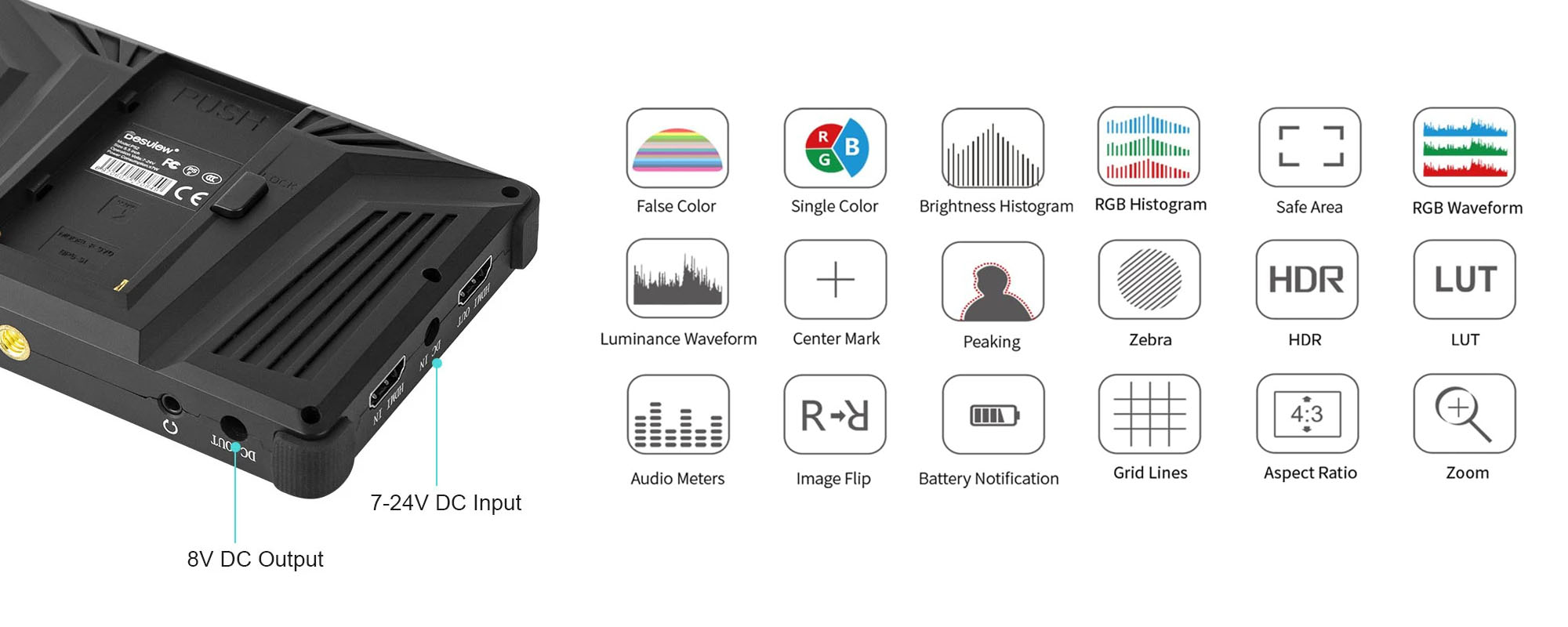 Preview with color correction (3D LUT)
The Desview P5II preview monitor allows the use of 3D color tables. This means that already at the recording stage you will apply so-called LUTs, effects that can be compared to filters, which are responsible for color correction of video images. The device has its own library of ready-made presets, but the possibilities of the Desview P5II do not end there. You can plug the included flash drive into a USB port and upload as many as 64 custom 3D LUTs to the device, which will allow you to test a professional "film look" on the preview or experiment with unique image styling, even before you start the editing and post-production stages.
Precise focusing
Want to make sure the selected area of the frame is razor sharp? Take advantage of the "Peaking" function, which the Desview P5II preview monitor offers in 3 different color options (red, green and blue). The part of the frame that is in focus will be marked with the selected color. As an added convenience, there is a 4-step scale for adjusting the sensitivity level of this tool.
Fast Exposure Level Assessment
The Desview P5II preview monitor supports 2 "False Color" standards (ARRI and SPECTRUM), a tool that will help you better evaluate exposure levels while working with your camera or camcorder. Using this function, you will easily determine which elements of the frame are too bright and which are too dark. "False Color" will come in handy wherever poor lighting conditions prevent you from accurately assessing the exposure of, among other things, the skin or faces of the characters you are filming.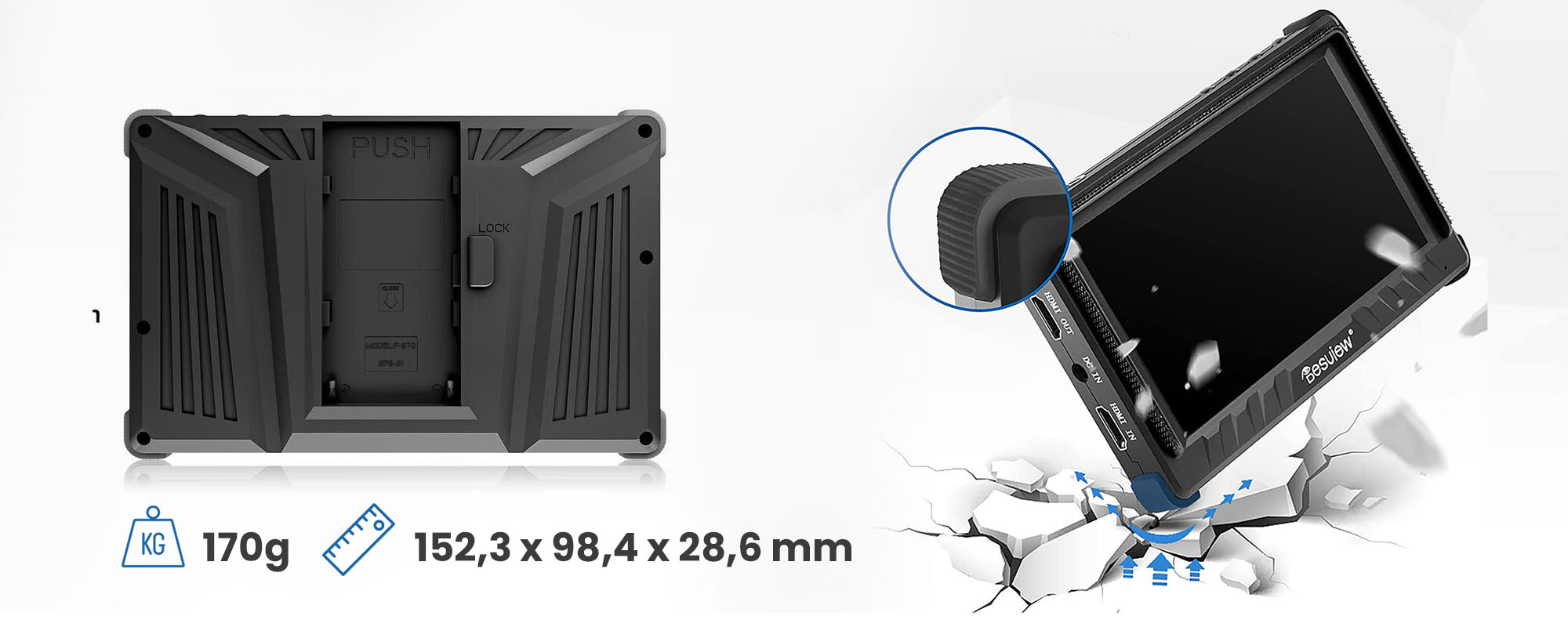 Brightness level control
Among the tools that the Desview P5II preview monitor offers, there is also a histogram. It shows the distribution of luminance and allows you to identify the overexposed or underexposed area of the frame. The tool provides visual information about the tonal range of an image, helping to preserve details in both the dark and light spaces of your shots. Tools such as "Zebra" and "Waveform" ("waveform monitor") will also help you assess brightness levels correctly.
Anamorphic image
The Desview P5II preview monitor offers support for various anamorphic aspect ratios (1.33x, 1.5x, 1.66x, 1.79x and 2.0x). The feature will enable comfortable operation with custom lenses to achieve an even more cinematic "movie look." After selecting the appropriate aspect ratio, the image will be displayed on the monitor screen after "desqueeze" editing, with the appropriate framing frames.
Perfect-framing
Working with the Desview P5II preview monitor will help you set up your frames with precision. Already at the filming stage, you can adjust the device for different aspect ratios ("Aspect Ratio"), and take advantage of frames that will display the edges of the frame for different variations of settings. The device also allows you to take advantage of frame center markers ("Center Mark") and safe area ("Safe Area"). Among the available tools, there are also 7 variants of a grid that can be superimposed on the preview.
Set of useful accessories
In addition to the sunshade, the Desview P5II preview monitor comes with a number of useful accessories that will make your work on set easier. HDMI cables will allow you to connect the device to various camera and camcorder models (mini HDMI and micro HDMI), ensuring fast transfer of high-quality images. The "L-bracket" equipped with a cold foot socket will allow a solid connection to a compatible mount. A USB flash drive will provide convenient transfer of custom LUTs directly to the monitor. A microfiber cloth is also included.
Specification
model: Desview P5II
screen: 5.5″ (LED)
resolution: 1920 x 1080
contrast: 1000:1
brightness: 800 nits
viewing angle: 160º
video input: HDMI 1.4
video output: HDMI 1.4
audio output: mini jack 3.5 mm
HDMI input signal format:

720×480i / 720×480p @ 59.94, 60Hz
720 x 576i / 720 x 576p @ 50Hz
1280 x 720p @ 50, 59.94, 60 HZ
1920 x 1080i @ 50, 59.94, 60 Hz
1920 x 1080psf @ 23.98, 24, 25, 29.97, 30 Hz
1920 x 1080p @ 23.98, 24, 25, 29.97, 30.50, 59.94, 60 Hz
3840 x 2160p @ 24, 25, 30 Hz
4096 x 2160p @ 24 Hz

HDMI output signal format:

720×480i / 720×480p @ 59.94, 60Hz
720 x 576i / 720 x 576p @ 50Hz
1280 x 720p @ 50, 59.94, 60 HZ
1920 x 1080i @ 50, 59.94, 60 Hz
1920 x 1080psf @ 23.98, 24, 25, 29.97, 30 Hz
1920 x 1080p @ 23.98, 24, 25, 29.97, 30.50, 59.94, 60 Hz
3840 x 2160p @ 24, 25, 30 Hz
4096 x 2160p @ 24 Hz

voltage: DC 7 – 24 V
Power consumption: ≤ 7 W
standby power consumption: < 0.1 W
material of construction: ABS plastic
dimensions: 152.3 x 98.4 x 28.6 mm
weight: 170 g
Set contents
Desview P5II preview monitor
sunshield
HDMI / micro HDMI cable
HDMI / mini HDMI cable
"L-bracket"
USB flash drive
microfiber cloth