Fullscreen
Feiyu Pocket 4K Camera
Feiyu Pocket is an unusual combination of a small camera with a pocket gimbal. This intelligent device will help you to create amazing images and video blogs from your holiday, which will look like Hollywood productions. Feiyu Pocket allows you to enjoy perfectly smooth 4K and Full HD movies in up to 120 frames per second. It is small, handy, easy to use, has a touch screen and many fantastic recording options. Breathtaking timelaps, stunning slow motion shots and many other features locked into a device that is smaller than your smartphone!
Recording Ultra HD 4K@60FPS solution , up to 120M Max. bit rate , to create real 4k video.
Sony CMOS sensor with 6 layer glass lenses, up to FOV 120゚and 1.62μm single pixel, easily get Ultra-wide sight.
6 axis Hybrid stabilization help you get stable HD footage.
Description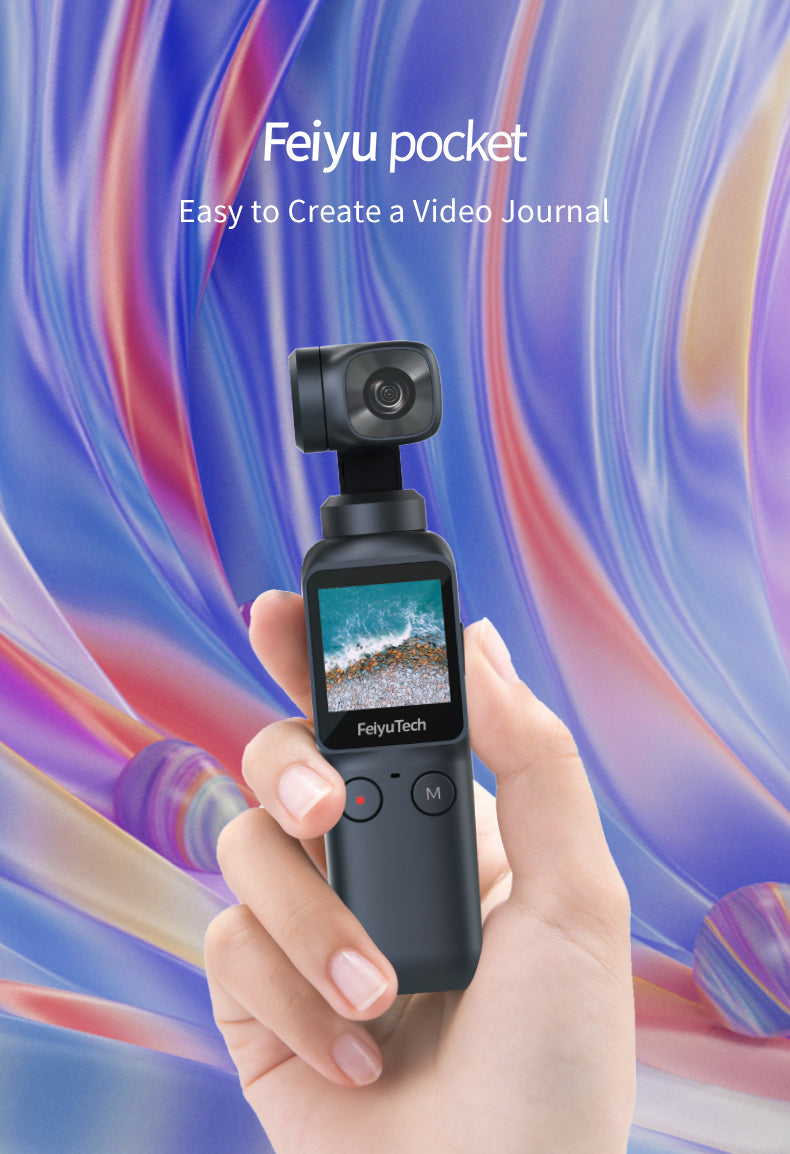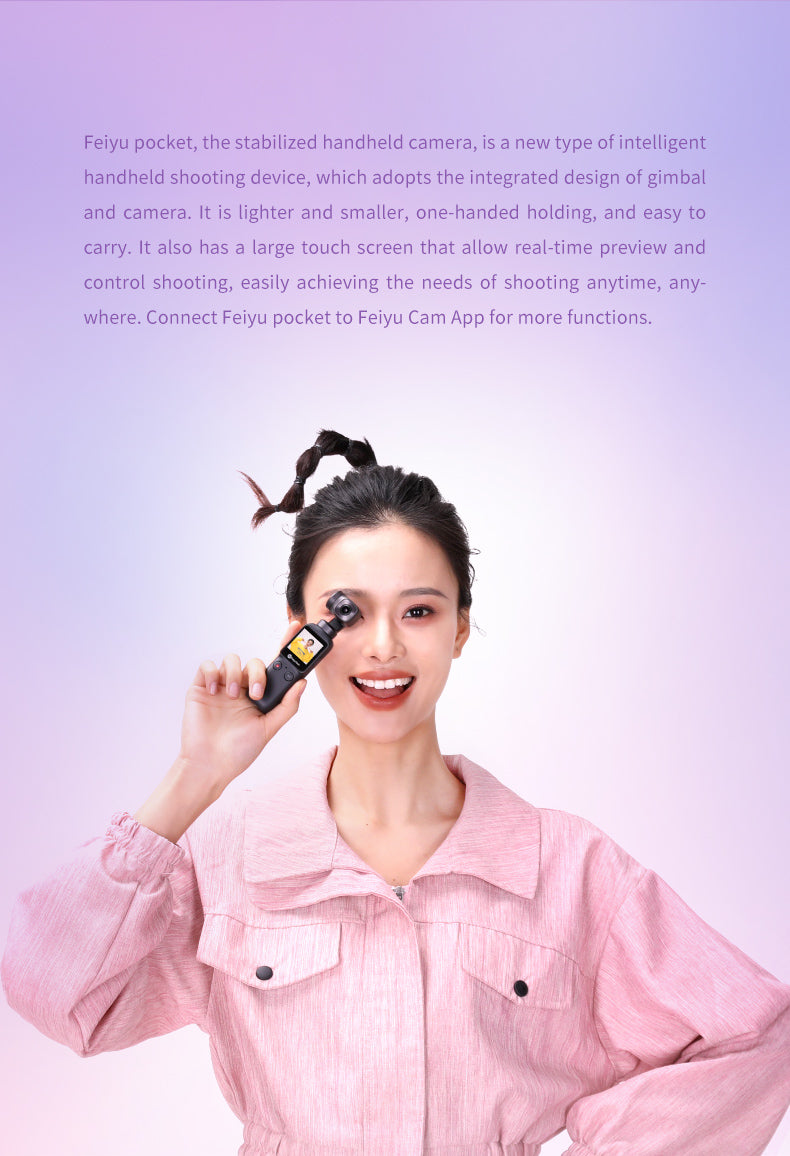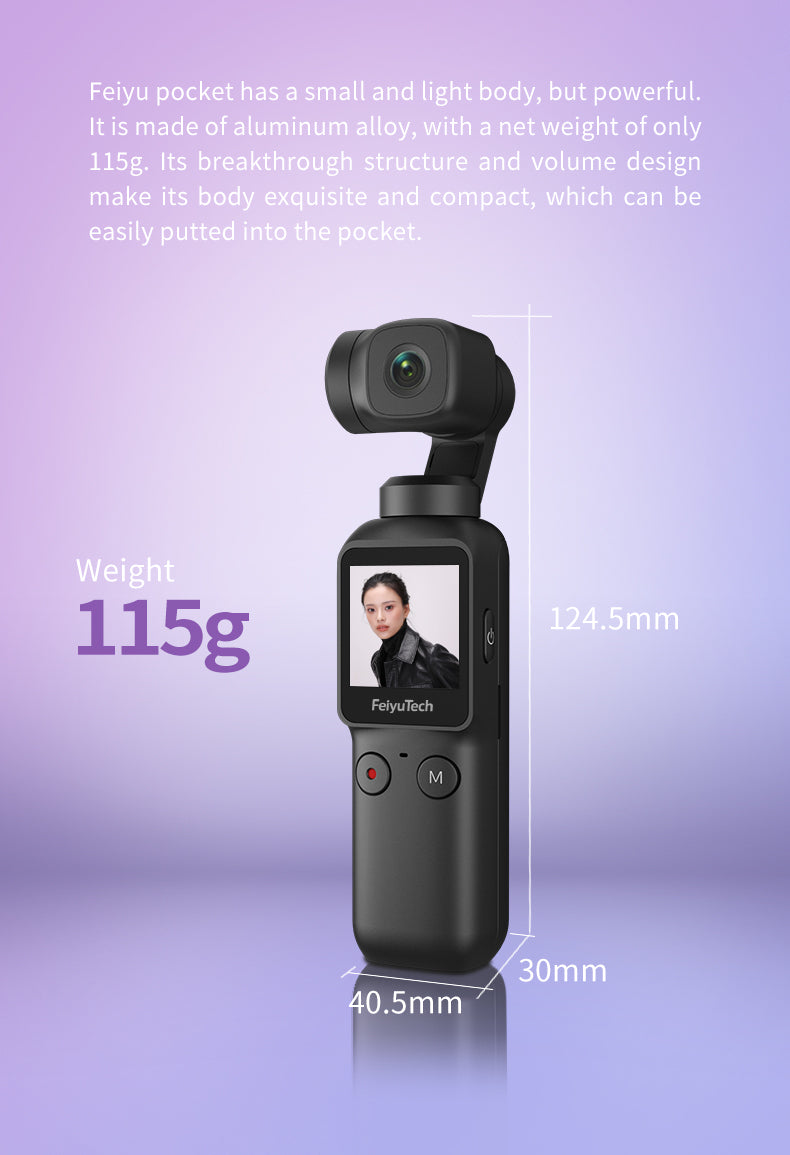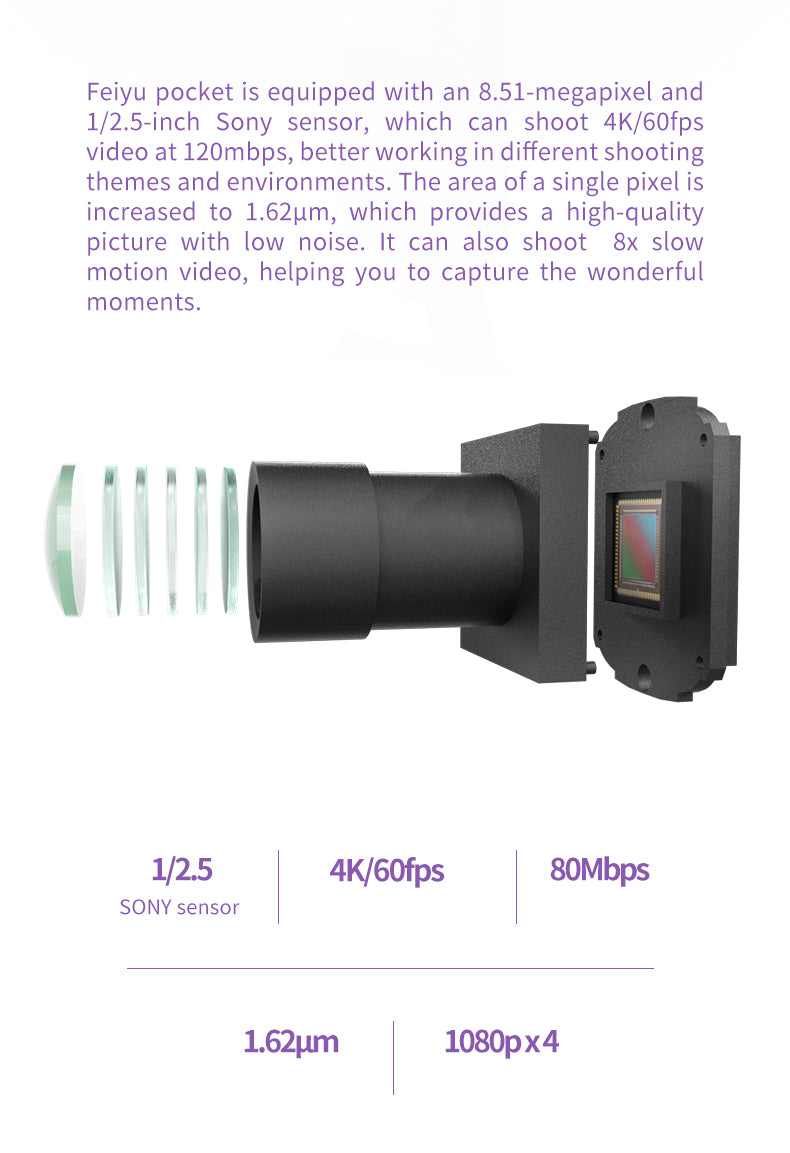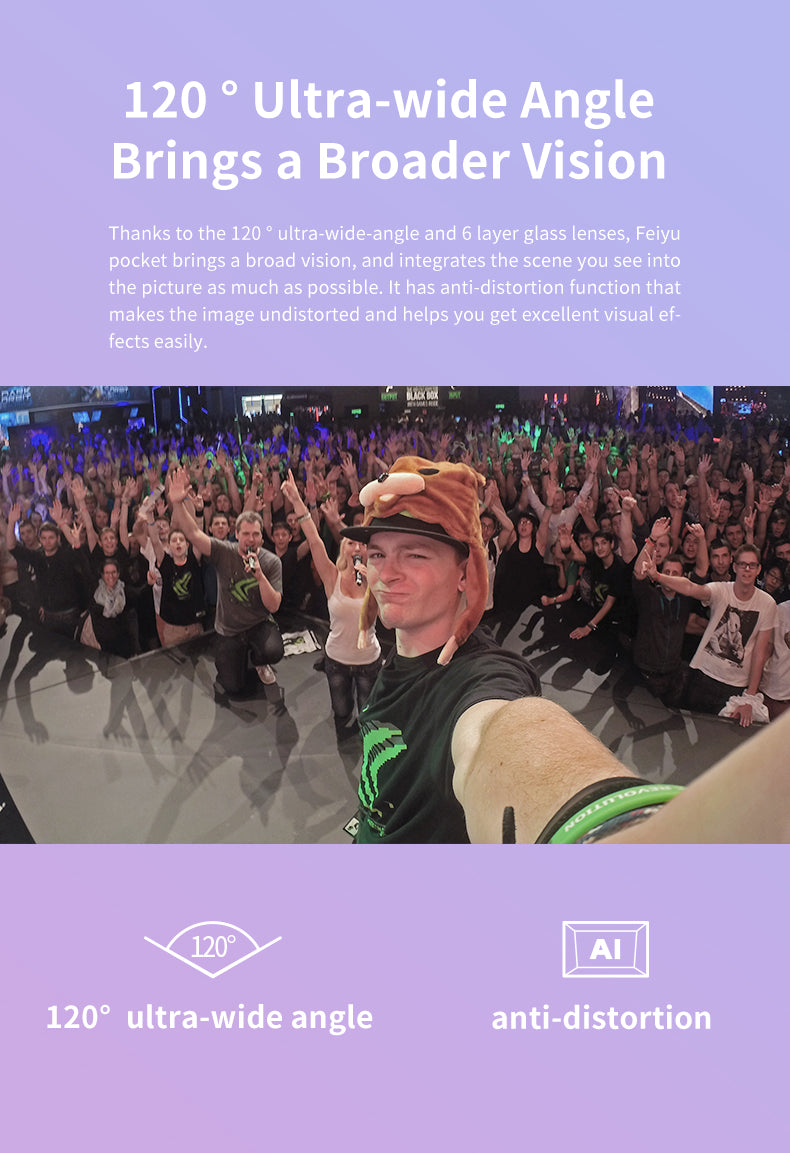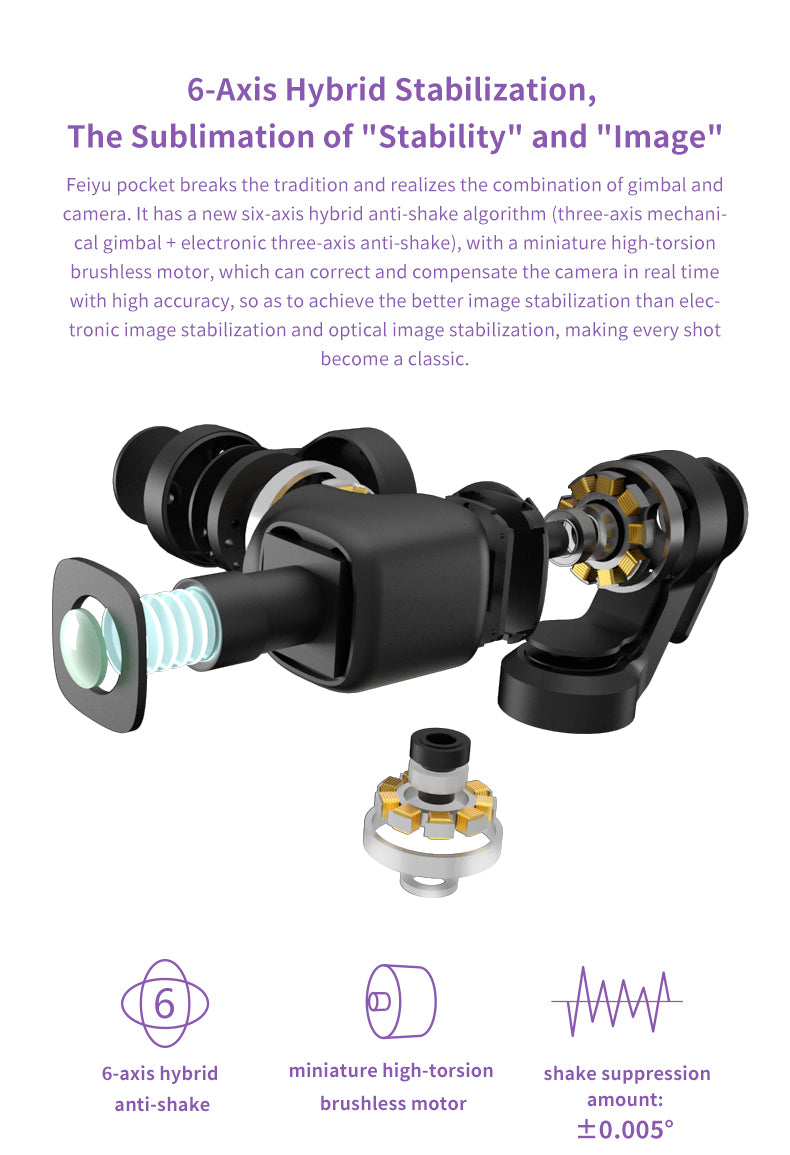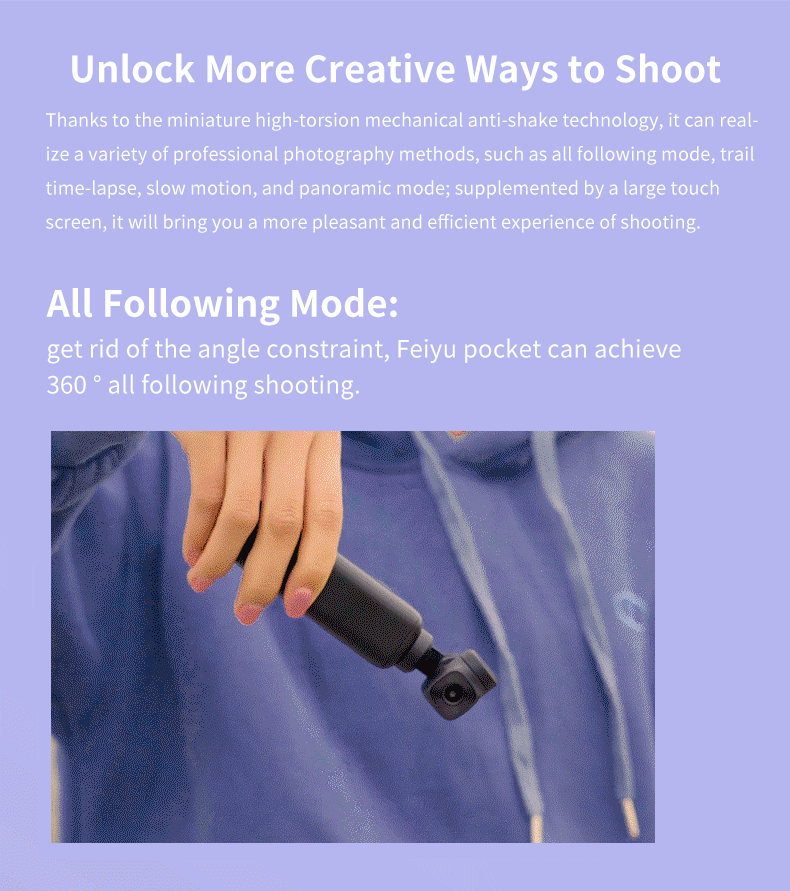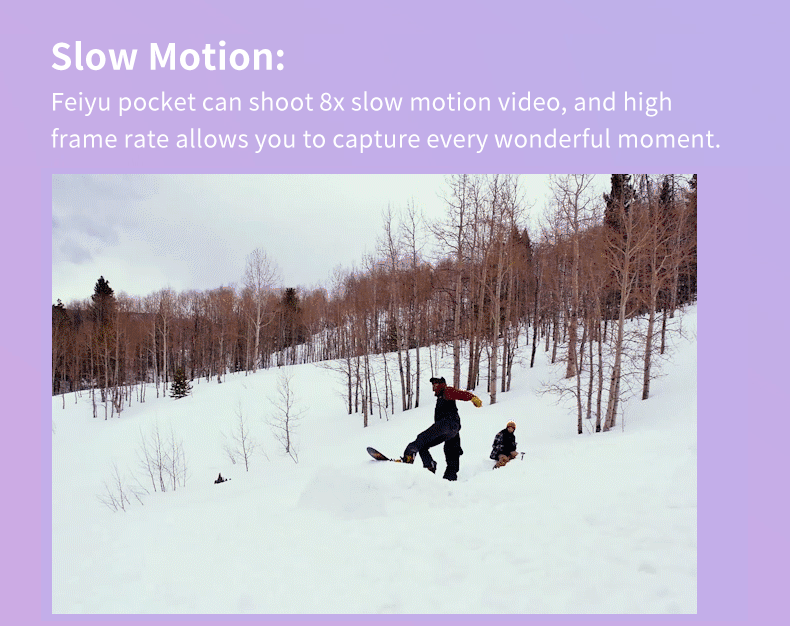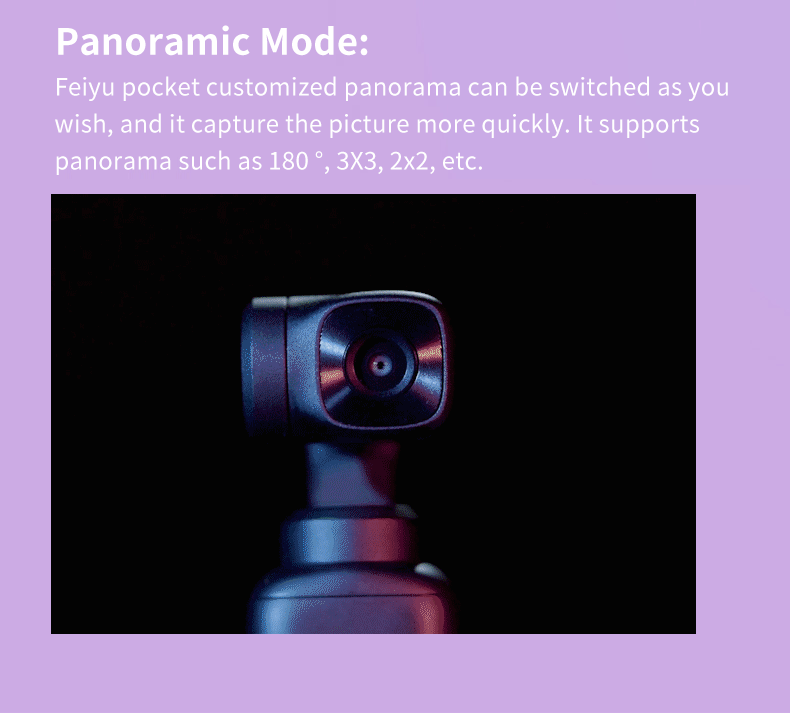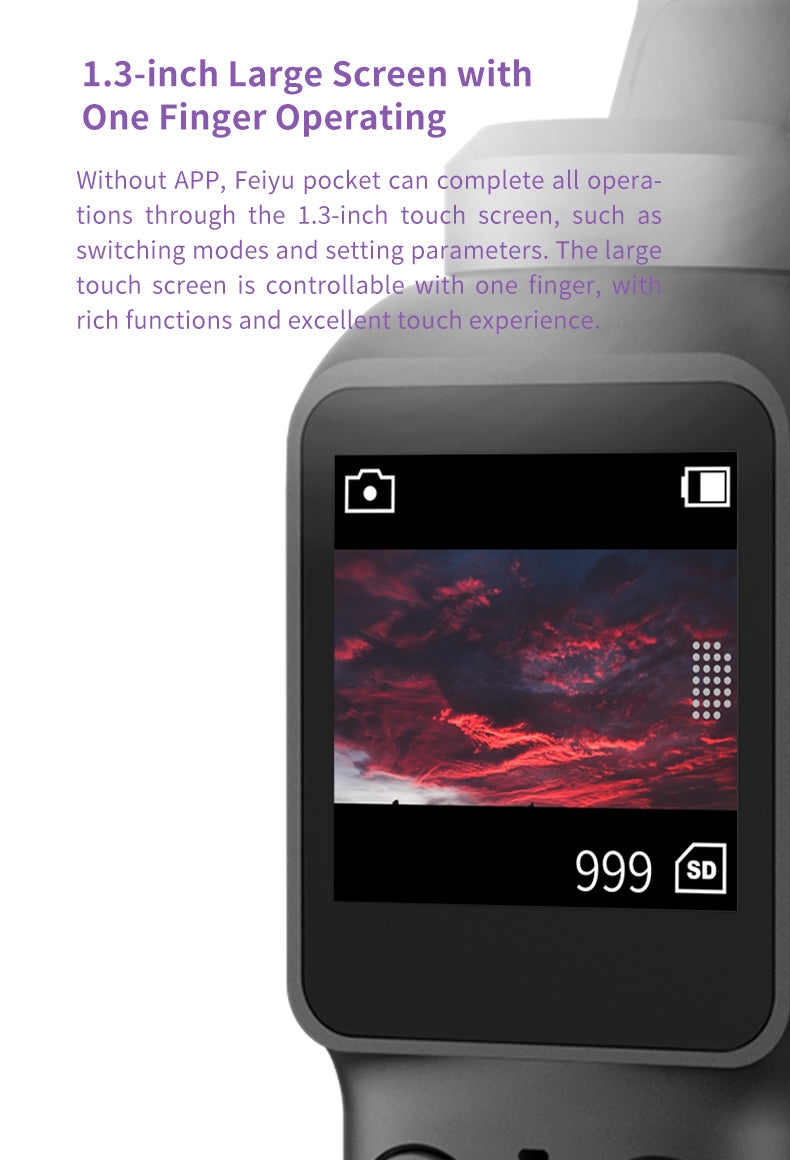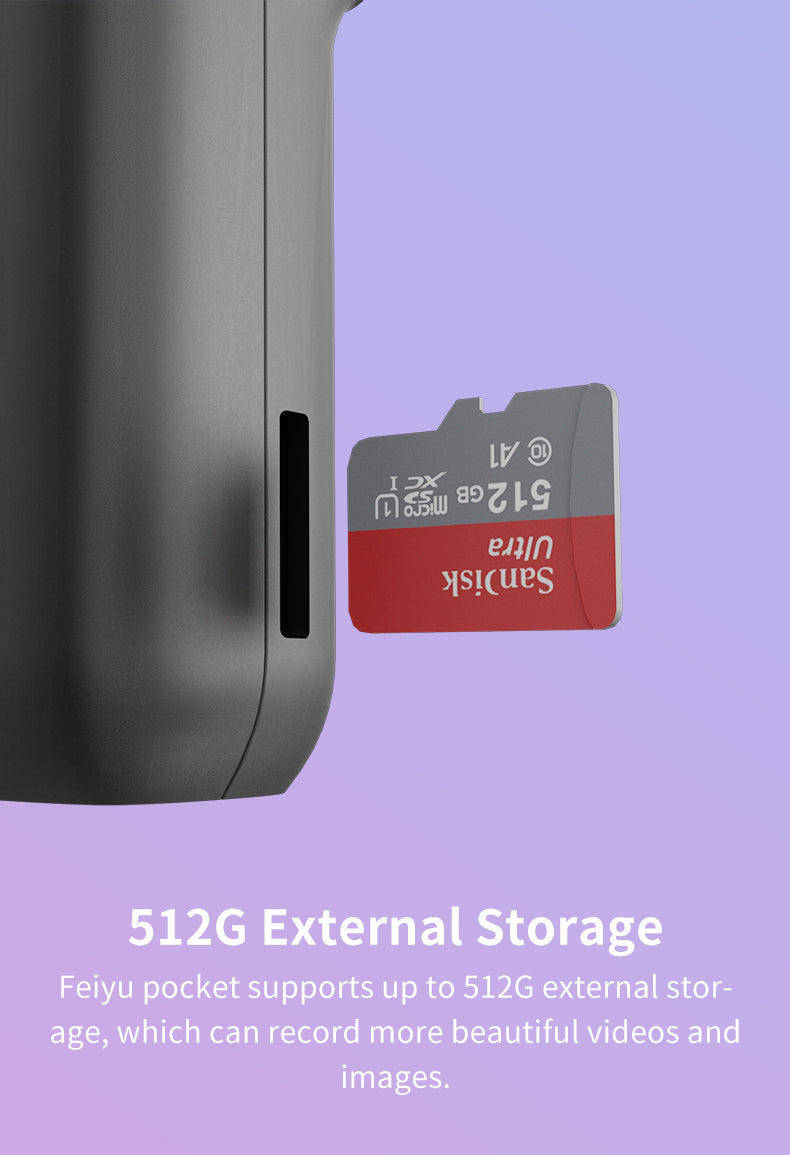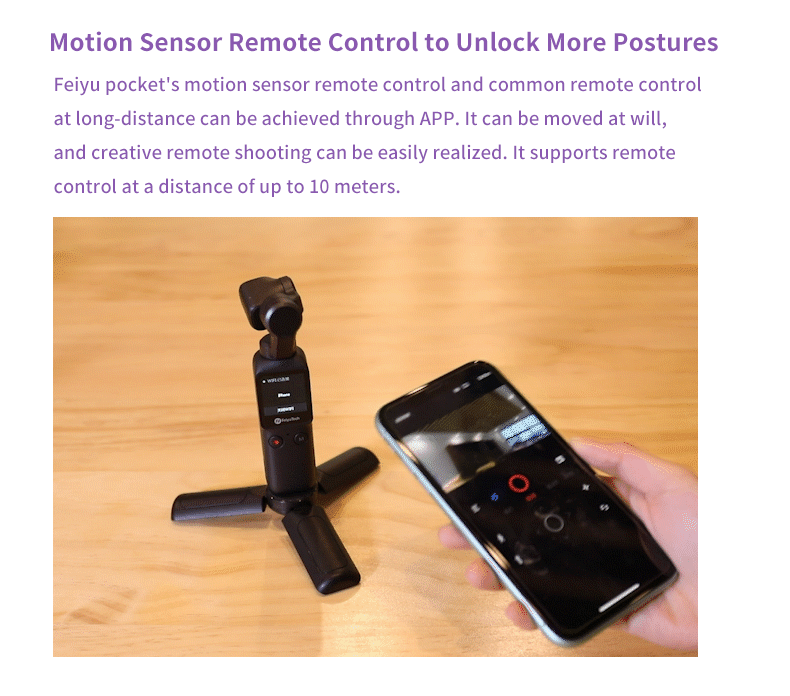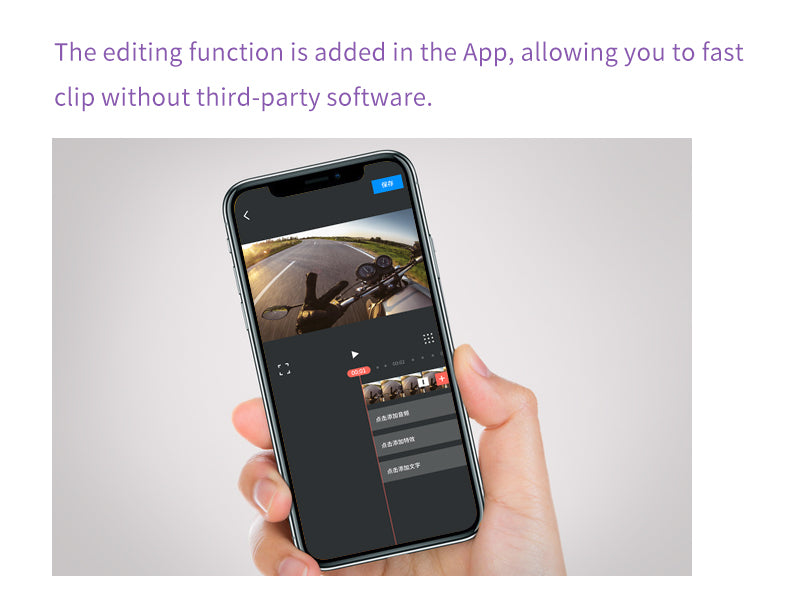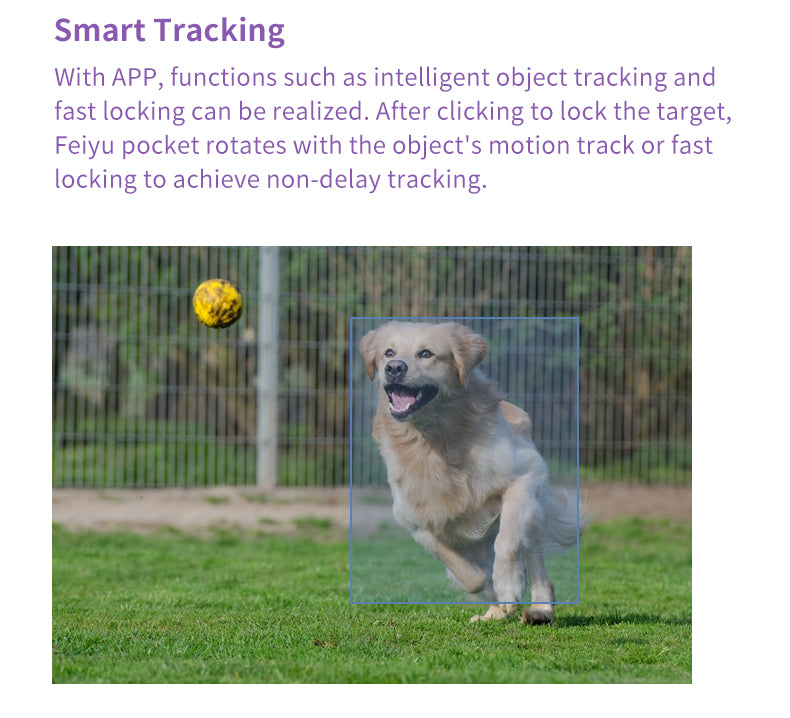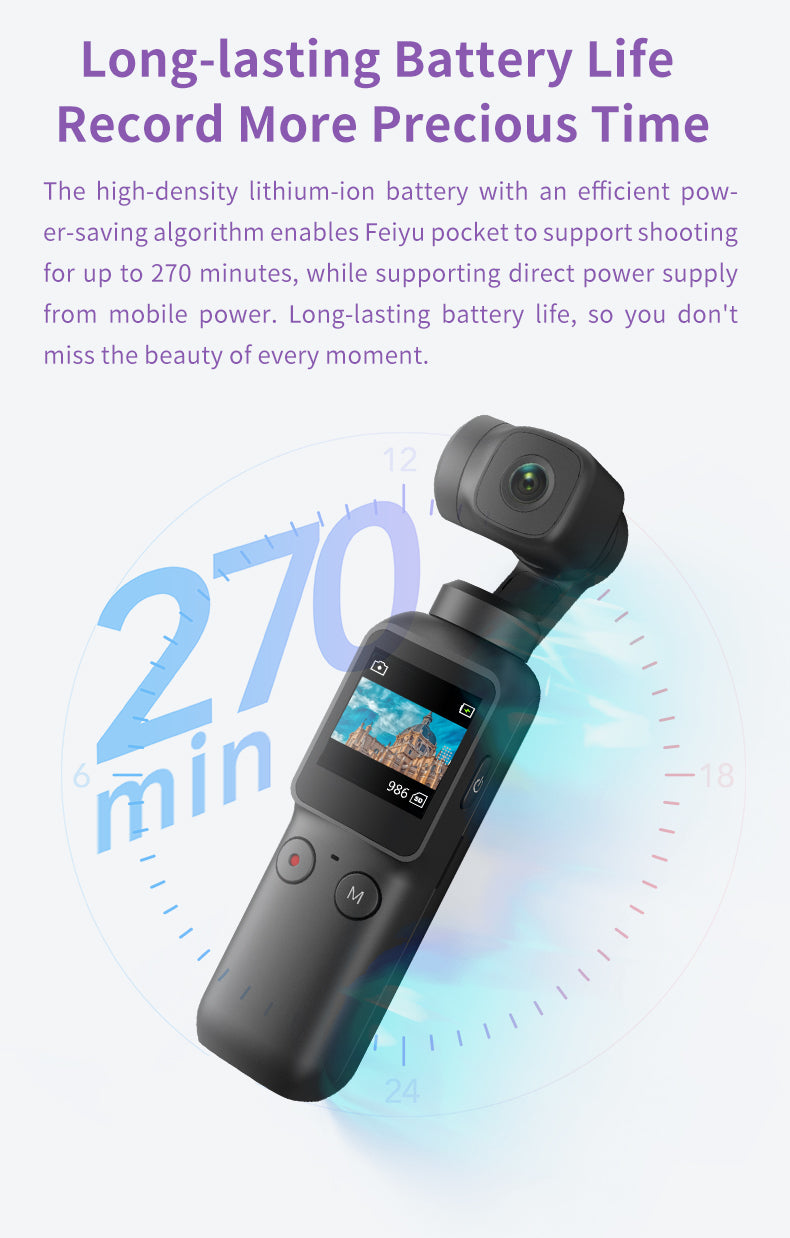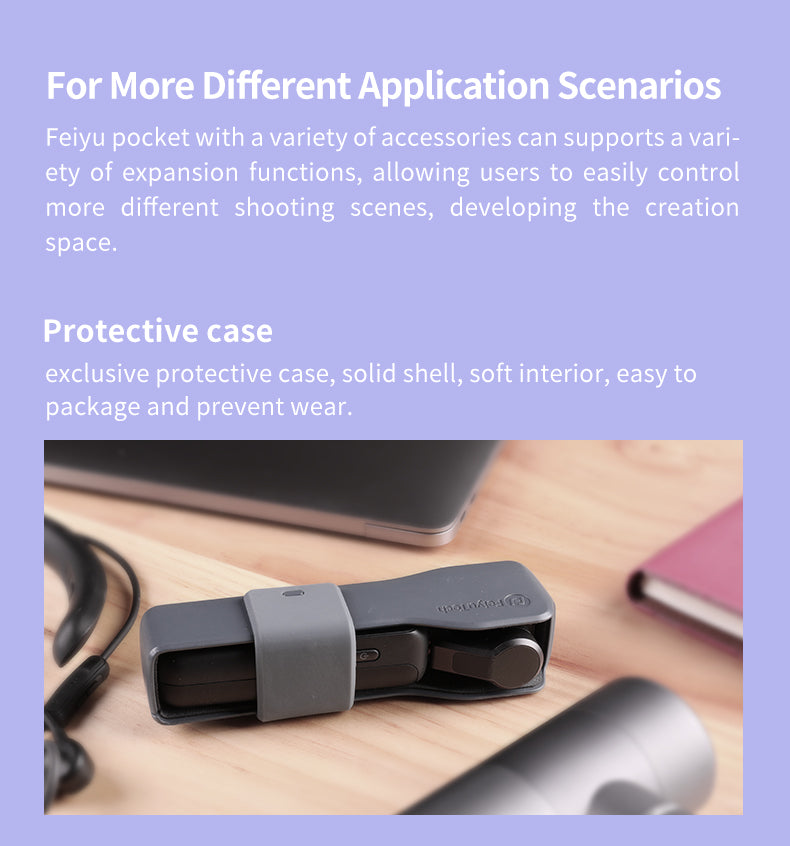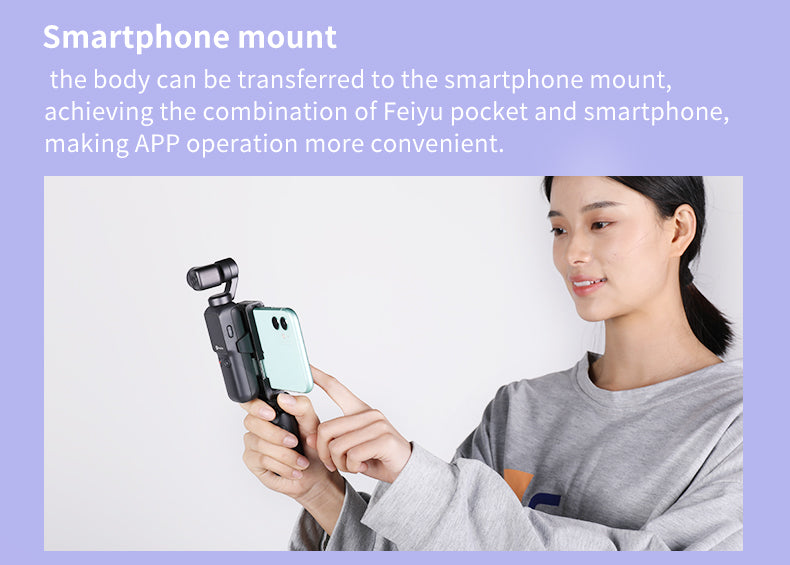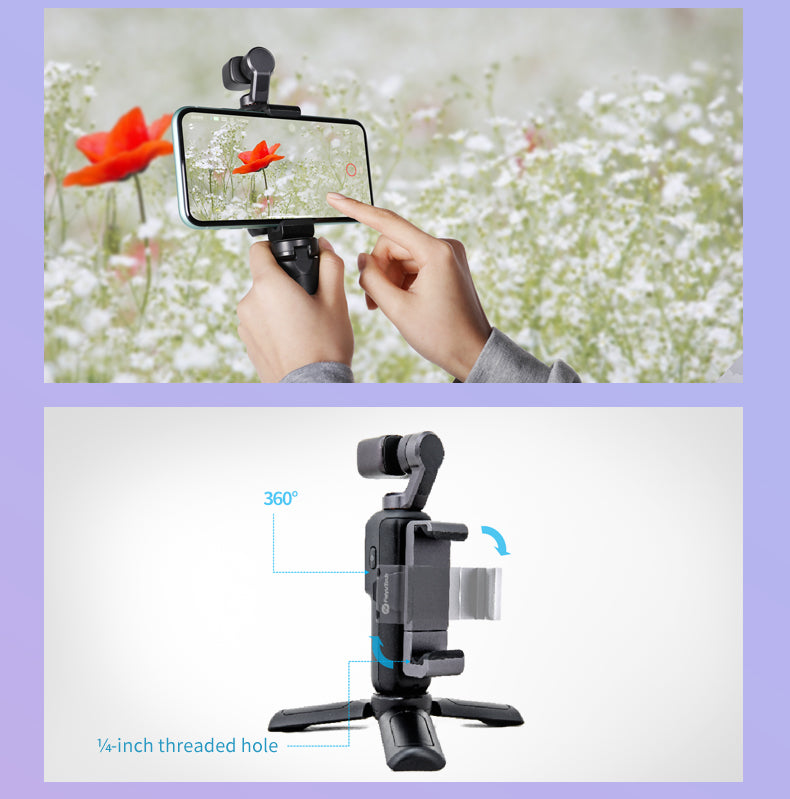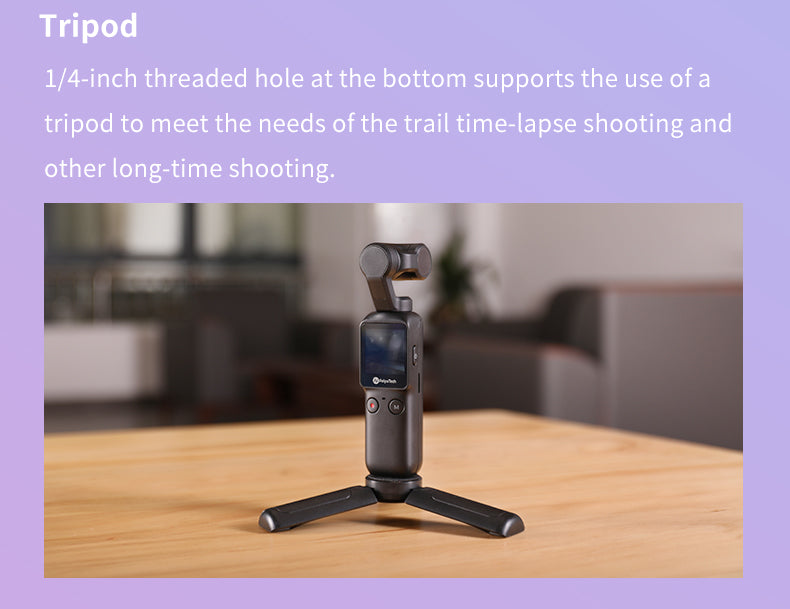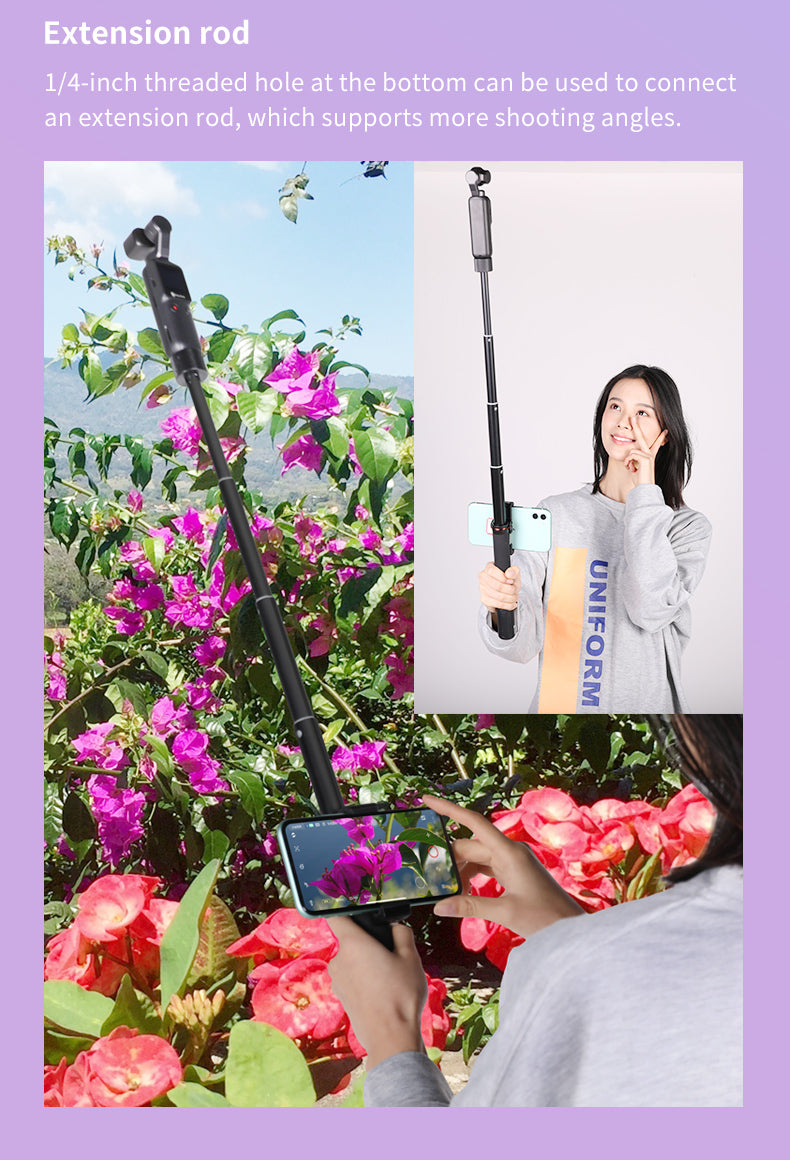 Additional information
| | |
| --- | --- |
| Brand | FeiyuTech |
| EAN | 6970078072275 |
| SKU | FY2374 |
| Warranty | 2 years |
Specification
A small gimbal with great possibilities
The Feiyu Pocket is a compact device in which giant power is hidden. It weighs only 115 g, is made of extremely durable materials and its extremely compact design will easily hide in your pants pocket.
Fantastic camera
The camera, equipped with gimbal Feiyu Pocket, has 8.51 megapixels placed on 1/2.5-inch Sony sensor. It allows to record stunning 4K video.
– f/2.8 lens
– electronic shutter running from 1/8000 seconds to 16 seconds
– a matrix offering an ISO 100-3200 sensitivity range
All this ensures phenomenal image quality and low noise, and the 8x slow motion mode captures every wonderful moment and detail of your adventure.
Ultra-wide viewing angle
Thanks to the amazing lens design, the Feiyu Pocket camera provides us with an extremely wide, 120° field of view. The optics have been perfectly corrected and free of distortion. We can easily fit everything we want to show in the frame.
Hybrid image stabilization
Feiyu Pocket breaks traditional patterns and combines the benefits of modern technology. The new algorithm allows a total of six degrees of stability. The three-axis mechanical gimbal with brushless motor combined with the three-stage electronic camera stabilization give the feeling of extraordinary smoothness and stability.
Live view
The touch screen that gimbal Feiyu Pocket is equipped with makes it easy to record the world around us in real time. In addition to the preview, the user can control all functions and settings on the display.
Unleash decks of creativity
With Feiyu Pocket you will be able to create amazing films and photos that all your friends envy you. The multitude of modes and options this little webcam offers can make you dizzy. Feiyu Pocket is a universal tool to create creative productions.
– Tracking faces and objects
– self mode
– slow motion
– timelapse
– motionlapse
– hyperlapse
– panoramas
Full control over reality
In addition to all the automatic facilities, the camera also has a fully manual mode for professionals. It allows to manipulate exposure parameters, exposure time, ISO sensitivity, white balance.
Flat color profile FY-LOG gives more room for post-production and color gradation of video files. Photos, on the other hand, can be saved in DNG format, which will allow you to extract all the details and colors in the image processing software.
Giant amount of space
Feiyu Pocket supports micro SD cards up to 512 GB. Such a huge space allows you to shoot many great video clips in the highest quality. It is recommended to use high speed cards such as UHS-1 (U3).
Feiyu Cam application
Gimbal Feiyu Pocket has a built-in WiFi module, thanks to which we can pair it with the phone using a dedicated application available on iOS and Android.
The larger display, remote control from 10 meters, motion tracking and smartphone editing are all features that will make your work even more fun and allow you to quickly share the results with all your friends!
It is also possible to connect the device with a cable to your desktop or laptop and use it as a standard webcam.
Indispensable energy
The device's built-in high-density lithium-ion battery with a powerful power-saving algorithm allows for 270 minutes of uninterrupted fun. As if that wasn't enough, with the help of the USB C connector we can connect an additional power bank to the gimbal.
Optional accessories
Standard 1/4″ thread on the bottom of the gimbal … a little thing that makes you happy. Thanks to it we will be able, for example, to install a webcam on our own stall and show the world around us from a bird's eye view. Sometimes we can also use a small tripod to make a romantic timelapse at sunset. Dedicated mobile phone holder will make it easier to operate the gimbal with a smartphone installed on its housing.
The set, together with Feiyu Pocket, includes a functional case to protect the gimbal during transport and a lanyard at the wrist to prevent the device from accidentally falling out of our hand.
Get out and have fun with us!
Join the FeiyuTech Poland family and boast about your videos and photos on our social networks. Become the owner of a universal tool to show the world around you in a creative and stunning way! We look forward to seeing you on the film trail of life!
Specification
– model: FeiyuTech Pocket
– a touch screen LCD: 240 x 240 / 1.3″
– matrix: 1/2.5″ CMOS
– number of pixels: 8.51 Mpx
– film resolution:
– 4K (3840 x 2160 px)
– 60/50/48/30/25/24 fps
– 2,7K (2704 x 1520 px)
– 60/50/48/30/25/24 fps
– 1080p (1920 x 1080 px)
– 120/60/50/48/30/25/24 fps
– video format:
– MOV
– MP4
– resolution of the photos: 3840 x 2144 px
– the format of the photos:
– JPG
– DNG
– ISO range: 100 – 3200
– the angle of view: 120°
– iris: f/2.8
– electronic shutter: 1/8000 – 16 sec
– sound: built-in microphone
– WiFi connectivity: yes
– Tilt axis rotation range: +140° / -140°
– Roll axis rotation range: +90° / -90°
– Pan axis rotation range: +60° / -254°
– maximum speed: 180°/s
– angular vibration range: ±0.005°
– power supply: built-in 875 mAh battery
– working time:
– approx. 4.5 h (at 1080p / 60 fps)
– approximately 3.5 h (at 4K / 30 fps)
– charging time: approx. 1.2 h (with 10 W charger)
– Permissible operating temperature: 0° ~ 40°
– output: USB C
– Supported memory cards: Micro SD (UHS-1 U3) up to 512 GB
– Fixing: 1/4″ tripod thread
– dimensions: 12.5 x 4 x 3 cm
– weight: 115 g
– colour: black
– additional information:
– dedicated Feiyu Cam application for Android (6.0+) and iOS(9.0+)
Set contents
– FeiyuTech Feiyu pocket camera
– case
– bow
– USB cable A – USB C