Description
The FeiyuTech KiCA Evo is a vibration massager that will allow you to effectively reach any spot on your body, thanks to its extendable telescopic handle and adjustable head angle. In the set with the device you will find 6 interchangeable tips for different types of massage. Especially noteworthy is the special head with a heating function. The pleasant warmth will ensure relaxation, relaxation and even better therapy results. Regular use of the massage gun stimulates muscles, improves blood circulation and reduces pain and tension. It is the ideal choice for athletes, people who need support in physiotherapy and rehabilitation, as well as anyone who wants to improve their quality of life and take better care of their body.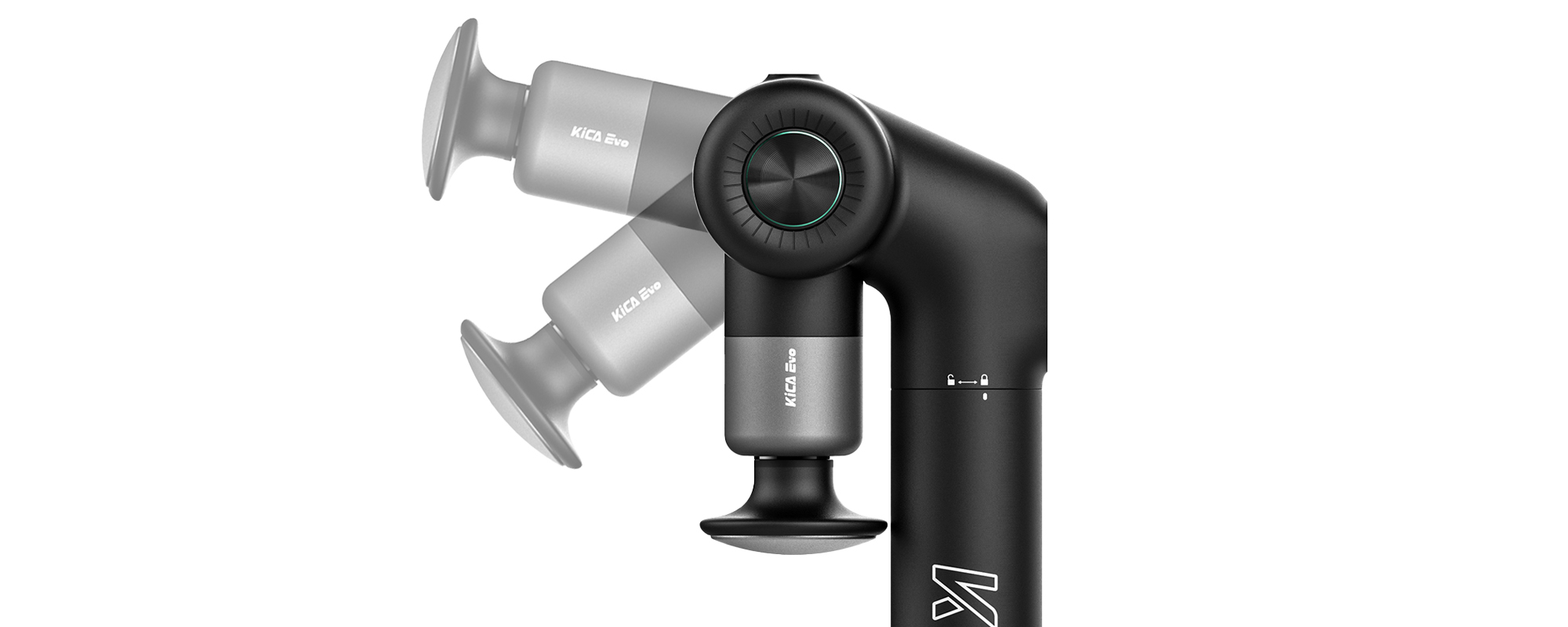 Main product features
professional high-powered vibration massager
the world's first massage gun with fold-out handle and adjustable head angle
the best choice for professionals, athletes and home users
provides pressure of 10 kg per cm² of body
telescopic design allowing the handle to be extended by an additional 10 cm
adjustable head angle relative to the handle
includes 6 interchangeable handpieces for different types of massage
revolutionary heated head for even better massage results
spherical head for relaxing soft tissues and sensitive muscles
fork head for working on long and narrow muscles and for neck massage
bullet head to reach trigger points and deal with pain
cushion head, ideal for massaging delicate and sensitive parts of the body
shoulder head to reach the deepest parts of the muscles
solid casing made of high quality aircraft-grade aluminium
brushless motor (up to 3200 rpm)
convenient power control
convenient power control with ergonomic slider
LEDs indicating vibration intensity and battery level
up to 12 hours of operation on a single charge
built-in rechargeable 1600 mAh battery
convenient charging via universal USB-C port (cable included)
Experience the power of percussion massage
FeiyuTech is back with a new KiCA massager model that redefines comfort and ease of use. Its innovative design will make you reach your muscles and tissues even more effectively for relief, relaxation and relaxation. The KiCA Evo allows a pressure of 10 kg per cm² of body and a maximum vibration frequency of 3,200 revolutions per minute. Such parameters will make self-percussion therapy enjoyable and effective.
Reach even further
While any massage gun allows you to perform a stand-alone massage of the muscles of the legs or arms, precisely reaching selected points on the back or neck is no longer so easy. With help comes the revolutionary design of the FeiyuTech KiCA Evo massager. You can extend the telescopic handle, gaining 10 extra centimetres. Combined with the 5-position angle adjustment of the head, you get a device that will enable you to give yourself a full-body massage.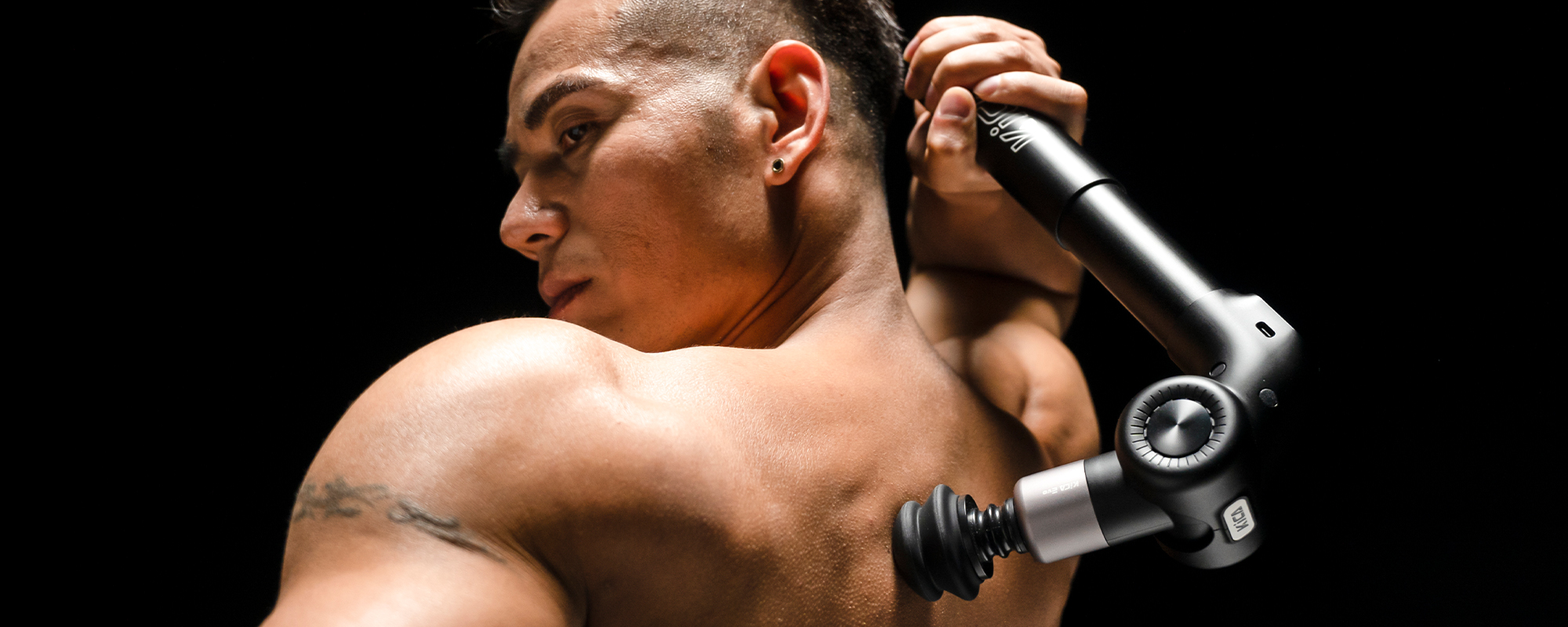 Smooth adjustment of vibration intensity
Working with the FeiyuTech KiCA Evo massager is child's play. Regardless of age or knowledge of massage techniques, almost anyone can handle it. The device features a small slider that allows you to smoothly adjust the intensity of the vibrations. The ergonomic design means that with a flick of the thumb, you can adjust the intensity of the massage to suit your specific needs in a matter of seconds.
Feel the pleasant warmth
The heated head you'll find included with the FeiyuTech KiCA Evo vibration massager will transport you to the land of relaxing warmth in seconds. The innovative tip, which heats up to 40 degrees, redefines the magic of the ancient hot stone massage technique. The heat penetrates deep into the tissues, relieving tension, promoting circulation and bringing solace after a long day. Let yourself be swept away by the warm touch of the FeiyuTech KiCA Evo ensuring faster recovery and an even more enjoyable experience.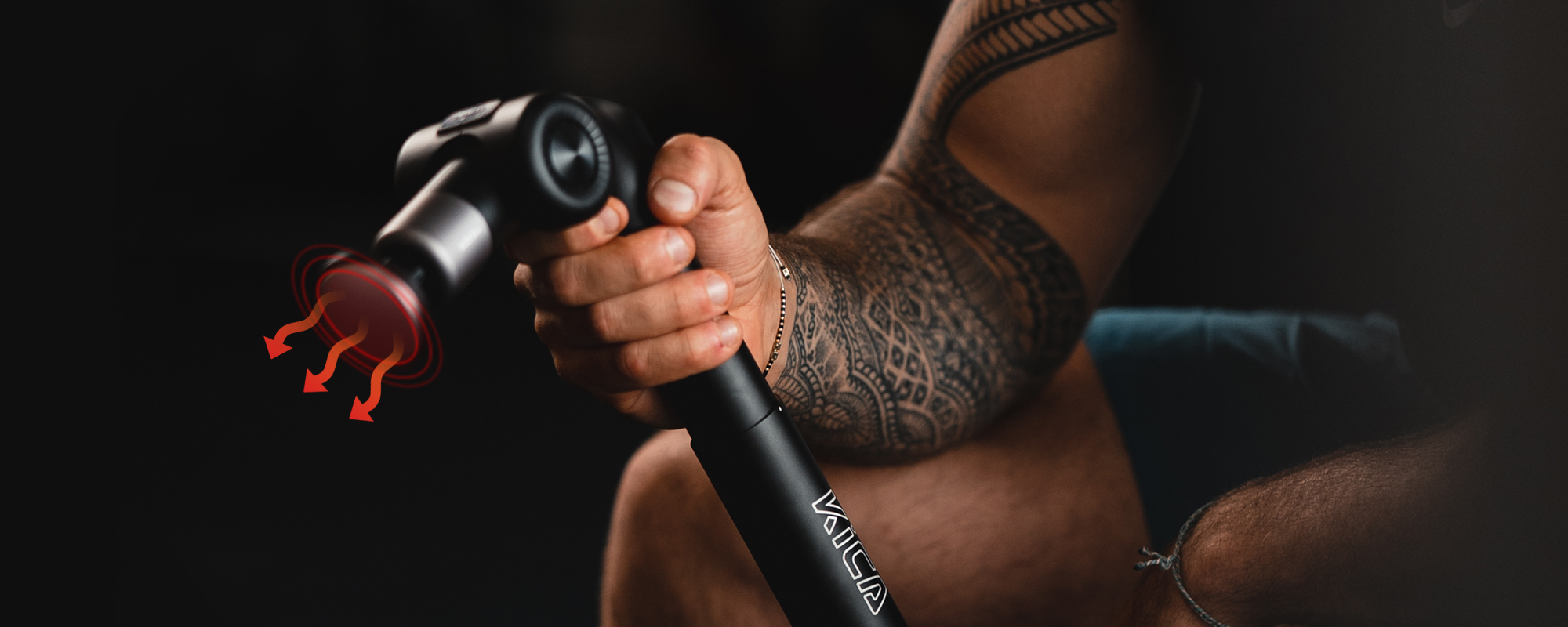 Interchangeable heads
In addition to the heated flat head, the FeiyuTech KiCA Evo massager comes with 5 other interchangeable heads to help you flawlessly "hit the spot" and achieve your desired massage goal.
Ball head

– will relax soft tissues and sensitive muscles. Ideal for areas of large muscle groups such as the thigh, calf, back, shoulder and hip. Especially helpful for working out the musculo-fascial system.
U-shaped head"

– an overlay specifically designed for the Achilles tendon area and for massaging the extensors of the back.
Bullet head"

– tip for precise massage of trigger points, allowing you to effectively eliminate muscle thickening and soreness even in hard-to-reach areas.
Pillow head

– a great choice for those looking for a gentle massage, targeting sensitive and tender areas of the body and areas close to the bone.
Shoulder head

– its shape allows it to reach the deepest layers of muscles. Ideal for use after workouts; helps to relieve tension and speed up recovery.
Up to 12 hours of use on a single charge
The built-in 1600 mAh battery will provide up to 12 hours of use with the device, on a single charge. Topping up the FeiyuTech KiCA Evo is trivial – just reach for the included USB-A / USB-C cable and connect it to a charger or power bank. The LEDs above the on/off switch will let you know when you need to recharge.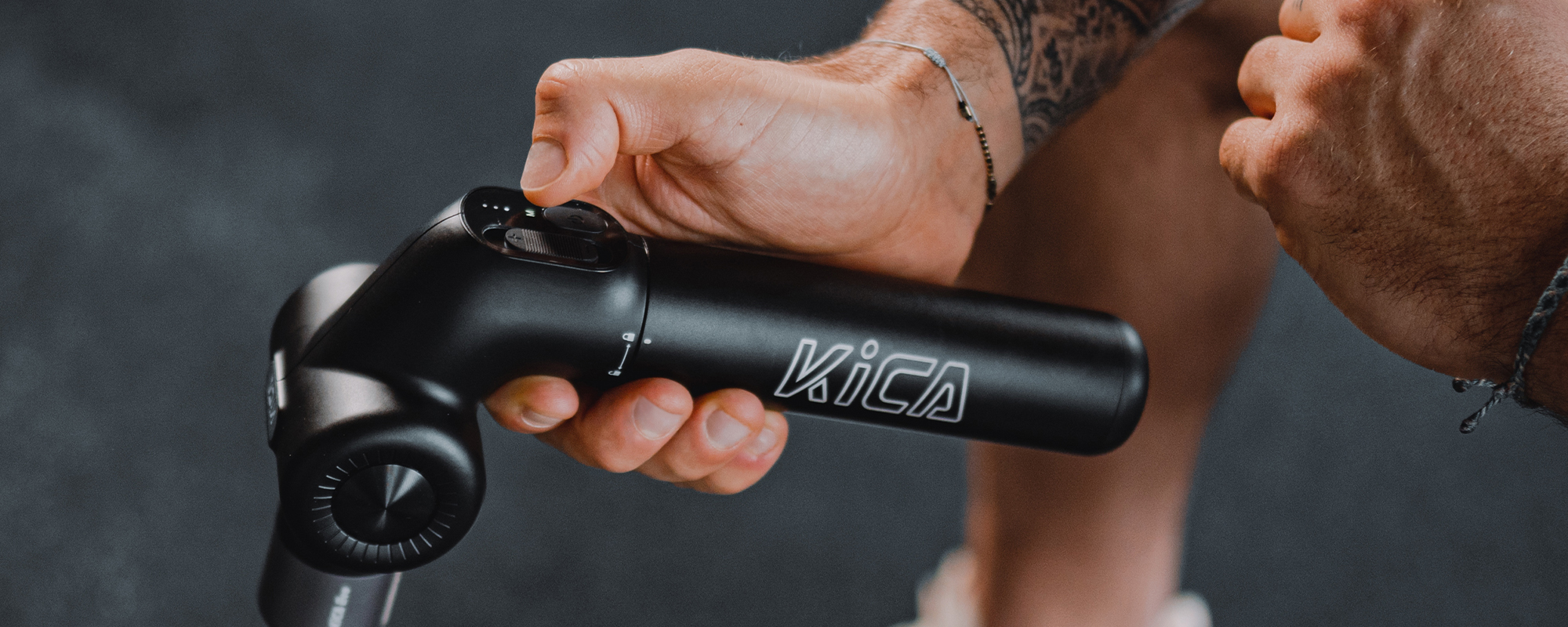 support-in-physiotherapy-and-rehabilitation
KiCA massage guns are used by professional physiotherapists and rehabilitation therapists all over the world. Adjustable power and interchangeable heads allow the massager to be optimally adapted to diverse needs – from motor support, tissue regeneration and massage to treatments that provide relief after accidents or injuries. Regular treatments will improve blood circulation, support the rehabilitation process and speed up the absorption of haematomas and bruises. The therapy can also have an analgesic effect, stimulate collagen production and increase blood supply and tissue hydration. The FeiyuTech KiCA Evo is an ideal choice for seniors and vulnerable people. The device will easily improve quality of life, provide relief and support rehabilitation.
Ideal choice for athletes
The KiCA Evo massage gun is an invaluable support for professional athletes and active lifestyle enthusiasts. Make your training and recovery even more effective and safe with this innovative device from the FeiyuTech brand. Take care of your muscles during rest and recovery so that you don't get caught up in injuries. Regular use of the KiCA Evo vibration massager is:
optimal muscle preparation before training;
increased joint flexibility and mobility;
effective muscle activation and stimulation;
improved training efficiency;
faster absorption of metabolic products;
reduced risk of injury and trauma;
quicker recovery after training;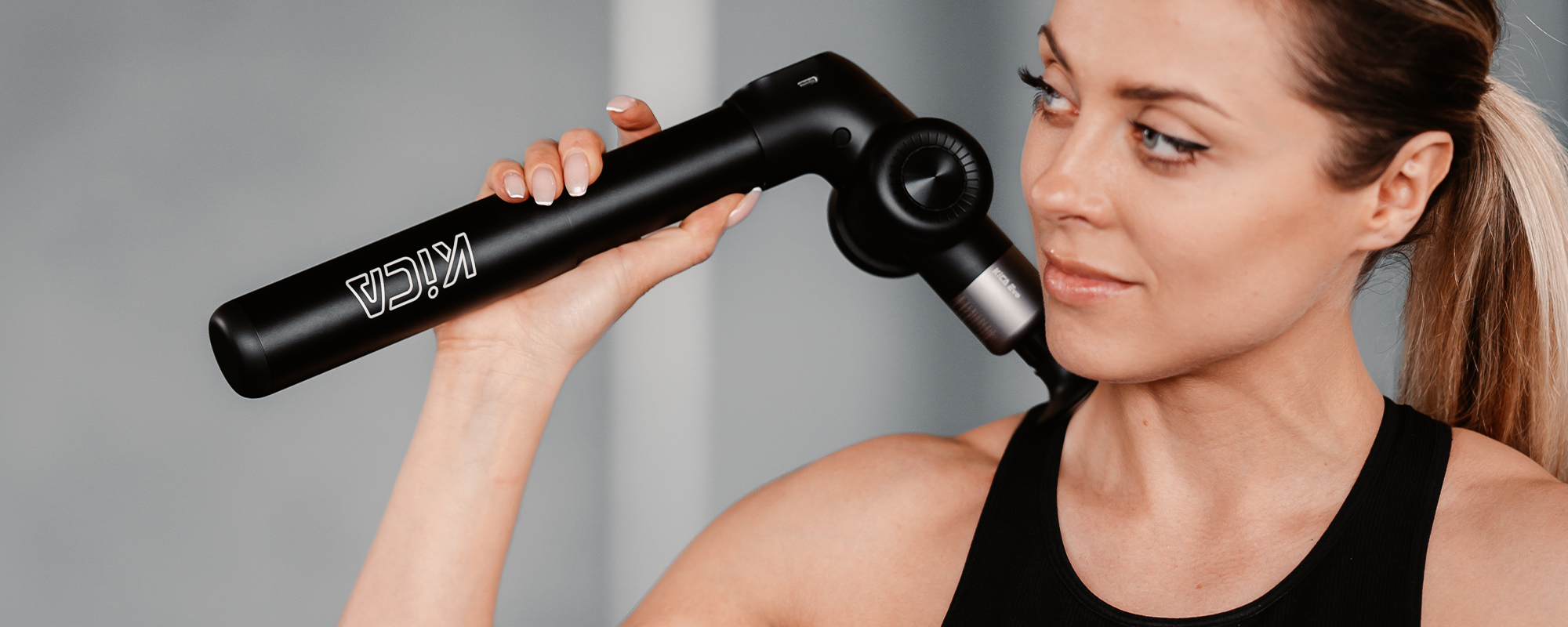 Pain relief
Do you struggle with the uncomfortable feeling of pain caused by sitting in front of a computer or driving for long periods of time? These activities in particular often weaken the condition of your muscles and contribute to discomfort. The FeiyuTech KiCA Evo vibration massager will help to reduce lumbar and cervical pain, giving you the right boost. Percussion therapy will effectively stimulate the nervous system, relax the musculoskeletal system and improve your mood and mental condition.
Cellulite slayer
The FeiyuTech KiCA Evo is a great tool in the daily fight against cellulite. Regular use of the massage gun improves blood circulation and increases skin and muscle hydration. Firm and sculpt your body, take care of your figure, your confidence and your well-being. Percussion therapy:
prevents the formation of cellulite;
promotes the reduction of cellulite and reduces its visibility;
contributes to the reduction of thigh circumference;
Relax and relax
With the FeiyuTech KiCA Evo massager, you will create a home spa to help you relax after a hard day at work. If you spend long hours at your desk, your stagnant muscles, tissues and joints need proper stimulation and regeneration. Relaxing massages will provide extra energy, relieve lumbar and cervical pain, stimulate the nervous system, relax muscles and fascia, and improve your mood and well-being.
Give the gift of health to your loved ones
The FeiyuTech KiCA Evo is a great gift idea for anyone – regardless of age, gender, activity level or profession. Give your loved ones something that will make a real difference to their quality of life. The innovative massager with its retractable handle and adjustable head angle will allow you to give a relaxing, restorative or rehabilitative massage on your own, reaching where no other massage gun can reach.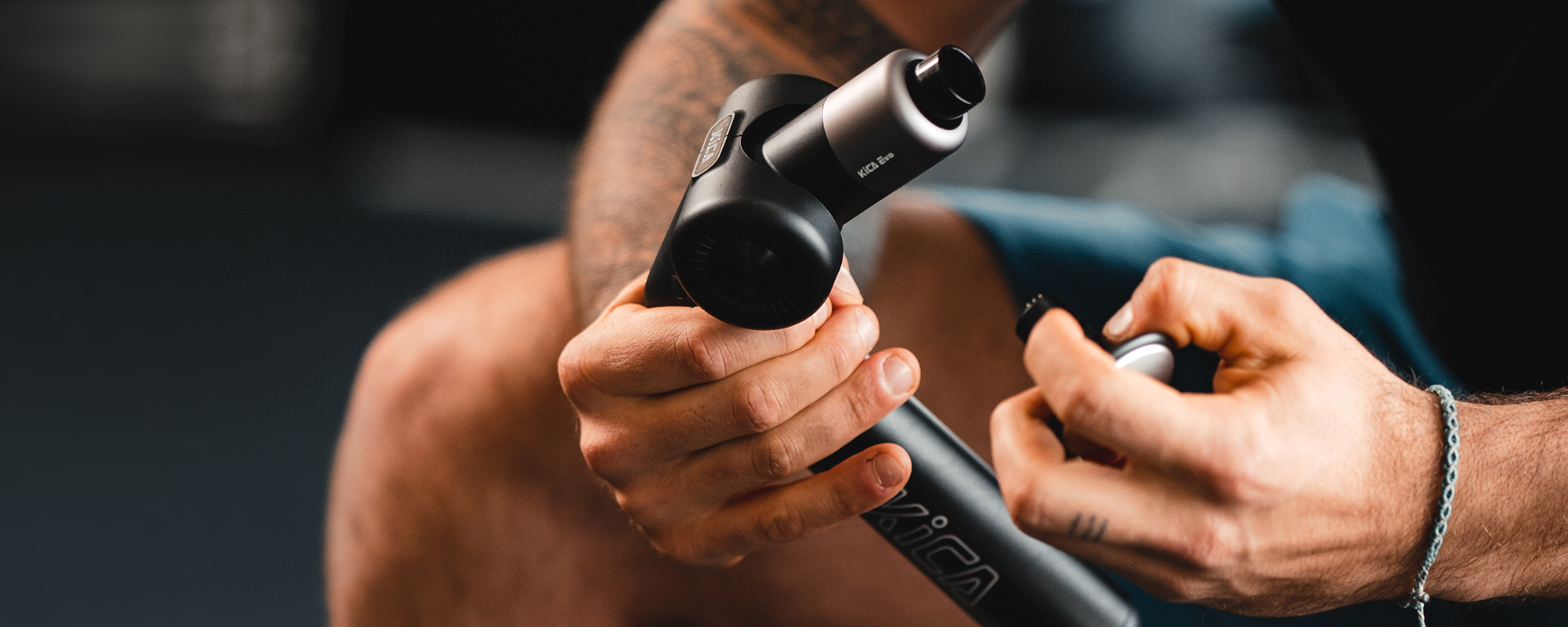 Specification
model: FeiyuTech KiCA Evo
colour: black
material of construction: aluminium
power: max. 120 W
operating voltage range: 13.2 V – 16.8 V
vibration frequency: 0 – 3200 revolutions per minute
battery capacity: 1600 mAh
max operating time on one charge: 12 h
charging time: approx. 6.5 h
charging port: USB-C (5 V / 2 A)
max.
max. heated head temperature: +40ºC ± 3ºC
allowed operating temperature: 0 to +40ºC
Dimensions:

98 x 239 x 81 mm (folded)
148 x 330 x 81 mm (unfolded with handle extended)

weight: 730 g
Kit contents
FeiyuTech KiCA Evo vibration massager – black
heated flat head
spherical head
spider head (U-shaped)
bullet head
pillow head
shoulder head
USB-C / USB-A cable