Description
The FeiyuTech Pocket 3 Kit is a kit that includes an innovative camera and a remote control with a monitor. The 130° field-of-view lens, as well as a CMOS sensor providing a pixel density of 12 million, will allow you to record videos in 4K quality. The camera also offers artificial intelligence support for facial recognition and tracking objects in motion. Thanks to its ultra-lightweight housing, the Feiyu Pocket 3 will work well in any situation – from hiking, biking and running, to dynamic car drifts, to parkour or bungee jumping. The device provides perfect image stabilization, with support for various modes of operation and response. The on-screen remote control and free Feiyu Cam app will provide you with real-time viewing and remote control capabilities.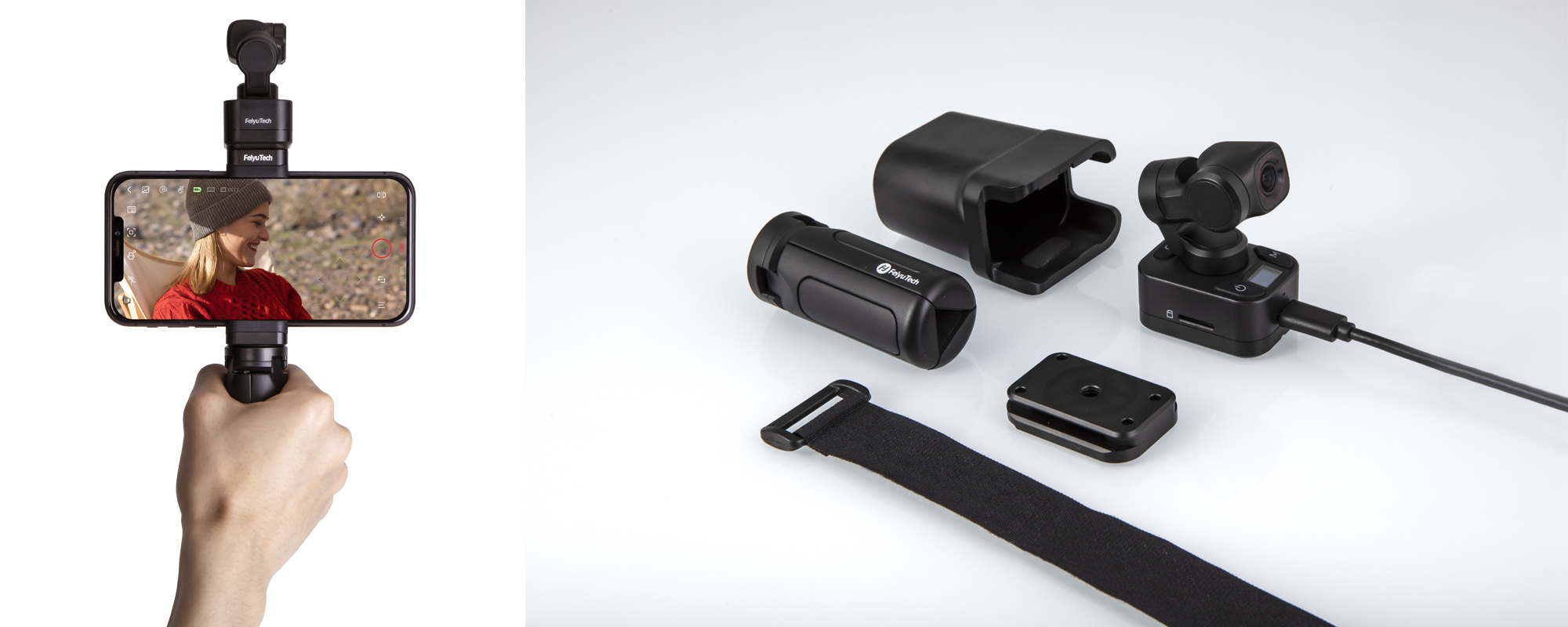 Main Product Features
The "Kit" is a FeiyuTech Pocket 3 camera and multi-tasking remote control with monitor
The 3-axis gimbal integrated with the camera offers 5 different stabilization modes – panning, tracking, multi-axis tracking, axis lock and dive mode
the remote control can act as a remote controller, providing real-time viewing and convenient access to all the settings the camera offers
when paired with the camera, it acts as an ergonomic handle with convenient access to the joystick, buttons and zoom slider
collaborates with the Feiyu Cam mobile app (Android / iOS) allowing you to view and control the movements of the gimbal in real time, as well as conveniently change settings
ultra-wide camera lens covering a field of view of 130°
the fast response speed of the gimbal – up to 180° per second
unique function of saving several different shots in one file ("Breakpoint Shooting")
possibility to record video footage in impressive 4K resolution
support for 120 frames per second when recording in Full HD
maximum bit rate of 120Mbps (at 4K @60 fps)
equipped with Sony CMOS 1 / 2.5″ sensor providing a pixel density of 12 million
support for memory cards with a maximum capacity of 512 GB
ability to record videos in time lapse, trajectory timelapse, hyper lapse, slow motion modes
possibility to take panoramic photos
4 response modes tailored to different types of activity
AI support to automatically follow the movements of objects or people appearing in front of the camera
strong magnet for instant installation on metal surfaces
1/4″ thread for tripod mounting
quick-mount plate allowing installation of harnesses, rails, mounting brackets and special Velcro-fastened straps
also includes a case, Velcro fastening bands, remote control wrist strap, camera protective cap and 2 USB-C / USB-A cables
Multiple uses
The Feiyu Pocket 3 camera with the included remote control is a revolutionary combination that will work in dozens of situations – from handheld recording, use with a tripod or selfie stick, installation on helmets, harnesses and arm bands, to magnetic mounting on metal surfaces. The devices are distinguished by their ultra-lightweight and compact dimensions. And all this with a remote control option and perfect stabilization provided by a 3-axis gimbal. The FeiyuTech Pocket 3 camera in Kit variant is the perfect companion for any of your adventures. It will work well for running, climbing, biking or motorcycling, traveling by car, or even extreme challenges such as parkour.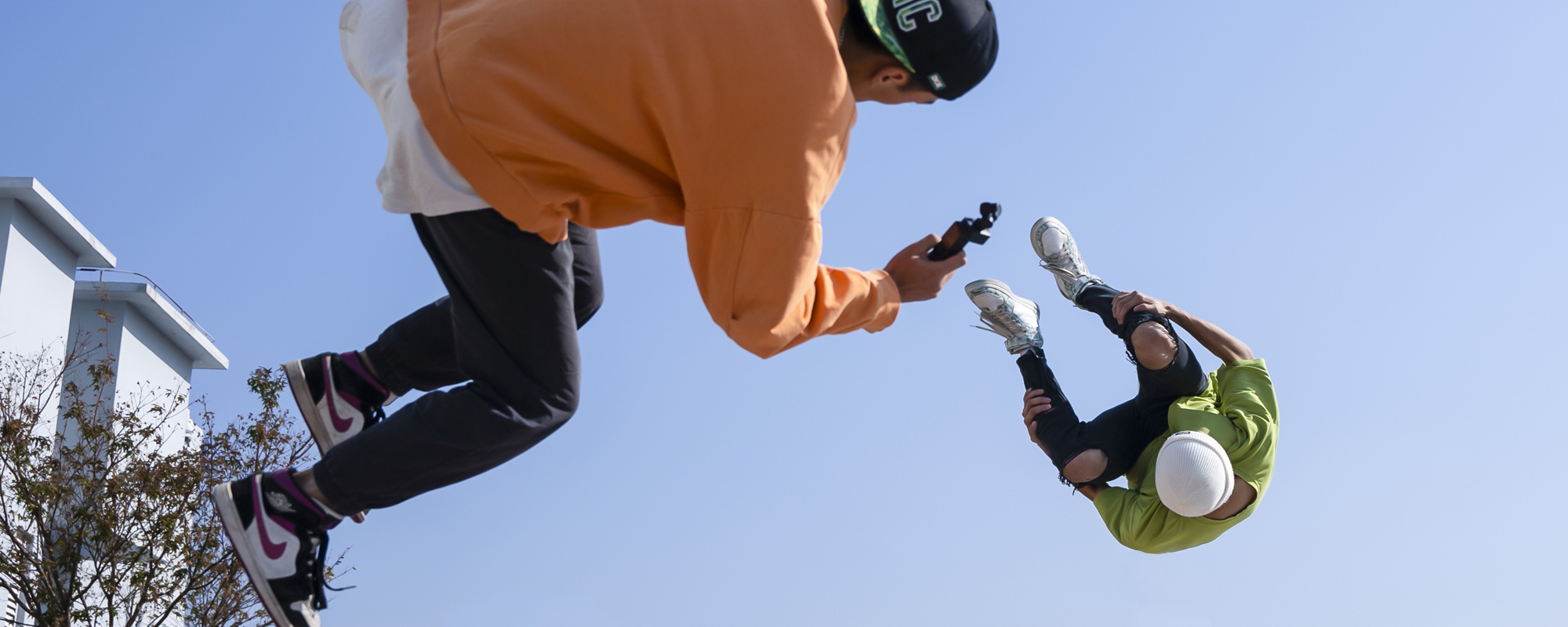 Innovative remote control with screen
The remote control with screen for the FeiyuTech Pocket 3 camera is a multifunctional device for convenient control and even better ergonomics. The touch screen is a great way to quickly manage the camera settings and modes of the 3-axis gimbal. The remote control allows remote control. It can also act as an ergonomic handle. The device also offers real-time image preview. Operating comfort is ensured by a precise joystick, a slider for zoom control and ergonomic buttons. There is also a sensitive microphone on board. Hidden under the casing is a 750 mAh battery, charged via a USB-C port.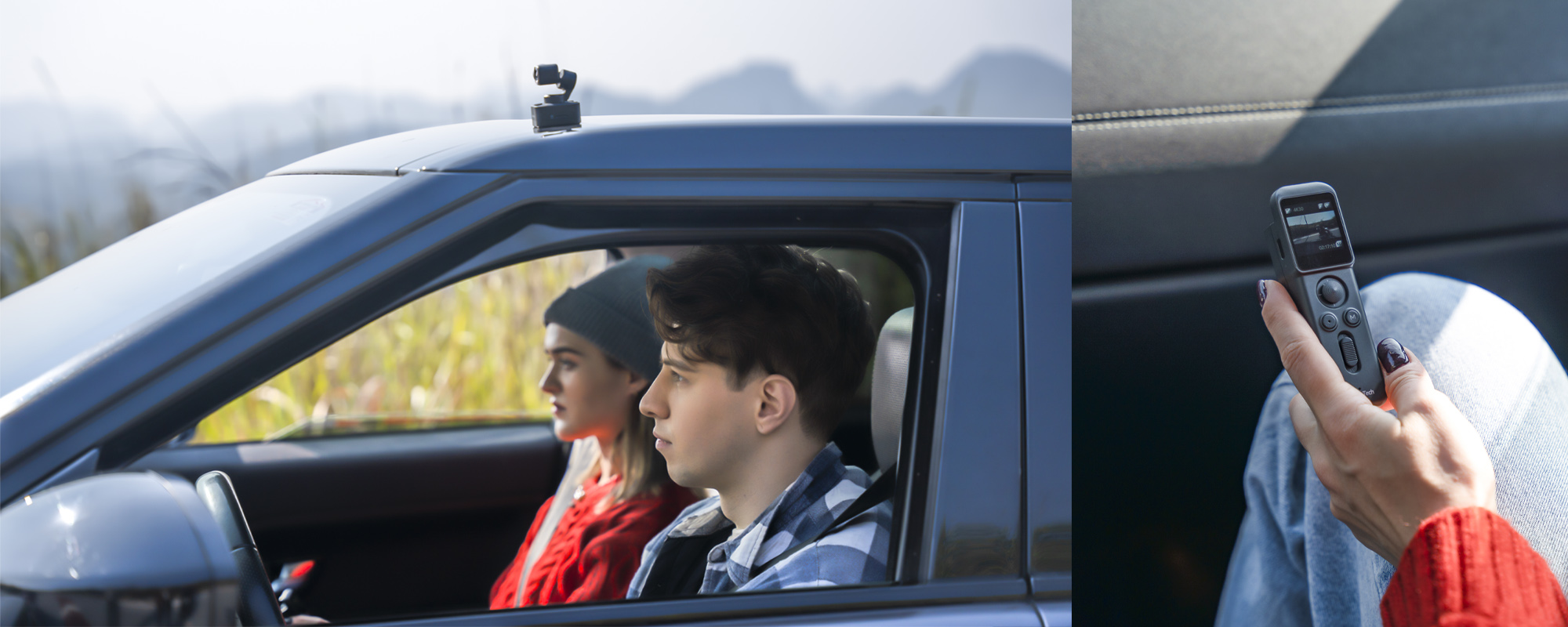 Many ways to mount
Feiyu Pocket 3 is a camera that adapts to your needs with incredible ease. Thanks to the multifunctional quick-mount plate, you gain dozens of ways to install the device. Special strap holes guarantee simple and intuitive attachment to harnesses, among others. The accessory also offers a tripod-compatible rail and 1/4″ thread. The Feiyu Pocket 3 quick-mount plate also works with most GoPro accessories, further extending the potential of working with the multitasking camera. You can also easily install the device on a selfie stick, the included tripod, practical Velcro straps, and even self-adhesive rails, ideal for mounting on helmets. The Feiyu Pocket 3 is a camera that follows you around, always ready to capture your travels, sports struggles and unique experiences.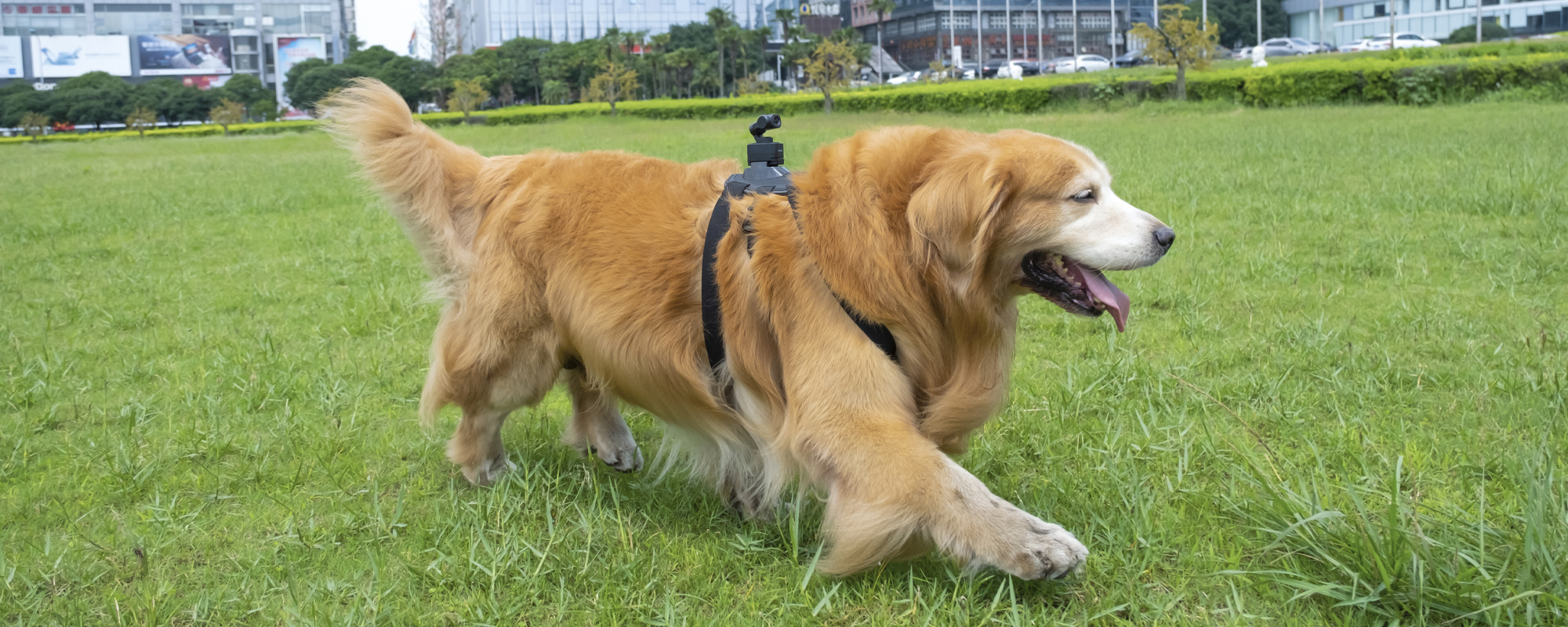 The perfect connection
The Feiyu Pocket 3 camera remote control is not only a versatile remote controller. The device can also act as an ergonomic grip. All you have to do is slide the camera onto the special rail and…. done. You can now hold the device in the palm of your hand like a typical 3-axis gimbal, with both a preview and an ergonomic joystick at hand, as well as access to the device's settings. In addition, thanks to the built-in 1/4″ thread, the remote control along with the camera can be installed on a tripod, which is great for when you use the motion tracking function.
Stabilization at the highest level
The FeiyuTech Pocket 3 camera has been integrated with a gimbal, which offers up to 5 different stabilization modes. Thanks to them, you will adjust the characteristics of the device to the specific shots you want to take.
Panning mode (HF)

– in this mode the camera follows your movements only within the axis of rotation.
Tracking mode (TF)

– both the pan axis and tilt axis follow the user's hand movements.
Mode of multi-axis tracking (AF)

– all 3 axes – pan, tilt and roll – follow the movement of the user's hand.
Locking mode (LK)

– the camera lens maintains a fixed direction – rotation on all axes is locked in a defined position.
Diving mode (DV)

– if you have a waterproof housing for the FeiyuTech Pocket 3 camera (to be purchased separately), you can use the diving mode. The lens then points upward, and all 3 axes follow the user's hand movements.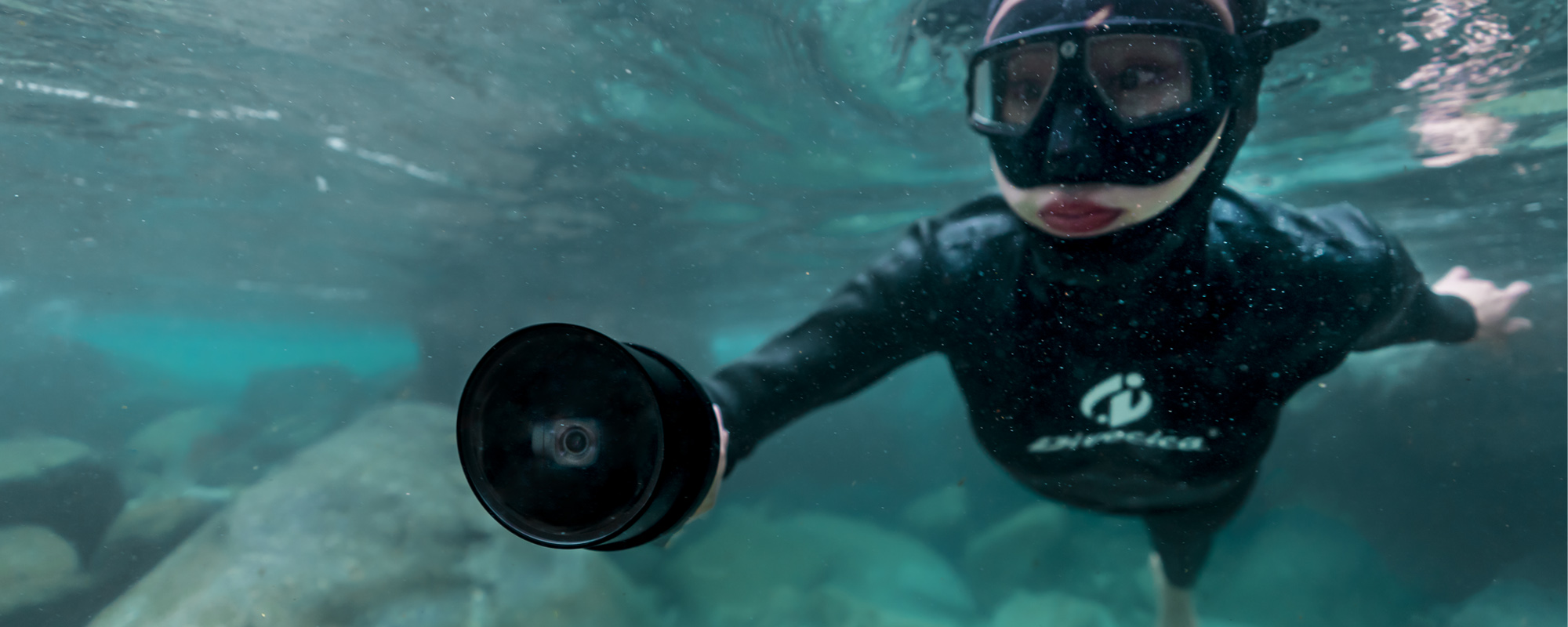 Spectacular shots
The FeiyuTech Pocket 3 camera is equipped with state-of-the-art components for great quality photos and videos. The device offers a bright lens (f/2.0), a pixel density of 12 Mpx, and the option to record at an impressive 4K resolution. Whether you're reporting on bungee jumping in your videos, capturing beautiful mountain panoramas or simply vlogging from a vacation. The unique optical design allows you to capture frames covering a field of view of as much as 130°.
4 ways to respond
The Feiyu Pocket 3 guarantees a unique filming experience with four different modes that will allow you to match the camera's response speed to the specific activities you are enjoying:
Handheld operation

-The "Handheld" mode is the best option when using a remote control grip, selfie stick or tripod included in the kit. It's the perfect choice for everyday recordings, where the smooth movements of the device emphasize the spontaneity and authenticity of each moment.
Fast Follow mode

– operation in this mode guarantees the fastest tracking speed – up to 180° per second. It will be perfect for extreme sports, where you want fast and dynamic shots. This mode will allow you to document your sporting exploits on your own, with unparalleled precision and smoothness of the image.
Riding mode

– guarantees a slightly slower tracking speed for even better stability – a key element when recording videos while riding a bike, scooter, motorcycle, rollerblading or skateboarding.
Car Mount

– providing a moderate tracking speed, this mode is perfect for filming landscapes when the camera is mounted on a car with a strong magnet.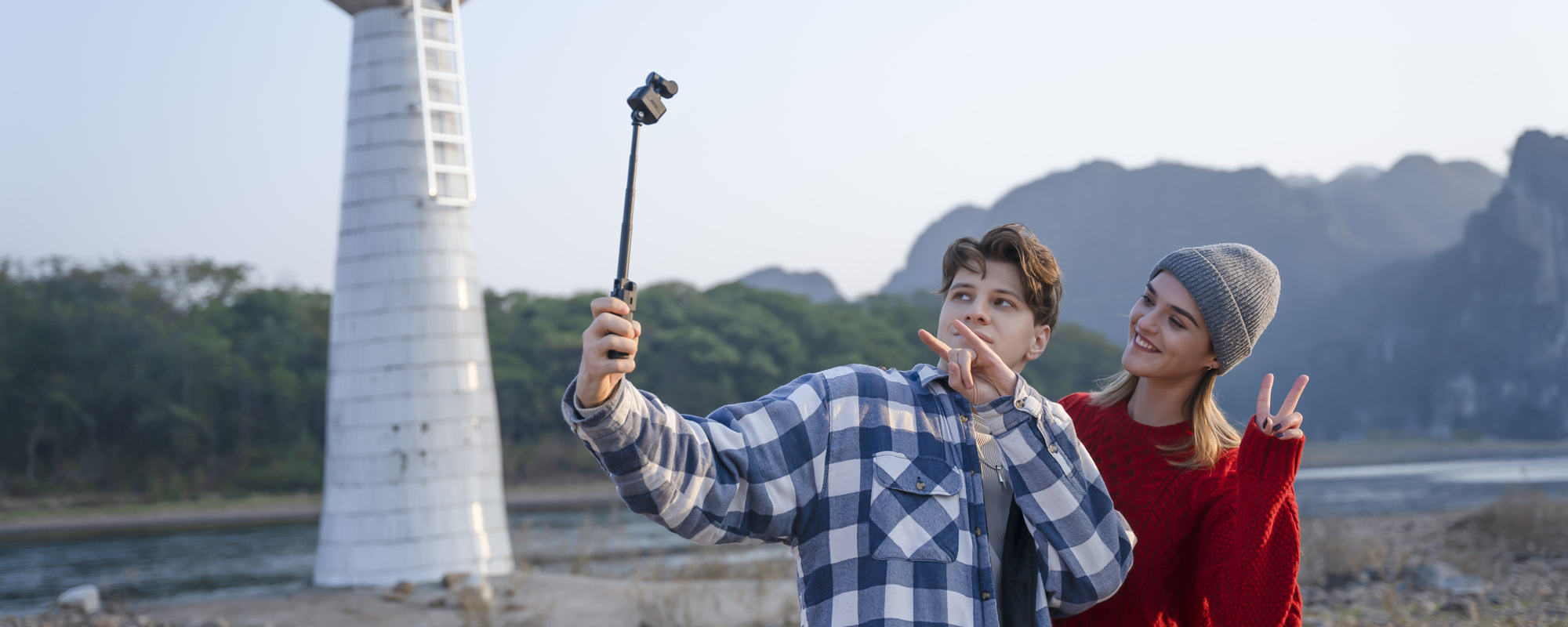 remote control
With a remote control with a monitor for the FeiyuTech Pocket 3 camera, you can control the movements of the device remotely. Wi-Fi connectivity provides even more versatility. Such a solution will make it easier to create video footage wherever you can't afford to film "handheld". The remote control means you don't have to approach the camera when you want to change the reaction speed or mode. Controlling the movements of the 3-axis gimbal can be done 100% remotely. Similar functionality will also be provided by the free Feiyu Cam app, which you can find on Google Play and the App Store.
Unique photos and videos
It's hard to believe that such a small camera allows you to take advantage of advanced recording modes that turn ordinary vacation videos into real masterpieces that are hard to take your eyes off of. Slow motion, automatic panoramas or time-lapse and hyper lapse shots will allow you to discover new layers of creativity and look at the world from a completely different perspective!
Panoramic shots

– use the camera's precise stabilization to take a panorama consisting of several shots.
Timelapse

– capture the passage of time using a technique that combines photography with film.
Trajectory timelapse

– program movement between two points to create a time-lapse movie in which not only the time of day or the position of the objects being filmed changes, but also the angle of the camera.
Hyperlapse

– move around with the camera on your own, capturing long and complex motion sequences that will be captured on time-lapse video.
Slow Motion

– create steady video footage straight out of the Matrix.
Motion tracking
Thanks to innovative technology, the Feiyu Pocket 3 camera will allow you to record even better videos! The unique AI algorithm will make the gimbal follow your movements on its own, without the need to control the joystick. This is ideal when you are recording tutorial videos or moving in a penalty, and there is no one around to control the camera. Artificial intelligence will make your vlogs look even better!
Up to 512GB for your videos and photos
When recording 4K footage or taking your camera on a multi-day expedition, you need a lot of space for your videos. Fortunately, the Feiyu Pocket 3 supports micro SD cards of up to 512 GB! Such a huge space allows you to shoot many great video clips in the highest quality.
PRODUCER RECOMMENDS WORKING WITH HIGH TRANSFER SPEED (MIN. U3) memory cards.
Sound Recording
Both the FeiyuTech Pocket 3 camera and remote control are equipped with high-quality microphones. Thanks to them, you will be heard loud and clear. The microphone in the remote is a real game changer in situations where the camera is away from you and you want to comment in real time on what you're recording. It's an ideal choice for vloggers who care about good sound quality and optimal volume levels.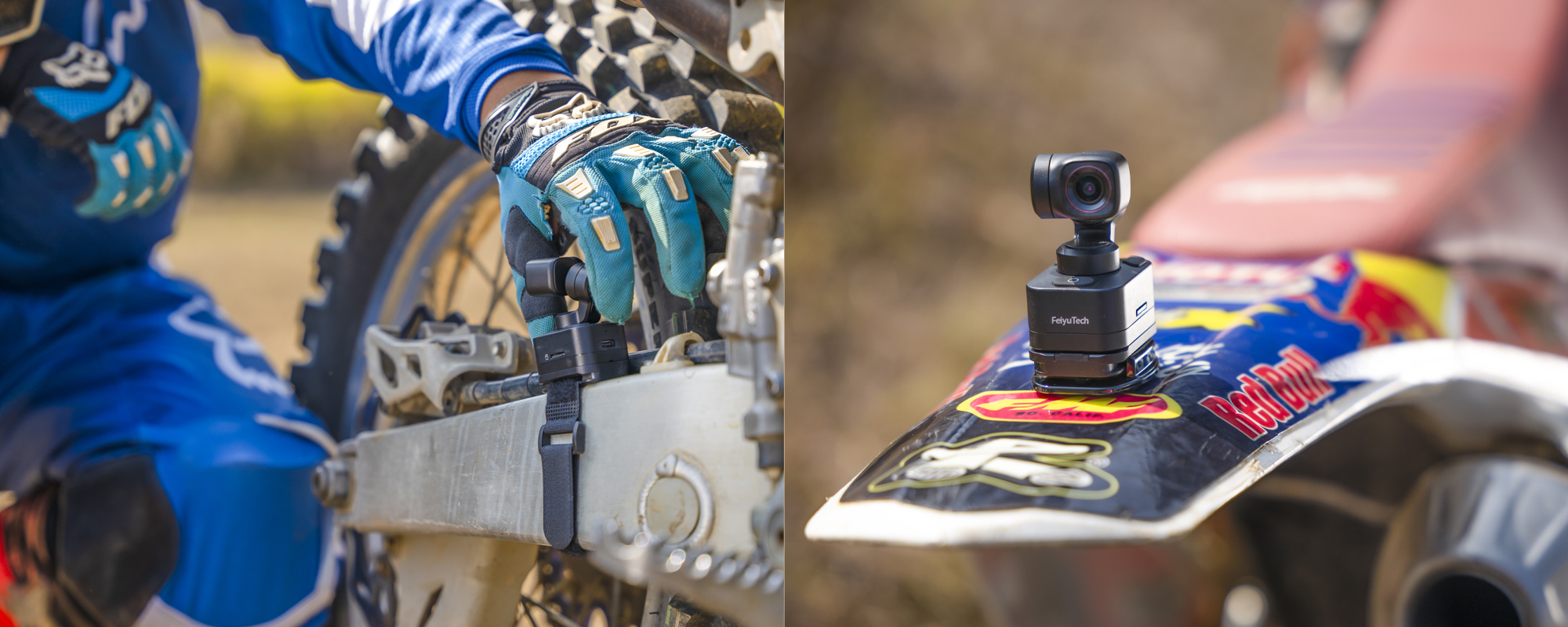 These videos edit themselves!
Never have time to edit videos after returning from vacation? With the Feiyu Pocket 3 camera, combining individual shots can be done right at the image capture stage! The revolutionary "Breakpoint Shooting" function allows you to stop recording, but not turn it off. The device will allow you to save different shots within the same video file. This will make later editing of videos even easier, and in many situations it will not be necessary at all!
Specification
model: FeiyuTech Pocket 3 Kit (camera + remote control with screen)
FeiyuTech Pocket 3 Kit Camera
material: aluminum, plastic
display: 0.42″, 72 x 40 (OLED)
Axis rotation range:

Tilt: -95° / +50°
Roll: +45° / -45°
Pan: -220° / +40°

Response speed: 180° / s
matrix: 1 / 2.5″ CMOS
pixel density: 12 Mpx
Video resolution:

4 K – 3840 x 2160 px (@ 60 / 50 / 48 / 30 / 25 / 24 fps)
2.7 K – 2720 x 1520 px (@ 60 / 50 / 48 / 30 / 25 / 24 fps)
Full HD – 1920 x 1080 px (@ 120 / 60 / 50 / 48 / 30 / 25 / 24 fps)

Recording modes:
time-lapse movie (time lapse)
low motion (slow motion)
aperture: f/2.0
ISO range: 100 – 3200
max. viewing angle: 130°
electronic shutter: 1/8000 – 16 sec
focal length equivalent: 16 mm
supported file systems: FAT32, exFAT
film recording format: MOV, MP4
photo storage format: JPG, JPG + DNG
max photo size: 4000 x 3000 px
supported memory cards: microSD (U3 or faster), max. capacity 512 GB
max bit rate: 120Mbps at 4K @60 fps
Charging:
battery capacity: 280 mAh (2,072 Wh)
battery type: lithium-ion
voltage: 7.4 V
working time per charge: 60 min (1080 p / 30 fps)
charging time: about 1.5 h (5 V / 2 A)
charging port: USB-C
wireless connectivity: 2.4 GHz Wi-Fi (bandwidth: 20 Mhz)
angle oscillation range: ±0.005°
compatible app: Feiyu Cam
Dimensions: 46.5 x 32.6 x 60.3 mm
weight: 86 g
Pilot with monitor for FeiyuTech Pocket 3 camera
Connectivity with the FeiyuTech Pocket 3 camera:
Charging:

Battery capacity: 750 mAh
charging time: approximately 1.2 h
charging port: USB-C

Mounting points:

feiyuTech Pocket 3 camera mounting rail
wrist strap mount
Female 1/4 "thread

dimensions: 105.3 x 30.8 x 23.1 mm
weight: 73 g
Kit contents
1 x FeiyuTech Pocket 3 camera
1 x remote control with monitor for FeiyuTech Pocket 3 camera
1 x protective cap for the camera
1 x camera quick release plate
1 x remote control wrist strap
2 x Velcro fastening band
2 x USB-C / USB-A cable
1 x tripod
2 x case