Description
The FeiyuTech Vimble 3SE is a modified version of the well-received smartphone gimbal. Unlike the original, the device is not equipped with a telescopic arm. This makes the new gimbal even lighter. If you don't need a folding selfie stick, bet on a cheaper alternative in the form of the Vimble 3SE. Apart from this one change, it's still the same multi-tasking gimbal compatible with most smartphones up to 7″. It offers automatic balancing, creative filming and shooting options, as well as mobile app support. With this gimbal, you'll discover new ways to tell stories with images. It's the only device you need to give your vlogs, holiday videos and live broadcasts perfect image stabilisation.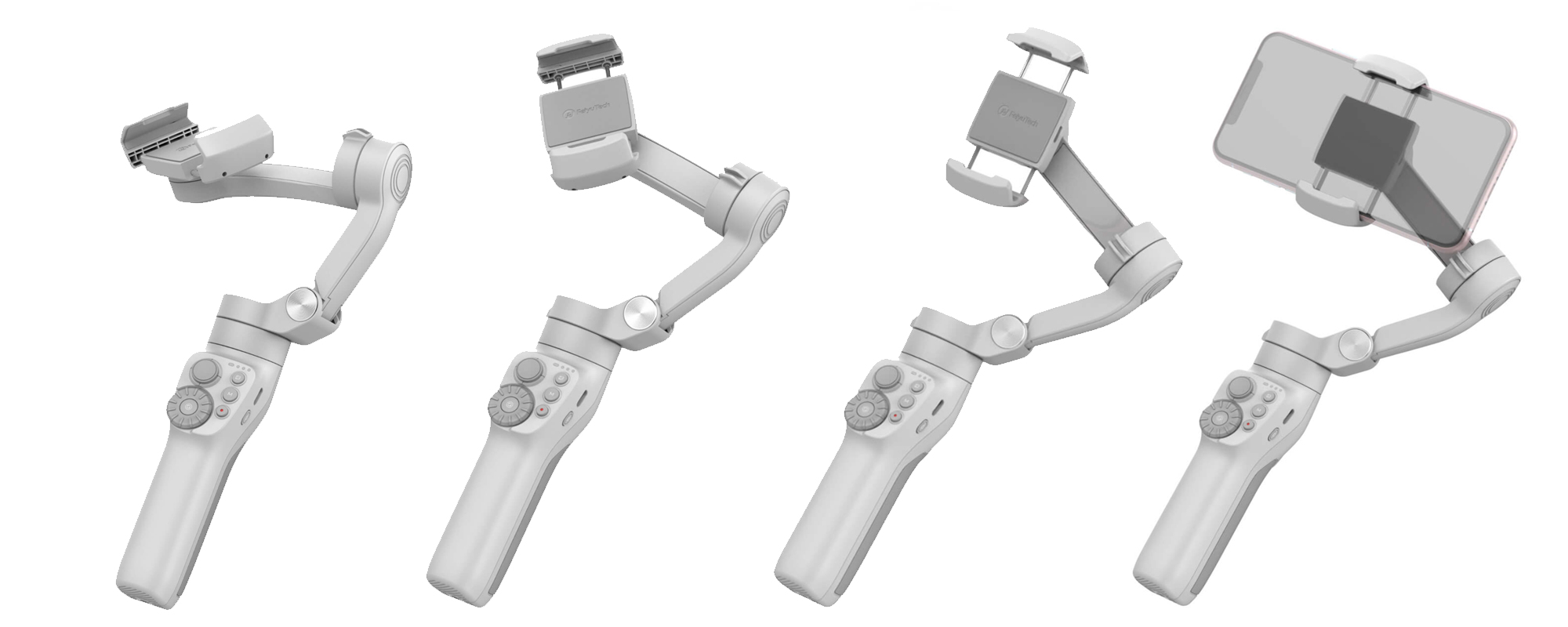 Main product features
a cheaper alternative to the classic FeiyuTech Vimble 3
even lighter design (weighs just 352g)
compatible with most smartphones up to 7″
ready to use within seconds of starting
ergonomic design that allows the device to be folded into a transport position
automatic balancing as soon as the gimbal is started
precise brushless motors and state-of-the-art stabilisation algorithms
intelligent tracking mode for objects in motion
creative movie modes: Timelapse, Motionlapse, Dolly Zoom, Light Rail Mode
creative shooting modes: Overlapping Image, Light Rail Mode, various types of panorama
3 multi-axis modes (panning, locking, tracking)
management of recording parameters from the handle (focus points, zoom)
instant and simple folding and unfolding of the device
define 2 different axis positions and switch between them using the "A" / "B"
up to 10 hours of operation on a single charge
full charge takes up to 2.5 h
compatible with the free Feiyu ON mobile app (available on Google Play and App Store)
Bluetooth wireless connectivity allows you to control your smartphone from the gimbal
possibility to power the gimbal with a power bank
shooting with gestures (using the Feiyu ON app)
screw-on mount that also functions as a tripod
refined design and stylish grey finish
fast way to switch between landscape and portrait orientation of the smartphone
ergonomic layout of buttons, dial and joystick
1/4″ threads for installation on tripods, monopods or sliders
magnetic mount and additional USB-C port for connecting additional accessories
compatible with magnetic light and tracking module for FeiyuTech Vimble 3 gimbals
includes a nice touch case for the gimbal and a USB-C / USB-A cable
Vimble 3 in a slimmed-down variant
Looking for a cheaper alternative to the classic FeiyuTech Vimble 3 gimbal? You have just found it! The FeiyuTech Vimble 3SE for smartphones is a slimmed-down variant of the "three", without the telescopic arm. At the same time, the device offers exactly the same innovative image stabilisation functions. If you want even lighter luggage and the selfie stick is a tool you don't use anyway, the presented gimbal model will be the perfect choice for you.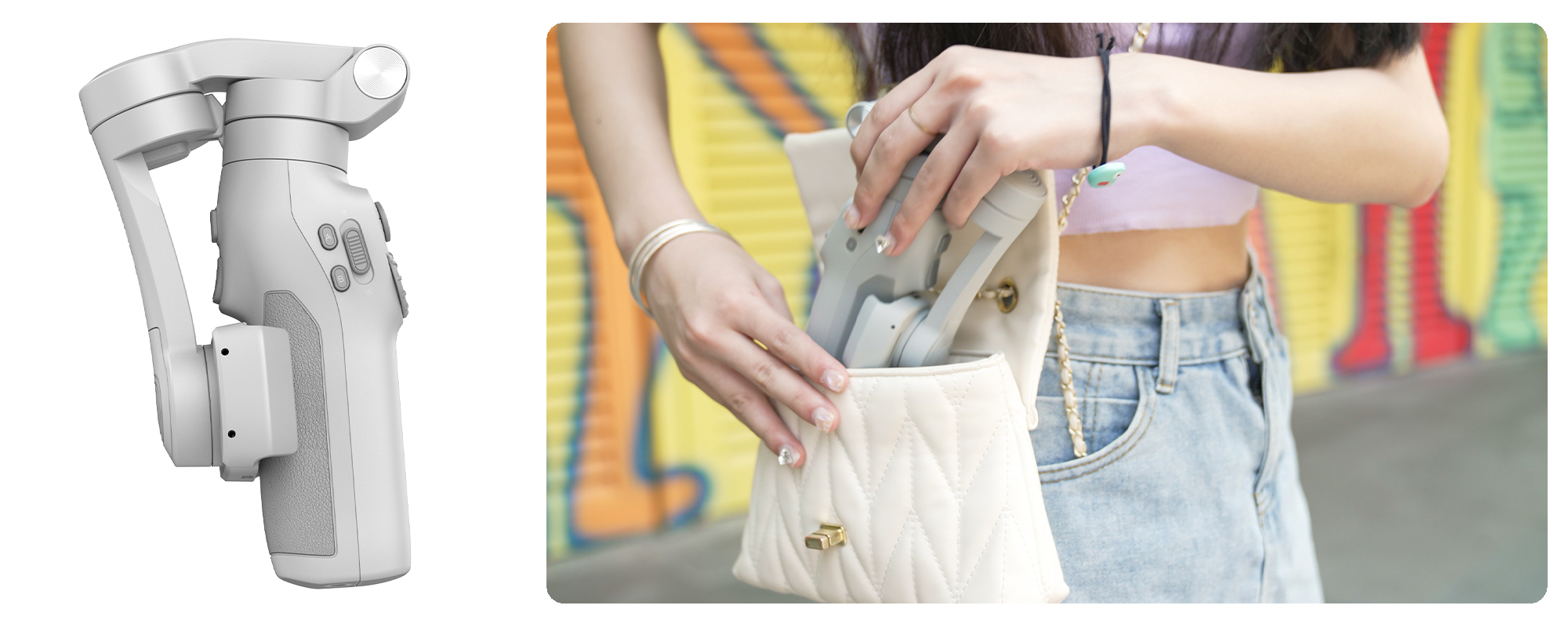 Excellent stabilisation quality
The FeiyuTech Vimble 3SE ultra-lightweight handheld gimbal for smartphones is equipped with a precision brushless motor that can produce powerful torque despite its small size. The maximum lifting capacity of the device is 260g, so you can connect almost any smartphone with it. Improved control algorithms effectively eliminate shake, ensuring unrivalled smoothness of movement and top quality photos and videos.
Intuitive operation
Working with the FeiyuTech Vimble 3SE gimbal is child's play. Once you insert your phone into the mount and start the device, the magic of stabilisation will work automatically. Joystick, buttons, dial, slider – all these tools will be available at your fingertips. Controlling the zoom, adjusting the focus, repositioning the smartphone, taking photos, recording videos are just some of the functions you can control from both the mount and the mobile app.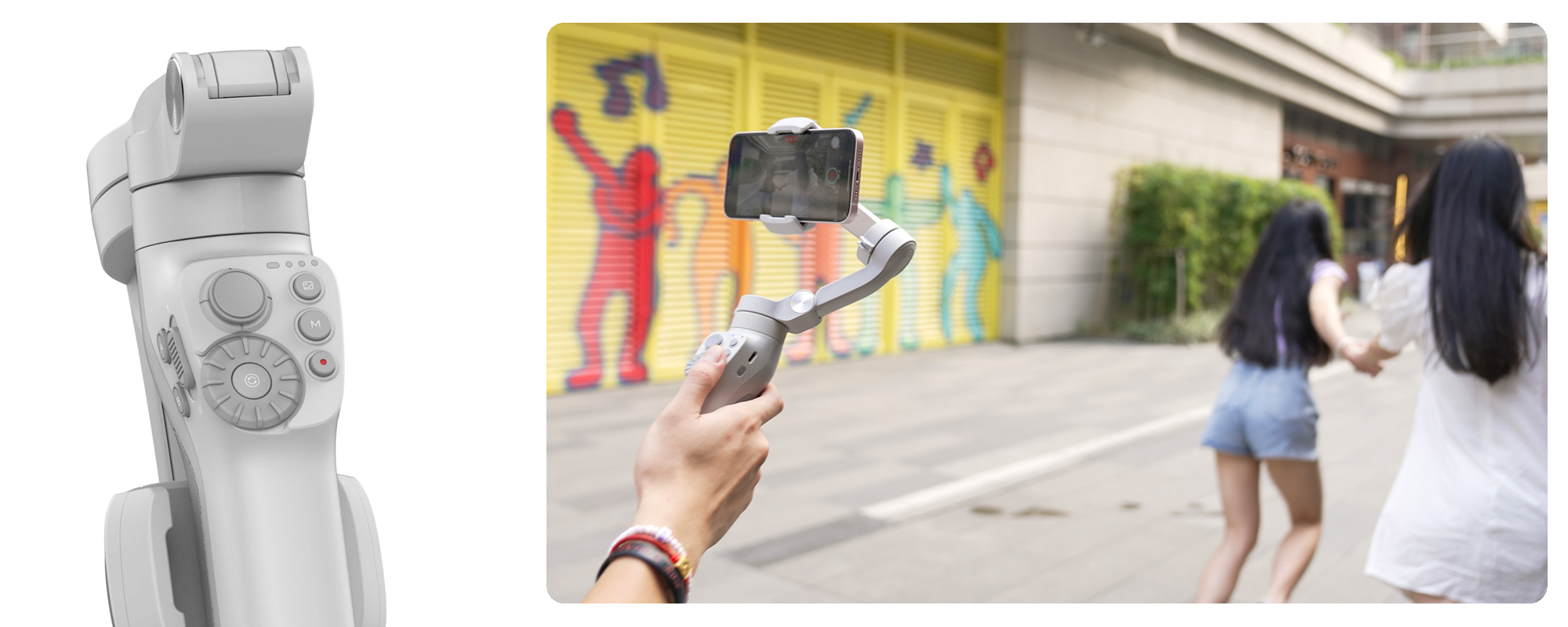 Free smartphone app
In the Google Play (Android) and App Store (iOS) you will find the free Feiyu ON app. With it, you can quickly personalise your gimbal settings and connect to your smartphone via Bluetooth 5.0. The app will also allow you to download software updates. Feiyu ON is the best way to discover all the tricks the FeiyuTech Vimble 3SE has to offer.
Explore your creativity
Creative modes will allow you to create even more creative videos and photos. The Feiyu ON app will allow you to develop new skills and learn more storytelling techniques with images.
Panoramic shooting

– Use the camera's ultra-precise stabilisation to take a panorama consisting of several photos.
Portrait mode

– change the orientation of the camera with the touch of a button to record videos or take photos horizontally or vertically.
Timelapse

– capture the passage of time using a technique that combines photography and film.
Motionlapse

– program the points that determine your smartphone's position relative to the objects you're filming and discover new ways to tell a story with time-lapse video.
Slow Motion

-create steady footage straight out of the Matrix.
Dolly Zoom

– be like Alfred Hitchcock! Rapidly change the focal length and distance from the object or character you are filming, inducing a change in the perspective of the background without changing the perspective of the foreground.
Light Rail Mode

-create unique photos and videos full of unique light trails.
Overlapping Image

– save overlapping images to create unique photographs.
Lens Switching

– under your index finger, you'll find a switch that allows you to quickly switch between the front and back lenses of your smartphone.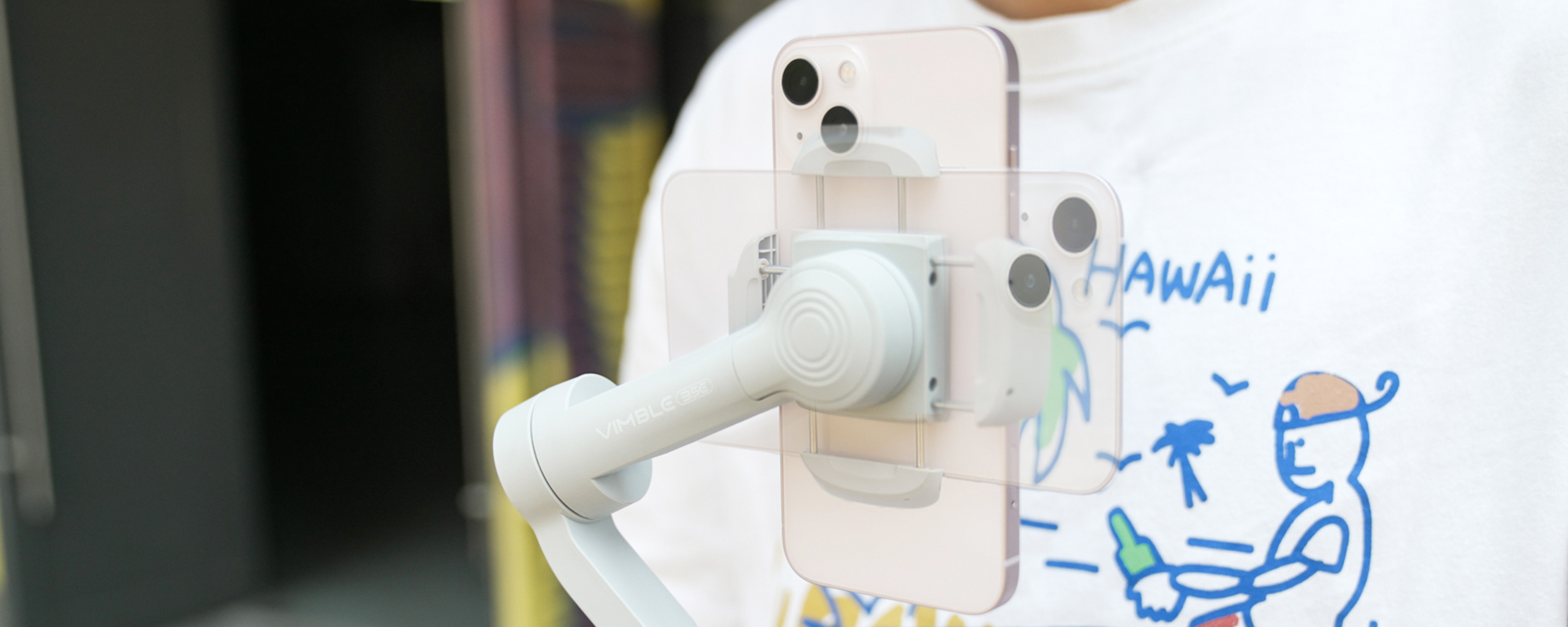 Tracking moving objects
Can't stand still when giving an online lecture? Want to capture on film your baby's first steps? Or maybe you're recording a vlog of a sports competition? With the Feiyu ON app, you don't have to do anything to ensure that a particular character or moving object is always in the centre of the frame. Simply select your main character on your smartphone screen and the artificial intelligence will make the gimbal change its position whenever it detects movement!
Work within 3 axes
The FeiyuTech Vimble 3SE handheld gimbal for smartphones offers 3 different stabilisation modes. These allow you to adapt the characteristics of the device to the specific shots you want to take.
Panning mode

– in this mode, the smartphone smoothly follows the rotation of the mount while maintaining a fixed position relative to the horizon line.
Locking mode

– the smartphone lens maintains a fixed direction – rotation on all axes is locked in a defined position.
Tracking mode

– in this mode, the smartphone smoothly follows the rotation of the handle and in up-down directions.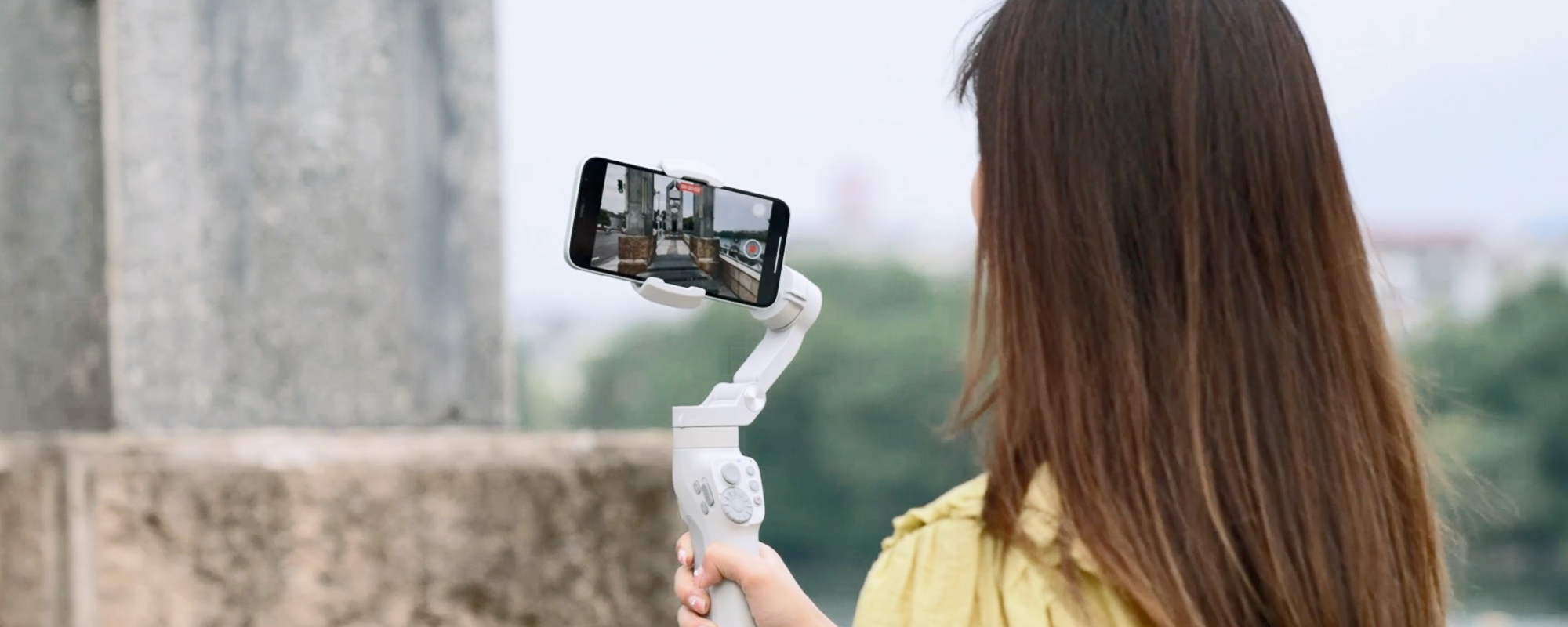 Defining A and B points
With predefined "A" and "B" points, your vlogs and live broadcasts will reach a whole new level of quality! The ability to quickly switch between the predefined positions of the gimbal will make it significantly easier for you to work on your videos. One click on the "A" or "B" button will also allow you to instantly zoom in (and return to a wider frame later if necessary), as well as set a predefined focus point.
Up to 10 hours of operation on a single charge
The FeiyuTech Vimble 3SE smartphone handheld gimbal has a built-in 1,300 mAh battery. This is exactly the same cell used in the FeiyuTech Vimble 3, and can provide up to 10 hours of continuous use. You can easily connect the charger to the popular USB-C port. If you are planning a really long shooting day, there is nothing stopping you from using the power bank.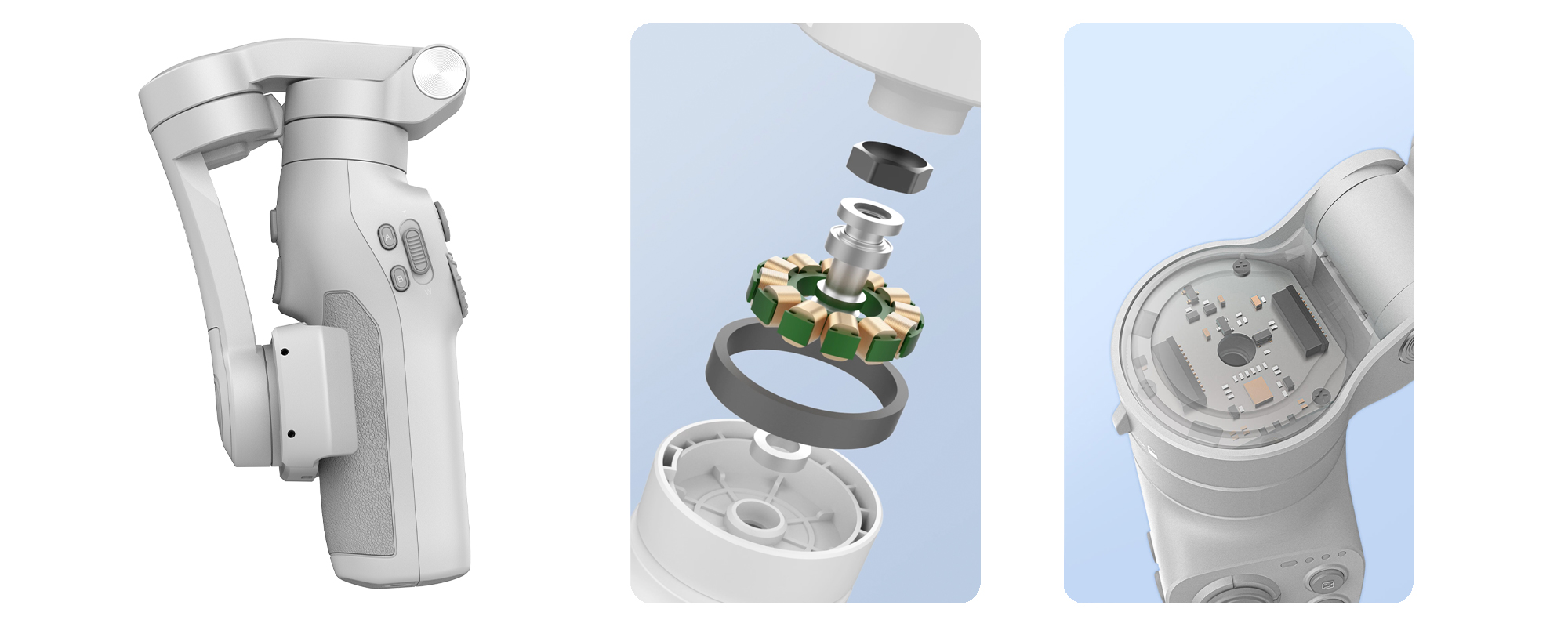 Additional accessories
Like the classic version of the Vimble 3 gimbal, the SE model is compatible with unique magnetic accessories. With these, travellers, vloggers, reporters and online lecturers can create even better video footage.
Magnetic light for FeiyuTech Vimble 3 gimbals

– Compact light source with a maximum output of 720 lumens. It offers adjustable light colour temperature from 3300 to 5200 K. You connect it to the gimbal in seconds using the magnetic mount.
Tracking module for FeiyuTech Vimble 3 gimbals

-a small device that you also connect to your gimbal with a strong magnet. The module will allow you to take advantage of the artificial intelligence algorithms, without having to connect to the Feiyu ON app. Gesture support and motion tracking are features that will be perfect for videoconferencing, among others.
Magnetic light and tracking module available for sale separately.
Specification
model: FeiyuTech Vimble 3SE
colour: grey
operating voltage: 6.8 V – 8.4 V
battery: built-in (1300 mAh)
working time per charge: up to 10 h
charging time: approx. 2.5 h
connectivity: Bluetooth 5.0
mobile app: Feiyu ON
Ports:

USB-C charging port
USB-C accessory power port

Controlled axis rotation range:

Tilt: from -35º to +35º
Roll: from -50º to +50º
Pan: from -80º to +174º

handle width: from 49 to 88 mm
max. load capacity: 260 g
dimensions (folded): 115 x 176 x 65 mm
dimensions (unfolded): 300.7 x 130.7 x 87.5 mm
weight: 352 g (without detachable tripod)
Kit contents
FeiyuTech Vimble 3SE handheld gimbal for smartphones
folding and detachable tripod
USB-C / USB-A cable
gimbal case