Description
The Fotopro GS-3 mounting arm is a pocket-sized magic arm mount that vloggers, video creators posting on YouTub, TikTok and Instagram, as well as streamers, podcasters and webinar creators will appreciate. This compact accessory allows you to quickly and comfortably create an ergonomic workstation, allowing you to record video with a smartphone or small camera and participate in videoconferences and remote lessons. The position of the arms, which end in cold shoe rails, can be precisely adjusted within 4 floating adjustment points. This way you can be sure that your microphone, LED lamp or other accessories will perfectly complement your film and photo essentials.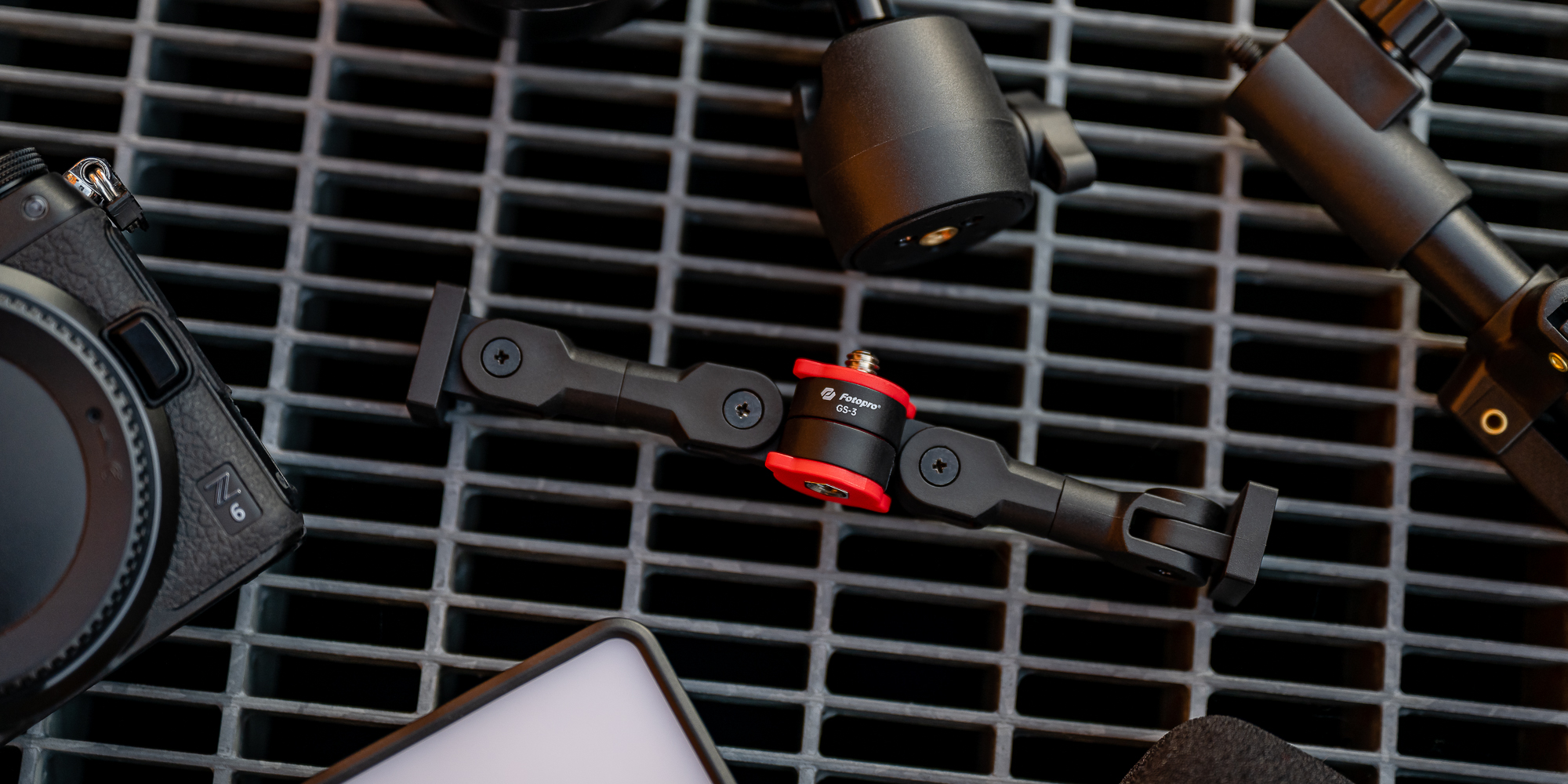 Main product features
ergonomic "magic arm" mounting arm to expand the video creator's workstation
ideal for creators posting to YouTube, TikTok, Instagram, Snapchat or Twitch
allows you to create a portable workstation complete with microphone, small LED lamp or other filming accessories
2 rails (sleds) allowing the installation of accessories equipped with a cold shoe
1/4″ female tripod thread allowing to install the holder on a tripod or "selfie stick"
a great choice for people filming with smartphones or small cameras
possible to install on a tripod, head, monopod or "selfie stick"
hinged arms allowing you to perfectly adjust the angle of the installed accessories
4 points of position adjustment for each of the 2 handle arms
Position adjustment
adjustment of arm angle relative to centre column adjustable to nearly 180º
8-point adjustment for each 2 handle arms
8-position adjustment of joint with mounting rail relative to arm axis
control of the tilt of the element with the rail for the cold foot within the range of 180º
small dimensions of the arm which makes it fit in a pocket
Extended workstation
Do you shoot video with smartphones or small handy mirrorless cameras? Extend your workspace by reaching for the Fotopro GS-3 compact mounting arm, which you can easily install on the 1/4″ thread of your tripod, monopod or selfie stick. The articulating parts allow you to precisely adjust the mount to your needs and conveniently use an additional microphone, LED light or other cold-shoe accessories. The arm fits in your pocket, making your extended vlogging or live broadcast recording station ultra-mobile!

Variety of settings
Despite its small size, the device offers as much as 4-point adjustment of individual arms. You can almost freely rotate them, as well as change their angle in different planes. Strong joints of individual modules ensure full stability and precision of settings. When assembled, the Fotopro GS-3 mounting arm is only 8.7 cm long. When unfolded, the value is 14.5 cm. Thanks to the modular design, you can fold the mount in seconds, stash it in your pocket and take it with you wherever new filming challenges await.
Vlogs, transmissions and remote learning
To improve the quality of video footage recorded with a smartphone or small mirrorless camera, it's worth reaching for additional accessories such as microphones and small LED lights. Better light and improved sound quality are the things your viewers will notice, whether you're teaching online or recording "daily vlogs". So make sure your extended workstation is stable and allows you to adjust the angle of each piece of equipment. Fotopro GS-3 mounting arm will make your webinars, live broadcasts and videos published on YouTube even better!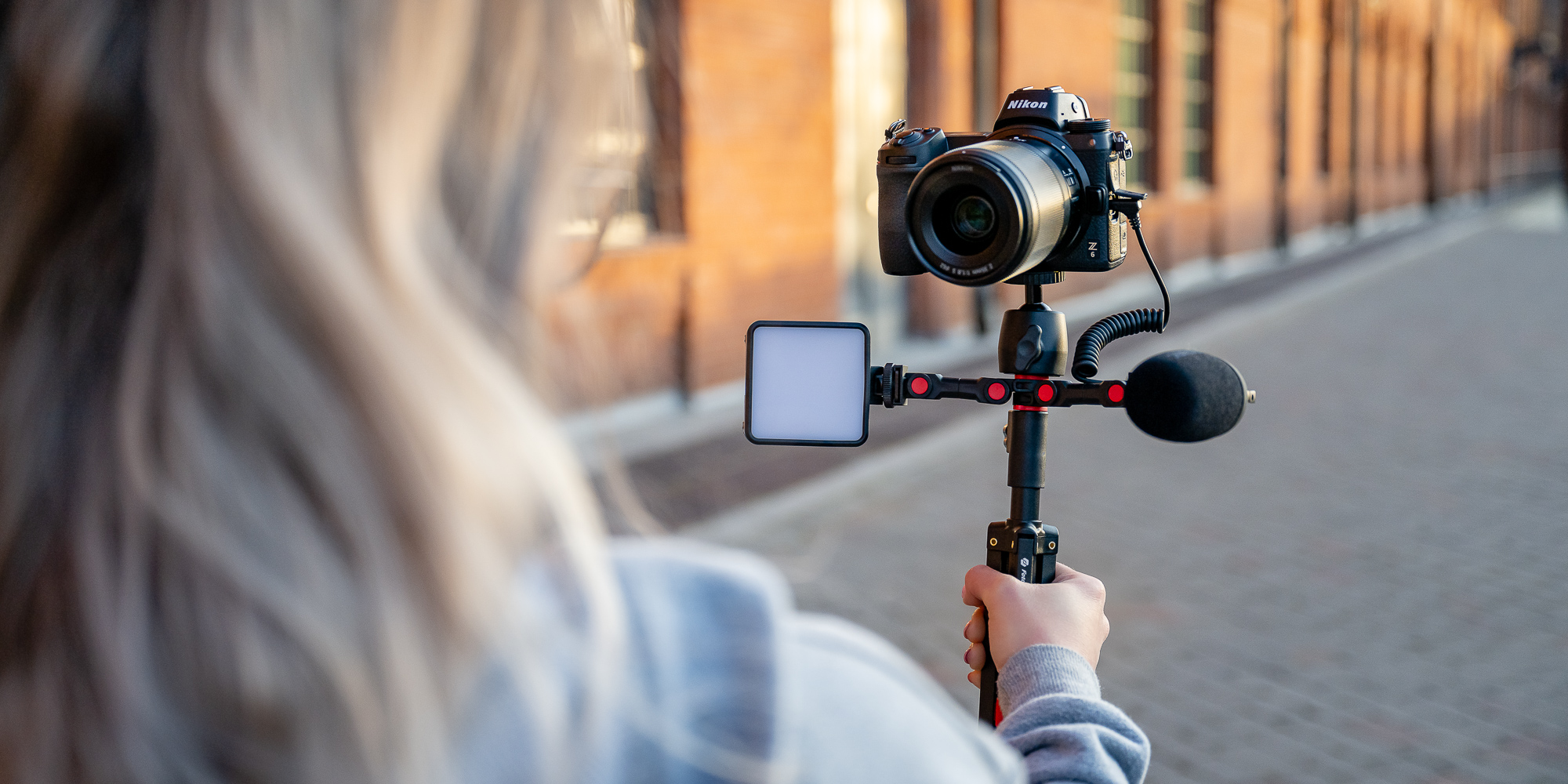 Specification
Model: Fotopro GS-3
Colour: black, red
Material: ABS plastic
Mounts:

1 x 1/4″

male tripod thread

1 x 1/4″

female tripod thread

2 x sockets for mounting the cold shoe

Dimensions:

145 x 38 mm (unfolded)
87 x 38 mm (when folded)

Weight: 43 g
Kit contents
Mounting arm Fotopro GS-3