Description
The Fotopro Mogo FireKit is everything you need to create an ergonomic workstation in seconds, allowing you to participate in video conferences and record videos and broadcasts that you publish to sites like YouTube, TikTok or Instagram. The Mogo's smartphone mount with additional mounting points and flexible UFO arm will allow you to precisely position your phone at the angle you want, as well as take advantage of additional accessories such as LED lights, microphones or sports cameras. The Mogo FireKit is the perfect way to personalize your workstation with optimal stability. The kit will prove useful not only when recording at home. You can easily wrap the flexible arm around bars or railings and realize your streams in almost any conditions!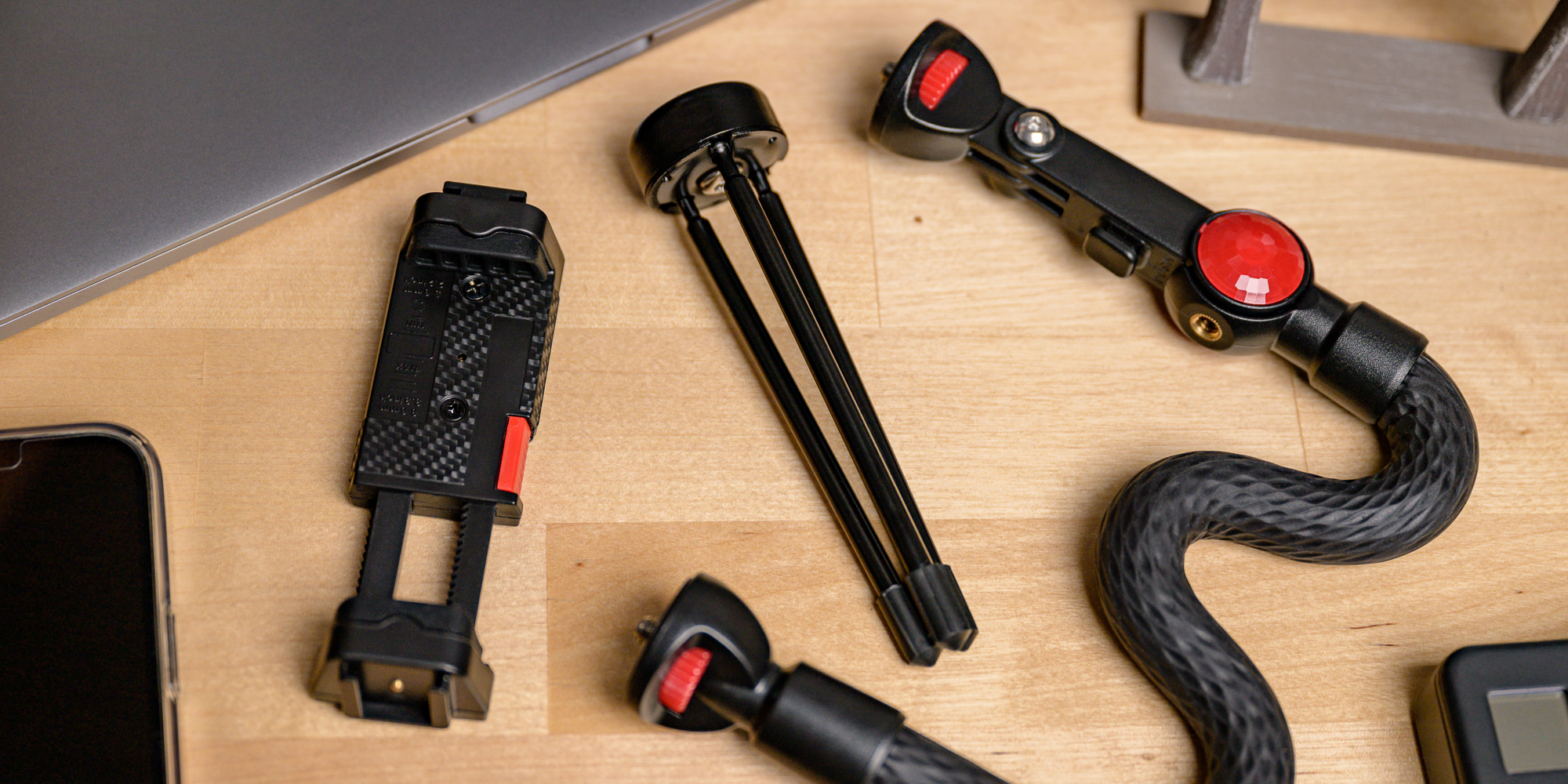 Main Product Features
a kit that allows you to prepare a vlogger or streamer workstation
a great choice for creators publishing on YouTube, TikTok, Instagram, Snapchat or Twitch
the kit allows you to mount your smartphone and additional accessories (such as a light and microphone) on a stable tripod
Flexible arm allows you to perfectly adjust the angle of the accessory you are using
triple-legged tripod with a maximum height of 12.2 cm and a load capacity of up to 1.5 kg
pivoting arm
an articulating arm for mounting a handle or other accessory, equipped with a button to lock the position
flexible arm allows mounting of accessories weighing up to 800g
flexible arm equipped with a male and a female to hold a handle or other accessory
Flexible arm allows mounting of accessories weighing up to 800g
arm equipped with 1/4″ male thread and knob for convenient screwing
Smartphone holder equipped with 2 1/4″ female threads, cold shoe and cold shoe rail
Smartphone holder compatible with devices 56mm to 86mm wide
a lock located in the holder allows you to release the clamp with the press of a button
step width adjustment of the holder allows you to precisely adjust it to the size of your smartphone
anti-skid feet for greater stability
Vlogs, broadcasts and remote learning
Recording vlogs and live "hands-on" broadcasts is not an easy art. Every time you want to show something to your viewers, you risk that your smartphone will fall out of your hand, and shaky frames showing the floor or ceiling will disrupt your message. In these situations, it's worth reaching for the small Fotopro Mogo FireKit, which offers everything a web developer, someone working from home, or a student on a remote teaching assignment might need.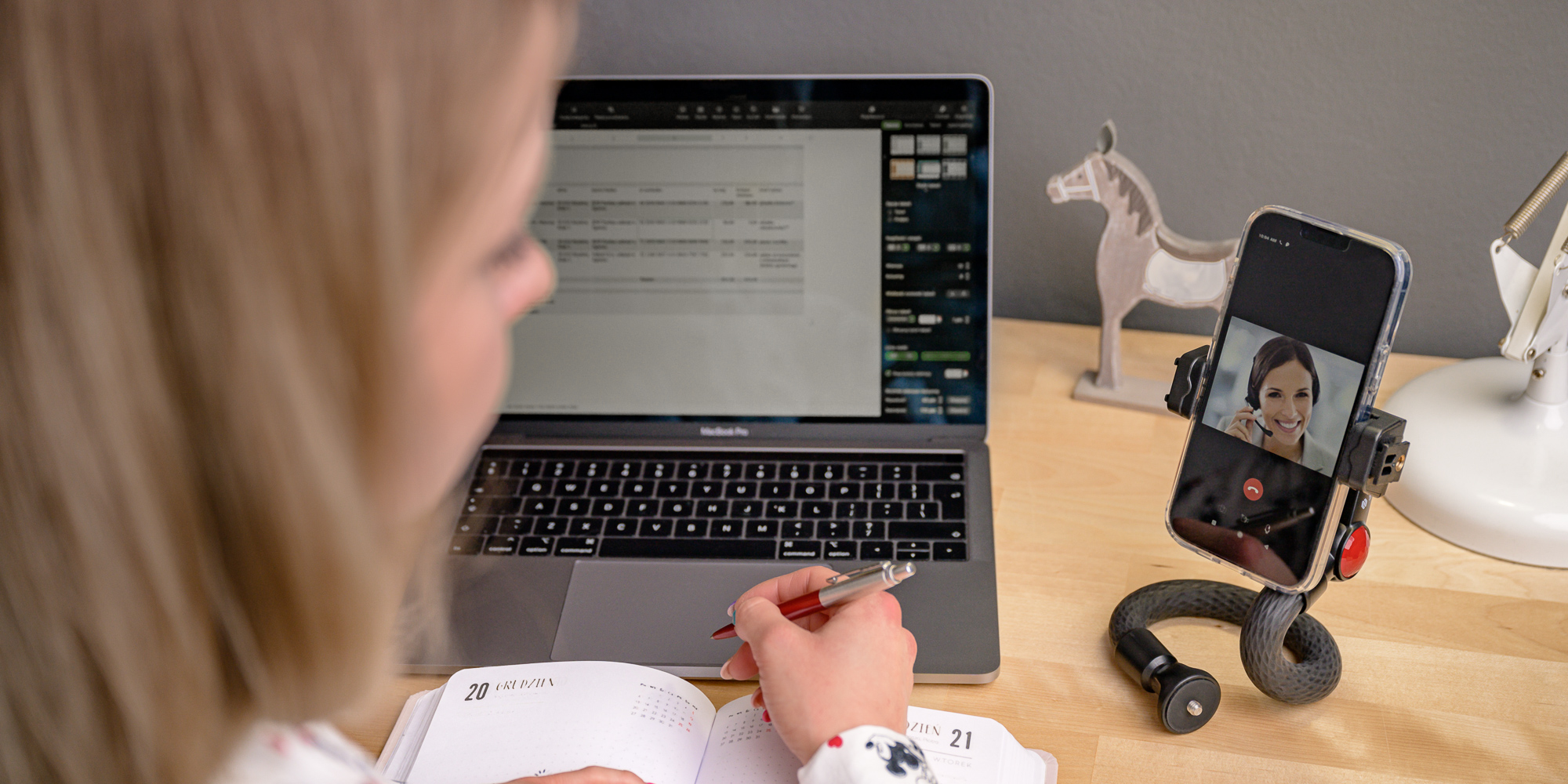 Complete workstation
No need to waste time moving and setting up individual components of your film and photography workstation. With a smartphone holder, mounting points and a flexible arm, you can create the perfect space for recording and shooting. Whether you use an additional microphone, sports camera, or LED light during your broadcasts and vlogs, the necessary devices will easily connect to this ergonomic design and, if necessary, move it to a new location in seconds, placing everything in the perfect position.
Full freedom of settings
The smartphone holder supports devices from 56 to 86 mm wide. A special lock allows you to release the clamp with the press of a button. There are also rubber facings to protect the edges of your smartphone. You can position your phone vertically or horizontally, and adjust the tilt angle if necessary. The Fotopro Mogo FireKit also offers a number of mounting points for additional accessories. A rail, cold shoe, and 1/4″ thread will allow you to match the installation method to your devices.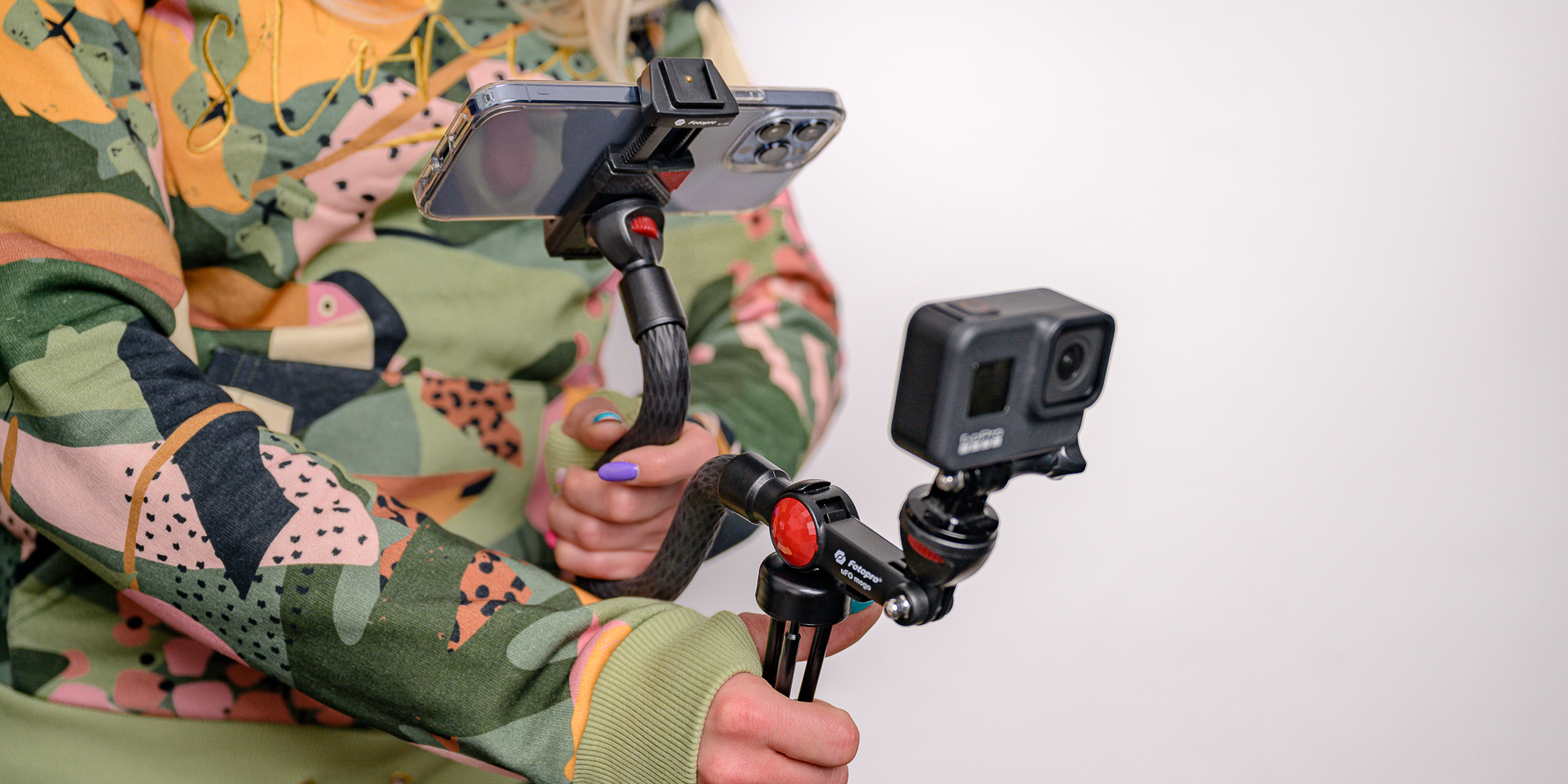 The magic of a flexible arm
The uFO Mogo flexible arm will open up whole new possibilities for you to personalize your workstation. You will connect with it devices or adapters equipped with 1/4″ female thread. If you get creative, you can also use the included smartphone holder, which has an articulated arm as its primary installation point. The flexible mount is also great for traveling. Instead of using a tripod, wrap the flexible arm around a small branch, railing or bars for even more interesting shots!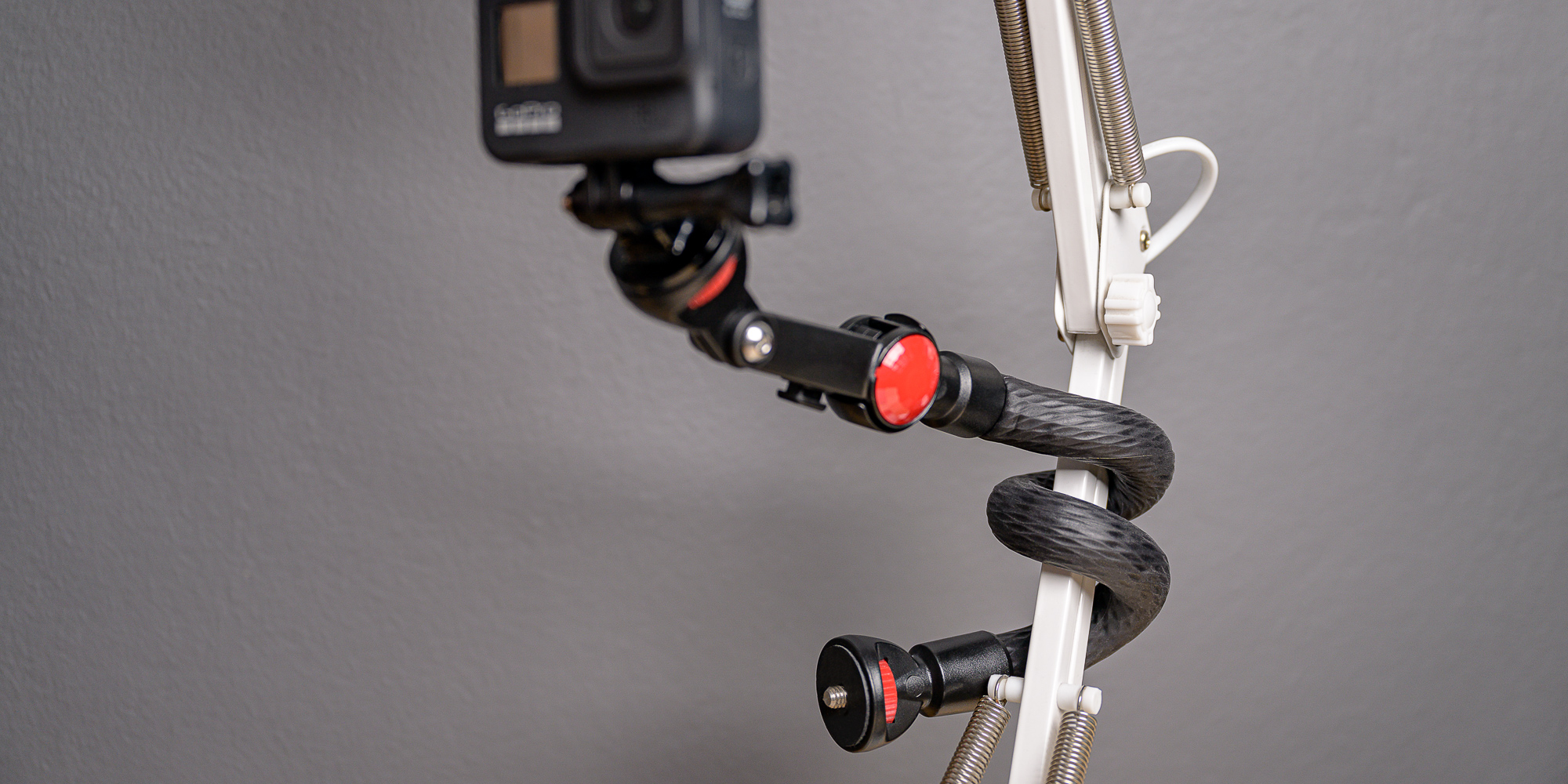 Blurry-free photos and stable shots
The base of the Fotopro Mogo FireKit is a metal folding tripod that is 141mm long when folded. The tripod will provide optimal stabilization even when additional accessories are added to the mounts. It is screwed into the articulated part of the arm by means of a 1/4″ thread. Its additional advantage are the rubber feet, which will protect the entire structure from accidental movement, when working on smooth surfaces.
Specification
Flexible arm

Model: Fotopro uFO Mogo
color: black
max. load capacity: 0.8 kg
mounting points: 0.8 kg
Mounting points: 1/4″ female thread, 2x 1/4″ male thread
dimensions: 455 x 65 x 33 mm
weight: 168 g

Smartphone holder

model: Fotopro SJ-89
color: black / red
Adjustable width of the holder: from 56 to 86 mm
Mounting points: black / red
Mounting points: cold shoe with 1/4″ female thread, 1/4″ female thread, cold shoe rail
dimensions: 85 x 38 x 26.5 mm
weight: 37.5 g

stand

model: Fotopro SY-012
color: black
Mounting point: male thread 1/4″
max. load capacity: 1.5kg
max. height: 1.5kg
max.
maximum height: 64 mm
length: 141 mm
weight: 128 g
Kit contents
Flexible arm Fotopro uFO Mogo
Smartphone holder Fotopro SJ-89
Fotopro SY-012 tripod