Description
The Fotopro SY-100 tripod with SJ-86 Pro mount is ideal for web developers and live broadcasters. It will also work well wherever video conferencing and webinars are frequent, including remote learning. The included Bluetooth remote will allow you to take photos or start recording a video, without having to go to the tripod. You can precisely adjust the angle of your device using the bracket that supports smartphones from 56 to 86 mm wide. You'll also find an articulating arm on its back for installing an additional accessory (such as a light or microphone). The whole design will easily fit into any bag or backpack, allowing you to create a workstation wherever you want to shoot!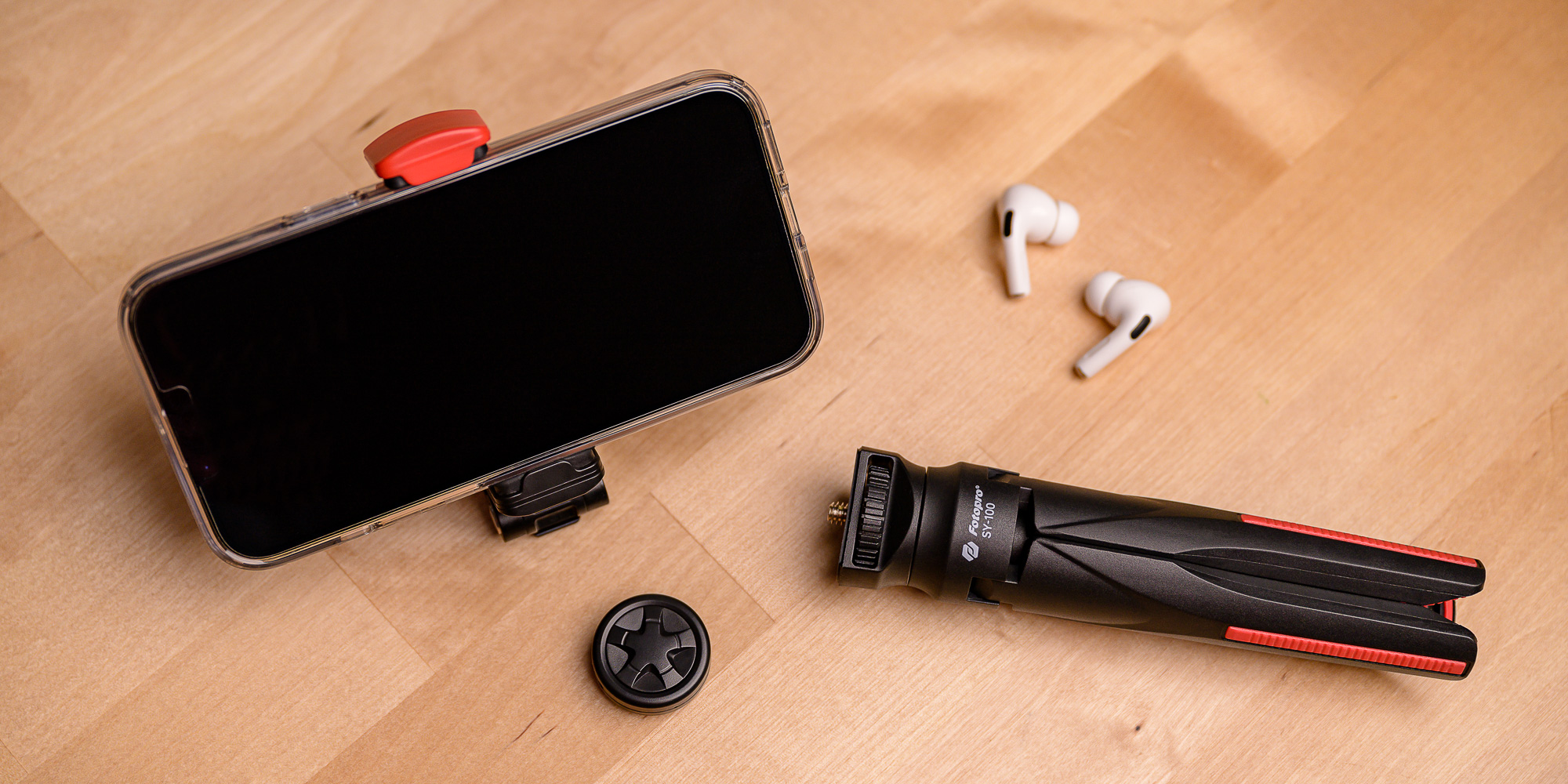 Main Product Features
An innovative tripod that allows you to set up a vlogger or streamer workstation
a great choice for creators posting on YouTube, TikTok, Instagram, Snapchat or Twitch
ideal way for blur-free selfie photos and steady shots in vlogs
Bluetooth remote control included to start video recording remotely or activate the shutter on your phone's camera
Special mounting point for a camera to be attached to the camera
special mounting point allowing to attach remote control to one of tripod legs
a mount for a smartphone between 56 and 86mm wide
a convenient adjustment for the remote control
convenient adjustment that allows you to precisely adjust the smartphone holder to the size of your device
a joint module with a 1/4″ female thread to which you can connect an additional accessory (e.g. a lamp or a microphone)
a rotatable module with a 1/4″ female thread to which you can connect an additional accessory
the possibility of rotation of the articulated module by almost 360º in relation to the smartphone installed in the holder
center column allows you to adjust the height of the tripod in the range of 142 to 374 mm
possibility to tilt the tripod head within 90º forward and 90º back
anti-skid feet for greater stability
remote smartphone control
When you're shooting video, taking photos or doing live streaming on your own, sometimes you lack a helping hand to press the shutter button or click the red button to start capturing video. When you work with the Fotopro SY-100 tripod with the SJ-86 Pro mount, you don't need an assistant! Just pair the small remote control with your smartphone and controlling the device from a distance will finally become possible! During transport, you can plug the remote control into a special socket located on one of the tripod legs. Working with the remote control will make you independent and the last seconds before recording will be less stressful.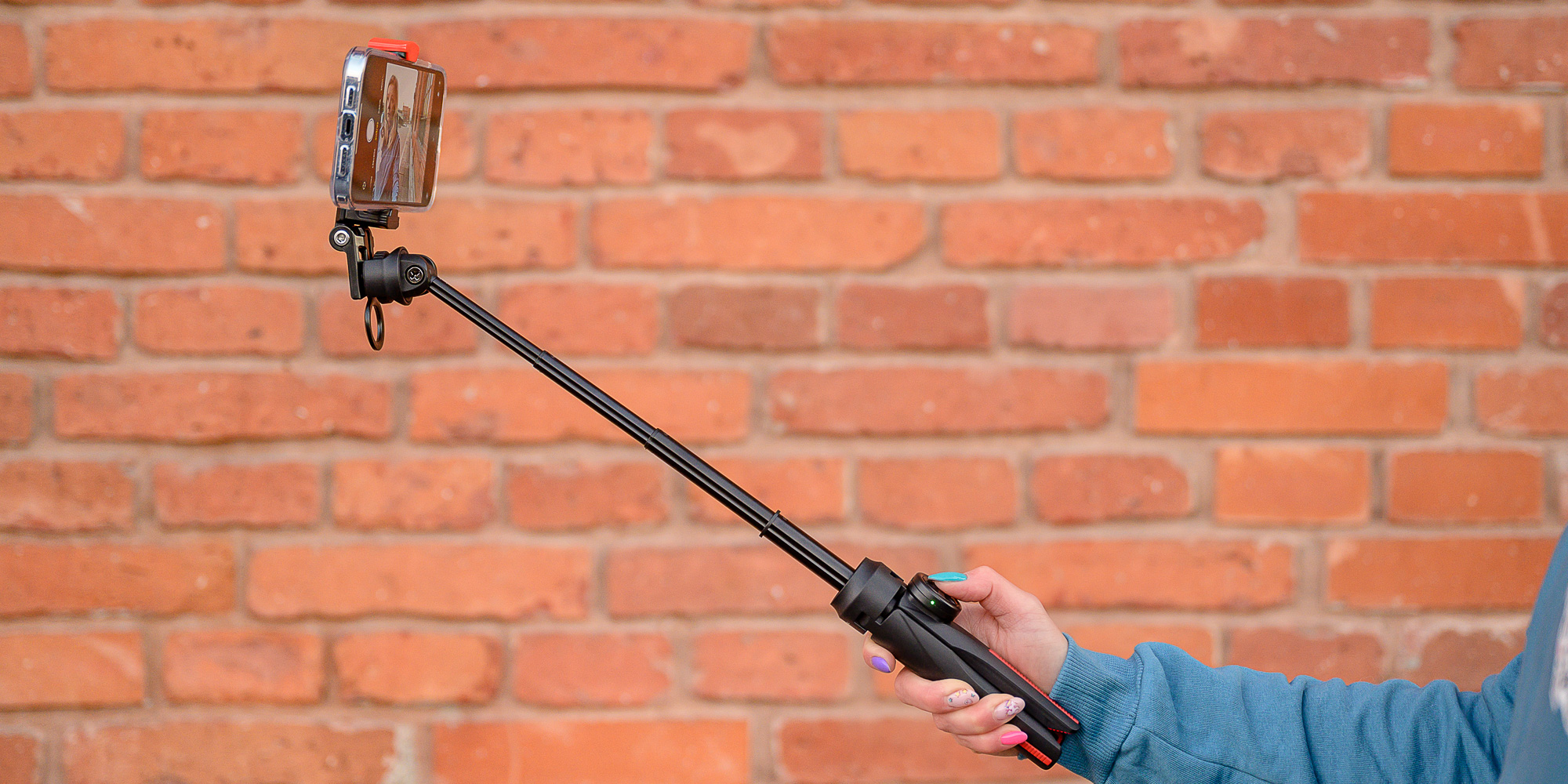 Multitude of applications
Recording vlogs and live broadcasts "handheld" is not an easy art. Every time you want to show something to your viewers, you risk that your smartphone will fall out of your hand, and shaky frames showing the floor or ceiling will disrupt your message. In these situations, it's worth reaching for the small and handy Fotopro SY-100 tripod with SJ-86 PRO mount, which offers everything a web developer, someone working from home, or a student on remote teaching might need.
Portable workstation
No need to waste time moving and setting up the individual components of your film and photography workstation. A smartphone holder with an additional mounting point in the form of a 1/4″ female thread is all you need to conveniently adjust the frames to your needs, take advantage of an additional accessory and optimally utilize the space around you, which can sometimes be very limited. Reach for an extra microphone, LED light or sports camera and create even better videos!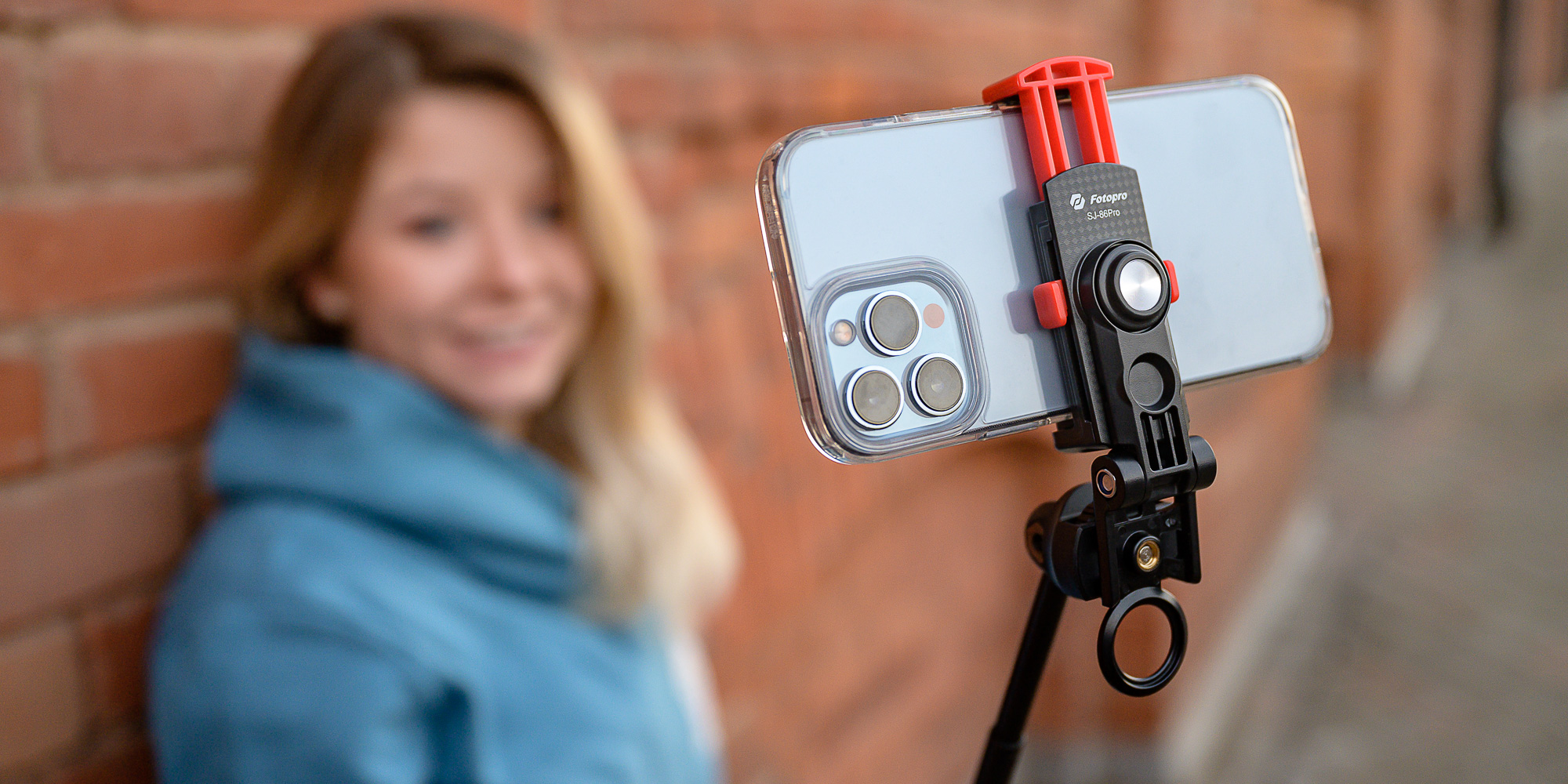 Full freedom of settings
The smartphone holder supports devices from 56 to 86 mm wide. Two red buttons will allow you to lock the clamp in the optimal position, and the rubber facings will protect the edges of the device you are recording with. You can position your phone vertically or horizontally, and adjust the angle if necessary. The Fotopro SY-100 tripod with SJ-86 Pro mount also offers an additional mounting point located on the articulating arm. You can fold it up and hide it behind the handle when needed. And when you're using it, the swivel head allows you to reposition the module nearly 360º relative to your smartphone.
Always in its place
The base of the Fotopro SY-100 tripod with SJ-86 Pro mount is made up of three extendable legs. They are protected by a rubber lining that effectively protects the entire structure from accidental movement when working on smooth surfaces. Inside the tripod there is a pull-out central column. It can reach up to 37.4 cm in height. When folded, you can easily fit the tripod into almost any film backpack or bag!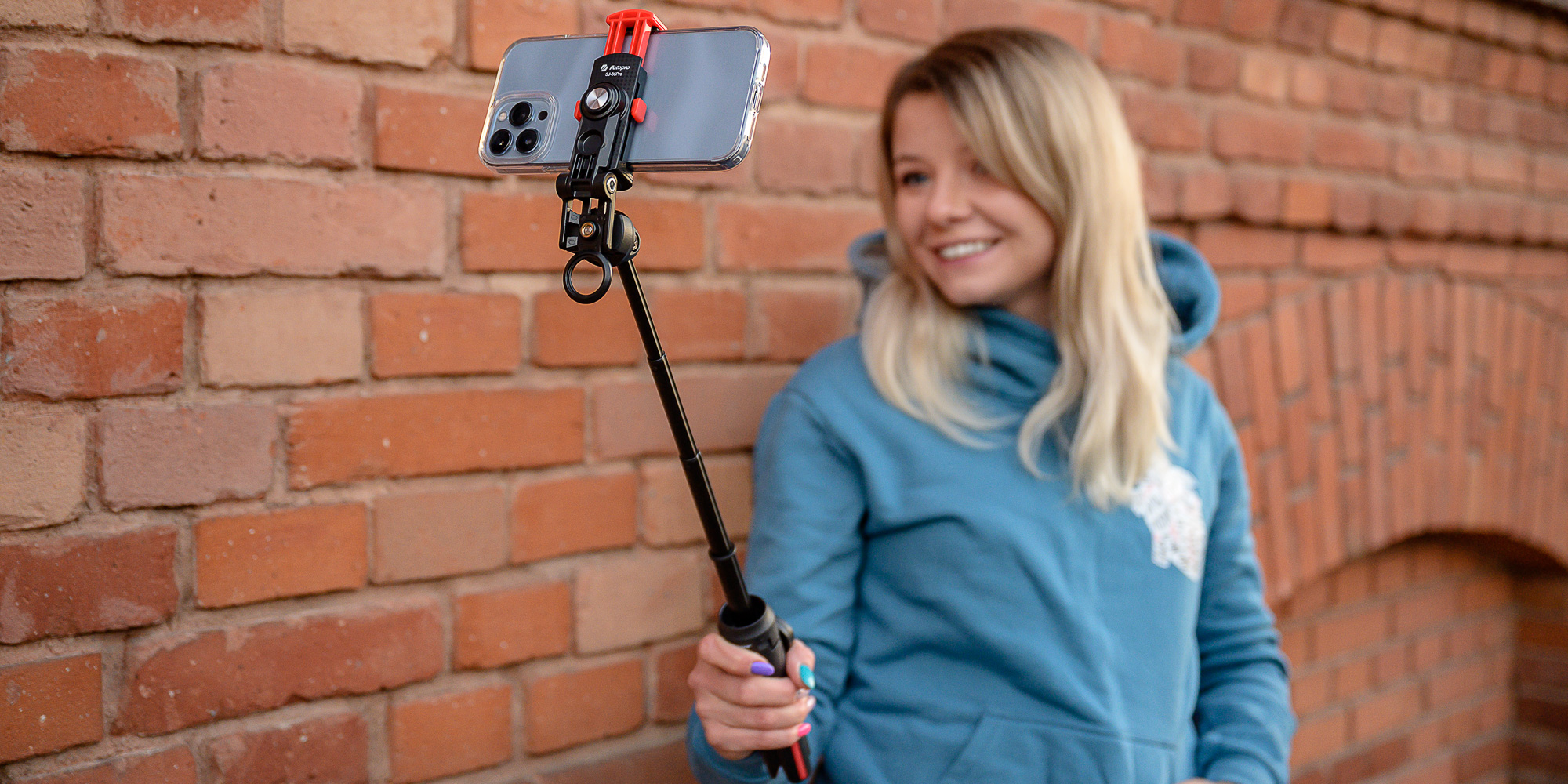 Specification
Photopro SY-100 tripod

Model: Fotopro SY-100
color: black / red
Max. height: 374 mm
Minimum height: 142 mm
remote control: Bluetooth remote control
dimensions: 162 x 45 x 37 mm
weight: 131 g

Smartphone holder Fotopro SJ-86 Pro

Model: Fotopro SJ-86 Pro
color: black / red
Adjustable grip width: from 56 to 86 mm
dimensions: 87 x 39 x 33 mm
Weight: 44 g
Kit contents
Photopro SY-100 tripod with Bluetooth remote control
Smartphone holder SJ-86 Pro