Description
Fotopro X-Go HR Pro with FPH-52Q ball head is a versatile tripod that will open up whole new possibilities for you. Its unique feature is the ability to instantly adjust the center column to a horizontal position. It is an ideal choice for product photography, culinary photography, macro photography and flat lay photography. You can conveniently adjust the tilt of the center column. If necessary, you can hang additional weight on the special hook. The 360° panorama provides freedom of movement and precision framing. You need only a few seconds to turn one of the tripod's legs into a functional monopod. The non-slip legs, under which the adhesive spikes are hidden, will ensure perfect stability in all conditions. A lightweight carrying case is included.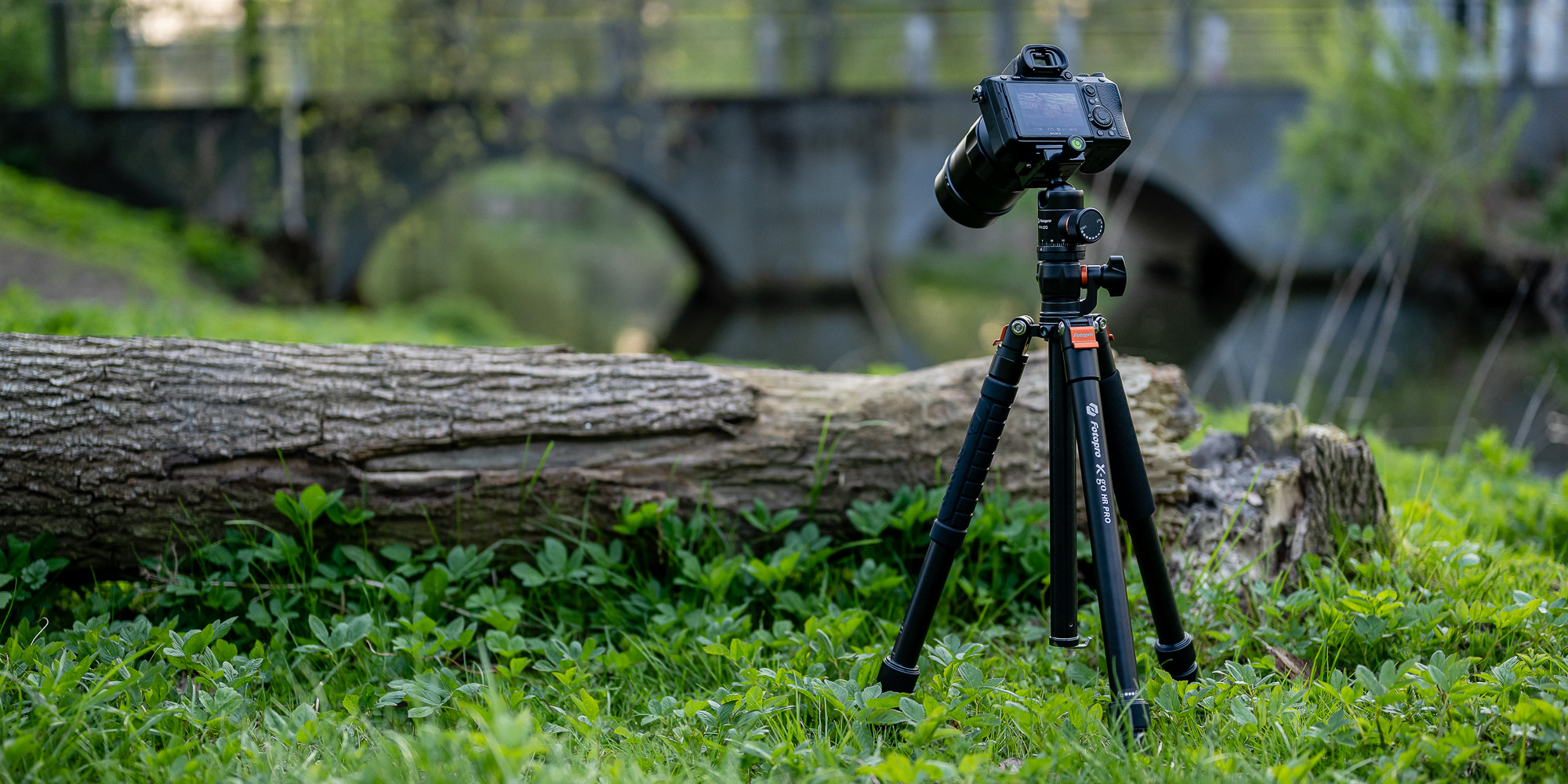 Main Product Features
unique tripod that allows the center column to be set in a horizontal position
ideal choice for panoramic photography, product photography, culinary photography, macro photography, flat lay (top perspective) style photography, architectural photography, landscape photography or window shots
no need to remove the center column when you want to position it horizontally or at an angle
convenient and quick adjustment of the center column angle
convenient and smooth 360° panning when working in vertical and horizontal positions
solid locks to prevent accidental changes in tripod position settings
includes FPH-52Q precision ball head
offers a working height ranging from 22.5 cm to 159 cm
4 sections of legs extendable with a swivel clamp system
rubber lining on one of the tripod legs for a secure grip
possibility to unscrew one of the tripod legs and use it as a monopod
equipped with non-slip rubber feet
possibility to remove rubber feet, under which adhesive metal spikes are hidden
head equipped with levelers for easy alignment of the camera
metal hook that allows you to hang an additional load acting as a counterweight for the camera
case included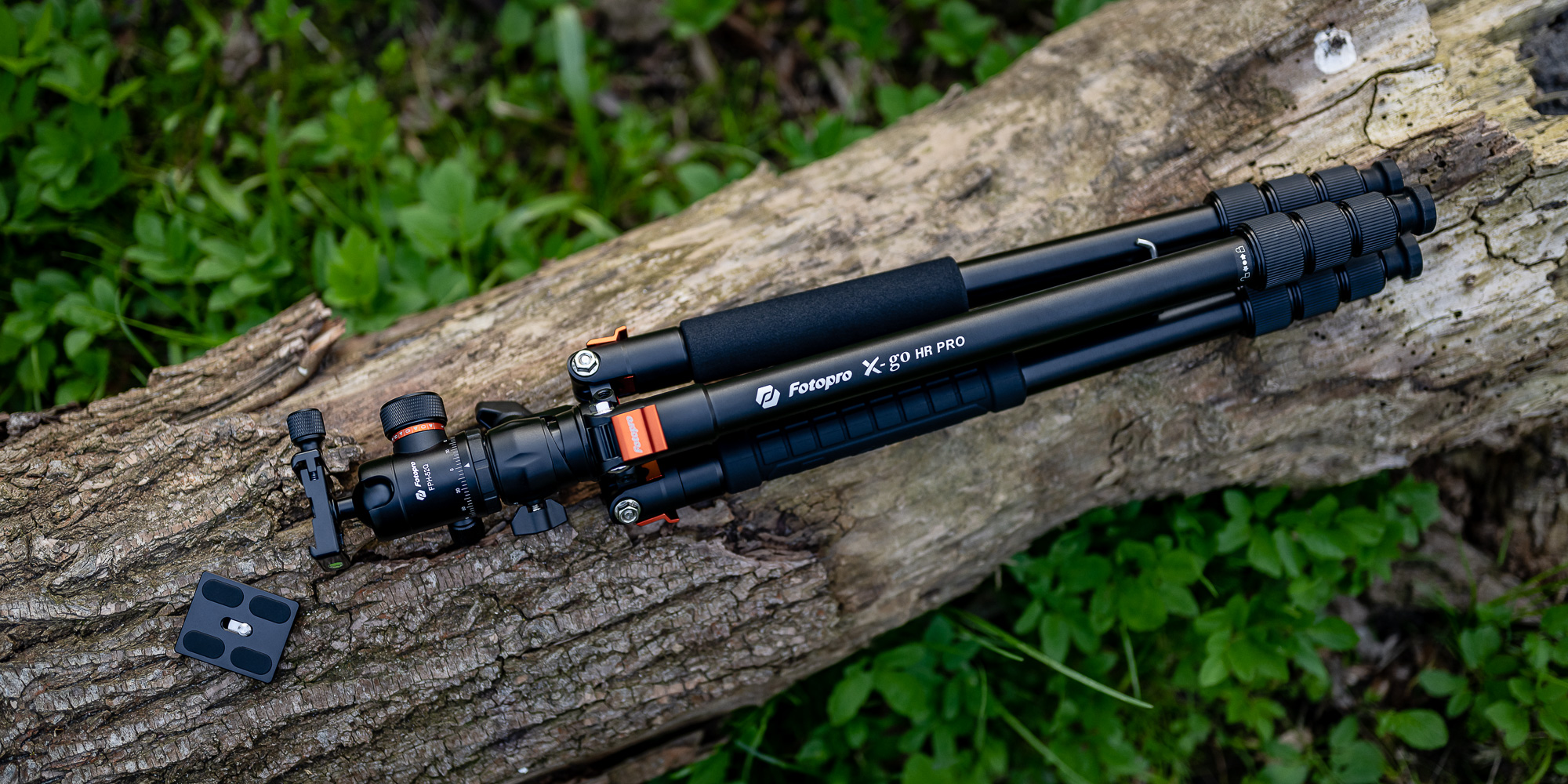 Discover a new perspective
Fotopro X-Go HR Pro tripod with FPH-52Q ball head is an indispensable tool for any photographer looking for stability, precision and speed. The ability to set the center column in the horizontal position, without removing it, will open up a whole new range of photographic possibilities:
Perspective from above

– The tripod allows you to position your camera above the scene, allowing you to shoot from above, which is ideal for creating attractive "flat lay" style compositions.
Product shots

– Provides stability and precision, allowing accurate framing and shooting of products from different angles, which is important for attractive product presentations.
Panoramic Photos

– Allows smooth rotation of the camera around the center column axis, enabling convenient creation of impressive panoramic photos.
Macro Photography

– Precise tripod positioning closer to the ground helps create detailed macro shots.
Culinary Photography

– With the ability to set the center column at different angles, the tripod allows you to conveniently photograph food set on the table.
Scape photography

– The stability and versatility of the tripod allows you to photograph landscapes with long exposure times, ensuring sharp and clear frames.
Shooting from windows

– The tripod allows you to place your camera in a stable position right next to the window, with the camera leaning out of its frame.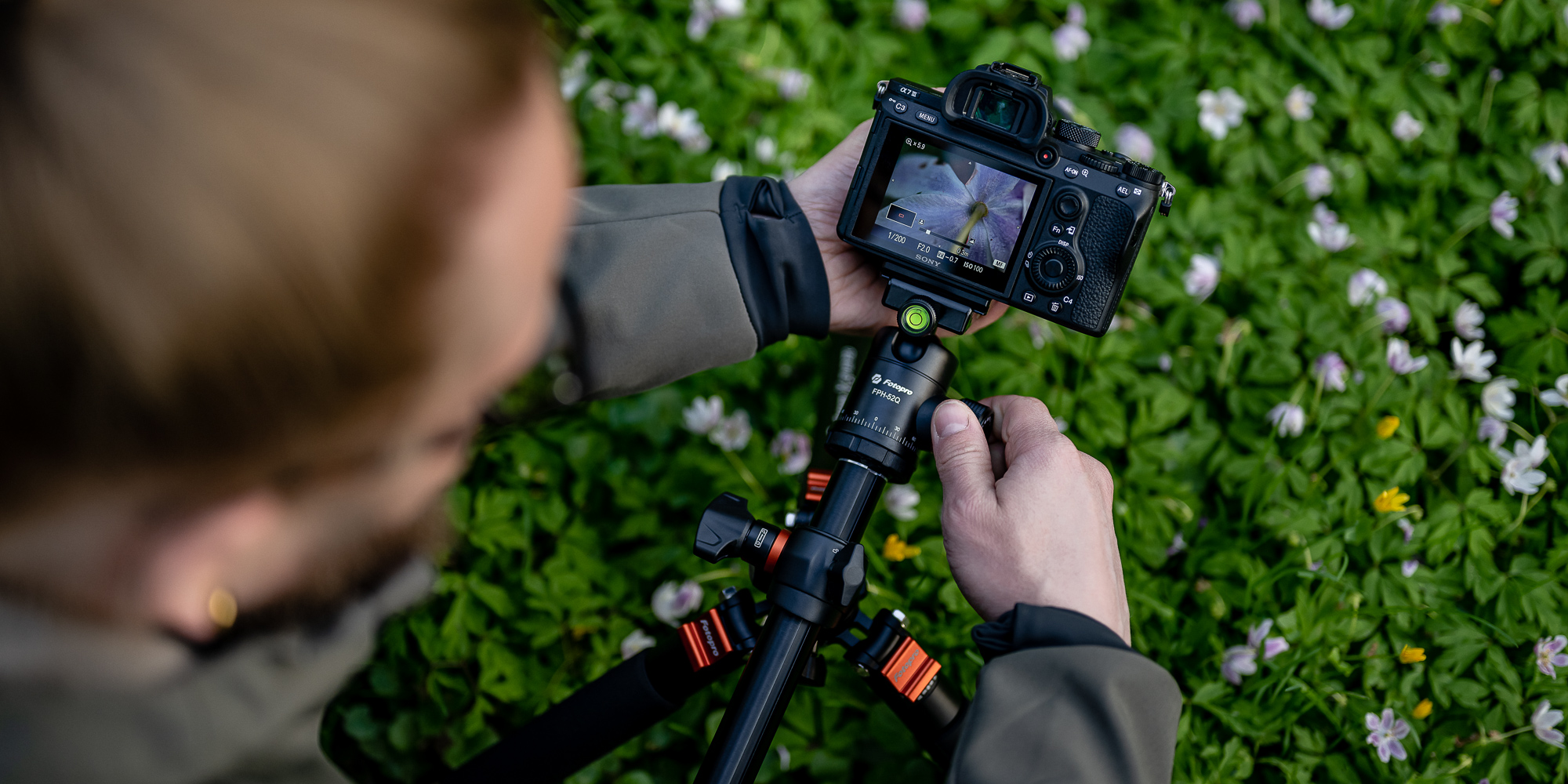 Unparalleled comfort
Fotopro X-Go HR Pro tripod with FPH-52Q ball head is an ideal solution for those who want a versatile design that works well both in the studio and outdoors. Its working height can range from 22.5 cm to 159 cm. The tripod is equipped with a 3-stage leg tilt mechanism. This allows you to position the tripod almost at the ground, which is ideal for macro photography. The tripod's 4-section legs are locked with a system of rotating clamps. If necessary (especially when working in a horizontal position), you will hang an additional load on a special hook, which will act as a counterweight for the camera.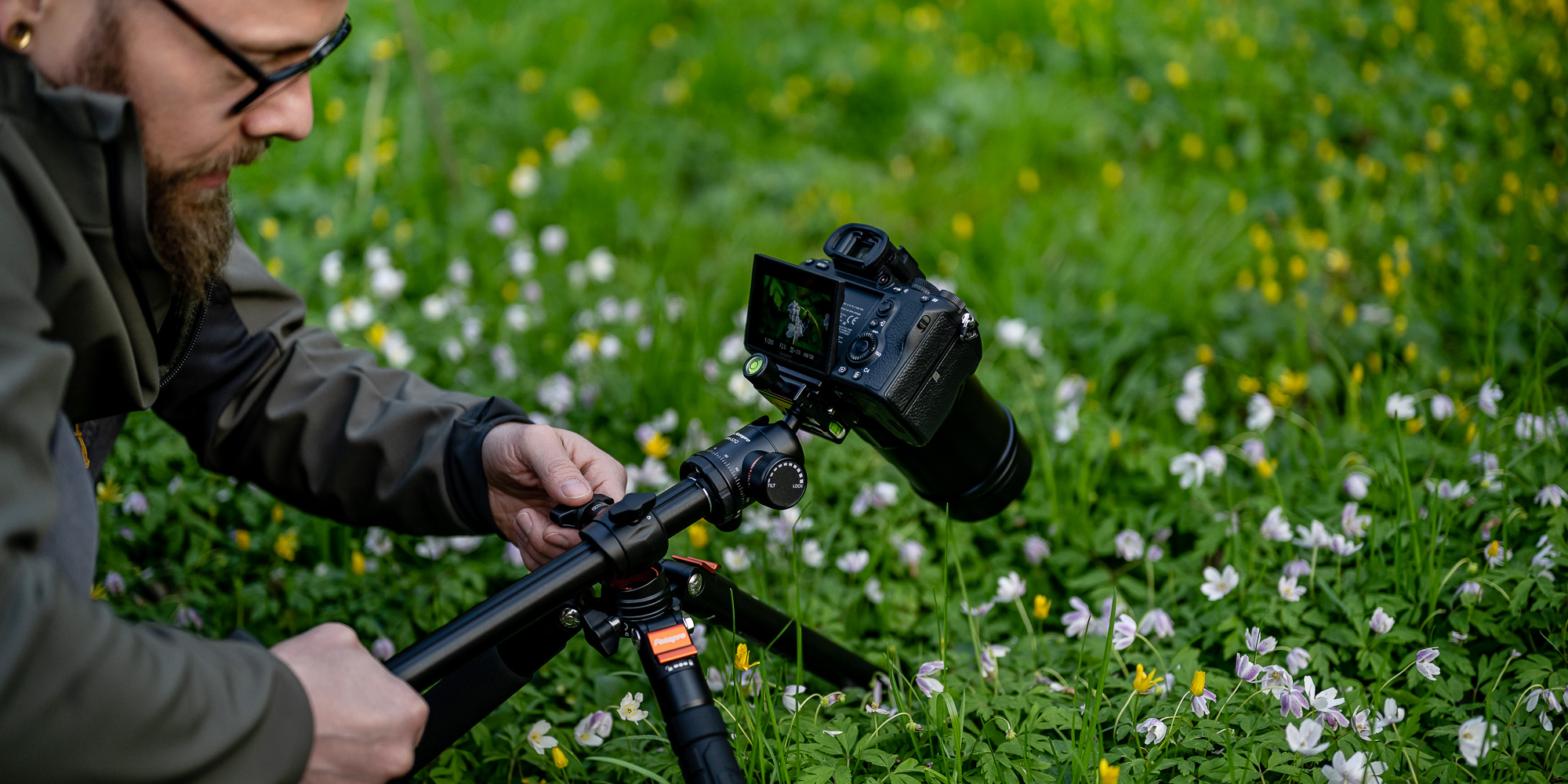 Precision head included
The FPH-52Q ball head is characterized by exceptional mobility, precision and versatility. It is ideal for high-speed sports photography as well as static landscapes and portraits. The FPH-52Q has two independent and convenient to use dials. One of them allows you to smoothly adjust the strength of the ball locking clamp during tilt. The other knob controls the movement of the rotating head base. It carries a 360° scale, which will facilitate precise panning. The head is compatible with quick-mount plates made in the popular Arca-Swiss standard. Three levelers will allow you to perfectly position your camera and get perfect shots in any field conditions!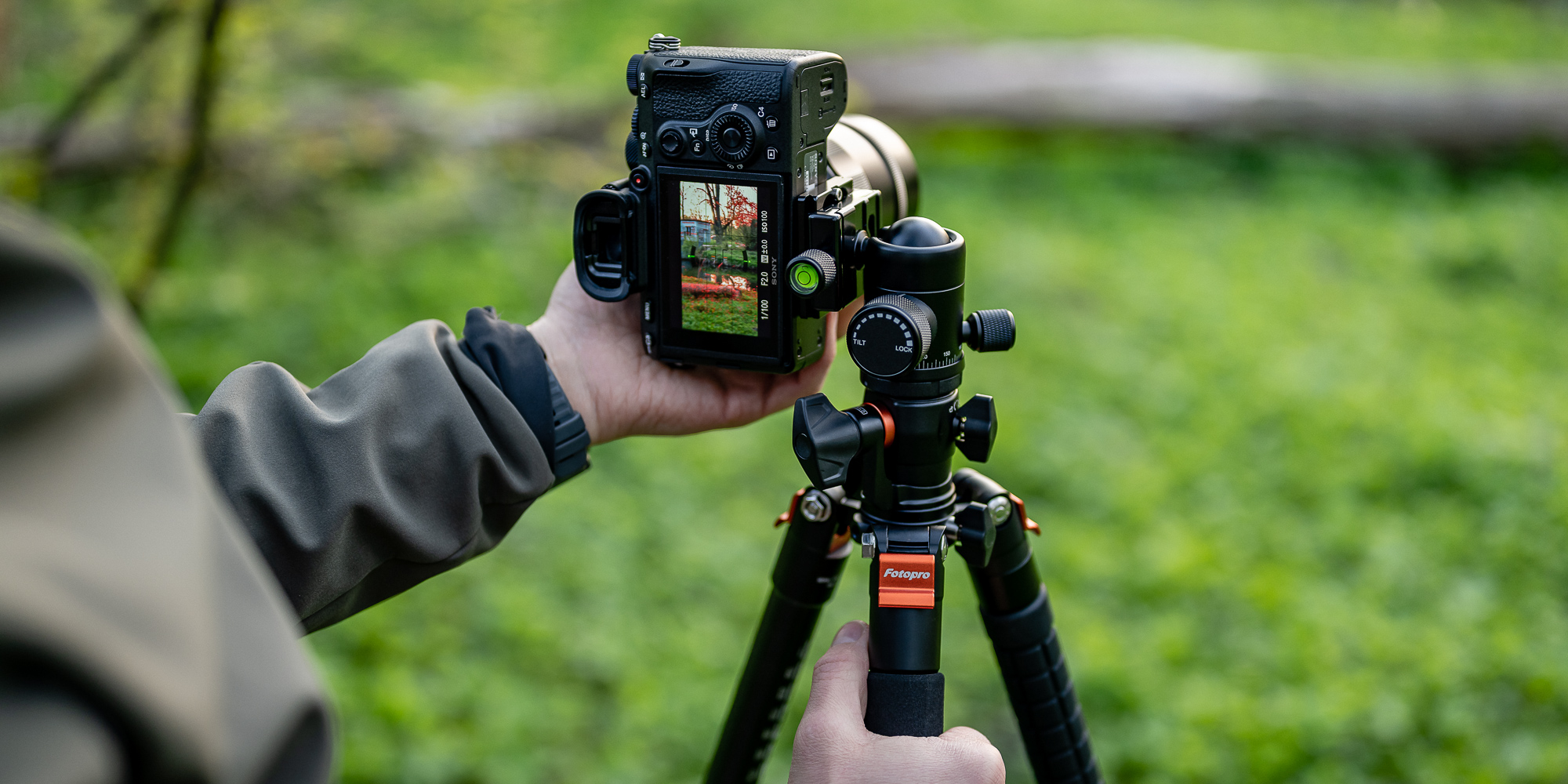 Turn it into a monopod!
Are you concerned about ultra-mobility? Or maybe your new photography or film project requires lightning-fast action where every second counts? Unscrew one of the legs of the Fotopro X-Go HR Pro tripod and use it as a monopod. You can install a head on it and enjoy stable frames wherever you are limited by space or need to act even faster!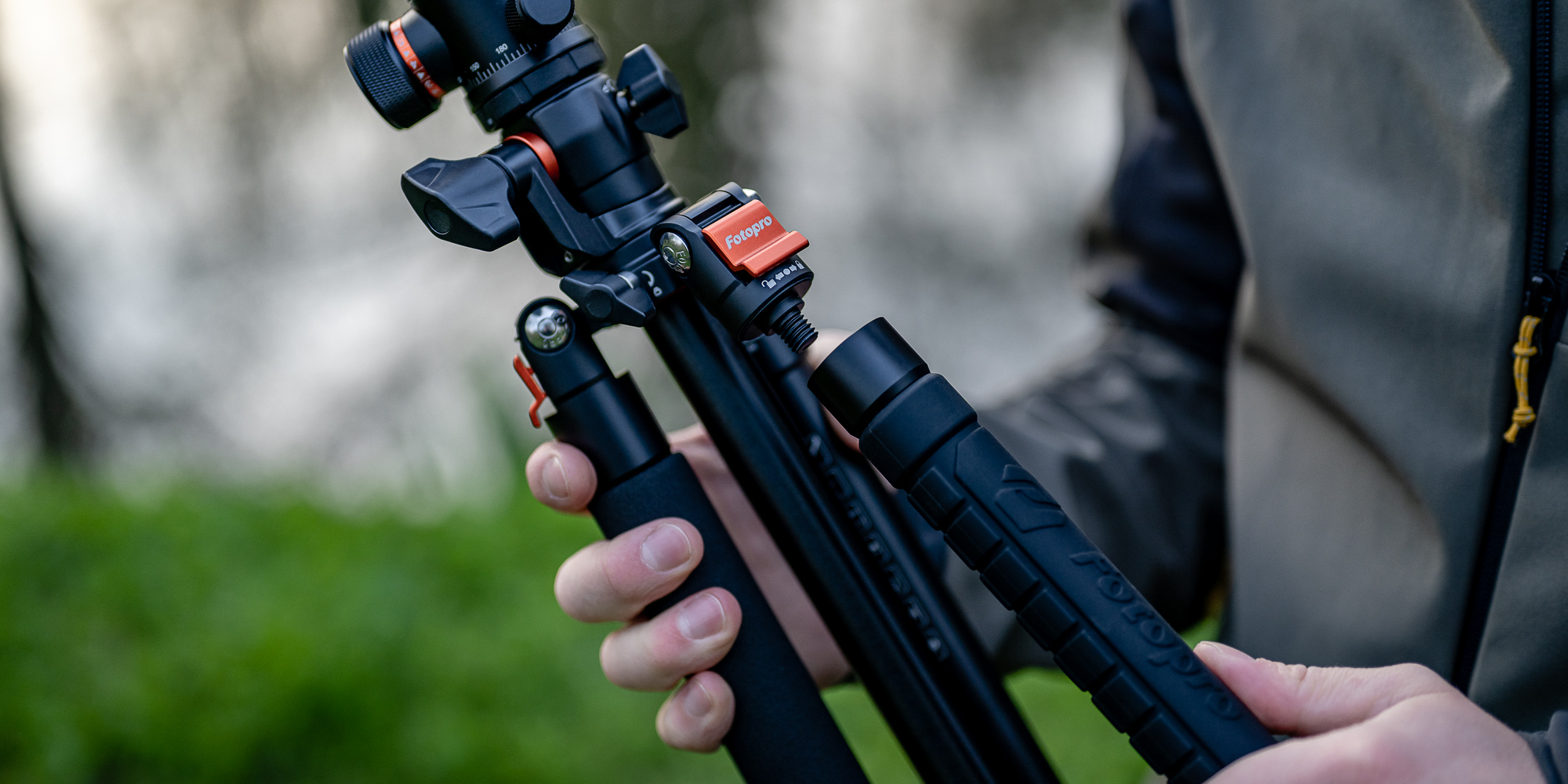 Stable frames regardless of the ground
The legs of the Fotopro X-Go HR Pro tripod are equipped with rubber, non-slip pads. This ensures that the panels and parquet floors where you'll be setting it up won't be scratched, and the design provides your frames with optimal stability. If you are working in the field, simply remove the rubber feet and use the adhesive spikes. They will work perfectly when the tripod stands on compacted soil, ice, mud or sand.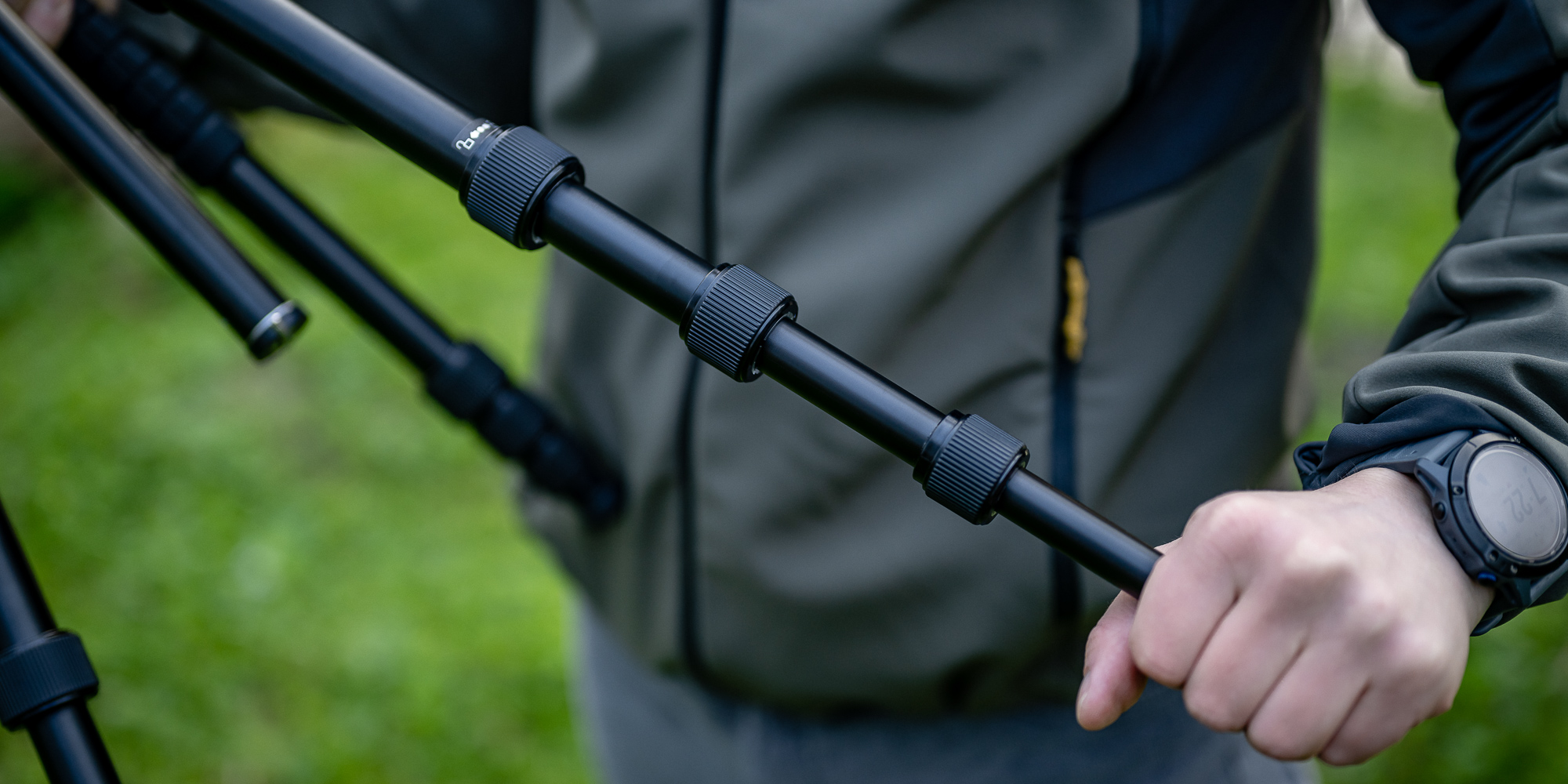 Safe transport and storage
The manufacturer has also provided a durable and stylish bag for easy transport and storage. You will safely stow your tripod in it, providing you with the necessary comfort for travel. The case is made of soft and pleasant to the touch material. Such a solution will help protect a tripod clipped to a backpack or locked in a suitcase with other photographic accessories.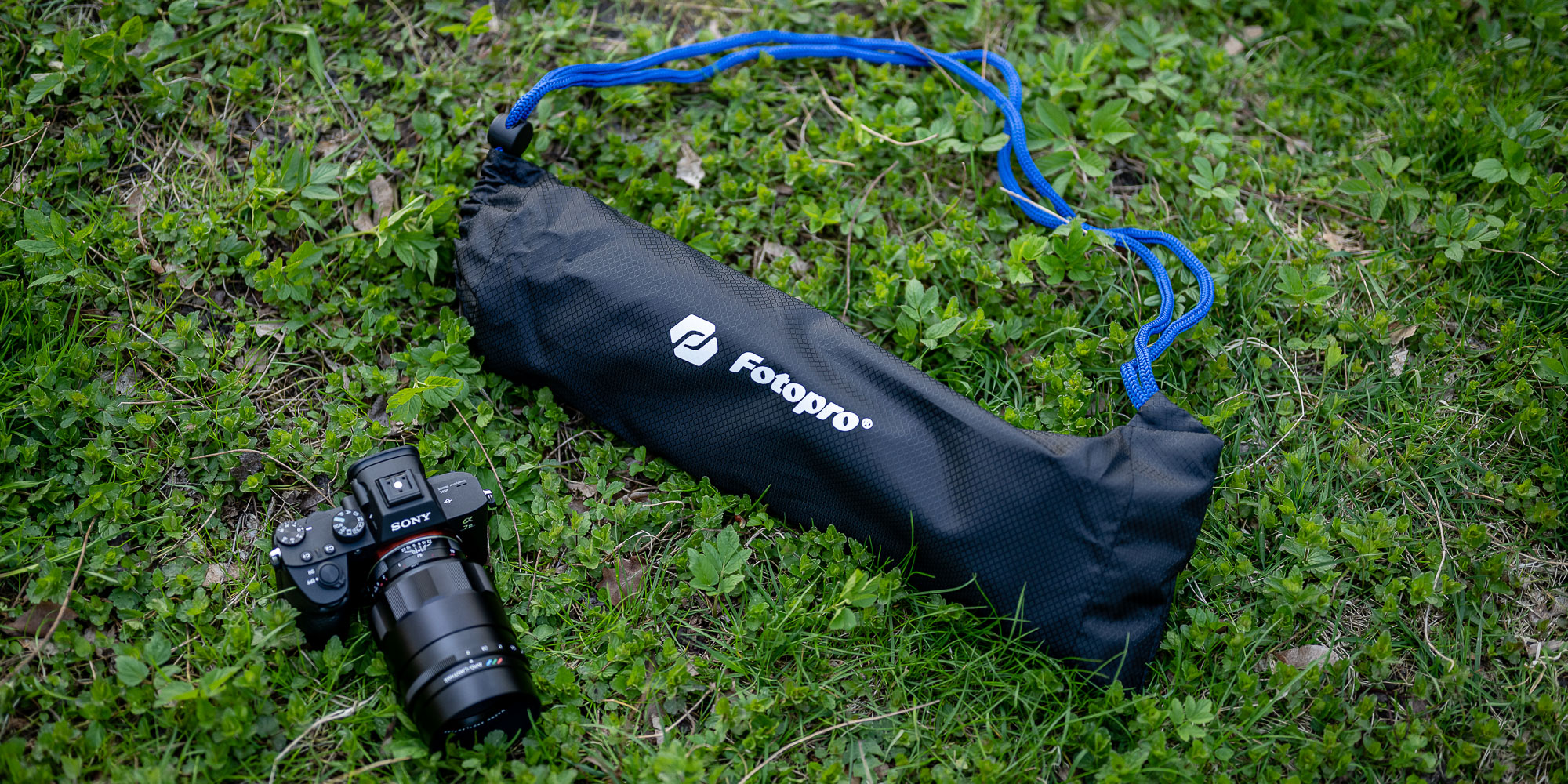 Join the #photopropolis family
As you embark on an amazing journey full of unique frames and shots, don't forget to bring a good tripod with you. Share your great photos and videos with us by tagging us on Facebook and Instagram See you on the trail!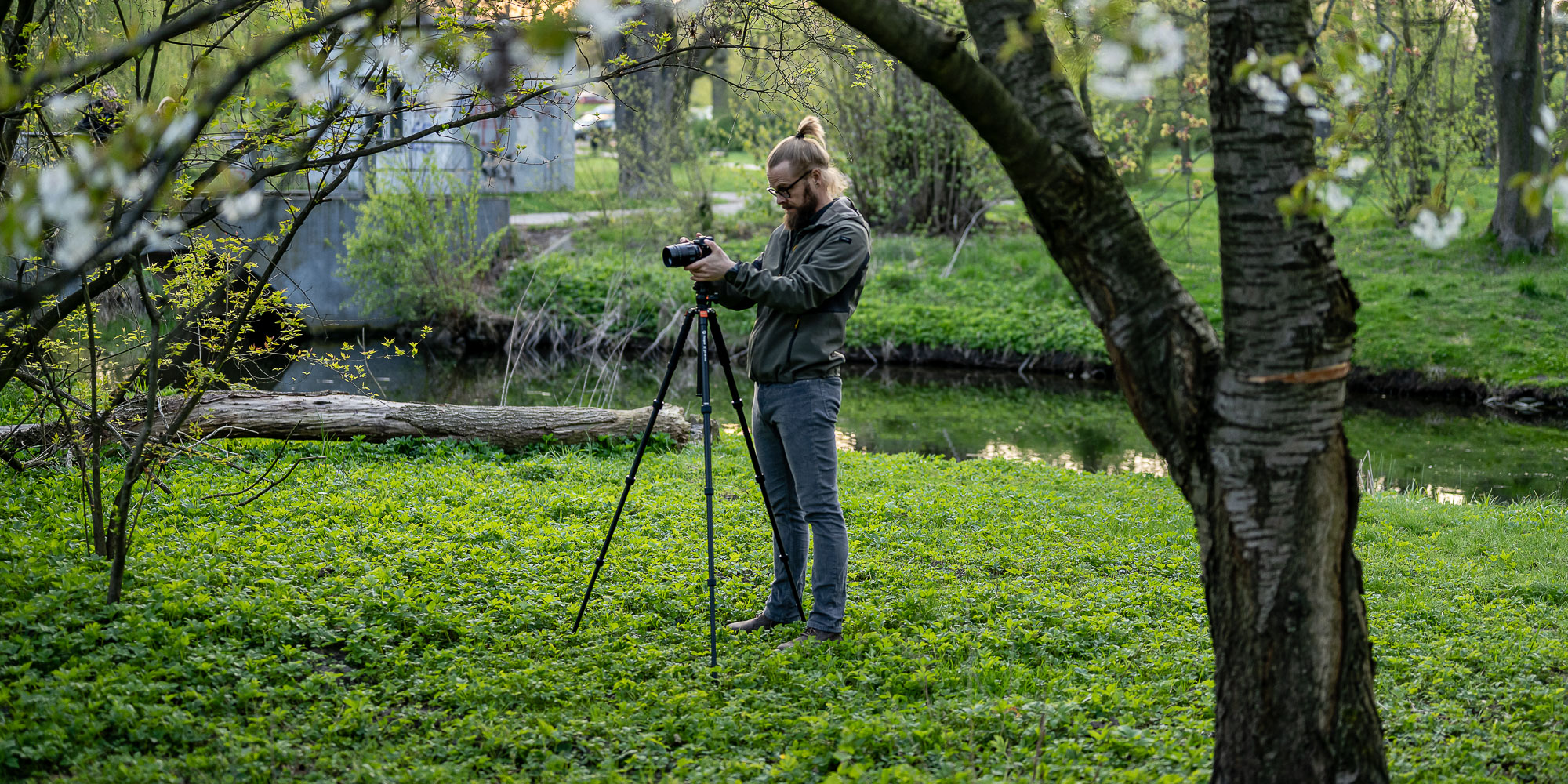 Specification
model: Fotopro X-Go HR Pro with FPH-52Q ball head
Photopro X-Go HR Pro tripod

color: black
number of leg sections: 4
max. leg diameter: 25 mm
minimum tripod working height: 22.5 cm
maximum working height of tripod: 159 cm
minimum monopod length: 49.5 cm
maximum monopod length: 131.7 cm
height in transport position: 44 cm
center column length: 43.9 cm (including the head)
maximum tripod load: 8 kg
tripod weight: 1.66 kg
weight of monopod: 0.6 kg

FPH-52Q ball head

color: black
type: ball head
fabric: aluminum
maximum load: 8 kg
height: 9 cm
base diameter: 43 mm
ball diameter: 30 mm
weight: 310 g
Set contents
Photopro X-Go HR Pro tripod
FPH-52Q ball head
a set of rubber foot pads
eye wrench
allen wrench
case