Description
The Humanas Air Cushion B1 is the ideal solution for anyone who struggles with discomfort, chafing and skin burns, as well as buttock, back or lumbar pain associated with cycling or indoor cycling activities. Thanks to the innovative pumping system, you don't need additional accessories to get ready for your activity. You can inflate or deflate the pad in seconds using special buttons. Convenient assembly and anti-slip finish will ensure proper comfort during multi-mile trips, regardless of the bike you will be riding. Folded pad takes up little space, so you can always have it with you!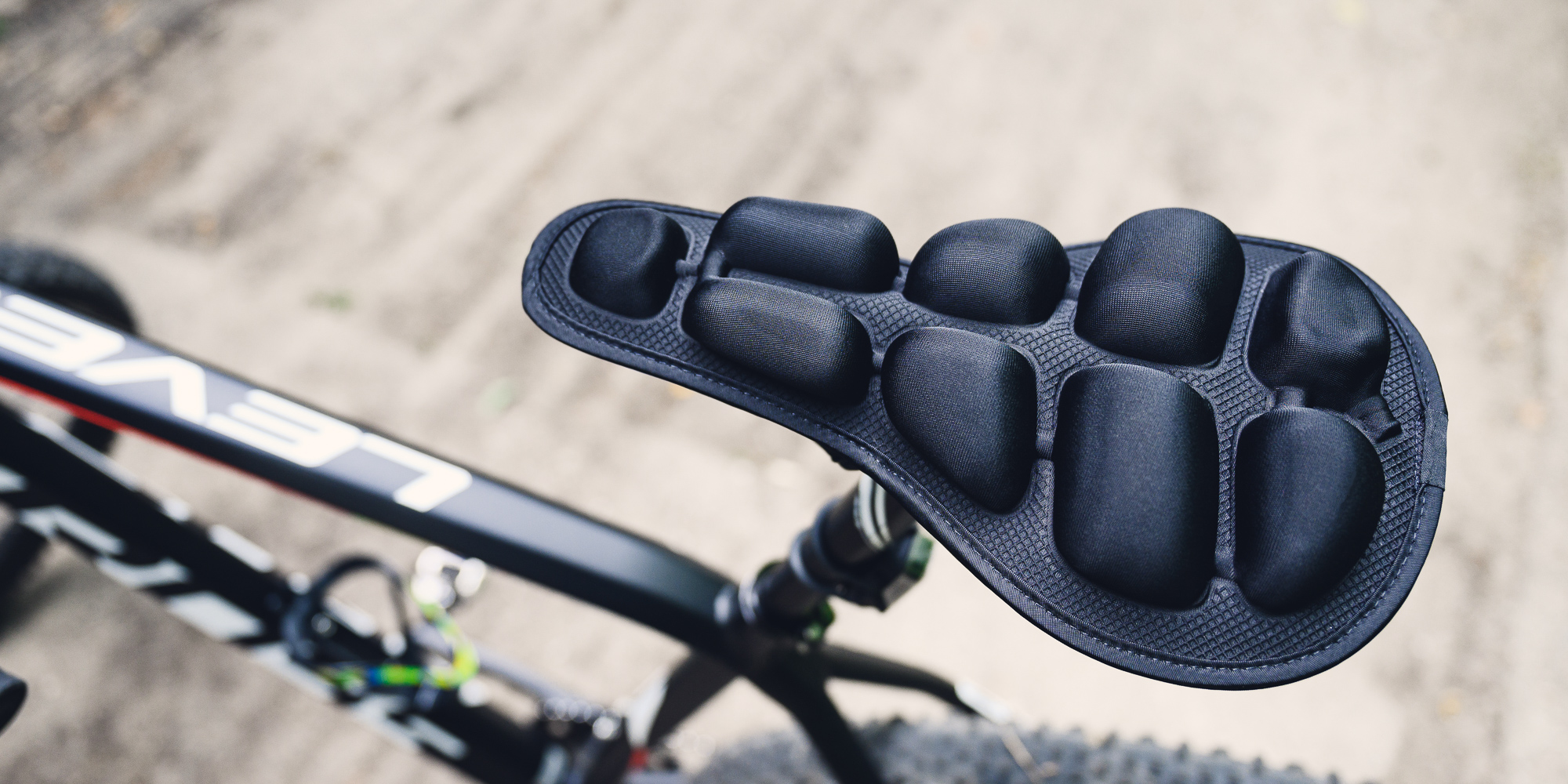 Main Product Features
universal bicycle seat pad to improve riding comfort
uniform airflow between 9 ergonomic chambers
Built-in mechanism allowing convenient inflation without blowing
using the pad improves circulation and reduces strain on the spine
made of high quality, durable materials
ventilation slots effectively dissipate accumulated heat
pumping does not require the use of a bulky pump that is easy to lose
anti-skid material that provides a very good grip on the seat
Compatible with the seat
compatible with city, mountain, training and electric bike seats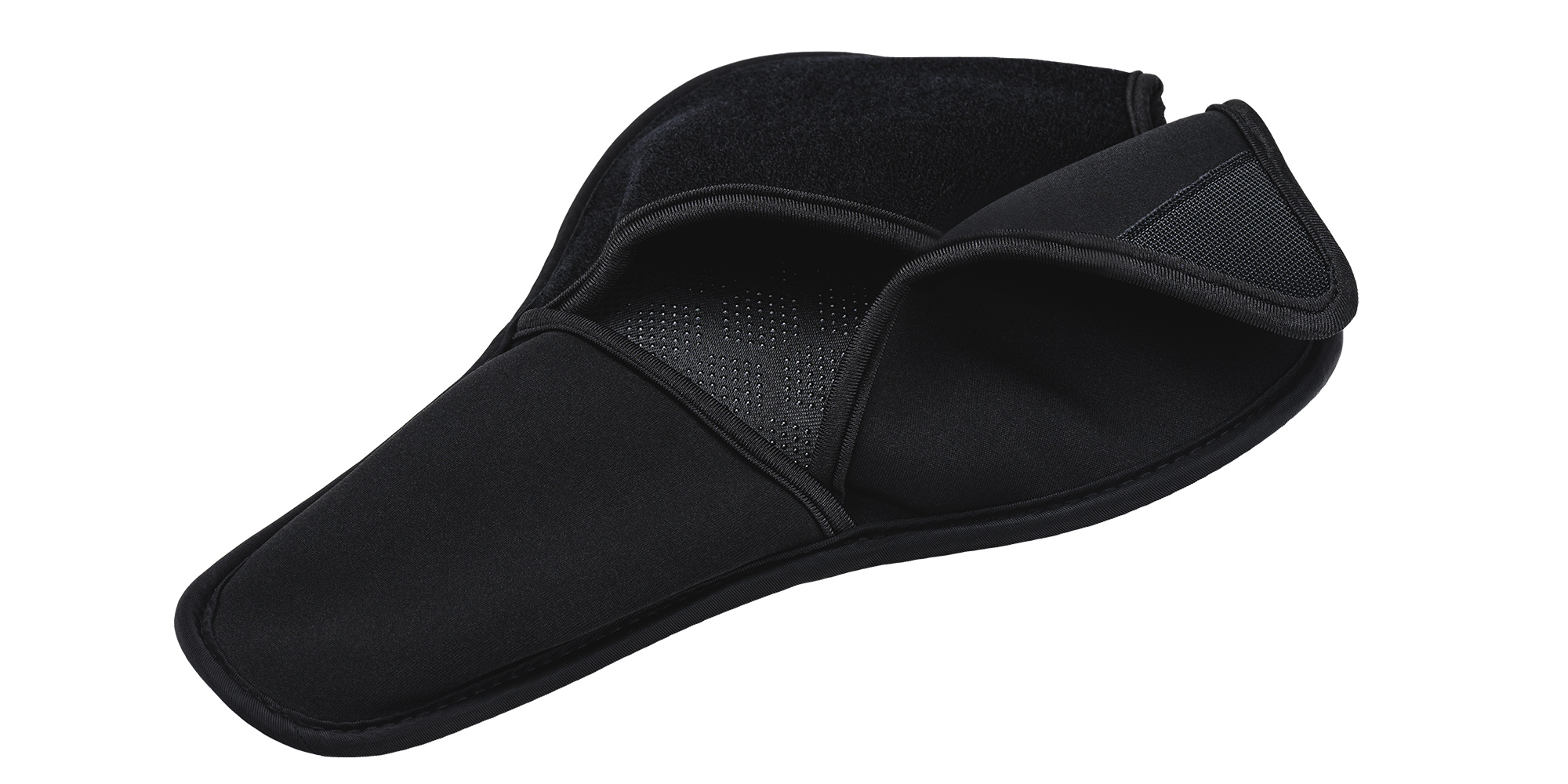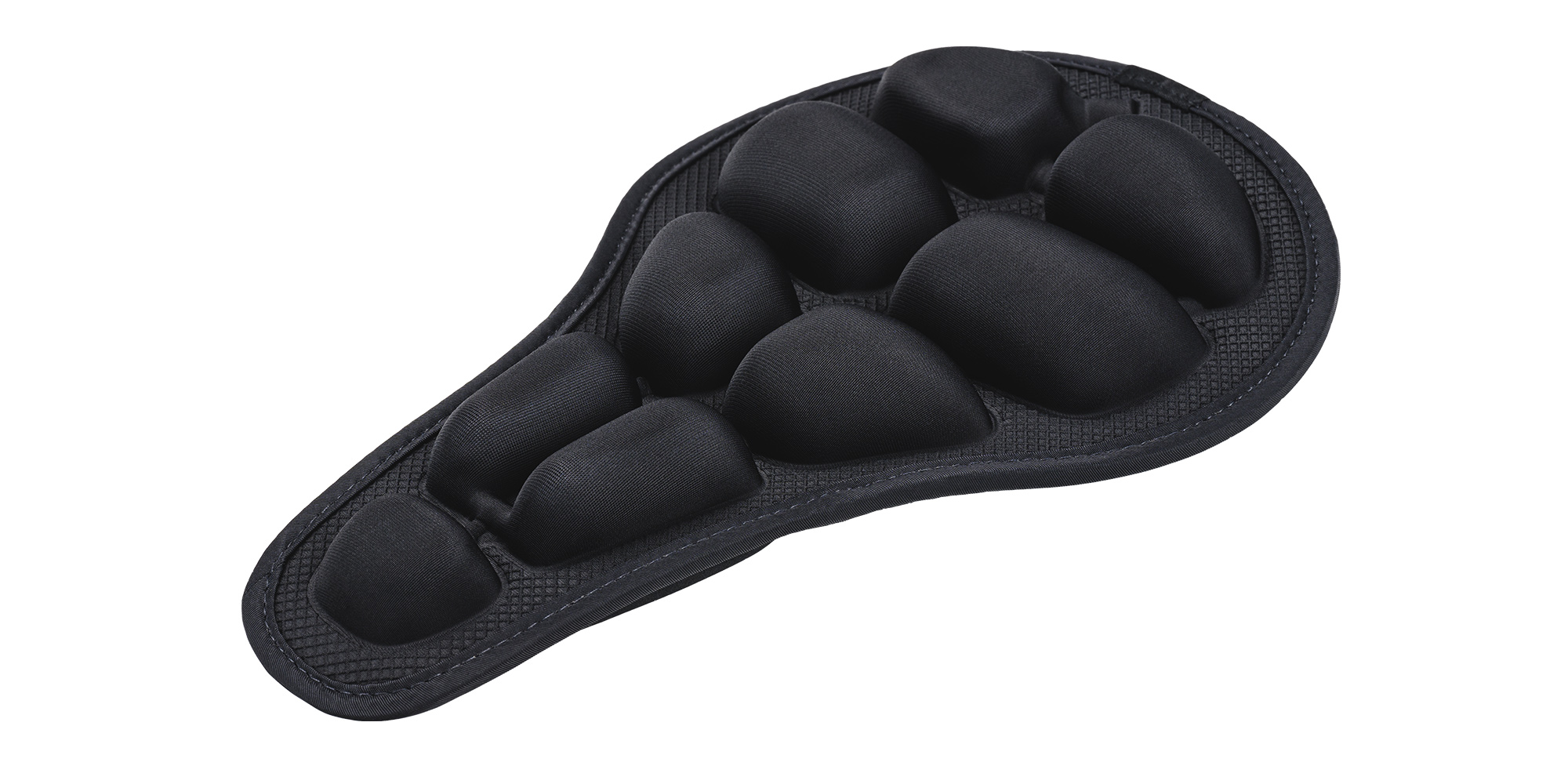 Comfort and safety
Nine interconnected air chambers are designed to best protect your tailbone, relieve pressure on your hips and help you maintain proper balance while cycling. The ergonomic shape ensures not only an even distribution of body weight, but also effective heat dissipation through the ventilation slots. Such solution will improve comfort and convenience of your ride, reduce your level of fatigue, and make you capable of covering even longer distances!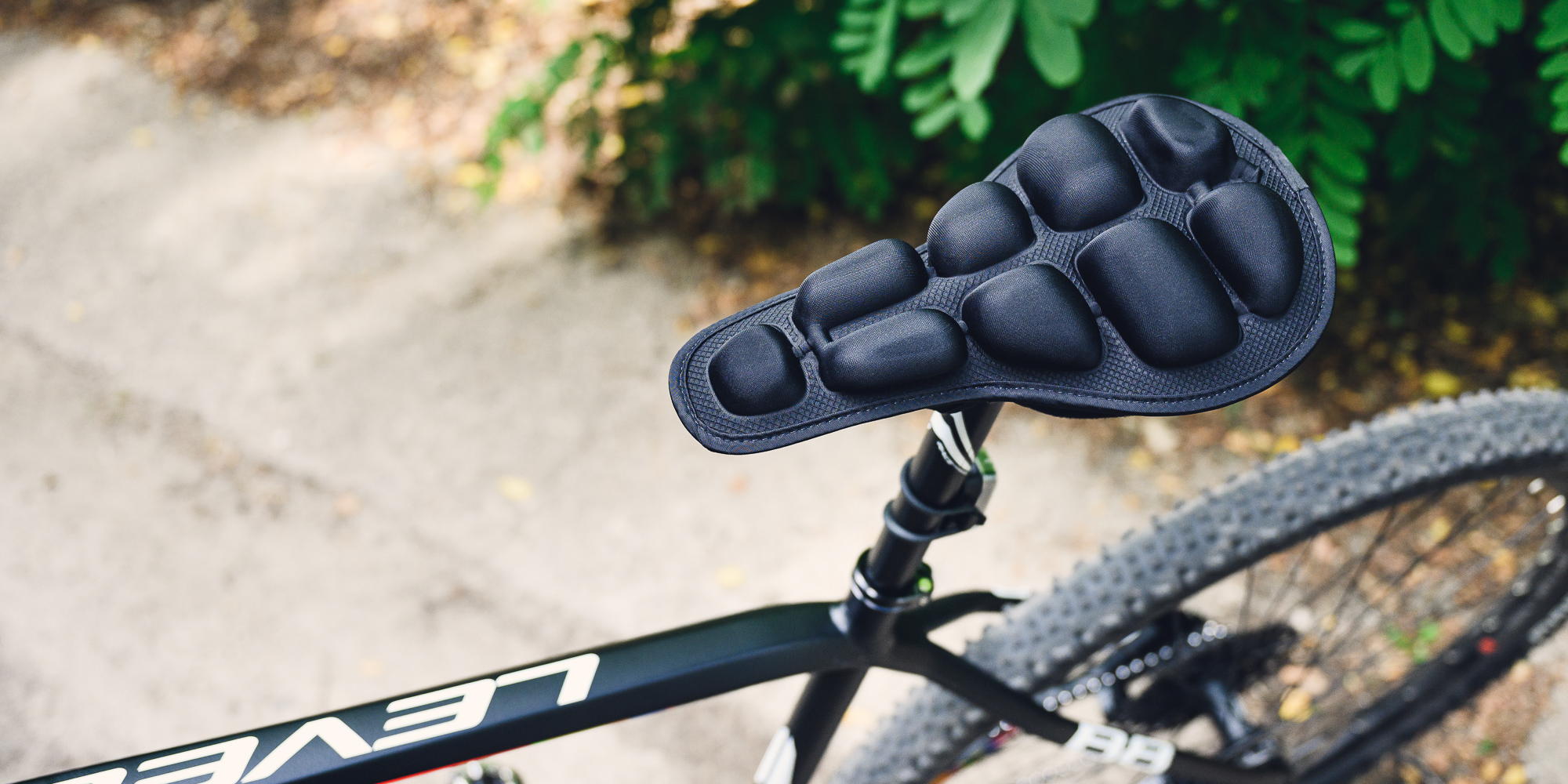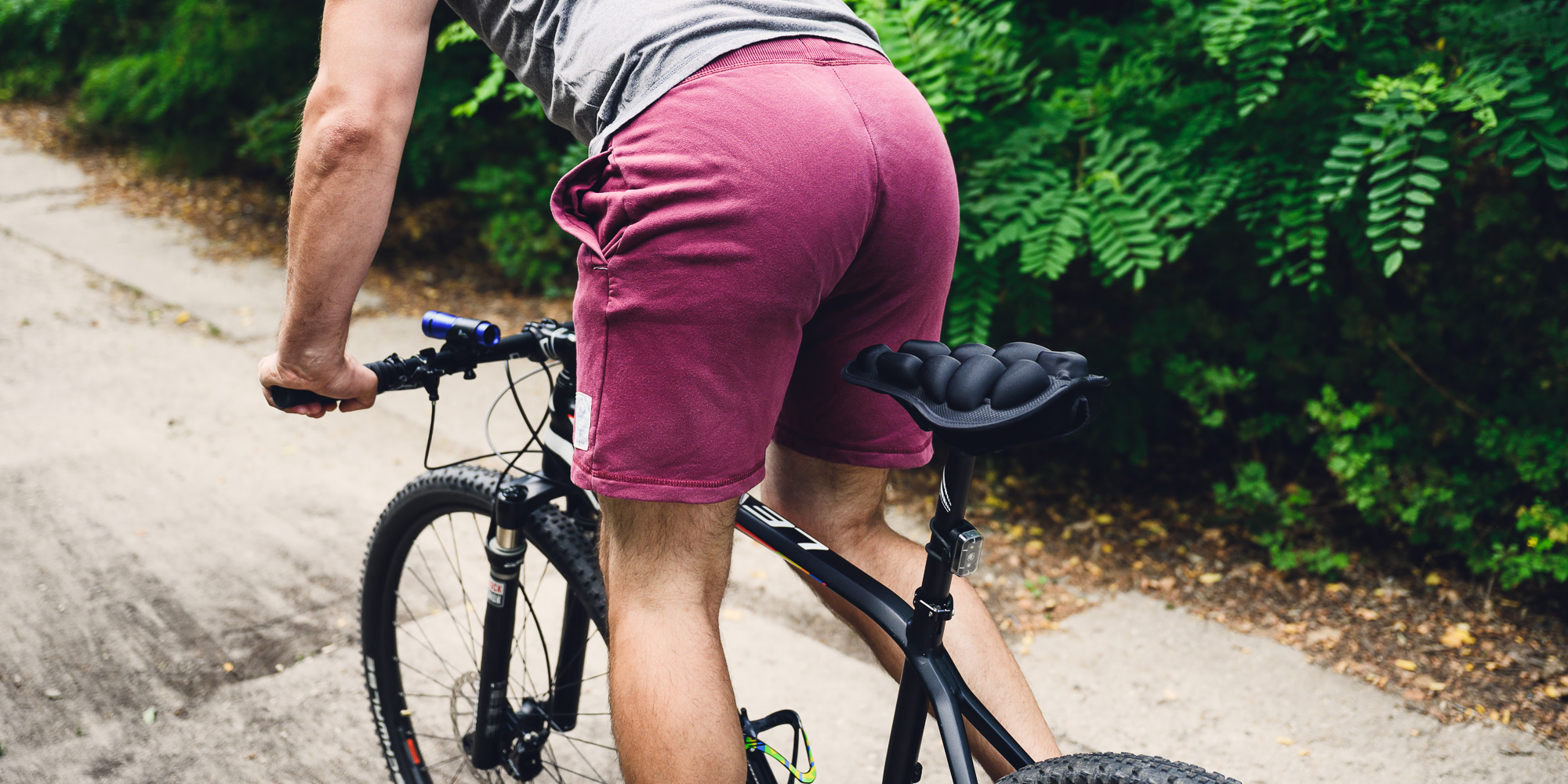 Body relief
With the air cushion, the pressure of your body on the bike seat will be reduced. This will improve blood circulation in your body and significantly reduce the strain on your hips and spine. With Humanas Air Cushion B1, you will forget about muscle cramps and limb numbness. The air cushion also reduces the risk of haemorrhoids, sciatica as well as various abrasions and burns in the area of buttocks and intimate places.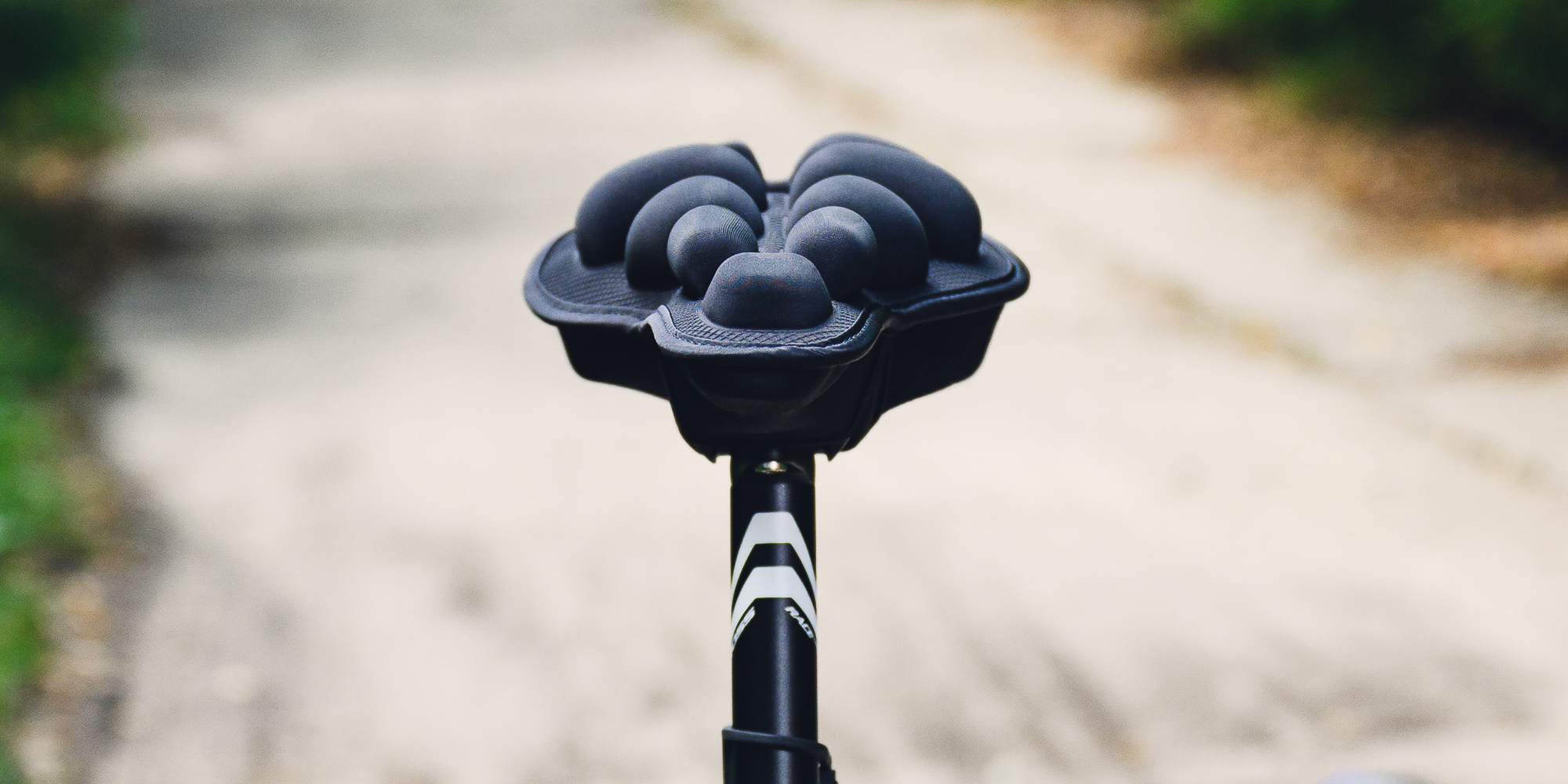 Innovative pumping system
When you choose the Humanas Air Cushion B1 for your bike seat, you don't have to take an extra pump with you on the trip, which is easy to lose, or blow the cushion with your mouth every time you want to use it. All you need to do is to press a few times in the indicated place, so that the properly shaped chambers of the pad fill with air. Depending on your needs and preferences, you can decide for yourself how soft you want the cushion to be. Humanas Air Cushion B1 is also equipped with a special air valve. There is also a button here. In just a few seconds, you can remove the air from the pad, roll it up and store it in your backpack, where it will take no more space than a small powerbank or a small travel first aid kit.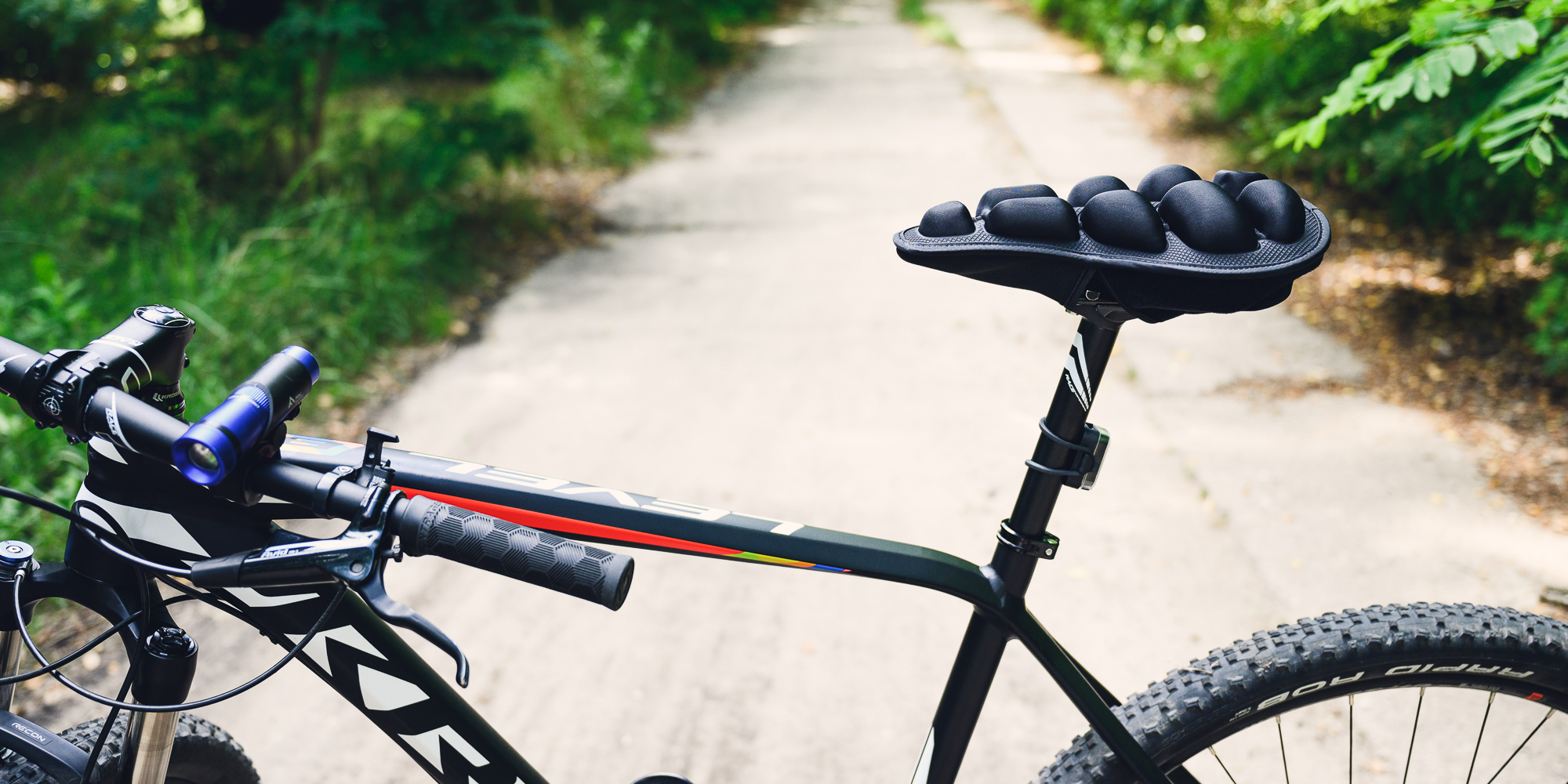 Fast and convenient installation
The Humanas Air Cushion B1 is equipped with a convenient mounting system based on Velcro material. Velcro allows for precise adjustment of the pad to the seat dimensions. Additionally, the inner side of the pad is finished with a special anti-slip layer. Both these solutions ensure that the airbag stays in place, providing optimal comfort, freedom of movement and riding comfort.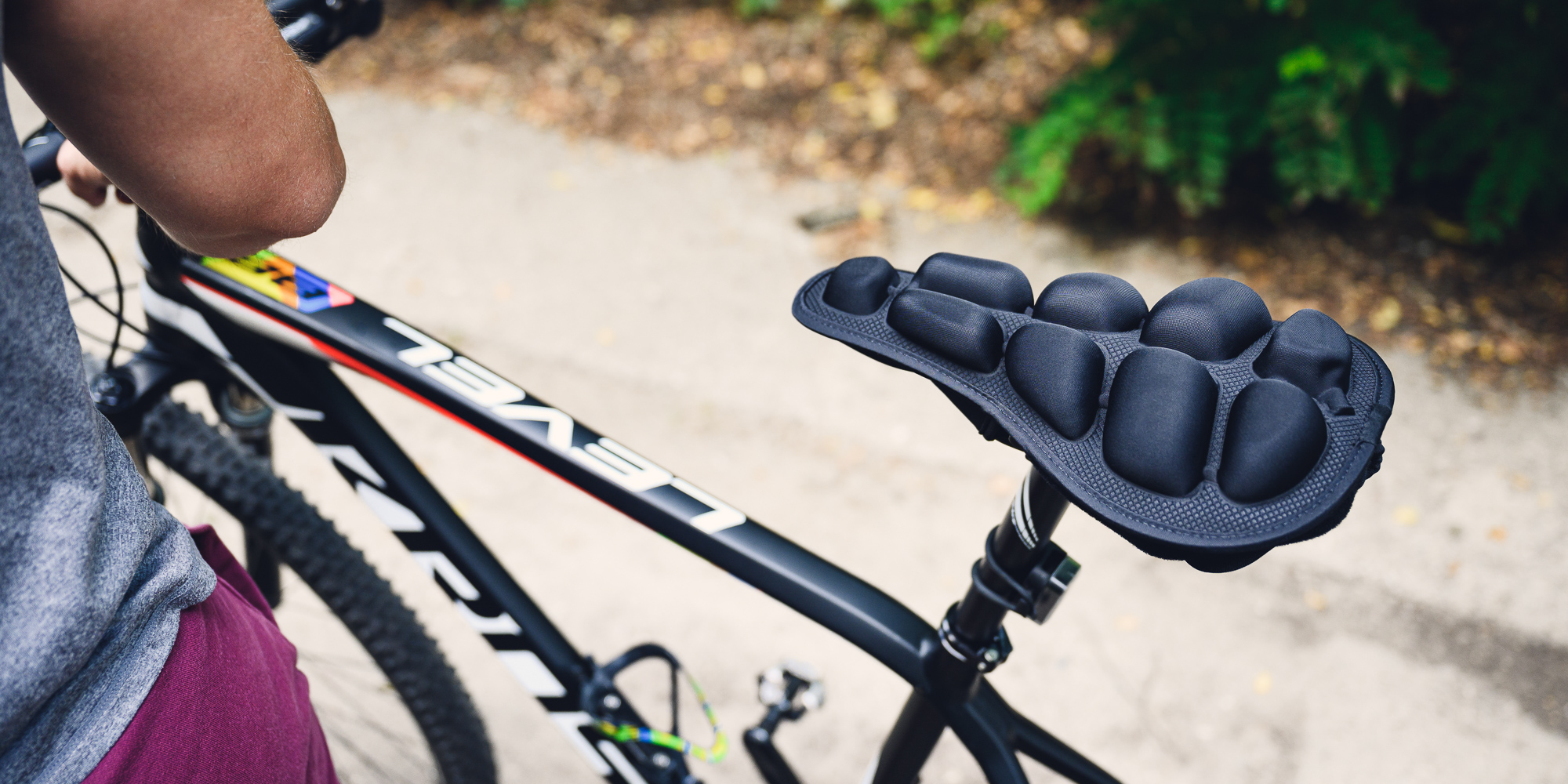 Multitude of uses
No matter what kind of bike you ride, the universal dimensions, as well as the ability to adjust the air pad's inflation level, will allow you to fit it to many different vehicles. City, mountain and road bikes, electric seat-equipped vehicles, modern lightweight folders, indoor cycling – the Humanas Air Cushion B1 will work wherever your buttocks may need more support, better blood circulation and the comfort you deserve! And because the collapsible air cushion easily fits into any backpack or bag, you'll always be ready for a cycling trip.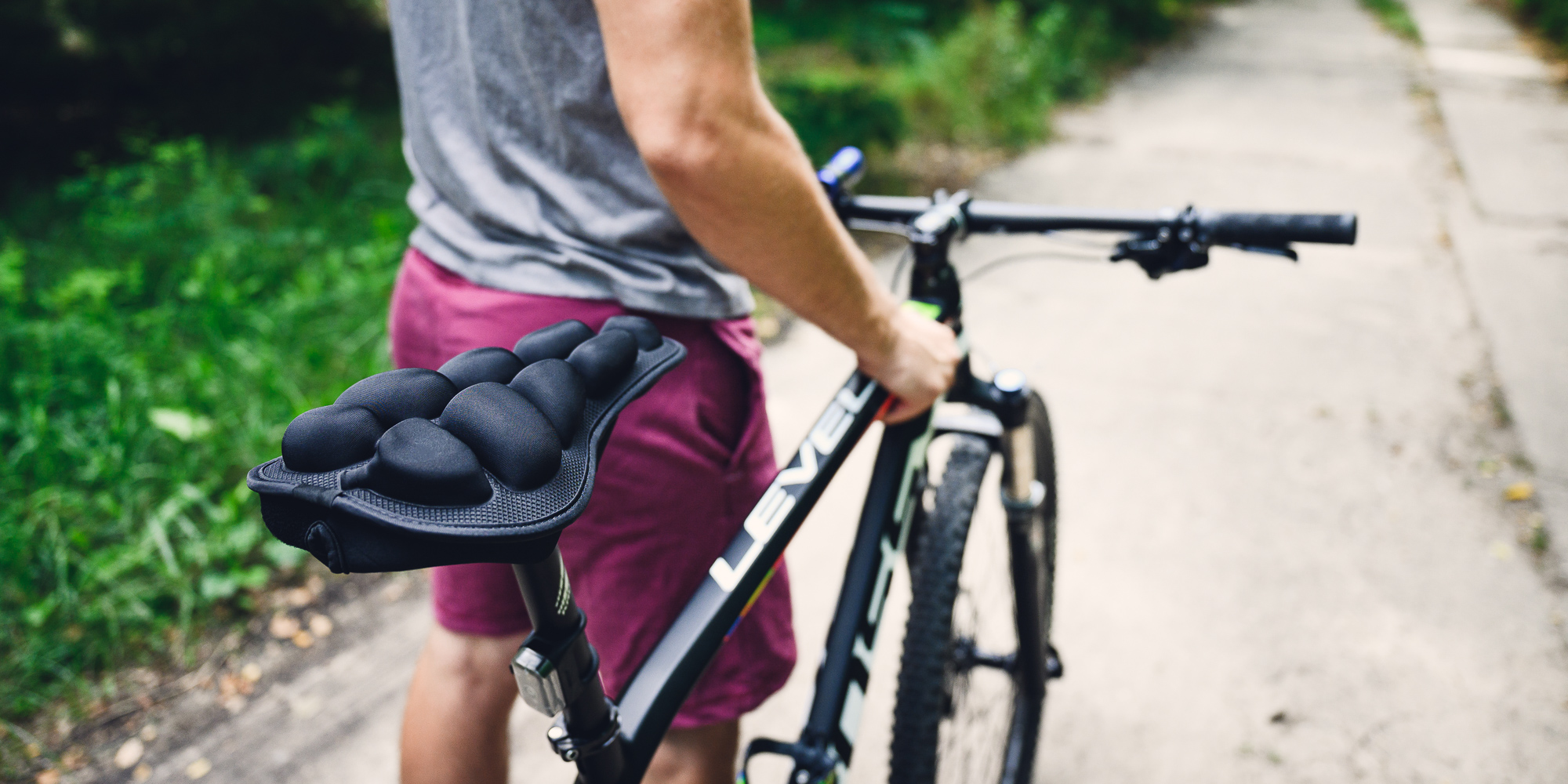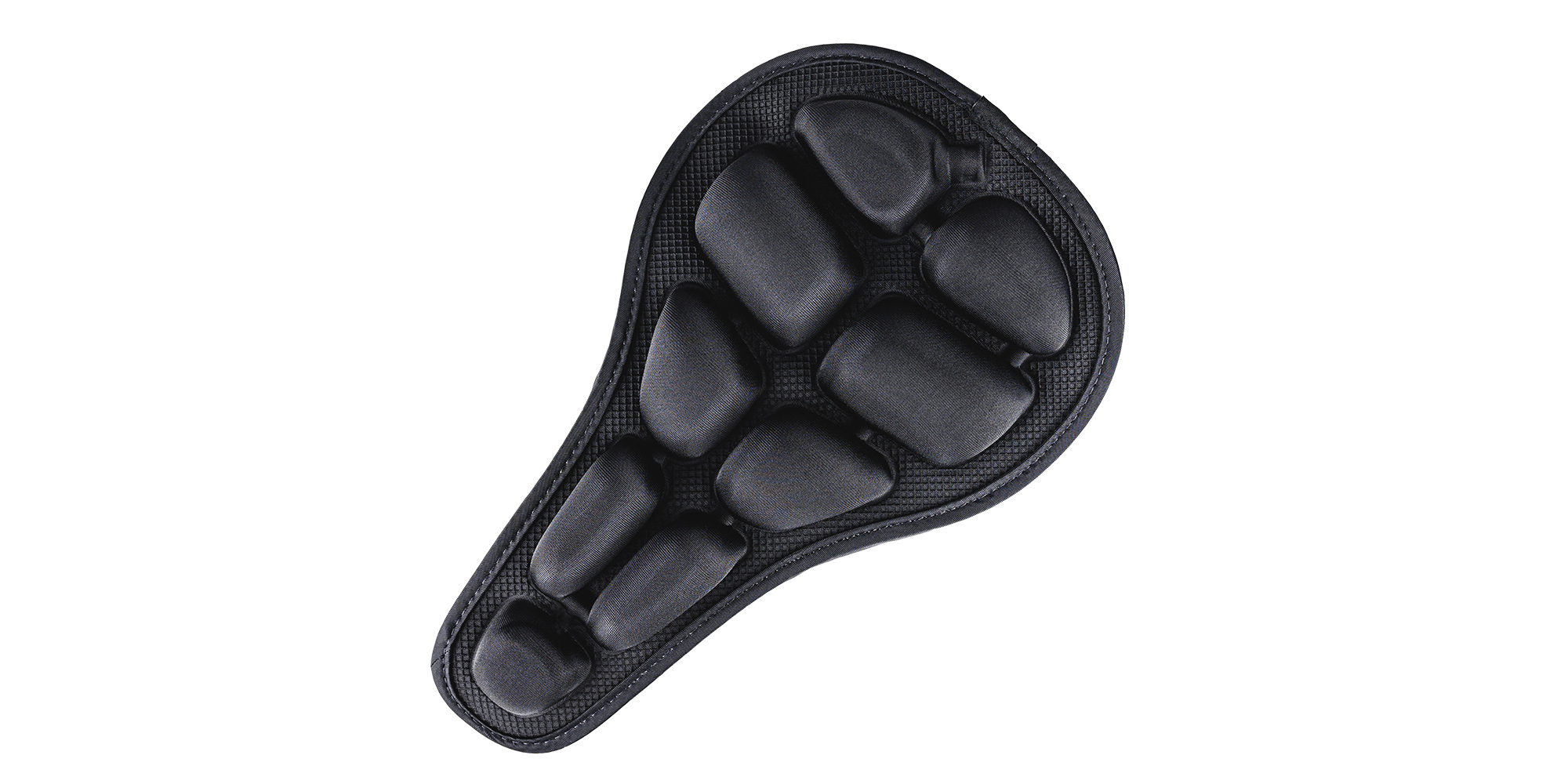 Specification
model: Humanas Air Cushion B1
material: polyester, lycra, thermoplastic polyurethane, non-woven
inflation system: built-in
Mounting: Velcro
Dimensions: 290 x 180 x 40 mm
weight: 100 g
Kit contents
Humanas Air Cushion B1 bicycle seat pad
Humanas Air Cushion B1 bicycle seat pad
Air cushion