Description
The Humanas BB01 electronic Chinese cupping device is an innovative device for massage and therapeutic treatments that combines the achievements of ancient Chinese medicine and the world of new technology. Vacuum therapy offers many benefits for physical and mental health. Massage with the device relieves pain and tension, removes toxins from the body, improves skin elasticity, strengthens immunity, speeds up metabolism and stimulates the lymphatic system and blood circulation. The Humanas BB01 Chinese cupping device has a 12-stage power and temperature (max. 50ºC) adjustment. The hot massage will be an invaluable support in the fight against ailments. It is an excellent choice for people who want to take care of their health, well-being and appearance, in a comfortable and safe way.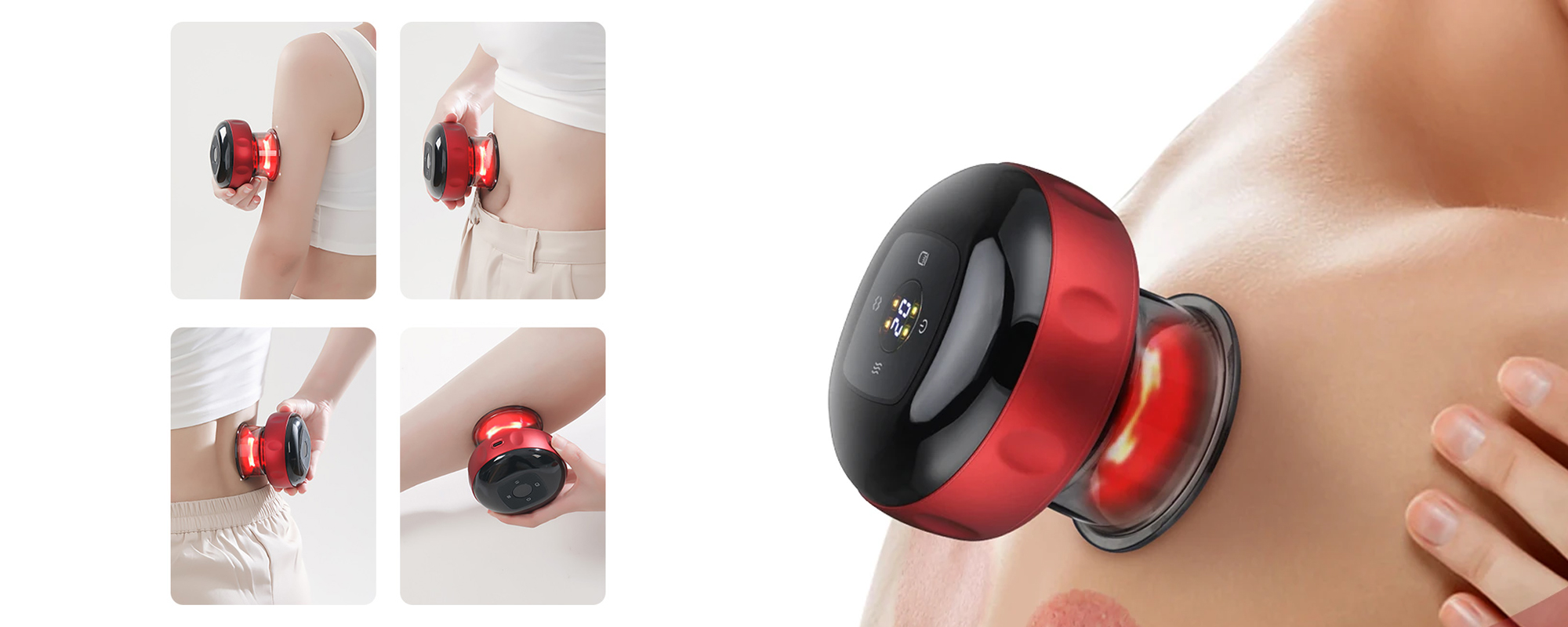 Main features of the product
electronic Chinese cupping device with heating function
massage with the device helps with neuromuscular pains, speeds up metabolism, stimulates microcirculation, has anti-inflammatory and analgesic effects, accelerates soft tissue regeneration processes, removes toxins secreted by the skin and improves immunity
helps fight many ailments, such as recurrent bronchitis, asthma, post-traumatic conditions, arthritis and colds
Invaluable support in skin firming and cellulite reduction
built-in rechargeable battery for wireless operation
ergonomic shape for secure grip
12-step suction power adjustment (-60 – 0 kPa)
"hot compress" function (the device can be heated up to 50ºC)
12-stage temperature control
convenient and easy push-button operation
automatic shutdown of the device after 20 minutes of massage
illuminated screen for easy operation of the device
special button to instantly turn off the air suction function
a fully charged cupping device will provide as many as 10 massage sessions
built-in 1800 mAh rechargeable battery
universal USB-C port for convenient charging
safe alternative to fire cupping devices
easy to clean
Chinese cupping device in modern style
cupping device therapy is an ancient healing technique that originated in Chinese traditional medicine. It is designed to stimulate blood circulation, relieve pain and muscle tension, and eliminate toxins from the body. The Humanas BB01 electronic Chinese cupping device is designed to combine the traditional benefits of cupping device therapy with modern technology, offering an effective, safe and easy-to-use alternative to classic glass, bamboo or ceramic cups.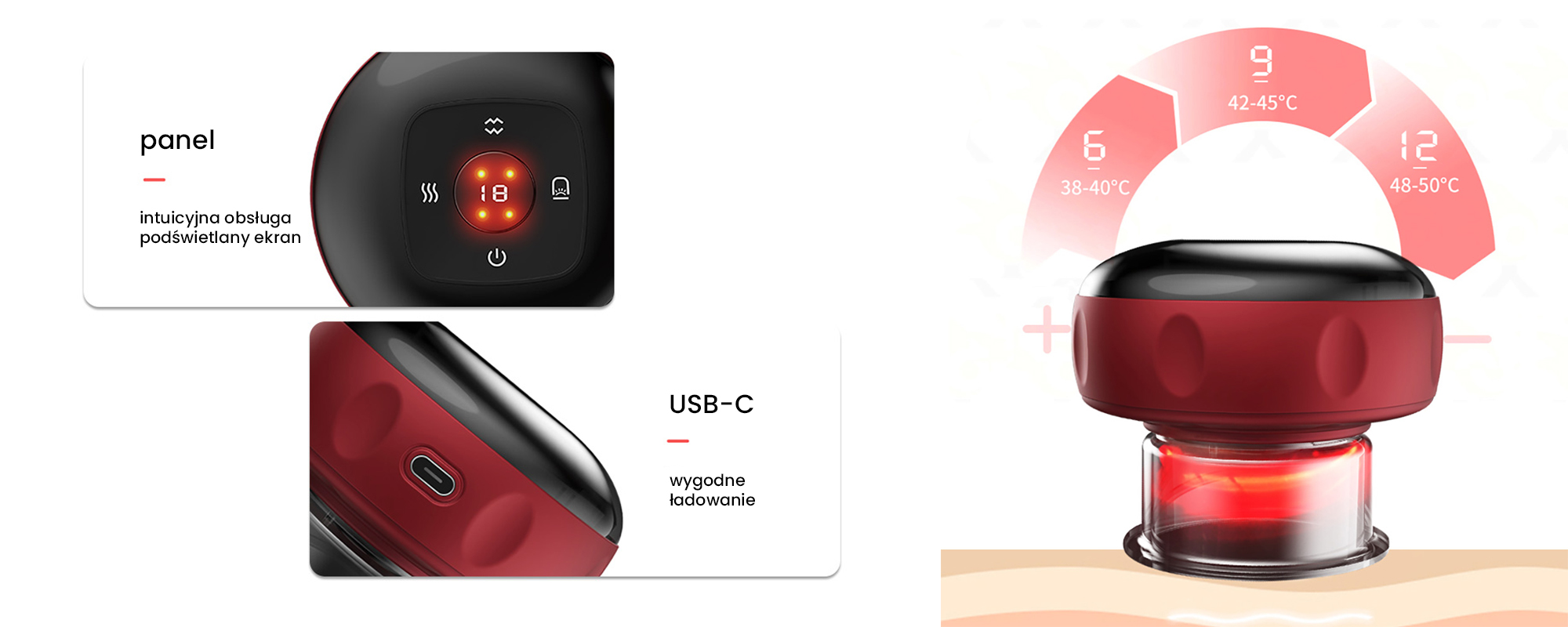 Take care of your body
The Humanas BB01 Electronic Chinese cupping device is an innovative solution for people who want to benefit from vacuum therapy at home. The device offers many benefits for physical and mental health. These include:
improved blood circulation and accelerated tissue regeneration,
relieving pain and muscle tension,
removal of toxins from the body,
improving skin and tissue elasticity,
strengthening the immune and nervous systems,
increase collagen production,
stimulation of the lymphatic system,
acceleration of metabolism,
Power-regulation
The Humanas BB01 electronic Chinese cupping device offers a 12-stage adjustment of the power of the air intake. The pressure the device can produce ranges from -60 to 0 kPa. This allows you to easily adjust the therapy to your individual needs and preferences. The power adjustment will allow you to precisely control the intensity of the suction. This will be especially important for those with sensitive skin or for those who are using cupping device therapy for the first time.
Low suction power

(1-4) – superficial skin relaxation
Medium suction force

(5-8) – tissue stimulation
High suction force

(9-12) – deep massage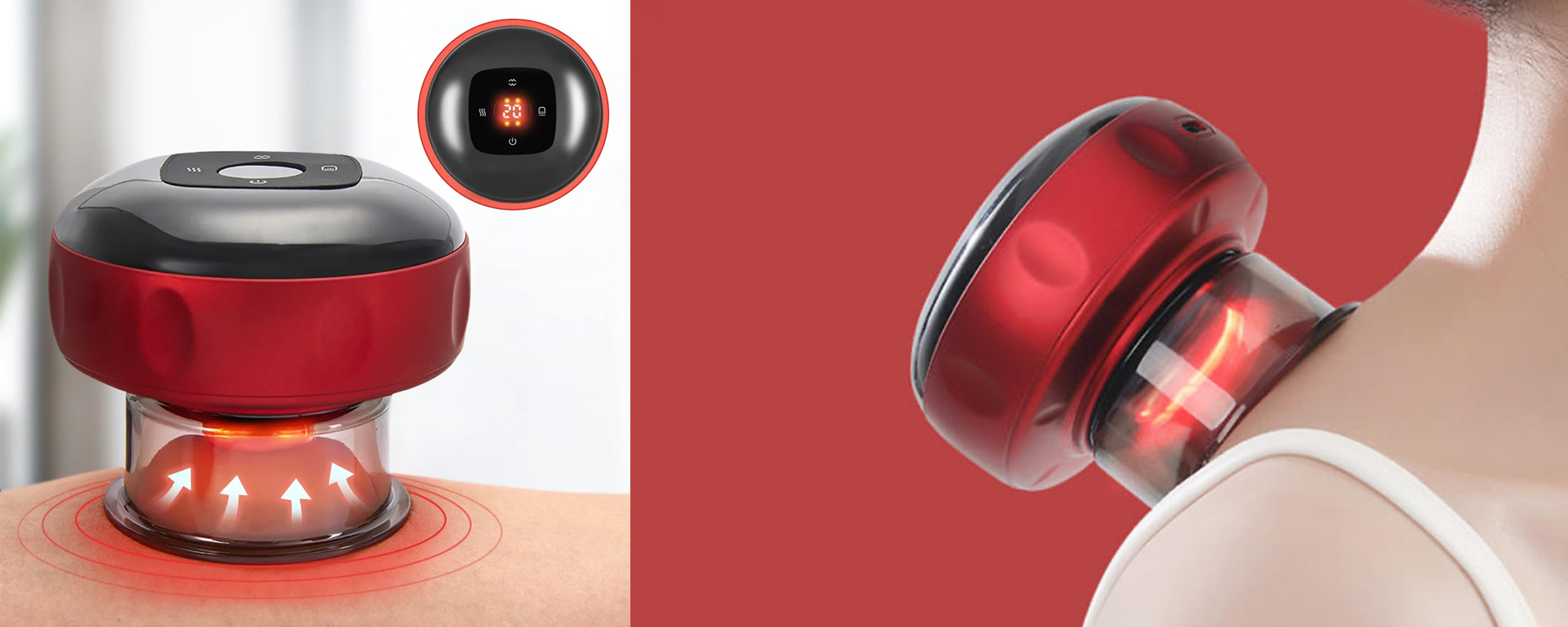 Hot compress
The Humanas BB01 electronic Chinese cupping device offers 12-stage temperature control. The device can be heated up to 50ºC. Using the cupping device as a hot compress will help better reach muscles and tissues, speeding up blood flow and relaxing tense muscles. Heat therapy will also help relieve pain. The adjustable temperature allows you to individually adjust the cupping device to your needs and preferences. This will make daily treatments even more enjoyable.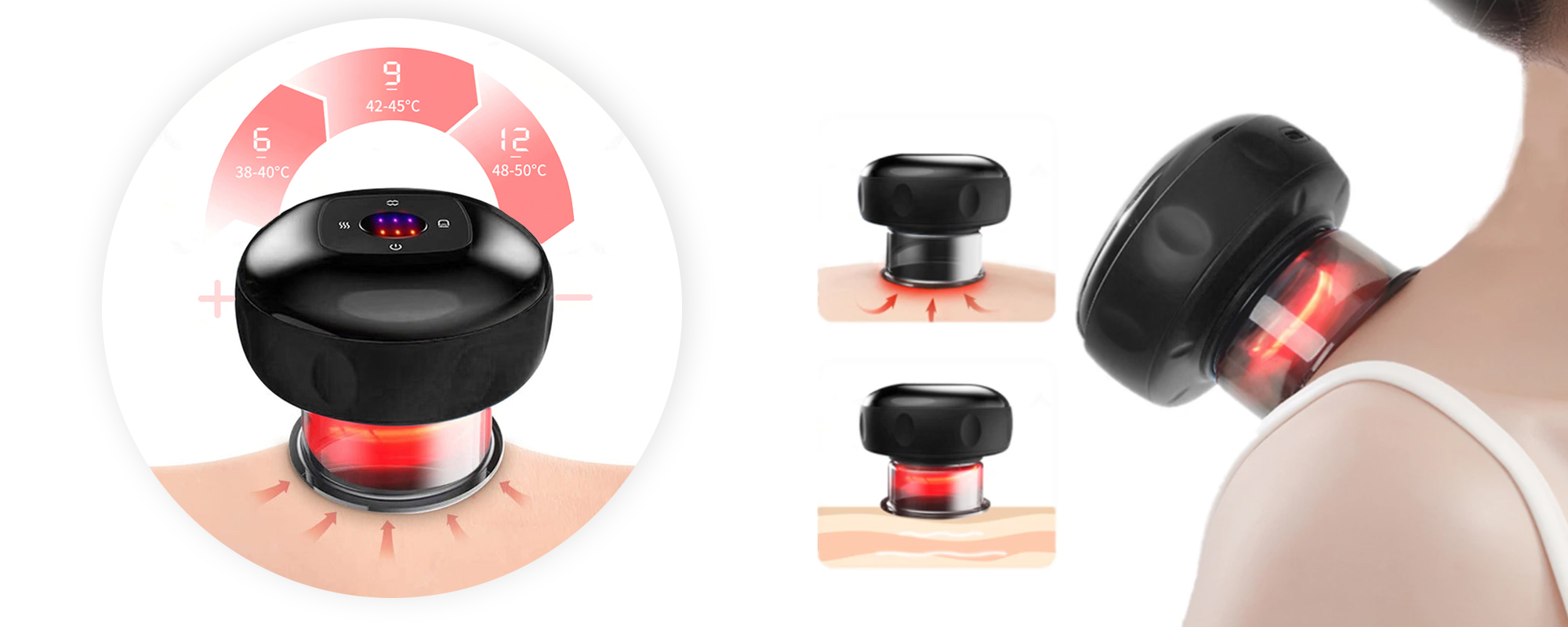 Gua Sha massage
With the Humanas BB01 electronic Chinese cupping device , you will discover a modernized version of the ancient Gua Sha ("scraping") technique. Moving the device over the skin creates negative pressure and stimulates blood circulation, which facilitates the removal of toxins from the body, thus improving the health and overall condition of the skin. Scraping can also help relieve pain and tension, especially for chronic musculoskeletal complaints. Gua Sha massage also improves the functioning of the lymphatic and immune systems, and strengthens the nervous system.
Anti-aging care
The Humanas BB01 electronic Chinese cupping device will also allow you to perform cosmetic treatments. Thanks to the precise adjustment of the suction power, the device helps in body shaping, smoothing the skin, eliminating cellulite and reducing the appearance of stretch marks. Regular use of the Chinese cupping device also improves the firmness and elasticity of the skin. It also helps get rid of fine wrinkles. This is an innovative solution for people who want to slow down the aging process of the skin and take care of their bodies in a safe way.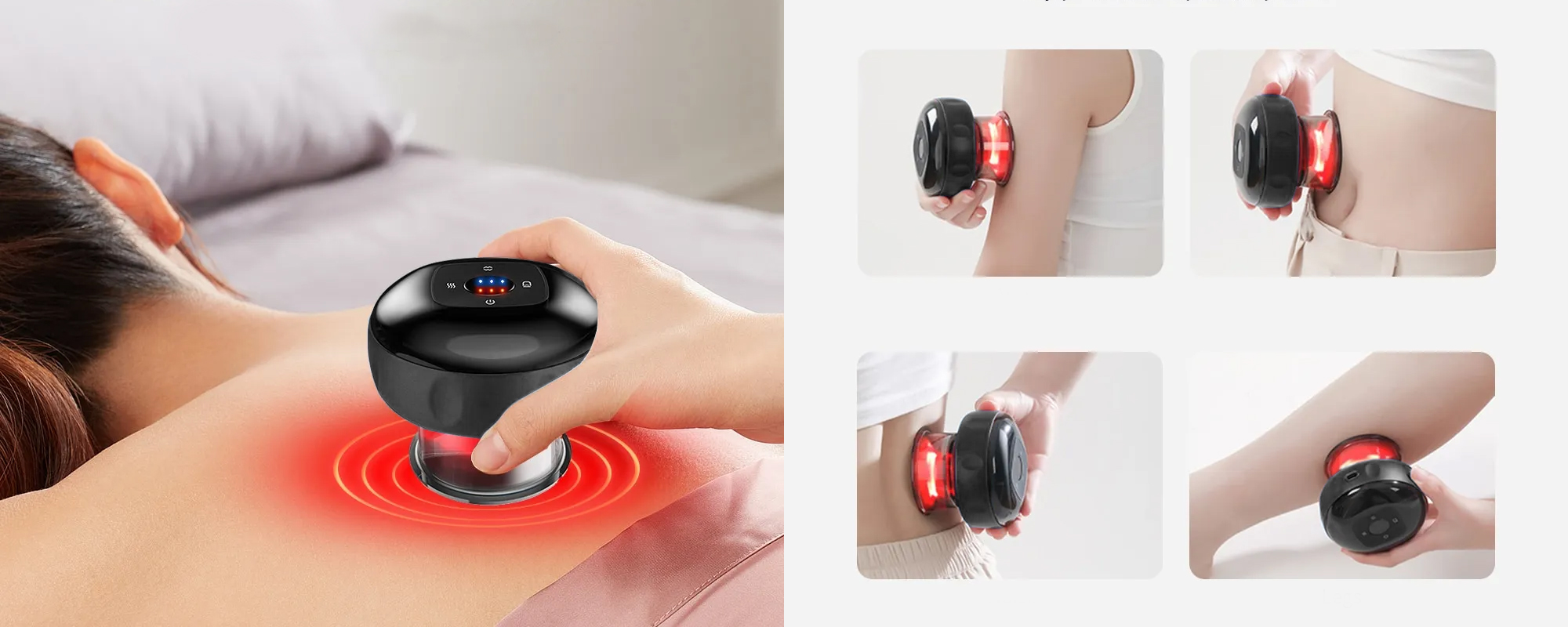 Reach for essential oils
Using the Humanas BB01 Chinese Electric cupping device in combination with essential oils can significantly increase the therapeutic effects, offering a number of additional benefits. Their antibacterial and anti-inflammatory effects can effectively accelerate tissue regeneration, reduce muscle tension and relieve pain. Aromatherapy accompanying the treatments will also contribute to deep relaxation, stress reduction and mood enhancement. Using oils during cupping device therapy makes the therapy a holistic experience, supporting both body health and emotional balance.
Safe use
At the heart of the device is a smart chip that controls the massage process. For your safety, the Humanas BB01 cupping device is equipped with a timer that shuts off the tool after 20 minutes of use. The backlit screen will allow you to conveniently track the duration of the treatment, as well as check the current power and heat levels.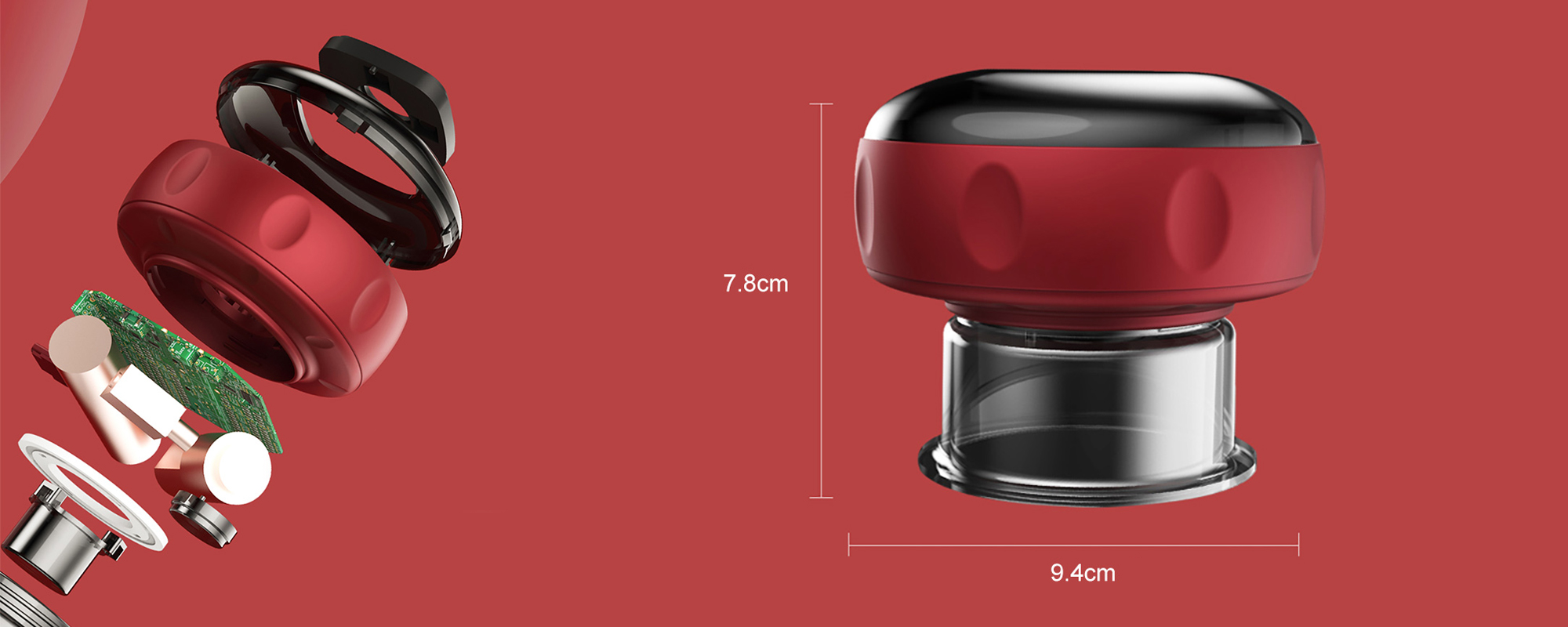 Improve the quality of your life
The Humanas BB01 electronic Chinese cupping device is an ideal choice for people with muscle, joint and back pain, as well as for athletes who want their bodies to recover quickly after training. Vacuum therapy will also be appreciated by people who lead sedentary lifestyles. Electronic Chinese cupping devices are also gaining popularity among massage therapists, physiotherapists and cosmetologists, introducing innovative solutions to their work. The device can also be used by older people who want to take care of their health and well-being at home.
RECOMMENDATIONS: REMEMBER THAT THE USE OF CHINESE BANKA THERAPY IS NOT RECOMMENDED FOR: AUTOIMMUNE DISEASES, CANCER, HEMOPHILIA, SKIN INFLAMMATION, PREGNANCY, MENSTRUATION, HEART DISEASE, INFECTIOUS DISEASES, HIGH FEVER, VASCULAR COMPLEXION, VARICOSE VEINS, EPILEPSY AND MULTIPLE SCLEROSIS.
Give a gift to your loved ones!
Give the gift of health and a better quality of life to your loved ones. Show them that you care about their excellent well-being! The Humanas BB01 electronic Chinese cupping device is an ideal gift idea that can be useful to anyone – regardless of age, gender, level of daily physical activity or the nature of their work. Bet on a device that will stay with your loved ones for years, providing relaxation and therapeutic support.
Specification
model: Humanas BB01
color: red
power: 5 watts
charging: USB-C (5 V / 2 A)
rechargeable battery: 1800 mAh
generated pressure level: -60 – 0 kPa
suction power adjustment: 12 levels
temperature adjustment: 12 levels (max. 50ºC)
dimensions: 90 x 90 x 78 mm
weight: 390 g
Kit contents
Chinese electronic cupping device Humanas BB01 – red
USB-A / USB-C cable
2 sponge filters