Description
Humanas duoball DB01 vibration massage roller is a revolutionary tool that will allow you to discover a new level of relaxation and regeneration. Its unique shape and advanced features, including 4 massage programs and 3 intensity levels, will make you perform customized therapeutic treatments on your own. Its irregular surface will allow you to precisely reach the source of pain, stimulating muscles, improving circulation and reducing tension. The Humanas duoball DB01 massager will work well for people with sedentary lifestyles as well as those who are physically active. It is also a reliable tool in rehabilitation and physiotherapy. The IP65 standard ensures safe use even in the shower. It comes with a charging cable and a handy carrying case.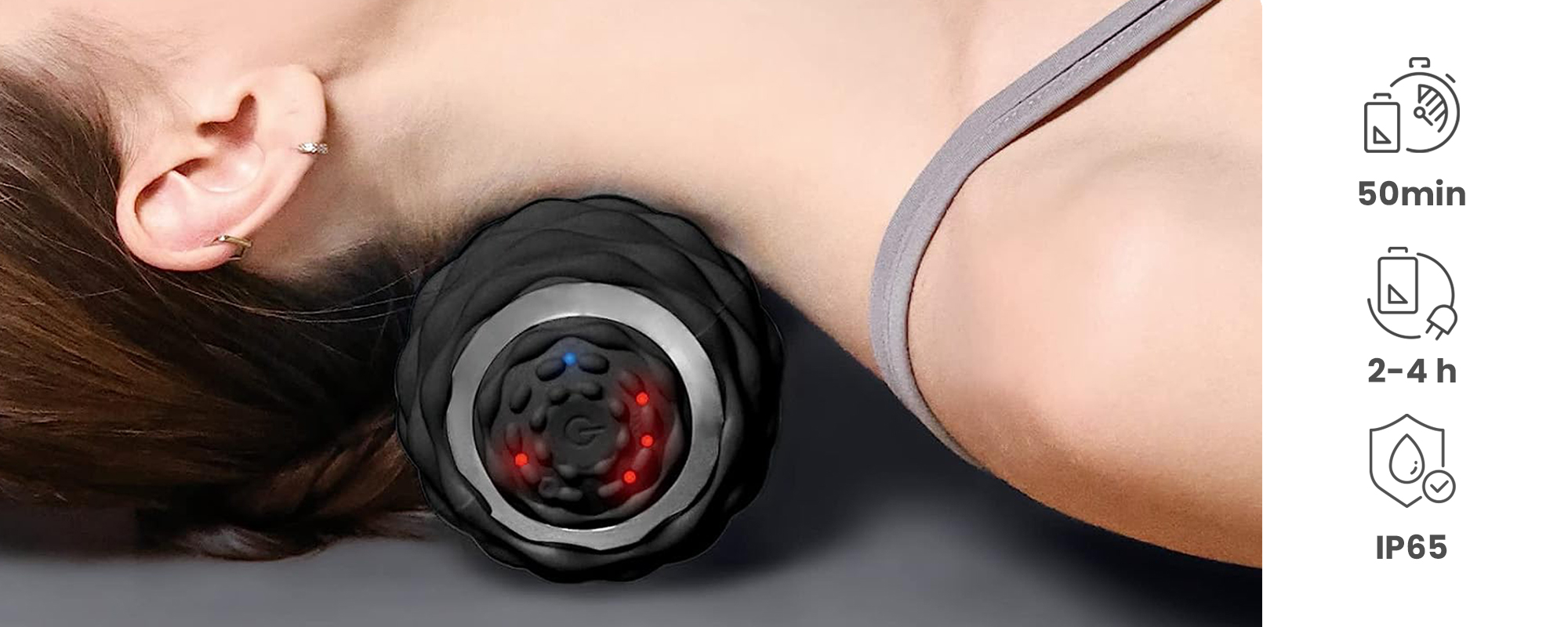 Main product features
unique vibrating massager in the shape of two connected balls ("peanut")
4 different massage programs
3 levels of intensity (2000 RPM, 4000 RPM, 6000 RPM)
made of durable ABS plastic and pleasant-to-touch silicone
provides relaxation, relaxation and relief from muscle pain
unique irregular surface allows you to reach the source of pain more effectively
stimulate muscles, improve circulation, reduce pain and tension
indoctrination standard IP65 – resistant to dust and water spray
ideal for spinal muscles
precise tension relief
intuitive one-button operation
vibrations of varying intensity soothe tense muscles, speeding up their recovery
colored LEDs indicating active massage program, charging and standby mode
ideal for both people with sedentary lifestyles and those who are physically active
supports the rehabilitation and physiotherapy process
reduces the risk of injury and post-training pain
improves joint mobility, muscle flexibility
speeds up the recovery process after injuries
charging cable included – allows easy connection to a power bank or charger
up to 50 minutes of use per charge (using max power)
charging time from 2 to 4 h
protective case included
Unique design
The Humanas duoball DB01 vibrating massage roller impresses not only with its innovative shape, but also with its unique tabs and irregular surface, which bring numerous benefits for daily therapeutic treatments. The distinctive design of the device makes the massage more effective. The irregular shapes used on the housing help to relax tensions, improve circulation, and crack down on feelings of muscle stiffness. It's also a great way to fight cellulite. During treatments, the tabs gently massage the body, stimulating it to relax and regenerate.
Relaxation, relaxation and pain relief
The Humanas duoball DB01 vibrating massager is an innovative tool that will help you relax and loosen tensions in the body. The distinctive shape of the two connected balls allows you to precisely reach the muscles, especially those of the spine. Vibration therapy adds a new quality to traditional massage, effectively improving the effectiveness of treatments.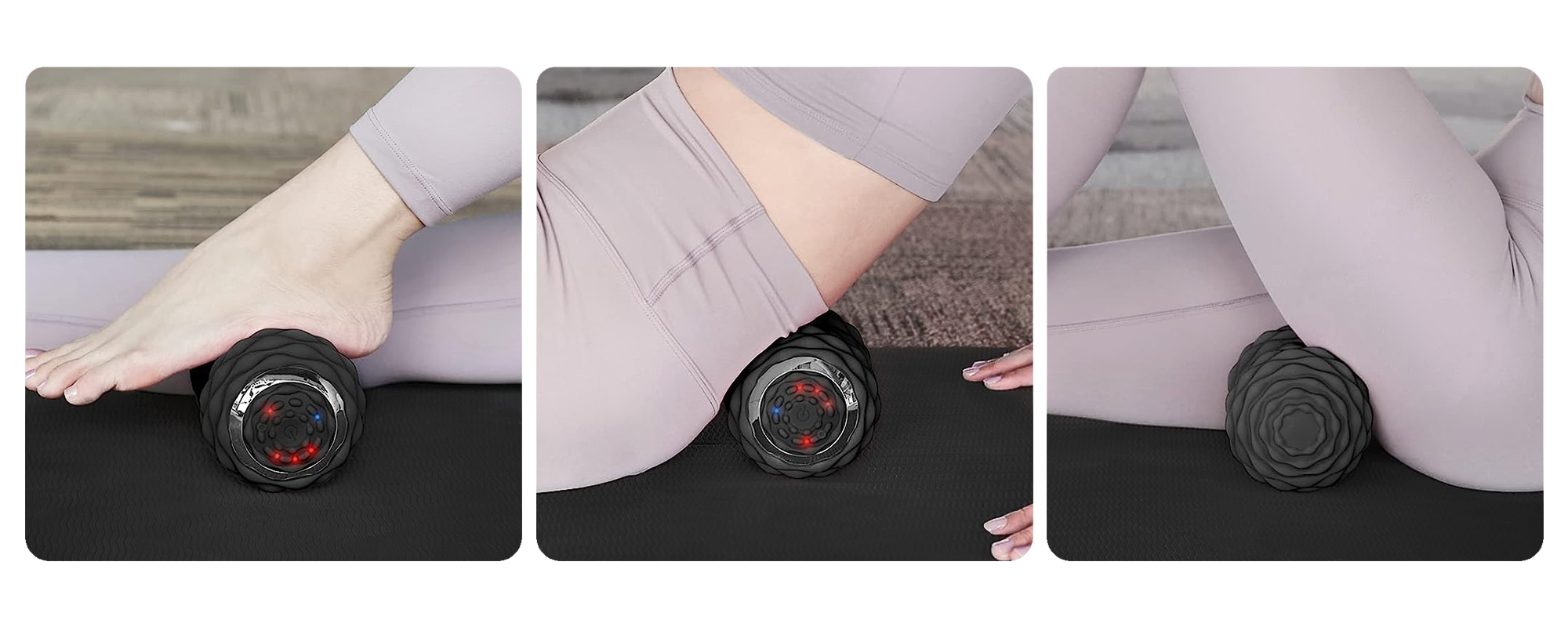 Muscle regeneration
It's natural to feel fatigue and muscle tension after an intense workout. The Humanas duoball DB01 vibration massage roller is the perfect tool for quick recovery. With gentle vibrations and the ability to apply precise pressure to tense areas of your body, you can quickly relieve feelings of stiffness and help your muscles return to optimal form.
Adjustable massage intensity
The Humanas duoball DB01 vibration massage roller offers 3 different levels of vibration intensity, so you can always adjust the treatment to your preferences and current needs. Whether you prefer a gentle vibration or a more intense massage, the device provides the flexibility to adjust to give you the maximum comfort and effectiveness of your therapy.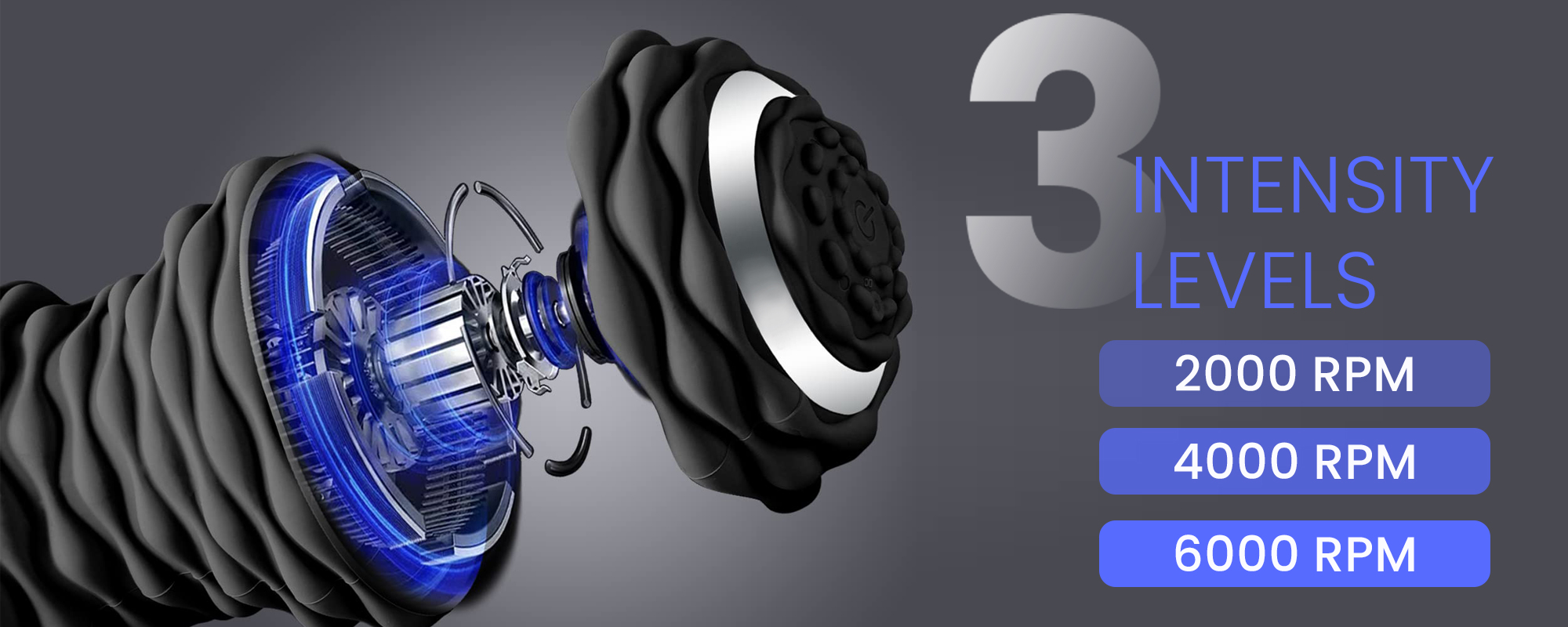 3 power levels
The advanced Humanas duoball DB01 roller offers great versatility. The intensity of the massage can be precisely adjusted to specific body parts and current therapeutic needs. The available power levels are:
Level 1

(2000 RPM) – This mode is ideal for initial relaxation of the body, especially after an active day. It provides a pleasant massage, bringing a subtle soothing sensation.
Level 2

(4000 RPM) – This level is already a much more intense stimulation. It is perfect for massaging deeper muscle tissues. You can use this mode after an intense workout.
Level 3

(6000 RPM) – The highest level of intensity, ideal for relaxing even the most resistant muscle groups. This mode offers a strong, dynamic massage that can help relieve deep tension and improve blood circulation.
Improve blood circulation
Regular use of the Humanas duoball DB01 vibration massage roller can help improve circulation and increase the elasticity of your muscles. Vibration effectively stimulates blood flow, which can speed up the process of removing toxins from your muscles and provide them with nutrients. Muscle flexibility is key to maintaining proper range of motion and preventing injury.
Norm IP65
The Humanas duoball DB01 vibration massage roller meets the IP65 standard, which confirms its resistance to harsh outdoor conditions – including dust and water. This allows you to enjoy pleasant treatments in any environment. Whether you go for a relaxing walk in the rain or want to take a refreshing shower, you can count on the Humanas duoball DB01 massager.
High build quality
The Humanas DB01 vibrating massage roller is made of high-quality ABS plastic and tactile silicone, which guarantees durability and comfort. Thoughtful arrangement of delicate tabs on the surface of the massager is a guarantee of pleasant sensations and effective impact on your body. The simplicity of the design also goes hand in hand with easy cleaning. After the massage is over, simply rinse the device under running water.
Relaxation at home
There is nothing better than blissful relaxation after a long day at work. The Humanas duoball DB01 vibrating massage roller will allow you to enjoy a pleasant massage without having to visit a spa salon. Whether you need a moment of relaxation after many hours at your desk or want to prepare for a restful night's sleep, this massager will be the perfect companion for relaxation treatments at home.
5 massage sessions on a single charge
The Humanas duoball DB01 vibrating massage roller offers up to 50 minutes of continuous use on a single charge, using the most intense mode. With this performance, you can perform 5 ten-minute therapy sessions without having to reach for the charger. Refilling the device's energy is simple and convenient. A cable is included that allows you to connect to various power sources – including a power bank or smartphone charger.
Your body will thank you
To massage your aching muscles, simply place the massager on the floor or stand with it against a wall. Then choose the appropriate mode for your current therapeutic needs. By pressing the device against the surface on which you exercise, you can further control the intensity of the massage. Feeling stronger pain in a particular area? Nothing simpler – just increase the pressure to enjoy relief after a while. For best results, it is worth performing the massage in several series, which further increases its effectiveness.
Specification
model: Humanas duoball DB01
color: black
materials: silicone, plastic
waterproof standard: IP65
number of operating modes: 4
Massage intensity (revolutions per minute):

level 1 – 2000 RPM
level 2 – 4000 RPM
level 3 – 6000 RPM

battery: 2500 mAh
working time per charge: 50 minutes (max power)
charging time: 2 to 4 h
dimensions: 7 x 17 cm
weight: 540 g
Kit contents
Humanas duoball DB01 vibration massage roller – black
charging cable
eti