Description
Large, elegant mirror Humanas HS-HM01, equipped with 12 energy-saving LEDs will help you perform daily or evening makeup. Proper lighting is essential in the work of every make-up artist. Now you too can feel like a professional in your home beauty salon. The mirror is equipped with a touch panel that allows you to adjust the power and color temperature of light.
The perfect light
Ergonomic arrangement of lamps around the mirror is a proven way to perfect makeup. This solution, which has been used by professionals for years, can also be successfully used during home beauty treatments. Twelve LEDs hidden under the milky diffusers are a guarantee of beautiful and even lighting of the face.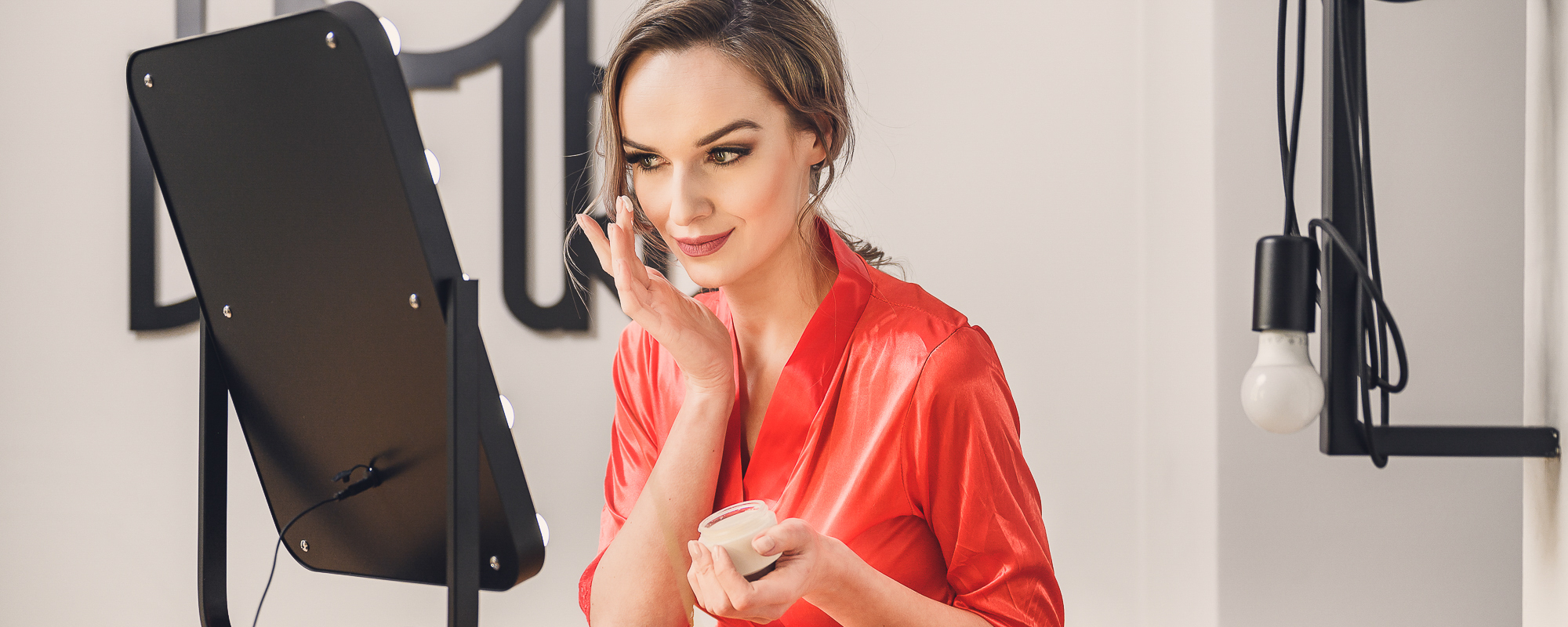 Adjustable power
You can adjust the power of the built-in LEDs to suit your needs. High power works well on a sunny day, while lower power after dark or in a dark room. The perfectly balanced light does not glint in the eyes, which greatly facilitates work on the make-up.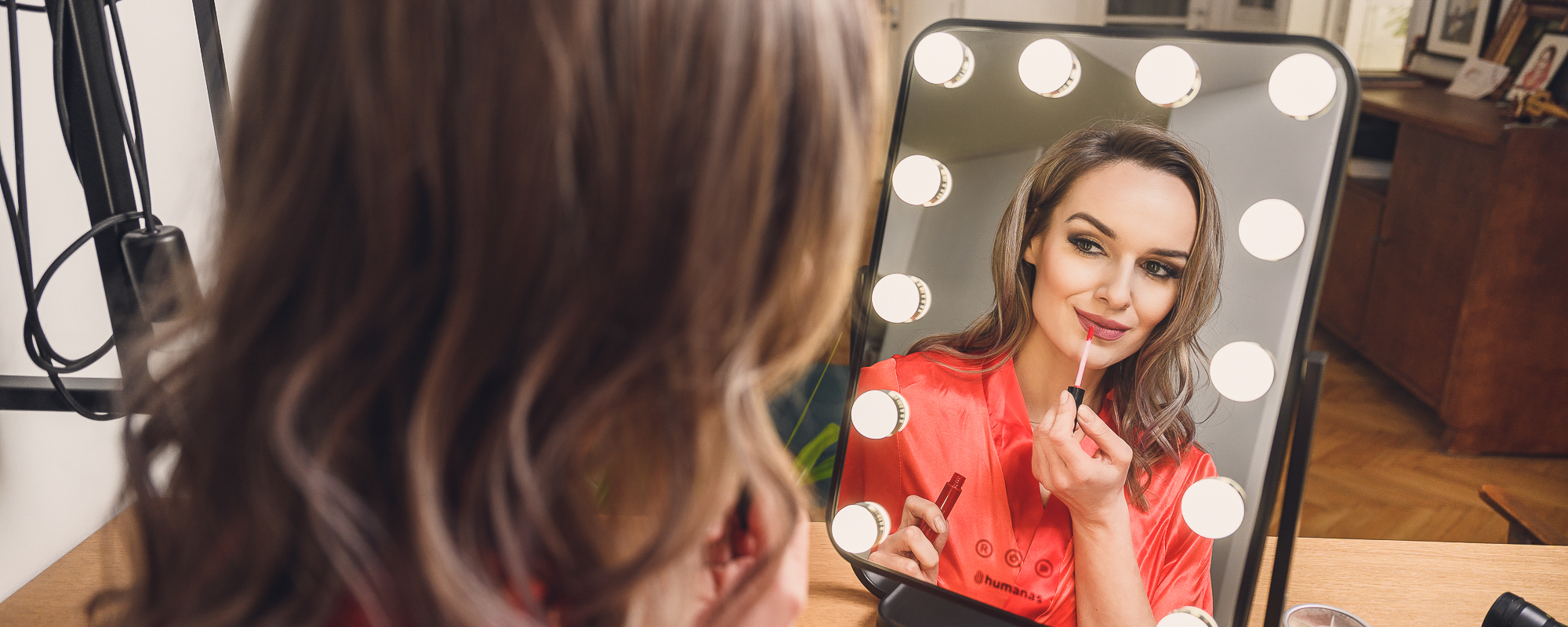 Light for every occasion
Depending on the time of day and the effect you want to achieve, you can illuminate your face with cold, neutral or warm light. Adjustable color temperature lets you choose the color of the light to perfectly reflect your skin tone and makeup.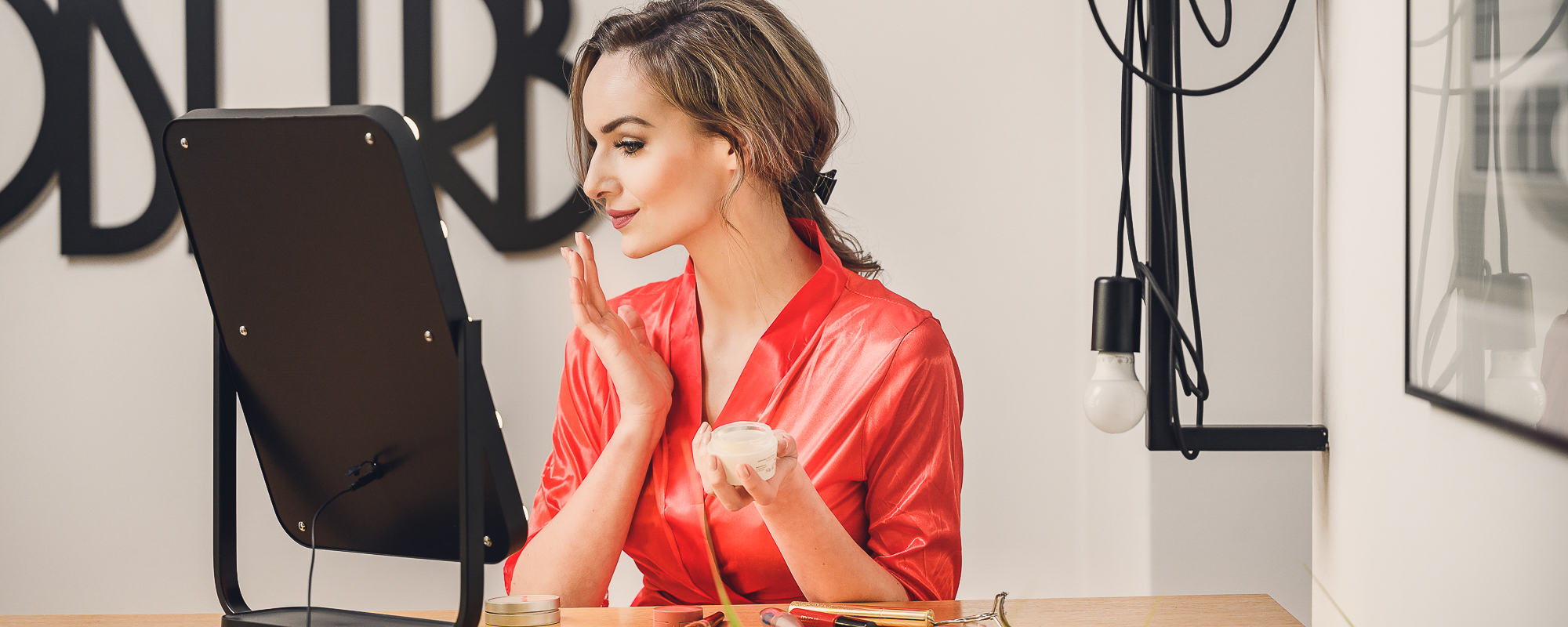 Intuitive operation
Changing the color and strength of light is trivial. Touch panel integrated into the surface of the mirror consists of three buttons. Thanks to them, we can quickly and smoothly switch between modes.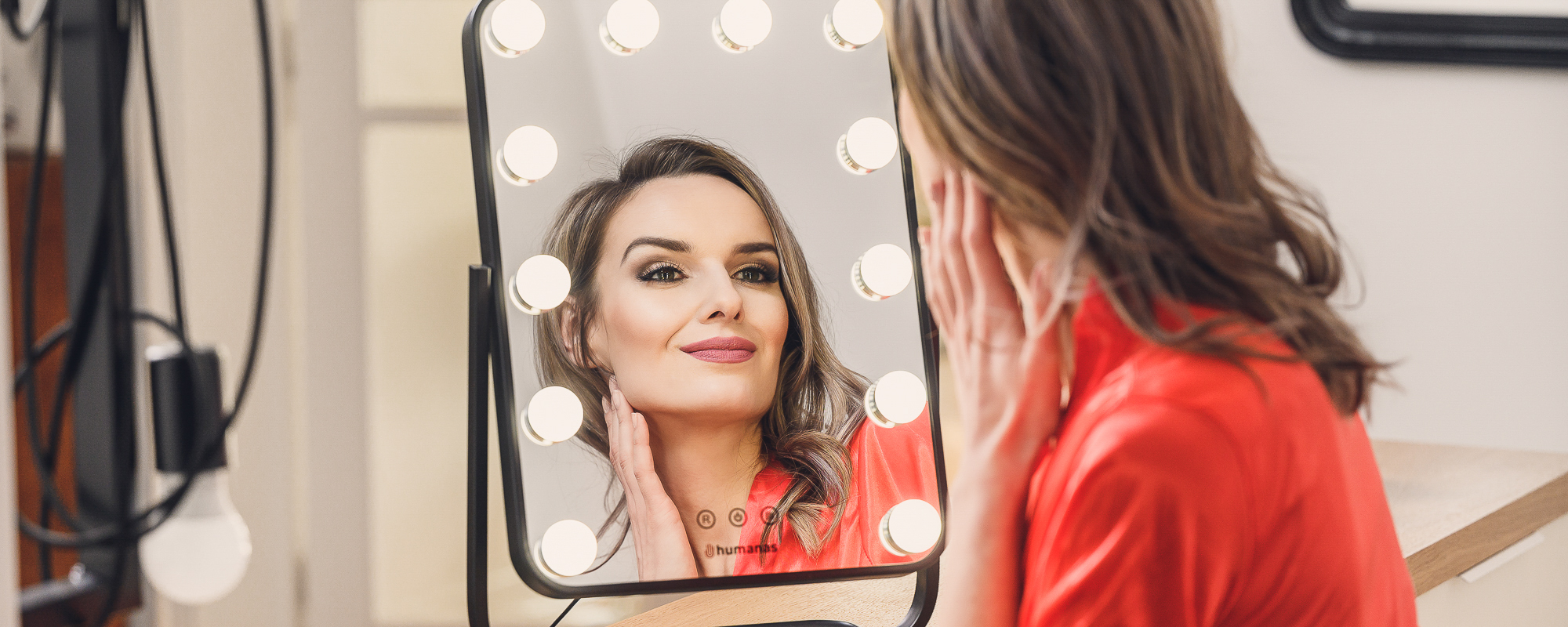 Comfort and functionality
A large mirror in a metal frame that can be rotated 360° and set at an angle convenient for you. A sturdy stand holds the top securely, and there's room for a few small makeup accessories, too.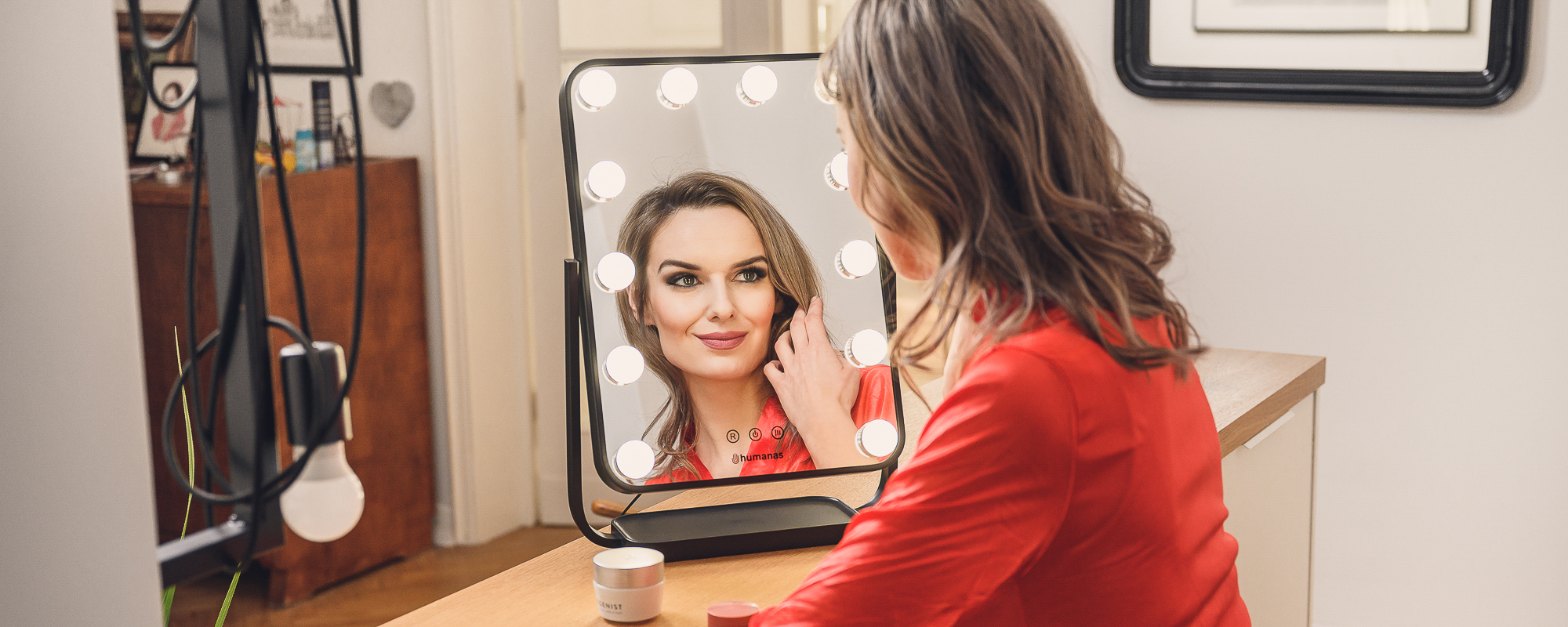 Stable power source
Embedded in the mirror energy-saving LEDs are powered by an AC adapter, which will connect to a standard outlet found in every home.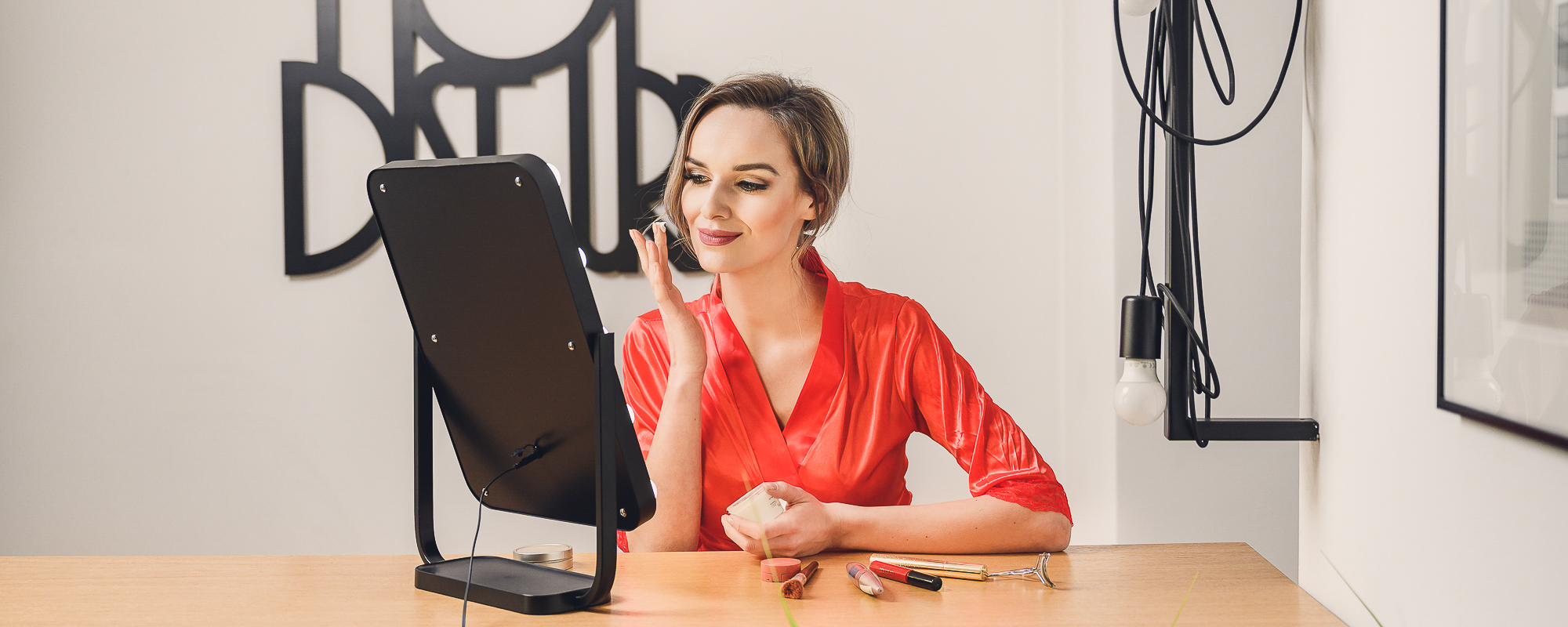 Elegant look
Sleek, metal construction in a classic black color and designer LED lights will make our mirror perfectly fit into the decor of a modern apartment. Humanas HS-HM01 is an elegant and useful gadget, which is a perfect complement to the home dressing table.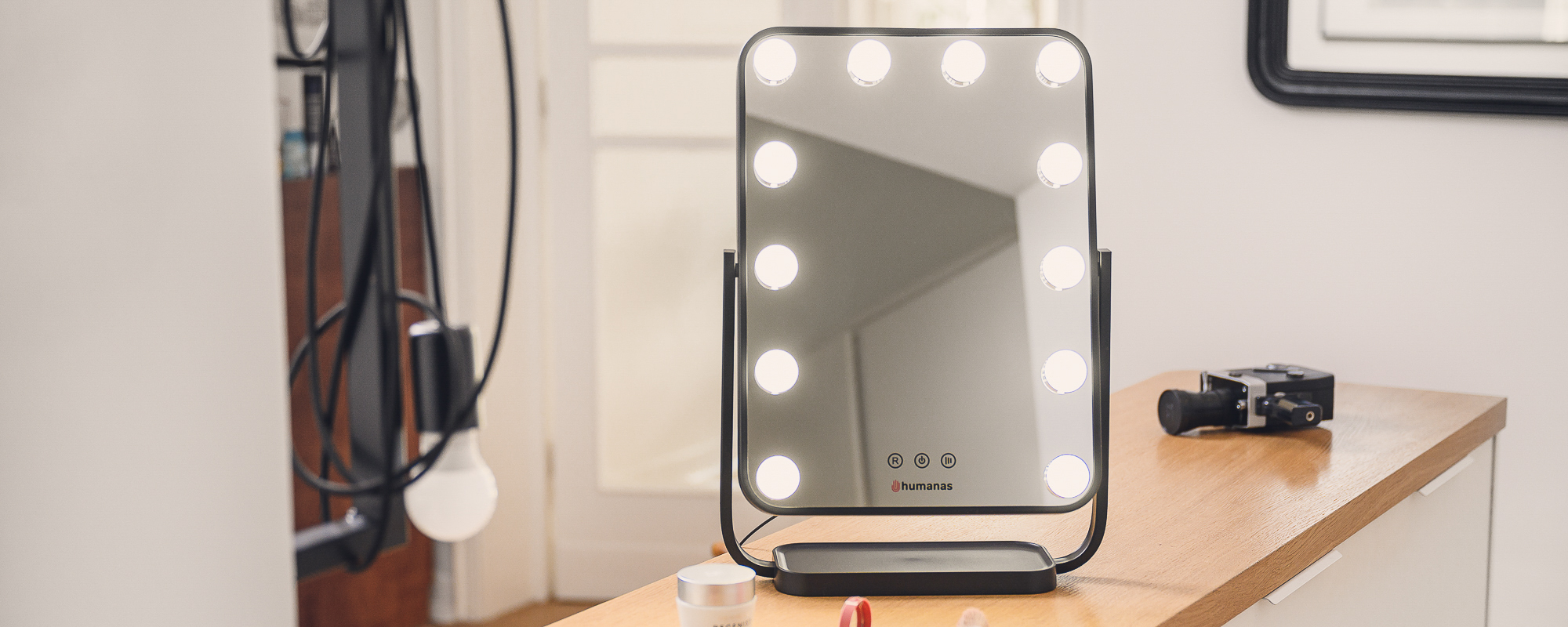 Specification
model: Humanas HS-HM01
color: white
material: metal, glass, plastic
color temperature: warm / neutral / cold (3500 – 6500 K ± 500 K )
luminous flux: 24 – 26 lm
power supply: mains
power supply port: DC 12 V / 1 A
dimensions: 32.8 x 47.4 x 11 cm
weight: 2.5 kg
functions:
backlight power adjustment
color temperature adjustment
Adjusting the angle of the mirror
Contents of the set
Humanas HS-HM01 make-up mirror with LED lighting – white
power supply
instruction manual