Description
Humanas HS-HM04 mirror with LED lighting is not only a great tool for working with makeup, but also a beautiful decoration that will find its place in any interior. It is equipped with a touch panel that allows for quick and convenient power adjustment. In order to perfectly match the light to the environment, time of day or your unusual make-up ideas, 3 levels of color temperature – warm, cold and neutral – were also taken care of. The golden metal finish is perfect for both home and makeup studios, and the LED panel made of milky plastic will provide soft light to optimally illuminate your face.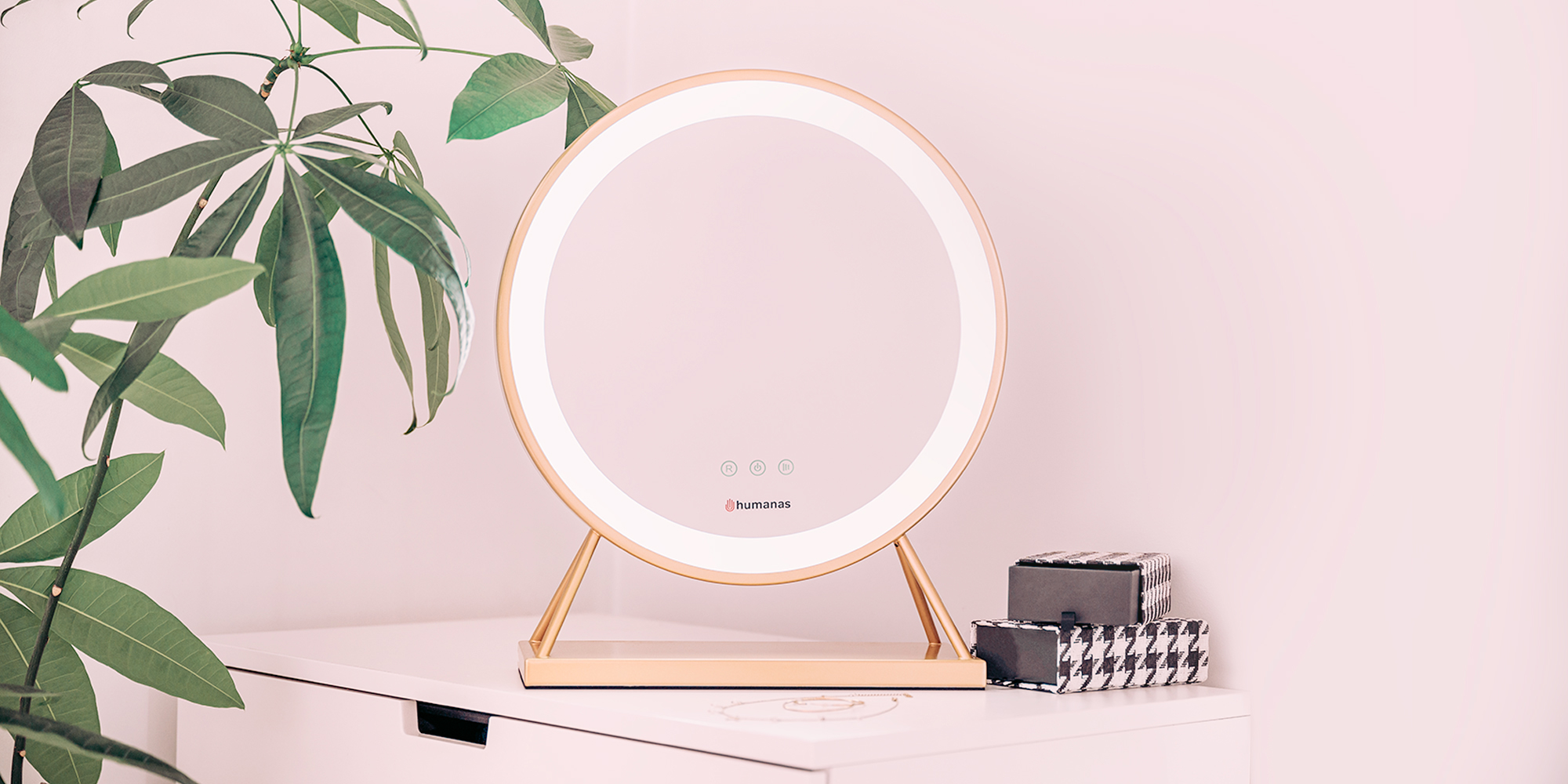 Main Product Features
round metal makeup mirror in gold color
provides optimal lighting conditions when applying makeup or make-up
Diameter of the mirror panel of 40 cm
Mirror has a diameter of 40 cm
application of energy-saving LEDs with long lifespan
the housing of the LED panel
Housing of the LED panel made of milky plastic, which additionally softens the light
LEDs providing light to the mirror
LED light for an even distribution of light on the face
Touch buttons
contact buttons integrated into the surface of the mirror
Adjustable light output
3 color temperature options of light: warm, cold and neutral
provides a luminous flux of 24-26 lumens
application of high quality ecological mirror with a thickness of 3 mm
the use of an ecological mirror with a thickness of 3 mm
base protected from the bottom with soft felt
power supply (DC 12 V / 1 A) included
The perfect make-up
The ergonomic positioning of the LED panel around the Humanas HS-HM04 mirror is a proven way to perfect make-up. This solution, which has been used by professionals for years, can also be successfully used during home beauty treatments. LED diodes hidden under the milky material guarantee even and soft lighting of your face.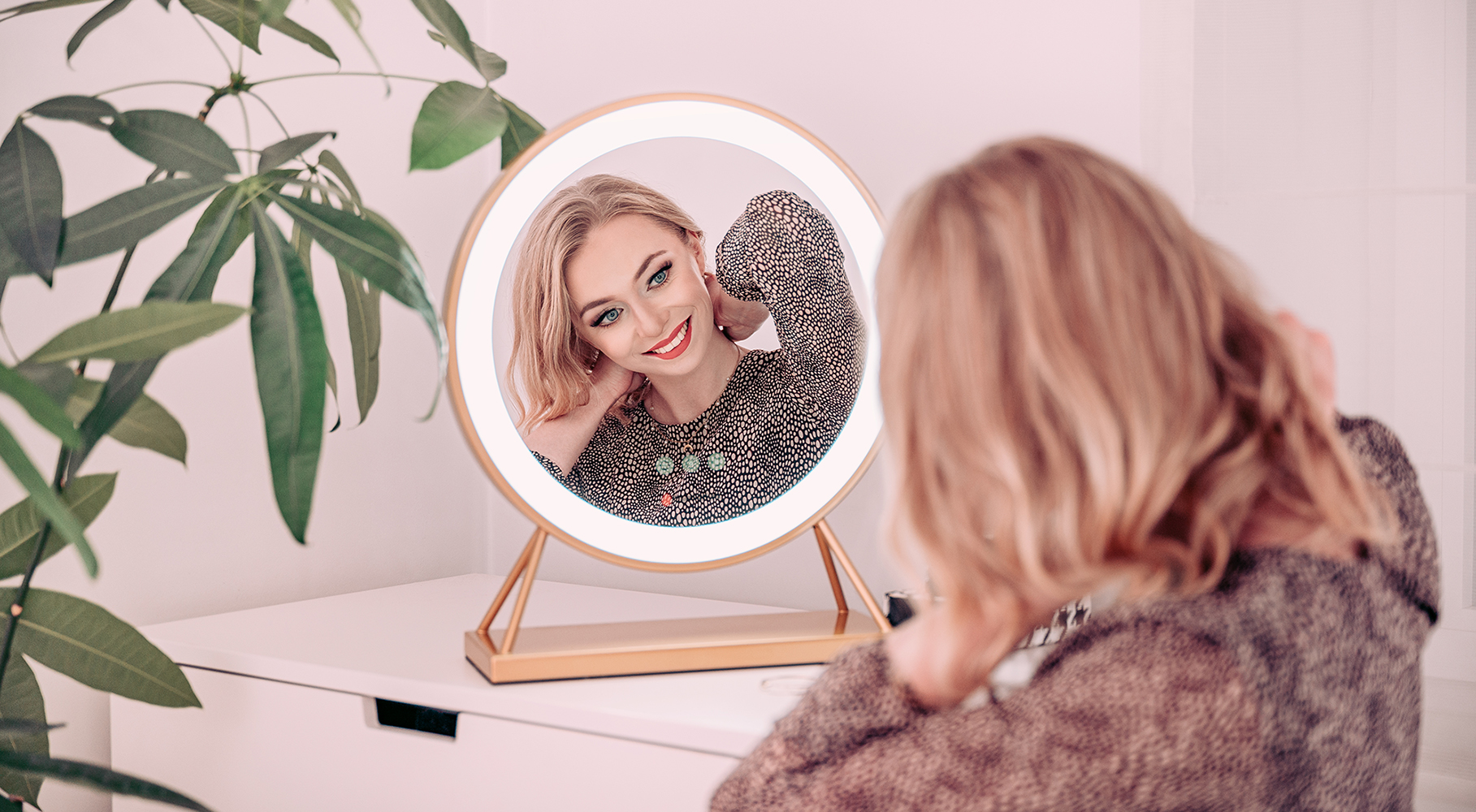 Exceptional design
Want to turn your dressing room or bedroom into a professional makeup space? Are you looking for a round mirror with LED lighting, which will ensure comfortable and convenient work in the make-up room or beauty salon? Or maybe you have an idea for an unusual use of Humanas HS-HM04 as a decoration for your home studio, where you take photos or record movies? The golden mirror will prove itself wherever style and chic counts! What is important, out of concern for your furniture, the metal base has been secured from the bottom with a soft felt. Moving the mirror on the desk or dressing table will be completely safe for the delicate surfaces!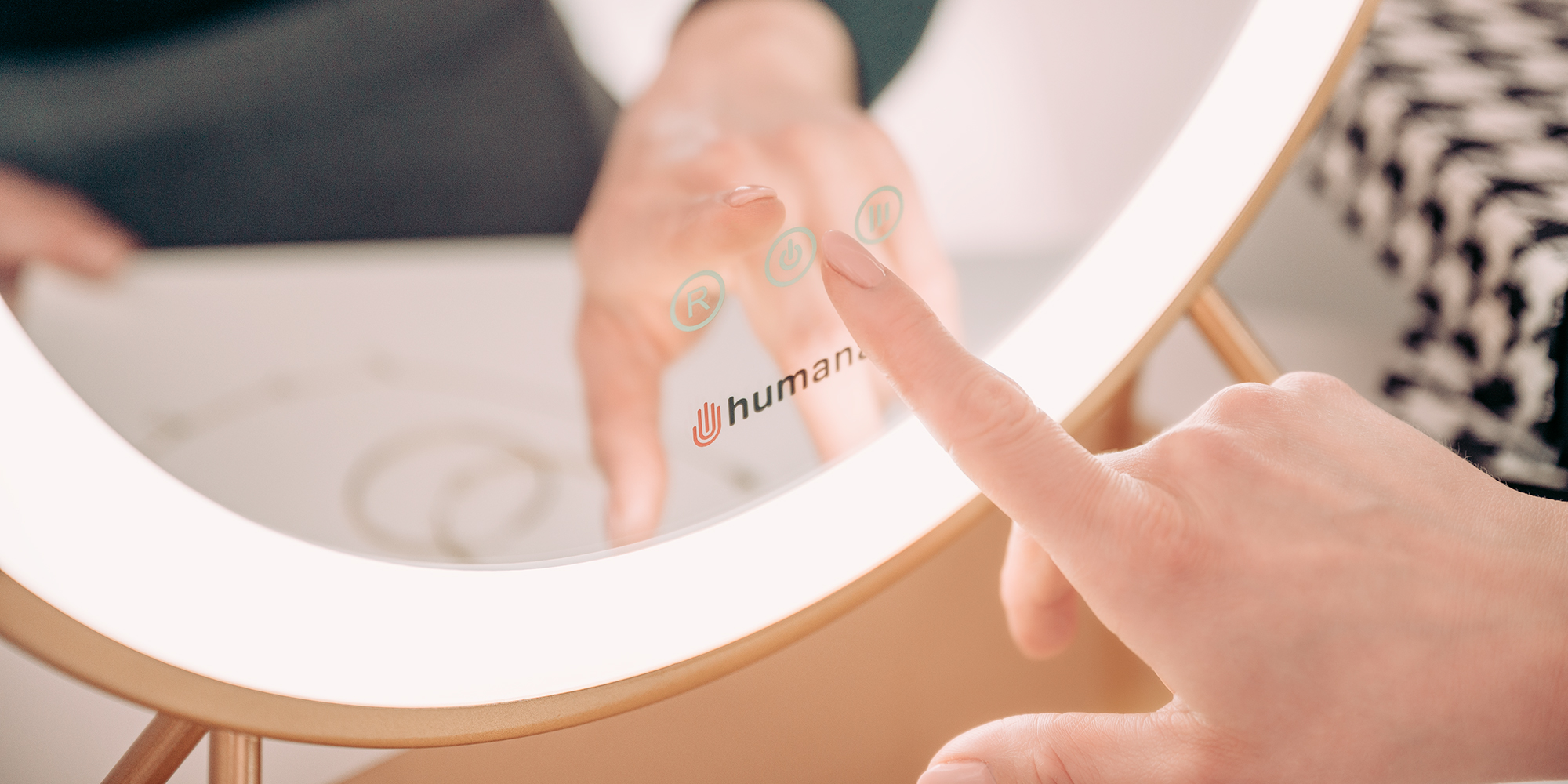 Easy operation
Convenient operation of the Humanas HS-HM04 mirror is ensured by a touch panel integrated into the glass cover. Thanks to the use of separate buttons for adjustment of power and color temperature, control of the light parameters is even easier! Just a short touch or hold your finger on the indicated spot to perfectly adjust the device to your needs.
Three modes of operation
The Humanas HS-HM04 mirror offers 3 different color temperature levels. Depending on the time of day and the characteristics of the makeup you want to achieve, you can illuminate your face with cold, neutral or warm light. This allows you to better match your makeup to your specific needs. Different color temperature variants allow you to precisely match the color of the light to your skin tone and the characteristics of the cosmetics you use. Thanks to this your make-up will be even more professional!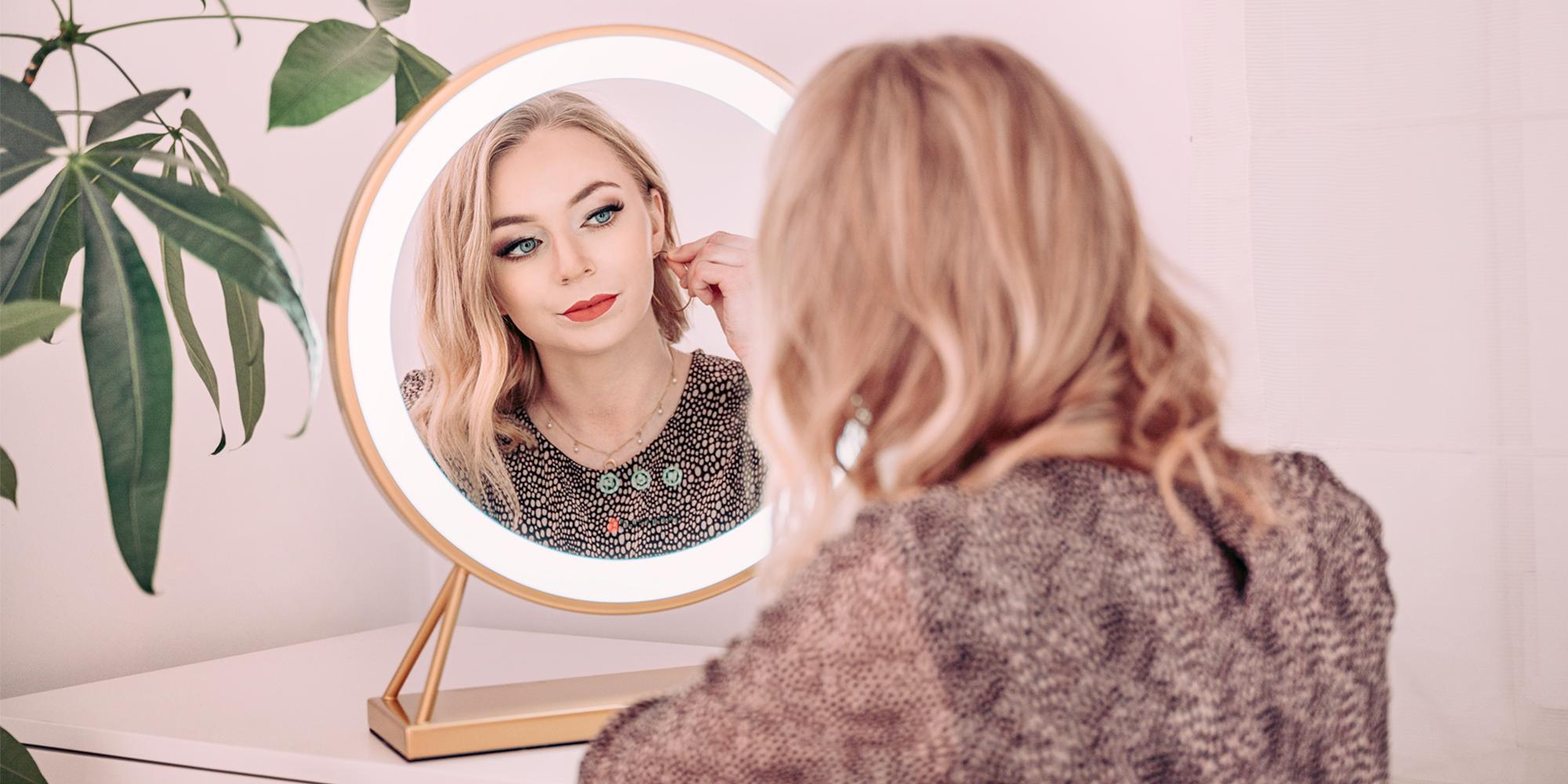 Power adjustment
Depending on the time of day and the lighting conditions found, you can independently adjust the power with which the LEDs closed under the milky diffuser shine. Just use the touch button, which is integrated into the surface of the mirror. High light intensity is perfect for a sunny day, while lower power is ideal for makeup done after dark or in a dark room. Well-balanced light does not glaring in the eyes, which will definitely facilitate your work on the makeup.
Gift idea
Do you want to surprise someone close to you with a practical gift that will perfectly fit into the space of a stylish apartment or house? Or maybe you know someone, who dreams about a professional make-up mirror? Humanas HS-HM04 is an unusual gift idea for all fans of good design and make-up art!
Specification
model: Humanas HS-HM04
color: gold
Material: metal, glass, plastic
Luminescent flux: gold
Model: Humanas HS-HM04
luminous flux: 24 – 26 lm
luminous color temperature: warm / neutral / cold (3500 – 6500 K ± 500 K)
power supply: mains
power port: DC 12 V / 1 A
diameter of mirror: Ø 40 cm
Dimensions: 40 x 48 cm
Size of stand: Ø 40 cm
Dimensions: Ø 48 cm
base dimensions: 14 x 35 x 2.4 cm
Weight: 2310 g
Kit Content
Humanas HS-HM04 makeup mirror with LED lighting
Power supply