Description
Make-up mirror Humanas HS-HM05 with LED lighting is an ideal choice for those who deal with make-up or make-up. Its original shape will successfully find its place both at home and in professional beauty salons. The mirror will be a great decoration of a modern interior, as well as an ideal tool to facilitate the work on makeup. The Humanas HS-HM05 model is equipped with a touch panel that enables quick and comfortable power adjustment. In order to perfectly adjust the light to the environment, time of day or your unusual make-up ideas, 3 levels of color temperature – warm, cold and neutral – were also provided. Stability is provided by a metal stand on which you can place the most necessary cosmetics.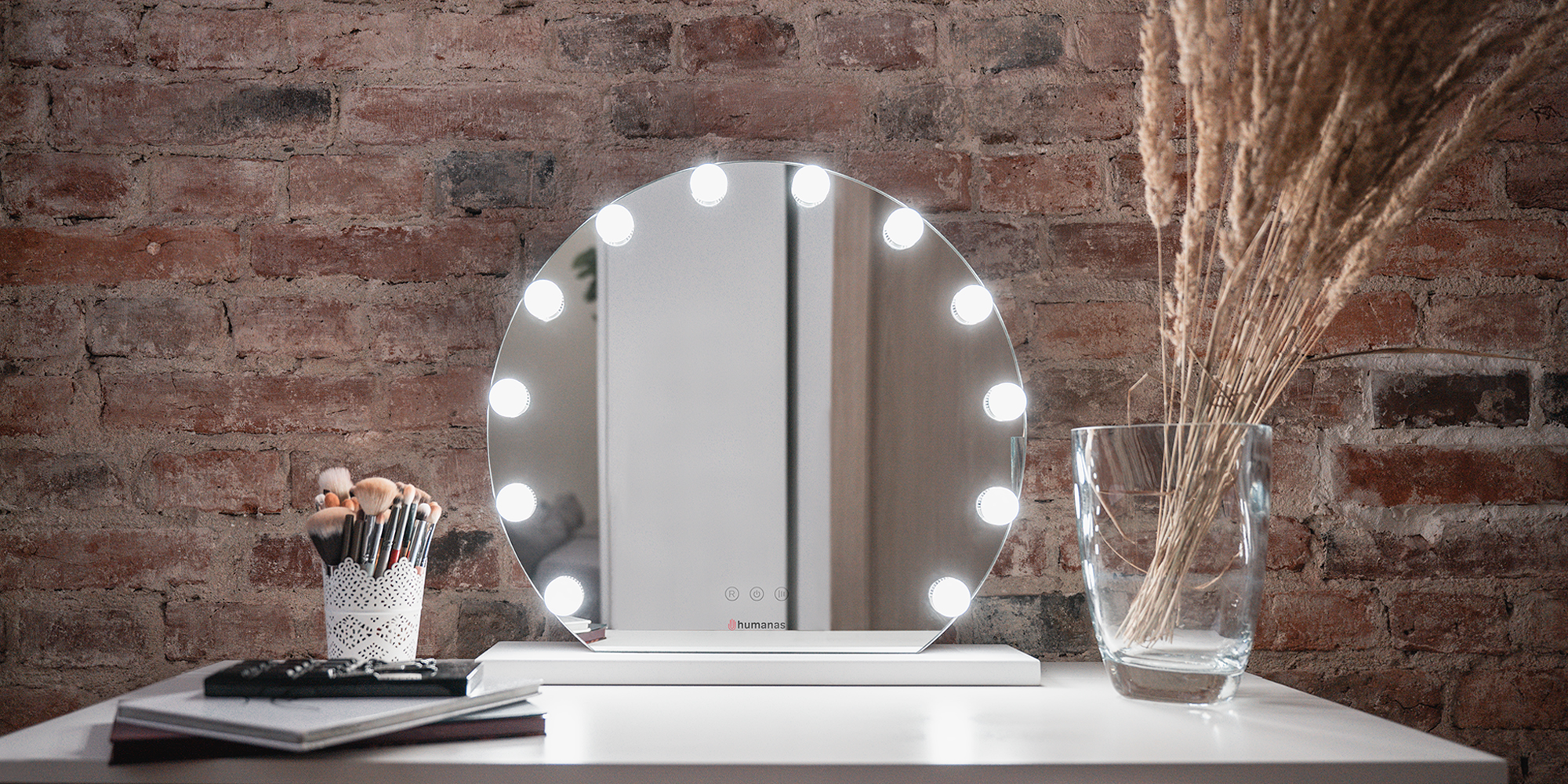 Main Product Features
Makeup mirror measuring 55cm by 45cm
ideal for makeup and make-up work
equipped with 12 long-life energy-saving LEDs
ergonomic lamp positioning for even light distribution on the face
LEDs enclosed in milky light diffusers
provides a light output of 60-80 lumens
contact buttons integrated into the surface of the mirror
contact buttons can be used with the mirror
Adjustable light output
3 variants of light color temperature: warm, cold and neutral
use of high quality ecological mirror with thickness of 4 mm
Metal white and white light sources
metal white stand with dimensions 50 x 12 x 2.5 cm
power supply (DC 12 V / 2 A) included
Ideal-shape
Create a professional makeup station in your home! If you are looking for an original mirror with LED lighting that will ensure comfortable and convenient work in the make-up room or beauty salon, the Humanas HS-HM05 model will be the perfect choice. Not only will it provide the right conditions for makeup application, but it will also become an ornament of your dressing table or desk. The white metal base and oval shape of the mirror, bevelled at the bottom, will prove useful wherever style and modernity count!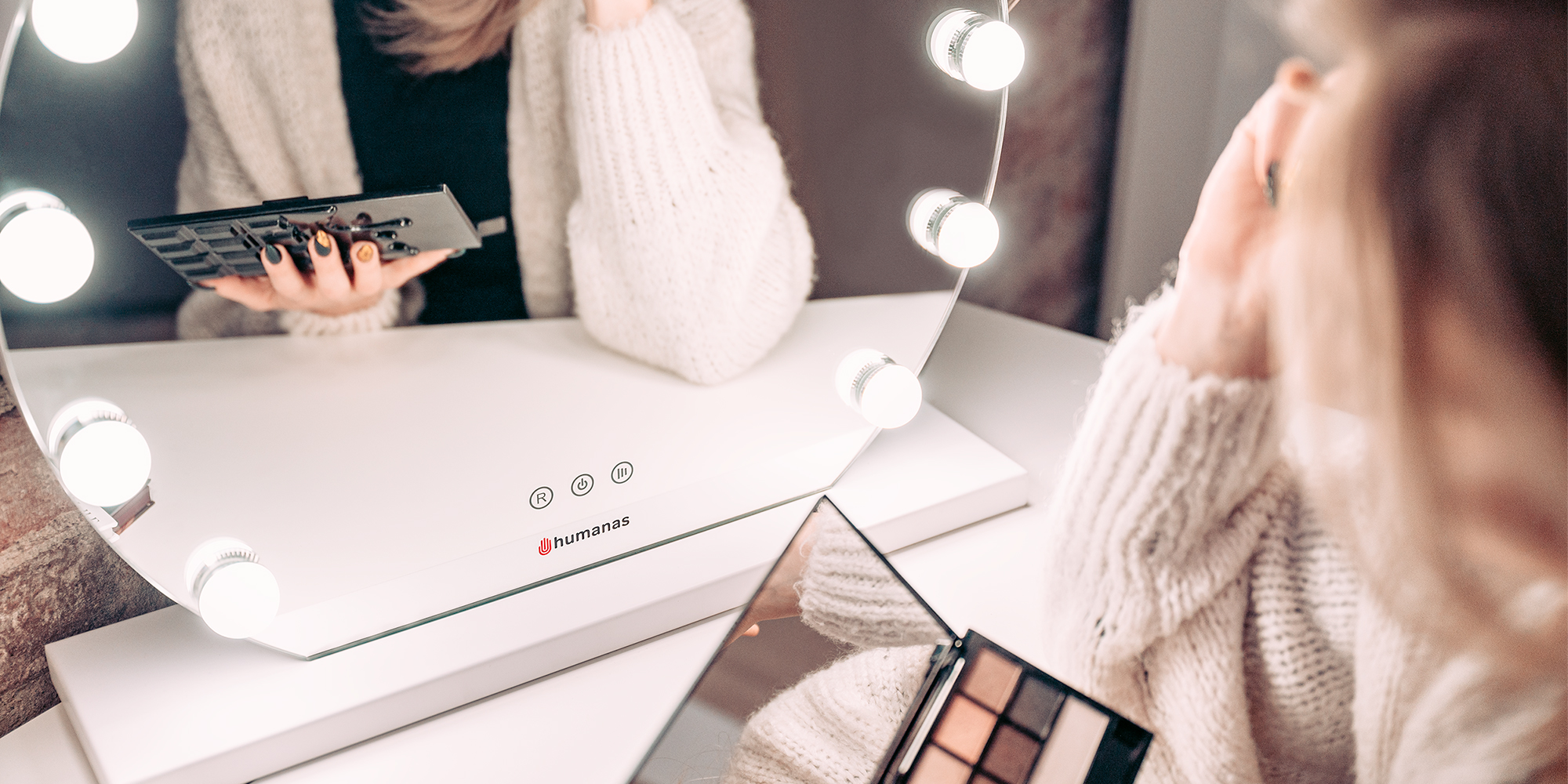 Hot, neutral or cold light
The Humanas HS-HM05 mirror allows you to choose one of 3 color temperature levels. Depending on the time of day and your ideas, you can illuminate your face with warm, neutral or cold light. This makes it even better for you to adjust your makeup to your specific needs. The different color temperature options allow you to precisely match the color of the light to your skin tone and the characteristics of your chosen cosmetics. This will allow you to achieve a professional makeup at home!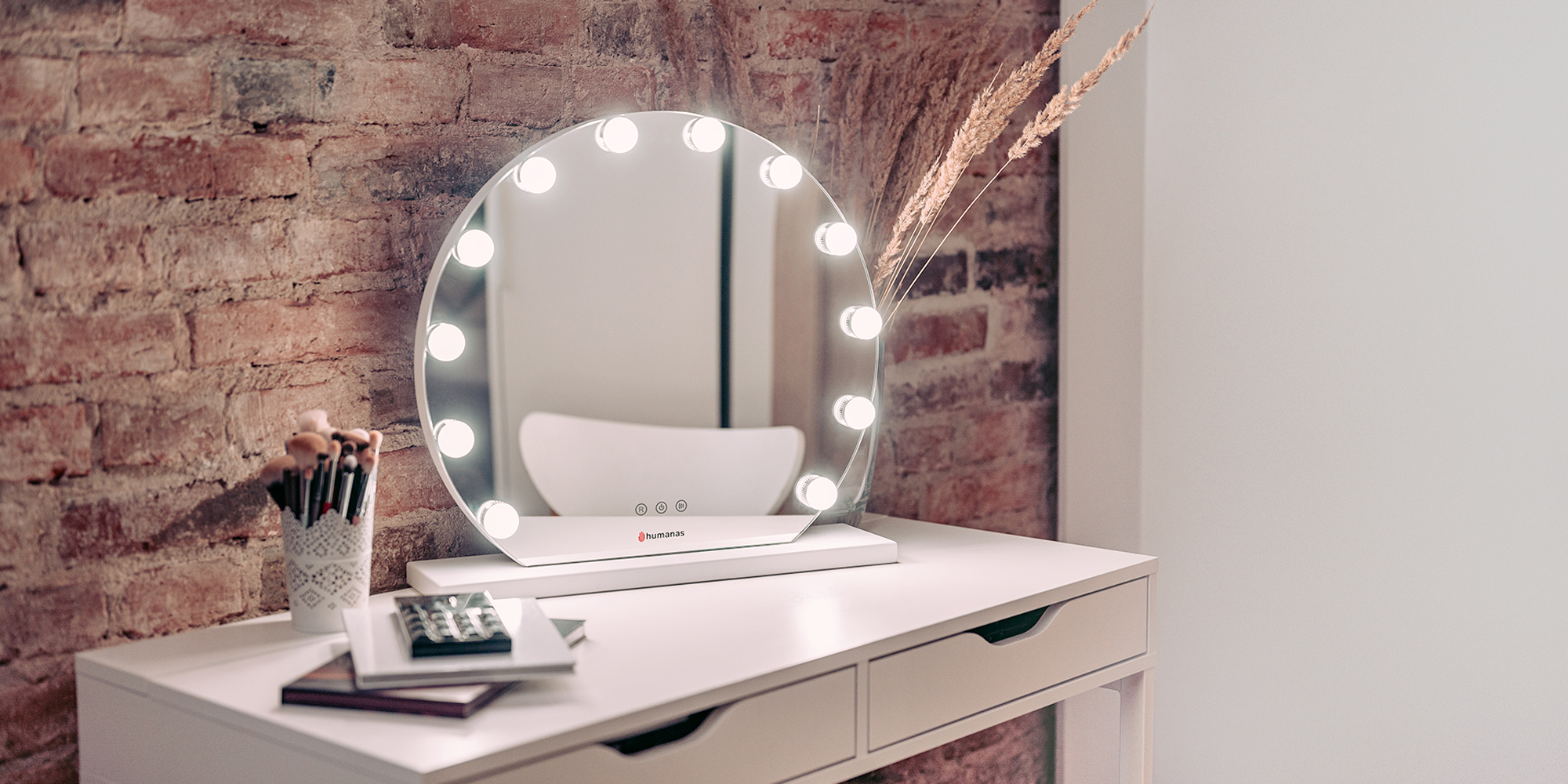 Power adjustment
Depending on the time of day and the lighting conditions found, you can independently adjust the power of the LEDs enclosed in milk diffusers. Just use the touch button, which is integrated into the surface of the mirror. High light intensity is perfect for a sunny day, while lower power is ideal for makeup done after dark or in a dark room. Well-balanced light does not glaring in the eyes, which will definitely facilitate your work on the makeup.
Optimal light parameters
Ergonomic arrangement of lamps around the mirror is a proven way to perfect and polished makeup. This solution, which has been accompanying professionals from the "beauty" industry for years, can be successfully used at home, in beauty salons and make-up rooms. Twelve LED diodes hidden under milk diffusers guarantee beautiful and even lighting of the face. Choosing HS-HM05 Humanas mirror you can be sure that your make-up will be perfect!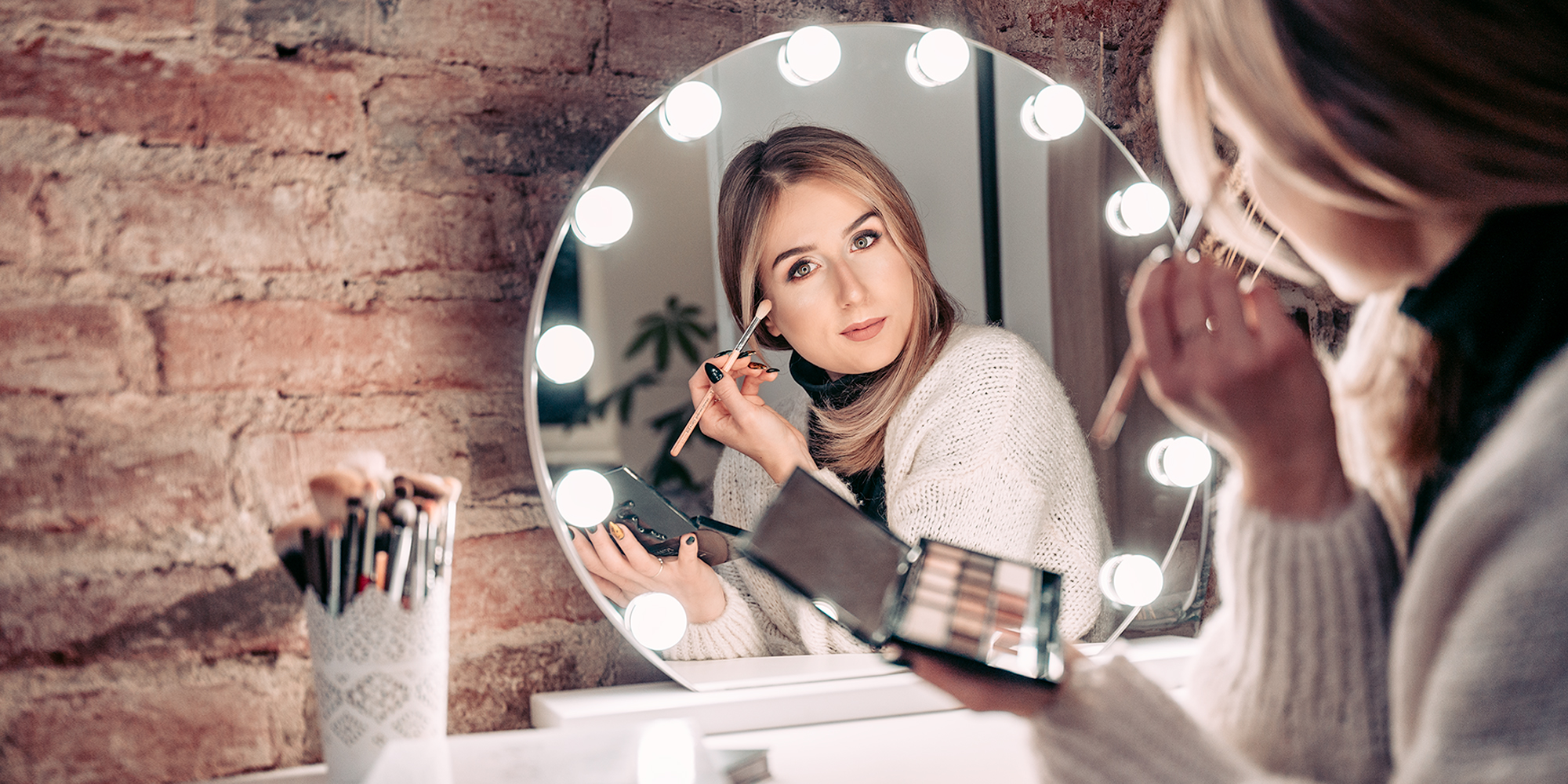 Easy operation
Convenient operation of the Humanas HS-HM05 mirror is provided by a touch panel integrated into the glass shell. Thanks to the use of separate buttons for adjustment of power and color temperature, control of the light parameters is even easier! With just a short touch or holding your finger on the indicated spot, you can perfectly adjust the device to your needs.
Style gift
Your daughter dreams of a professional makeup mirror that will allow her to develop her passion? Or maybe you want to surprise another close person with a practical gift, which will perfectly fit into the space of a modern apartment or house? The Humanas HS-HM05 mirror is an unusual gift idea for all the fans of good design and make-up art!
Specification
model: Humanas HS-HM05
color: white
Material: metal, glass, plastic
LEDs: 12
luminous flux: 60 – 80 lm
light color temperature: warm / neutral / cold (3500 – 6500 K ± 500 K)
power supply: mains
power port: DC 12 V / 2 A
mirror dimensions: 45.5 x 50 cm
Base dimensions: 50 x 12 x 2.5 cm
Weight: 3340 g
Kit Content
Humanas HS-HM05 makeup mirror with LED lighting
Power adapter
Power supply