Description
Humanas HS-ML01 makeup mirror is an ideal tool for all lovers of functionality and stylish design. Powerful LEDs ensure even distribution of light on the face, eliminating shadows and glare. The Humanas HS-ML01 model also features an independent warm backlight. This will make the mirror a decoration of any place. You will also successfully use it as a ring light, which will work well for "beauty" photography or when recording vlogs and videos published on TikTok. Equipped with a 1,200 mAh battery, the mirror does not need to be plugged in and can be charged via a universal USB-C port. Humanas HS-ML01 is not only a practical makeup tool, but also a stylish decoration that will add charm to your surroundings.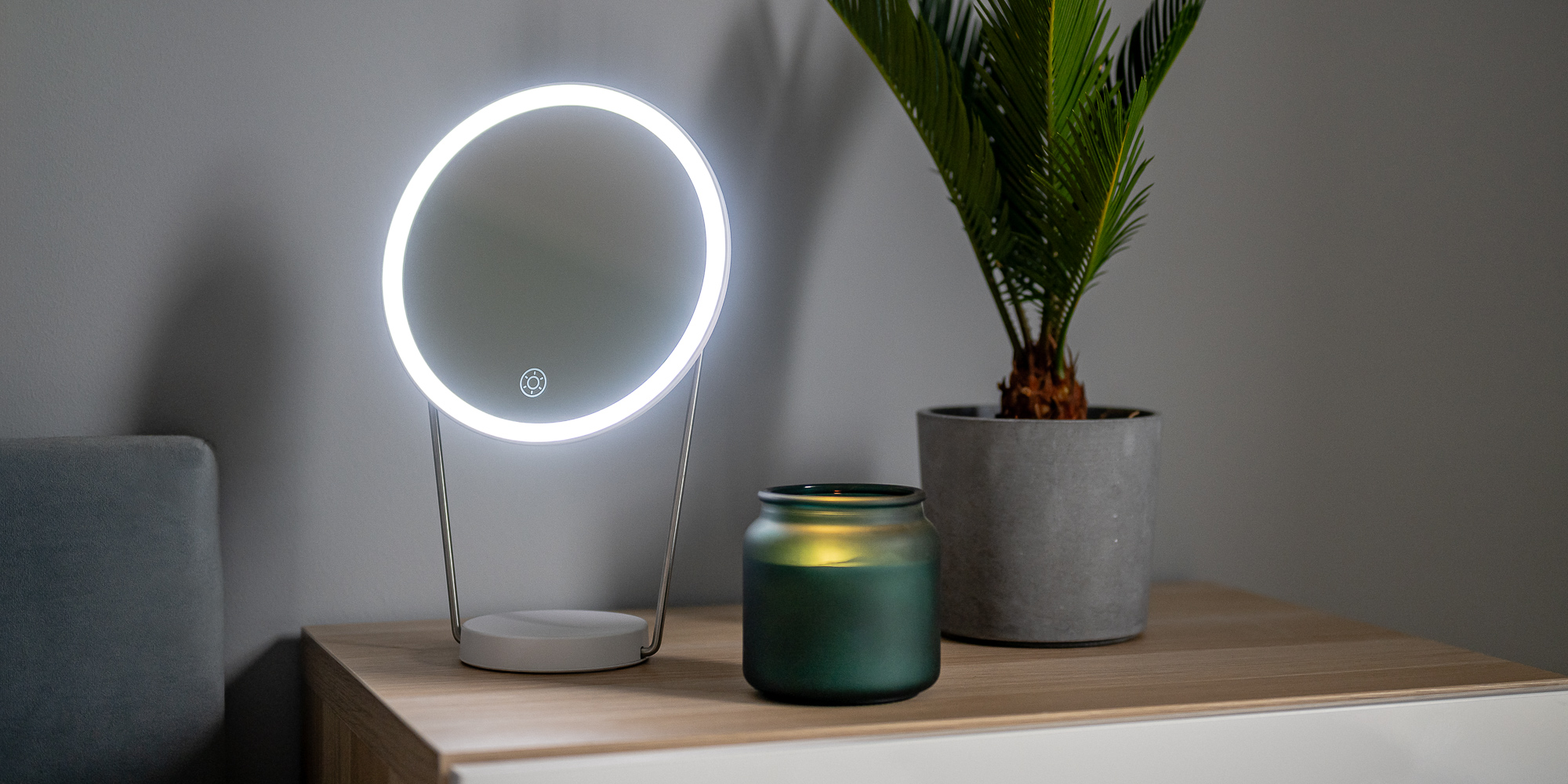 Main Product Features
round makeup mirror in white
provides optimal lighting conditions when applying makeup or makeup
powerful LEDs for even light distribution on the face
possibility of stepless adjustment of light power
independent mirror backlighting
rear mirror illumination activated by a stylish string switch
possibility to use the mirror as a designer lamp
can also act as a ring light used when taking photos and videos
does not require plugging into an outlet (equipped with a 1200 mAh battery)
charging via universal USB-C port (cable included)
mirror panel diameter of 20 cm
adjustable mirror angle of 180º
casing of the LED panel made of milky plastic, which further softens the light
contact button integrated into the surface of the mirror
innovative stand installation system (can be quickly removed)
mirror without stand can be hung on a hanger or hook
base protected on the underside with soft felt
Perfect make-up
The ergonomic arrangement of the LED panel around the Humanas HS-ML01 makeup mirror is a proven way to perfect makeup. The solution, which has been accompanying professionals for years, will also work successfully during home beauty treatments. LEDs hidden under the milky plastic are a guarantee of even and soft illumination of the face.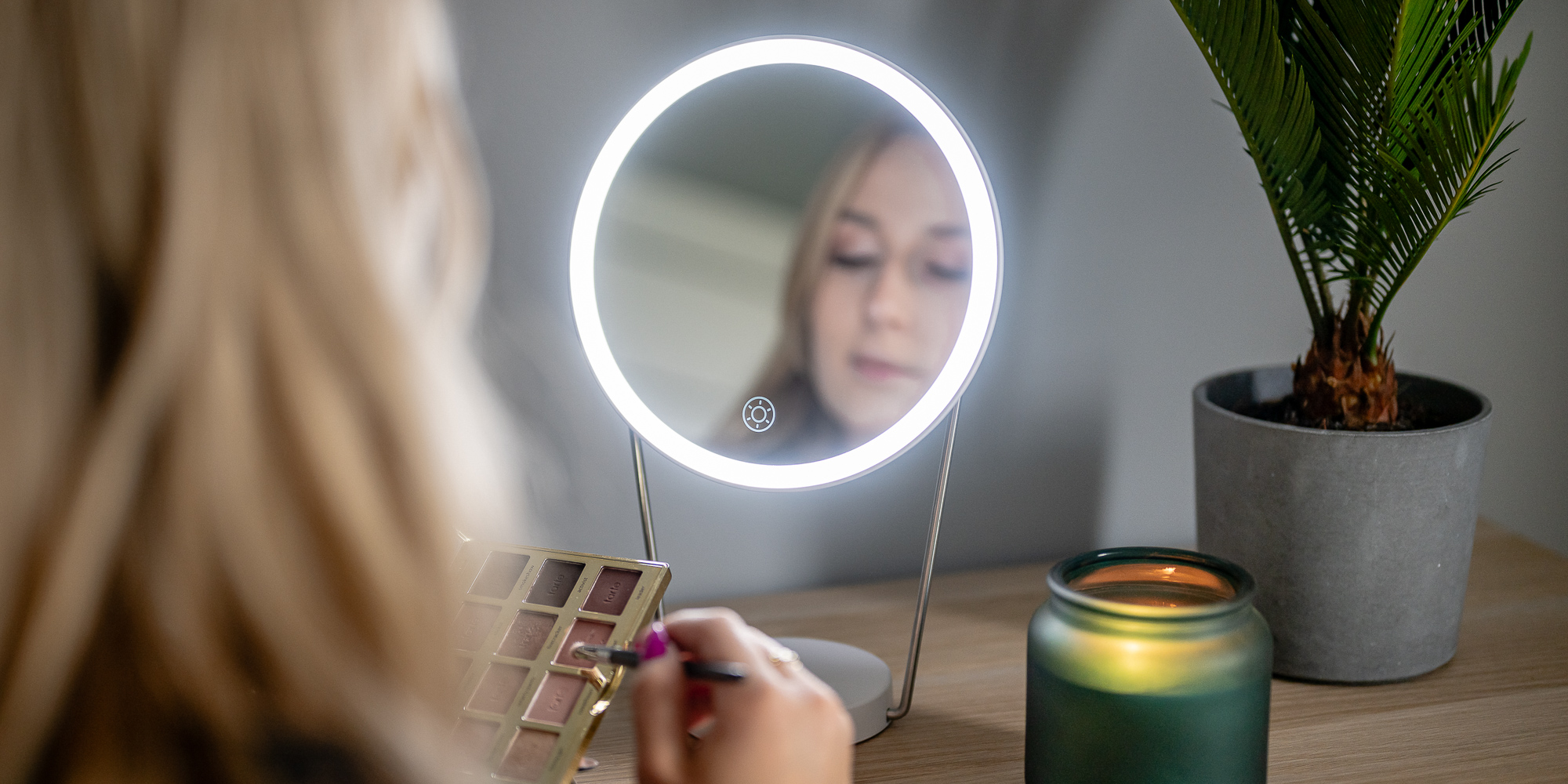 Unique lamp
The Humanas HS-ML01 makeup mirror with LED illumination will come in handy not only during daily beauty routines. It is also a designer lamp that will highlight the charm of any place with a pleasant warm light. All thanks to the second ring LED panel, located on the other side of the mirror. Just pull the cord ending in a white ball to create a pleasant atmosphere in the bedroom or living room. You can discreetly illuminate the mirror from behind, or turn its sheet to the other side and enjoy a unique lamp that will illuminate the interior of your choice.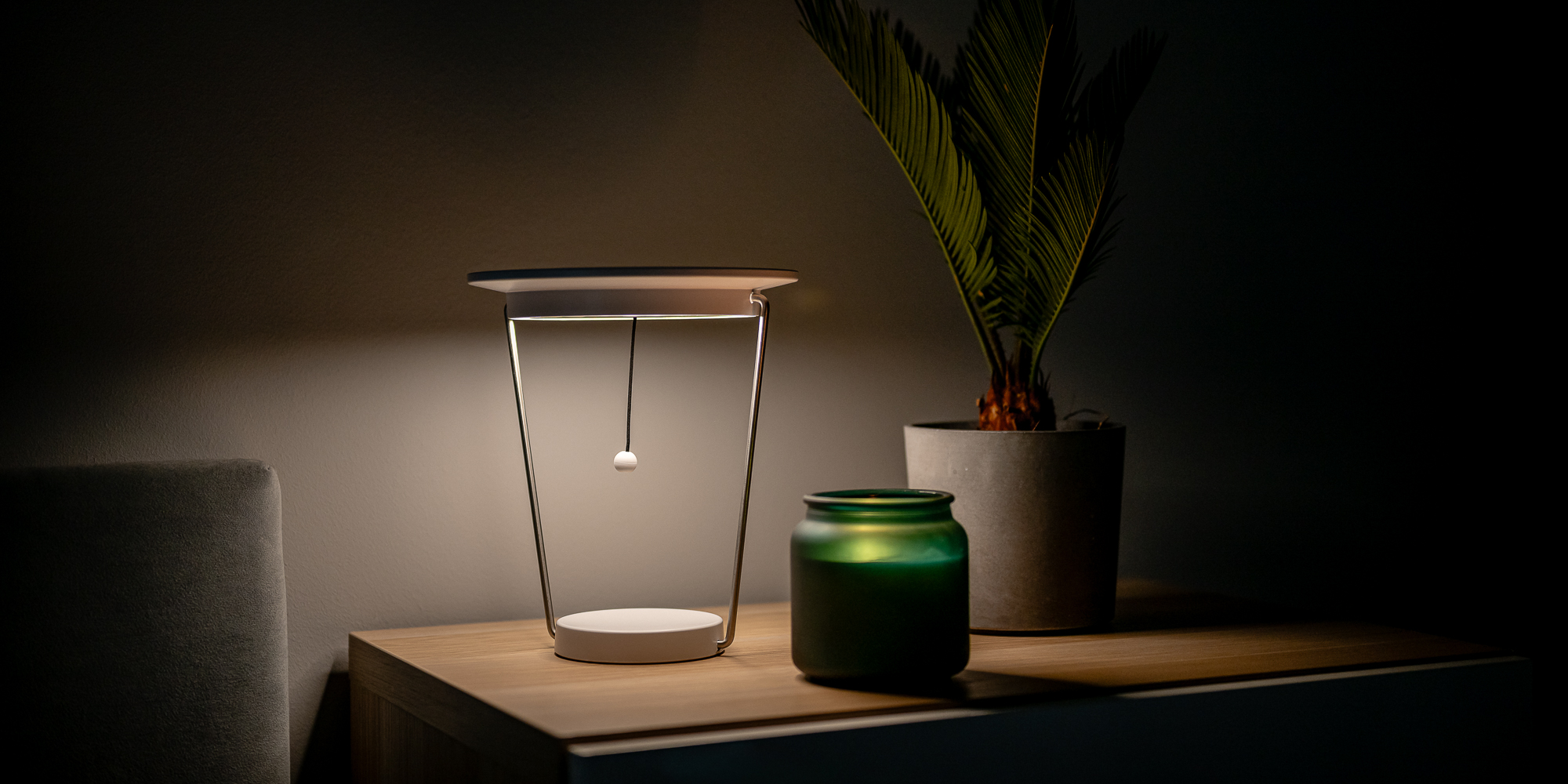 Ideal choice for video makers
With the ability to flip the mirror 180 degrees and turn it into a ring light, you can create even better photos, videos and vlogs. It's the perfect choice for those who post on platforms like Instagram, TikTok or YouTube. The Humanas HS-ML01 makeup mirror with LED backlight will allow you to create professional and visually appealing content. Whether you're at home, in a recording studio or on the go, the Humanas HS-ML01 mirror will give you the perfect illumination to win the hearts of your followers and attract new fans.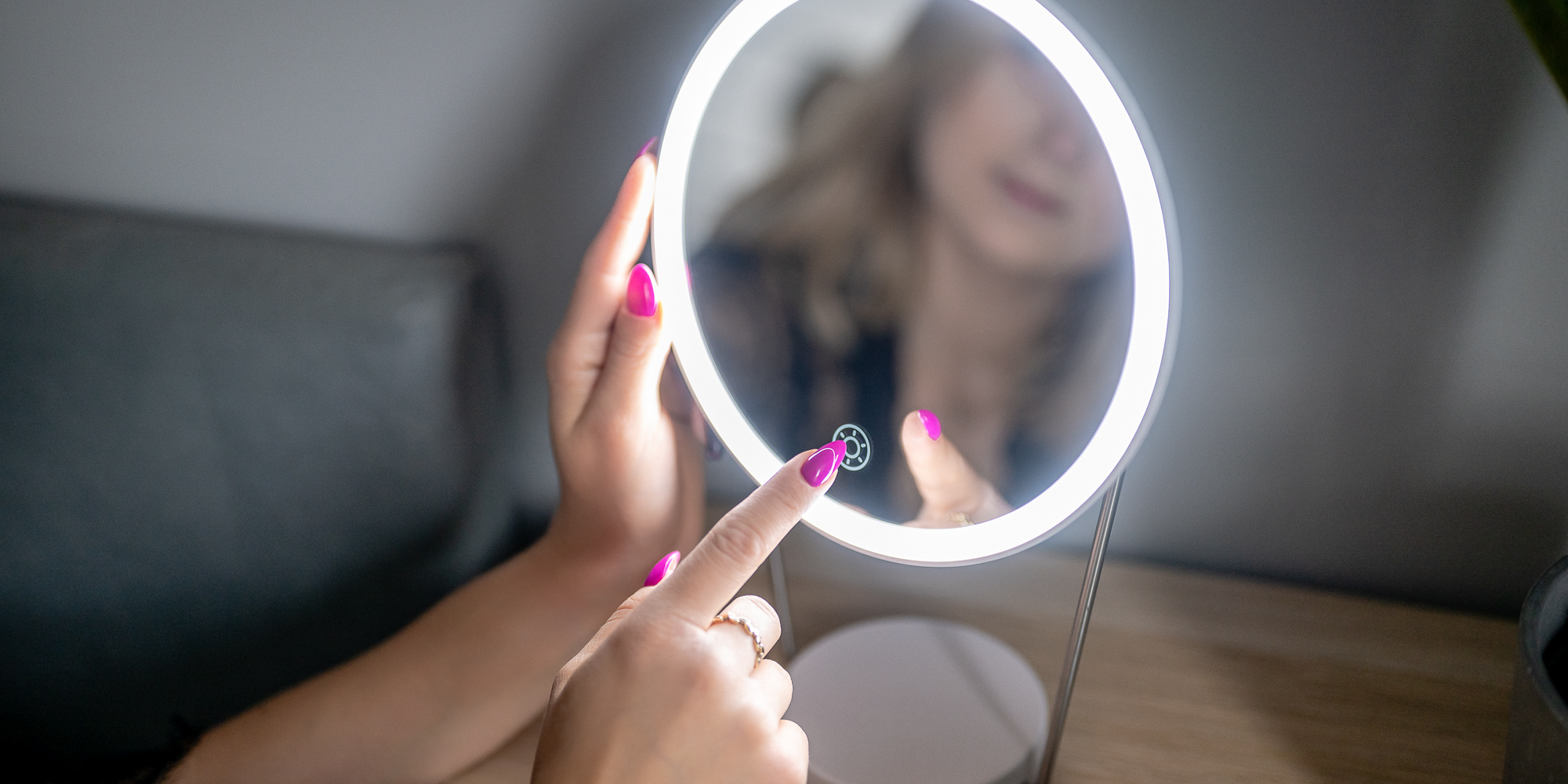 You don't need access to an outlet!
When you choose the Humanas HS-ML01 makeup mirror with LED backlight, you don't need to worry about access to an electrical outlet. The device is equipped with a 1200 mAh rechargeable battery. All you need to do is reach for the included USB cable once in a while and connect the mirror to a charger or power bank. Such a solution will allow you to keep your desk or dressing table in impeccable order, without cables tangled around.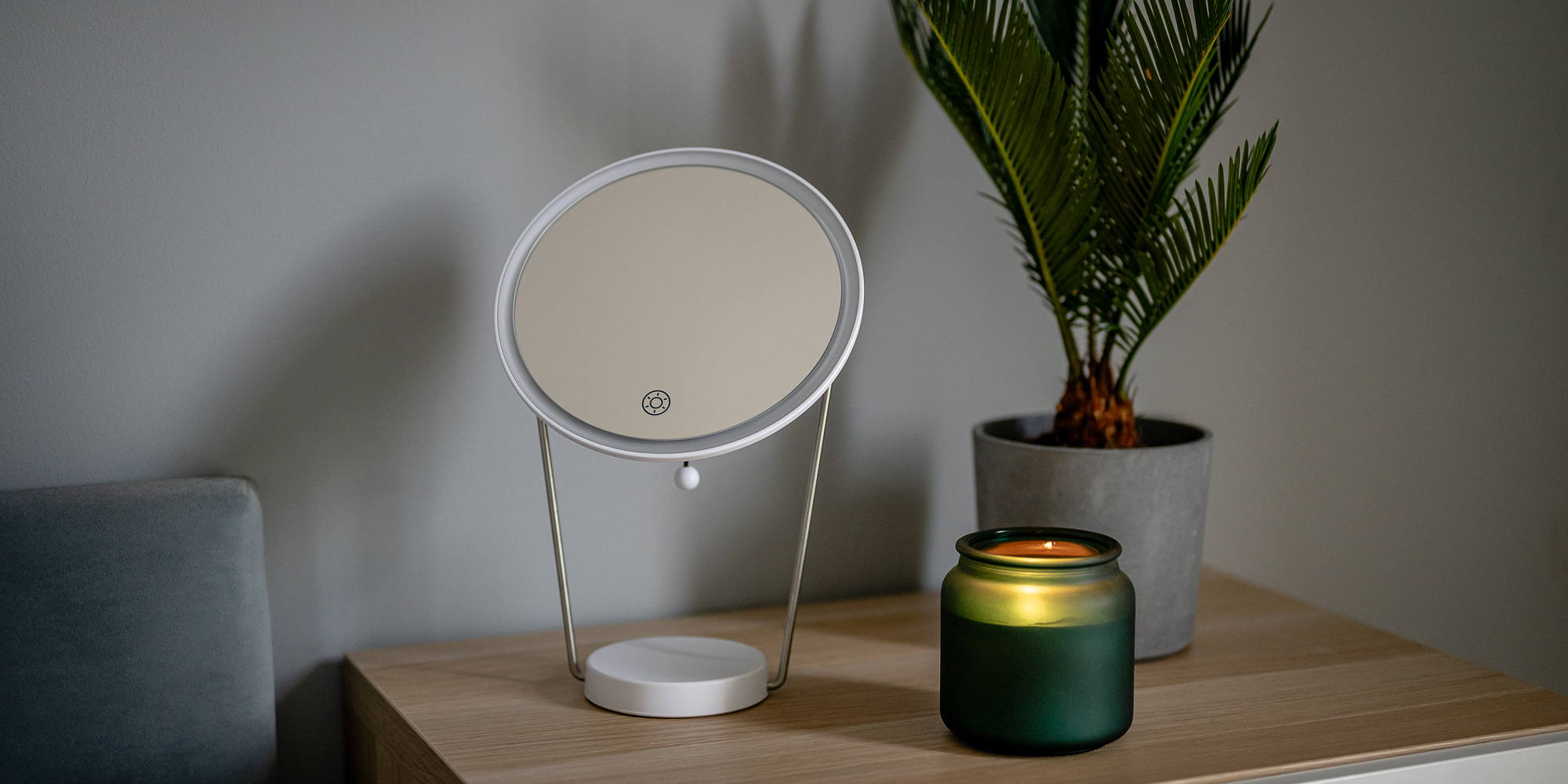 Exceptional design
Do you want to turn your dressing room or bedroom into a professional makeup space? Are you looking for a round mirror with LED lighting for a comfortable and convenient home beauty salon? Or do you have an idea for an unusual use of the Humanas HS-ML01 model as a decoration for the place where you take photos or record videos? The white mirror will work wherever style and chic are important! Importantly, for the sake of your furniture, the round stand has been protected from underneath with soft felt. So moving the mirror on your desk or dressing table will be completely safe for delicate surfaces!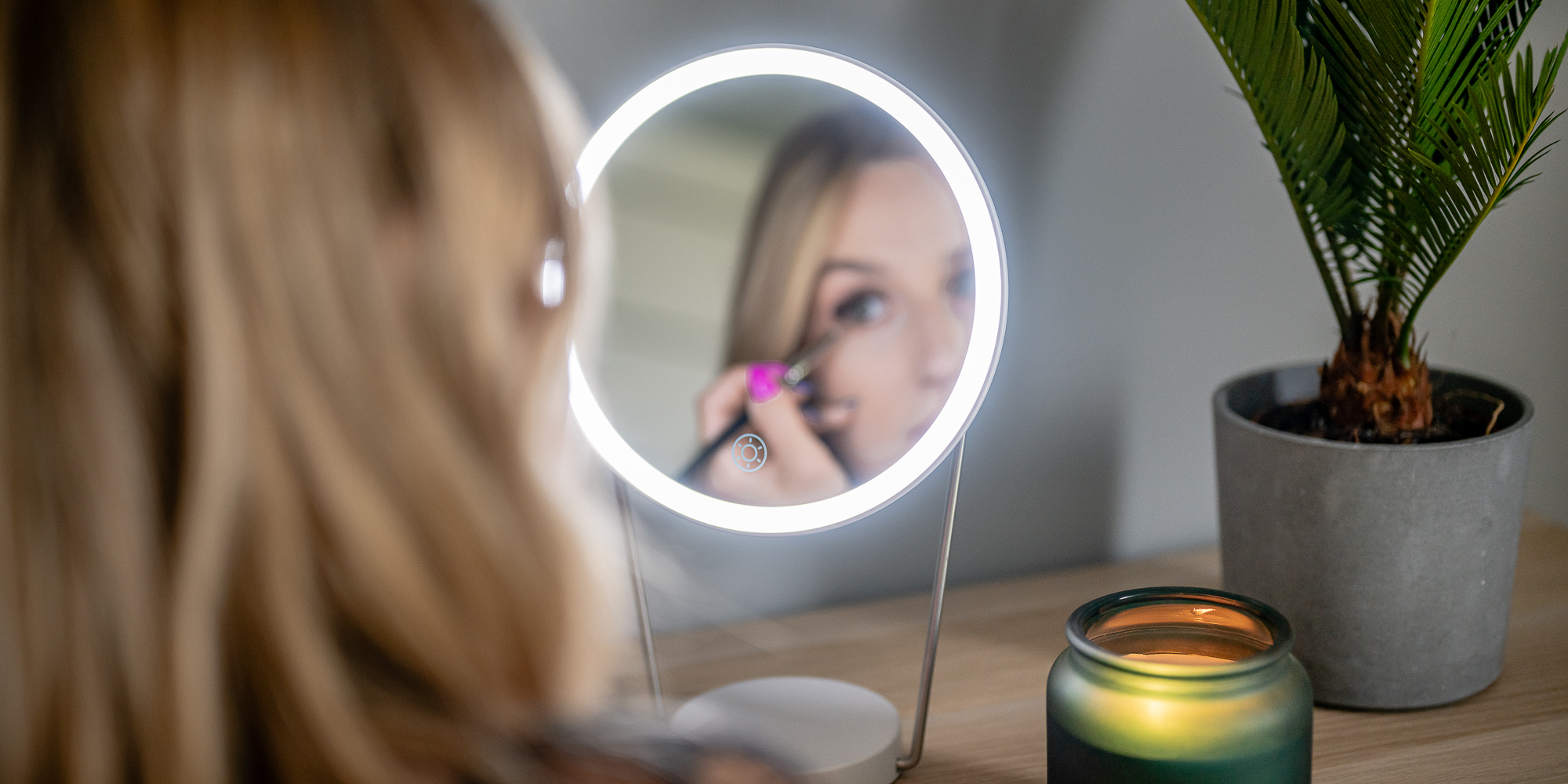 Power-adjustable
Depending on the time of day and the lighting conditions found, you can independently adjust the power with which the LEDs enclosed under the milky diffuser shine. All you need to do is to use the touch-sensitive button, which is integrated into the surface of the mirror. High light intensity works well on a sunny day, while lower power is ideal for makeup done after dark or in a dark room. The well-balanced light does not glare into your eyes, which will definitely make your make-up work easier.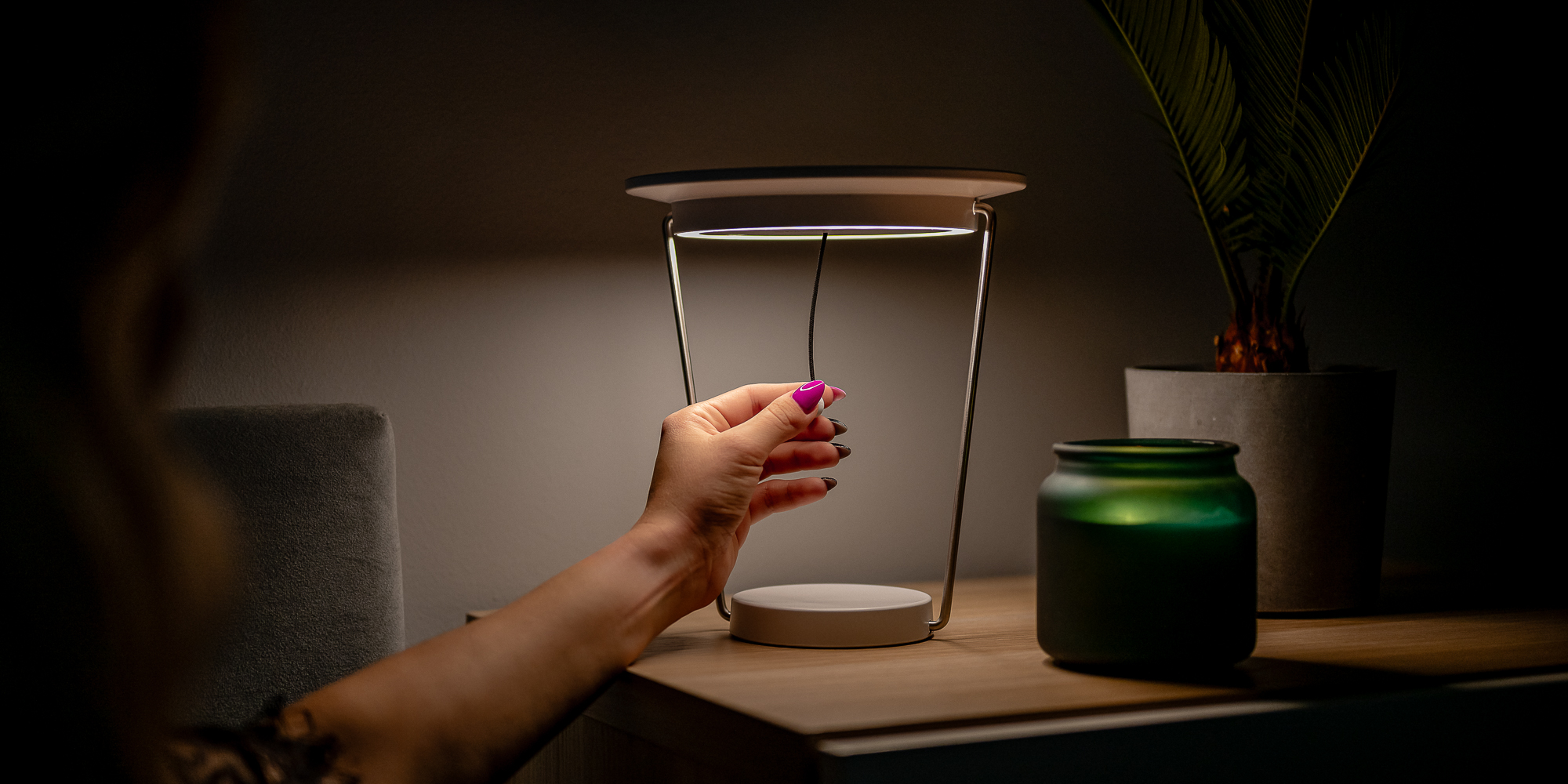 Great gift idea
Do you want to surprise a loved one with a practical gift? Or maybe you know someone who dreams of having their own mirror designed specifically for makeup? Humanas HS-ML01 is the perfect gift idea for enthusiasts of the art of make-up, make-up and "beauty" photography. Regardless of the occasion – birthdays, holidays, or anniversaries – this elegant mirror is sure to bring a lot of joy to the gifted person.
Specification
model: Humanas HS-ML01
material: glass, ABS plastic
luminous flux: 28-30 lm (for each LED)
color temperature of light: 6500 K (±200 K)
charging: USB-C
rechargeable battery: 1200 mAh (3.7 V)
max power: 6.5 watts
diameter of mirror: Ø20 cm
base diameter: Ø10 cm
height: 32 cm
weight: 880 g
Set contents
Humanas HS-ML01 makeup mirror with LED backlight – white
USB-A / USB-C cable
base