Description
The Humanas HS-ML02 makeup mirror is an ideal choice for people who value independence, compact size and ultra-mobility. Its slim tablet-like design will fit into any suitcase, backpack or laptop bag. No matter where you take your makeup, the LEDs will provide even and soft illumination for your face. You can also easily adjust the brightness and color temperature of the light to suit your needs. An ergonomic fold-out stand that also serves as a protective case allows you to freely set the design on a flat surface. When you buy the Humanas HS-ML02 mirror, you are not only choosing functionality, but also style and excellent quality.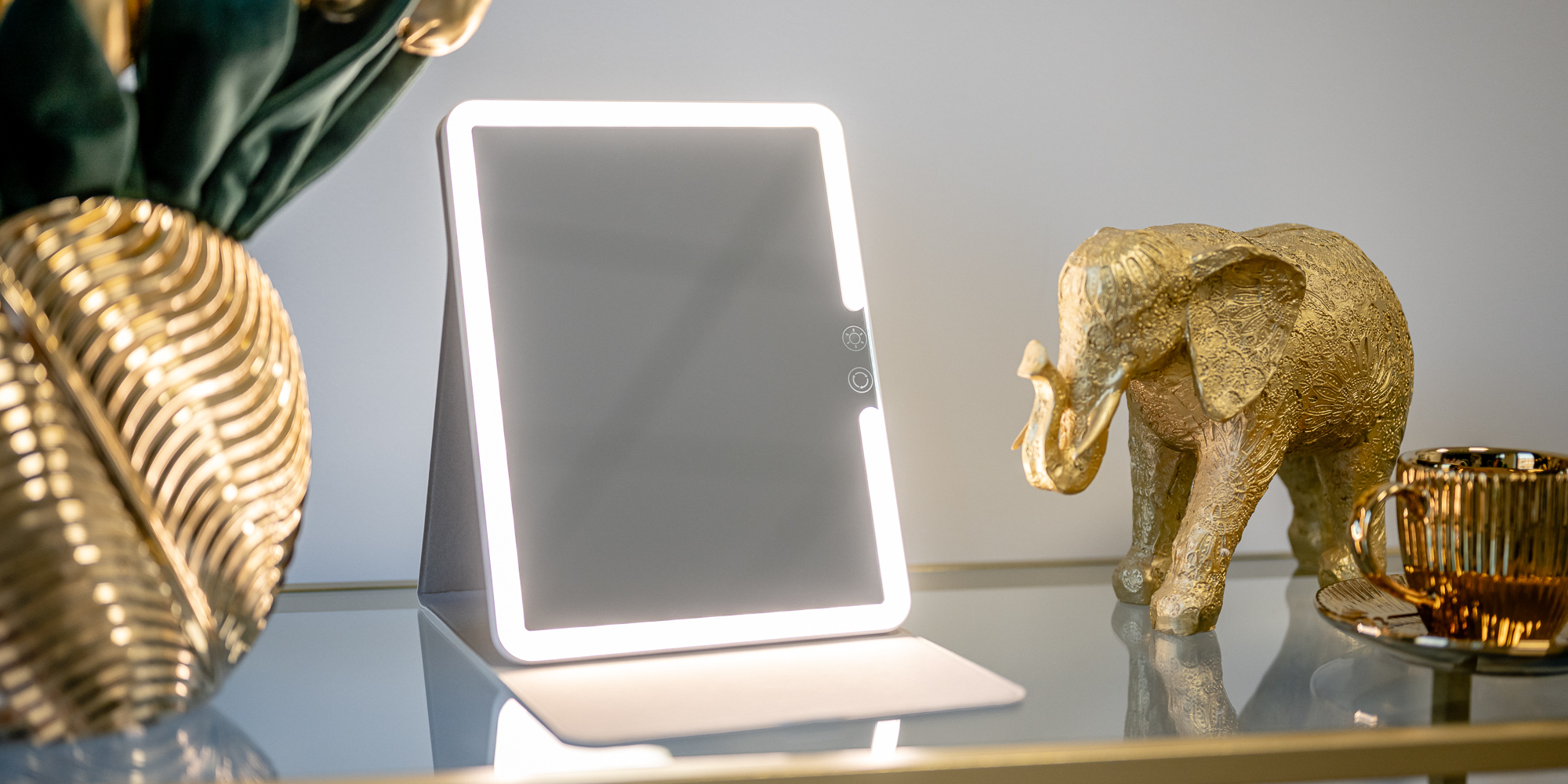 Main product features
a makeup mirror that with its dimensions (25 x 19.1 cm) resembles a tablet
slim design (only 1.5 cm thick) that will fit in a backpack, suitcase or laptop bag
stylish protective case that acts as a stand
ideal choice for people who travel frequently
a great way to save space on your desk or home dressing table
adjustable light output
3 variants of light color temperature: warm, cold and neutral
provides optimal lighting conditions during daily grooming and makeup application
energy-efficient LEDs ensure long life
2 touch-sensitive buttons integrated into the surface of the mirror
etui permanently connected to the mirror
easy to clean
magnetic locking
charging via USB-C port
LED indicating charging process
USB-A / USB-C cable included
The perfect travel companion
The Humanas HS-ML02 makeup mirror with LED backlight is an ideal choice for people who value independence and ultra-mobility. With its dimensions and unique design it resembles a tablet. It will successfully fit into a backpack or suitcase. Whether you are on a business trip, on a weekend "city break" or on a spontaneous trip with friends, this mirror will allow you to take care of your appearance without taking up much space in your luggage.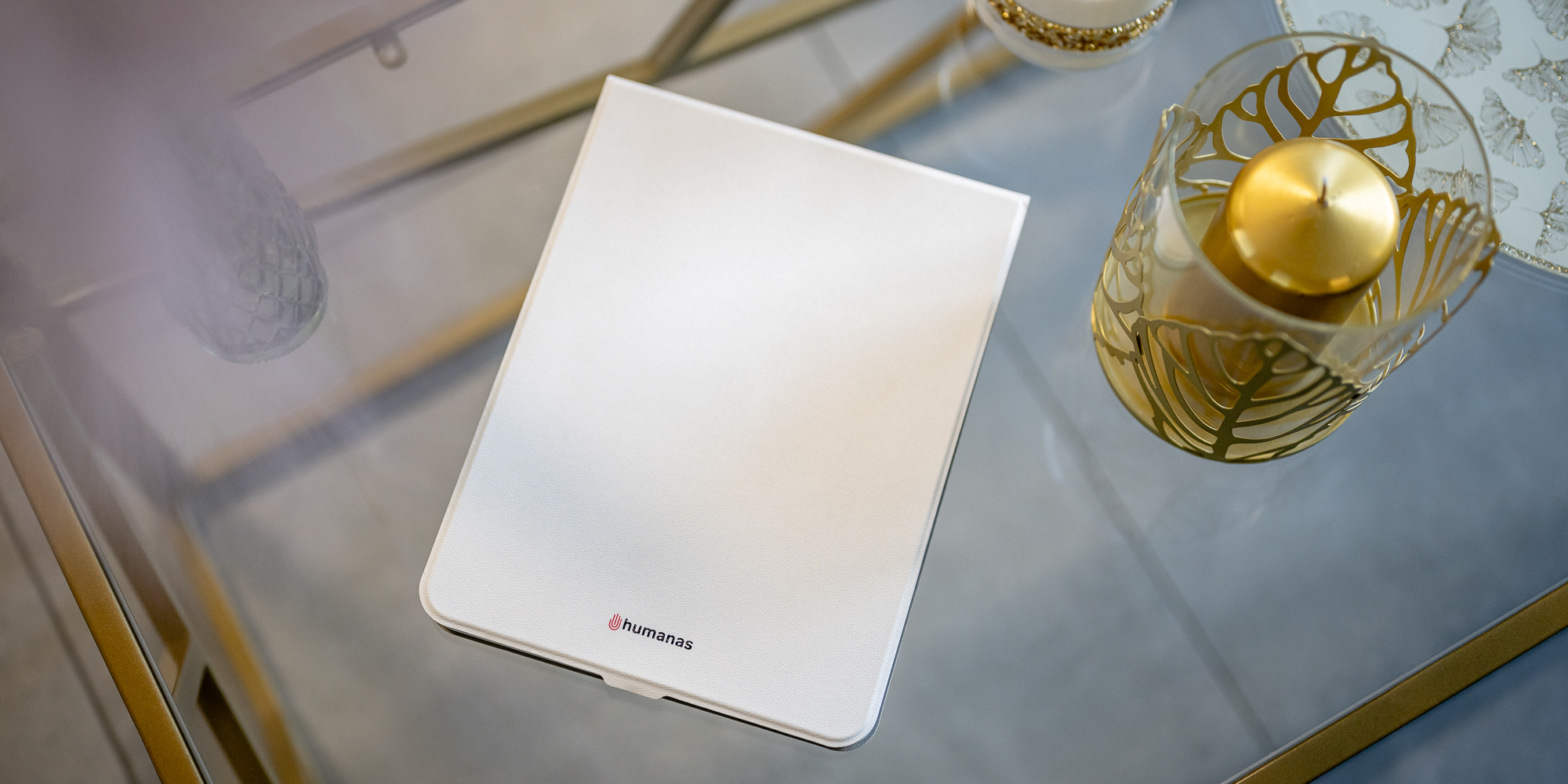 Perfect make-up in any situation
Humanas HS-ML02 makeup mirror is a guarantee of perfect illumination, essential when applying makeup or daily grooming. Now you can enjoy a bright and clear reflection no matter where you are. LEDs hidden under the milky plastic will provide you with even and soft illumination of your face in any situation.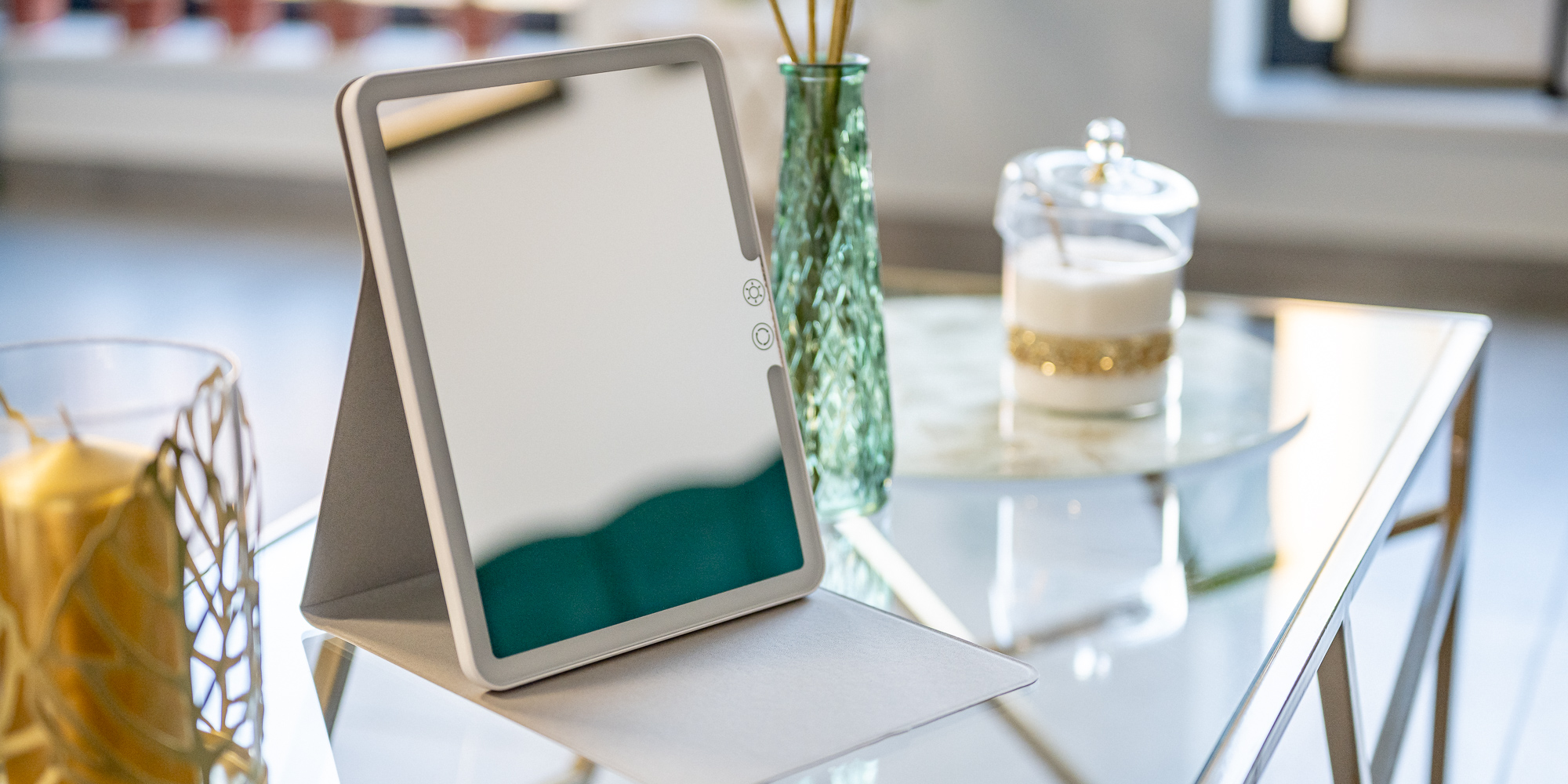 Convenient unfolding
Thanks to the functional folding stand integrated into the housing, you can set the Humanas HS-ML02 makeup mirror on any flat surface. Its dimensions will allow you to apply precise makeup without having to constantly change position. And when you're done with all your skincare routine, simply fold the mirror into its transport position. Thanks to its ultra-slim design (1.5 cm), it won't take up any more space in your luggage than your carry-on calendar.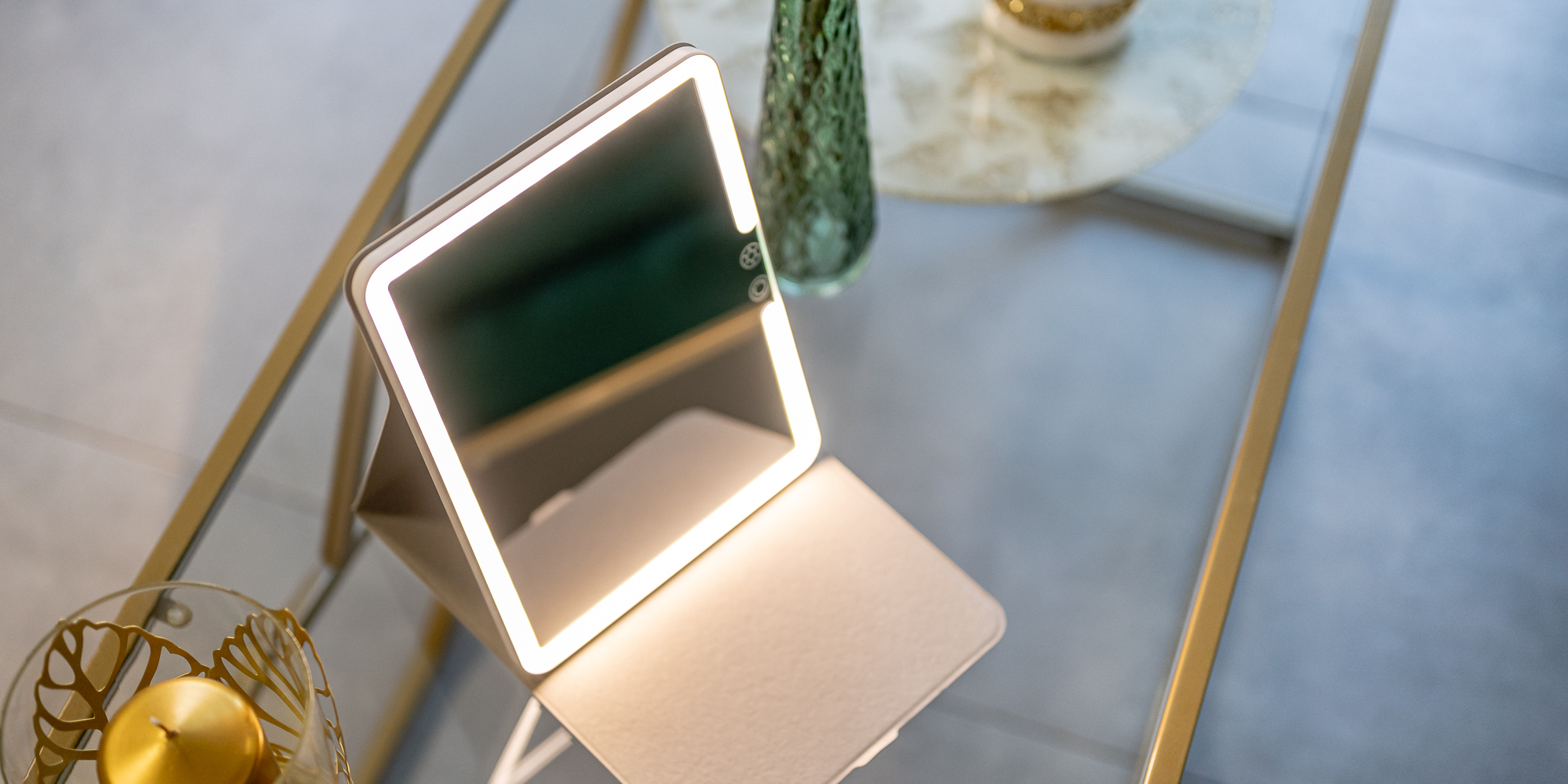 Adjustable backlighting power
Humanas HS-ML02 mirror is a guarantee of full control over the intensity of the light. When you're getting ready for a party or an important meeting, you can increase the power of the backlight for a bright and precise reflection that will help you accurately apply your makeup and highlight the finest details. During daily grooming, the light can be slightly less intense so you don't have to strain your eyes. Just hold the touch button longer to smoothly adjust the brightness to perfectly suit your current needs.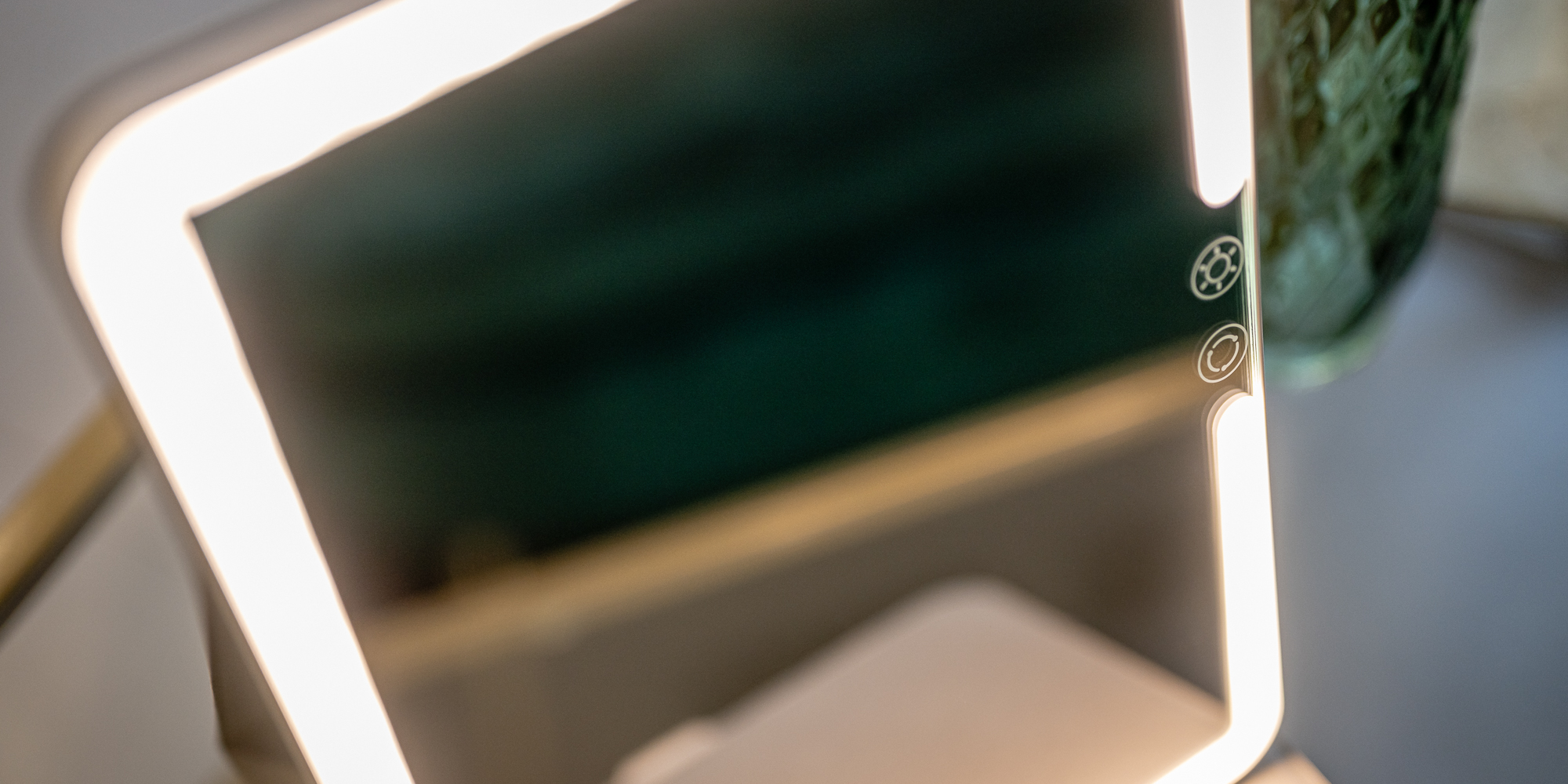 Light for every occasion
Depending on the time of day and the effect you want to achieve, you can illuminate your face with cold, neutral or warm light. The adjustable color temperature offered by the Humanas HS-ML02 mirror allows you to choose the color of the light to perfectly reflect your skin tone and the makeup you put on your face. All you have to do is press the touch-sensitive button with your finger and the device will quickly switch to the next mode.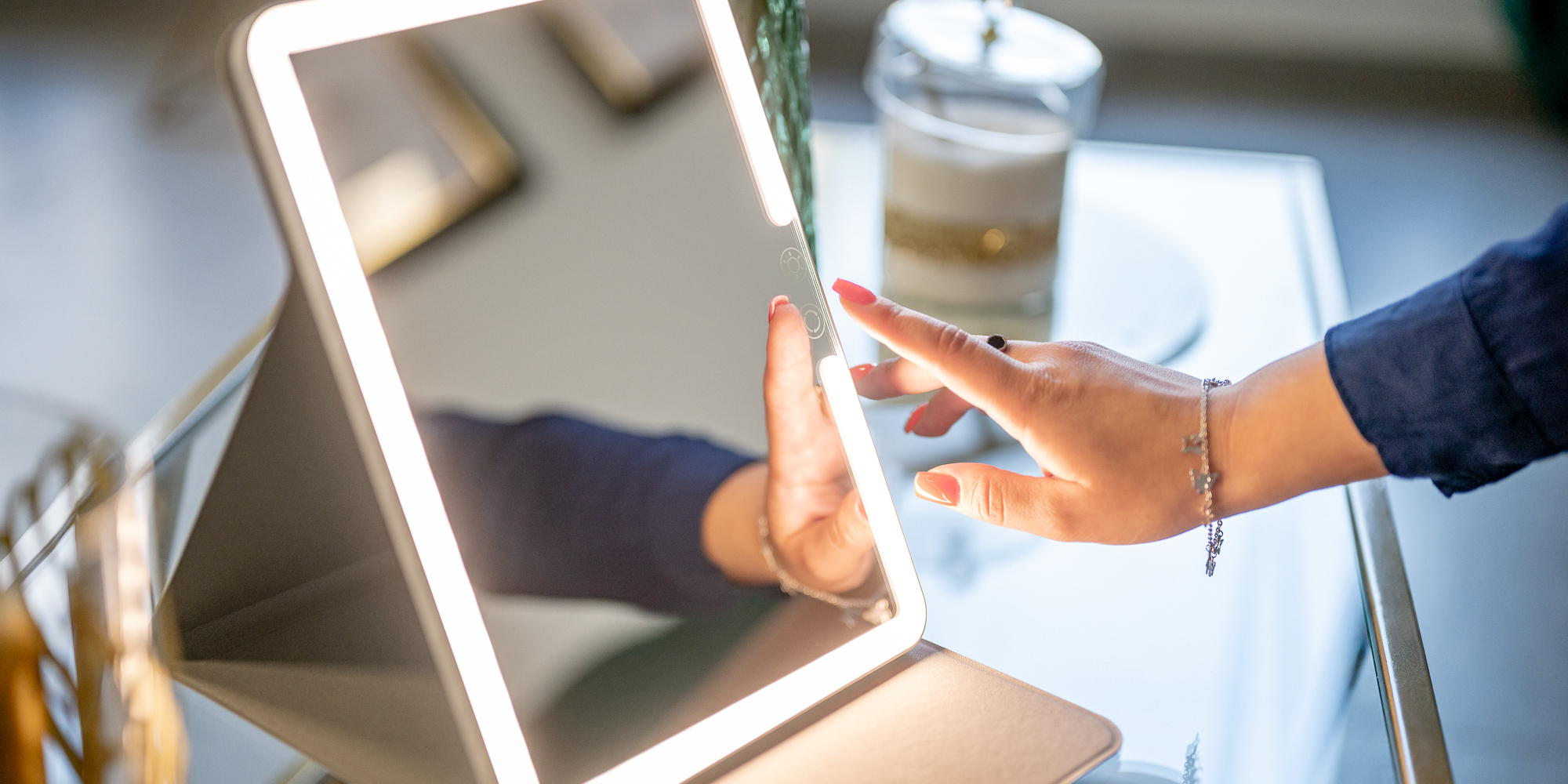 Integrated case
The Humanas HS-ML02 makeup mirror comes with an integrated case, which is made of durable, easy-to-clean material. A single wipe is enough to remove any stains, traces of makeup or dust. Thanks to this case, the mirror will always look like new, maintaining its elegant and stylish appearance. The expandable stand is also an excellent protection. The closed case will effectively protect the mirror while traveling.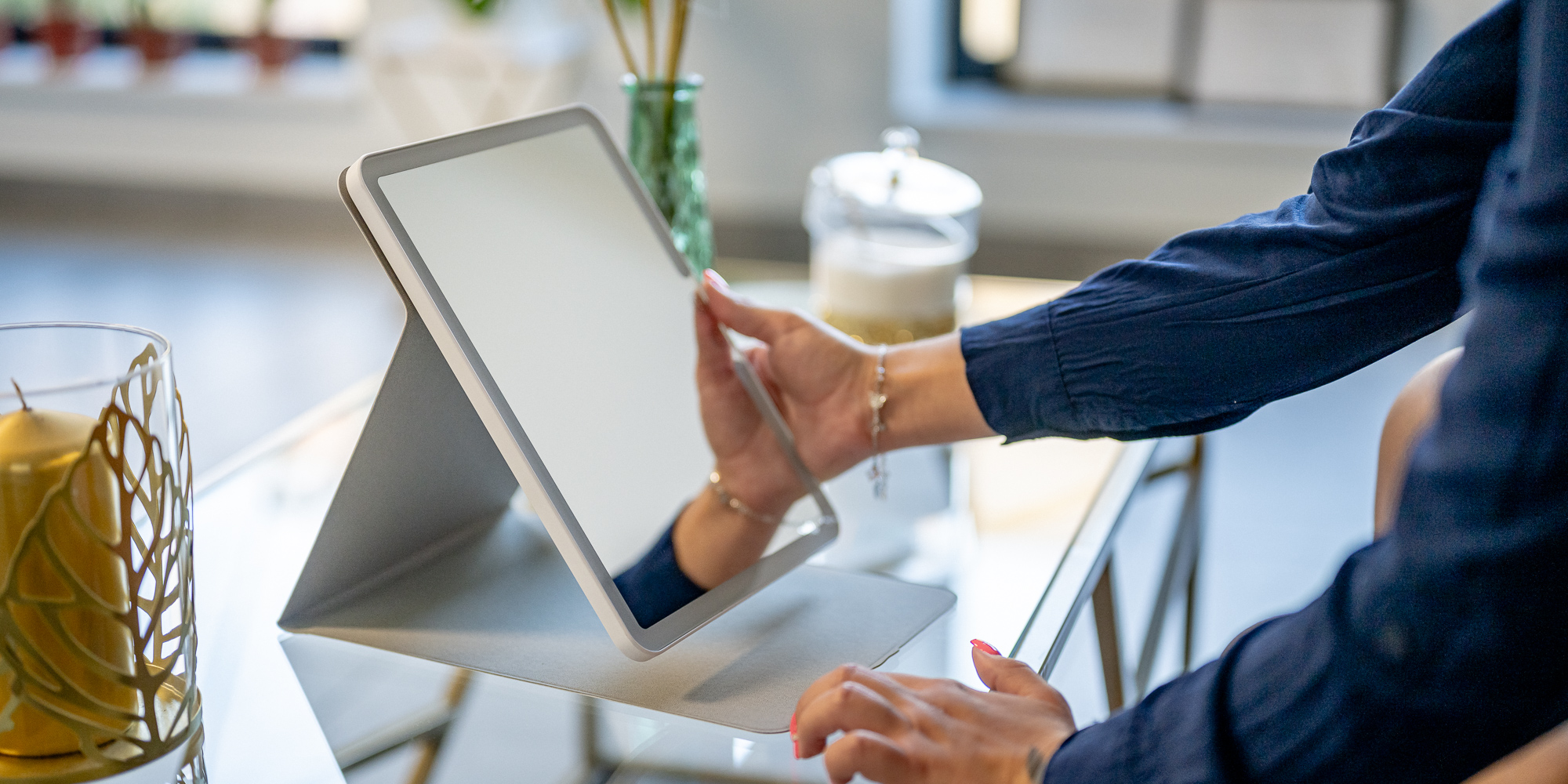 Mirror for years
Thanks to modern technology, the Humanas Humanas HS-ML02 mirror is not only environmentally friendly, but also ensures long-lasting use. The LEDs used are so durable that they do not need to be replaced for many years, which means that the device will serve you with excellent illumination quality for a very long time.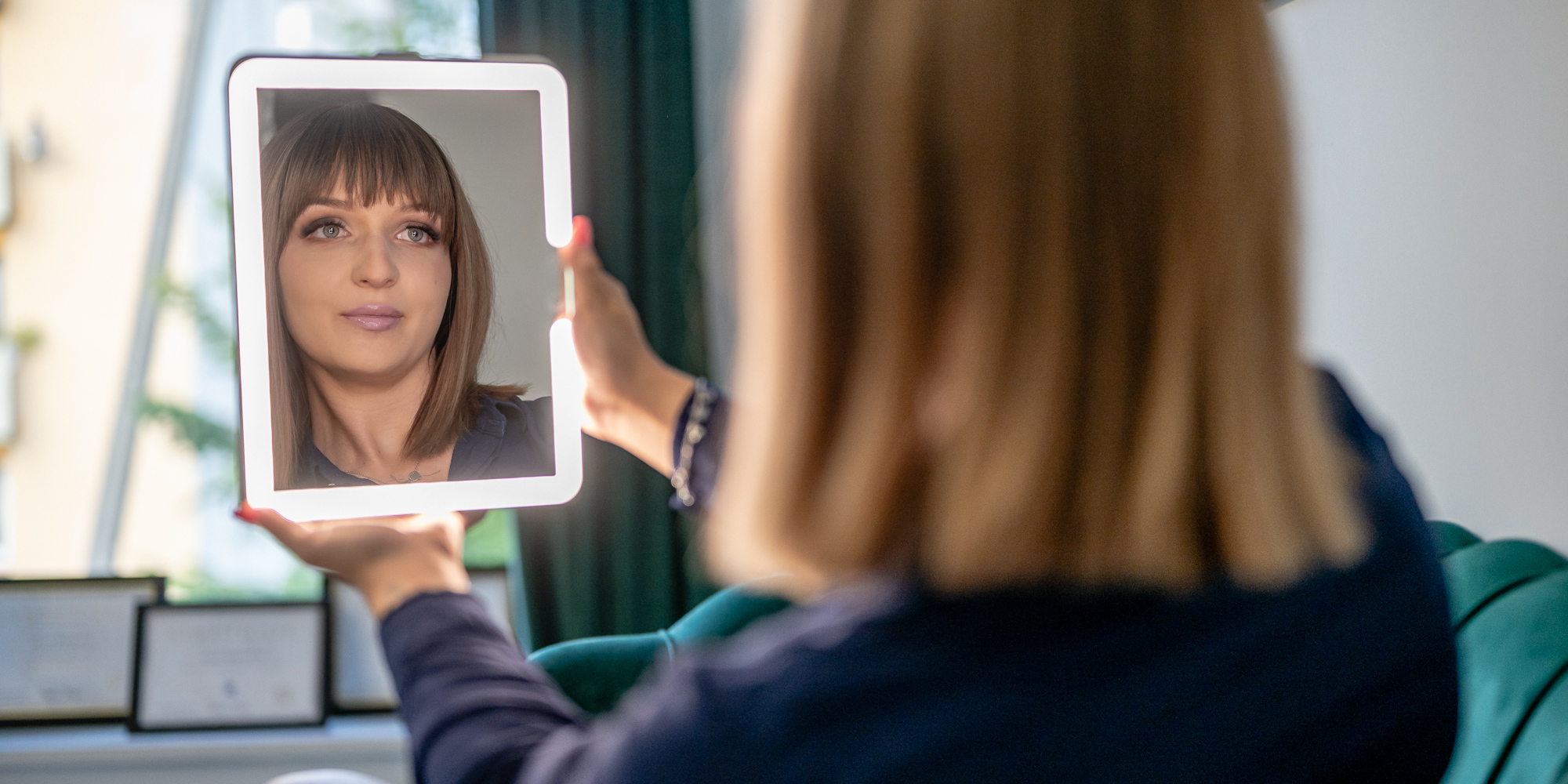 Long time of operation
Choosing the Humanas HS-ML02 mirror with LED backlight, you don't have to worry about replacing batteries. Hidden under the casing is a battery with an impressive capacity of 2000 mAh. You charge it using the popular USB-C port. You can do this anywhere by reaching for the included cable and connecting the device to a charger, laptop or power bank. A small LED light will let you know when the charging process has begun, so you can always be sure the mirror will be ready for use when you unplug it from the power source.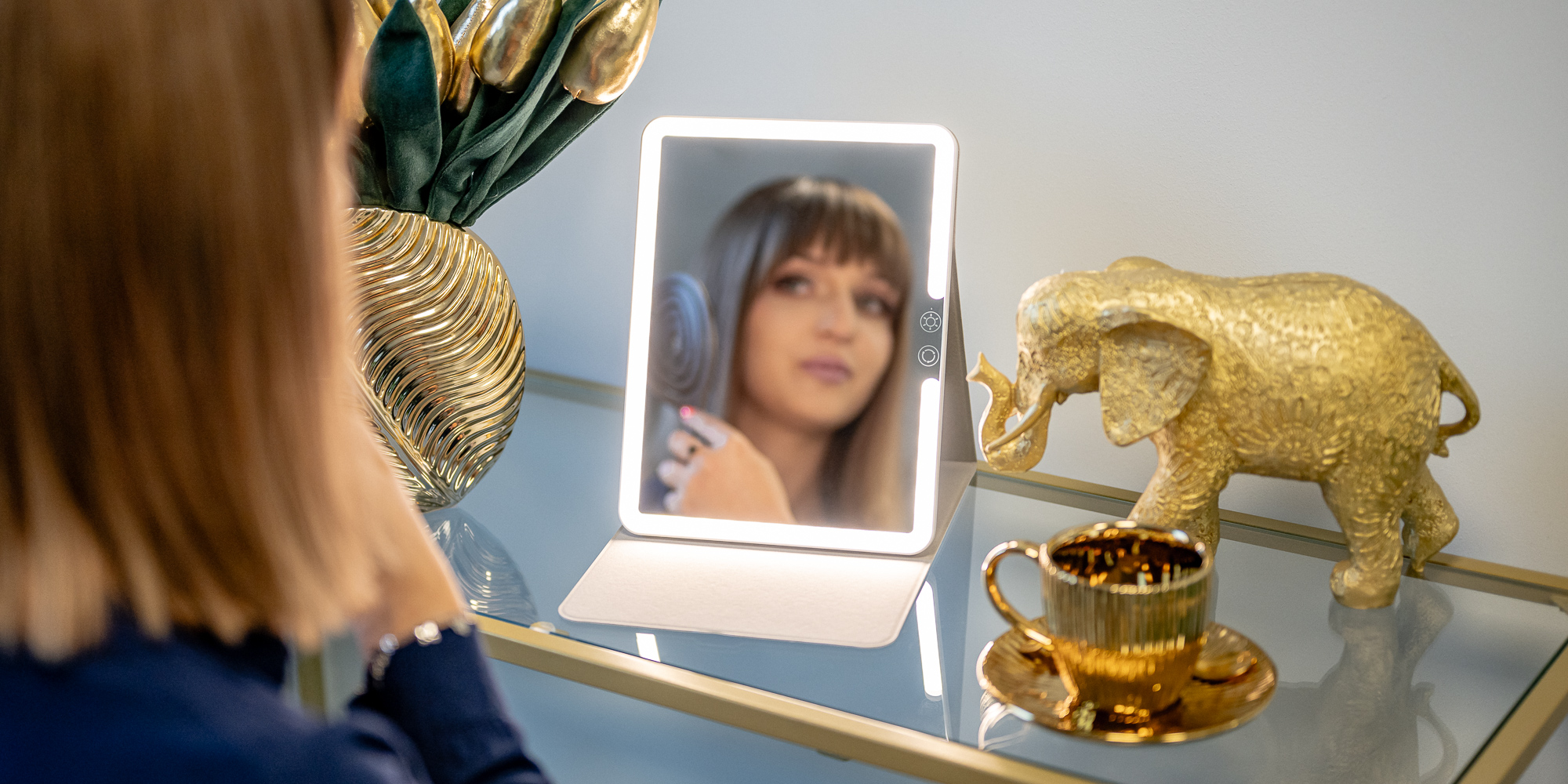 Gift idea
Do you want to surprise a loved one with a practical gift? Or maybe you know someone who dreams of a functional and portable makeup mirror? Humanas HS-ML02 is an unusual gift idea for all fans of good design and the art of makeup! Regardless of the occasion – birthdays, holidays, or anniversaries – this elegant mirror is sure to bring a lot of joy to the gifted person.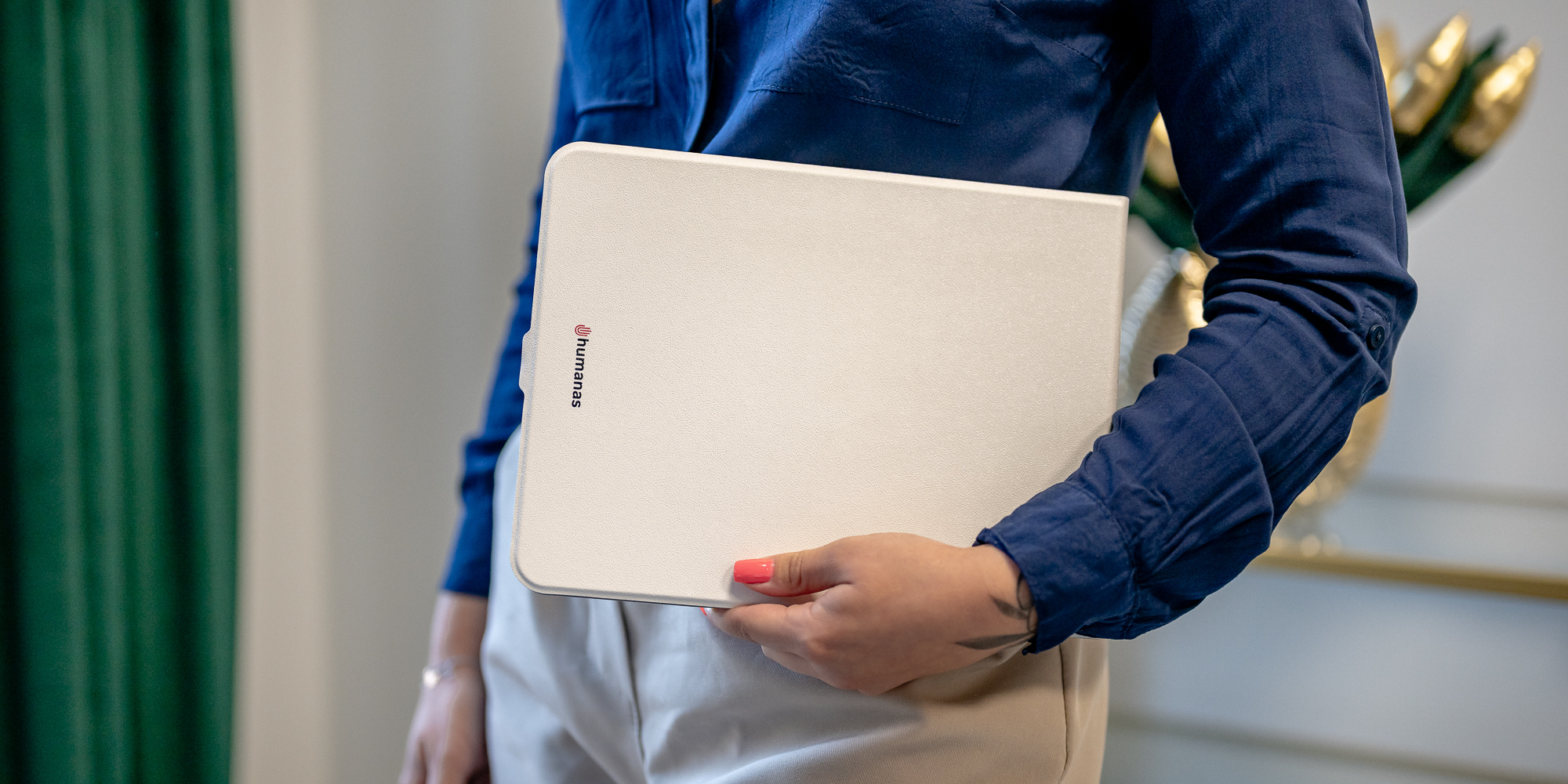 Specification
model: Humanas HS-ML02
LEDs: 98
light color temperature: 3500 – 7000 K (±500 K)
charging: USB-C (DC 5V / 1 A)
rechargeable battery: 2000 mAh
max power: 5.35 W (± 1 W)
voltage: 3.7 volts
material: glass, ABS plastic
dimensions: 250 x 191 x 15 mm
weight: 654 g
Set contents
Humanas HS-ML02 makeup mirror with LED backlight – white
USB-A / USB-C cable