Description
When preparing daily or more festive make-up, good lighting is the basis of success. With HS-ML03 Humanas mirror, crooked lines, unevenly applied powder, or imperfectly drawn eye and lip contour will no longer be a problem. Elegant mirror with efficient LED illumination of adjustable power and color temperature will help you achieve perfect effects.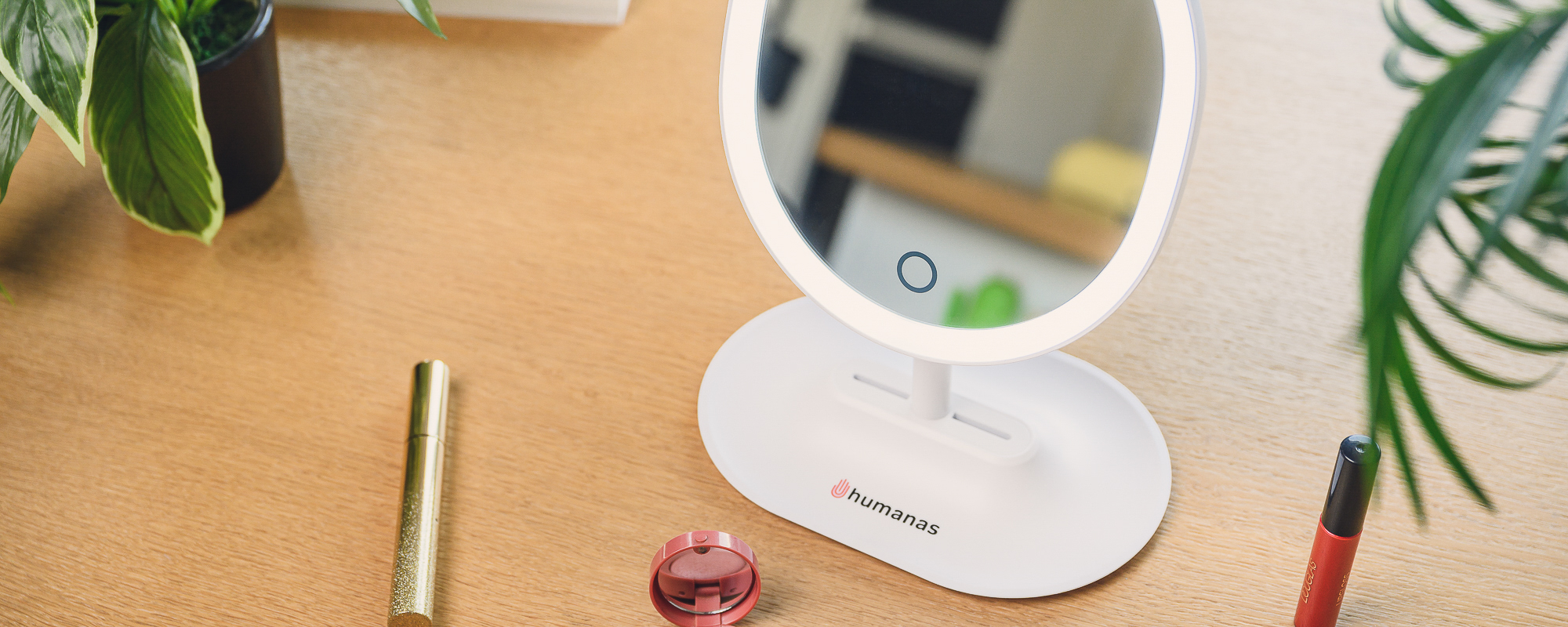 Perfect lighting
Ergonomic positioning around the mirror is a proven way to perfect makeup. This solution, which has been used by professionals for years, can also be successfully used during home beauty treatments. LEDs hidden under the milky plastic are a guarantee of even and soft lighting of your face.
Power adjustment
The mirror uses long-life, energy-efficient LEDs, whose power can be adjusted according to your needs. High power is good on a sunny day, while lower power is good after dark or in a dark room. The perfectly balanced light does not glint in the eyes, which greatly facilitates work on the make-up.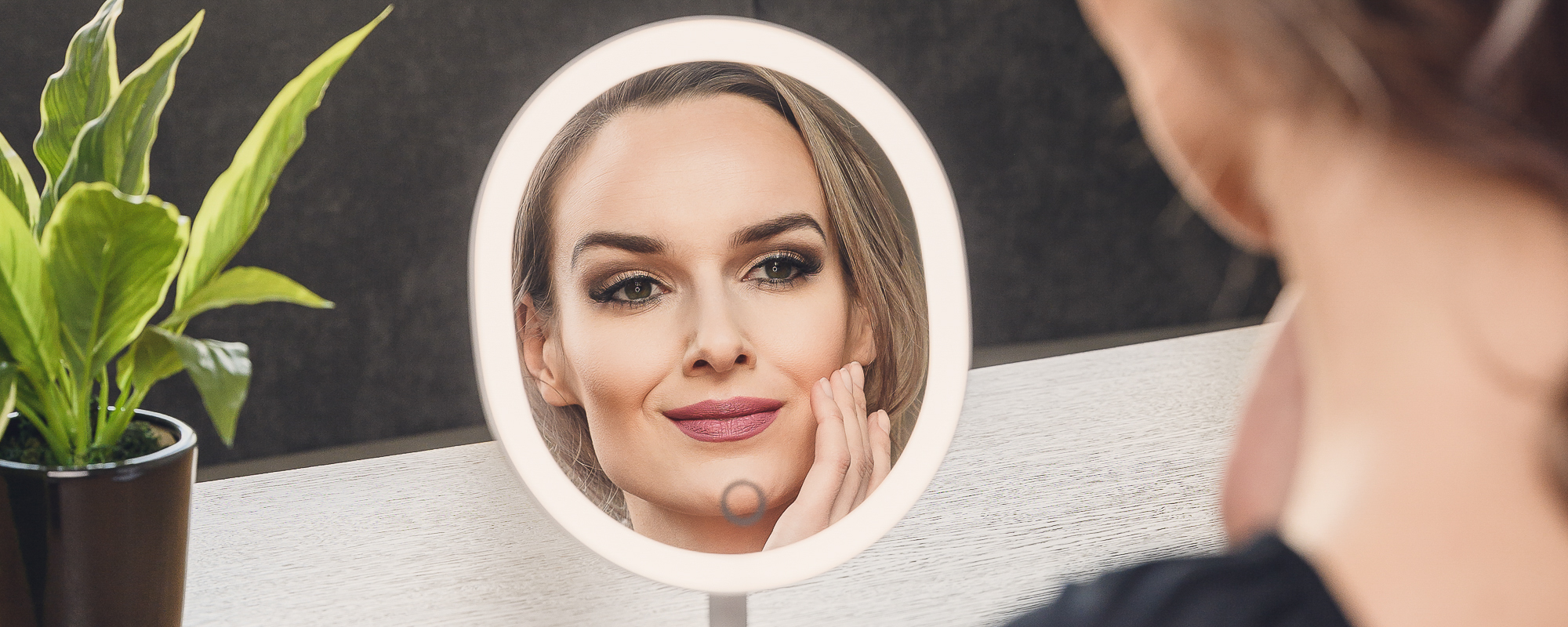 Light for every occasion
Depending on the time of day and the effect you want to achieve, you can illuminate your face with cold, neutral or warm light. The adjustable color temperature lets you choose the color of the light to perfectly reflect your skin tone and makeup.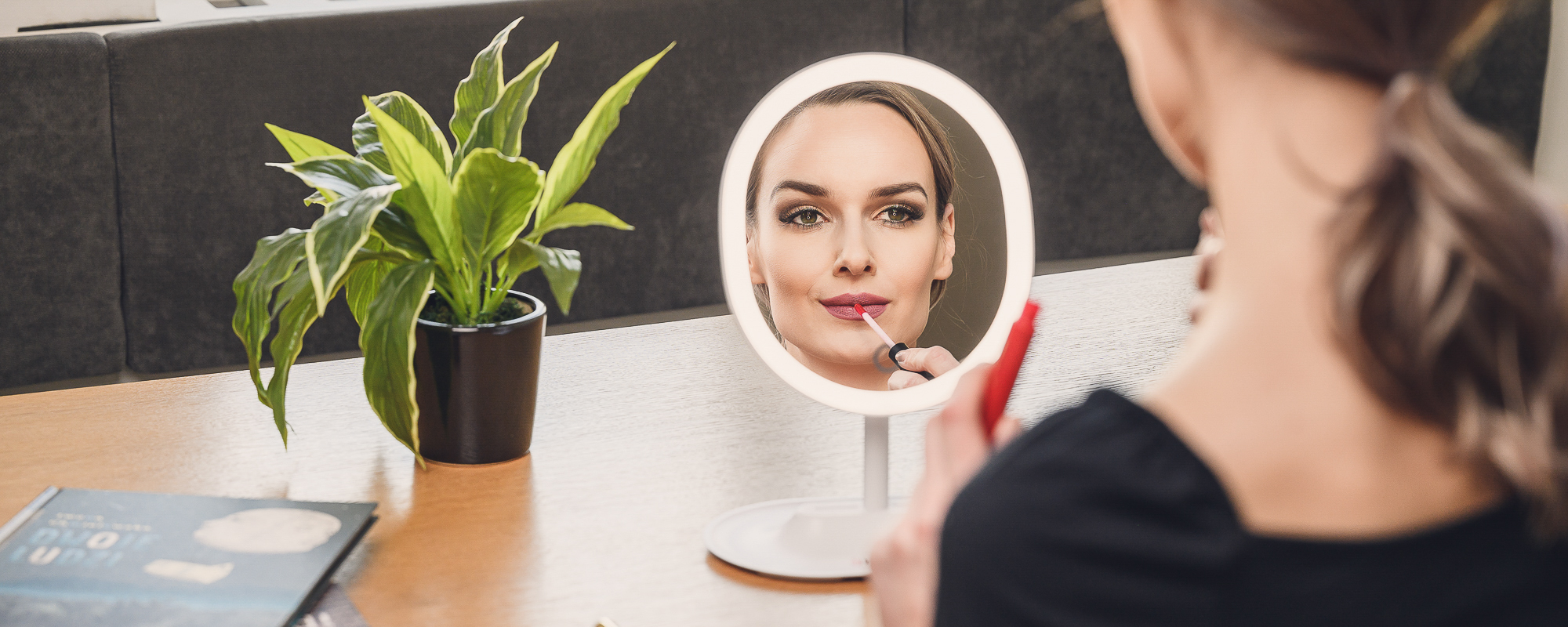 Simple control
Changing the color and power of the light is trivial. Just touch or hold one button to switch seamlessly between modes.
Convenience and functionality
Adjustable arm allows you to set the mirror at the right angle. You can place cosmetics, brushes and other small accessories on the concave stand. Non-slip rubber bands provide stability. Weighs only 580 g, can be easily disassembled into two smaller pieces and stored in your bag.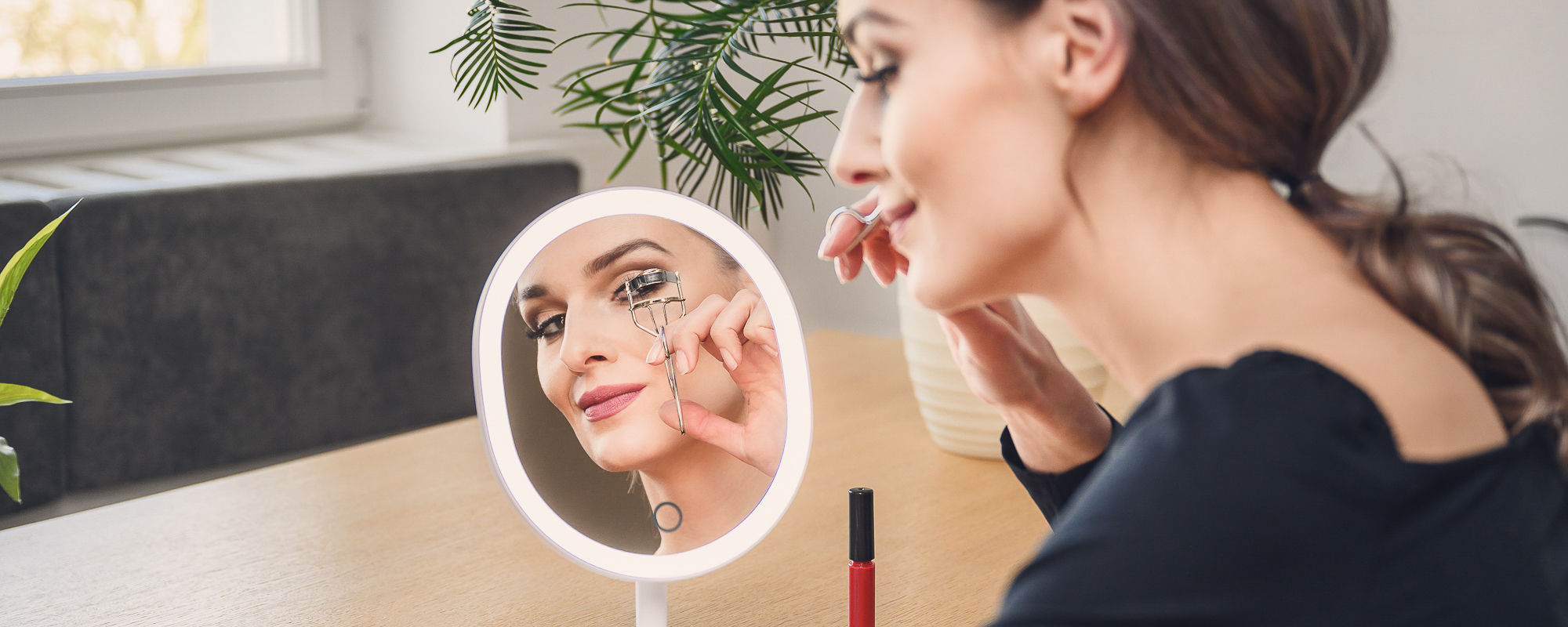 Additional close-up mirror
A second, smaller close-up mirror is hidden in the back of the housing. Thanks to a built-in magnet, you can attach it to the surface of the larger mirror and conveniently use the 5x magnification. This set allows you to refine your make-up to the smallest detail.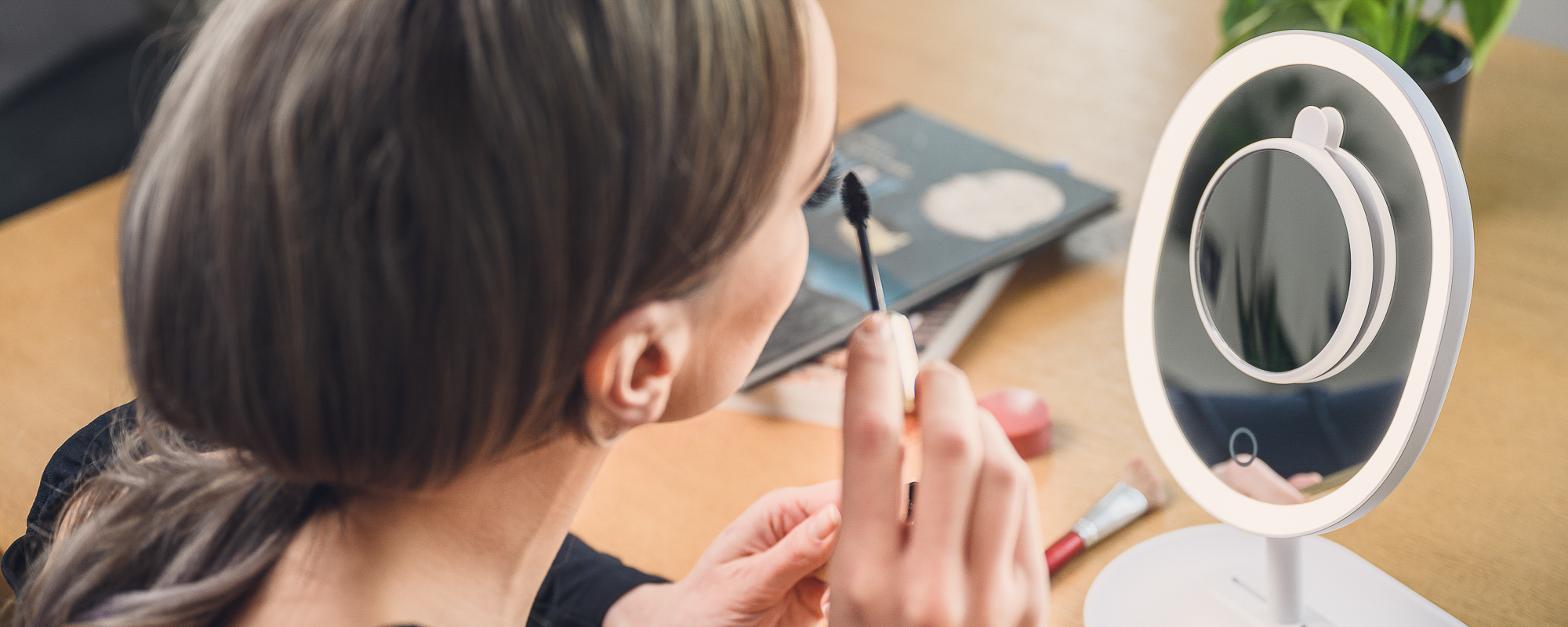 Built-in power supply
Do not be surprised by an unplanned power outage. A built-in rechargeable battery with a capacity of 1000 mAh will take care of powering the lights. You just need to recharge it from time to time using a regular smartphone charger, power bank or through the USB port on your laptop.
Minimalist design
Our mirror will perfectly fit into the decor of a modern apartment. Sleek, unobtrusive design in a classic white color. Elegant and useful gadget, which is the perfect complement to the home dressing table.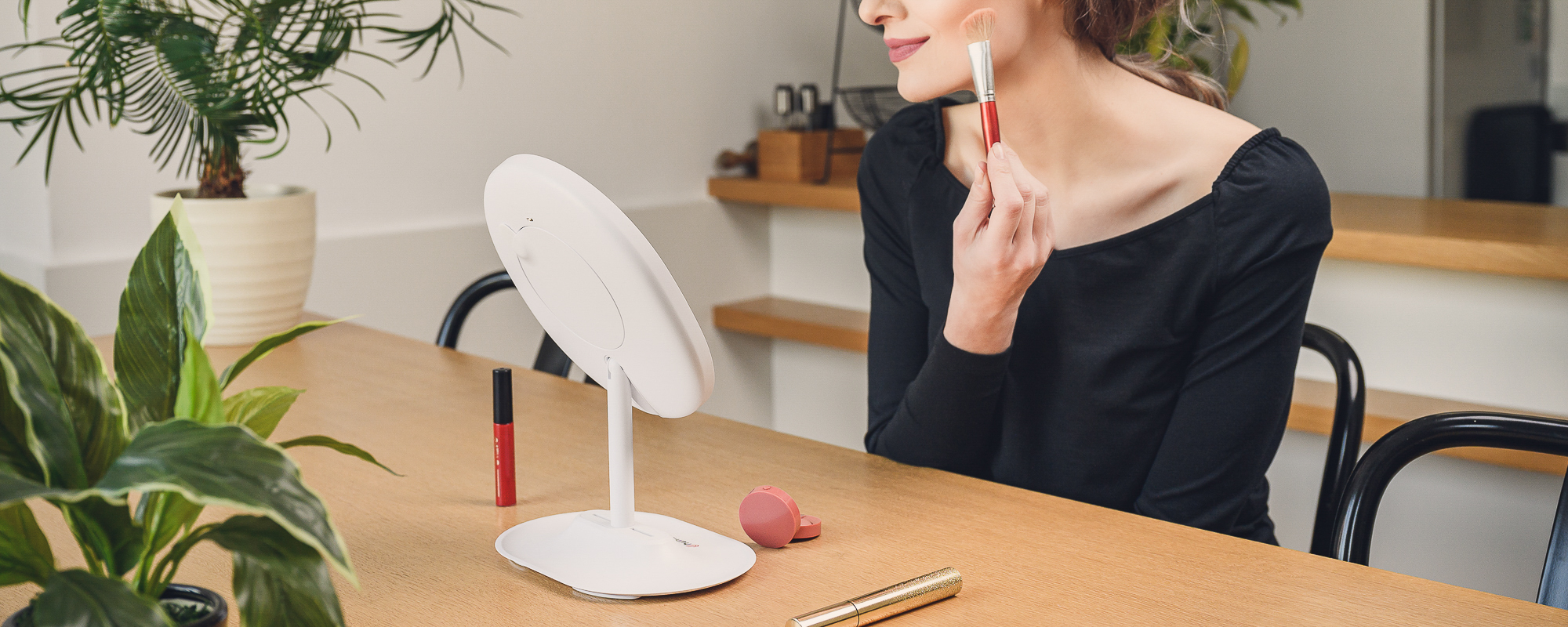 Specification
model: Humanas HS-ML03
color: white
material: glass, plastic
light color temperature: cold / neutral / warm
charging port: micro USB
power supply: built-in rechargeable battery
battery capacity: 1000 mAh
dimensions: 21 x 30 x 14 cm
weight: 580 g
functions:
backlight power adjustment
color temperature adjustment
adjusting the angle of the mirror
5x close-up mirror
Contents of the set
HS-ML03 Humanas make-up mirror with LED lighting – white
small mirror with 5x zoom
mirror stand
USB cable for charging the device
user manual