Description
Humanas HS-ML04 makeup mirror is the perfect combination of style and functionality. It provides perfect illumination of your face and makes your daily grooming a real pleasure. A touch button integrated into the mirror's surface will allow you to easily adjust the brightness of the light to suit your current needs. The device can be powered by AAA batteries or the included USB cable connected to a power bank, computer or charger. Quick and convenient unfolding saves space on your desk or dressing table. The 180º tilting modules will give you even more freedom when applying makeup. With additional magnifying mirrors, you will gain full control over every detail of your makeup.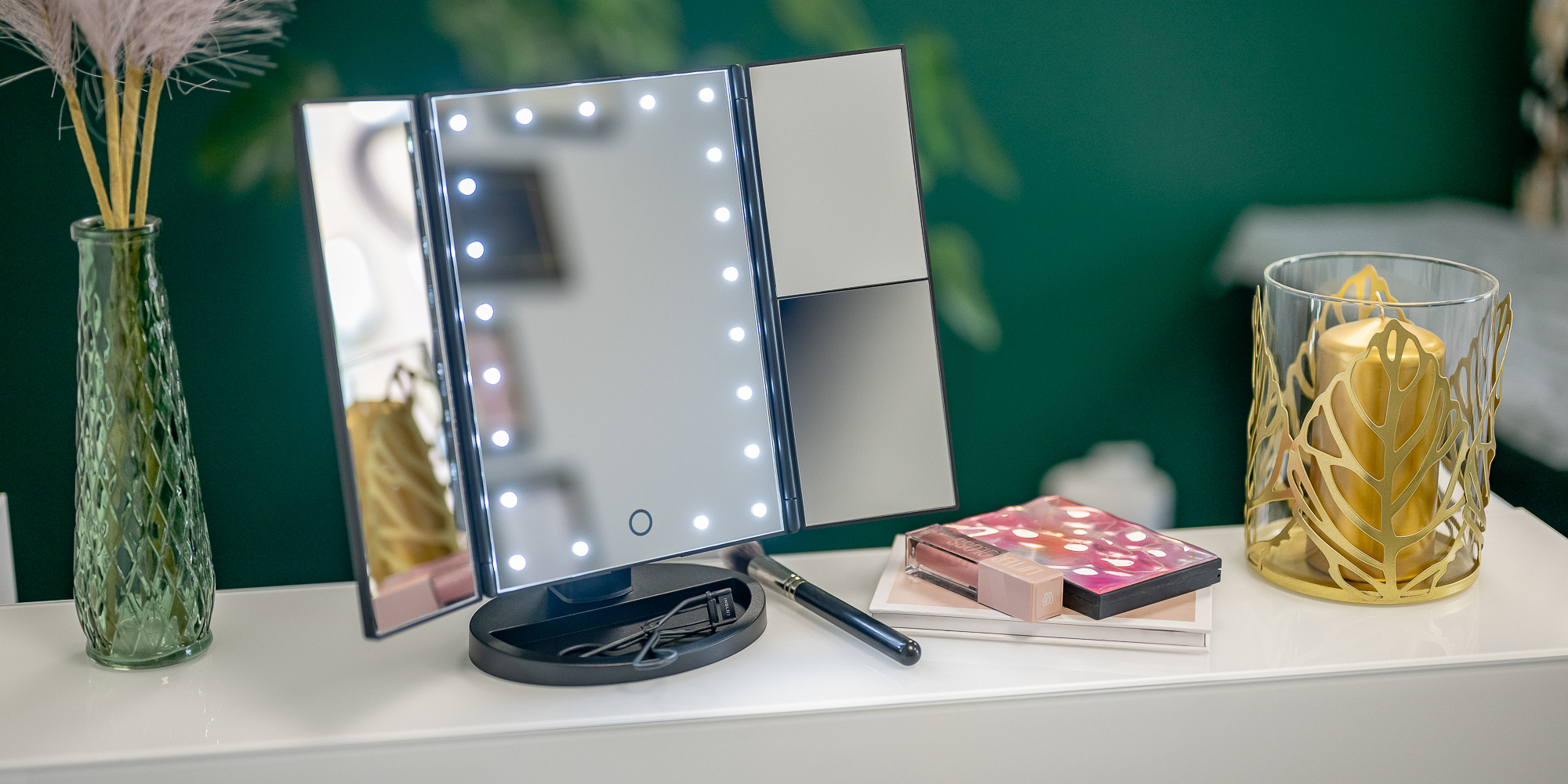 Main product features
illuminated makeup mirror equipped with additional auxiliary mirrors
fast and convenient unfolding saves space on your desk or dressing table
open gates equipped with additional mirrors (including magnifying mirrors)
main mirror with LED illumination, measuring 16 x 23.5 cm
an elongated auxiliary mirror measuring 7.8 x 23.5 cm
2 magnifying mirrors (x2 and x3) measuring 7.8 x 11.6 cm
21 LEDs integrated into the mirror sheet, arranged around the main mirror
adjustable light output
lateral mirrors can be tilted 180º
contact button integrated into the surface of the mirror
power option via micro USB port
USB-A / micro USB cable included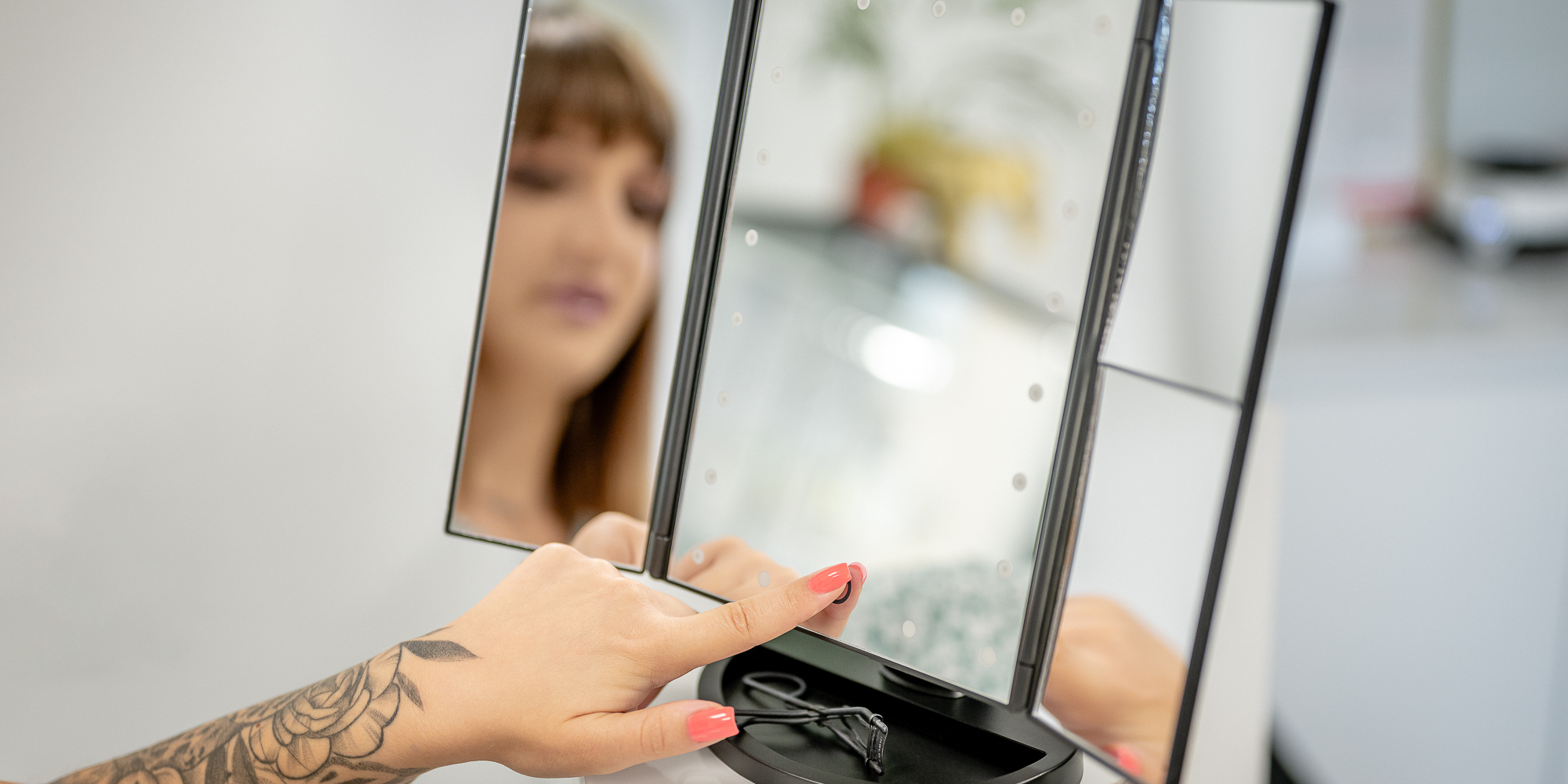 Refined make-up
Humanas HS-ML04 make-up mirror is a guarantee of perfect illumination, essential when applying make-up or daily grooming. The ergonomic arrangement of LEDs around the main mirror is a proven way to have the perfect make-up perfected in every detail. The solution, which has been accompanying professionals in the "beauty" industry for years, will successfully work at home. 21 LEDs are a guarantee of beautiful and even illumination of the face. Choosing the Humanas HS-HM02 mirror, you can be sure that your make-up will be perfect!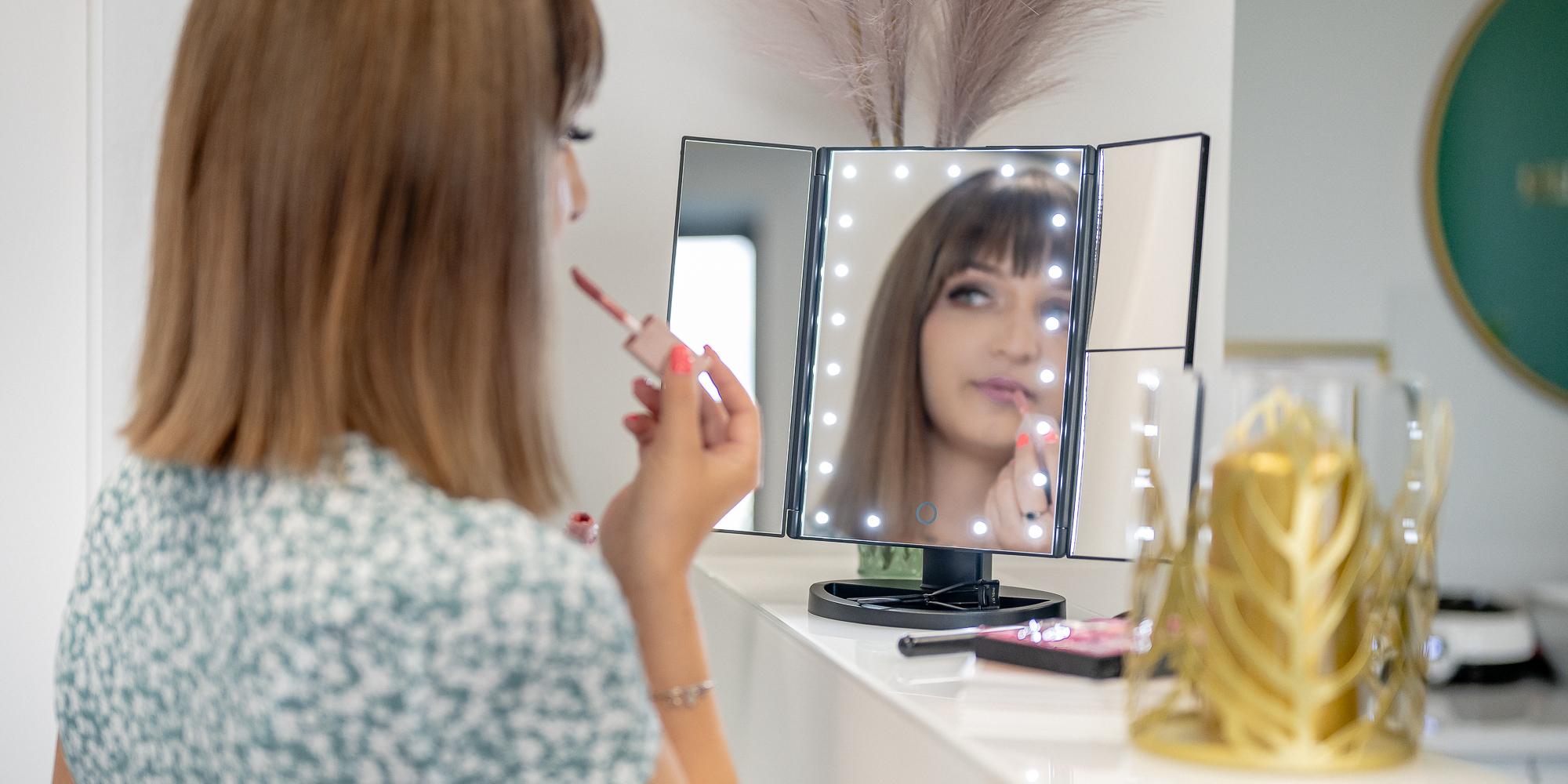 Unique helper mirrors
The Humanas HS-ML04 owes its unique functionality to its special folding gates. When you open them, you will find an auxiliary mirror on the left wing, which expands the functionality of the entire design. However, that's not all. The second wing is divided into two parts offering different types of zoom – 2x and 3x. With additional auxiliary mirrors, you gain the confidence that every element of your makeup will be polished to perfection.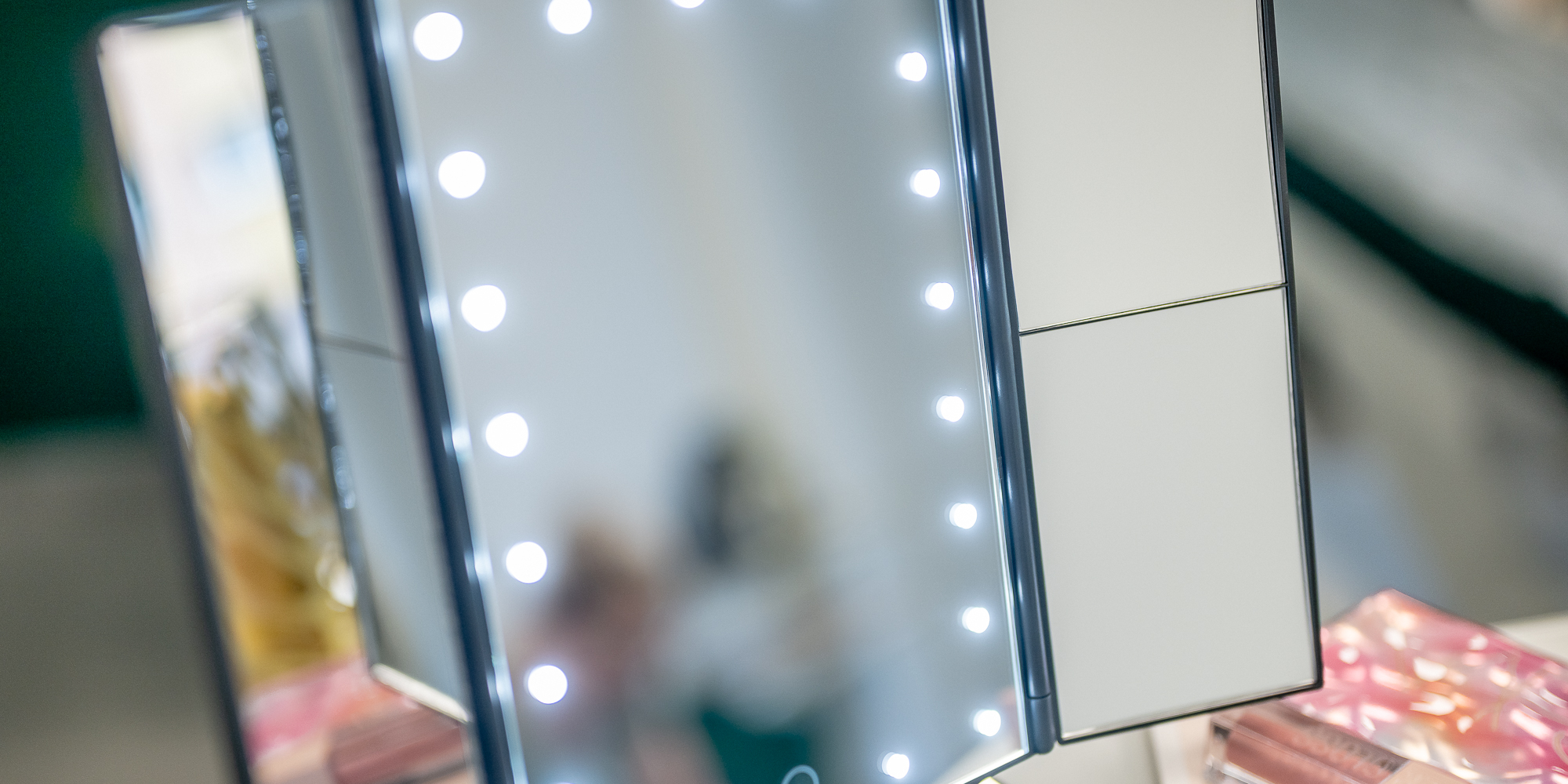 Adjustable backlight power
Humanas HS-ML04 mirror is a guarantee of full control over the intensity of the light. When you're getting ready for a party or an important meeting, you can increase the power of the backlight for a bright and precise reflection that will help you accurately apply your makeup and highlight the finest details. During daily grooming, the light can be slightly less intense so you don't have to strain your eyes. Just hold the touch button longer to smoothly adjust the brightness and fine tune it to your current needs.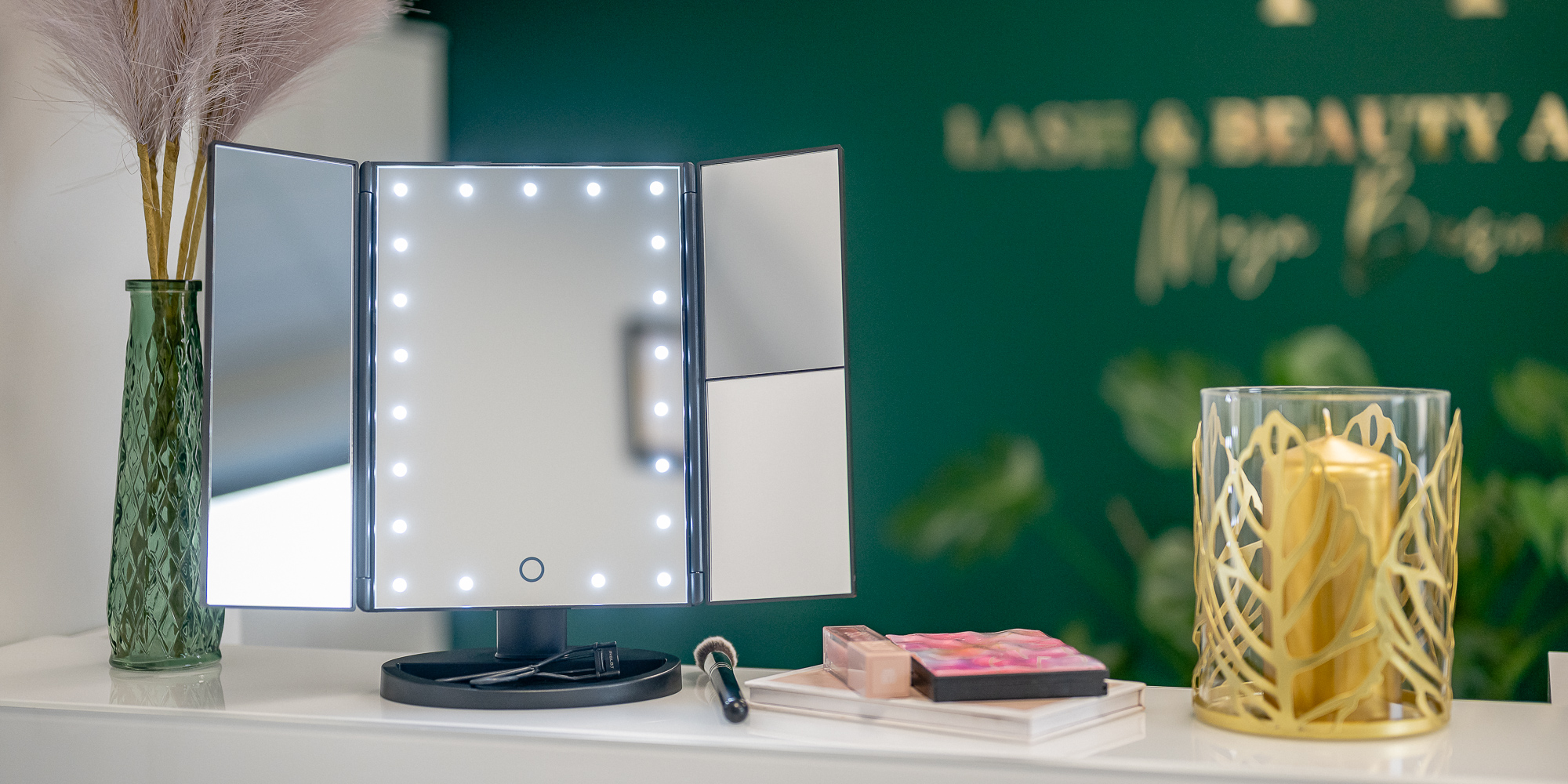 Two power ways
The Humanas HS-ML04 makeup mirror offers great flexibility in terms of power supply. You can use traditional AAA batteries or reach for the micro USB cable. The first option is a great choice when you're on the go or don't have access to an outlet or power bank. With AAA batteries, you gain full independence from electrical outlets. You can safely pack the mirror in your travel bag and be sure to apply the perfect makeup at your destination. And when you have a computer, power bank or smartphone charger handy, just reach for the micro USB cable and enjoy powering up without having to buy batteries!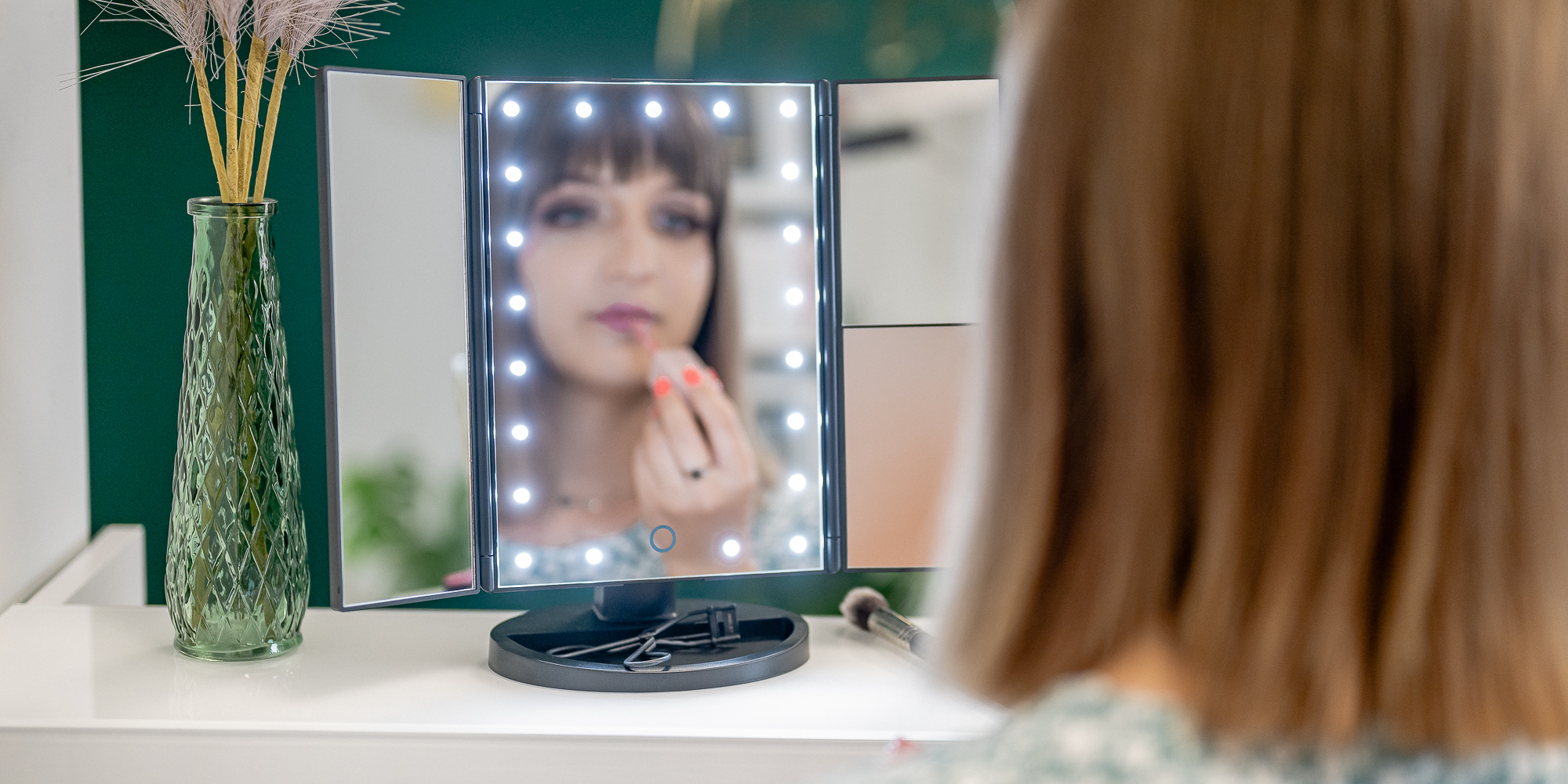 Everything-in-its-place
The Humanas HS-ML04 makeup mirror is a great choice for people who value order and ease of organization of their small accessories. A specially shaped recess located on the stand will make it easier to store small cosmetics or jewelry. This inconspicuous detail will help you save a lot of time when just before the party you start looking for your favorite earrings or lip gloss in a panic. With the Humanas HS-ML04 mirror the most important little things will always be at hand.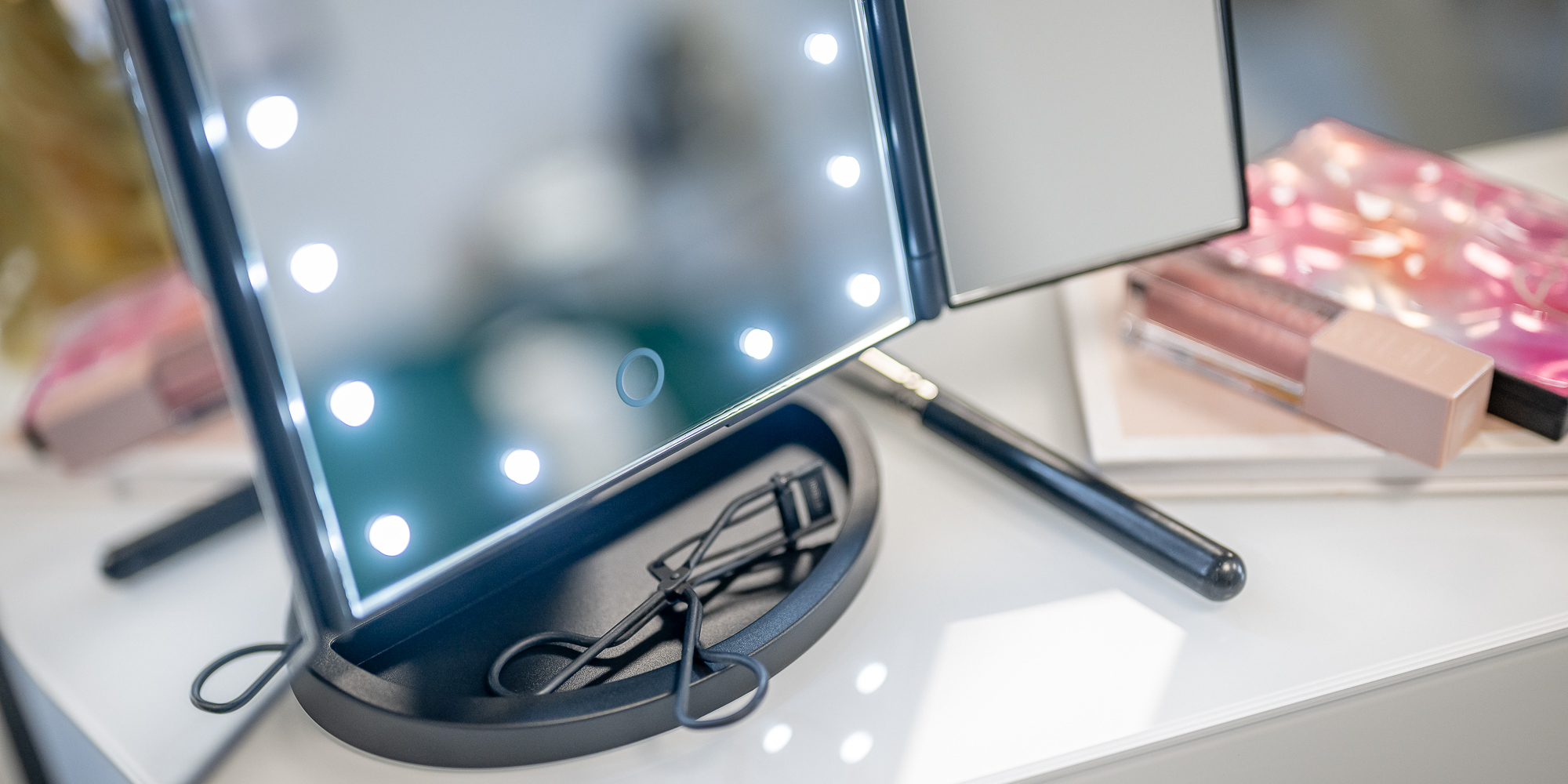 Great gift idea
Do you want to surprise a loved one with a practical gift? Or maybe you know someone who dreams of having their own mirror designed specifically for makeup? Humanas HS-ML04 is the perfect gift idea for enthusiasts of the art of makeup and makeup! Regardless of the occasion – birthdays, holidays, or anniversaries – this elegant mirror is sure to bring a lot of joy to the giftee.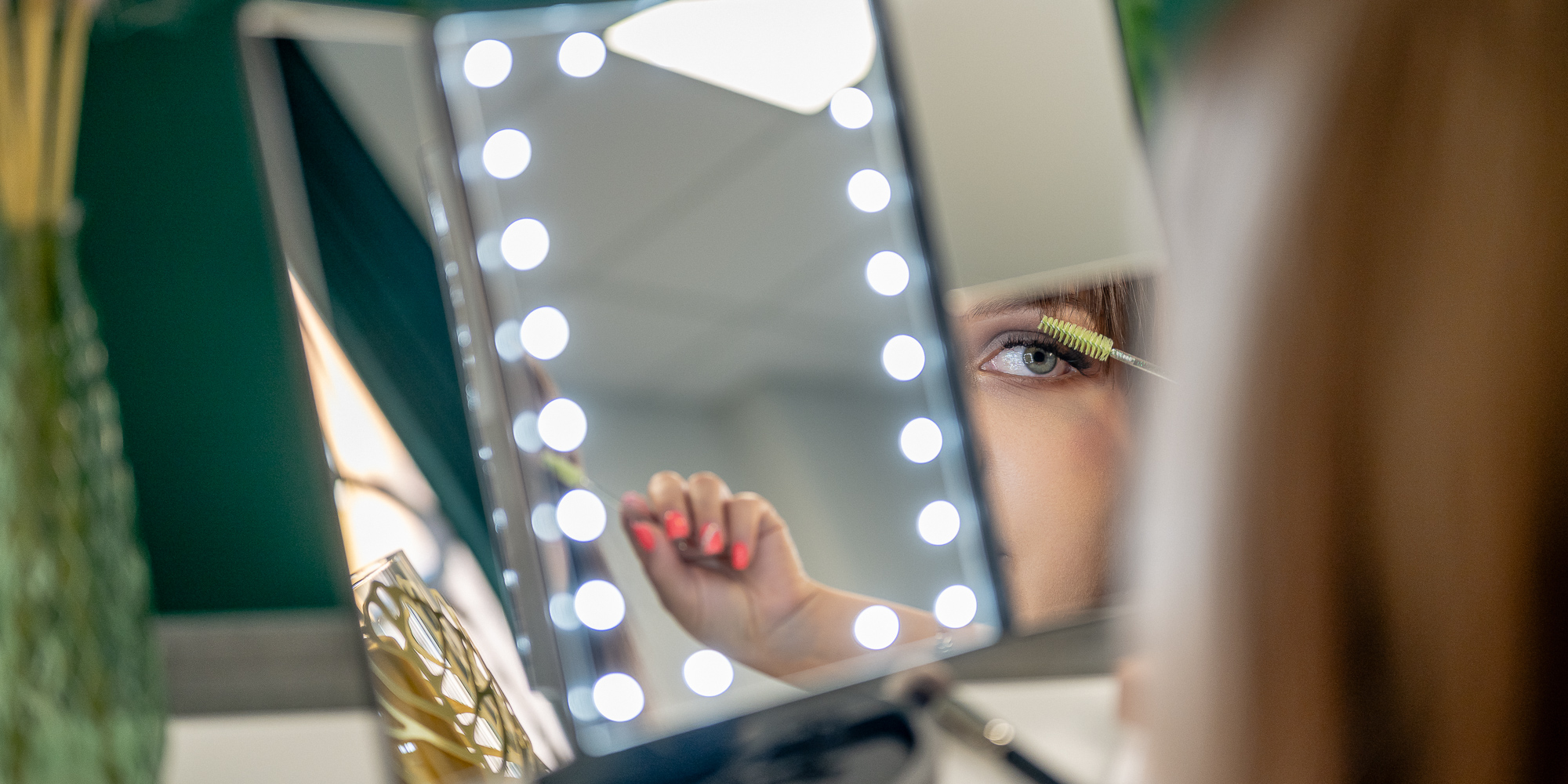 Specification
model: Humanas HS-ML04
LEDs: 21
Power supply:

4 x AAA battery or rechargeable battery
micro USB port

Base dimensions: 16 x 12 cm
Mirror dimensions:

folded: 238 x 180 mm
folded: 238 x 346 mm

weight: 786 g
Set contents
Humanas HS-ML04 makeup mirror with LED backlight – black
stand
USB-A / micro USB cable