Description
The Humanas HS-PM01 cosmetic mirror with LED illumination is the perfect companion in your daily grooming. Thanks to its compact design, it will fit into any handbag, and when you need it, you can open it like an elegant powder box. The upper and lower panels of the mirror are equipped with backlighting, which will provide optimal lighting conditions, no matter where you are. You can smoothly adjust the power of the light, as well as choose from three variants of color temperature. In addition, the mirror allows you to optimally adjust the angle of tilt, up to 160º. You can quickly charge the built-in rechargeable battery with a micro USB cable. This is an extremely practical cosmetic mirror that will allow you to apply perfect makeup in any situation.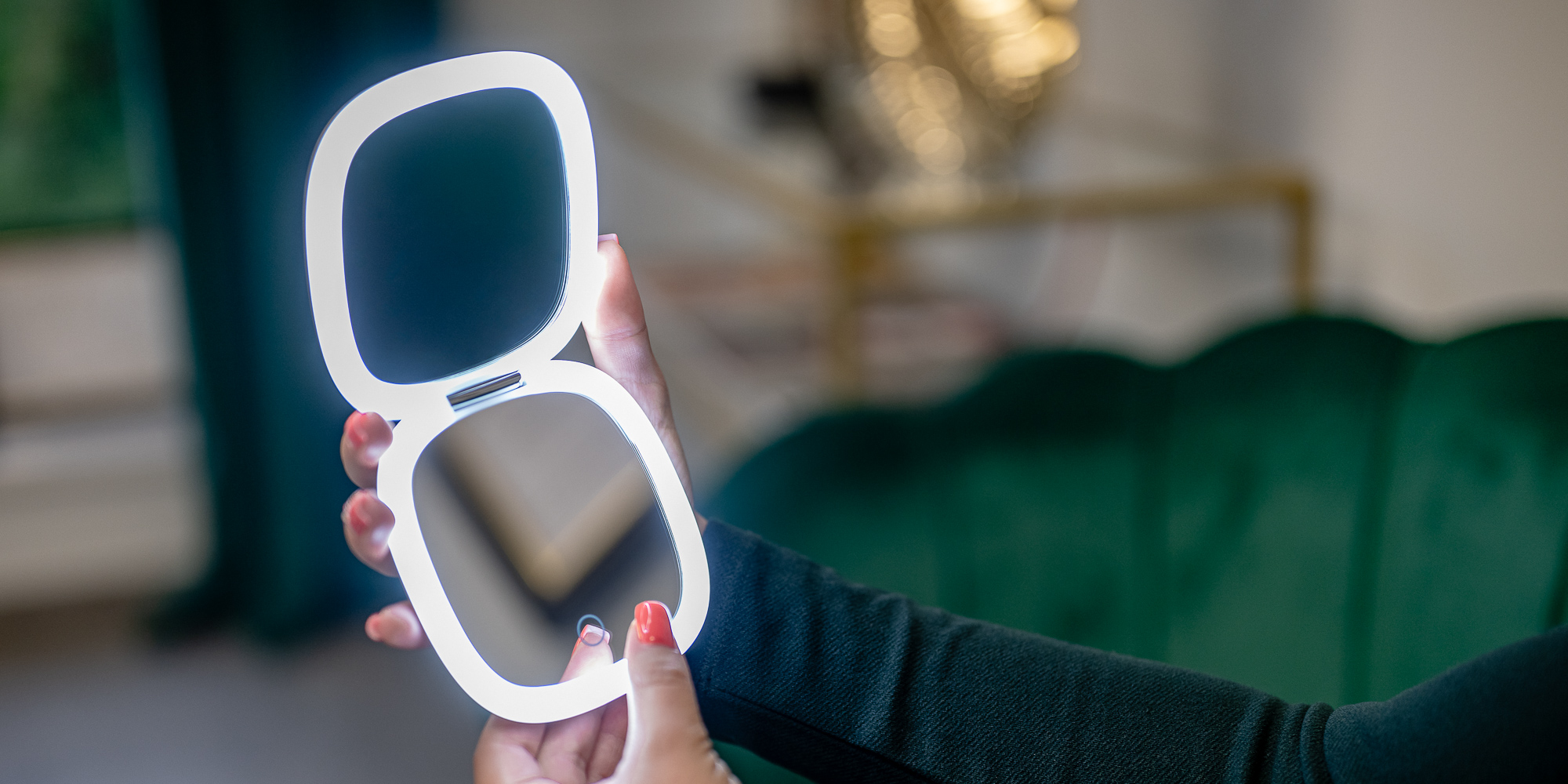 Main product features
practical cosmetic mirror, just right for a woman's handbag
stylish and modern design
compact dimensions (99 x 99 x 23 mm)
the top and bottom panels of the mirror are equipped with LED backlighting
adjustable light output
3 variants of light color temperature: warm, cold and neutral
enables optimal tilt angle adjustment (up to 160º)
provides optimal lighting conditions for daily grooming and makeup application
5-fold zoom on the upper surface of the mirror allows you to see the slightest makeup imperfections
energy-efficient LEDs ensure long life
contact buttons integrated into the surface of the mirror
magnetic locking
white glossy housing and silver hinge
charging via micro USB port
LED light indicating charging process
USB-A / micro USB cable included
Perfect make-up in any situation
Utilizing LEDs on both faces of the mirror, the Humanas HS-PM01 mirror provides the perfect illumination needed when applying makeup or daily grooming. Now you can enjoy a bright and clear reflection no matter where you are. LEDs hidden under the milky plastic are a guarantee of even and soft illumination of your face.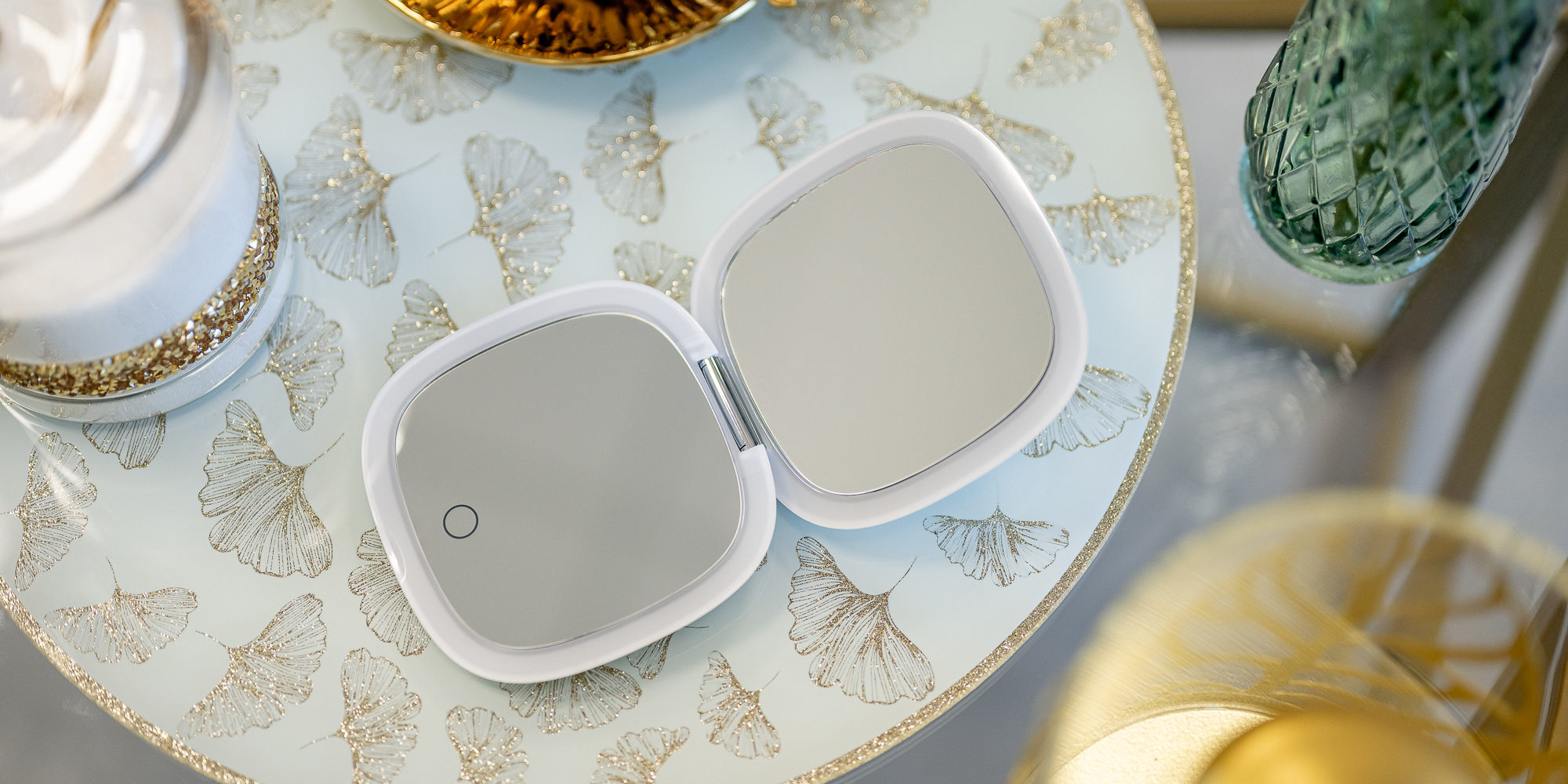 You will not miss any detail
The mirror's top panel offers 5x magnification, which will allow you to see the finest details on your face. With the Humanas HS-PM01 cosmetic mirror at hand, you can easily apply demanding makeup, precisely mark the contours of your eyebrows or remove any imperfections. Your make-up will be perfected to the smallest detail!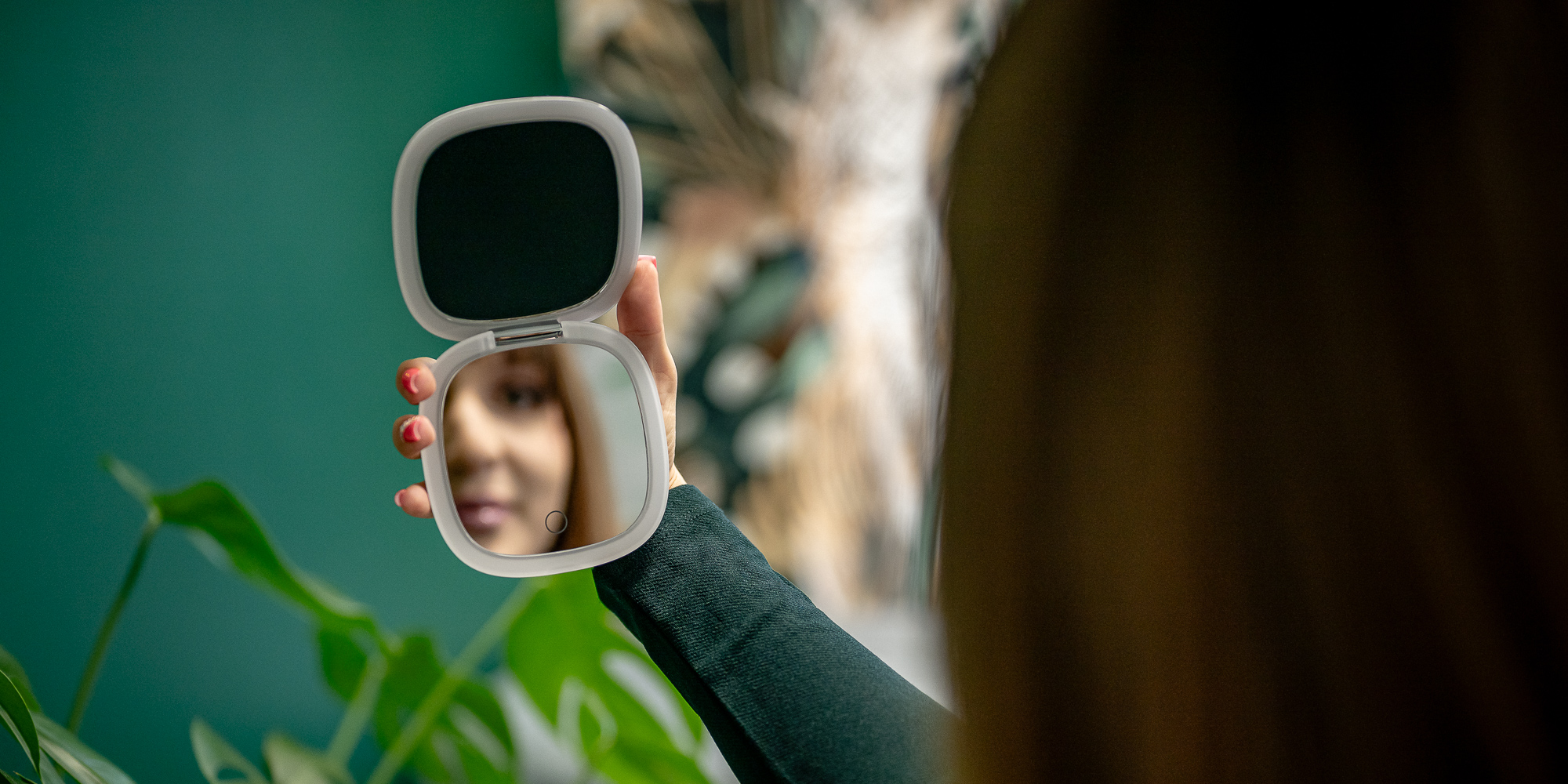 Light for every occasion
Depending on the time of day and the effect you want to achieve, you can illuminate your face with cold, neutral or warm light. The adjustable color temperature offered by the Humanas HS-PM01 cosmetic mirror allows you to choose the color of the light to perfectly reflect your skin tone and the makeup applied to your face. All you have to do is press the touch-sensitive button with your finger and the device will quickly switch to the next mode.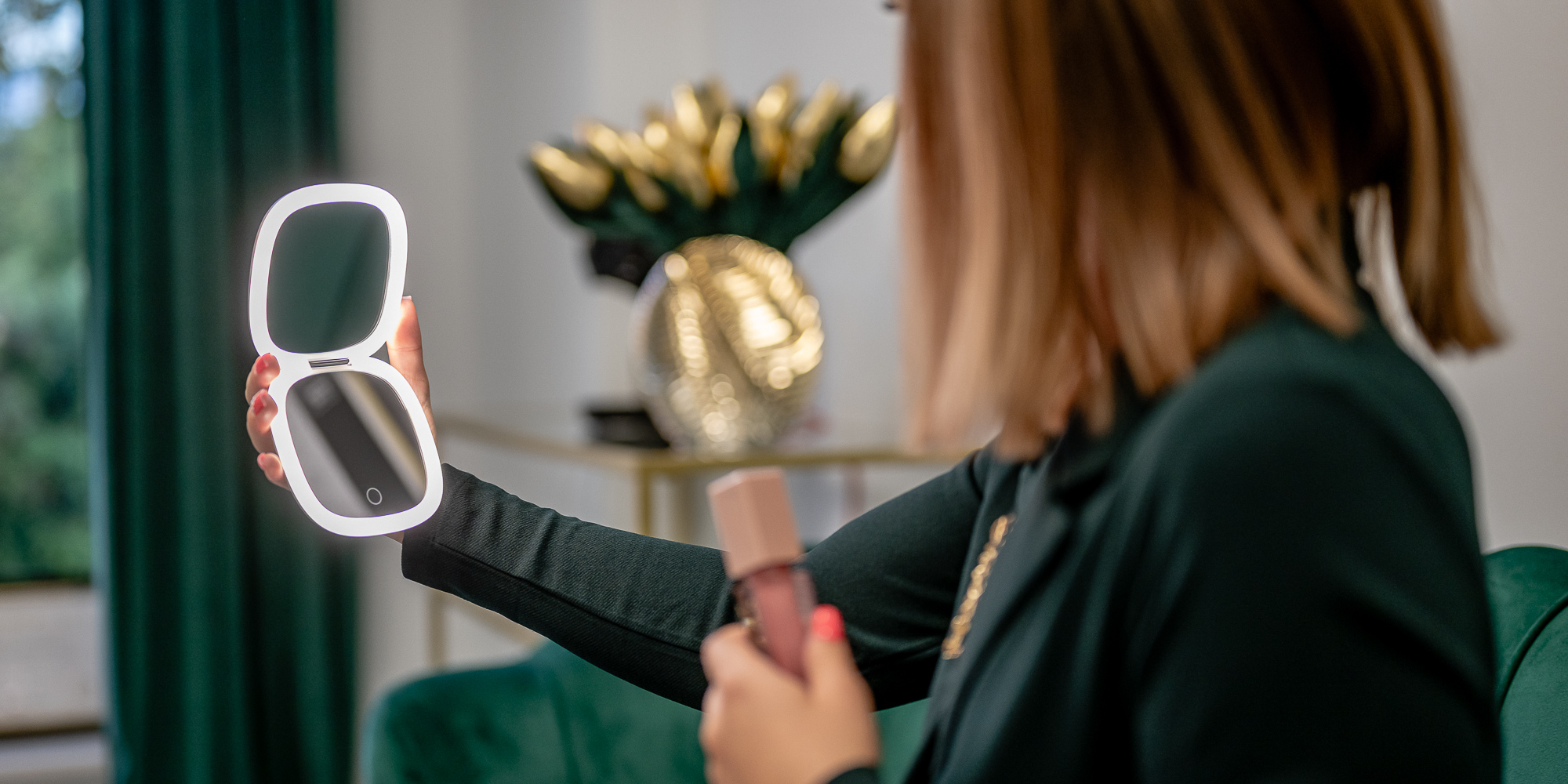 Adjustable backlight power
Humanas HS-PM01 cosmetic mirror is a guarantee of full control over the intensity of the light. When you are preparing for an event or an important meeting, you can increase the power of the backlight to get a bright and precise reflection that will help you apply your makeup accurately and highlight the finest details. During daily grooming, the light can be slightly less intense so you don't have to strain your eyes. Just hold the touch button longer to smoothly adjust the brightness to perfectly suit your current needs.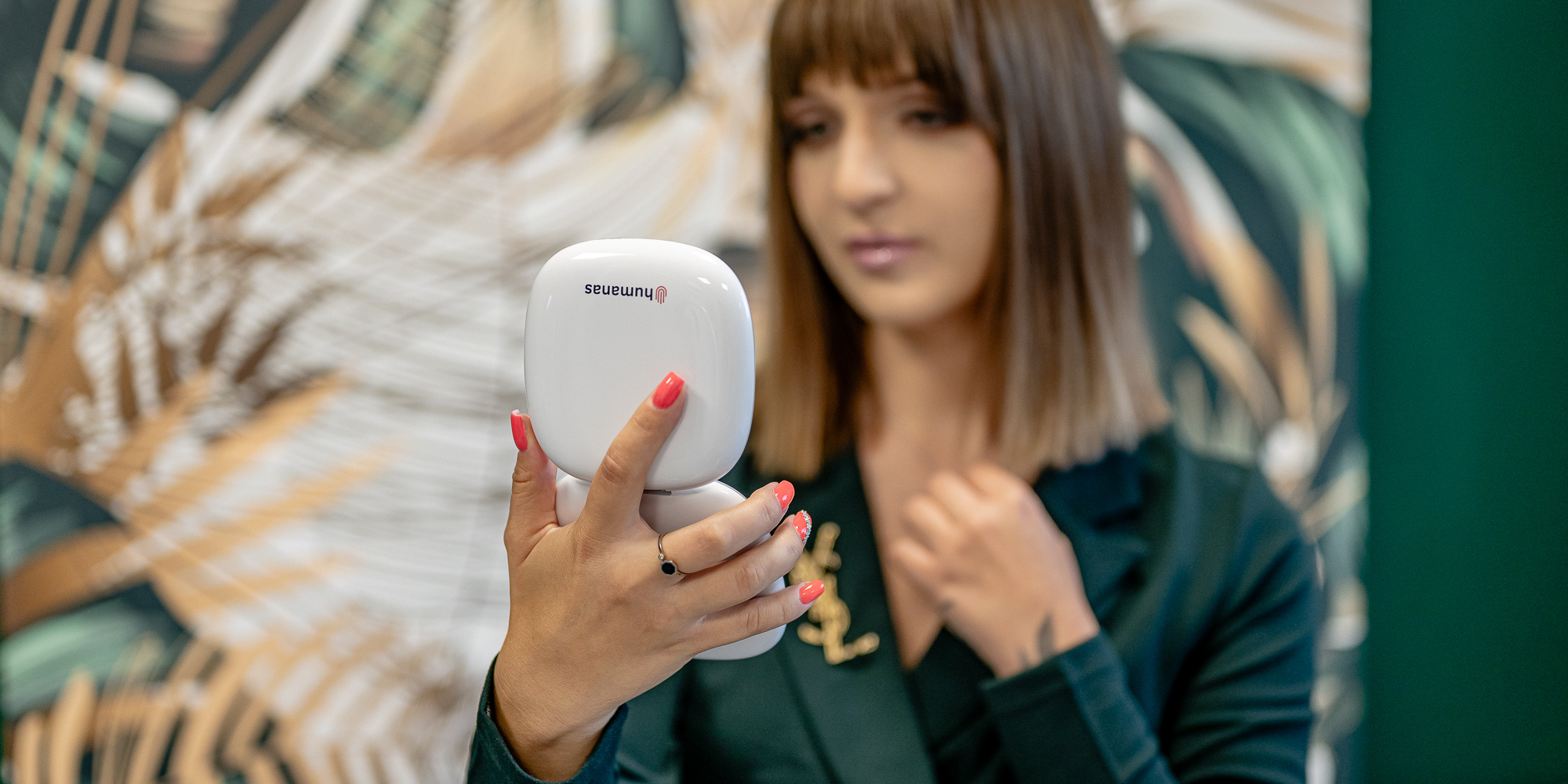 Style design
The Humanas HS-PM01 mirror is a fashionable accessory that can't be missing from your handbag. Its glossy white casing combined with a silver hinge create a harmonious composition that impresses with its modern and elegant design. The magnetic closure provides convenient access and protects both panels of the mirror from possible scratches. Whether you use it at home or take it on a trip, the Humanas HS-PM01 mirror will always be ready to reassure you that you are the most beautiful in the world!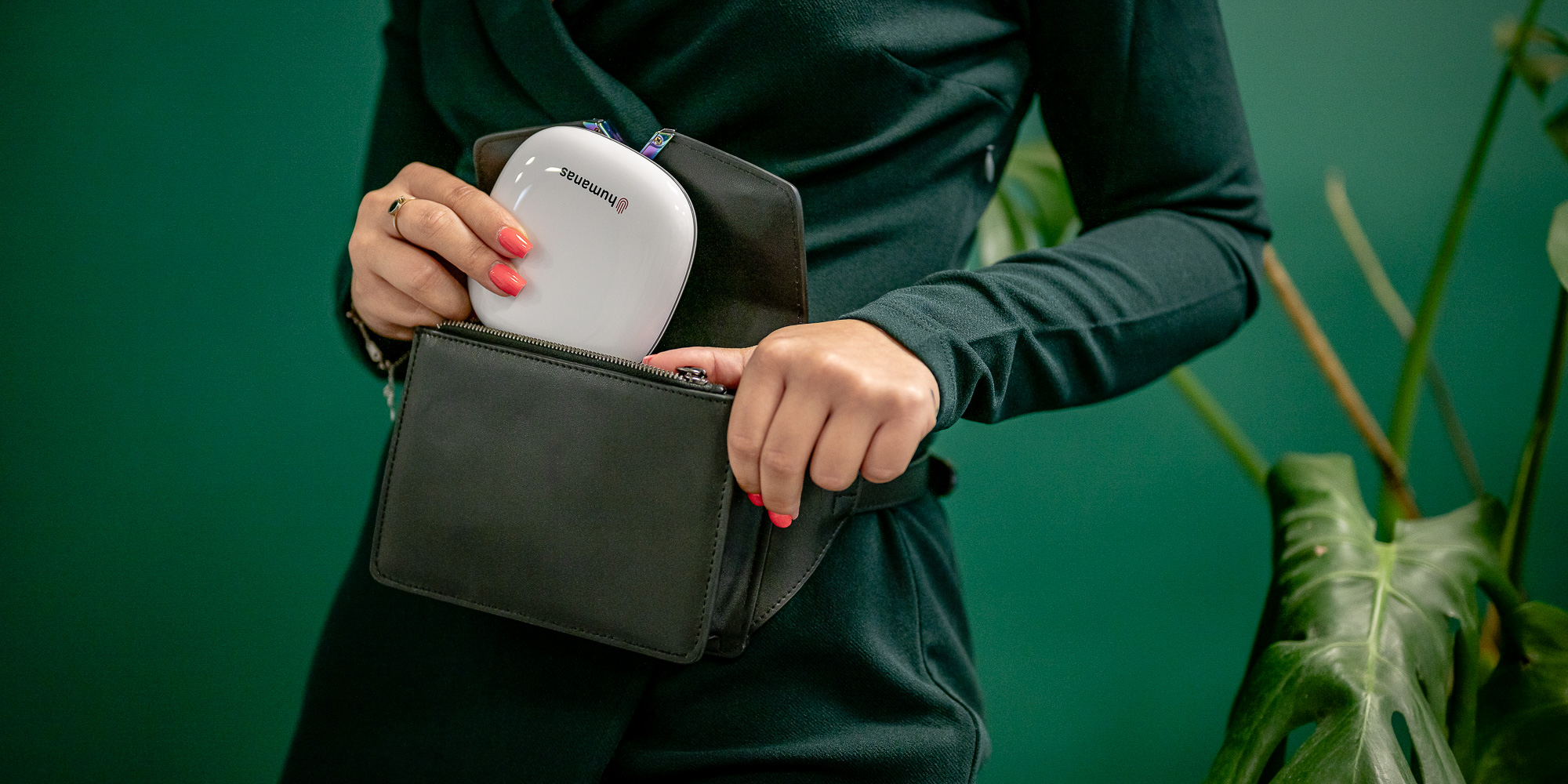 Mirror for years
Thanks to modern technology, the Humanas HS-PM01 mirror is not only environmentally friendly, but also ensures long-lasting use. The LEDs used are so durable that they do not need to be replaced for many years, which means that the device will serve you with excellent illumination quality for a very long time.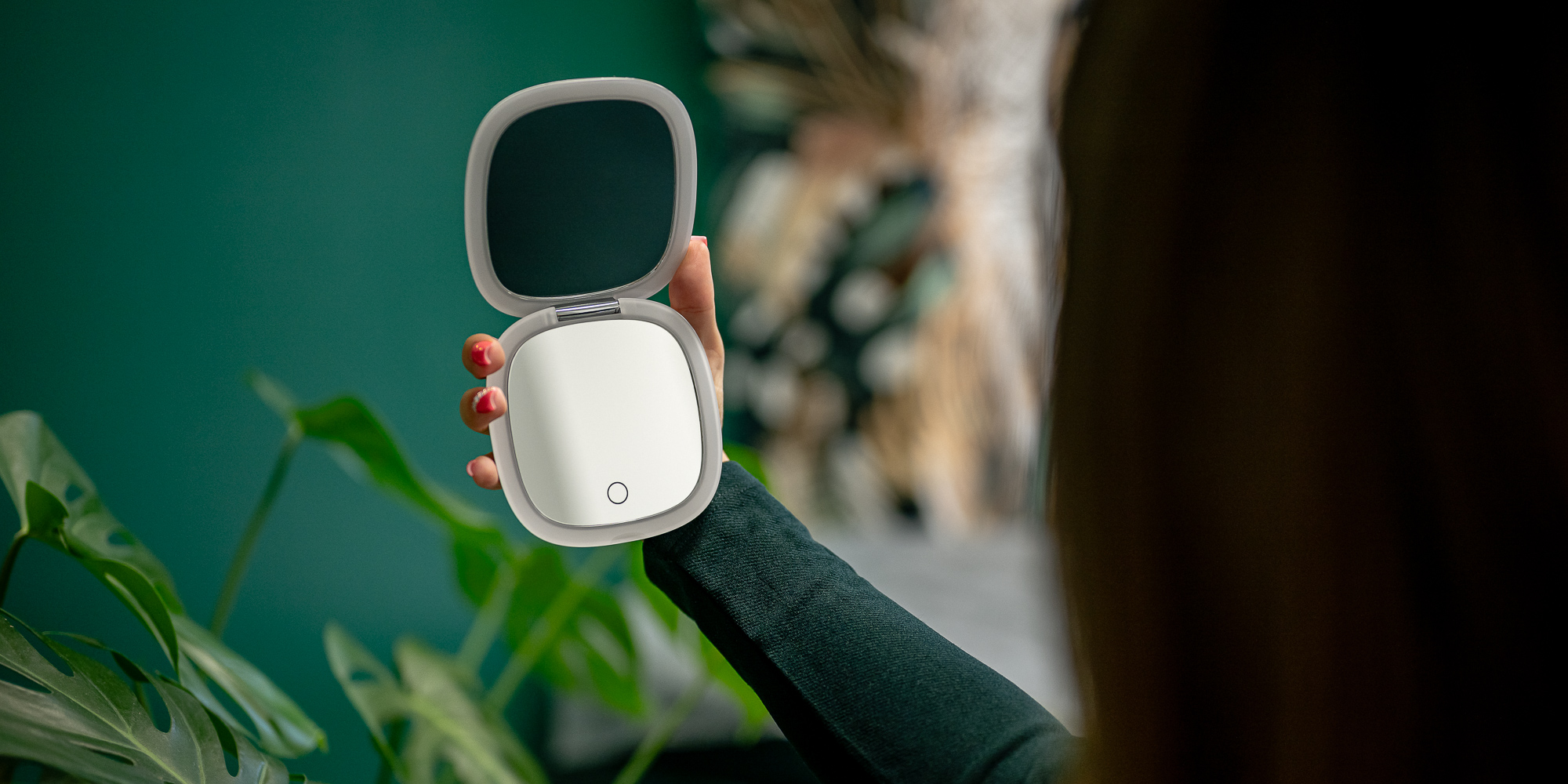 Convenient charging
Choosing the Humanas HS-PM01 mirror with LED backlight, you don't have to worry about replacing batteries. Hidden under the casing is a capacious battery (600 mAh), which you charge using a micro USB port. You can do this anywhere by reaching for the included cable and connecting the device to a charger, laptop or power bank. A small LED light will let you know when the charging process has begun, so you can always be sure the mirror will be ready for use when you unplug it from the power source.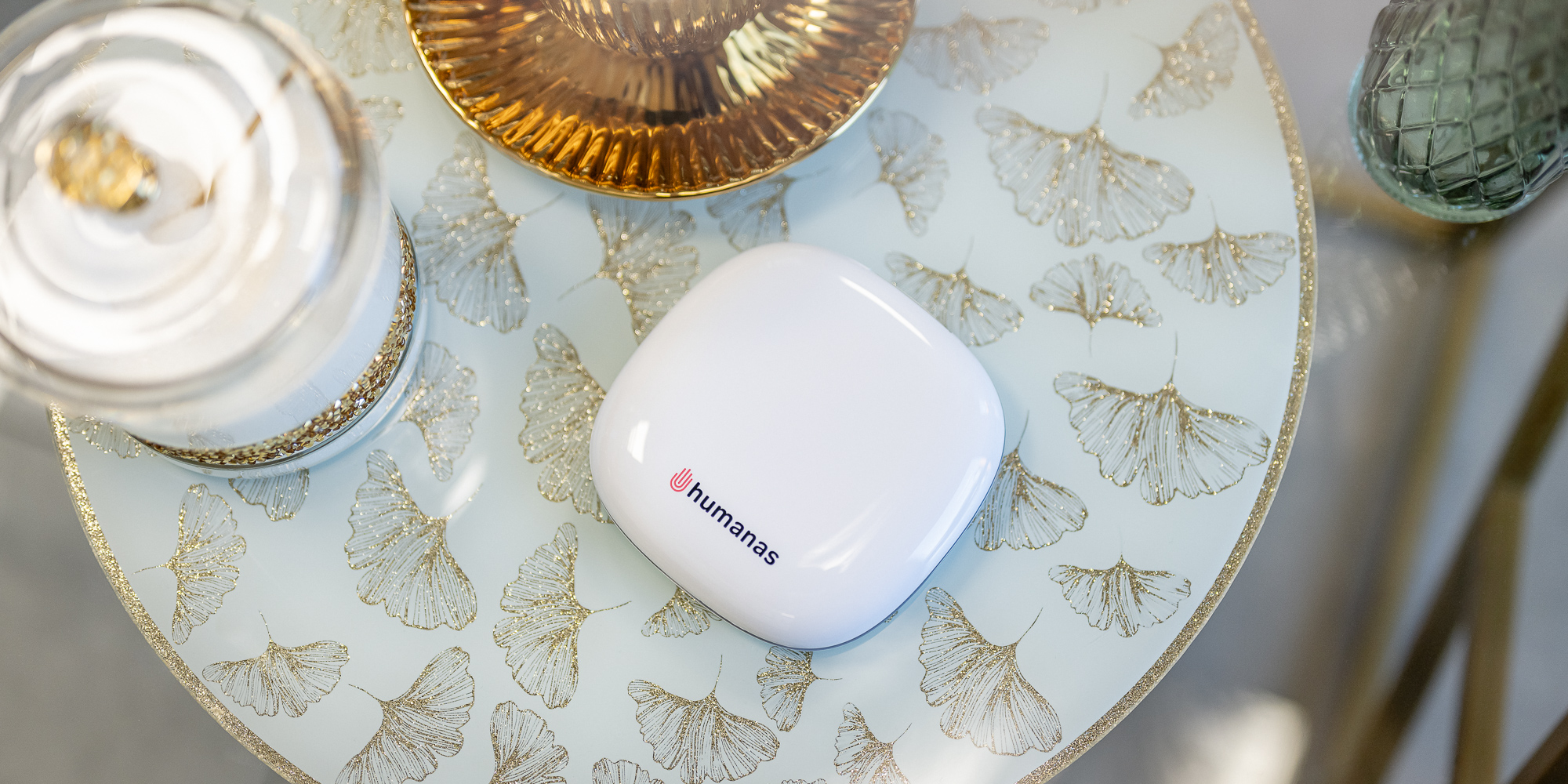 The perfect gift idea
Want to make a surprise for someone close to you? The Humanas HS-PM01 mirror with LED illumination is the perfect gift idea for anyone who cares about their appearance and likes to surround themselves with nice objects. Regardless of the occasion – birthdays, holidays, or anniversaries – this elegant mirror is sure to come in handy more than once for the recipient. Especially when the gift is combined with an elegant trunk or clutch bag…. 😉
Specification
model: Humanas HS-PM01
operation: touchscreen
battery: 600 mAh
charging port: micro USB
dimensions: 99 x 99 x 23 mm
weight: 143 g
Kit contents
Humanas HS-PM01 cosmetic mirror with LED backlight – white
USB-A / micro USB cable