Description
H&Y K-series ND64 HD MRC grey filter – 100×100 mm
The H&Y K-series ND64 HD MRC grey filter, measuring 100 by 100mm, will effectively darken your image when taking photos on sunny days. With its help, you'll achieve amazing effects when photographing water, sky or moving people. This filter will also help to blur the background of outdoor portraits. With a 64x darkening factor, the exposure time can be extended by 6 stops, giving you the ability to take beautiful shots at long shutter speeds. Thanks to the strong magnets, you'll install the frame on the special holder in seconds, and combine it with other filters if needed. Choose H&Y's revolutionary accessories and experience the true convenience of working with your camera!
Main features of the H&Y K-series ND64 HD MRC grey filter – 100×100 mm
innovative magnetic mounting system compatible with H&Y K-series filter holder
super fast and easy filter mounting
made of durable and scratch-resistant Corning Gorilla Glass III
reduces exposure by 6 stops of aperture
reduces exposure by 6 stops of aperture
coated with 9-layer hydrophobic coating to prevent fingerprints
frame prevents distortion and provides extra protection for filters
filter edge reinforcement
identification label on the frame
micro-filter cloth
microfiber cloth and neoprene pouch included
Magnetic revolution
The unique design of the magnetic frames made of anodised coated aircraft aluminium will protect the grey filter installed inside and streamline your daily workflow. Anyone dealing with the unique mounting standard from H&Y for the first time will ask themselves one fundamental question, "Why hasn't anyone invented this before!". The magnetic mount is pure convenience and comfort, which will be appreciated by both professionals and novice photographers looking for an ergonomic working system. Simply select a filter and "stick" it to the holder located on the lens. Reach for another when needed. The magnetic frames connect to each other, opening up a sea of creative possibilities.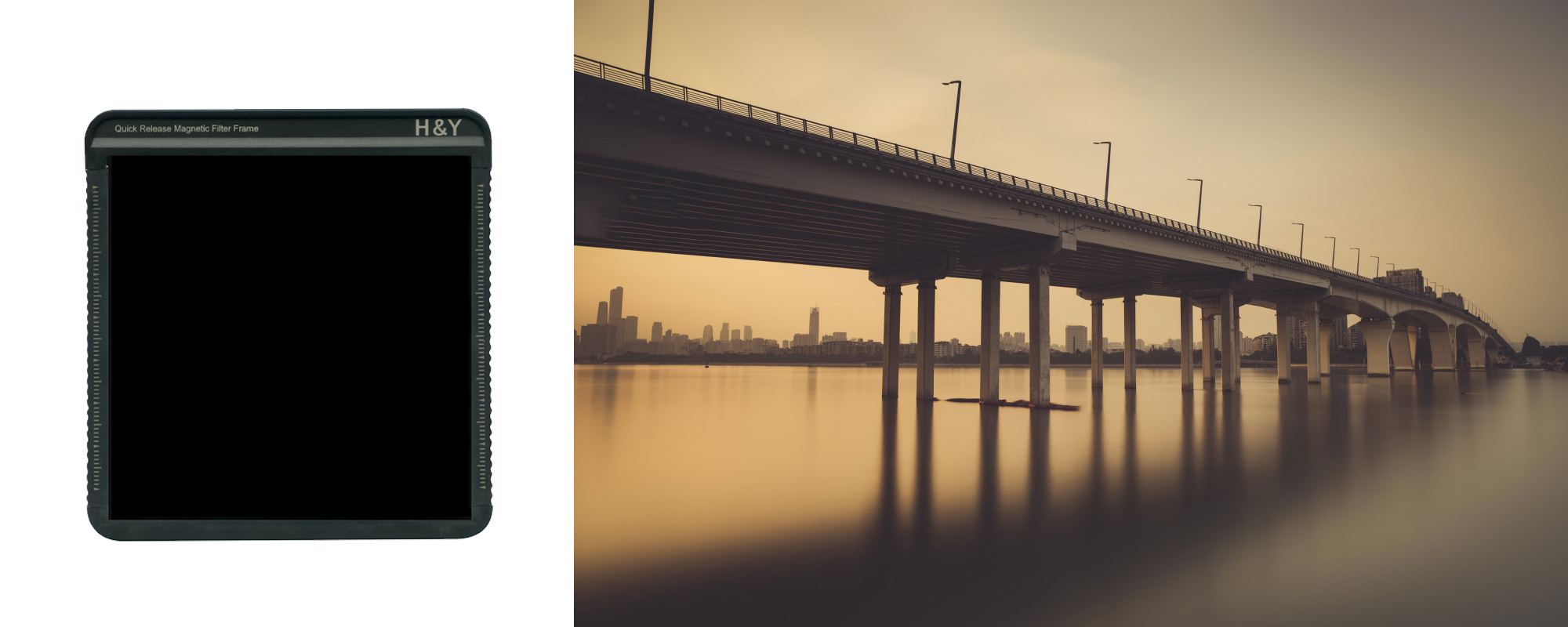 Quality you can trust
K-series grey filters are more than just an innovative magnetic mounting system. They are made from super-strong Corning Gorilla Glass III, which successfully protects smartphone screens on a daily basis. The unique feature of the technology used is high resistance to deep scratches, which are a common cause of cracking. The glass is also covered with a 2-sided, 9-layer coating, which will protect your filters against water, oils and fingerprints. A special microfibre cloth is also included. This will enable quick removal of dirt from both filters and lenses.
A filter that will last you for years
The magnetic frame in which the H&Y K-series ND64 HD MRC – 100×100 mm grey filter is enclosed is made of high quality aircraft grade aluminium. Thanks to this, the entire construction is not only lightweight but also very durable. Filters placed in the frame remain perfectly flat and do not deform. The holder also protects their edges, which in the case of competitive products without additional reinforcements are very often damaged. Included with the H&Y K-series ND64 HD MRC filter – 100×100 mm you will also find a soft neoprene pouch for extra protection.
Beautiful portraits with a blurred background
The blurred background you achieve with a shallow depth of field is an effect you often want to achieve when taking portrait photos. However, taking such photographs on sunny days can be difficult and this is where the H&Y K-series ND64 HD MRC grey filter – 100x100mm comes to the rescue. Reducing the aperture by 6 degrees, it allows you to open it wider, providing an eye-pleasing background blur. Have fun, experiment and take even better pictures! With H&Y K-series filters you will discover infinite layers of creativity and your photographs will enter a whole new level of quality.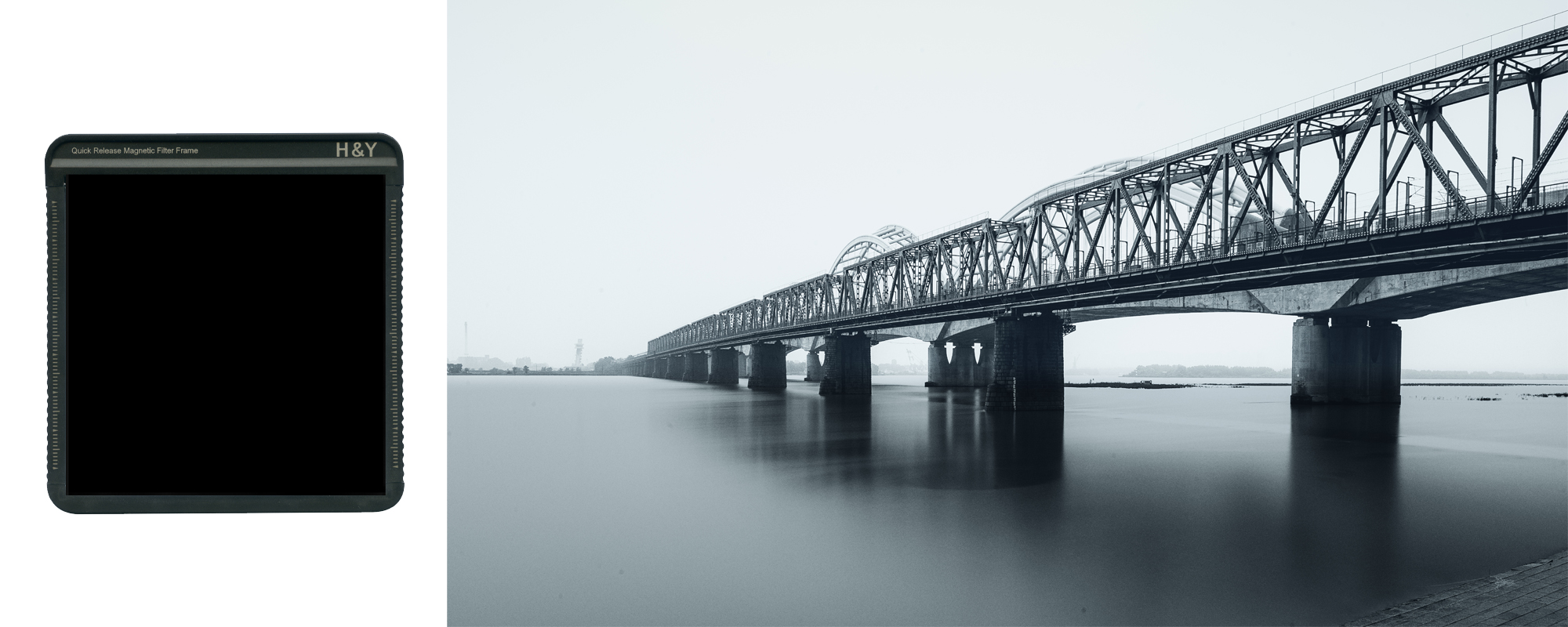 New quality outdoor photography
Excessive lighting when shooting outdoors is a common problem for many photographers. Grey filters come to the rescue, limiting the amount of light reaching the lens, without interfering with the colours. By keeping the ISO and aperture constant we can then extend the exposure time. With the H&Y K-series ND64 HD MRC – 100x100mm Grey Filter, you can achieve the amazing effect of softly blurring landscape elements such as water, clouds or lightning flashes. Discover the magic of outdoor photography. When working with K-series filters, you are only limited by your creativity. Join the H&Y family and see how much you can gain by expanding your toolbox with grey filters.
Free of blips and reflections
The sophisticated design of the frame means that the filter pre-installed inside it, fits perfectly into the frame. This prevents unwanted light rays escaping at the edges from entering the lens. Equally "tight" will be the magnetic connection when the frame with the filter is "glued" to the mount. The precision and extreme accuracy of this design will ensure that accidental blips and reflections will be effectively eliminated from your frames.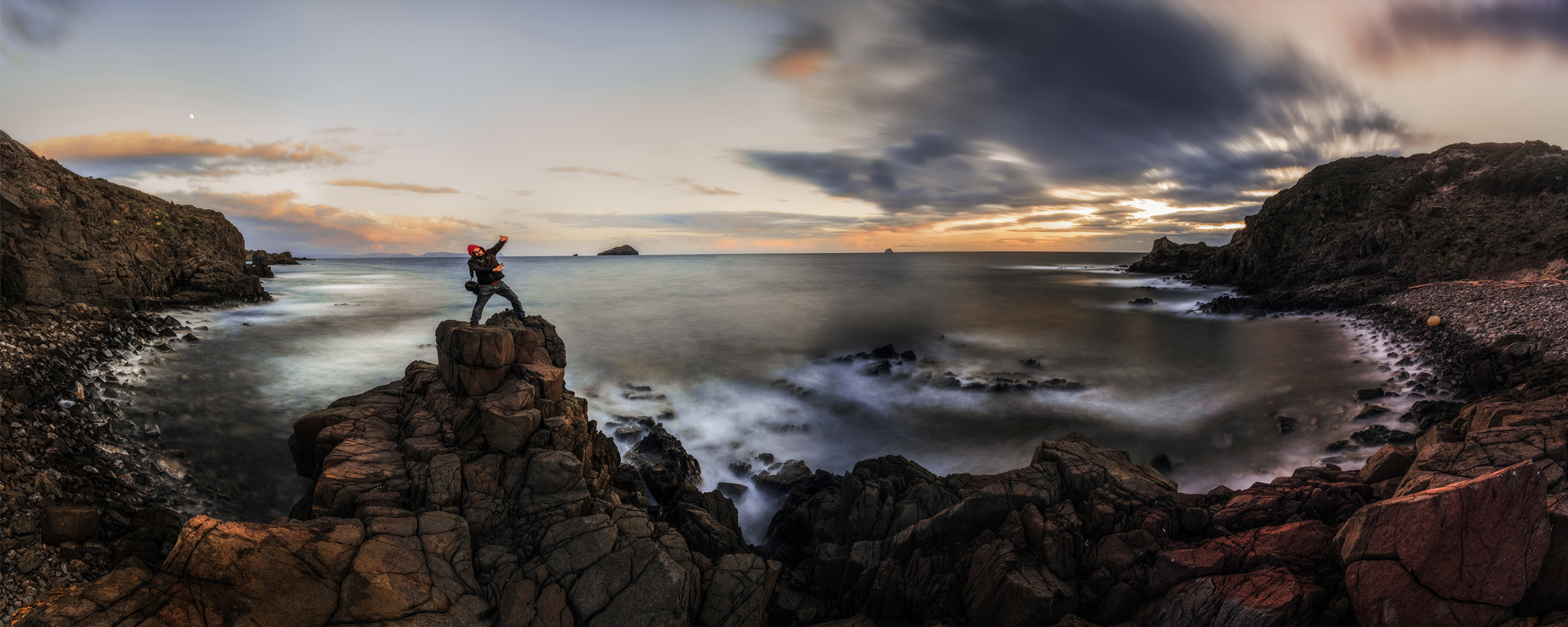 Explore the family of filters and accessories from H&Y
Attaching filters to lenses has never been easier. And this is just the beginning of a revolution. Meet the family of unique photographic accessories from H&Y that will make your working environment more ergonomic and take your photos and videos to a new level. Discover filters made from the toughest Corning Gorilla Glass III, magnetic K-series mounts, and unique Revoring Series mounts that will help you forget about standard reduction rings once and for all. Experience the unique H&Y ecosystem and see what true camera convenience can be!
Specification
Model: H&Y K-series ND64 HD MRC grey filter – 100×100 mm
Filter type: neutral grey
Optical density: 1.8 (ND64)
Exposure reduction: 6 aperture steps
Glass: Corning Gorilla Glass III
Applied coating: 2-sided, 9-layer hydrophobic coating to prevent fingerprints
Filter format: 100 x 100
Filter thickness: 2 mm
Dimensions: 10.8 x 11.6 cm
Compatibility
H&Y K-series filter mount
Kit contents
H&Y K-series ND64 HD MRC grey filter – 100×100 mm (pre-installed in magnetic frame)
neoprene filter pouch
microfiber cloth