Description
The soft grey half filter GND 0.6 with magnetic frame H&Y – 100×150 mm compatible with the innovative H&Y K-series mount will conveniently reduce exposure in a selected part of the frame, ensuring contrasting subjects are correctly exposed. Do you shoot sunsets? Do you shoot landscapes where there is a contrast between the sky and, for example, mountains or forests? Then this filter is just the thing for you! Thanks to it, your photos will be detailed and will even better reflect the beauty of the world around us. Thanks to its strong magnets, you can install the frame on a special holder within seconds and combine it with other filters if necessary. Choose revolutionary H&Y accessories and find out what true camera convenience is!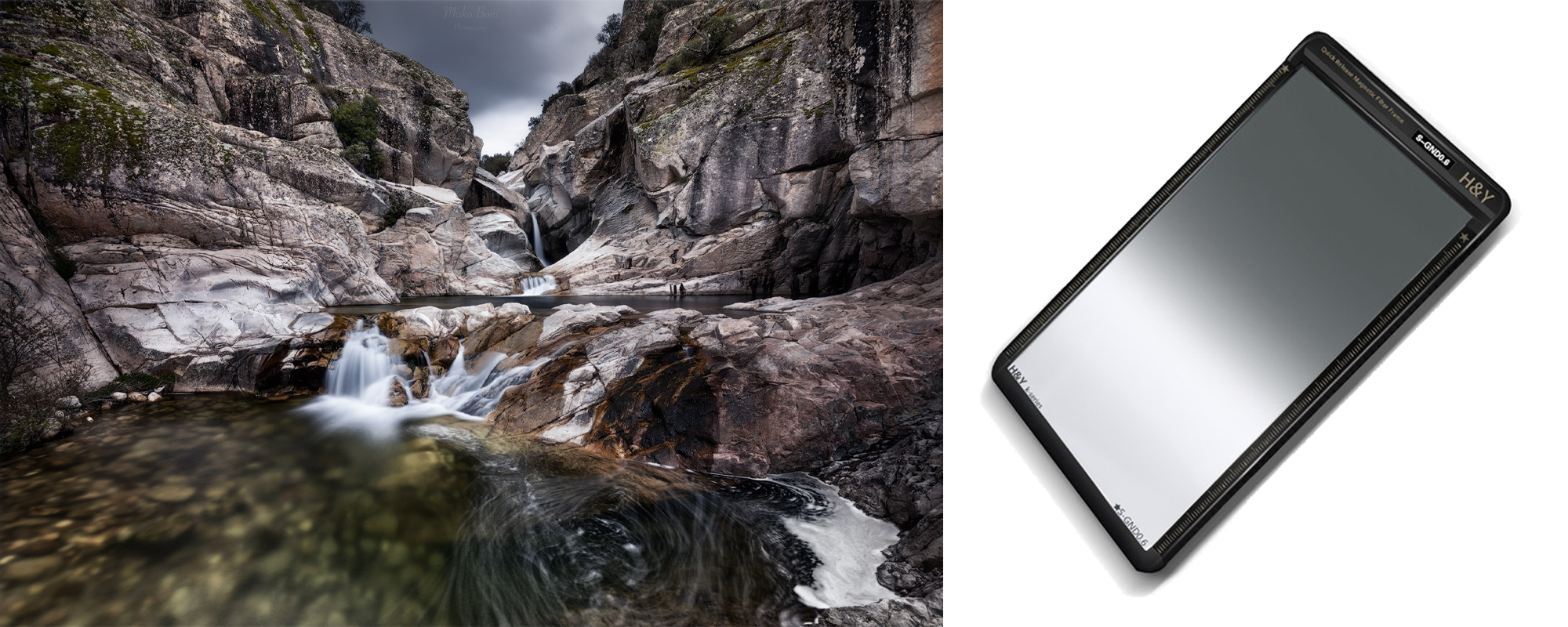 Main features of GND 0.6 half filter with H&Y magnetic frame
innovative magnetic mounting system compatible with H&Y K-series filter holder
super fast and easy filter mounting
half filter with an optical density of 0.6 (GND 4) allows exposure to be reduced by 2 stops of aperture
made of durable and scratch-resistant Corning Gorilla Glass III
coated with a 9-layer hydrophobic coating to prevent fingerprints
frame prevents distortion and provides extra protection for filters
filter edge reinforcement
identification label on the frame
microfiber cloth and neoprene pouch included
Magnetic revolution
The unique design of magnetic frames made of anodised coated aircraft aluminium will protect the soft grey half filter installed inside and improve camera handling on sunny days. Anyone dealing with the unique mounting standard from H&Y for the first time asks themselves one fundamental question: "Why didn't anyone invent this before?!". The magnetic mount is pure convenience and comfort, which will be appreciated by both professionals and novice photographers looking for an ergonomic working system. Simply select a filter and "stick" it to the holder located on the lens. Reach for another when needed. The magnetic frames connect to each other, opening up a sea of creative possibilities.
High Quality Construction
K-series filters are more than just an innovative magnetic mounting system. They are made from super-strong Corning Gorilla Glass III, which successfully protects smartphone screens on a daily basis. The unique feature of the technology used is high resistance to deep scratches, which are a common cause of cracking. The glass is also covered with a 2-sided, 9-layer coating, which will protect your filters against water, oils and fingerprints. A special microfibre cloth is also included. This will enable quick removal of dirt from both filters and lenses.
Beautiful landscape images
With a smooth transition between the neutral and grey parts of the filter with an optical density of 0.6, you can be sure that contrasting elements of the frame will be correctly exposed. The use of high quality materials ensures even light transmission and prevents unnatural colour casts. The grey part of the filter changes the exposure by 2 stops. In this way, the sky will not be overexposed when photographing landscapes, and mountain peaks or dense forests will retain all their details. This is of course just one of thousands of examples. When you work with H&Y filters you are only limited by your creativity!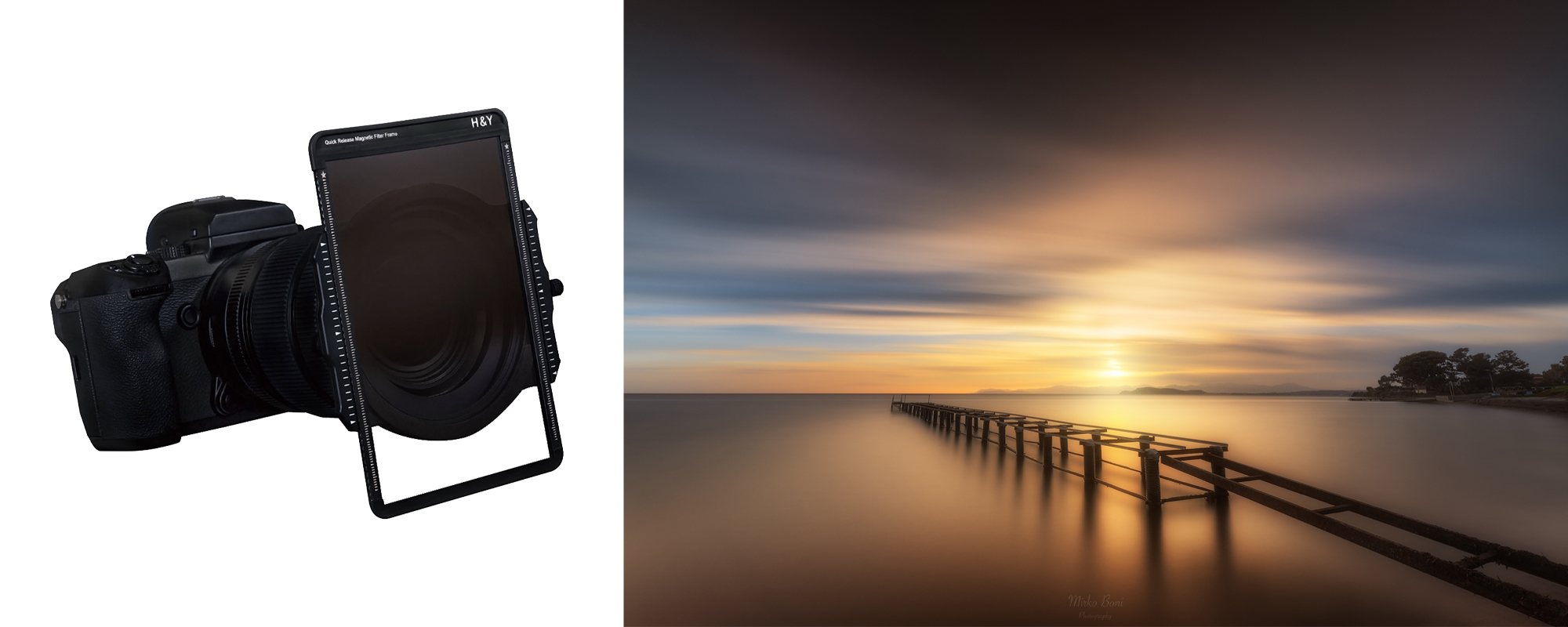 Effective filter protection
The magnetic frame, in which the GND 0.6 soft grey half filter is enclosed, has been made of high quality aircraft aluminium. Thanks to this, the entire construction is not only lightweight but also very durable. Filters placed in the frame remain perfectly flat and do not deform. The holder also protects their edges, which in the case of competitive products without additional reinforcements are very often damaged. Included with the filter you will also find a soft neoprene pouch for additional protection.
Free of blips and reflections
The frame's sophisticated design means that the filter, which is pre-installed inside, fits perfectly into the frame. This prevents unwanted light rays escaping at the edges from entering the lens. Equally "tight" will be a magnetic connection, when the frame with the filter is "glued" to the holder. The precision and extreme accuracy of this design will ensure that accidental blips and reflections are effectively eliminated from your frames.
Explore the family of filters and accessories from H&Y
Attaching filters to lenses has never been easier. And this is just the beginning of a revolution. Meet the family of unique photographic accessories from H&Y that will make your working environment more ergonomic and take your photos and videos to a new level. Discover filters made from the toughest Corning Gorilla Glass III, magnetic K-series mounts, and unique Revoring Series mounts that will help you forget about standard reduction rings once and for all. Explore the unique H&Y ecosystem and see what true camera convenience can be!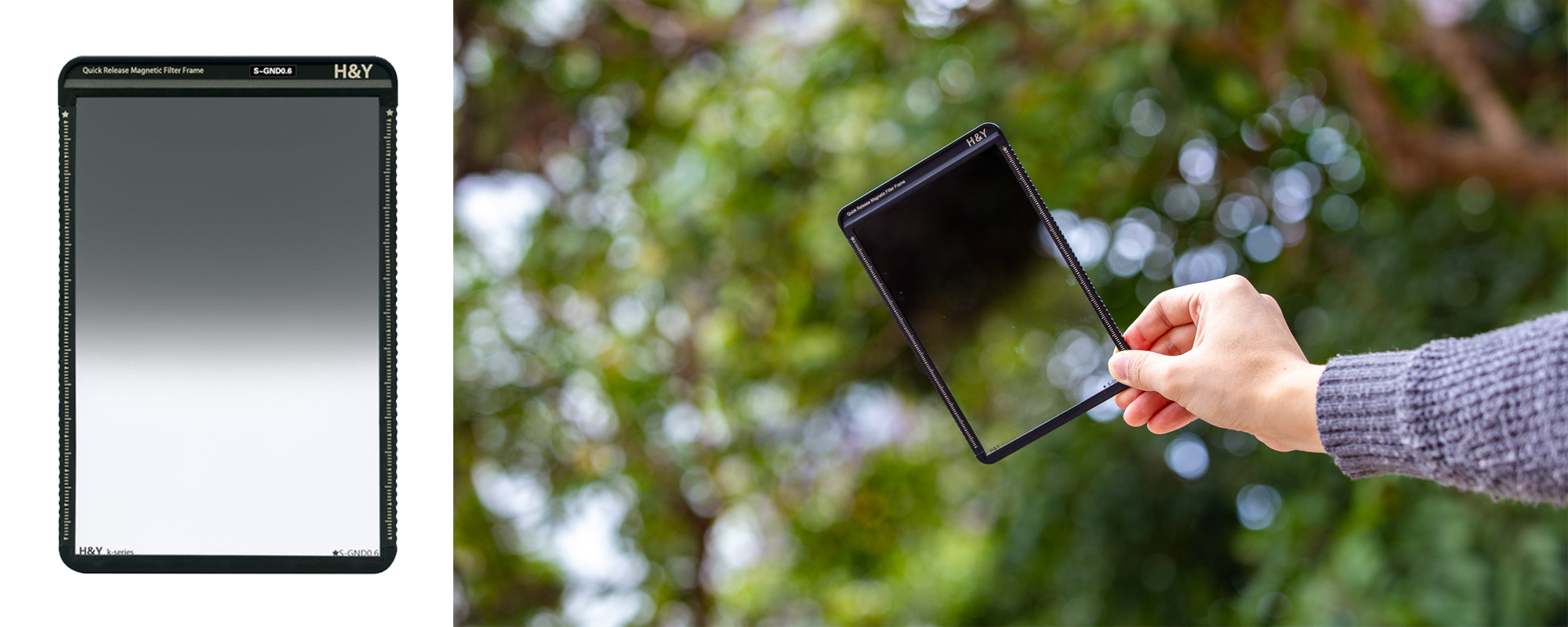 Specification
Model: soft grey half filter GND 0,6 with magnetic frame H&Y – 100×150 mm
Filter type: halide, grey, soft
Optical density: 0.6 (GND 4)
Exposure reduction: 2 stops of aperture
Glass: Corning Gorilla Glass III
Applied coating: 2-sided, 9-layer hydrophobic coating to prevent fingerprints
Filter format: 100 x 150
Filter thickness: 2.8 mm
Dimensions: 10.8 x 16.4 cm
Compatibility
H&Y K-series filter mount
Kit contents
GND 0.6 soft grey half filter (pre-installed in magnetic frame)
neoprene filter cover
neoprene filter bag
microfiber cloth