Description
The H&Y Revoring 82-95mm Adjustable Filter Holder will make it easy to pair one 95mm filter with many different lenses, saving space in your photography bag or backpack. Ensure convenient operation and effective protection for your gear. Once and for all, forget about zoom rings that often get stuck on lenses just when you need to save time. Experience an innovative mounting system appreciated by photographers and filmmakers around the world.
Main Features of H&Y Adjustable Mount Revoring 82-95mm
Innovative "variable blade" technology allowing the 95mm filter to be mounted on lenses from 82 to 95mm
strong protection for the front of the lens
made of lightweight and durable anodic-coated aluminum alloy
strong connection between filter and holder, and holder and lens
precise manufacturing prevents light reflections and blips
no vignetting effect
Revolutionary reduction ring
Anyone dealing with the unique mounting standard from H&Y for the first time asks themselves one fundamental question, "Why hasn't anyone invented this before!". Revoring is the most advanced reduction ring ever created. With its clever "variable blade" technology, any DSLR or mirrorless owner can easily install the same filter on different lenses without having to reach for additional adapters.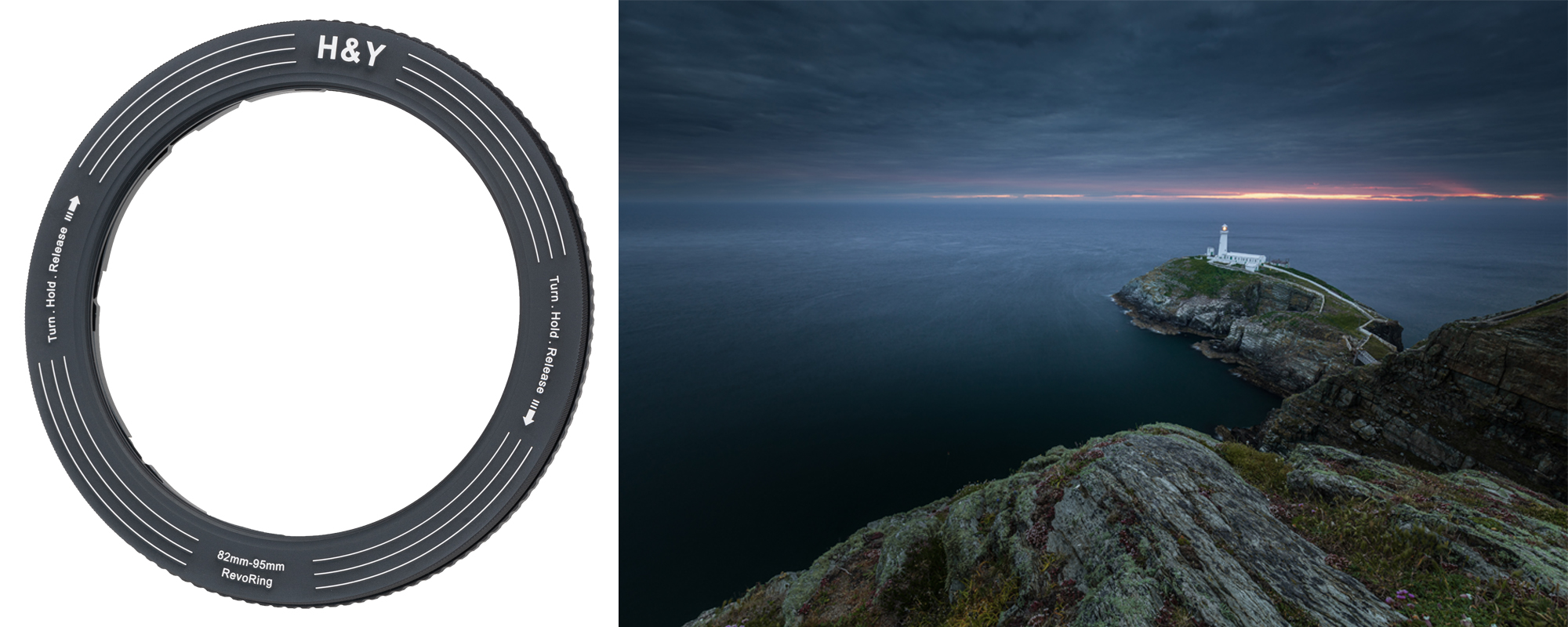 High quality workmanship
All Revoring products are made from high grade aluminum used in the architectural industry. This makes them lightweight and extremely durable. The anodized finish also provides additional protection against corrosion. Whether you're surprised by a light rain or a real downpour while working, you can rest assured that your equipment will be ready to confront the harsh weather conditions.
Always in its place
With the Revoring mount, you can easily connect one 95mm filter to a wide variety of lenses. Just one twist and you're done! Thanks to the special retractable blade technology and independent threading, you are assured that the connection will be as solid as if you were using a regular round filter. Revoring is a unique attachment system you can trust!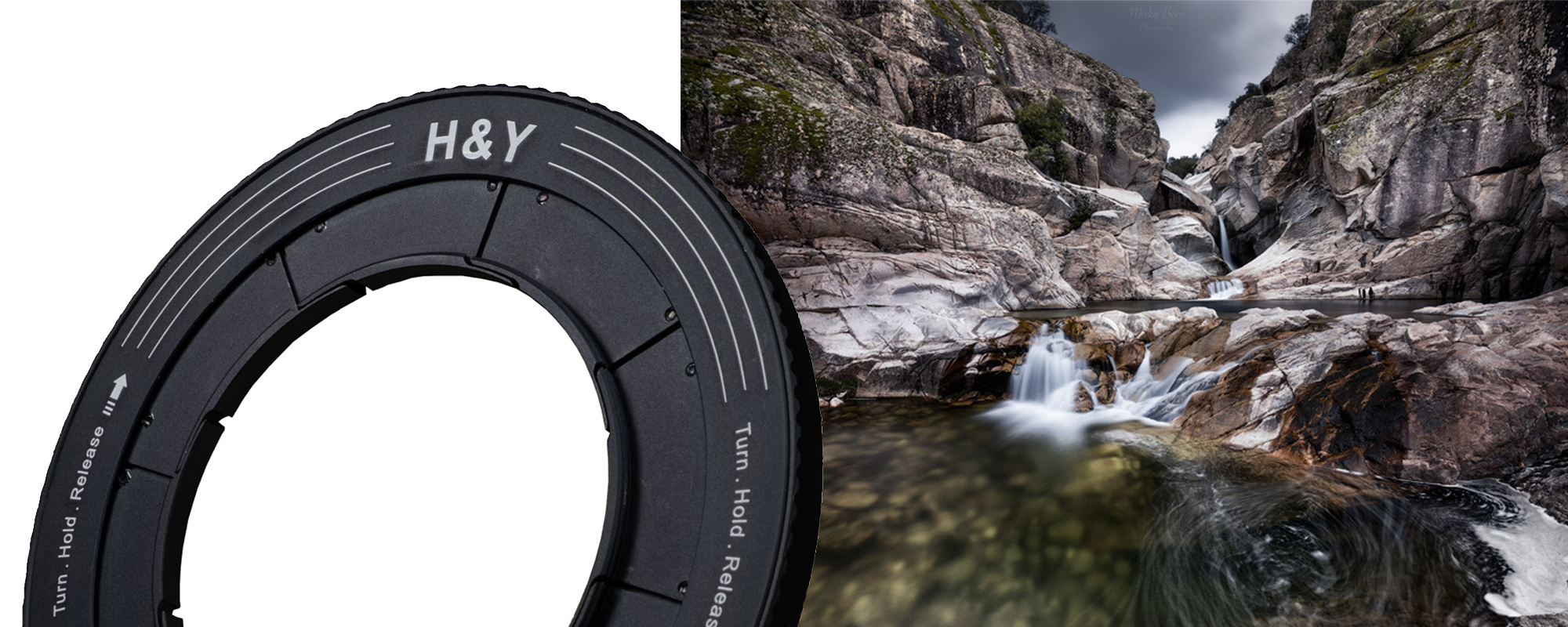 no more looking for the right adapter!
If your collection includes a wide variety of lenses and you happen to use gray or polarizing filters, you're sure to have a sizable collection of reduction rings as well. This set of adjustable Revoring mounts will allow you to forget about them once and for all. Innovative mounting technology makes one holder for a specific filter size compatible with many different lenses. The Revoring adapter replaces several different rings, giving you the confidence that your gear will be properly protected!
Convenient-camera-work
Once you've fallen in love with photography, you know that buying gear rarely ends with just one lens. And since each successive glass can have a different diameter, it has been difficult to find universal gray or polarizing filters until now. With Revoring, you can finally solve this problem. No more dozens of filters spilling out of your bag! Once and for all, forget about the reduction rings that often get stuck on your lenses when you are pressed for time. With Revoring your work will become faster and much more pleasant. One 95 mm filter is installed on an adjustable mount that can be attached to different lenses in seconds. We have waited far too long for this revolution!
Great shots without blips or reflections
The fine-tuned design of the Revoring mount ensures that once the filter is installed in it, all the elements fit tightly together. This prevents vignetting and unwanted light rays escaping to the lens at the edges. A perfect "tightness" is also provided by the "variable blade" technology allowing to install the mount on lenses of different diameters. Precision and extreme accuracy of manufacturing ensure that accidental blips and reflections will be effectively eliminated from your frames.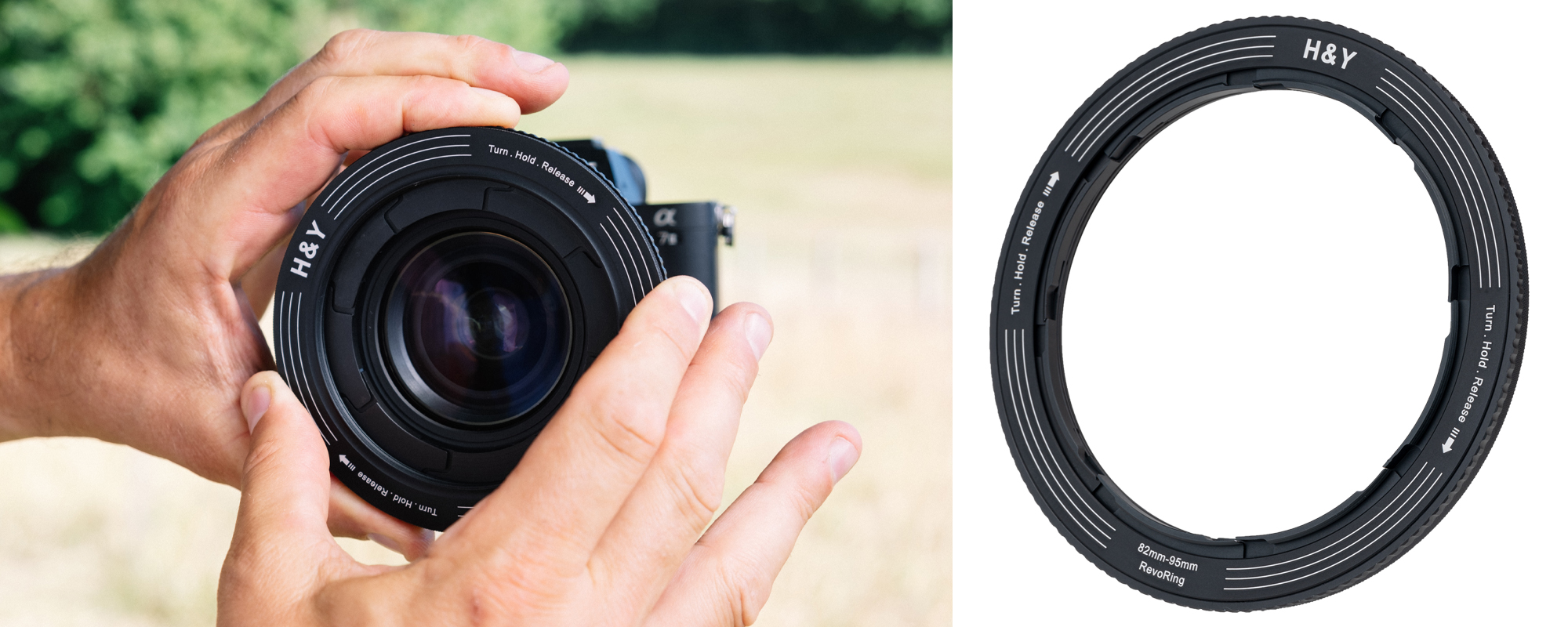 Learn the power of Revoring products
Want to make working with filters and the revolutionary holder from H&Y even more convenient? Explore the other products in the Revoring family! A set with a built-in ND3-1000 gray filter and CPL polarizing filter will open up completely new possibilities for your photography. One holder will provide convenient adjustment of the amount of light reaching the sensor, as well as eliminate glare, increasing contrast and color saturation!
Adjustable filter holder with built-in ND3-1000 gray filter and CPL polarizer filter is not included in this kit.
Compatibility
wheel filters (gray, polarizing, etc.) with a diagonal of 95 mm
Lenses with a diagonal of 82 to 95 mm
Specification
model: H&Y Revoring adjustable filter holder 82-95mm for 95mm filters
purpose:

Filters with a diameter of 95 mm
lenses with a diameter of 82 to 95 mm

Dimensions: 14.5 x 14.5 x 2 cm
Weight: 100 g
Kit contents
H&Y Revoring 82-95mm adjustable filter mount for 95mm filters
neoprene case