Description
KZ ZSX In-Ear Headphones – Wired, Black
The KZ ZSX in-ear headphones are referred to by the manufacturer as the Terminator of hybrid technology for good reason. The unique combination of dynamic dual composite magnet driver and balanced armature drivers provides rich sound and sensational sound reproduction – from low to very high frequencies. KZ ZSX is a guarantee of clear instrument sound, pleasant bass and clear vocals. That is why this model is also suitable for in-ear listening. The headphones offer a replaceable cable with a gold-plated mini jack. You will also find 3 sizes of silicone overlays in the set, which will facilitate a perfect fit to your ears.
Main Product Features
high-end hybrid in-ear headphones
ideal for any genre of music
successfully used by artists performing on stage, as in-ear monitors
both headphones use together as many as 12 unique drivers
using a double magnetic circuit in the dynamic driver (10 mm) for even better sound quality
perfect coverage of low, medium, high and very high frequencies
perfect fit for hours of comfortable wearing
casing made of durable zinc alloy for a striking shine
interchangeable cable with gold-plated 2-pin (0.75 mm) plugs
interchangeable cable with gold-plated 2-pin (0.75 mm) plugs
gold-plated mini jack plug and silver-plated cable
Terminator among hybrid headphones
The headphones use a combination of as many as 12 drivers to deliver crystal clear sound quality and the best audio experience. KZ ZSX features a new and improved 10mm dynamic driver with dual magnetic circuit. The design of the headphones has been optimized so that low, mid and high frequencies are carried even better than previous generations of KZ headphones, acclaimed in the world of music lovers, audiophiles and professional musicians.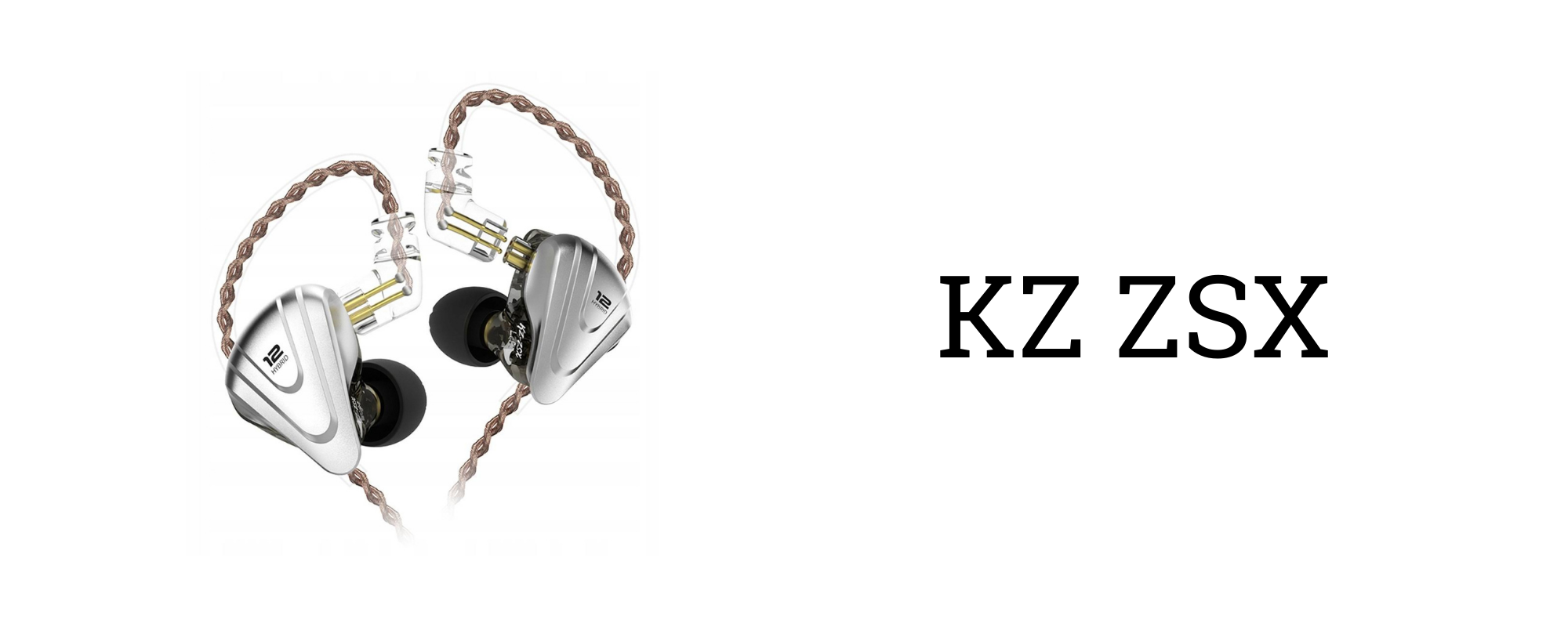 Full sound
The hallmark of the KZ ZSX model are two sets of DWEK drivers responsible for the mid and high frequencies. They are part of a unique circuit that allows for detailed reproduction of the sound of very different instruments. The increased frequency range also enhances the vocal detail in recordings. All these enhancements make for an even fuller sound in any genre of music you listen to!
Modern Design
The KZ ZSX headphones impress with their quality craftsmanship and modern design. All thanks to the stylish casing created on the basis of strong zinc alloy and durable resin material. Ends, on which you put the silicone covers, are made of aluminum. Thanks to this they are not in danger of any deformation, which could degrade the sound quality. All materials used provide effective protection of the headphones from damage. Thanks to such a solid housing KZ ZSX will look like new for a long time!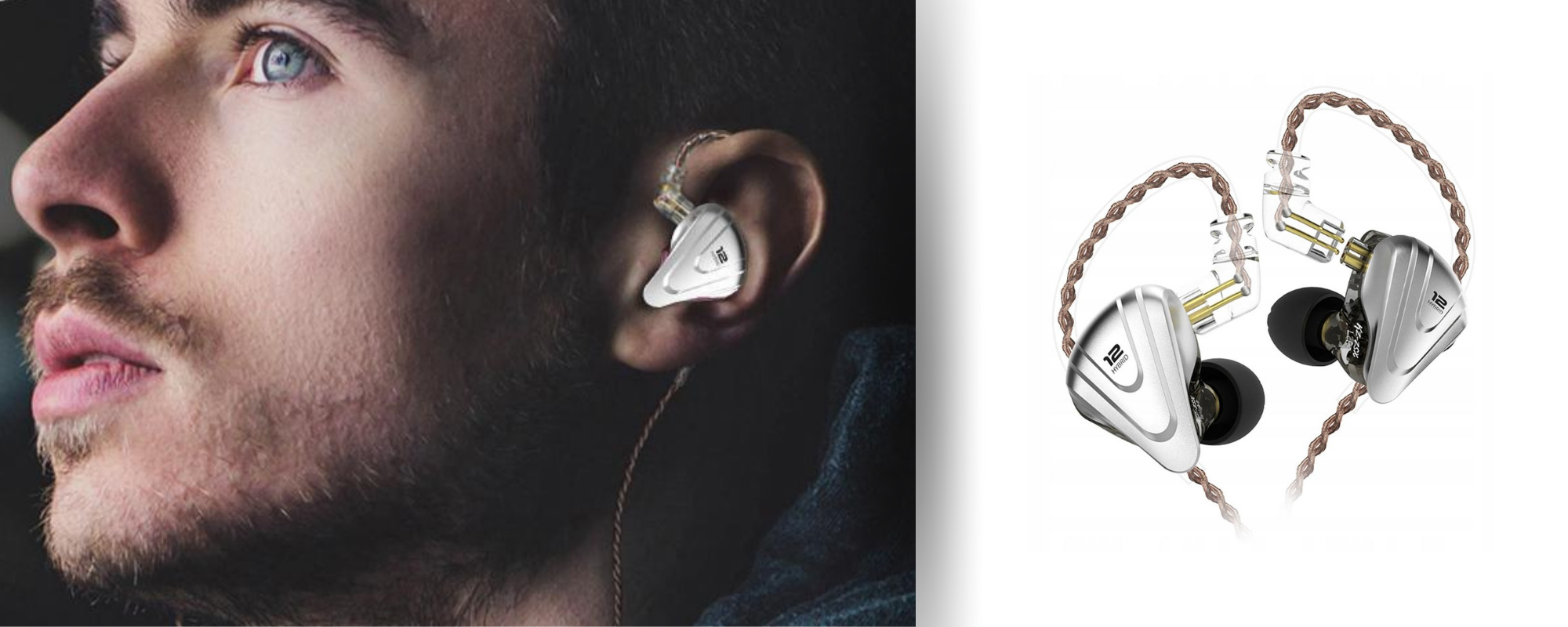 High quality replacement cable
Included with the KZ ZSX headphones is a replacement cable terminated with a gold-plated 0.75mm 2-pin plug. Its unique design protects the tip from breaking, and the unique braid minimizes the risk of the cable getting tangled in transit. On the other side of the cable, you'll find a gold-plated mini jack connector that ensures high quality sound transmission. A replacement cable is the best way to extend the life of your favorite headphones. You don't have to invest in new equipment if the cable gets accidentally damaged, you just need a new cable! You can also extend the capabilities of the KZ ZSX. Special cables made of silver-plated oxygen-free copper are available for sale, as well as Bluetooth modules that allow you to turn your headphones into wireless ones.
Ideal fit
The KZ ZSX hybrid headphones are designed to fit perfectly in your ear cup and ear canal. The behind-the-ear cable provides you with complete freedom of movement. This means that even during hours of listening to music or long performances on stage, you will not experience the discomfort of wearing them.
At home, on the road and on stage
In-ear monitoring is today's stage standard, used by both novice artists and professional musicians. KZ Audio engineers are well aware of this, so when you choose the KZ ZSX model, you not only get headphones, which you can use at home and on the road, but also on stage! Whether you're singing, playing guitar, keyboards or stringed instruments, the ZSX is the perfect headphone for you. Ergonomic design will make you forget about the small device in your ear. Wide frequency response and high sound quality will allow you to perfectly match the mix to your stage needs, providing you with comfort and the possibility of artistic development.
Specification
model: KZ ZSX
color: black
type: hybrid in-ear headphones / in-ear monitors
response bandwidth: 7 – 40,000 Hz
impedance: 24 ohm
sensitivity: 111 dB
processors:

10 mm – dual dynamic driver with composite magnet
balanced drivers:
10 mm – dual dynamic drivers with composite magnet
balanced drivers:
10 mm – dual dynamic drivers with composite magnet
30095 balanced armature driver (high frequencies)
DWEK balanced armature transducers (mid and high frequencies)

cable: replaceable, worn behind the ear
headphone-to-wire connection: 2-pin socket (0.75 mm)
plug: mini Jack (3.5 mm)
cable length: 125 cm (+/- 4 cm)
weight: 31 g
Kit contents
KZ ZSX in-ear headphones
3 pairs of silicone covers in different sizes
interchangeable cable
interchangeable cable