Description
The Yongnuo YN216 II LED lamp – WB (2700 K – 8000 K) is an ideal choice for photographers and filmmakers who care about even lighting. The unit features 332 LEDs that allow you to adjust the color temperature from 2700 to 8000 K. The maximum power of the lamp is 24 W allowing a luminous flux of 2988 lumens. 3 ways of power supply (power supply, NP-F rechargeable battery or AA batteries) will provide adequate convenience for work both in the studio and outdoors. The lamp can be controlled not only with an ergonomic panel equipped with buttons and screen, but also with a mobile app (iOS/Android). Additional light control options are provided by the integrated gates and the included diffuser.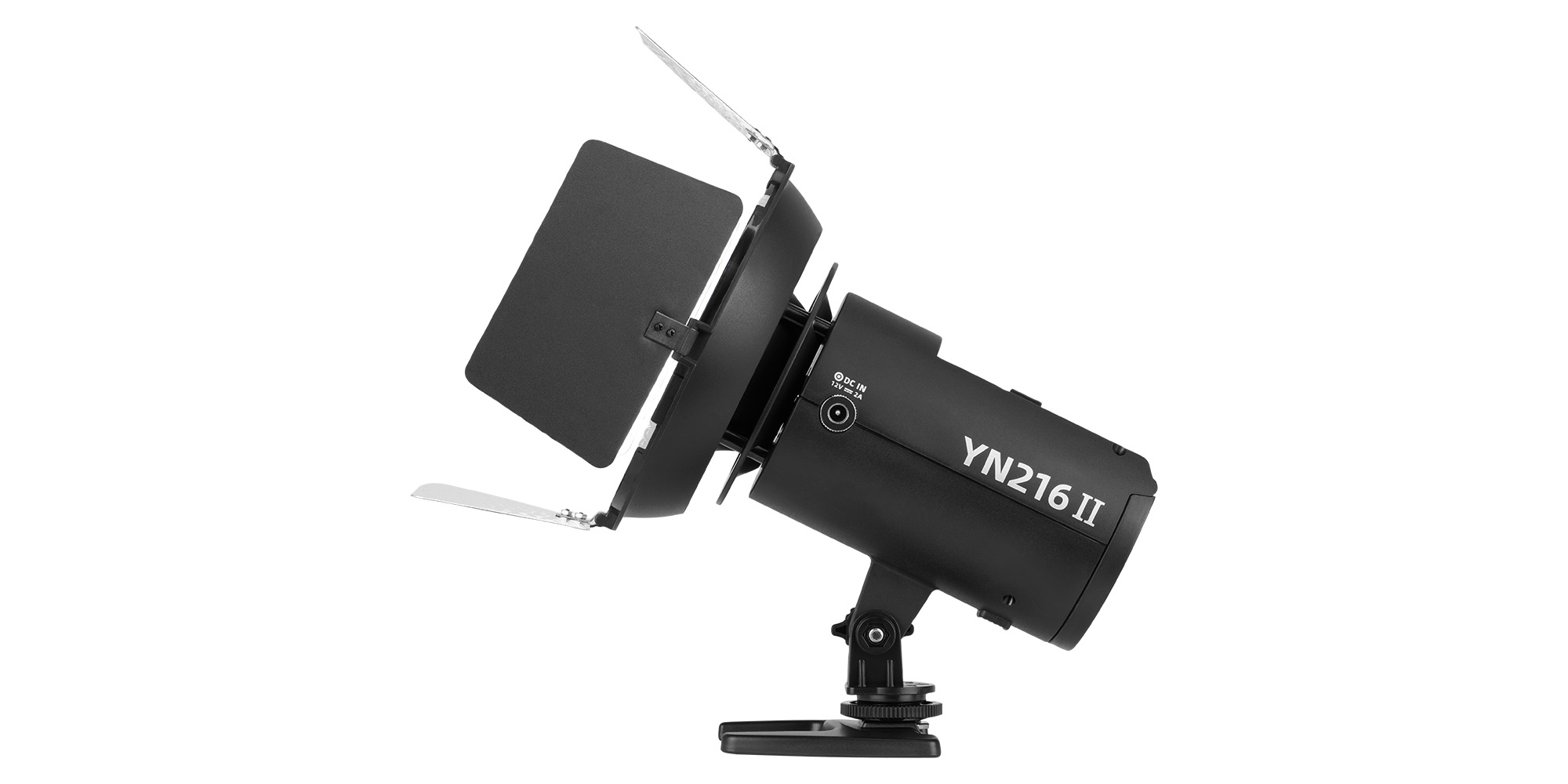 Main Product Features
A versatile LED lamp with a maximum output of 24 watts
2 mounting methods – cold shoe or 1/4 "thread
excellent for photography, as well as for shooting video footage, vlogs and live broadcasts
adjustable color temperature from 2700 K to 8000 K
12 preset special effects (including campfire, broken bulb, sunset)
332 LEDs (warm + cold)
3 ways of power supply – power adapter, NP-F battery or 8 AA batteries
integrated gates for better control of the light beam
mobile app support for remote control
convenient operation – built-in screen and ergonomic buttons
included dome-shaped milky diffuser
base with cold shoe mount for placing the lamp on a flat surface
intelligent cooling system
very quiet operation (max. 20 dB)
A versatile light source
Yongnuo YN216 II LED lamp – WB (2700 K – 8000 K) is a versatile light source that you can install on your camera or independent tripod. 24 watts of maximum power allows you to achieve a light output of 2910 lux, from a distance of 1 meter (with a color temperature of 4400 K). The maximum light output is as much as 2988 lumens.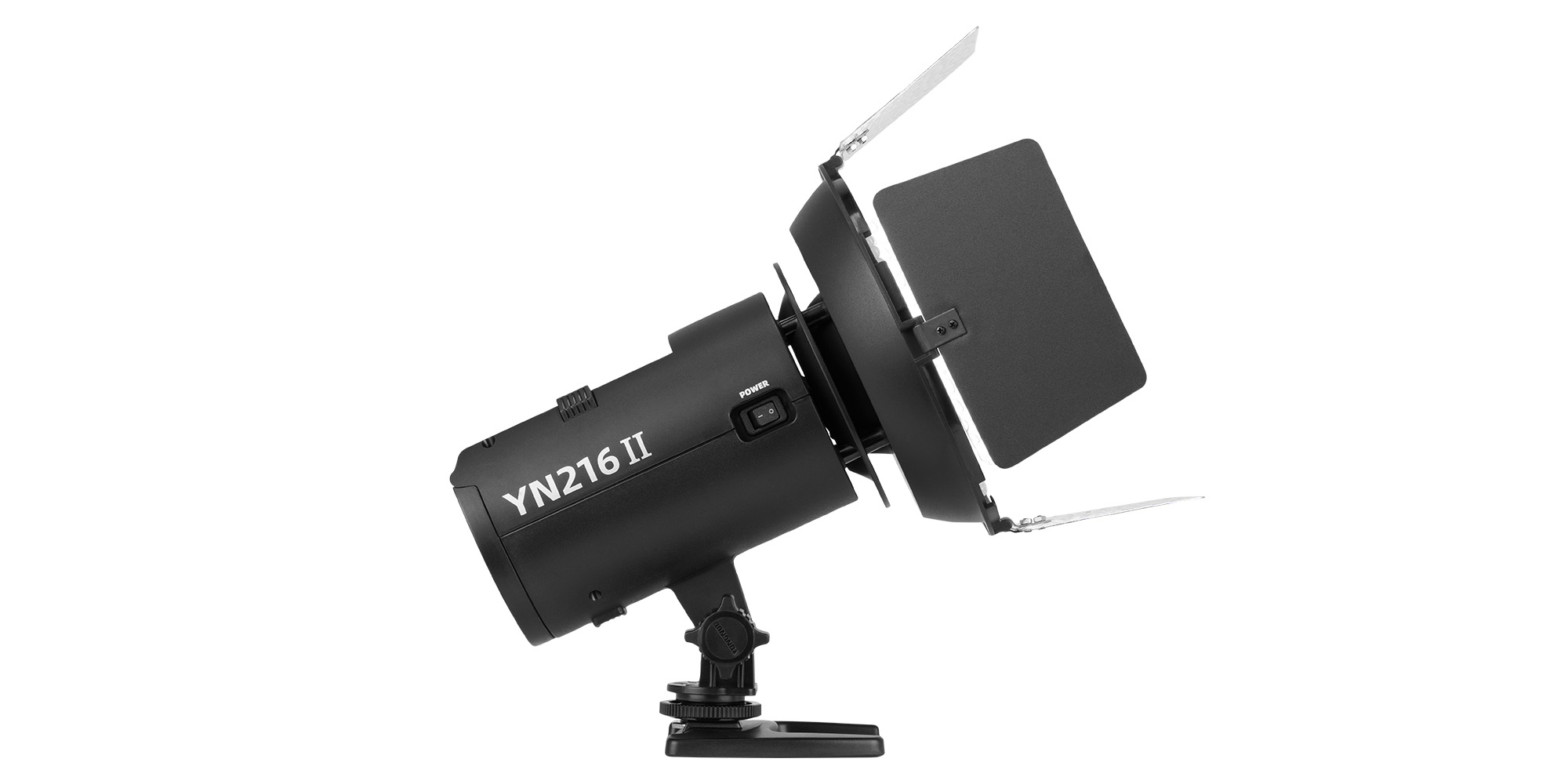 Adjustable color temperature
The 332 LEDs that make up the panel allow you to precisely adjust the light to the conditions you find. The adjustment range is from 2700 K to 8000 K. Working with the Yongnuo YN216 II lamp, you can also freely reduce or increase the light intensity. The versatile device will open up a whole new range of possibilities for your work on a film or photography set!
remote control
In Google Play and App Store you will find a mobile application that will allow you to control the lamp from a maximum distance of 100 meters. It allows you to manage all the parameters of the light even more conveniently. In addition, the wireless control system allows you to manage the operation of different Yongnuo lights across multiple channels.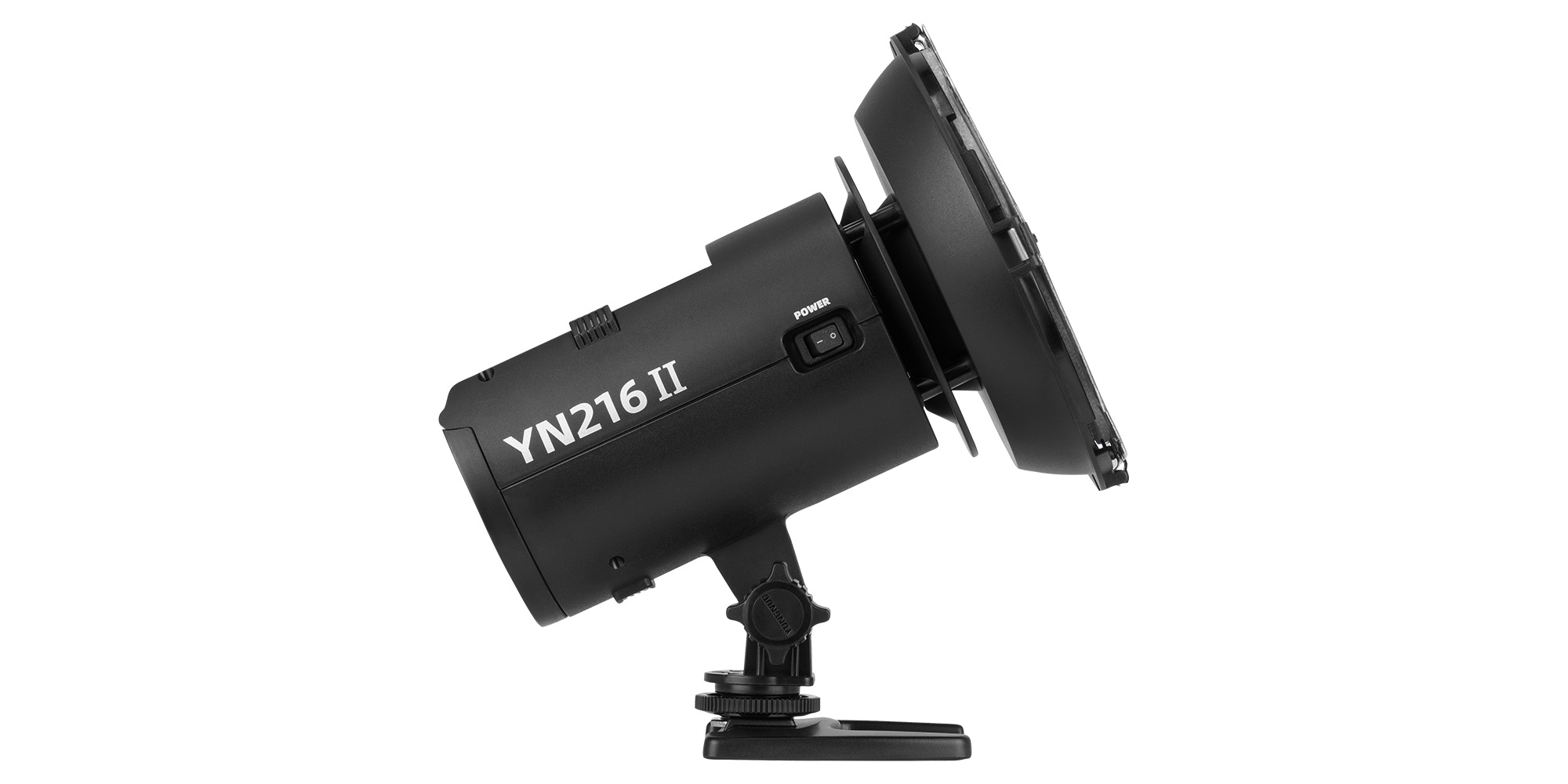 Special effects
The lamp offers 12 predefined special modes. Effects that can be achieved include paparazzi flash, thunderstorm, fireworks or campfire. Using the mobile app or the control panel located on the flash, you can modify the effects, adjusting their intensity and speed.
Precise light targeting
The Yongnuo YN216 II – WB LED lamp (2700 K – 8000 K) is equipped with integrated gates that will allow you to direct or focus the light beam accordingly. The 4 independently operating wings allow you to precisely shape the light beam.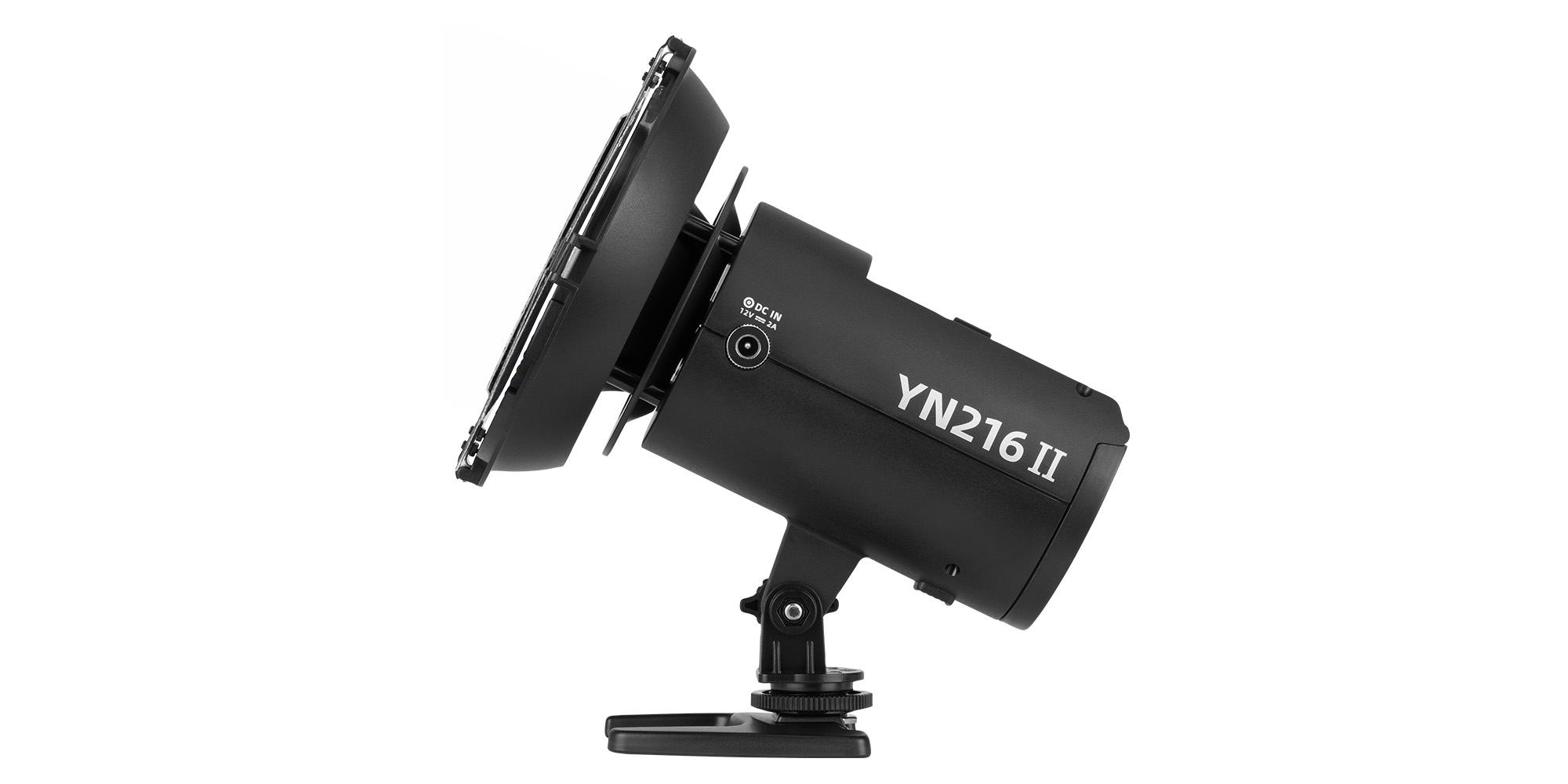 Three power ways
Depending on whether you're working in the studio or outdoors, the Yongnuo YN216 II flash will allow you to adjust the power mode to suit your current needs. You can choose from up to 3 different solutions – an AC adapter (DC 12 V / 2 A) plugged into an outlet, an NP-F rechargeable battery or 8 "finger" batteries (AA).
ACCUMULATOR, BATTERIES OR POWER SUPPLY MUST BE PURCHASED PERSONALLY.
Light softening diffuser
Included with your lamp you will find a dome-shaped diffuser. The modifier is characterized by optimal clearance and milky color. It allows for soft and evenly distributed light. It will make the shadows cast by the illuminated objects softer and more pleasing to the eye.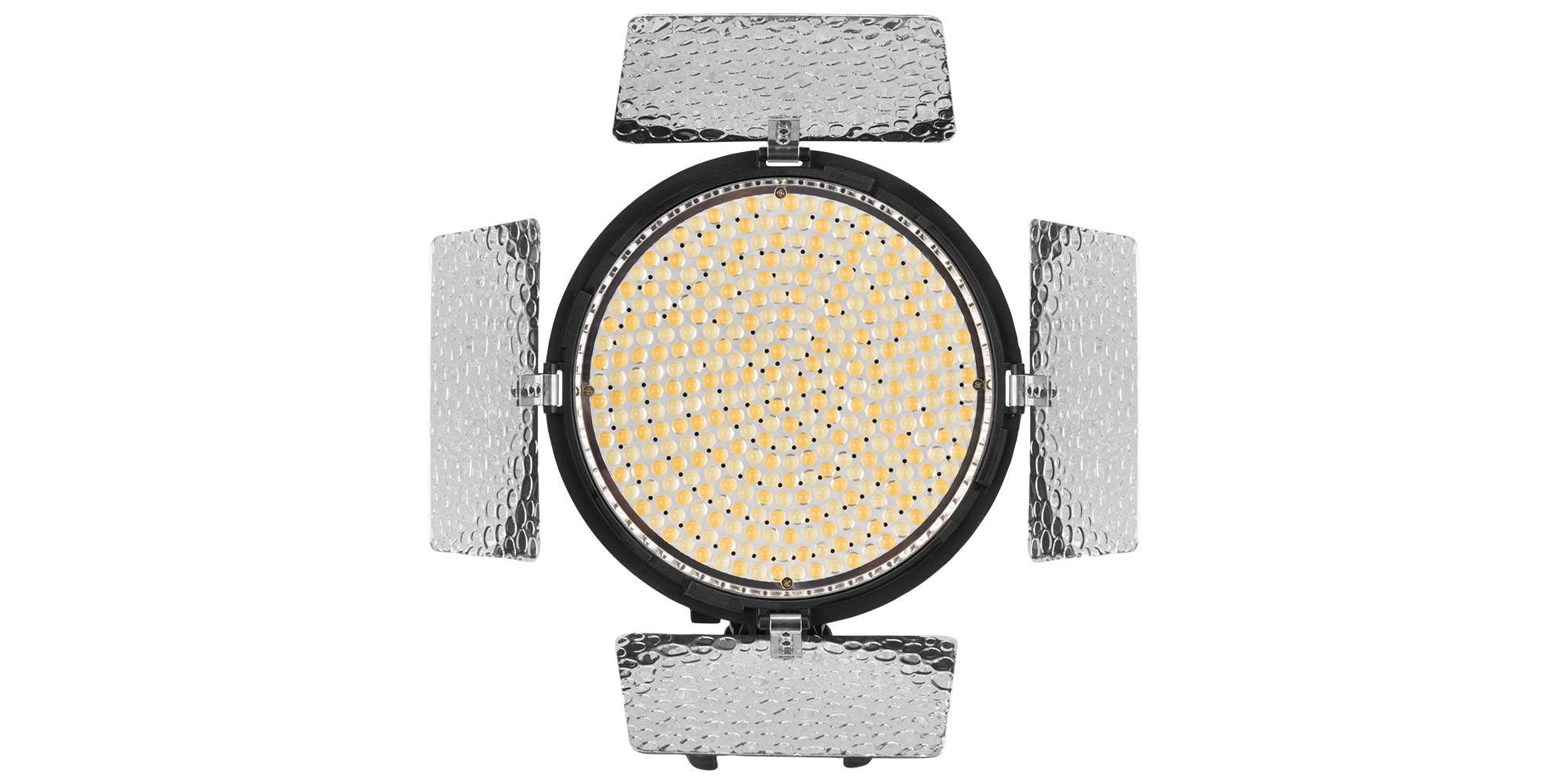 Convenient mounting
You can install the Yongnuo YN216 II – WB (2700 K – 8000 K) lamp directly on your camera's cold shoe or on a lighting tripod with 1/4″ thread. In the set you will also find a special stand. With it, the lamp can be placed on a desk or any other flat surface.
Effective cooling
Thanks to an advanced cooling system (Al Intelligent Cooling), the lamp maintains an optimal temperature, resulting in longer life and reliability. At the same time, noise reduction technology guarantees very quiet fan operation. It is just 20 dB when operating at full power. Thanks to this, the lamp will successfully perform during video shooting, where silence on set is particularly important.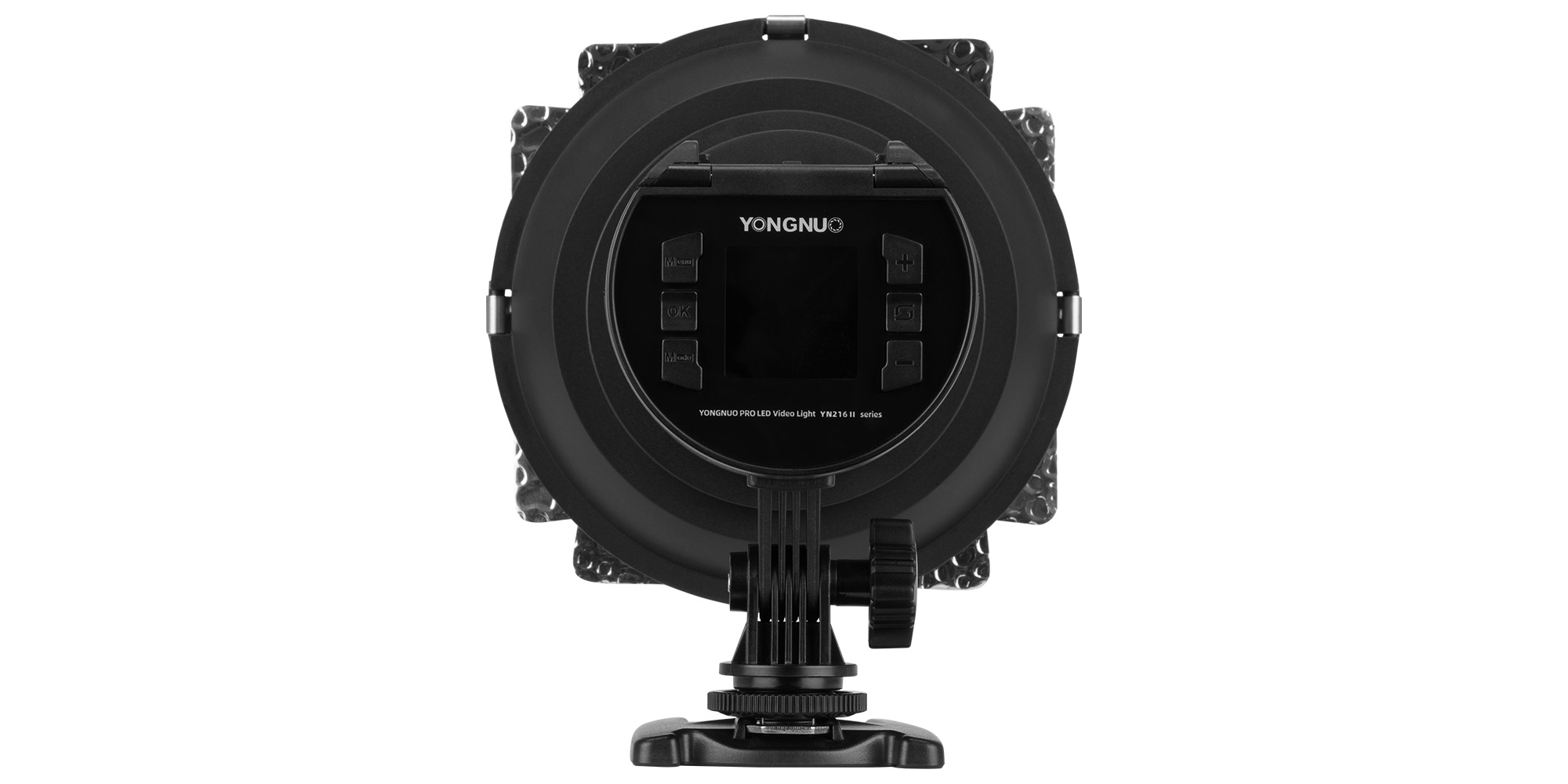 Specification
model: Yongnuo YN216 II – WB (2700 K – 8000 K)
power: 24 W max
number of LEDs: 332
color temperature of light: 2700 K – 8000 K
number of predefined special effects: 12
angle of light: 55º
Power supply:

network: DC 12 V / 2 A (must be purchased separately)
NP-F battery pack (must be purchased separately)
8 AA batteries or rechargeable batteries (must be purchased separately)

Remote control:
communication: Bluetooth / 2.4 GHz
Range:

Bluetooth: up to 50 m
2.4 Ghz: up to 100 m

Mounting points:
estimated life: 50,000 hours
dimensions: 16.5 x 14 x 16.5 cm
weight: 575 g (without accessories)
Kit contents
Yongnuo YN216 II LED lamp – WB (2700 K – 8000 K)
base with cold shoe mount
diffuser
Photometry
| Distance/colour temperature of light | 2700 K | 3200 K | 4400 K | 5600 K | 6500 K |
| --- | --- | --- | --- | --- | --- |
| 1 m | 1705 lx | 2130 lx | 2910 lx | 2630 lx | 2265 lx |