Description
The Amaran F21x – V-mount is a flexible light mat measuring 60cm by 30cm. It is a great alternative to heavy LED panels and the ideal choice when filming or shooting in tight and hard-to-reach areas. The unit is 5mm thick and weighs just 440g. You will install it anywhere with tape, Velcro or zip ties. The expandable X-Frame bracket will also allow you to use the included light modifiers (softbox and grid), as well as connect the flash to professional tripods and 'magic arm' mounts. The maximum output of the lamp is 100 W. The device offers adjustable colour temperature (2500 K – 7500 K) and a set of 9 predefined special effects.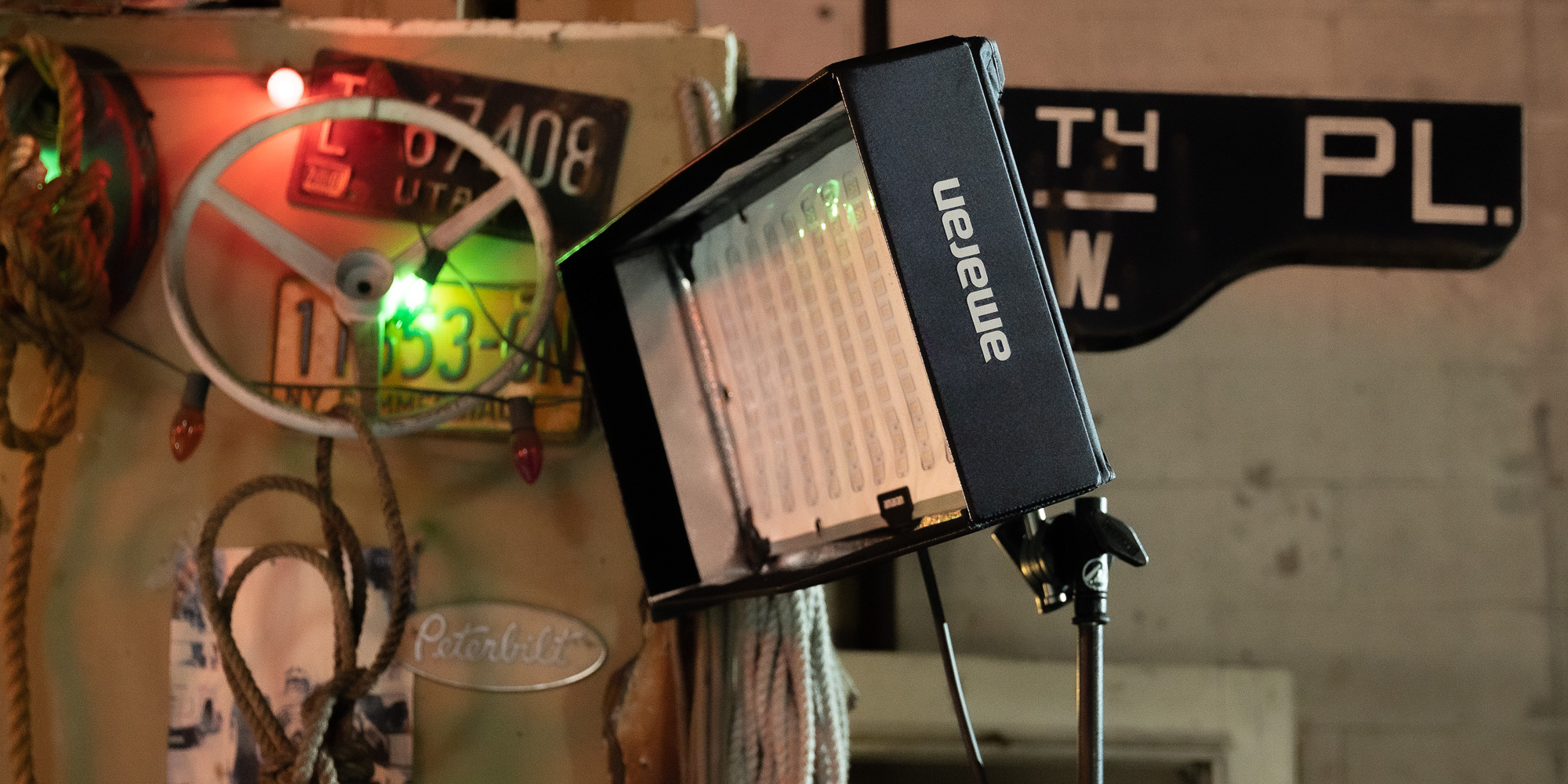 Main product features
flexible light mat measuring 60 by 30 cm
excellent alternative to heavy lamps and traditional LED panels
ideal choice for working in cramped and hard-to-reach areas
excellent quality of workmanship
high quality workmanship for great durability
a versatile, high-quality light source
5 mm thickness will allow it to be installed anywhere – all you need is a gaffer or brackets
Weighs just 440g, making it ideal for use in conjunction with c-stand booms and tripod arms to illuminate scenes from above
Metal rings that allow the lamp to be attached with cords, carabiners or zip ties
Velcro strap encircling the panel on the back for additional mounting
2 mounting studs (straight and L-shaped) and an articulating adapter allowing the lamp to be installed on a tripod at different angles
an articulated mounting adapter equipped with an umbrella hole
folding X-Frame bracket for adequate rigidity when working with the softbox
convenient installation of grids or diffusion fabrics on the softbox with Velcro
includes 2 diffusion fabrics and a grid to narrow the light beam to 45º
offers a maximum output of 100 watts
high CRI, TLCI and SSI values ensure professional quality light used in film and photography
light intensity without additional modifiers is up to 13470 lux (at a distance of 0.5 m)
adjustable light colour temperature from 2500 K – 7500 K
9 predefined special effects (paparazzi, thunderstorm, TV, fire, strobe, explosion, broken bulb, pulsation and fireworks)
4 lighting power control curves (linear, exponential, logarithmic and "S" curve)
remote control from the Sidus Link mobile app (Android/iOS)
maximum remote control range of up to 80 metres
possibility of simultaneous operation of many different lamps within the Sidus Mesh system
personal Control Box controller equipped with OLED screen, buttons and control knobs
intuitive interface for fast and convenient control of light parameters
controller equipped with a board compatible with the Lightning Clamp (sold separately)
V-mount socket to conveniently connect the controller to a power supply or compatible battery
USB-C port allowing the device to be connected to a DMX512 control system
cables with automatic lock to prevent accidental disconnection
carrying case included
New quality of working with light
There are film sets where limited space makes working with light very difficult. This is when the Amaran F21x LED light comes into action! The 60 cm by 30 cm flexible light mat can be installed wherever there is no room for large tripods. Stick it to the ceiling with tape, use cable ties, attach it with clamps at a convenient location or combine it with "magic arm" holders. At 5 mm thick and 440 g in weight, it will give you the ultra-mobility that traditional LED panels enclosed in heavy housings do not offer.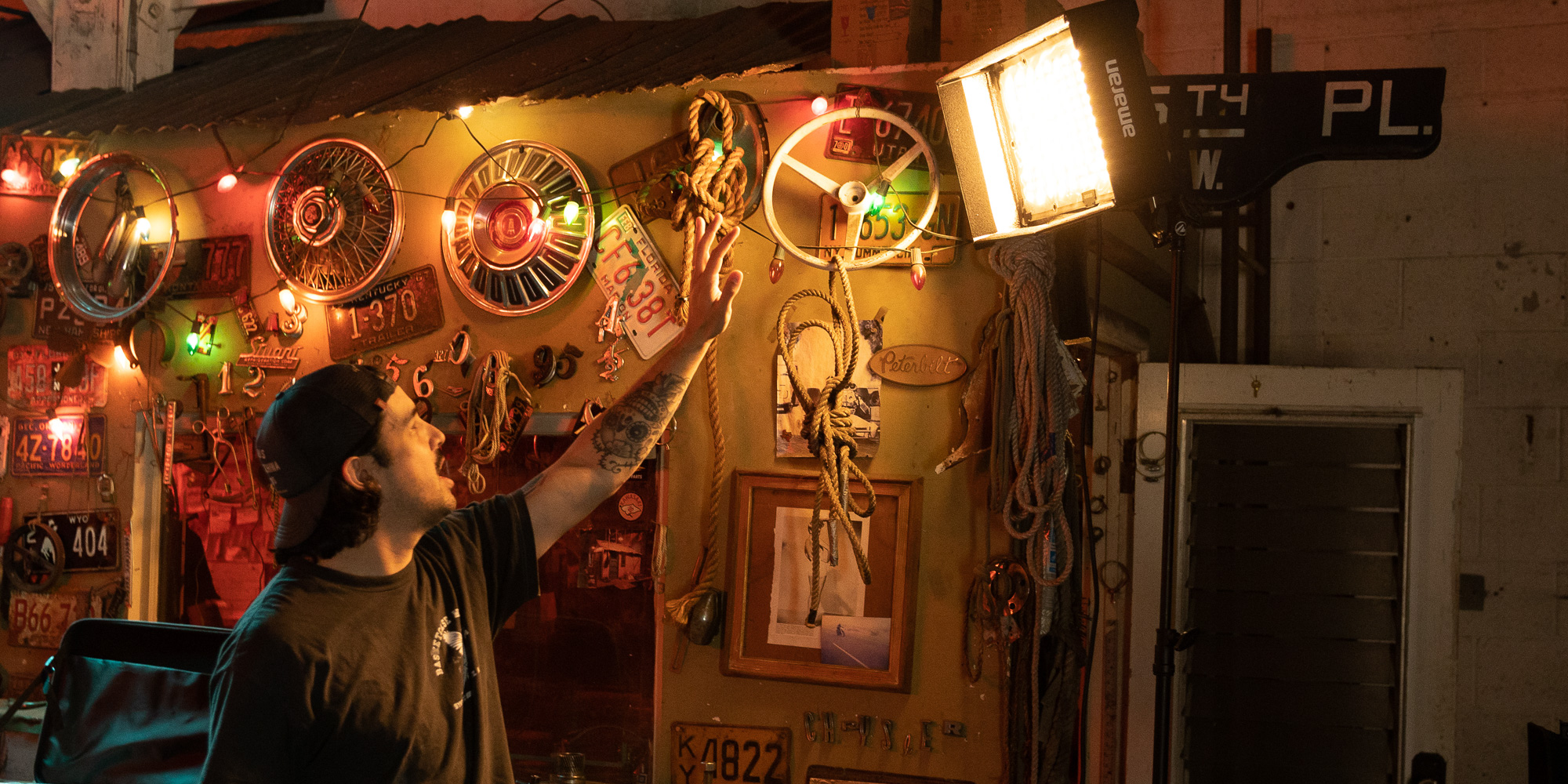 Big light output
The innovative light mat is not only ultra-mobile and conveniently mounted, but also offers exceptional performance. The maximum output power here is as much as 100 W. The light intensity without additional modifiers is a maximum of 13470 lux (at a distance of 0.5 m). The device is distinguished by the high quality of the modern LEDs. This is best confirmed by indicators such as CRI: ≥95, TLCI: ≥98, CQS: ≥96, SSI (Tungsten): ≥81 and SSI (D56): ≥72.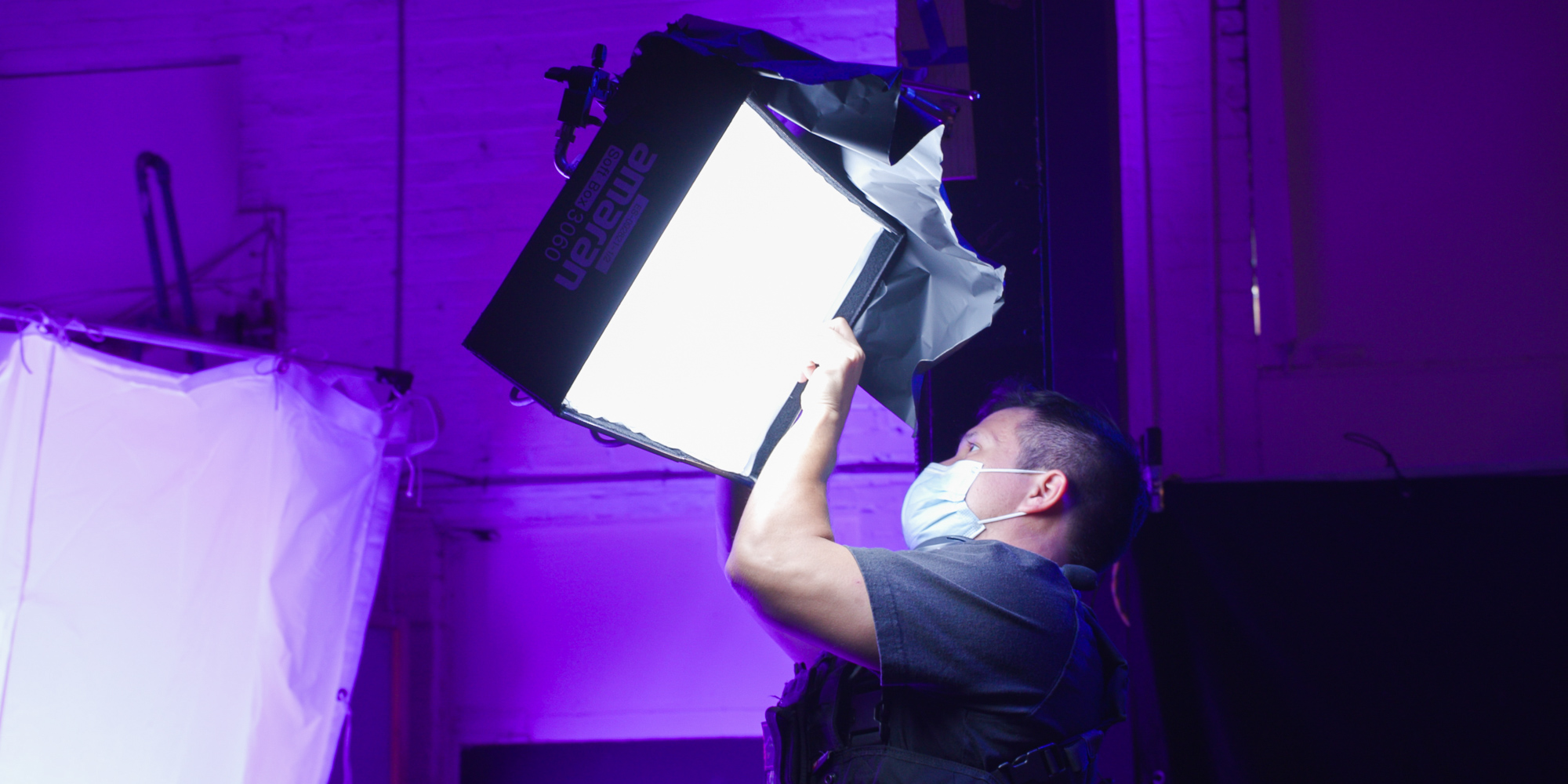 Easy assembly
Included with the LED Amaran F21x – V-mount you will find a foldable X-Frame bracket, which will ensure the right rigidity of the panel when working with light modifiers or tripods. You will successfully combine it with popular mounting studs, as well as with an articulated adapter, which will allow you to direct the light at the right angle.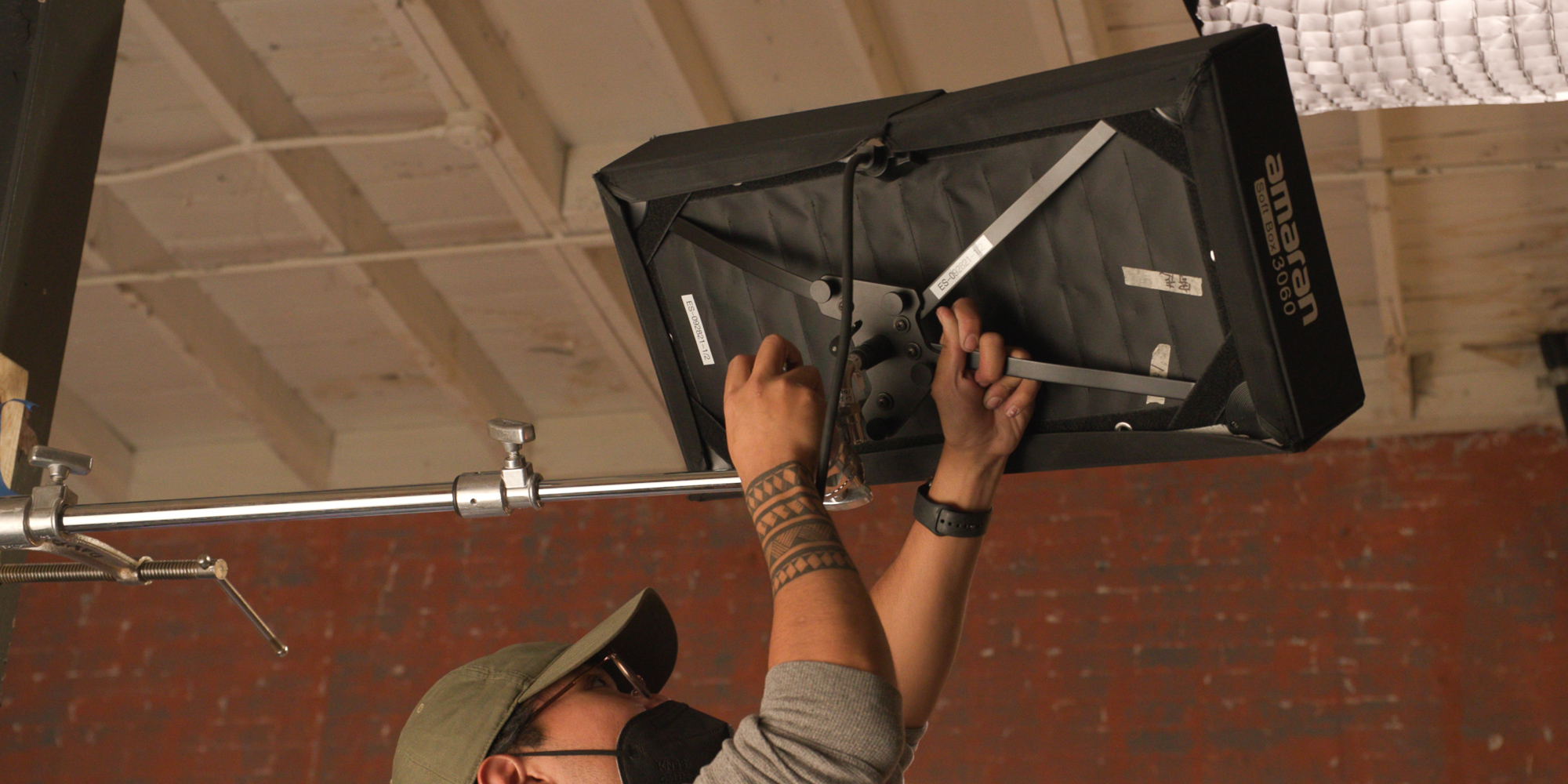 Soft light
Included with the LED Amaran F21x – V-mount you will find modifiers to soften the light, disperse harsh shadows and direct the beam accordingly if necessary. You can use one or two diffusing fabrics (-0.5 EV and -2.5 EV) or reach for the "honeycomb" (45° grid). Thanks to Velcro fasteners you can conveniently install each modifier inside the softbox.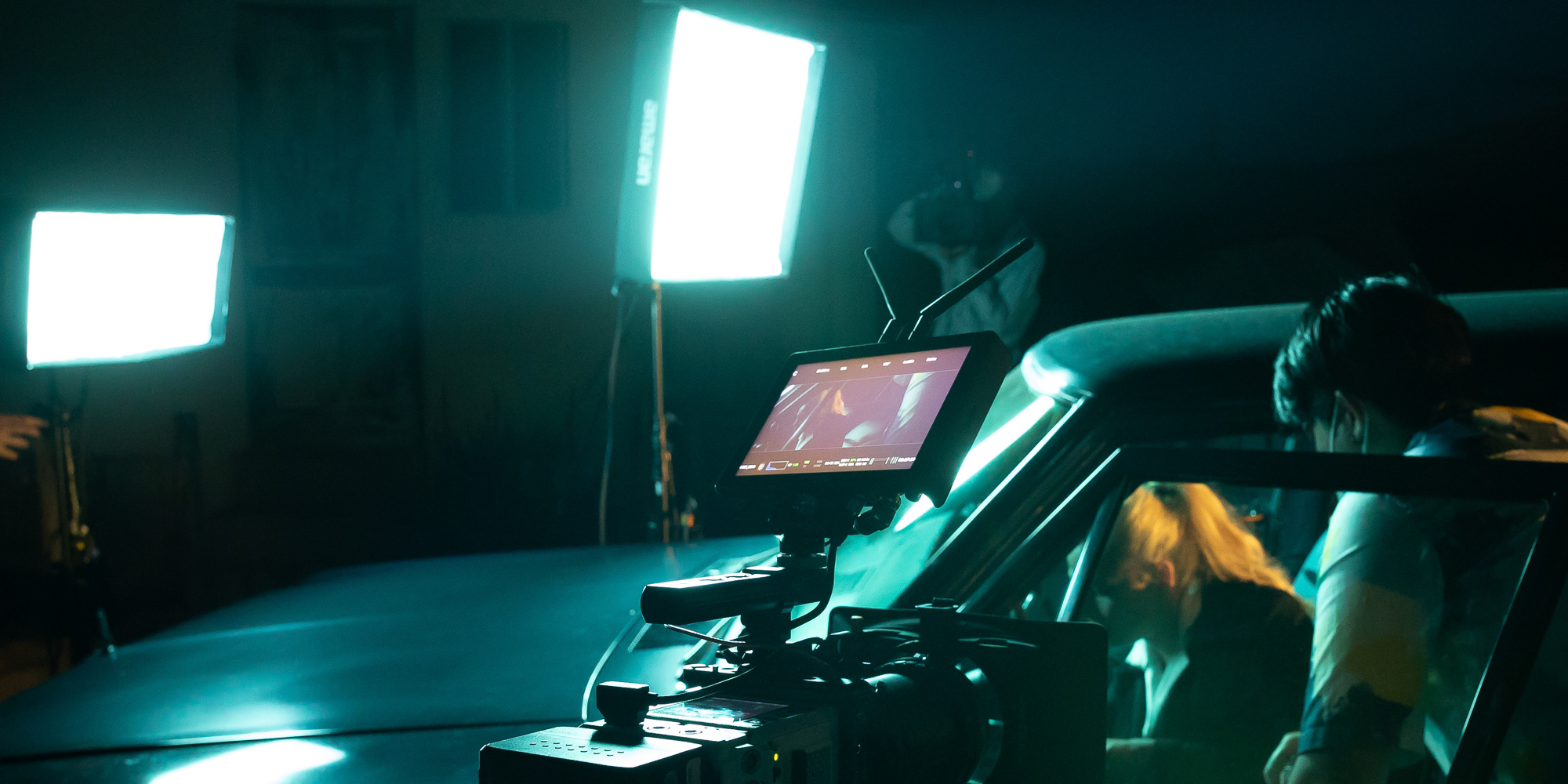 Adjustable colour temperature
When you use the Amaran F21x – V-mount LED lamp, with just a turn of a dial or a few clicks on the mobile app, you can quickly set the right colour temperature of the light, ranging from 2500 K to 7500 K. Do you want to create a pleasantly focal camping atmosphere? Or do you want your shot to emphasise the coolness of a cloudy day? Thanks to the wide adjustment range, you will not only find it easier to match colours, but you will also learn to think creatively about warm and cool colours in film and photography!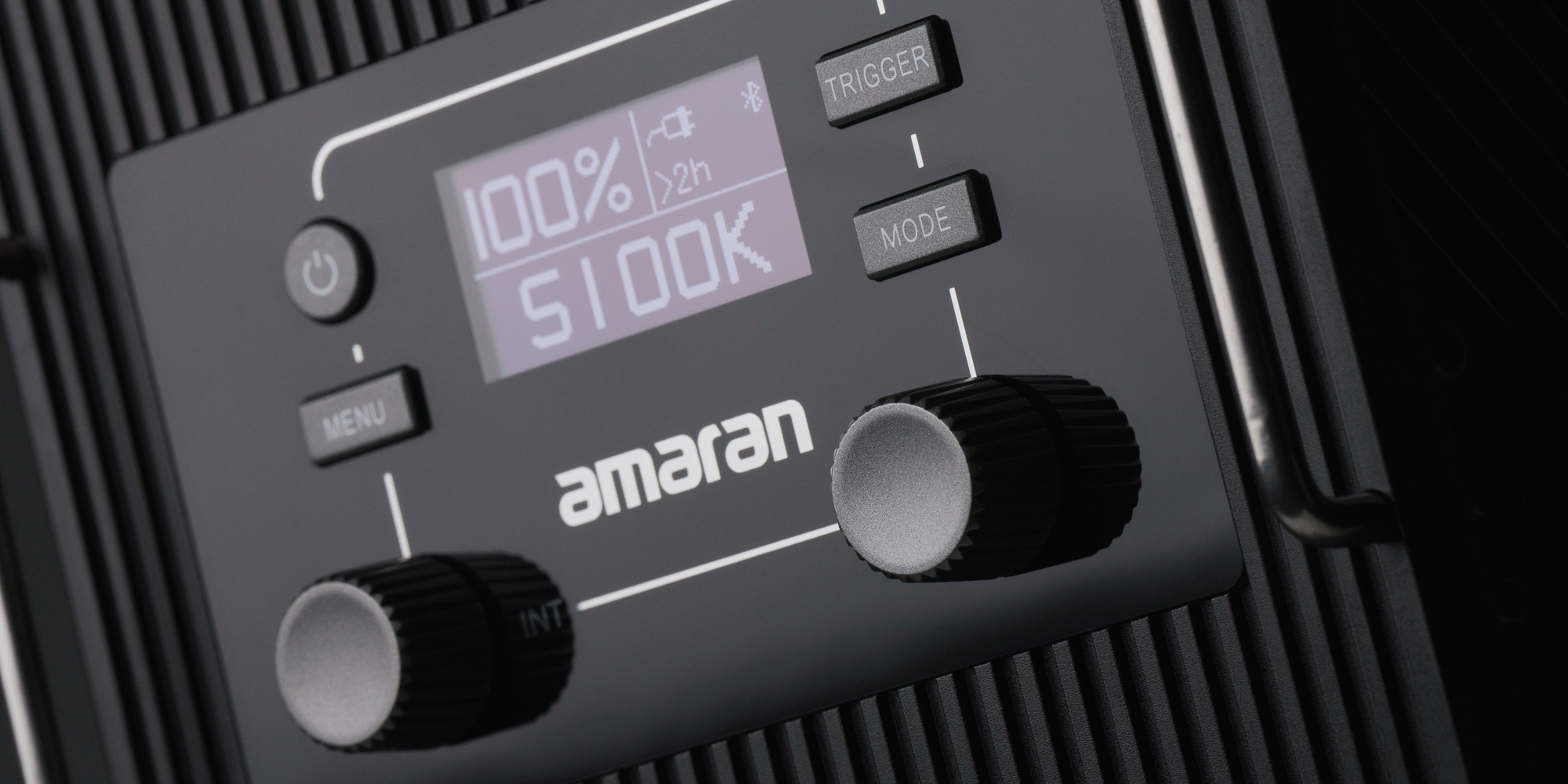 Control Box
The included external Control Box controller to control the lamp weighs just 1.2 kg. The slim box is sure to appeal to those who appreciate minimalism and ergonomics. It features a bright OLED display and easy-to-use buttons and dials. On its casing, you will find a quick-mount plate with which you can connect the Lighting Clamp. There is also a metal cord allowing you to safely hang the controller in the desired location.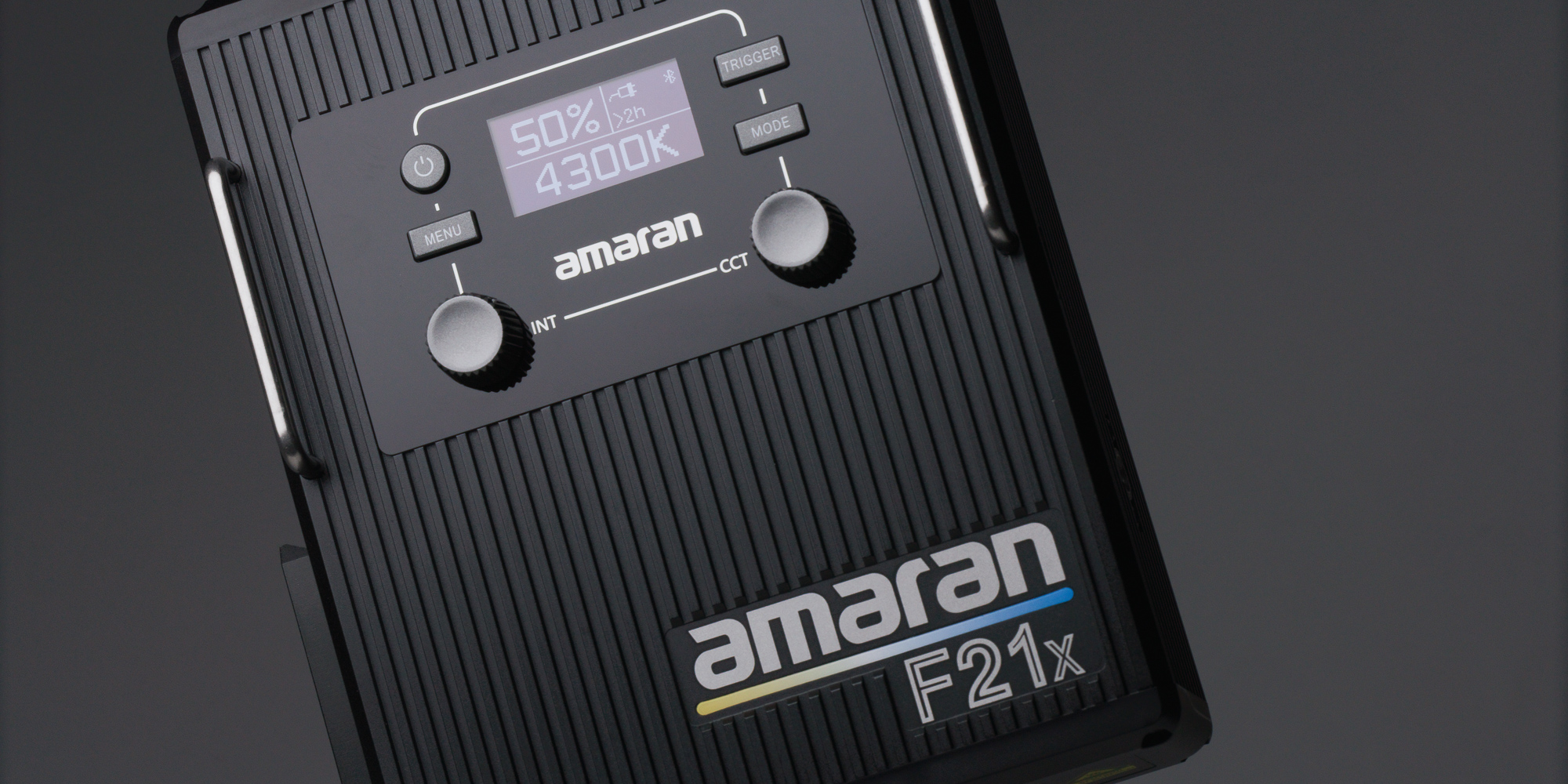 LIGHTING CLAMP HANDLE MUST BE PURCHASED PERSONALLY.
Multiple power ways
Included with the Amaran F21x – V-mount LED light you will find a traditional power supply and a set of necessary cables. If you are planning to shoot in locations where there is no access to electrical sockets, nothing lost! You can connect an external rechargeable battery to the unit (to be purchased separately). The V-mount socket, which you will find on the controller, will keep things tidy on set and avoid unnecessary cable clutter. You will not only connect compatible batteries to it, but also the power supply, which is equipped with a suitable mounting plate.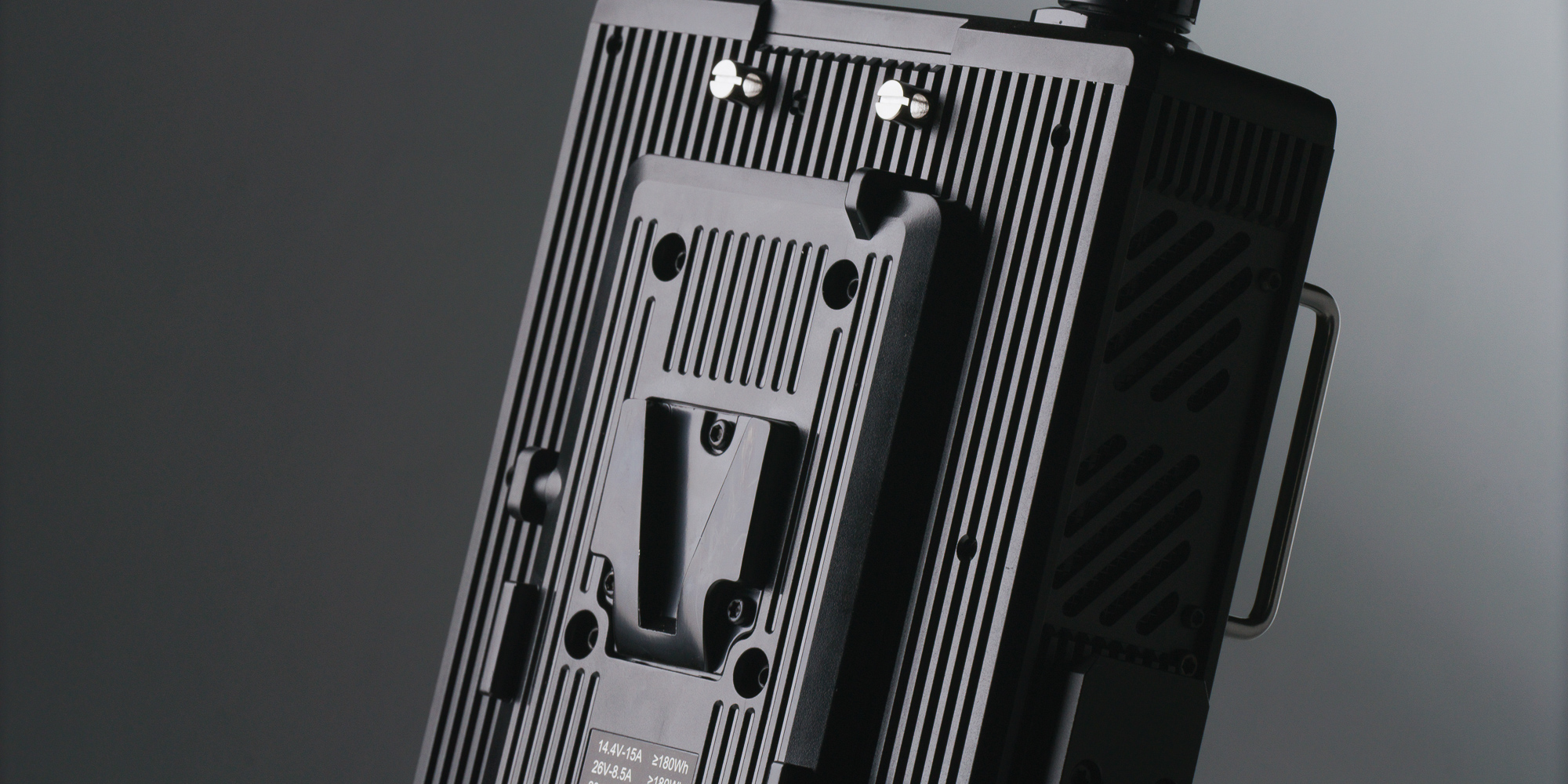 Special effects
Among the innovations that the Amaran F21x LED lamp – V-mount offers, there is no shortage of a set of unique special effects. You can enjoy simulations such as paparazzi, thunderstorm, TV, fire, strobe, explosion, broken bulb, pulsation and fireworks. You customise the effects by changing individual parameters from the built-in screen or the Sidus Link app.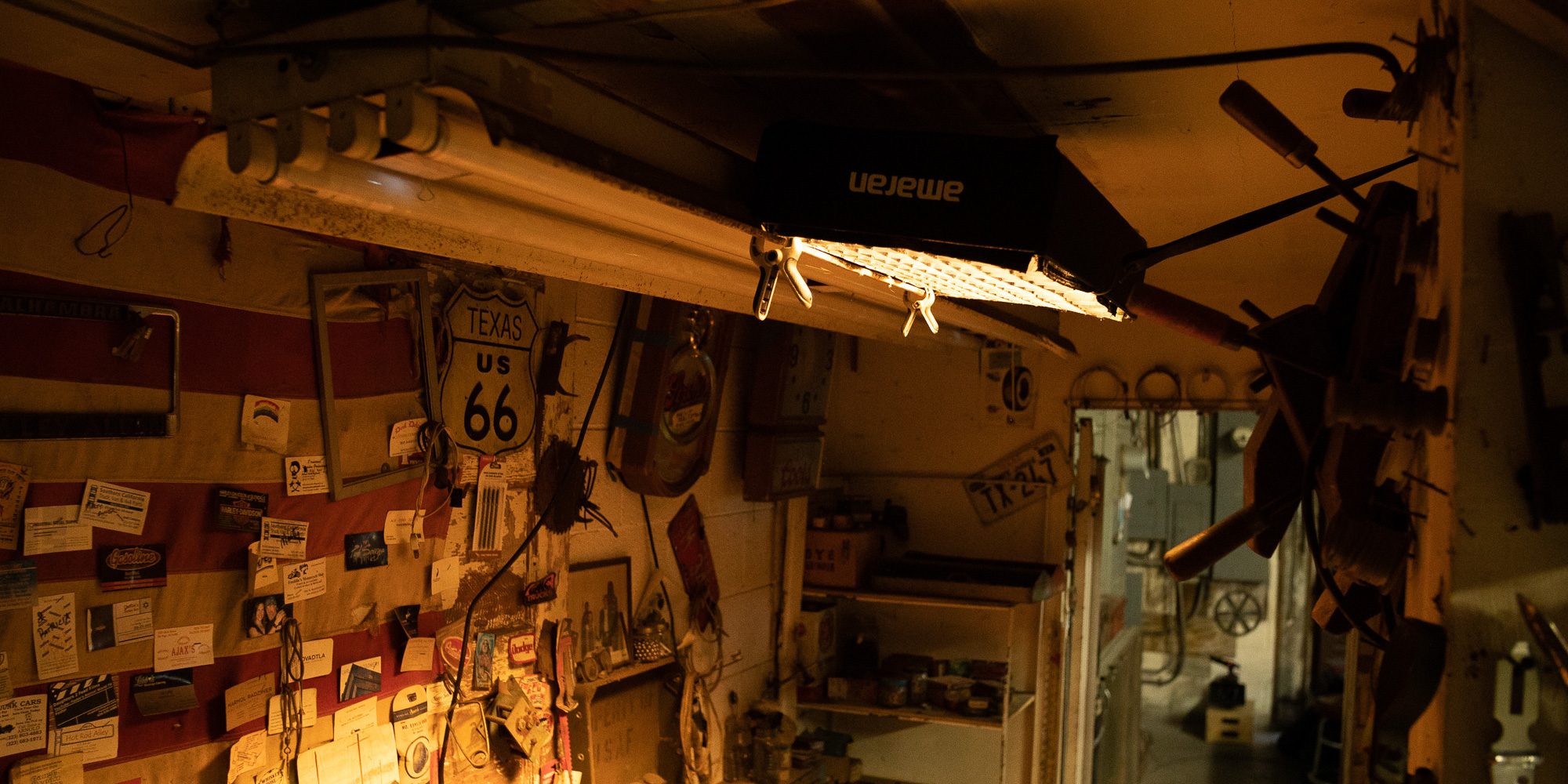 remote control
The Amaran F21x LED lamp – V-mount is compatible with the Sidus Mesh system, which allows remote control via the Sidus Link app. You download it completely free from Google Play, App Store, Mi App Store or Huawei App Gallery. The app allows you to control a single light source as well as an entire setup of lighting equipment from the Aputure and Amaran brands. The remote control range is up to 80 metres!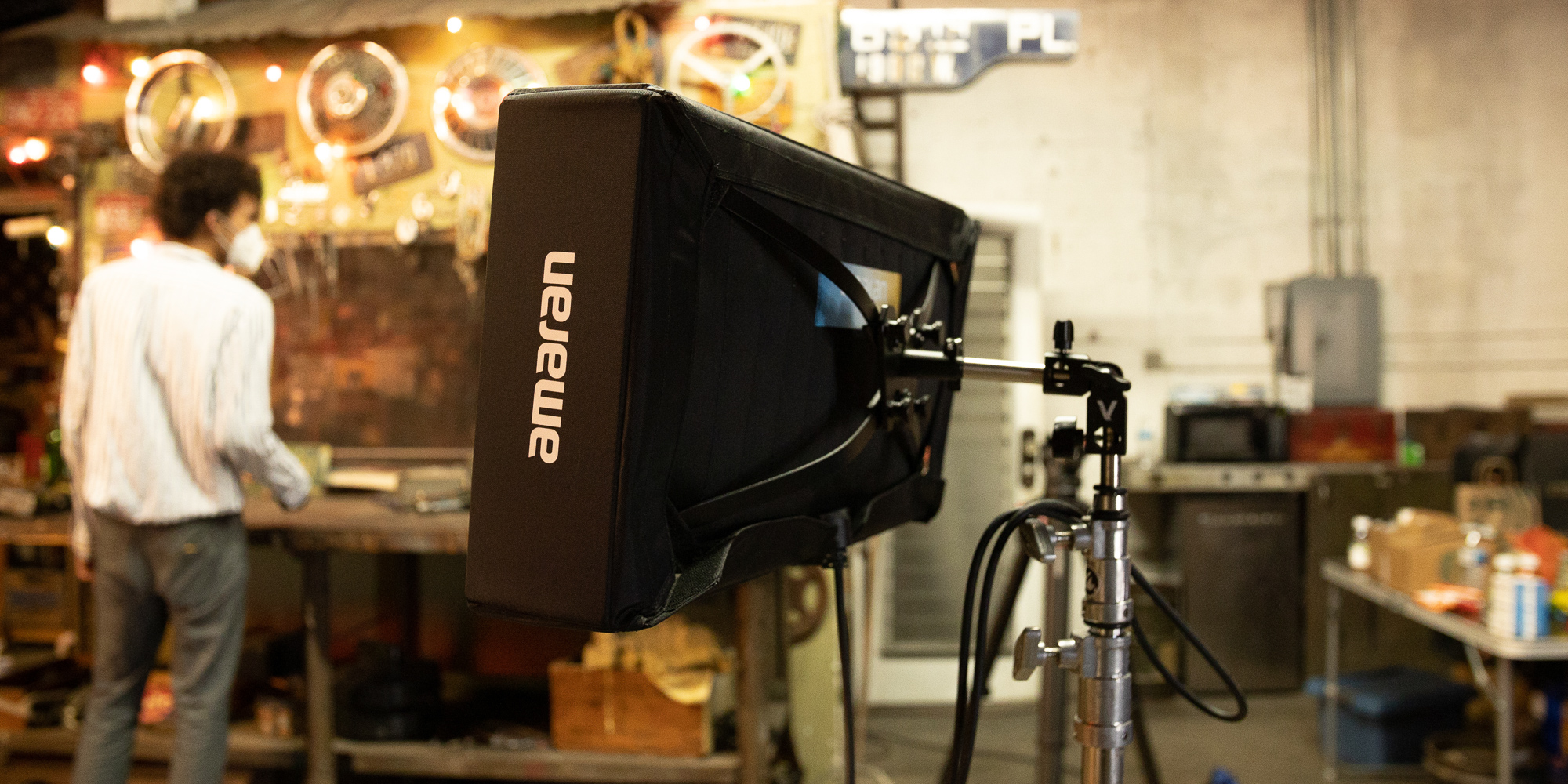 Support for DMX system
On the case of the Control Box controller you will find a USB-C port, which will allow you to connect the device to a DMX512 control system using a suitable adapter. If you are using a control console to manage your lighting and stage effects, the Amaran F21x LED lamp – V-mount will be an excellent addition to such a set-up.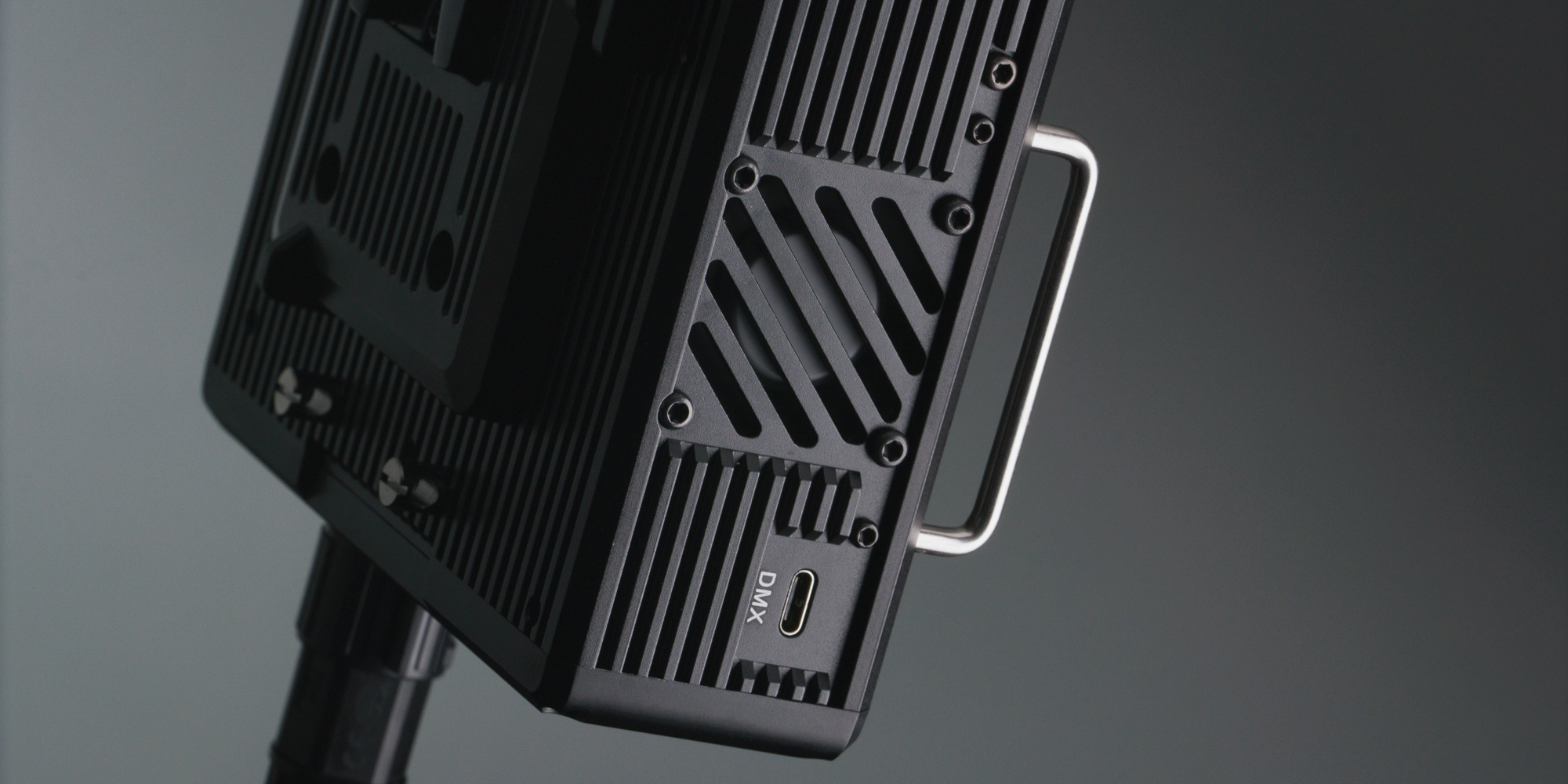 USB-C / DMX adapter MUST be purchased separately.
4 adjustment curves
Every film set is different. With the Amaran F21x – V-mount lamp, far fewer variables can surprise you! To ensure that you can work comfortably in a variety of conditions, you can choose from 4 lighting power control curves:
linear,
exponential,
logarithmic,
S-curve,
These will allow you to adapt the lamp behaviour to your individual working style and current requirements.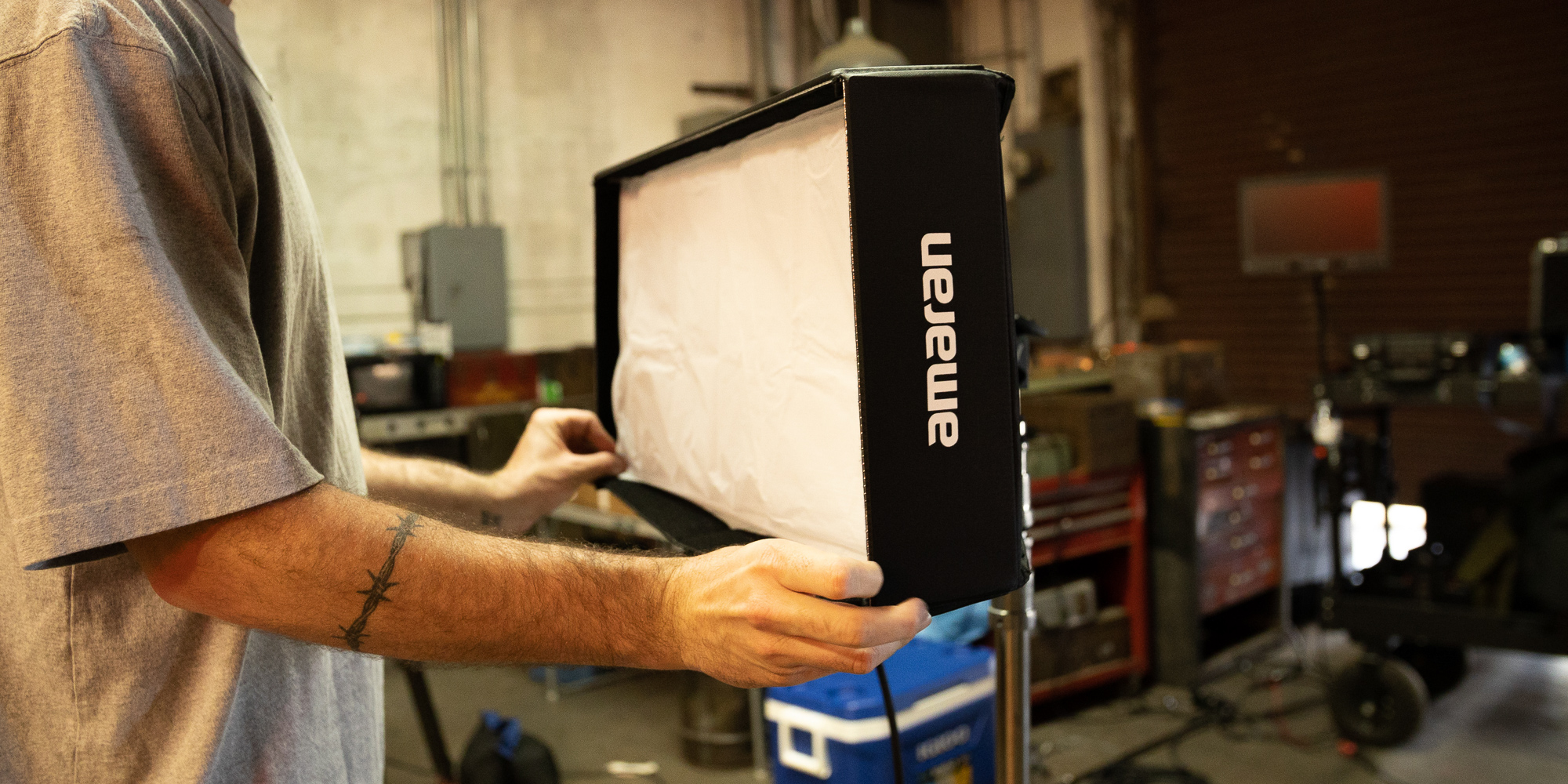 Transport case
Convenient transport and safe storage of the lamp and accessories is made possible by the handy carrying case included in the kit. The compartments will make taking out and stowing the equipment even more convenient. The case is covered with a pleasant-to-touch material. Its thickness is only 10.5 cm, so that the ultra-mobile Amaran F21x – V-mount lamp will not take up much space in transport.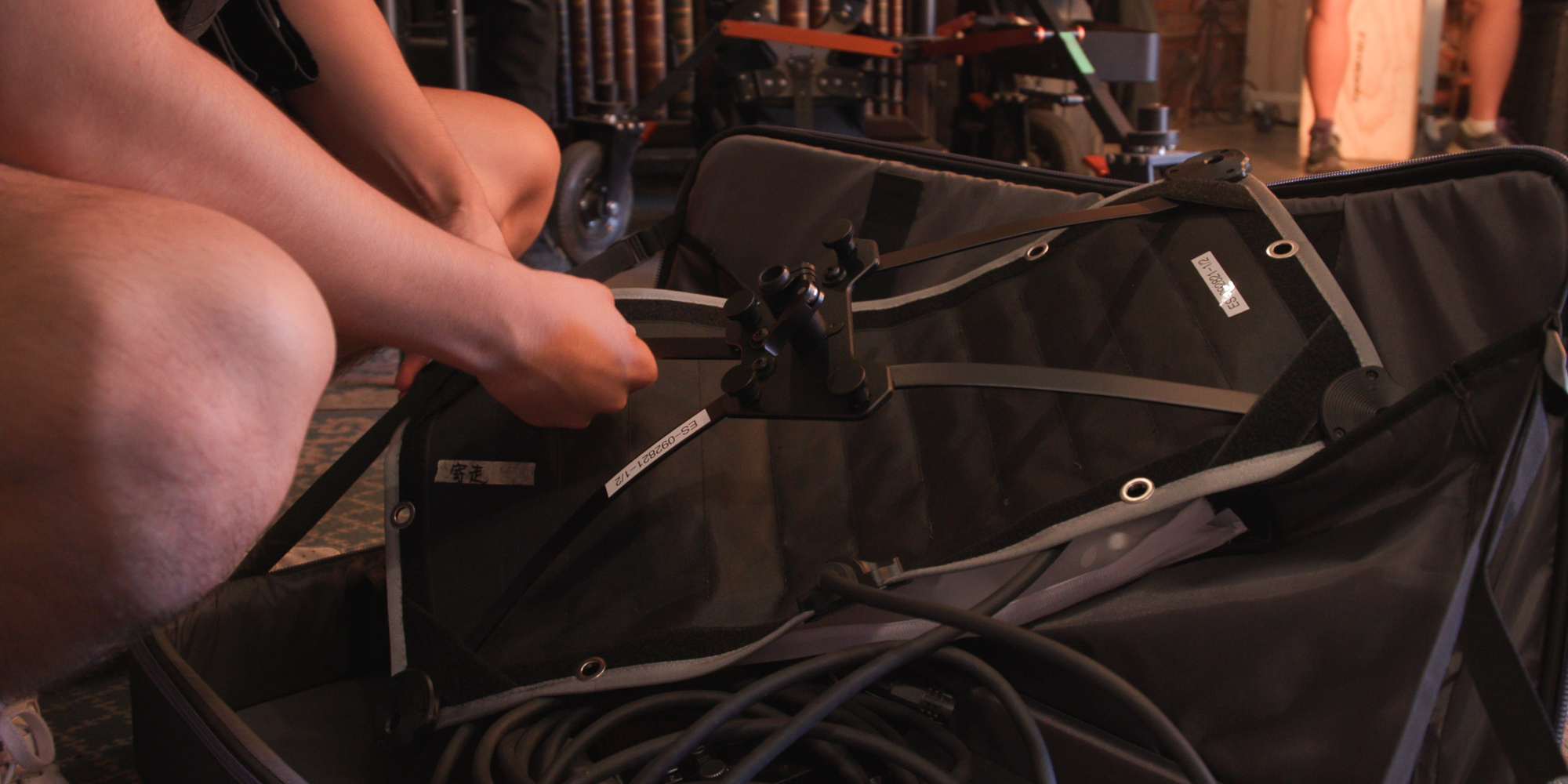 Specification
Model: Amaran F21x – V-mount
CRI: ≥95
TLCI: ≥98
CQS: ≥96
TM-30 RF: 94 (averaged value)
TM-30 RG: 104 (averaged value)
TM-30 RG.
SSI (Tungsten): ≥81
SSI (D56): ≥72
angle of illumination:
maximum output power: 100 watts
maximum power consumption: 220 W
operating current: 2.5 A
power supply:

network (AC): 48 V DC
D-Tap battery: 12 V – 28.8 V DC

compatible batteries:

16.8 V
26 V
28.8 V (full power output)

Power cables:

DC: with attachment lock (3 m)

AC: IEC C13 AC with attachment lock (4 m)
Allowed operating temperature: – 10°C – 40°C
controls:
lamp control panel
Sidus Link application
DMX
wireless connectivity: Bluetooth 5.0 (Sidus Mesh)
maximum remote control range: 80 m
software update capability: via Sidus Link app
screen: OLED
cooling: natural heat dissipation
mounting points: 3x 1/4 "thread
LED life expectancy: 50000 h
estimated LED colour change: 2% (after 6000 h)
certifications: CE, FCC, cTUVus, KC, NCC, ROHS
dimensions:
lamp: 60 x 30 x 0.5 cm
controller: 19 x 15 x 7 cm
transport bag: 66 x 35 x 10.5 cm
weight:
lamp: 0.44 kg
controller: 1.2 kg
power pack: 0.7 kg
handle: 0.66 kg
Kit contents
Amaran F21x LED lamp – V-mount
Control Box controller
folding X-Frame holder
articulated mounting adapter
power supply with V-mount
AC power cable
extension cable (3 m)
mounting pin (straight)
mounting pin (straight)
L-shaped mounting stud
softbox
45º grating ("honeycomb")
2x diffusion fabric
transport case
Photometry
| CCT | Distance | No modifier | Softbox (-0.5 EV) | Softbox (-2.5 EV) |
| --- | --- | --- | --- | --- |
| 2500 K | 0.5 m | 9580 lx | 5530 lx | 3830 lx |
| 2500 K | 1 m | 3130 lx | 1678 lx | 1164 lx |
| 2500 K | 3 m | 342 lx | 222 lx | 146 lx |
| 3200 K | 0.5 m | 10510 lx | 6160 lx | 4750 lx |
| 3200 K | 1 m | 3208 lx | 1833 lx | 1391 lx |
| 3200 K | 3 m | 376 lx | 240 lx | 162 lx |
| 4300 K | 0.5 m | 11120 lx | 6390 lx | 4270 lx |
| 4300 K | 1 m | 3456 lx | 1873 lx | 1291 lx |
| 4300 K | 3 m | 391 lx | 246 lx | 165 lx |
| 5600 K | 0.5 m | 11200 lx | 6590 lx | 4560 lx |
| 5600 K | 1 m | 3632 lx | 1944 lx | 1400 lx |
| 5600 K | 3 m | 400 lx | 263 lx | 174 lx |
| 6500 K | 0.5 m | 12170 lx | 7060 lx | 5140 lx |
| 6500 K | 1 m | 3670 lx | 2116 lx | 1633 lx |
| 6500 K | 3 m | 435 lx | 279 lx | 200 lx |
| 7500 K | 0.5 m | 13470 lx | 7170 lx | 4980 lx |
| 7500 K | 1 m | 3960 lx | 2216 lx | 1519 lx |
| 7500 K | 3 m | 454 lx | 297 lx | 189 lx |