Description
Light Storm 600x Pro is a modern LED lamp from well-known and respected brand Aputure. Thanks to innovative technological solutions, enormous power, versatility and adjustable color temperature it will successfully replace HMI and incandescent lamps often used on film and photographic sets. Impressive light stream generated by the lamp can be easily shaped by using popular Bowens standard modifiers. The lamp is resistant to dust, rain and other adverse weather conditions. Thanks to the cooperation with modern control standards (including Sidus Link, LumenRadio, DMX and Art-net), the device will be successful in professional film productions. LS 600x It is an ideal solution for cinematographers and lighting professionals who want versatility, durability and universal use.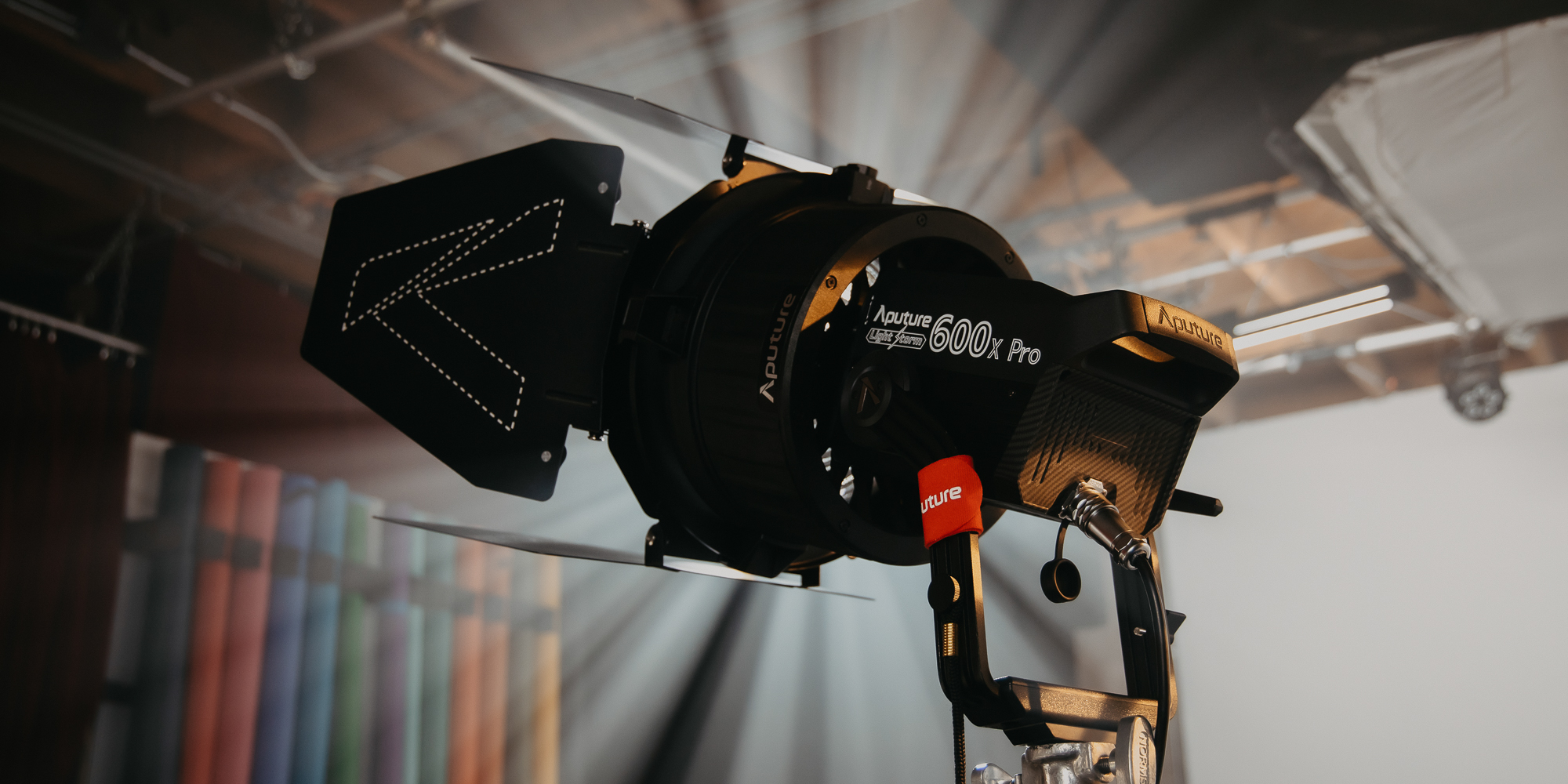 Main Product Features
professional LED lamp equipped with an innovative dual-color COB LED chipset
maximum light intensity at the level of 62900 lux (at the distance of 1 m, at the color temperature of 4300 K and using the Hyper Reflector canopy included in the set)
adjustable light color temperature from 2700 K to 6500 K
high CRI, TLCI, CQS and SSI ratios for excellent color reproduction
2 V-mount sockets for convenient battery mounting
the ability to charge V-mount batteries while operating on AC power
personal Control Box controller equipped with OLED screen, buttons and control knobs
intuitive interface for quick and convenient control of light parameters
radio remote control operating at 2.4 GHz
alternative methods of light control and management (5-pin DMX512 output and input, Sidus Link application, DMX / LumenRadio, Art-net protocol / sACN / Ethernet)
sidus Mesh integration allowing you to control various Aputure lights from your smartphone or tablet
fork mount for comfortable lamp position control
brightness adjustment for fine-tuning the light with 0.1% accuracy
2 operating modes: Constant Output (constant output) and Max Output (maximum output)
9 built-in lighting effects to expand the creative use of the lamp
resistant to dust, splashes and harsh weather conditions
lightning Clamp for quick tripod mounting of the flash controller
capable of being used on a tripod
conveniently attaches modifiers in the popular Bowens standard (including Aputure Light Dome 150 softbox or Aputure F10 Fresnel lens)
neutrik powerCON True1 Top AC cable (6m) and 5-pin weatherproof cable (7.5m) included
the set includes a professional transport case equipped with wheels and a telescopic handle
Built with professionals in mind
The engineers behind the Light Storm LS 600x Pro had one overriding goal in mind: to create a flash that would meet the expectations of professionals and be at home on even the most demanding film sets. Every element of the unit was designed for durability, high performance and resistance to varying weather conditions. A wide range of professional light control methods has also been taken care of (including Sidus Link, Art-net and DMX). In this way, it was possible to create a product that outclasses the competition and has been gaining more and more attention in the film and photography industry since the day of its release.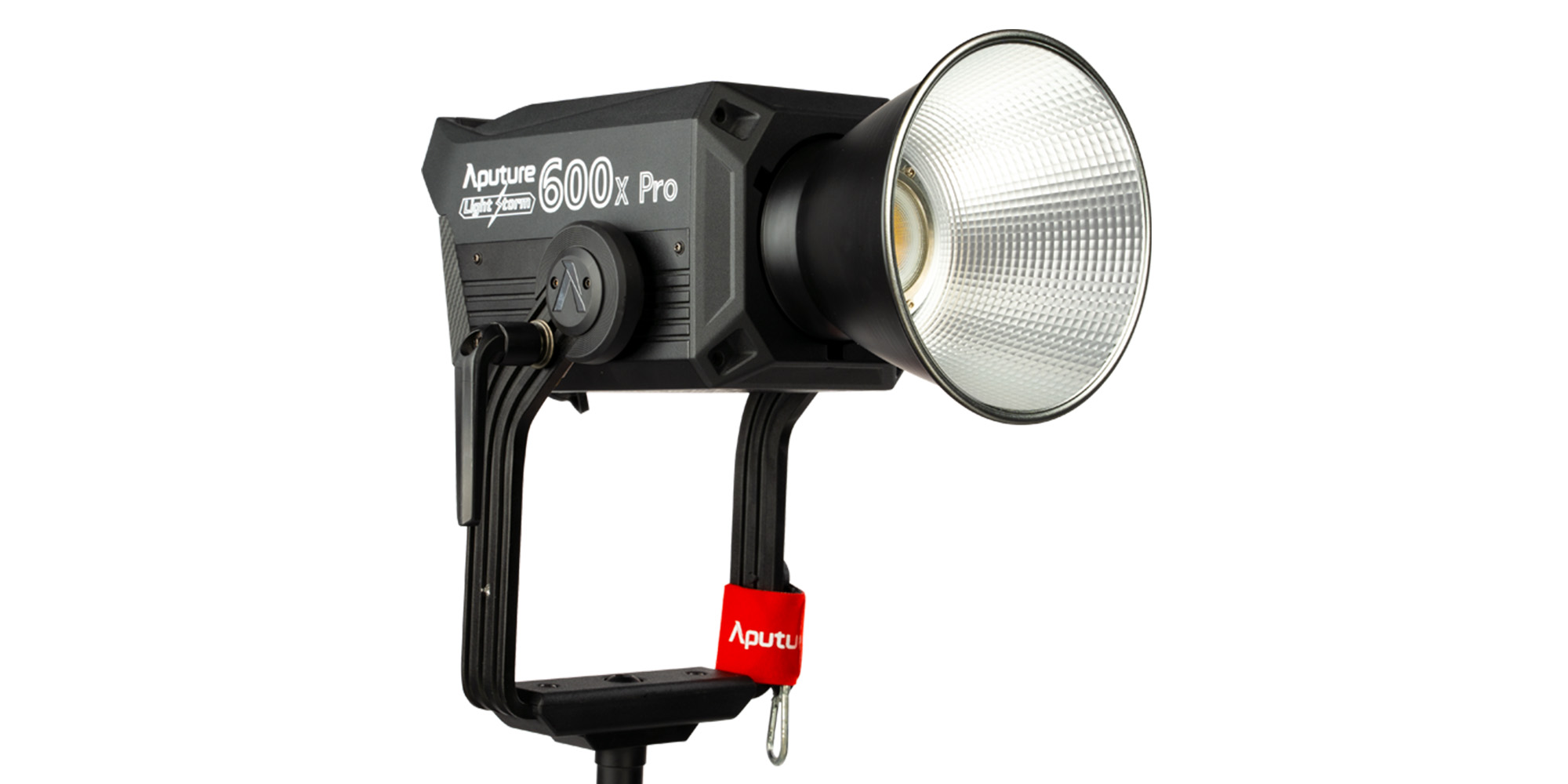 Adjustable color temperature
The extended CCT range of 2700 K to 6500 K goes beyond the capabilities of conventional lamps to produce light warmer than that offered by conventional tungsten lamps and cooler than typical daylight (D55). Flexibility in color temperature selection greatly facilitates on-set work and adaptation to changing lighting conditions outdoors.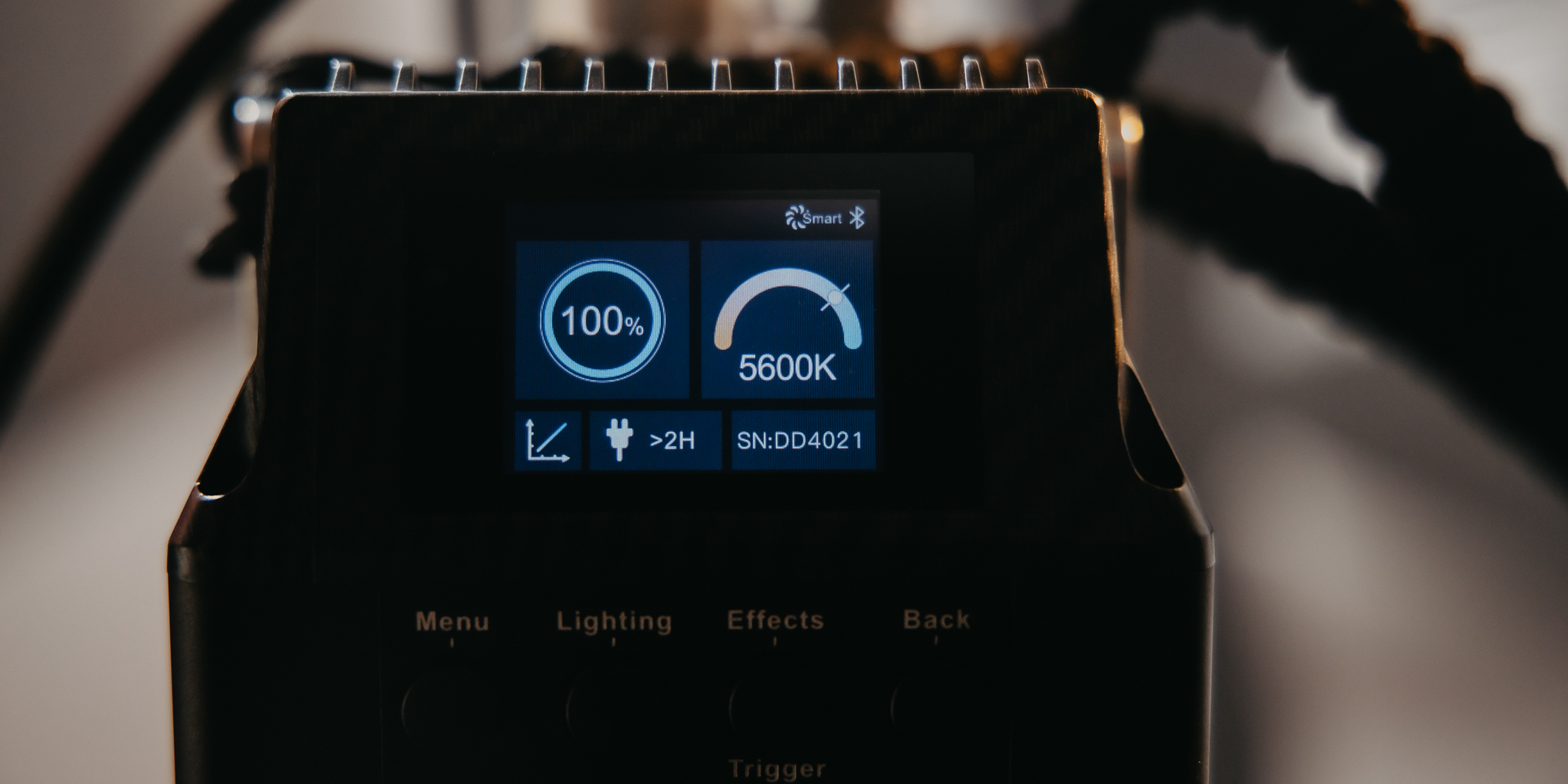 Even more light
The Aputure Light Storm LS 600x Pro LED lamp features an innovative optical element already known from the LS 300x. It combines a dual-color COB LED chipset into one coherent light source. This time, however, it has twice the power! When you attach the Hyper Reflector, which is included in the set, the lamp can emit 5610 lux of light from a distance of 3 meters. Using Fresnel F10 modifier you can increase the light intensity to impressive 18510 lux at focused beam.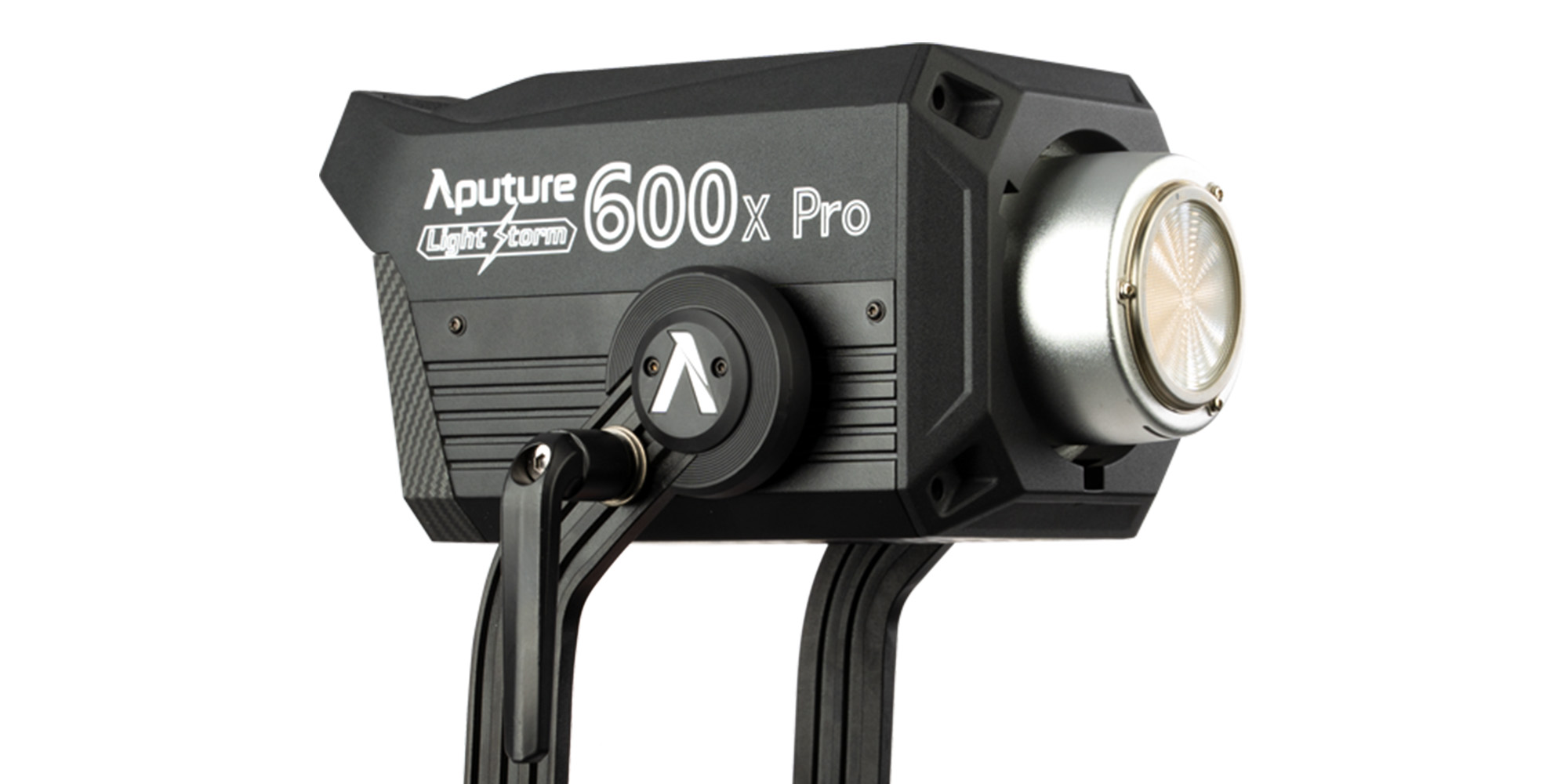 APUTURE F10 FRESNEL SHEET IS NOT PART OF THE SET. This product can be purchased separately.
Changeable weather doesn't scare her!
LS 600x Pro is another professional lamp in the Light Storm family, which will successfully perform on demanding film sets. Rain, dust and rapidly changing weather conditions will not thwart your plans. Waterproof fans, internal seals, specially reinforced cables and rubber plugs protecting all ports will allow for comfortable work in almost any conditions.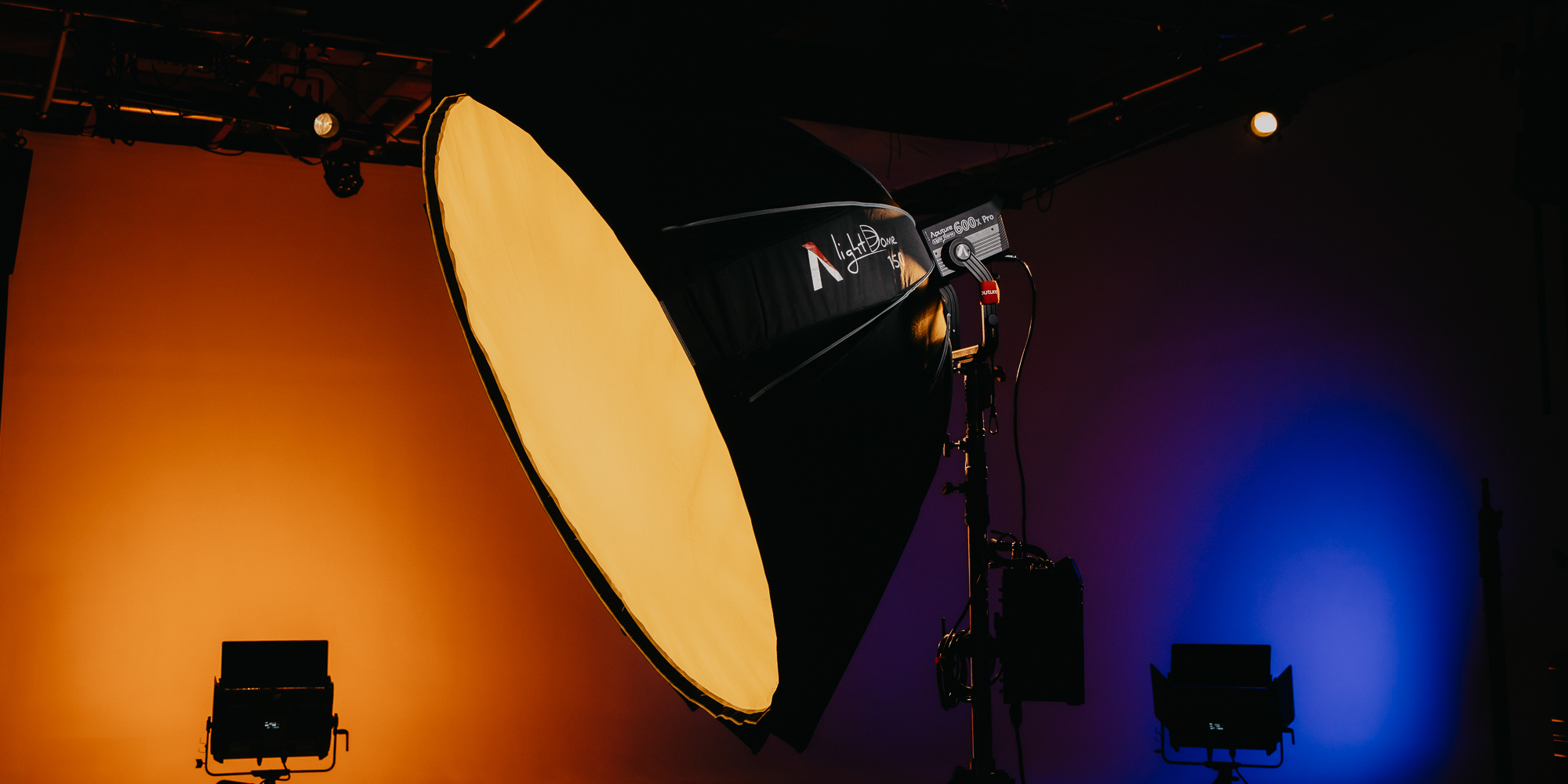 Surgical precision light adjustment
The Aputure Light Storm LS 600x Pro – V-mount LED lamp offers an improved infinite light output adjustment mechanism. It can be set with an accuracy of up to 0.1%! Thanks to this, decreasing or increasing the brightness will be accompanied by an exceptional fluidity, which will allow you to perfectly adjust the light or make its change during the shot, in an extremely natural way. With such a precise mechanism, the power of the lamp will always be perfectly matched to your needs!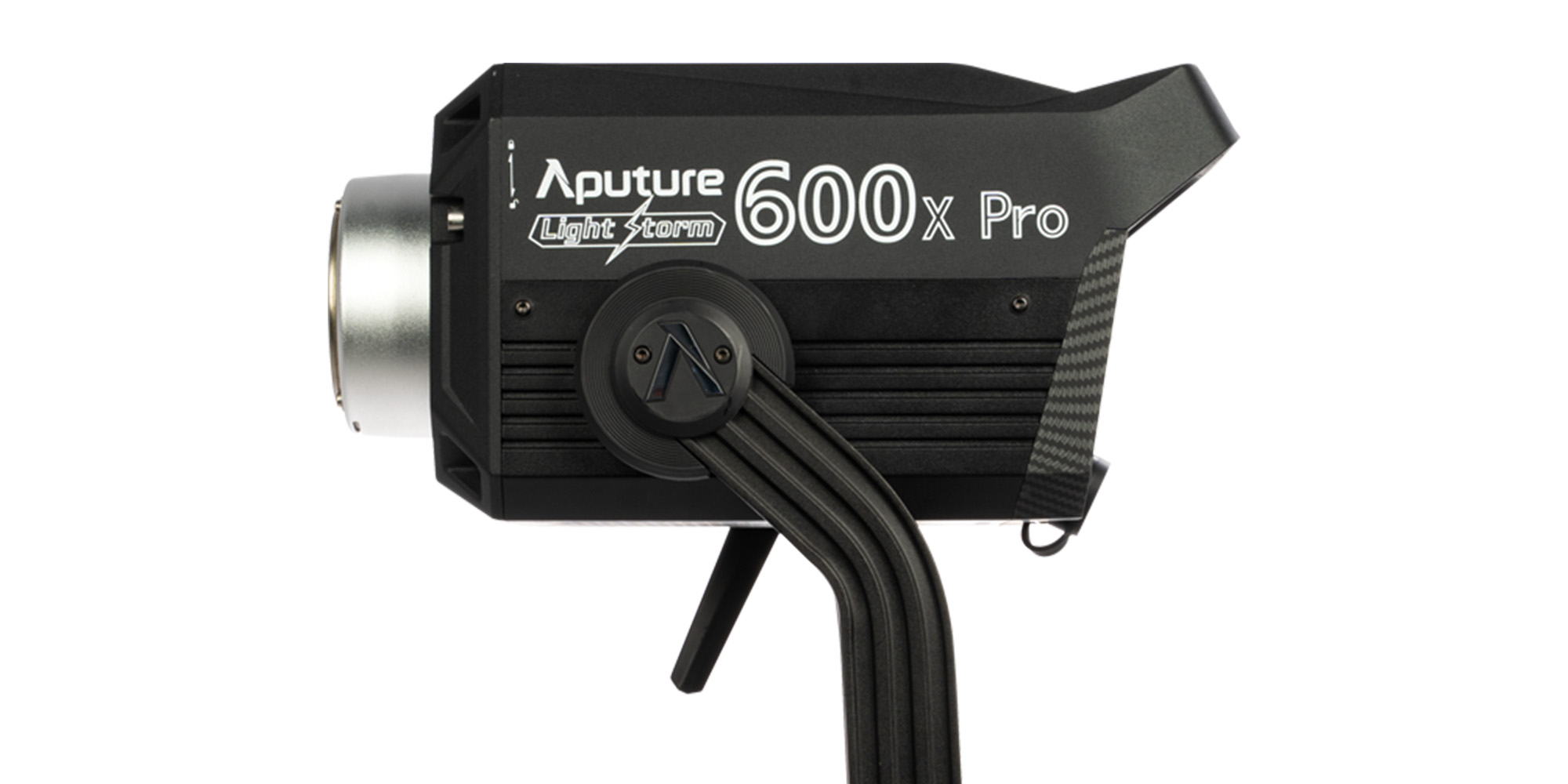 Two performance modes
Innovative technological solutions, which were saturated with LS 600x Pro lamp, allow it to work in two different modes of performance. The first of them is Constant Output. This is a constant output mode, where the luminance remains uniform when changing the CCT parameter. The second option is Max Output. This mode maximizes the output for a selected CCT and a specified dimming level. This solution will allow you to even better match the light to the specific needs you will encounter on set!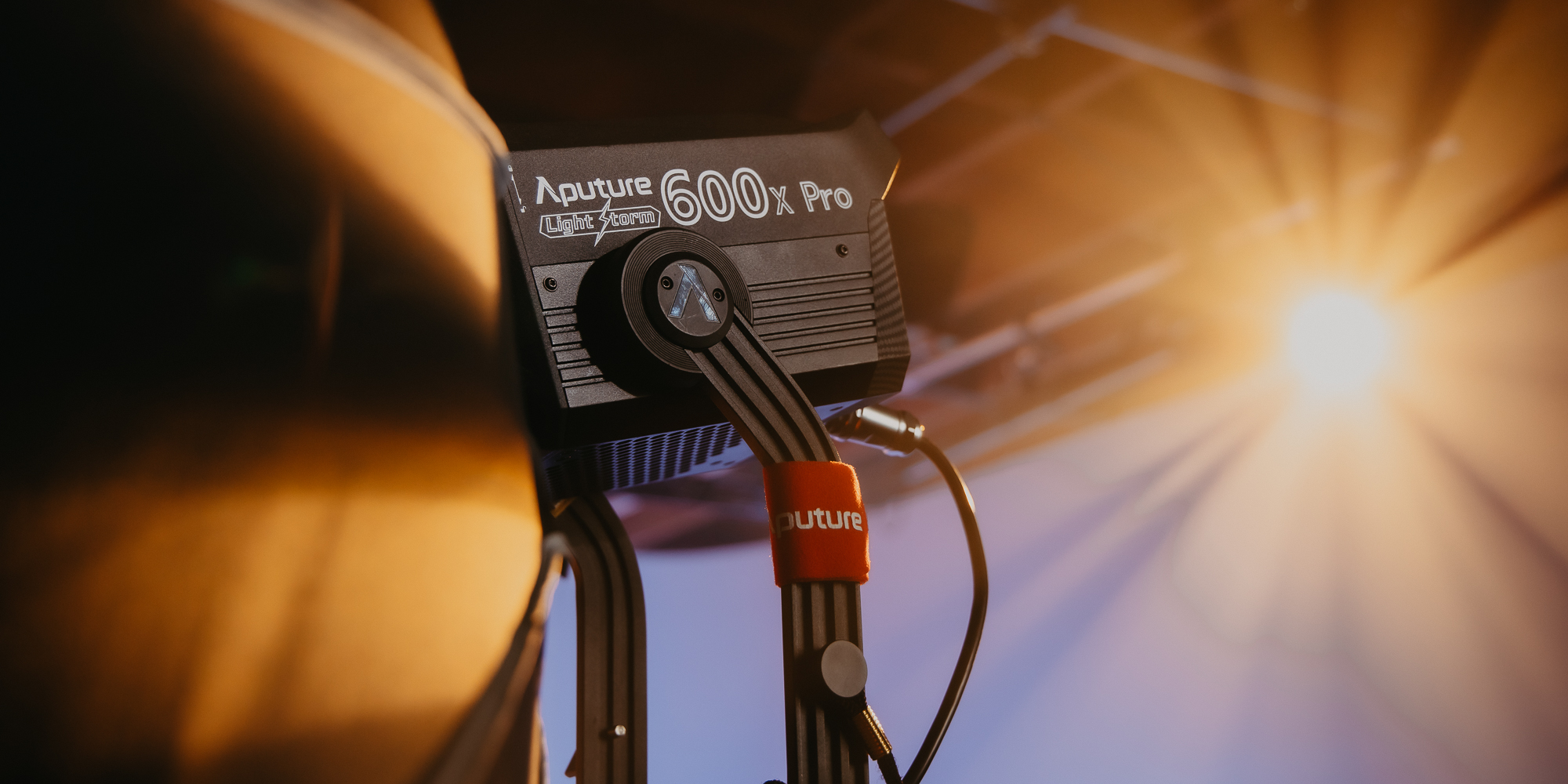 Professional light control
The Aputure LS 600x Pro is the first lamp in the Light Storm family to support so many control systems, standards and protocols. In addition to control from the Control Box panel, radio remote and smartphone, the unit is compatible with technologies such as sACN, ArtNet and LumenRadio CRMX. There's also support for the DMX stage lighting control system and Aputure's developing Sidus Mesh standard.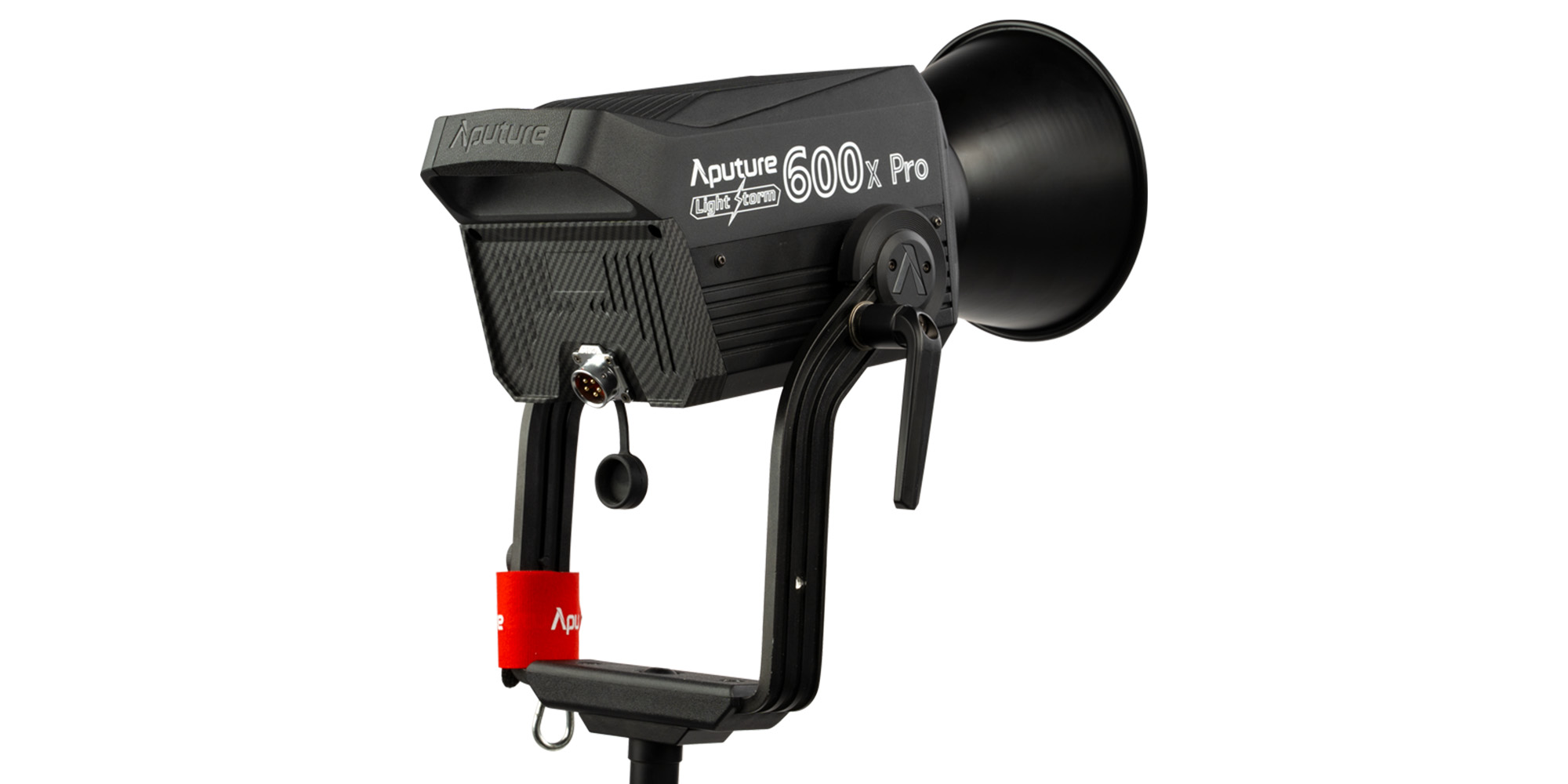 Sidus Link Ecosystem
The Aputure brand opens up a world of immense possibilities for filmmakers. The Sidus Mesh ecosystem allows you to control one or several groups of lights from a smartphone on which the Sidus Link app is installed. This solution offers exactly the same functions that can be managed from separate controllers or the device control panel. The application allows, among other things, to change the standard settings and save your own special effects. It is compatible with the LS 600x Pro lamp, as well as many other devices from the Aputure family, including models such as: C300d II, LS 300x, Accent B7c, MC and Nova P300c or Nova P600c.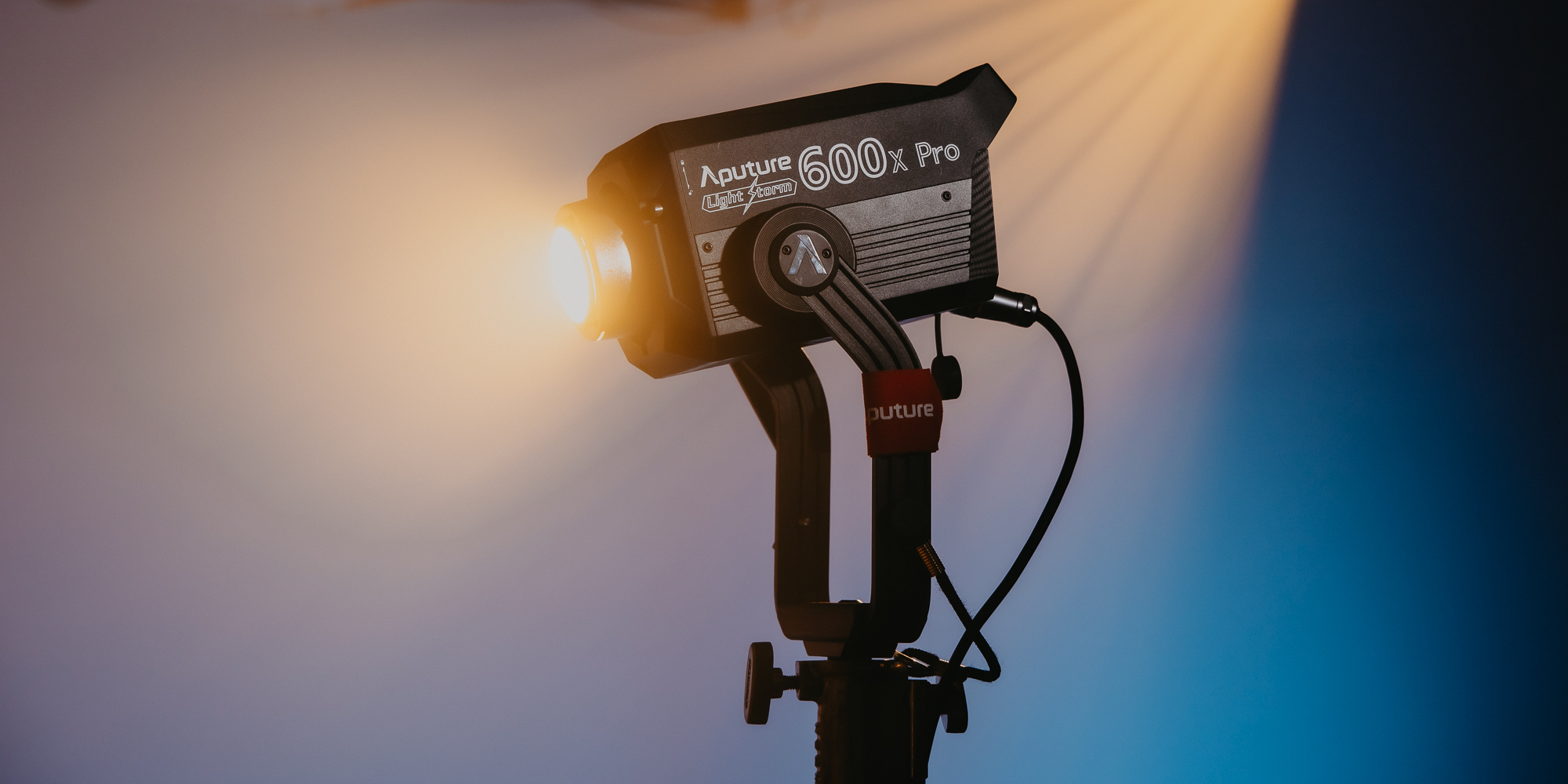 Explosions, fire and fireworks
The Aputure Light Storm LS 600x Pro LED lamp offers 9 built-in special effects. They will simulate a thunderstorm, explosion, fireworks, broken bulb or strobe, among others. You can run them both from the Control Box controller and the Sidus Link mobile app. The lamp is also compatible with the SidusPro FX ecosystem. Take advantage of custom special modes and see for yourself how Hollywood magic works!
Exceptional Controller
The robust Control Box controller is equipped with a high quality OLED screen. A completely new menu interface has also been prepared for the lamp, which has been improved in terms of ergonomics and ease of use. Controlling the light of the LS 600x Pro will therefore be simple and intuitive. On the controller housing, you will also find two sockets for powering the flash with 2 V-Mount batteries. If you are using a power cord, these will allow you to charge the batteries so they are ready to go when you want to leave the studio and shoot something outdoors!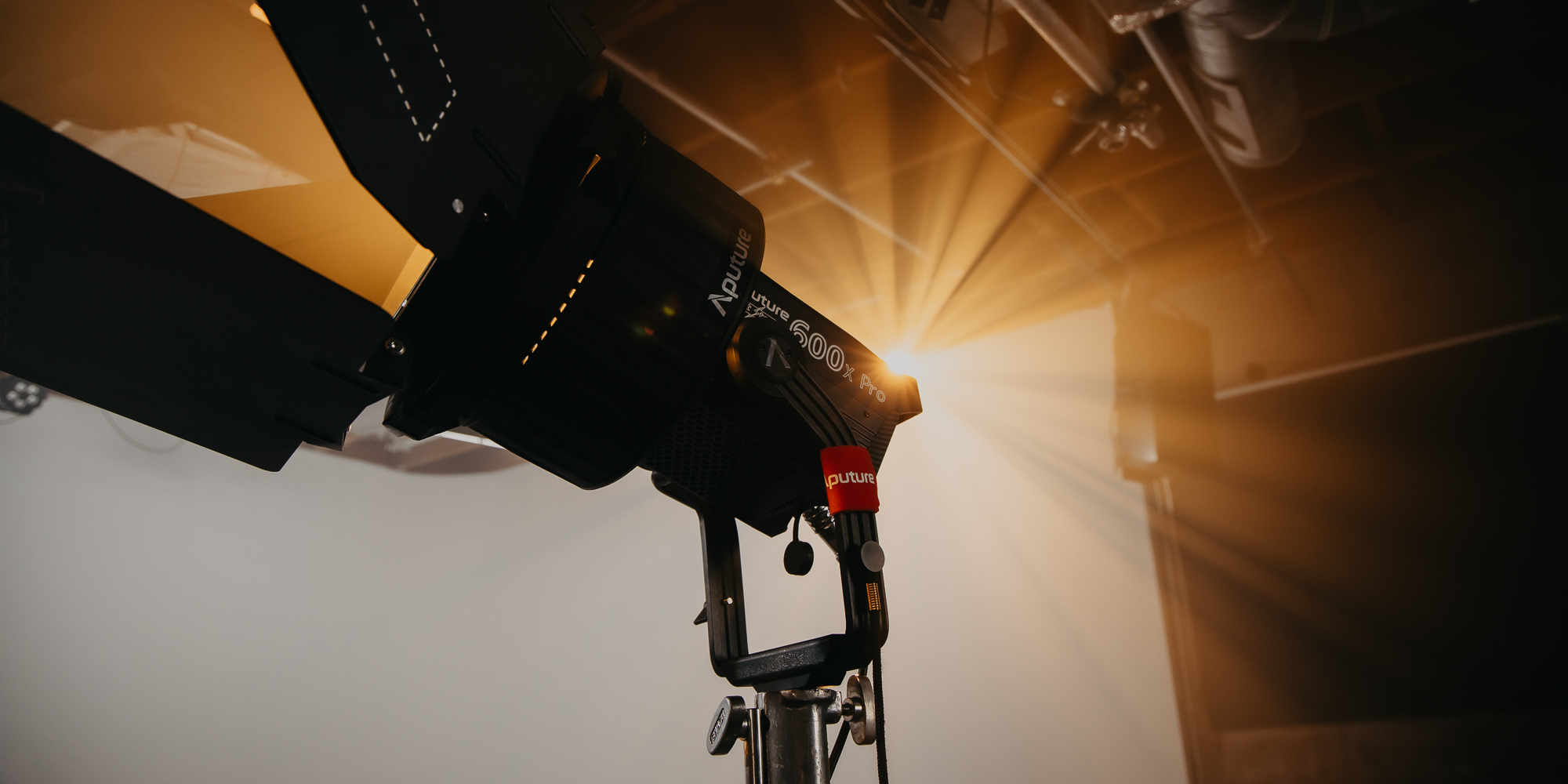 recognized-mount-standard
The standard Bowens mount allows the use of dozens of commercially available light modifiers, including unique solutions from Aputure (including the Aputure Light Dome 150 and Light Dome II softboxes or the Aputure F10 Fresnel lens). Included with the Light Storm LS 600x Pro you will find a Hyper Reflector canopy. By using a mirror coating inside it, a stronger and more focused beam of light can be achieved.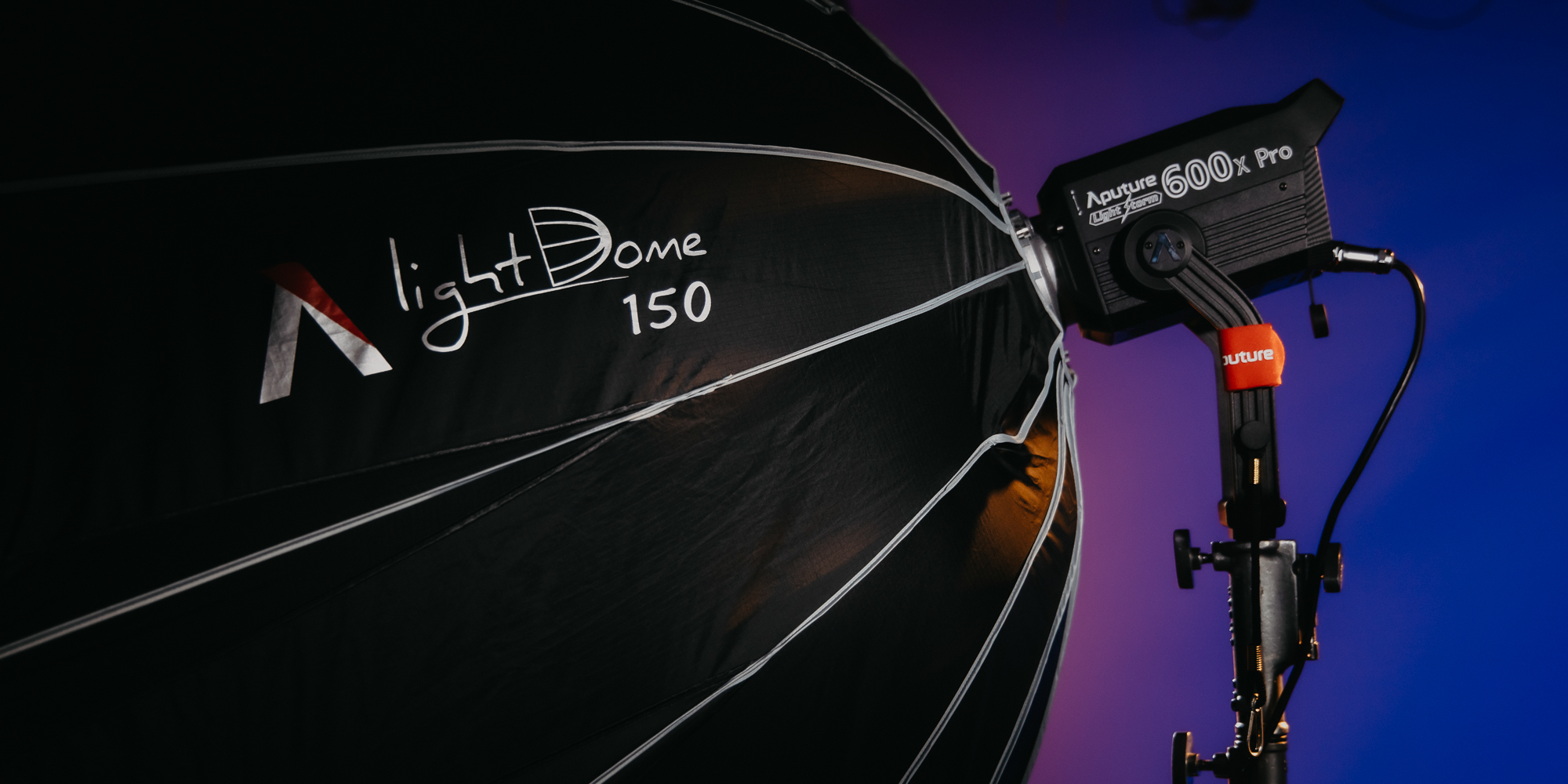 Case for special tasks
Convenient transport and safe storage of the lamp and accessories allows for a professional travel case. Each element of the set will find a proper compartment, thanks to which taking out and putting away the equipment will be quick and convenient. The case is covered with easy to clean and abrasion resistant material. It also comes with wheels and a telescoping handle. This solution will allow you to travel comfortably with the flash, whether you are driving to the studio in the car or flying to the other side of the world!
Specification
Model: Aputure Light Storm LS 600x Pro LED lamp – V-mount
Light color temperature: 2700 K – 6500 K
CRI: ≥ 96
TLCI: ≥ 98
CQS: ≥ 95
SSI (D56): ≥ 74
SSI (Tungsten): ≥ 85
TM-30 RF: 95
TM-30 RG: 100
Output power: ≤ 600 W
Power consumption: ≥ 600 W
Power consumption: ≤ 720 W
Current capacity: 8 A
Mains: 100 V – 240 V, 50 Hz / 60 Hz
V-Mount (full power): 22 V – 33.6 V (26 V / 18 A, 28.8 V / 16 A)
XLR 3-Pin: 48 V / 15 A
Battery charging: 16.8 V / 29.4 V
Operating temperature: from -20°C to 45°C
Display: OLP
Display: OLED
System update: USB (FAT16, FAT32), Sidus Link OTA
Controls:
control panel
radio remote control (2.4 GHz)
5-pin DMX512 output and input
sidus Link application (Bluetooth, Sidus Mesh)
DMX / LumenRadio
Art-net / sACN / Ethernet protocol
range:
Range: up to 100 m
Bluetooth: up to 80 m
LumenRadio: up to 100 m
Cooling: active cooling system
Resistance: dustproof and splashproof
pod mounting system for the lamp:
Pin: 16 mm – 5/8″ (Baby Pin)
28 mm pin – 1.125″ (Junior Pin)
modifier mount: standard Bowens
dimensions:
lamp without canopy: 30.8 x 15.61 x 15.01 cm
lamp with canopy: 30.8 x x 25.03 x 45.6 cm
controller: 32.41 x 17.9 x 14.28 cm
transport case: 62.5 x 43.5 x 39 cm
Weight:
lamp with Hyper Reflector canopy: 4.64 kg
controller Control Box: 5.8 kg
whole set (including case): 18.2 kg
Photometry
| CCT | Distance | Hyper Reflector | F10 Fresnel (45°) | F10 Fresnel (15°) |
| --- | --- | --- | --- | --- |
| | 1 m | 36500 lx | 32300 lx | 79100 lx |
| | 2 m | 7760 lx | 8810 lx | 22160 lx |
| 2700K | 3 m | 3220 lx | 4070 lx | 10740 lx |
| | 5 m | 1150 lx | 1530 lx | 3900 lx |
| | 7 m | 583 lx | 808 lx | 2037 lx |
| | 1 m | 45300 lx | 39800 lx | 98500 lx |
| | 2 m | 9650 lx | 10950 lx | 27550 lx |
| 3200k | 3 m | 4010 lx | 5060 lx | 13270 lx |
| | 5 m | 1426 lx | 1898 lx | 4840 lx |
| | 7 m | 722 lx | 1001 lx | 2526 lx |
| | 1 m | 62900 lx | 55100 lx | 135300 lx |
| | 2 m | 13390 lx | 15150 lx | 38200 lx |
| 4300k | 3 m | 5560 lx | 7010 lx | 18370 lx |
| | 5 m | 1978 lx | 2629 lx | 6690 lx |
| | 7 m | 1002 lx | 1374 lx | 3490 lx |
| | 1 m | 63900 lx | 55800 lx | 137000 lx |
| | 2 m | 13530 lx | 15280 lx | 38600 lx |
| 5600k | 3 m | 5610 lx | 7070 lx | 18510 lx |
| | 5 m | 1996 lx | 2653 lx | 6730 lx |
| | 7 m | 1012 lx | 1398 lx | 3530 lx |
| | 1 m | 55300 lx | 48300 lx | 119200 lx |
| | 2 m | 11750 lx | 13250 lx | 33600 lx |
| 6500k | 3 m | 4880 lx | 6150 lx | 16060 lx |
| | 5 m | 1731 lx | 2301 lx | 5850 lx |
| | 7 m | 878 lx | 1215 lx | 3060 lx |
Kit contents
aputure Light Storm LS 600x Pro LED lamp – V-mount
hyper Reflector Bowl
control Box
5-pin cable (7.5 m)
neutrik powerCON TRUE1 TOP AC cable (6 m)
RC1+ remote control
lightning Clamp mounting bracket
carrying case