Description
The Yongnuo YN660LED is an innovative device that is a combination of an elongated LED panel and a lightsaber with an ergonomic handle. With its high power (max 14993 lux), adjustable colour temperature (2000 – 9900 K) and 36,000 colours available, it will be an ideal choice for photographers and video makers. Product shots, portraits, vlogs, live broadcasts, light painting – with the Yongnuo YN660LED you'll rediscover what creativity and comfortable working is all about. By reaching for NP-F batteries, you can also forget about the limitations of cables. The Yongnuo YN660LED LED flash can operate wirelessly, and thanks to a mobile app, you gain the option of remote control. If you want versatility and professional capabilities, the Yongnuo YN660LED will be the perfect choice!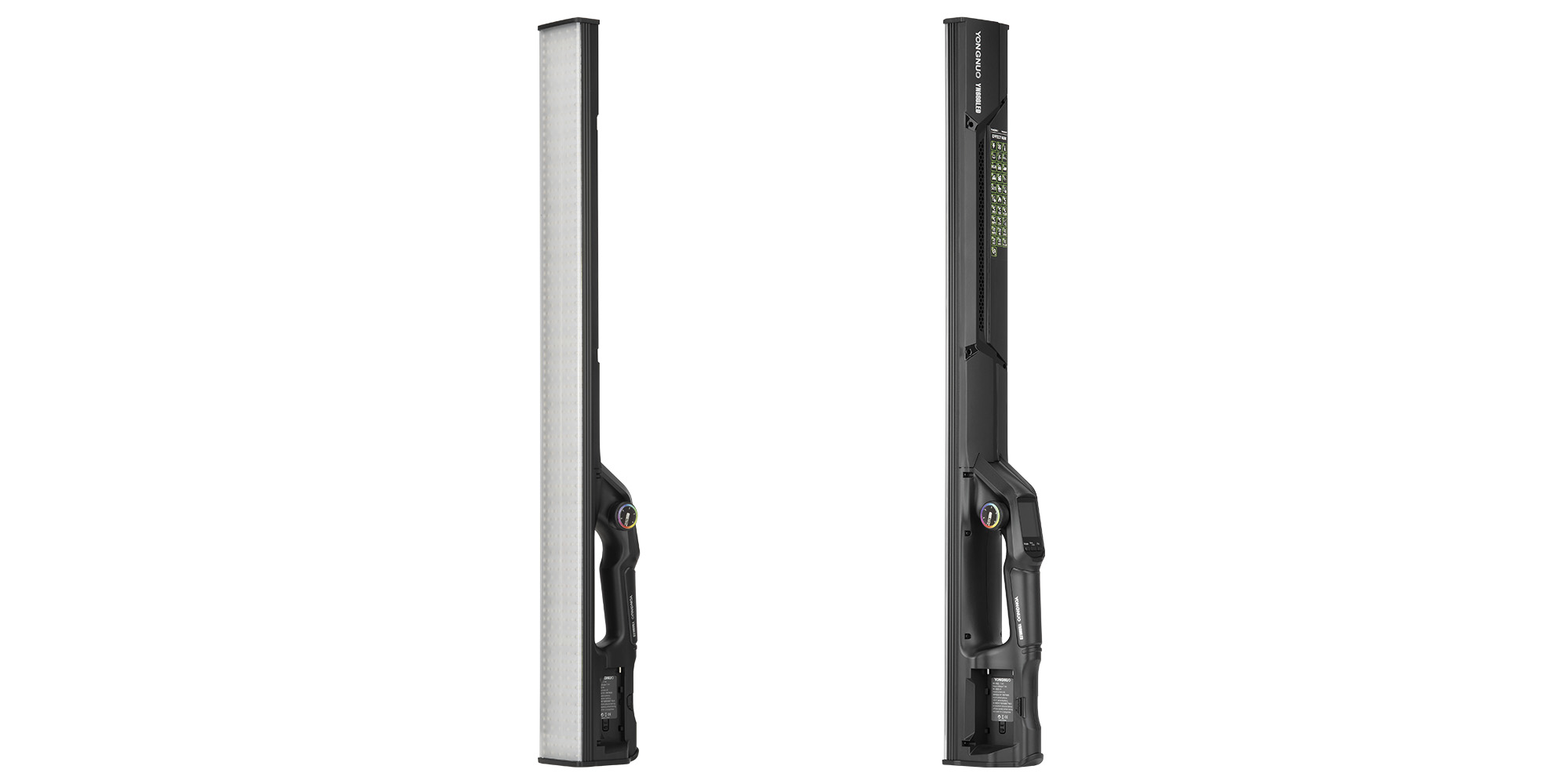 Main product features
multi-purpose LED lamp with a distinctive sword shape
exceptional ergonomic design for versatility of use
large power output (45W)
high power (45 W) and maximum light intensity of 14993 lux
adjustable colour temperature from 2000 K (warm light) to 9900 K (cold light)
adjustable red and white light with a single control
adjustable red and green glow in CCT mode
31 realistic special effects to simulate natural and artificial light sources
36,000 colours of light to choose from in the HSI colour space
bright and easy to read LED display with three function keys
special dials for the control of light effects
high CRI 96+ for accurate colour rendering
there is a 1/4″ screw thread for the 1/4″ screwdriver
a 1/4″ thread for convenient tripod mounting or installation of an additional accessory
comfortable handle for comfortable handheld operation
possibility to power the device with 2 rechargeable NP-F batteries
unavoidable voltage control technology to avoid flickering during filming
controls the camera's power supply with 2 rechargeable NP-F batteries
controlled via mobile app (Android/iOS) or Yongnuo Wireless Controller
support for a wireless communication system offering up to 256 channels
based on the Yongnuo Wireless Controller
housing made of aluminium, which dissipates heat very well
high quality carrying bag included
Build like never before
The Yongnuo brand continues to expand its family of lamps and elongated LED panels with versatile applications in film and photography. The YN660LED redefines the ergonomics of working with a lightsaber. The device is distinguished by a distinctive handle, which features an easy-to-read LCD screen, function buttons and a special knob for smooth adjustment of light parameters. The modern casing was made of aluminium and solid plastic. The manufacturer has also taken care of proper ventilation and optimal venting in the case of battery installation. All that makes working with the Yongnuo YN660LED LED flash is convenient both when installed on a tripod and when lighting frames and shots "handheld".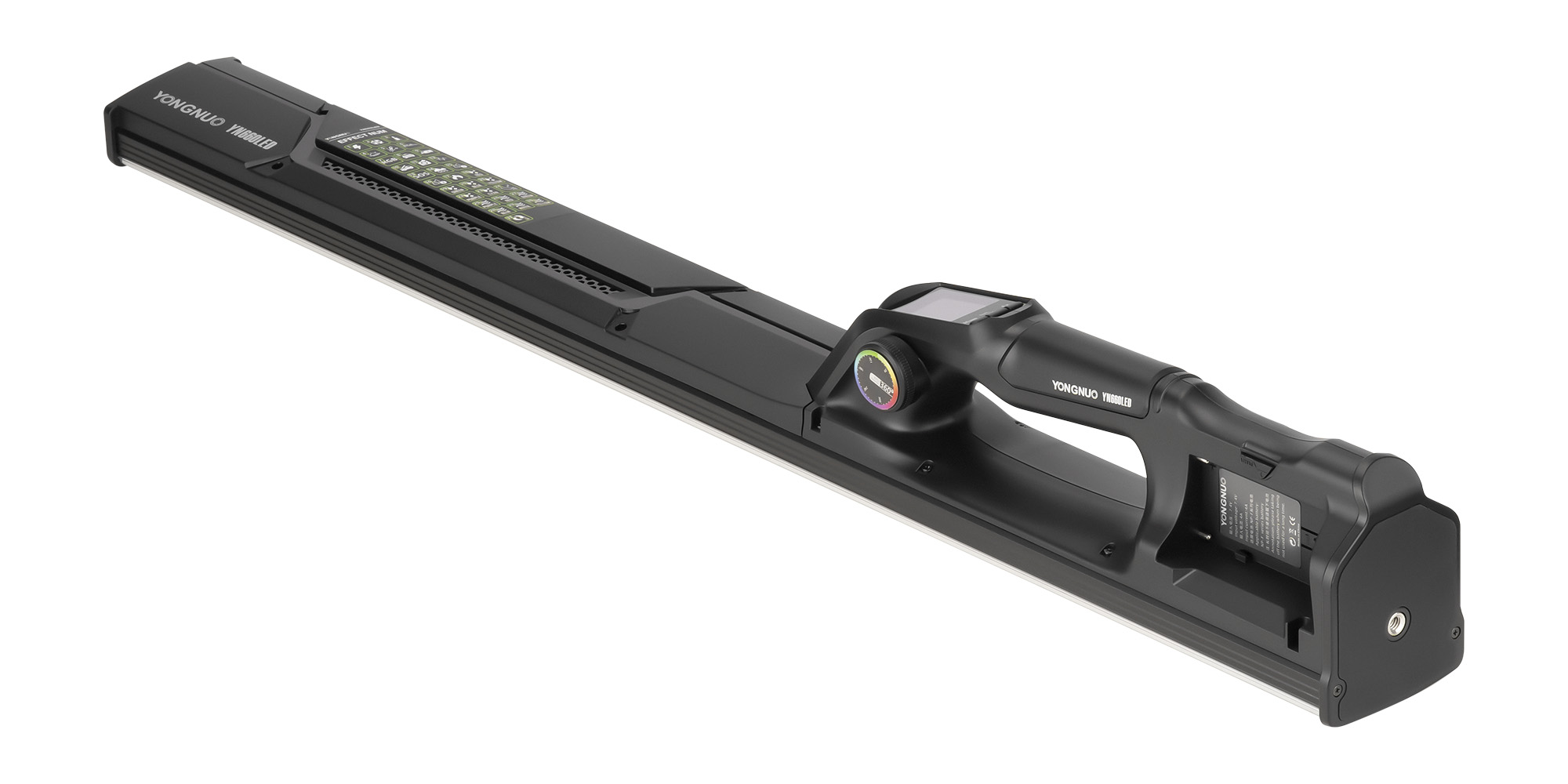 Easy and convenient operation
The ergonomic design of the Yongnuo YN660LED is not just about an optimally contoured grip and perfect balance. Convenient operation is ensured by a monochrome LED display, where you can clearly change parameters such as colour temperature, saturation, power or colour. Quick and precise control of individual values is ensured by a comfortable knob, which can be easily operated with your thumb. The manufacturer did not forget about the 1/4″ threaded hole at the bottom of the lamp. Thanks to it, you can install the lamp on a tripod and control it remotely using a mobile application.
Light tailored to your needs
The Yongnuo YN660LED LED lamp – RGB, WB (2000 K – 9900 K) is equipped with up to 672 CCT LEDs, which allow you to continuously adjust the colour temperature from 2000 K to 9900 K. In combination with 120 RGB SMD diodes, you can obtain almost any colour of warm or ice-cold light, while maintaining accurate colour rendering, which is guaranteed by CRI coefficient at the level of 96+. The use of modern components also avoids flickering of the light, which will be particularly useful when working on video materials. 45 W of power allows you to achieve a maximum light intensity of 14993 lux, so the characteristic light sword will prove itself as a filling light, counterlight or effect light!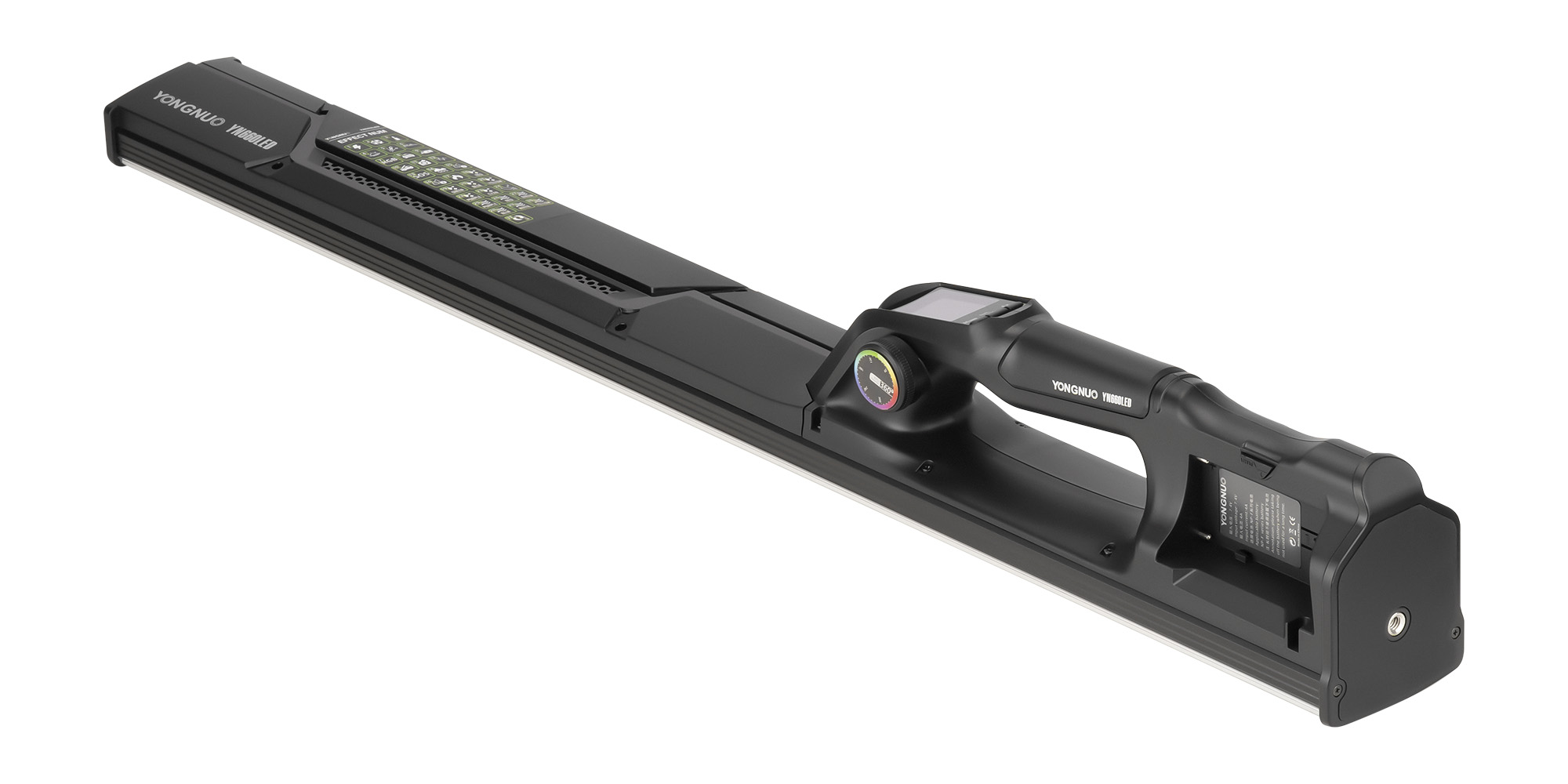 Exceptional special effects
Looking for a way to spice up your videos with unique special effects? Simulating fireworks, an ambulance, a sunset, a fire truck, a bonfire, colorful party lights or strobes is possible without having to build expensive installations! The Yongnuo YN660LED lamp offers up to 31 preset modes to achieve realistic effects. All of the programs can be activated either from the screen on the handle of the lamp, or from the mobile app. Take advantage of special modes and see for yourself how the Hollywood magic works!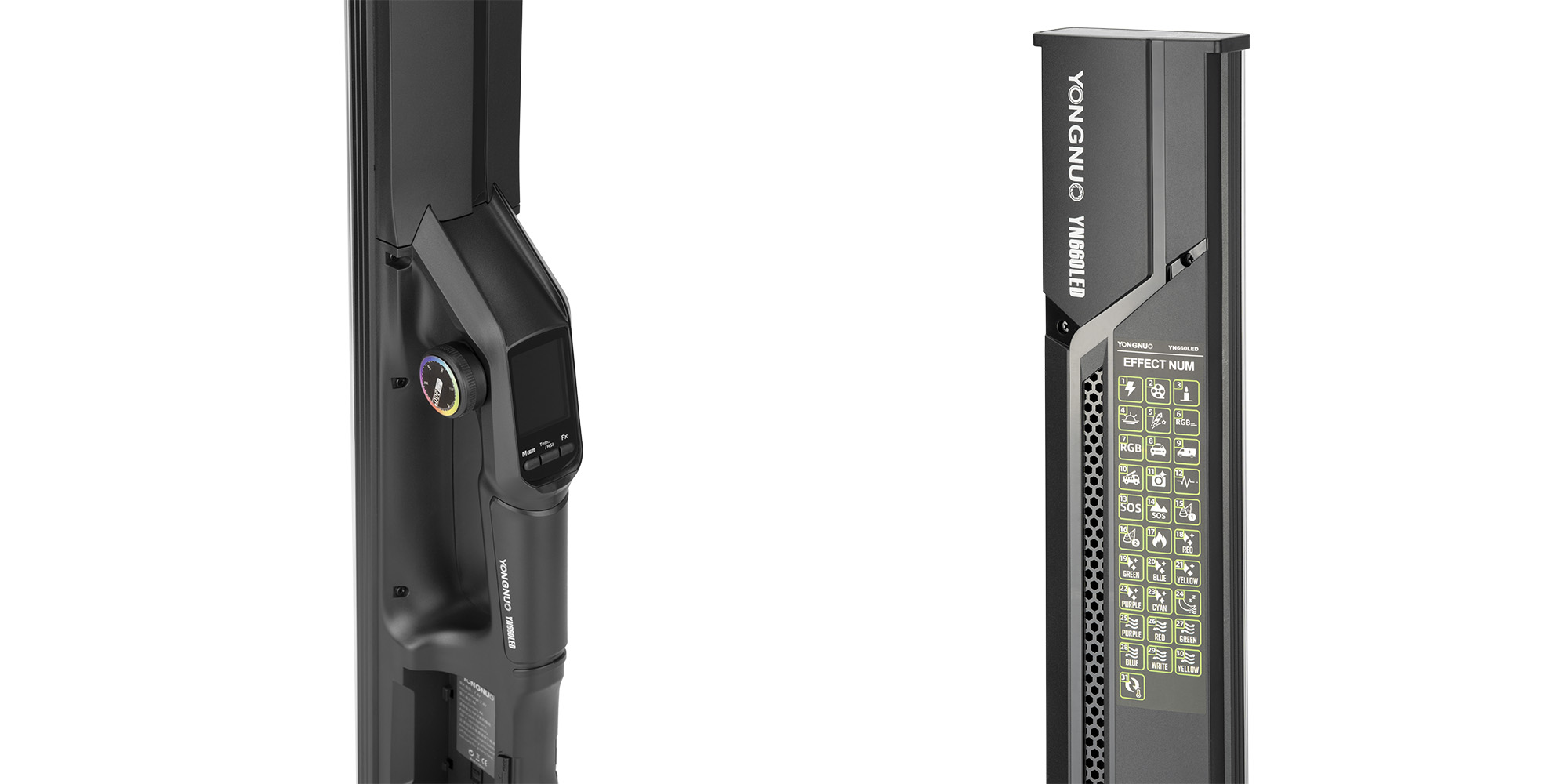 Two power ways
In the interest of the greatest possible versatility of applications, the manufacturer has taken care of two different ways of powering the Yongnuo YN660LED lamp. The device is equipped with a DC 12 V / 5 A socket to which you can quickly and conveniently connect the appropriate power supply. And if you want to minimise the number of cables tangled under your feet or you need to go outdoors with the light, or get to hard-to-reach places, use NP-F batteries. Their symmetrically spaced installation points will provide ideal balance and equilibrium when working "handheld".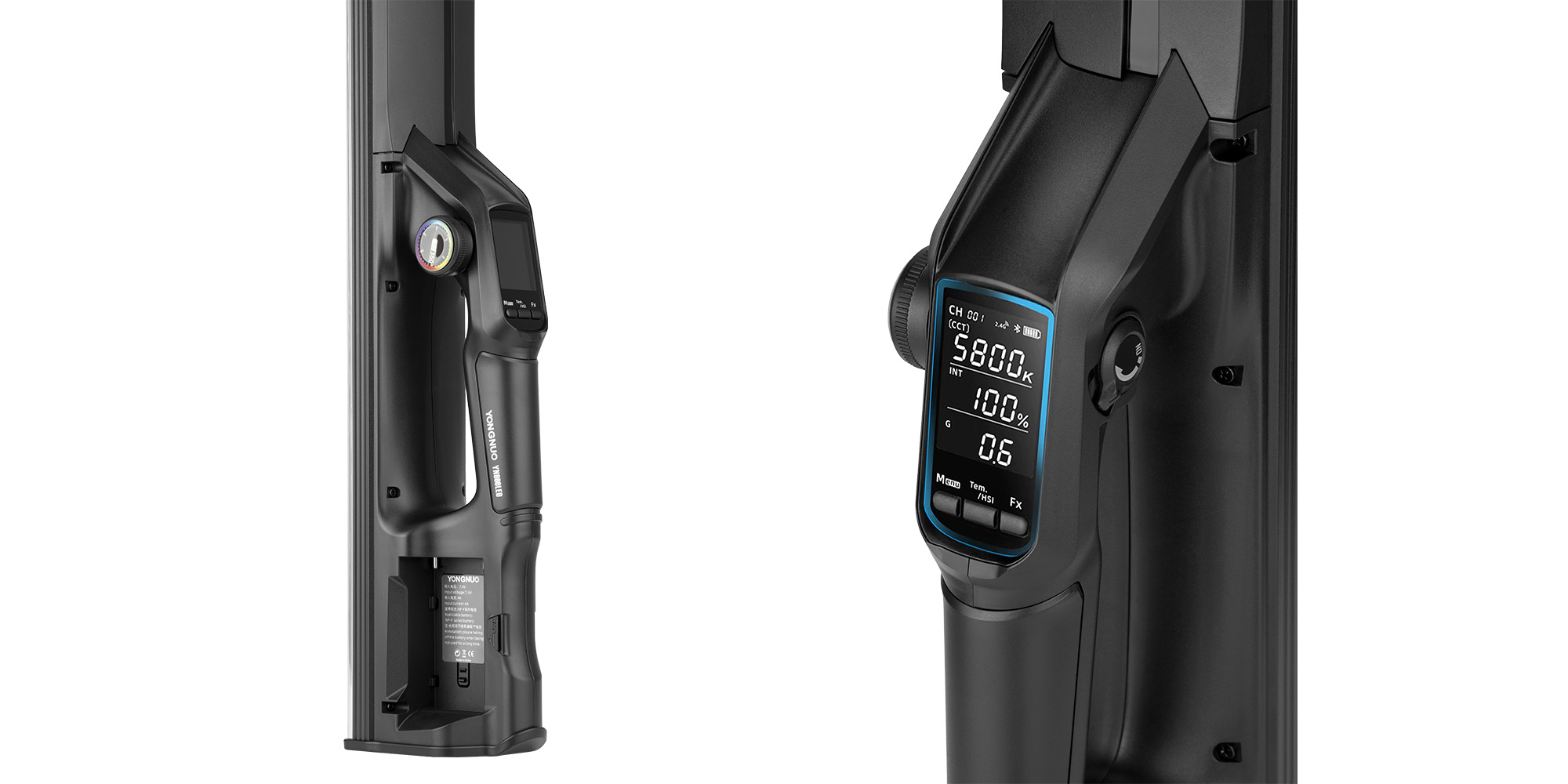 Power supply or batteries must be purchased separately
remote control
In Google Play and App Store you will find a special mobile application that allows you to control the lamp from a maximum distance of 15 meters. It allows you to manage all the light parameters even more conveniently. In addition, the wireless control system allows you to manage the operation of various Yongnuo lamps within 256 available channels. The YN660LED is also compatible with the Yongnuo remote control, which can be purchased separately.
Light modifiers and bag included
The kit with the Yongnuo YN660LED – RGB, WB (2000 K – 9900 K) lamp does not lack useful accessories that will increase the comfort of working with the device and expand its functionality. The easy-to-install softbox will come in handy wherever you want to soften and diffuse the light. It is an excellent way to quickly get rid of harsh shadows! A honeycomb grid is also a very useful tool. It allows you to precisely illuminate your subject, without scattering the light to the rest of the frame. The characteristic grid allows you to obtain the right contrast and to direct the beam accurately. Convenient transportation and storage of the flash and accessories is ensured by the supplied zipped pouch.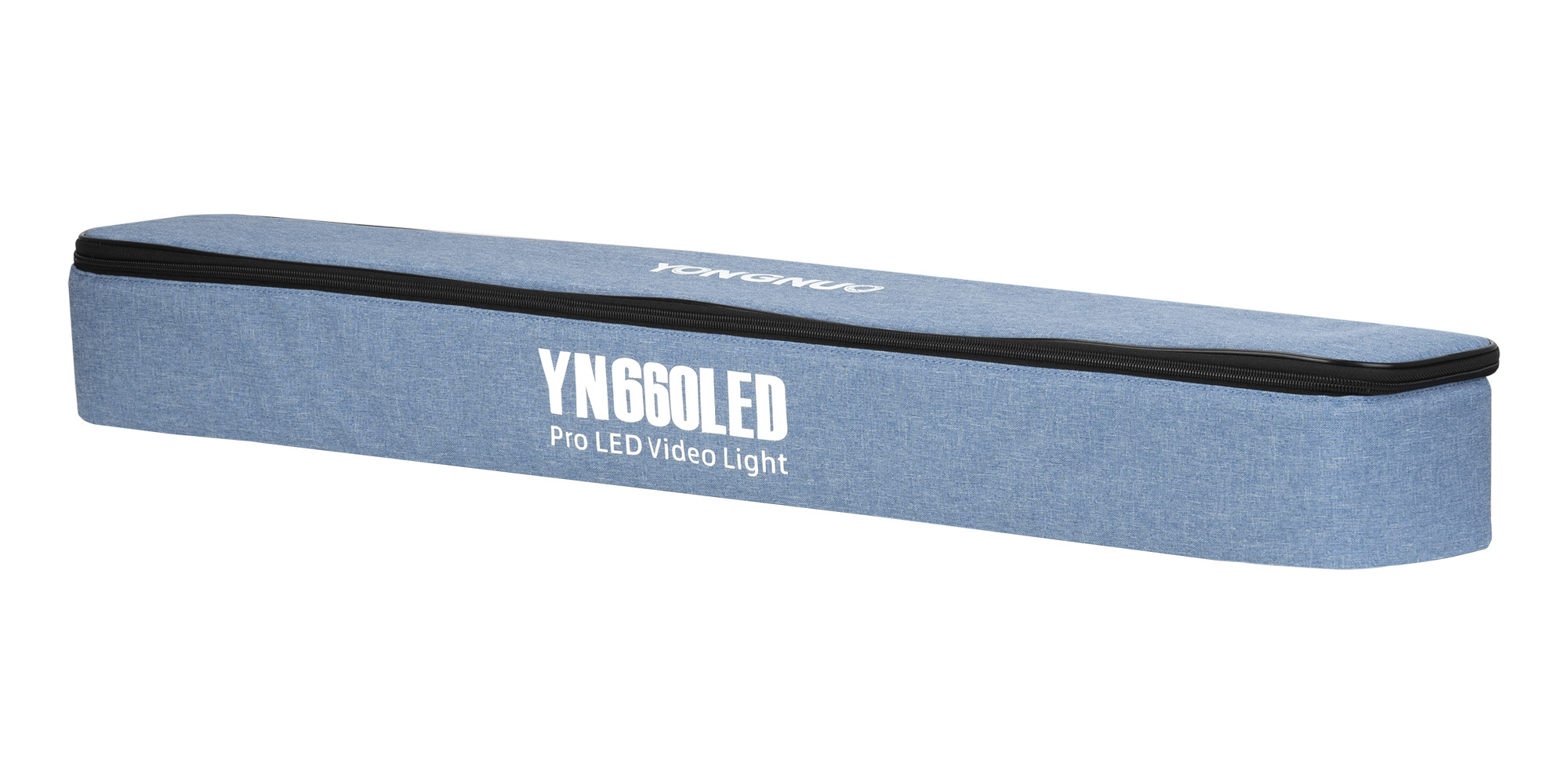 Specification
Model: Yongnuo YN660LED – RGB, WB (2000 K – 9900 K)
Power supply: DC 12 V / 5 A or 2 x NP-F batteries
Max. output power: 45 W
Number of diodes:

672 CCT LEDs
120 RGB LEDs
120 RGB SMD LEDs

Colour temperature of light: 2000 K – 9900 K + RGB
CRI: ≥ 96
Luminous intensity
Natural light intensity:

at a distance of 0.3 m: 15101 lux
at a distance of 0.5 m: 8647 lx
at 1 m distance: 3213 lx

RGB light intensity:

at 0.3 m distance: 2272 lx (R) / 4733 lx (G) / 1289 lx (B)
at a distance of 0.5 m: 1246 lx (R) / 2599 lx (G) / 698 (B)
at 1 m distance: 436 lx (R) / 897 lx (G) / 248 lx (B)

Angle of illumination: 55º / 110º
Range of wireless control: up to 15 m
Estimated lifetime of LED panel: 50000 h
Dimensions: 820 x 150 x 105 mm
Weight: 2400 g
Kit contents
Yongnuo YN660LED LED lamp – RGB, WB (2000 K – 9900 K)
grid (honeycomb)
softbox
transport bag