Description
The Yongnuo YNRay180 is an LED spot light offering high quality light with a constant colour temperature of 5600K. The LED COB technology used in this model allows to achieve a luminous flux of 24480 lm and maximum light intensity of 65655 lx (at a distance of 1 m). The lamp offers stepless power adjustment, a wide beam angle of 110º and high CRI (95+). Thanks to 12 theme modes, your movies will be enriched with amazing special effects. The lamp can be controlled from the control panel as well as from the smartphone app (iOS/Android). The device is compatible with the Bowens system. The kit includes a diffuser to soften the light and a canopy to focus the light beam.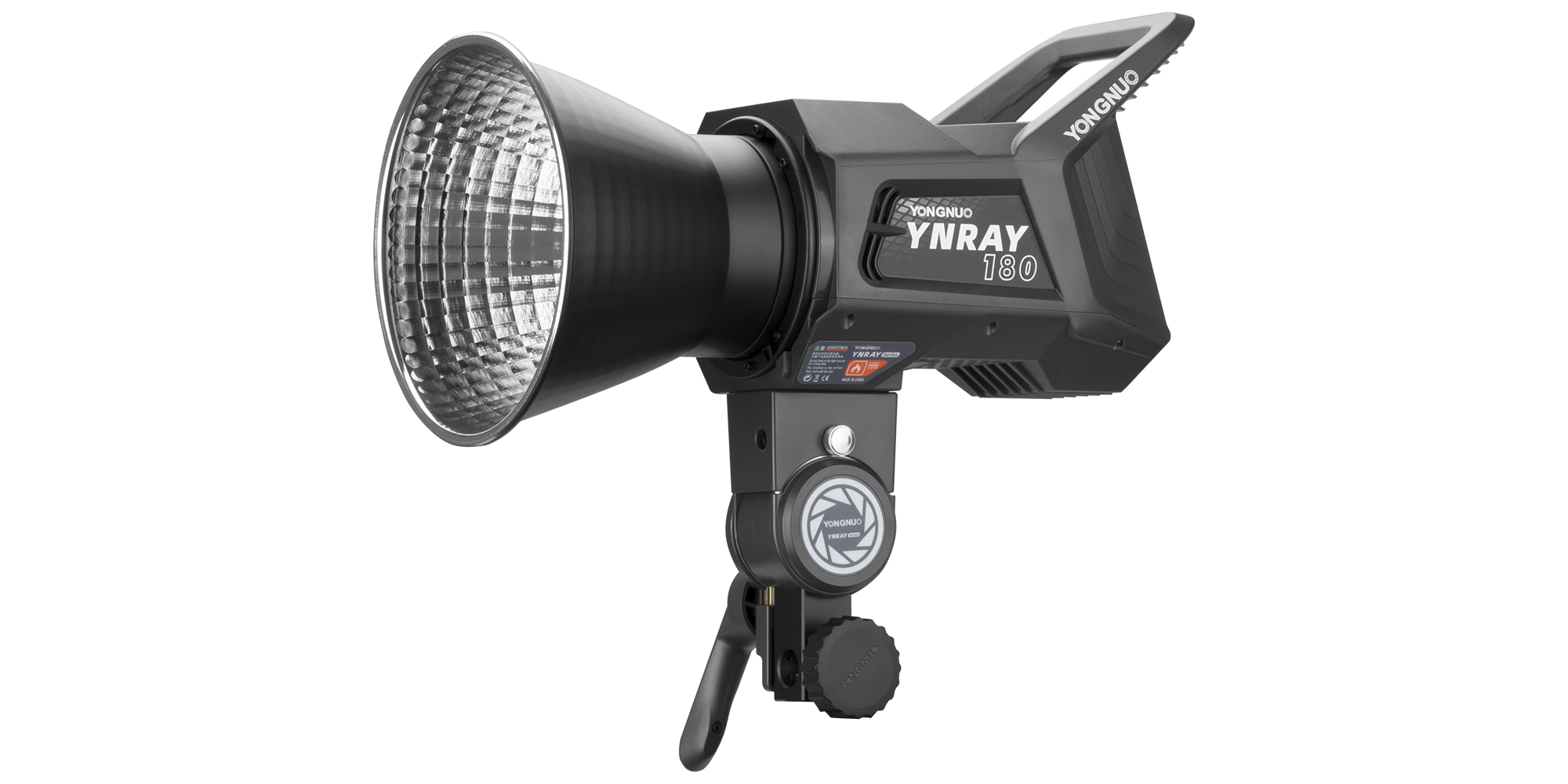 Main product features
LED spot light offering constant light temperature (5600 K)
LED COB technology enabling a luminous flux of 24480 lm
maximum light intensity of up to 65655 lx (from a distance of 1 m)
very high emissivity
very high light emission factor CRI 95+
a wide angle of illumination of 110º
cowl allowing the illumination angle to be narrowed to 55º
infinitely variable adjustment of the illumination angle
Floating position adjustment by means of wide handle (within the range of 180º)
12 built-in lighting effects
12 built-in lighting effects (theme modes) for creative flash use
adapter for Bowens system
Bowens system adapter for connection of popular light modifiers
quiet, efficient and easy to use
quiet and efficient fan for optimum cooling
operates in a lighting kit on one of 256 channels
Yongnuo mobile app (iOS/Android) allowing remote control from up to 15m away
Possibility to power the flash with V-Mount batteries (battery cable available separately)
possible to mount on a lighting tripod with a 16 mm shaft
a hole allowing installation of an umbrella
included light diffuser
Powerful, high-quality light
The Yongnuo YNRay180 – WB LED Lamp (5600 K) is a powerful source of steady light that is ideal for use on film or photography sets. The device offers stepless power adjustment, a wide beam angle of 110º and a constant light colour temperature (5600 K). The advanced LED COB technology provides a constant luminous flux of 24480 lm. The maximum light intensity is as high as 65655 lx! In combination with the diffuser and the canopy included in the set, it gives you great possibilities to create the atmosphere of the frames and shots.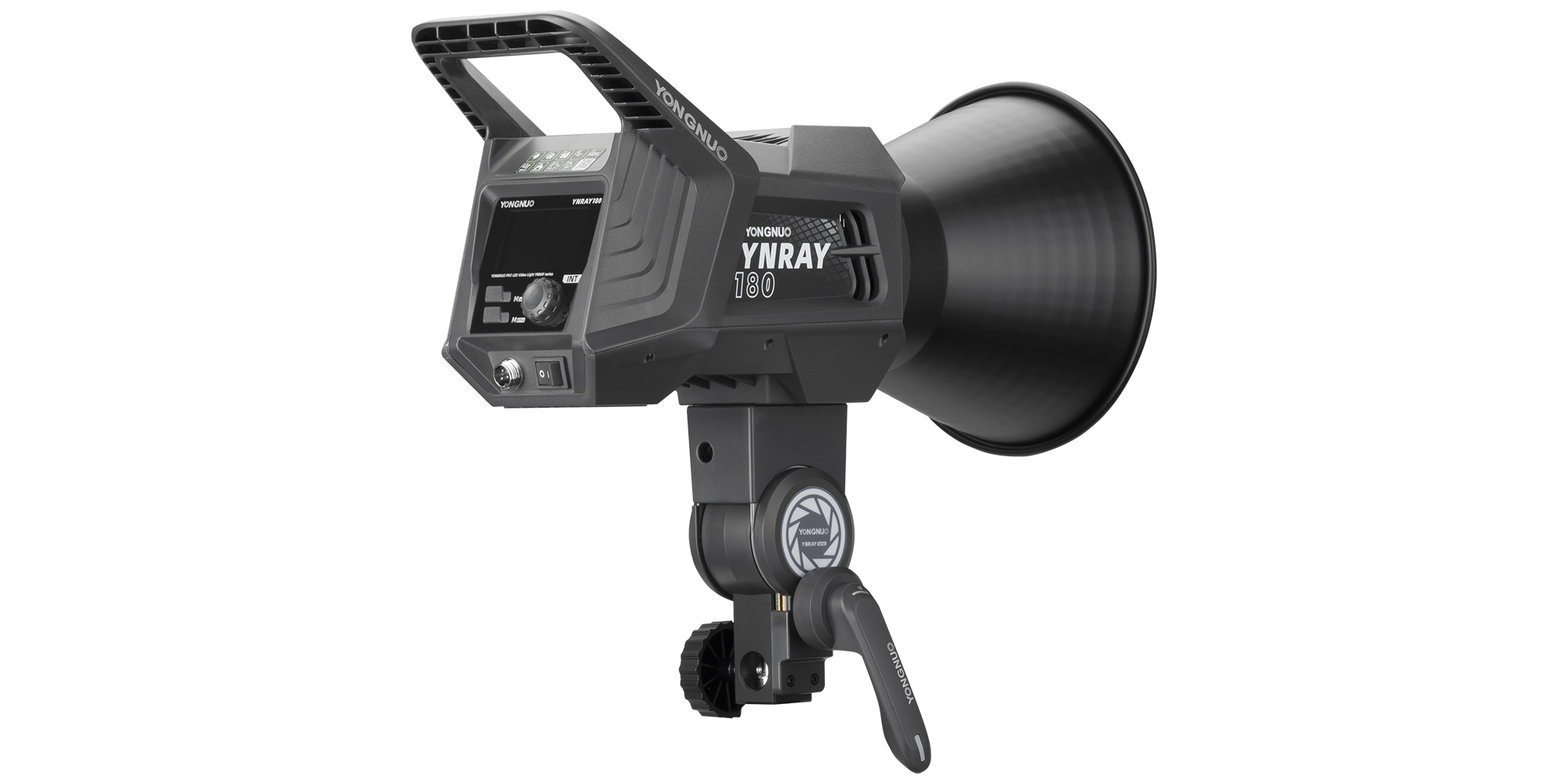 Two power ways
Included with the Yongnuo YNRay180 LED flash, you'll find a 24V, 7.5A AC adapter that you can easily plug into a wall outlet while working at home or in a studio. However, there's nothing stopping you from taking the device out into the field and getting light to places where access to electricity is limited. The lamp can work with V-Mount batteries, so you can easily cope with slightly more spartan conditions!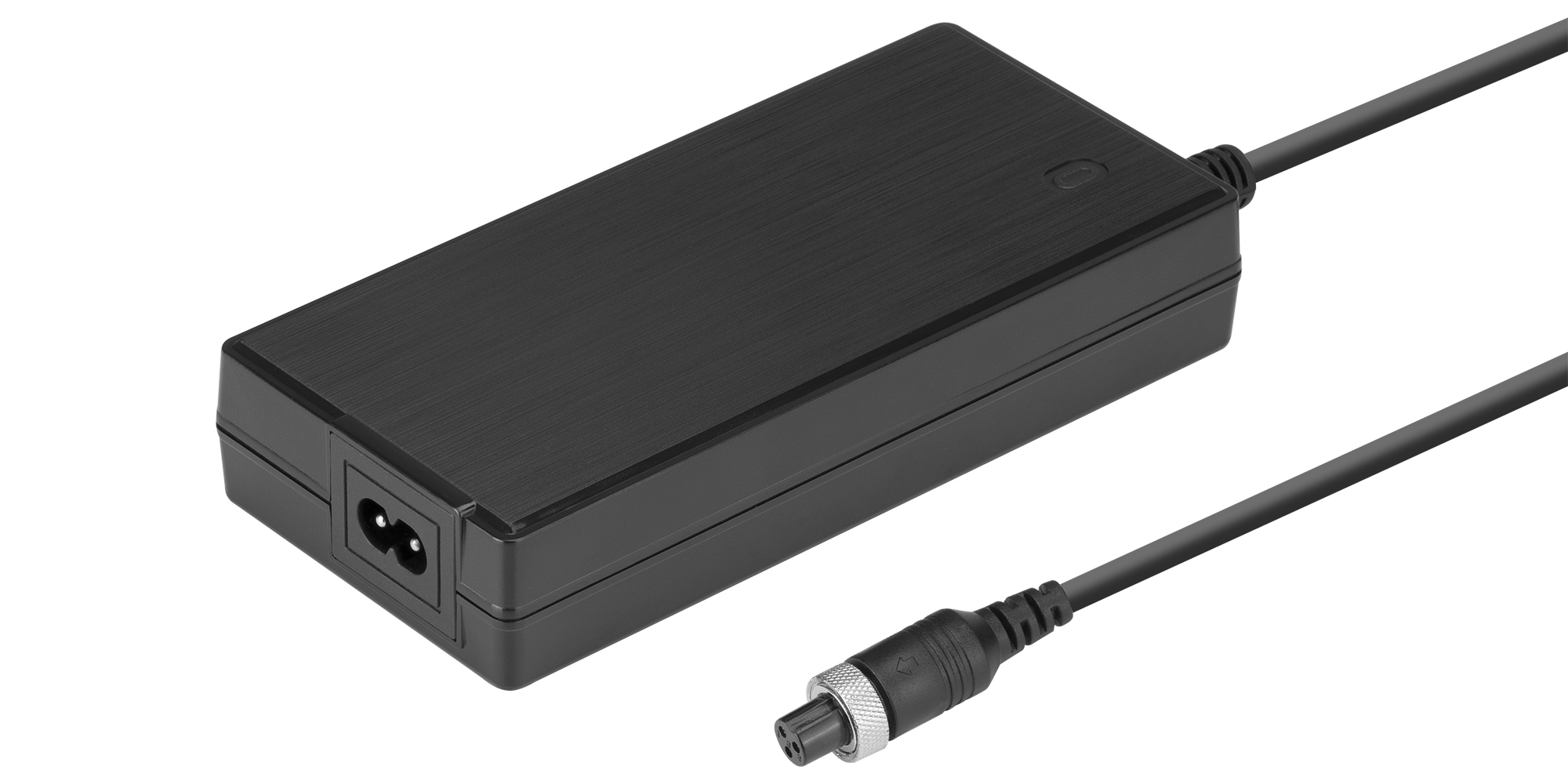 V-MOUNT BATTERIES AND D-TAP POWER CABLE MUST BE PURCHASED PERSONALLY.
Special effects
With the Yongnuo YNRay180 – WB LED flash (5600 K) you can add unique special effects to your videos. This is made possible by 12 thematic modes that simulate strobe, thunderstorm, fireworks, explosion or a broken light bulb, among others. Activate special effects from the mobile app or from the control panel located on the lamp housing. Experience the magic of Hollywood without spending money on pyrotechnics or additional accessories!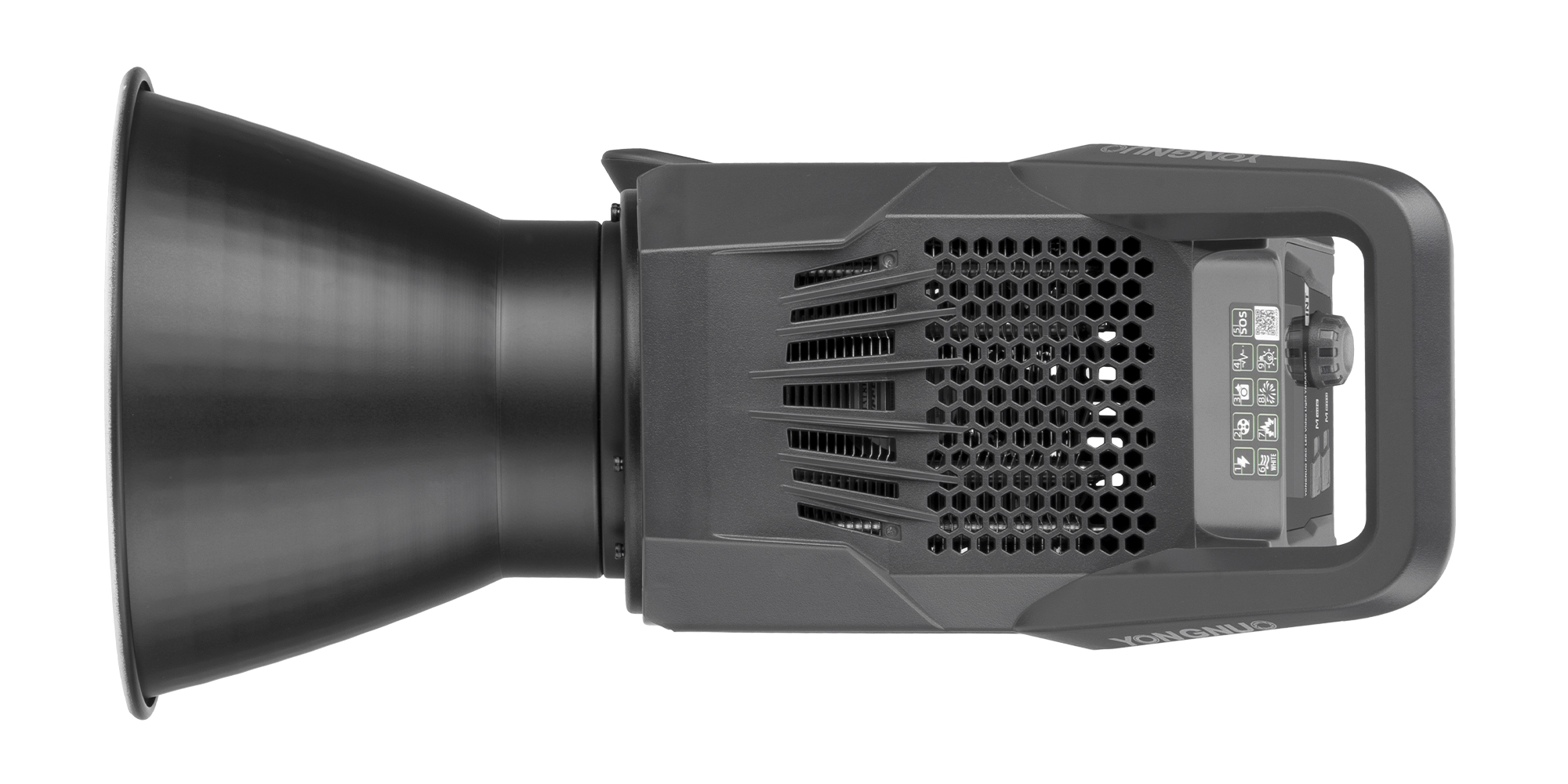 Mounting additional accessories
Bowens is a universal accessory mounting system that is extremely popular with filmmakers and photographers. It provides a quick and easy way to attach the Yongnuo YNRay180 LED flash to the supplied canopy, which limits the angle of light to 55º. The Bowens standard will also allow for the installation of dozens of other accessories such as beamers, softboxes or gates. The flash also offers a special hole for an umbrella. With additional tools, you will be able to adjust the nature of the lighting even better to suit the needs of your shots and frames.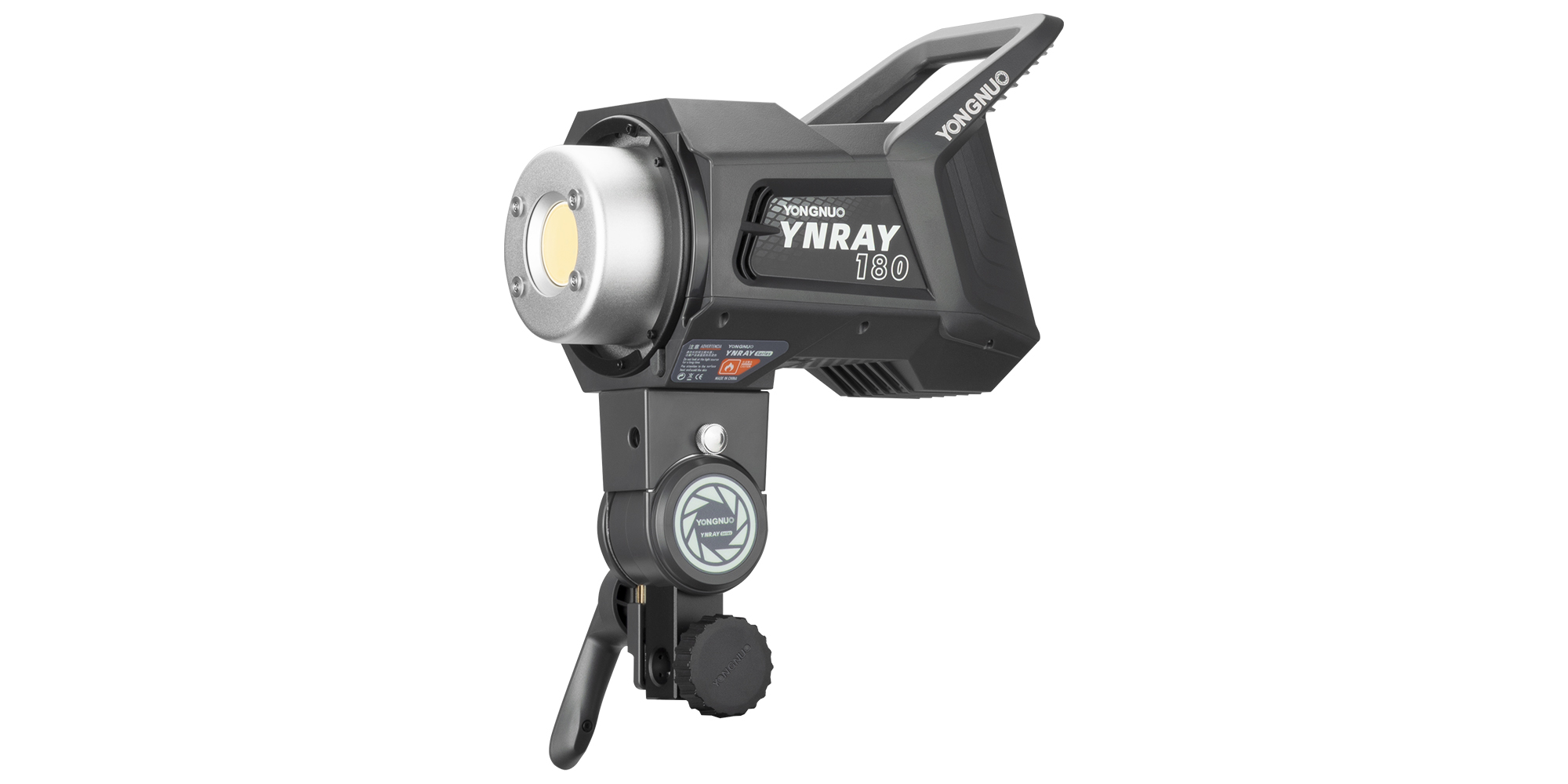 Remote control
Remote control of the lamp using a smartphone is enabled by a free app available on Google Play and App Store. It allows you to control from a distance of up to 15 metres the same functions and parameters of the device, which are operated using buttons and a knob located on the housing. Remote control is not just limited to the YNRay180, the app also allows you to control other Yongnuo lights, or even entire groups of lights. As many as 256 channels are available!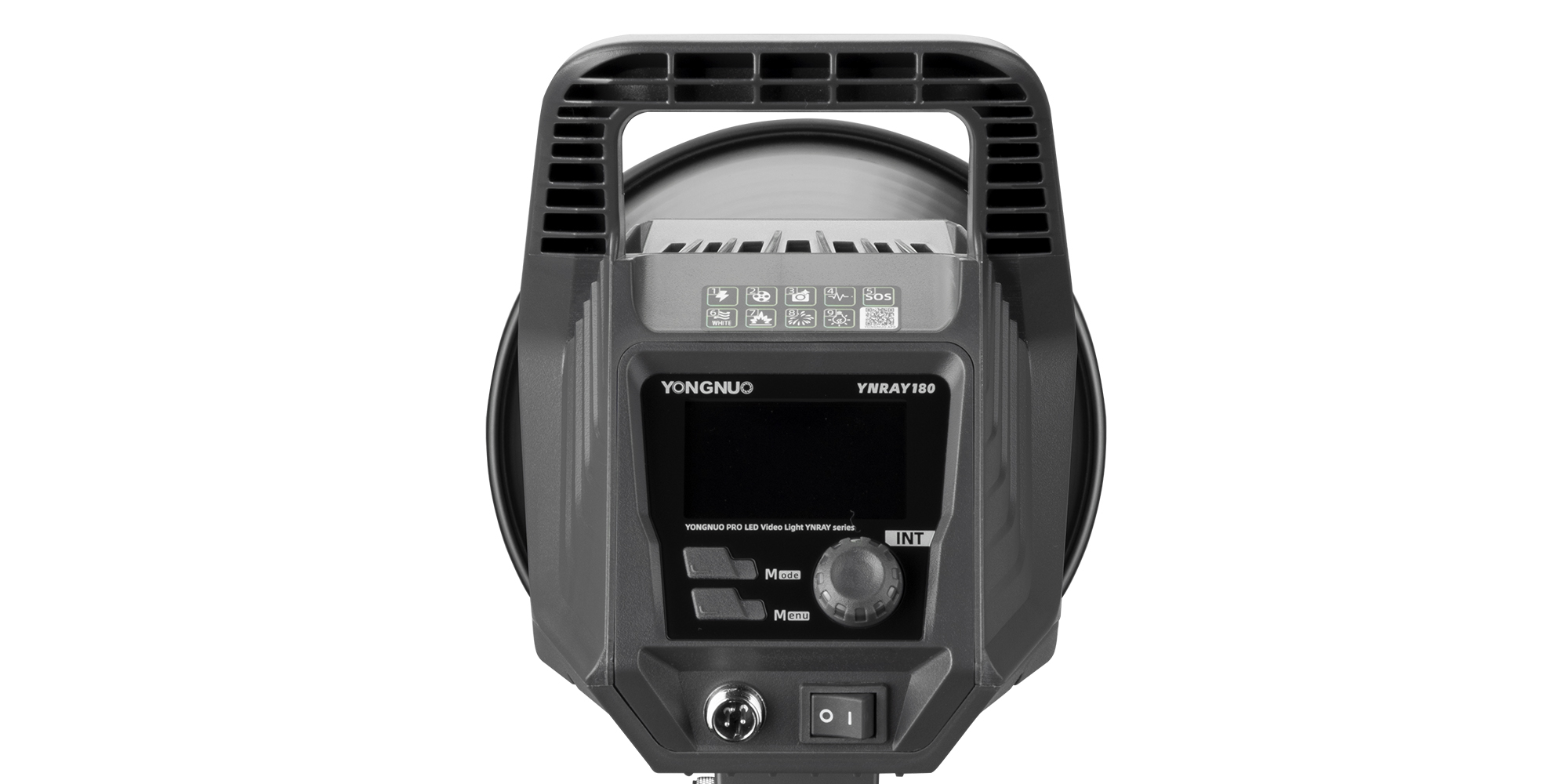 Convenient operation
The rear part of the housing features a wide handle that allows you to conveniently adjust the tilt of the lamp within 180º. Setting the lamp in the optimal position is ensured by a solid lock with a comfortable to use handle. On the casing of the device there is also an ergonomic control panel with large buttons, adjustment knob and bright LCD screen.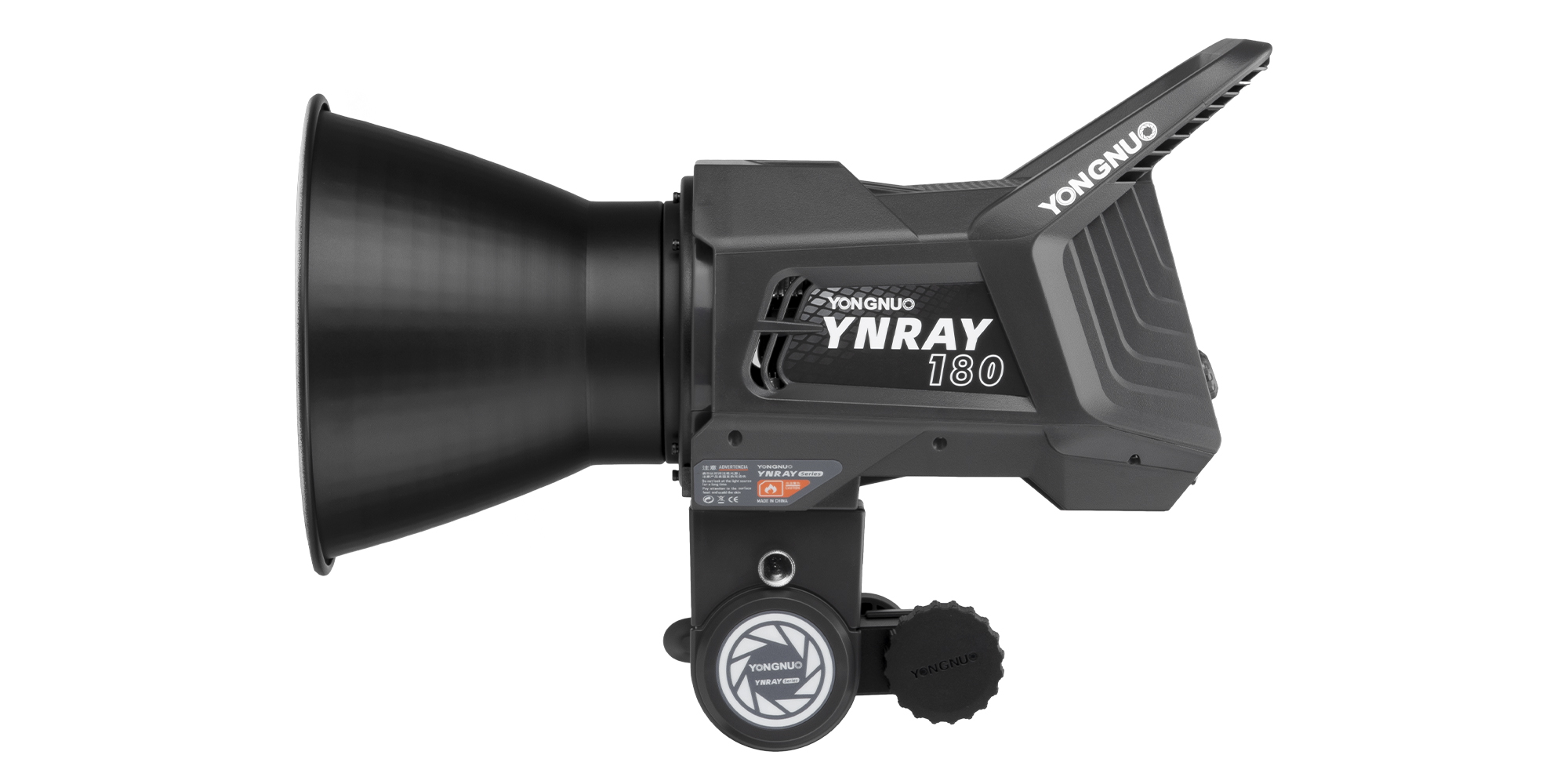 Specification
model: Yongnuo YNRay180 – WB (5600 K)
LED technology used: COB LED
CRI: ≥ 95
types of fixtures:

Bowens
Hole for umbrella
Pod mount: 16 mm pin

luminous flux: 24480 lm
luminous flux: 24480 lm
light intensity:

65655 lx at 1 m distance
12246 lx at 2 m distance
12246 lx from a distance of 2 m
12246 lx from a distance of 2 m
5337 lx from a distance of 3 m

light temperature: 6500 K
power: 180 W
luminous angle:

110º – without canopy
55º – with canopy installed

power supply:

DC: 24 V / 7.5 A
V-Mount battery: 26 V / 7 A or 14.8 V / 6 A

wireless control range: 15 m (mobile app)
estimated lifetime of LED panel: 50000 h
dimensions: 36.1 x 31.4 x 18.2 cm
weight: 1.86 kg
Kit contents
Yongnuo YNRay180 LED lamp – WB (5600 K)
24 V / 7.5 A AC adapter
diffuser
diffuser
cowl