Description
The Venus Optics Laowa Periprobe Cine 24mm f/14 Macro 2:1 is a unique lens that will open up entirely new possibilities for macro filming and photography. The unprecedented shape and 2x zoom will immerse you in the world of small insects, animals and plants. With the Periprobe you will also discover new ways of product photography and revolutionise your studio workflow. The original design allows you to look at the world up close – not only in the traditional way, but also from a 90º angle, just like using a periscope! The built-in LEDs will provide adequate light wherever a traditional lamp cannot fit. Filmmakers will certainly appreciate the gears compatible with follow focus systems. The set does not lack a professional case secured with combination locks.
Main product features
A unique macro lens that allows you to see the world from a unique perspective
excellent choice for those filming or photographing insects, plants or small animals
Huge innovation in the world of advertising and product photography
unprecedented periscope-shaped 90º tube (front optical element)
the ability to remove the lens from the camera for a longer period of time
possibility to remove the front optical element with periscope and replace it with a 0º tube, known from the Laowa Probe model, which is also included
enables you to go where no other lens will do
enables discreet filming or photography of the insect and small animal world
ideal choice for creative filmmakers and product and culinary photographers
Focal length of 24mm providing a huge field of view of 85°
stepless aperture adjustment via ring for smooth control
ring equipped with gears compatible with follow focus systems (0.8 MOD)
extremely long lens barrel measuring up to 40 cm
1/4″ threads crowning the periscope tube allowing installation of an additional accessory (e.g. LED light or microphone)
minimum focusing distance of just 2 cm
enables you to achieve a 2x zoom
possibility to rotate the front optical element 360° on its own axis
sealing of the front lens element makes it immune to immersion in water or splashes
enables an eye-pleasing background blur
interchangeable front optics (90° and 0°) equipped with LEDs for illumination of filmed objects
special cable for the camera
special cable with LED power adjustment controller included
professional transport case with combination locks
Periscope revolution
With the Venus Optics Laowa Periprobe Cine 24mm f/14 Macro 2:1 lens for Canon EF, you'll discover entirely new ways of filming within tight spaces and miniature settings that wouldn't be possible without a special periscope tube. Side shots with the camera positioned directly above the subject, peering into insect habitats, following the hand of a writing person, dynamic shots in culinary films, amazing rotations and 'walking' through objects – these are just some of the solutions you will achieve with the Laowa Periprobe. Wherever traditional glass won't fit, you can use the periscope and, by positioning it close to the ground, take spectacular shots!
Immerse yourself in the macro world
The unusual design of the lens will allow you to discover entirely new ways of filming small or hard-to-reach subjects. The Venus Optics Laowa Periprobe Cine 24 mm f/14 Macro 2:1 offers a large reproduction scale (2:1) and a minimum focusing distance of just 2 cm. You can use it to film insects in their natural habitat, cut through thickets of foliage or discreetly peek into the hiding place of squirrels. The infinity sharpening option will make it even easier to create the perfect composition.
Created with video creators in mind
Cine is the flagship series of film lenses from Venus Optics Laowa. As such, the Periprobe model couldn't be complete without unique features that are perfect for the world of video creators. The focus and aperture rings are equipped with 0.8 MOD gears. These are compatible with the most popular follow focus systems on the market. The third rack-and-pinion ring will help automate the rotational movement of the entire lens, opening up even more creative possibilities for you to create exceptional shots. The manufacturer has also taken care of stepless adjustment. It allows you to change the aperture smoothly and soundlessly during video recording.
Additional light source
With such a long lens, the amount of light reaching the sensor is significantly reduced. With a dark aperture (T14), care must be taken to ensure good lighting of the set. However, the manufacturer has thought of everything! LEDs placed around the front lens will allow filming and photography even in total darkness. Simply connect the lens to an external power source (e.g. a power bank) using the USB cable included in the kit. But that's not all! To give you even more control over your shots, you can reach for a special cable with a remote control to adjust the brightness level of the LEDs.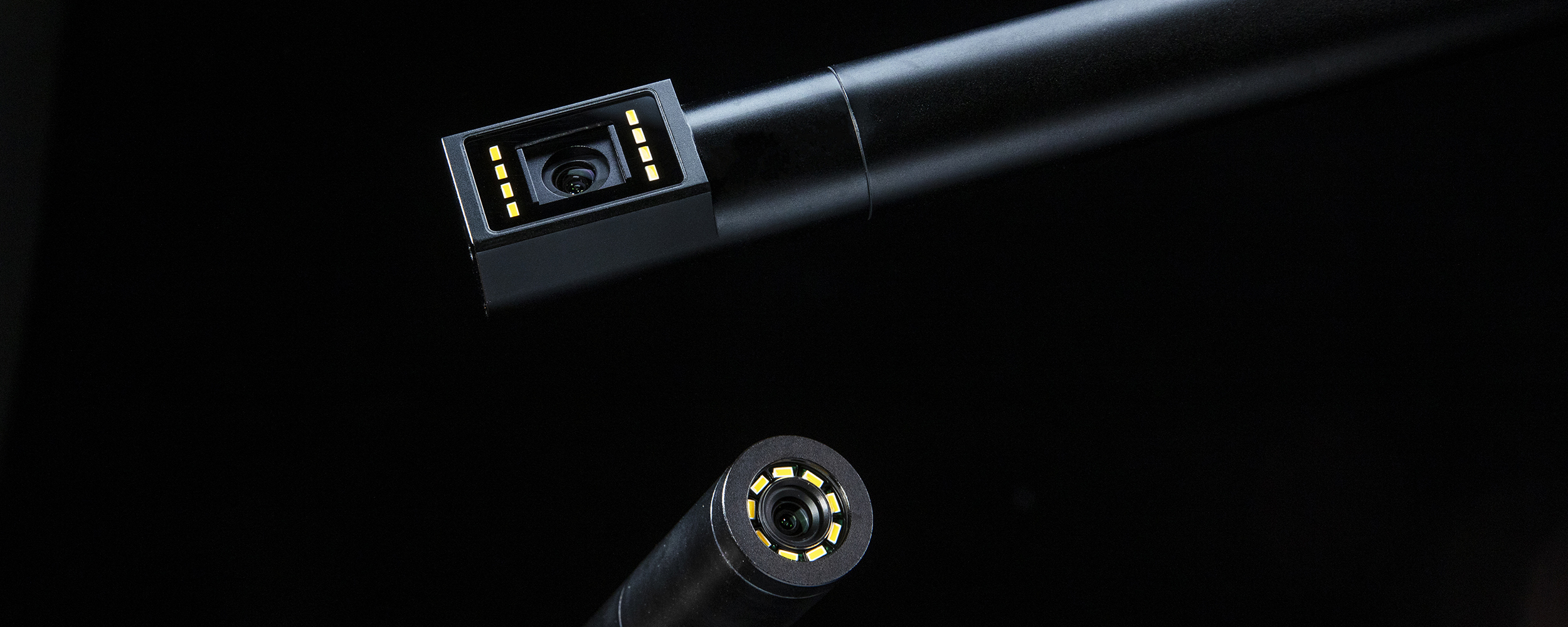 Water doesn't scare him!
A pass through a stream of water poured into a glass, a visit to an aquarium or a POV shot from the perspective of a table on which flour is about to spill – any of these shots will be possible with the Venus Optics Laowa Periprobe Cine 24 mm f/14 Macro 2:1 lens. Its front element has been properly sealed to protect the unit from moisture, dust and harsh weather conditions. Aquarium, product and culinary photography has just gained a new ally!
Innovative construction
Inside the long, all-metal barrel are up to 27 lenses, arranged in 19 groups. The 24mm focal length provides a field of view of 85°. Thanks to such parameters, not only the foreground objects will appear in your films and photos, but also the scenery in which they are located. At the same time, you will retain much more detail than with classic macro lenses. Precision workmanship and top-quality materials guarantee perfect imaging of the lens. The manual focus and aperture rings operate extremely smoothly here, while putting up just the right amount of resistance required to maintain an optimum level of precision.

Safe transport
As befits a representative of the professional Laowa Cine line, created specifically with filmmakers in mind, the kit could not lack a special transport case. In its precisely cut out compartments, you will be able to fit all the elements of the set. To ensure the highest level of security, the case is also equipped with a special combination lock.
Specification
model: Venus Optics Laowa Periprobe Cine 24 mm f/14 Macro 2:1 for Canon EF
mount: EF
focal length: 24 mm
T-Stop range: T14 – T40
angle of view: 85°
optical construction: 28 elements in 19 groups
focusing: manual
image coverage: full frame
number of aperture blades: 7
minimum focusing distance: 2 cm
max. focus distance: infinity
max. reproduction: 2 x
possibility of installing filters: none
dimensions: Ø61.3 x 404 mm
weight: 770 g
Set contents
Venus Optics Laowa Periprobe Cine 24 mm f/14 Macro 2:1 lens for Canon EF
Removable front optical element with periscope (90º)
screwable front optical element – straight (0º)
Set of protective caps
Set of protective caps
USB Type C – USB cable for powering the built-in LED lamp
light output control
professional transport case with combination locks