Description
The Yongnuo YN 25mm f/1.7 M is a bright lens compatible with the Micro 4/3 mount, used on popular camera brands such as Panasonic or Olympus. The glass offers fast and accurate autofocus that works well in both film and photography. The lens is characterised by its light weight and handy dimensions. The optical system is based on 7 elements in 6 groups and incorporates an aspherical lens and two ED lenses. This achieves sharpness uniformity across the frame and minimises chromatic aberration.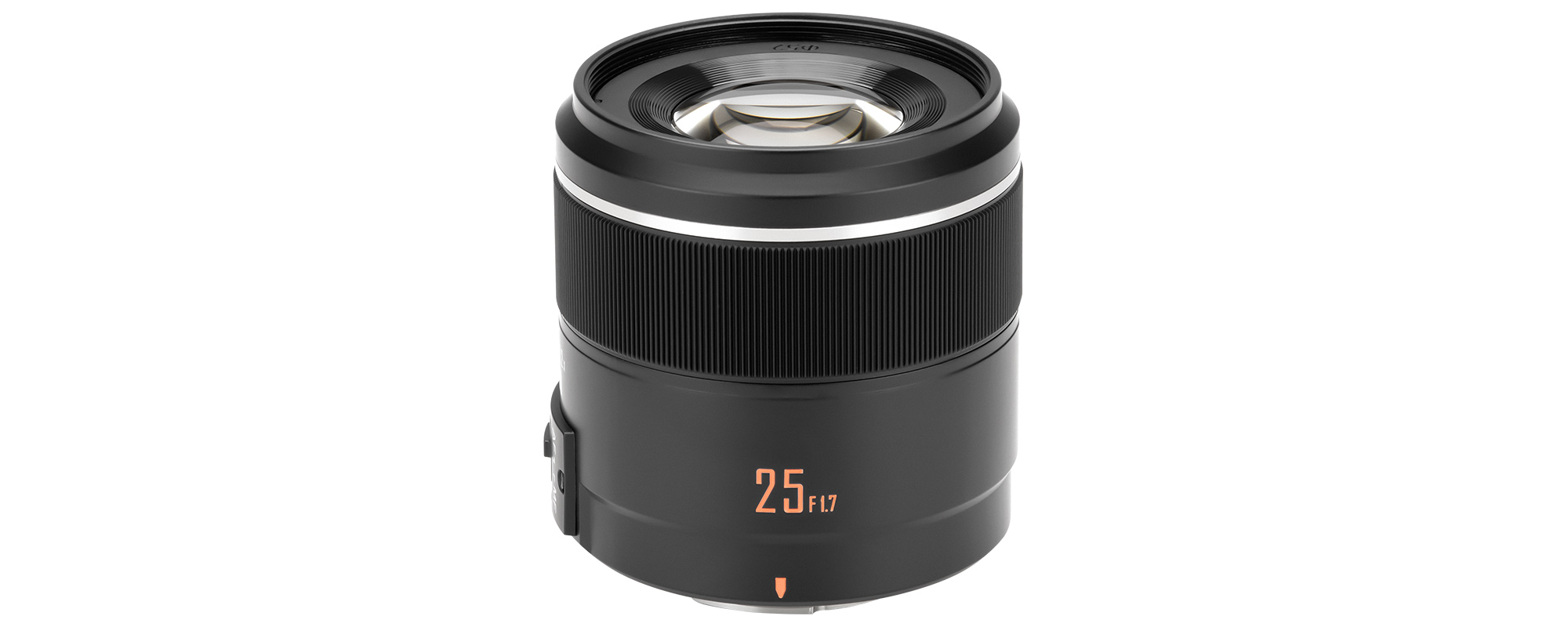 Main features of the lens
ideal for: landscapes, portraits, night photography, street photography and interiors
capable of capturing amazing shots with blurred backgrounds even in low light
high aperture of f/1.7
AF/MF switch to select between manual and auto focus
the ability to use the focus ring also in auto focus (AF) mode
the ability to use the focus ring in auto focus mode
quick, quiet and precise focusing based on an all-new control system
equipped with a new lens control system
equipped with a precision STM stepper motor
additional function button to make working with the camera easier
A bright, versatile lens
The f/1.7 aperture on this lens allows you to achieve soft background blur and beautiful bokeh. Whether you specialise in landscape, portrait, fashion, interiors or street photography, your images will become even better. The large aperture also ensures more light reaches the camera's sensor, making shooting in difficult lighting conditions much easier. So take the Yongnuo YN 25mm f/1.7 M with you on a night walk or after-dark shoot and be sure to get the results you want!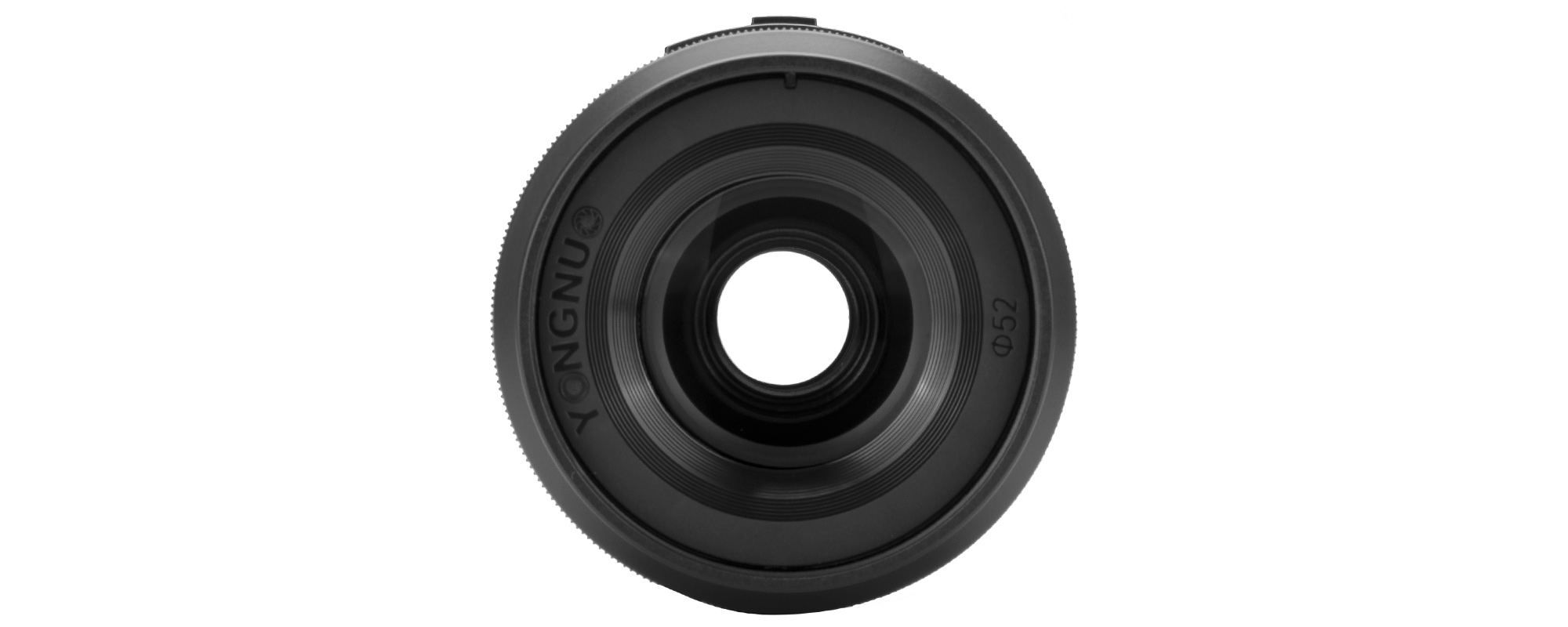 Like the human eye
25 mm in the Micro 4/3 system is the equivalent of a full-frame 50 mm lens. So we are dealing with a classic "portrait" lens, which will be perfect as a universal and multi-purpose glass. This is a classic of the genre among fixed focal length lenses! The Yongnuo YN 25mm f/1.7 M offers a field of view similar to that of the human eye. No wonder this focal length is one of the most common choices in portrait and reportage photography. The lens will also find success in studio and portrait photography.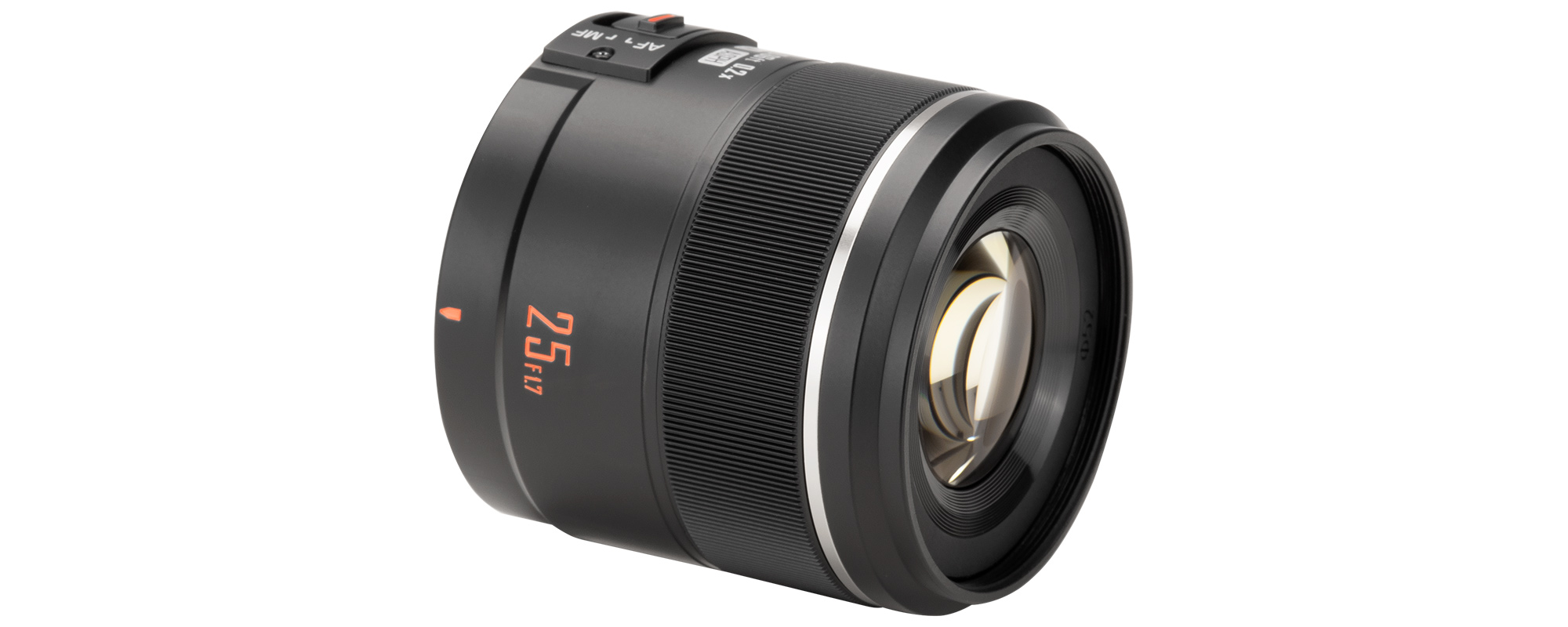 Small and Handy
The lens housing is made from lightweight components, resulting in a low weight of just 150g. Its compact dimensions (⌀6.7 x 7.2 cm) are sure to appeal to mirrorless camera users, who choose the handy Micro 4/3 standard for good reason. It is the ideal choice for weekend walks and holiday trips, where every extra kilogram of luggage is felt after several hours of walking. The low weight is also a big advantage for those using gimbals with limited gear capacity!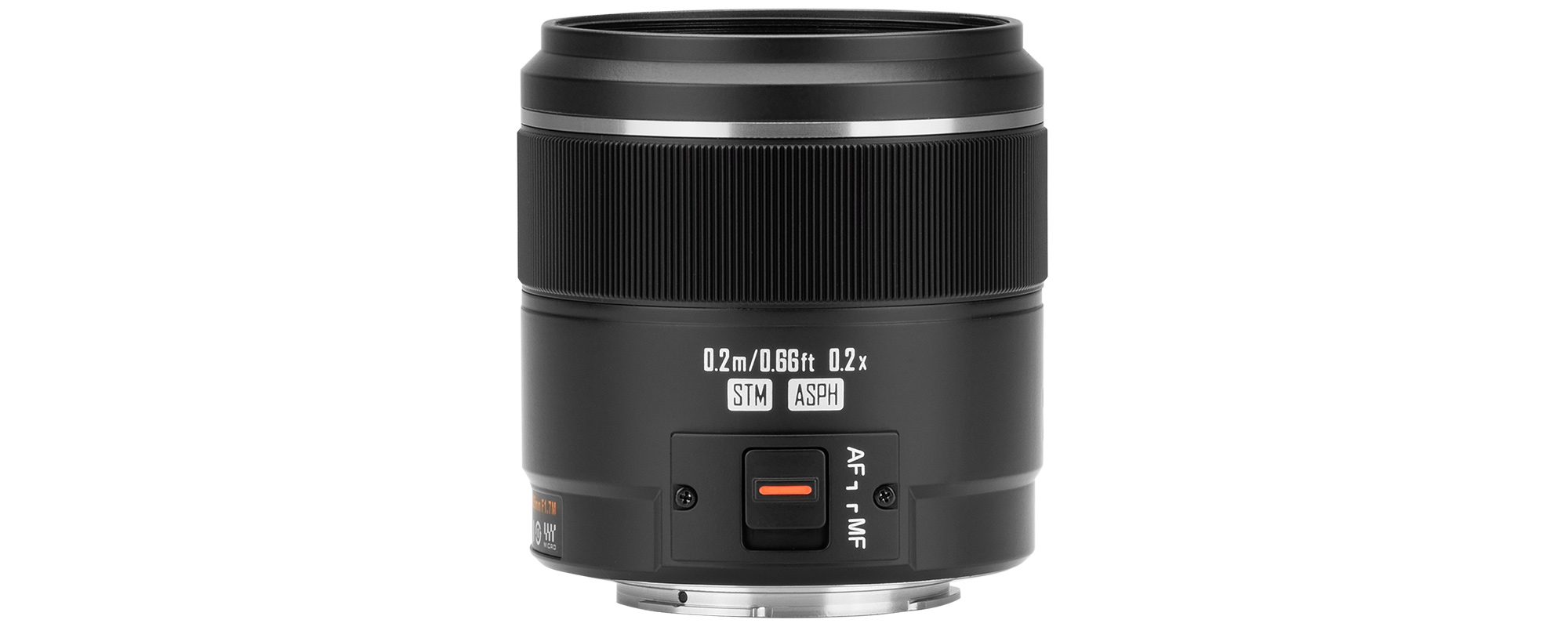 Perfect Focus
The Yongnuo YN 25mm f/1.7 M lens features a precise, fast and quiet STM stepper motor. It makes focusing very accurate and smooth. On the housing you will find an ergonomic AF/MF switch. This allows you to quickly switch from manual to automatic mode. The high-precision autofocus is ideal for both stills and movies. And for those times when you don't have time to focus yourself, you can rely on the modern electronics to work with Micro 4/3 mount cameras.
Additional Function Button
The lens is equipped with a special button to which you can assign a function from the camera menu. You will love it from the first use! The ergonomic shape of the button makes your finger wander towards the small recess and you gain an additional parameter to control without going into the camera settings. The Fn key improves productivity and reduces the time it takes to find your favourite option.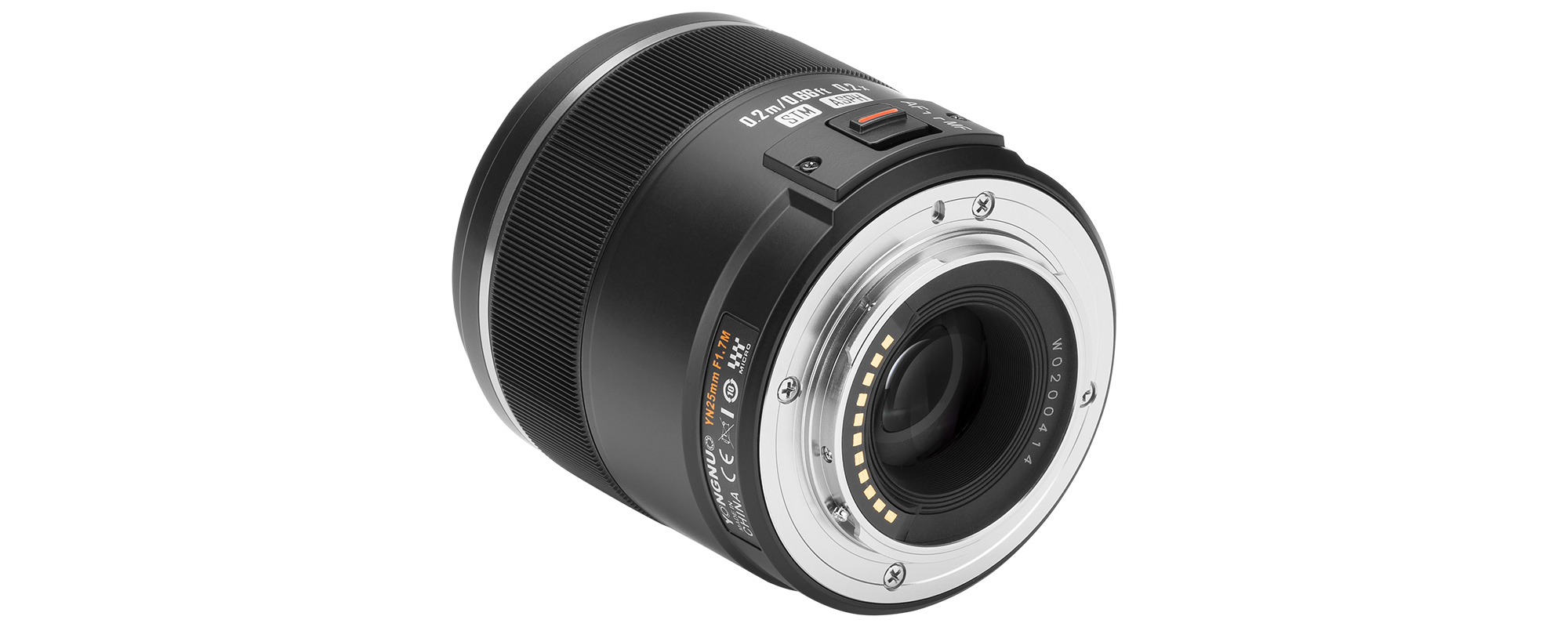 Effectively play with light
The aperture used on the Yongnuo YN 25mm f/1.7 M consists of 7 rounded blades. It's thanks to these that you'll achieve exceptional results when photographing coloured light sources. When the aperture is closed you can create magical 14-point stars in your photos, without applying any additional filters in post-production. They will appear in place of points of light such as the sun or street lamps. With the Yongnuo YN 25mm f/1.7 M lens, you'll love the hashtag #nofilter, and your social media followers won't be able to leave in awe of how you managed to achieve such effects without using editing software.
Compatibility
Advanced cameras and camcorders with Micro 4/3 mount:

Panasonic: including: G100, GH5, G9, G96, G85, GX9, GX85, GF-10, GF-9
Olympus: including: E-M5 II, E-M5 III, E-M10 III, E-M10 IV, PEN-F, E-PL9, E-PL10
Specification
model: Yongnuo YN 25 mm f/1.7 M
mount: Micro 4/3
focal length: 25 mm (full-frame equivalent: 50 mm)
autofocus mechanism
autofocus mechanism: STM
field of view:

diagonal: 49.4°
vertically: 30.4°
horizontally: 39.9°

minimum aperture: f/1.7
Maximum aperture: f/22
optical construction: 7 elements in 6 groups
Number of blades
Number of aperture blades: 7
Minimum focusing distance: 20 cm
Resolution scale: 0.2x
filter diameter: 52 mm
Dimensions: ⌀ 6.1 x 6.7 cm
Weight: 150 g (without lens cap)
Kit contents
Yongnuo YN 25mm f/1.7 M lens for Micro 4/3
decal sheet
decal for the front of the lens
decal for the front of the lens
decal for the back of the lens