Description
Lensgo Smoke B is a wireless smoke generator that offers impressive performance. The device will be successful for those taking photos, recording videos or coordinating stage performances or event shows. The generator is capable of producing 20 m³ of smoke per minute. The device is also distinguished by a rich set of accessories. Special tubes, a filter, a diffusion nozzle and a cap with an electric fan are the tools that will allow you to obtain different types of smoke or fog. The device fits in the palm of your hand and can be successfully controlled with one hand. The included remote control also allows remote control. You'll charge the built-in battery via a universal USB-C port. The kit also comes with a sturdy carrying case and 6 refillable liquid bottles.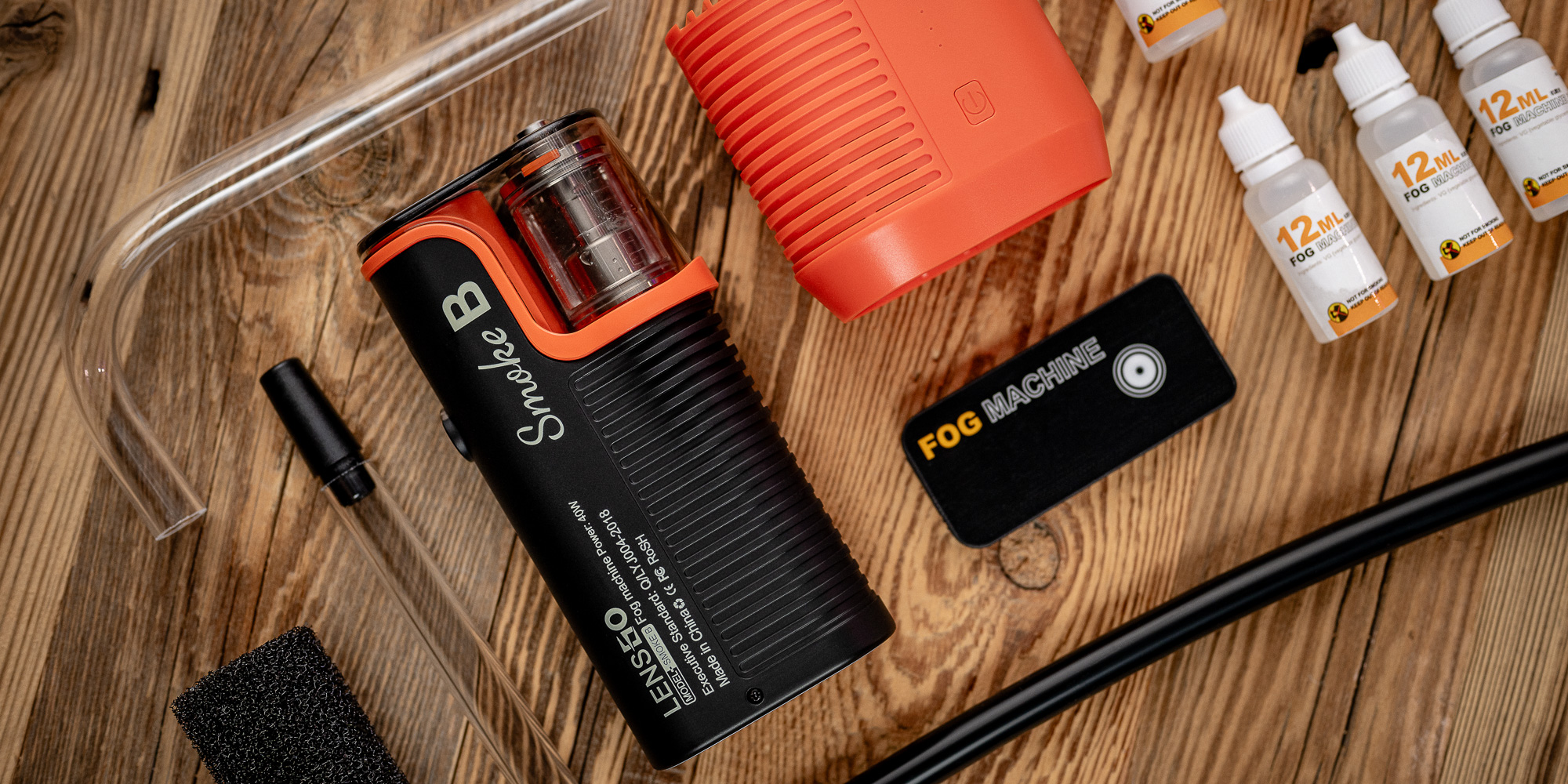 Main Product Features
wireless smoke generator
large capacity – 20 m³ of smoke per minute
ultracompact dimensions (15.6 x 4.5 x 7.7 cm)
ideal choice for those taking photos, recording videos or coordinating stage performances or event shows
an effective way to present food or drinks in culinary photography
the included accessories allow you to achieve different types of smoke or fog
special filter to achieve dry ice sublimation effect
a cap with an electric fan to disperse smoke allowing to obtain a fog effect
special tubes included that allow you to precisely direct the generated aerosol
possibility of remote control via infrared remote control (included)
built-in rechargeable battery with a capacity of 1200 mAh
convenient charging via USB-C port
magnetic shield to prevent accidental touching of heated case components
includes 6 bottles of special liquid to generate smoke
no toxic ingredients – liquid created on the basis of vegetable glycerin and propylene glycol
optimal proportions of ingredients ensure fluid efficiency and optimal smoke density
easy one-handed operation
hygienic and quick refilling of the tank with liquid
ergonomic switch and LED illumination
1/4″ thread for tripod installation
wrist strap mounting point (must be purchased separately)
zippered carrying case included
Smoke generator like never before
With its compact size (15.6 x 4.5 x 7.7 cm) and light weight (340 g), the Lensgo Smoke B provides unprecedented operating efficiency. Just one minute of operation is enough to fill as much as 20 cubic meters of space with smoke. At the same time, you don't have to worry about access to an electrical outlet, as the device works wirelessly. This is a real revolution in the world of smoke generators, which are often not only large and bulky, but also very expensive.
Dozens of creative applications
Lensgo Smoke B offers not only impressive power, but also many practical applications – including film, photography and stage.
Unique set design element

– Use the Lensgo Smoke B smoke generator to create a unique set design that brings your project to life, giving it unique character and depth.
Culinary photography

– Highlight the uniqueness of your dishes or drinks by creating unique frames using smoke.
Party/event/stage performance

– Light up the atmosphere at events by using smoke to emphasize the solemn atmosphere or excitement on stage.
Effective portrait photos

– Easily add a "wow" effect to your portraits. You won't get this kind of convenience from any large smoke generator.
Realistic fog

– You need just a few moments to create a vast fog on a movie or theater set.
These are just a few of the dozens of uses for this versatile device. Its potential is limitless, allowing you to experiment and create a unique smoke or fog effect wherever you come to work.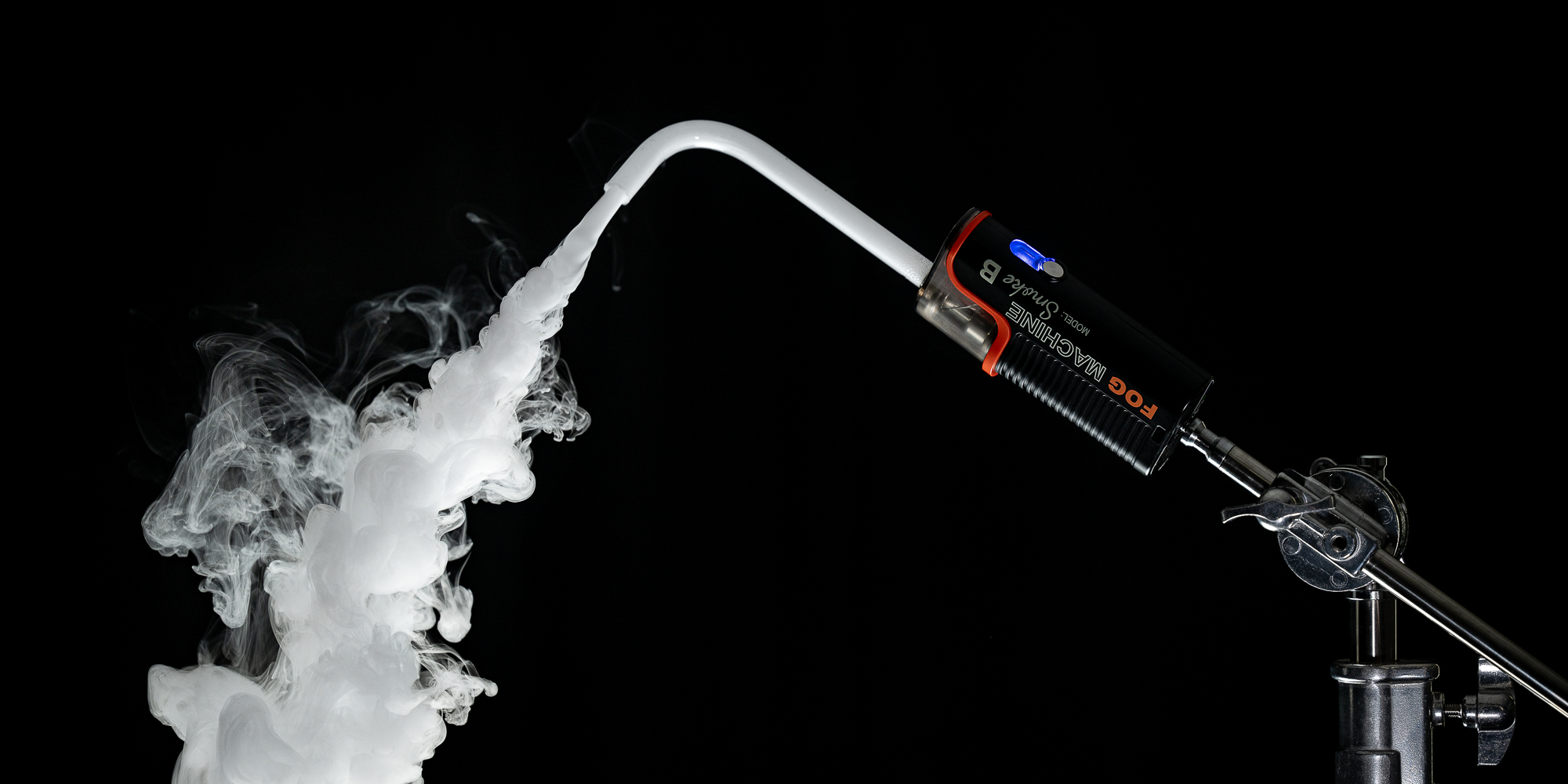 Various types of smoke or fog
Included with the Lensgo Smoke Generator Smoke B you will find a comprehensive set of accessories that allow you to create a variety of smoke and fog effects to suit your current needs.
Precision of action – The included tubes of various shapes and lengths (including a flexible tube) will allow you to conveniently direct the aerosol stream.
Vapor diffuser effect – A special nozzle will allow you to get a fine mist resembling the one created by a humidifier or burning incense.
Dry Ice Effect – You don't need solidified carbon dioxide to create a delightful smoke. Just reach for the special filter included in the kit to make the mist resemble the one that comes out of dry ice after contact with air or hot water.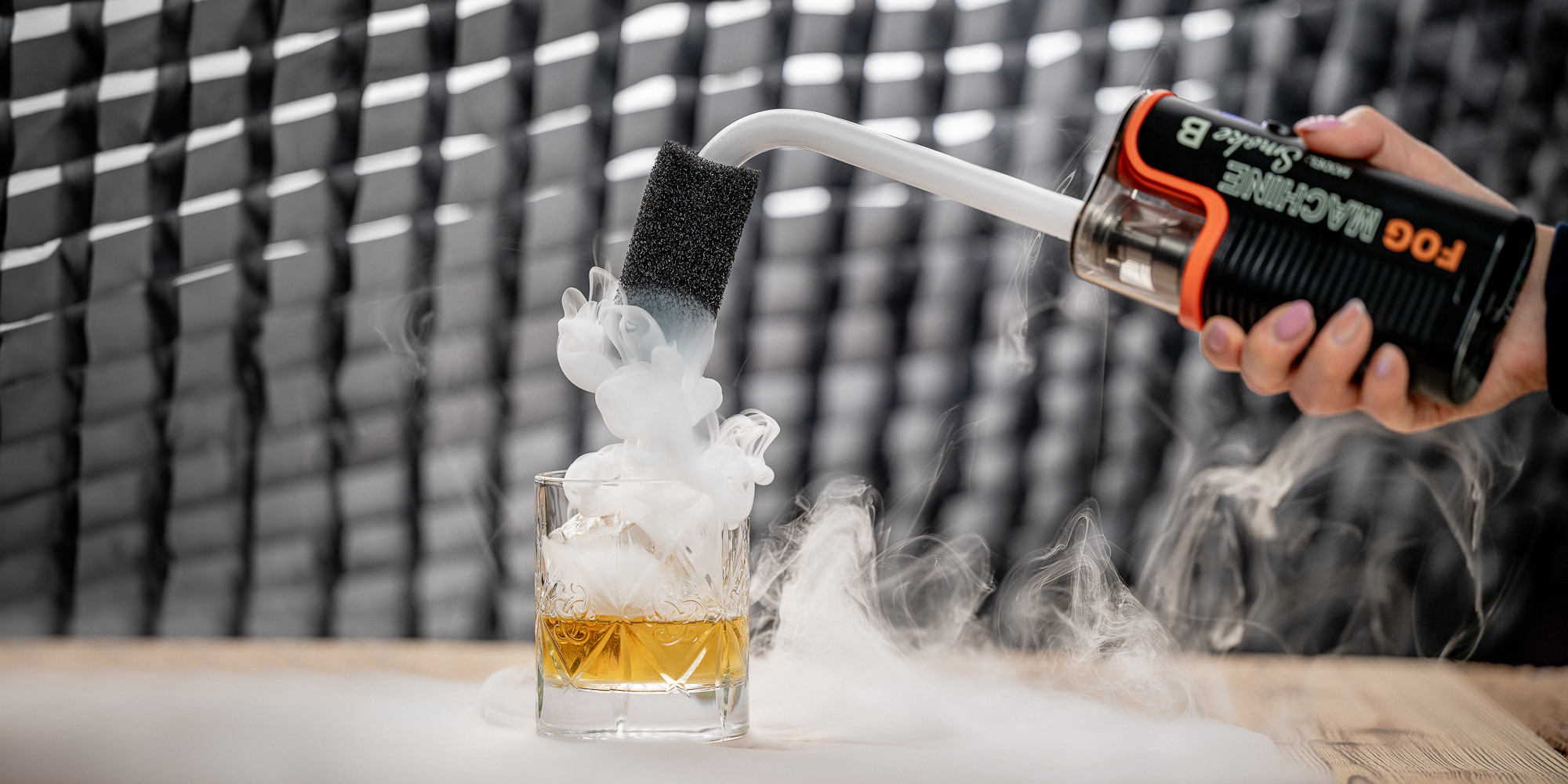 Fog effect
If you want to create a mystical and magical fog effect, just reach for the included cap with built-in electric fan. The device will allow you to disperse smoke quickly and conveniently. The built-in rechargeable battery will provide up to 5 hours of operation. As with the smoke generator itself, you will also charge the overlay using the popular USB-C port.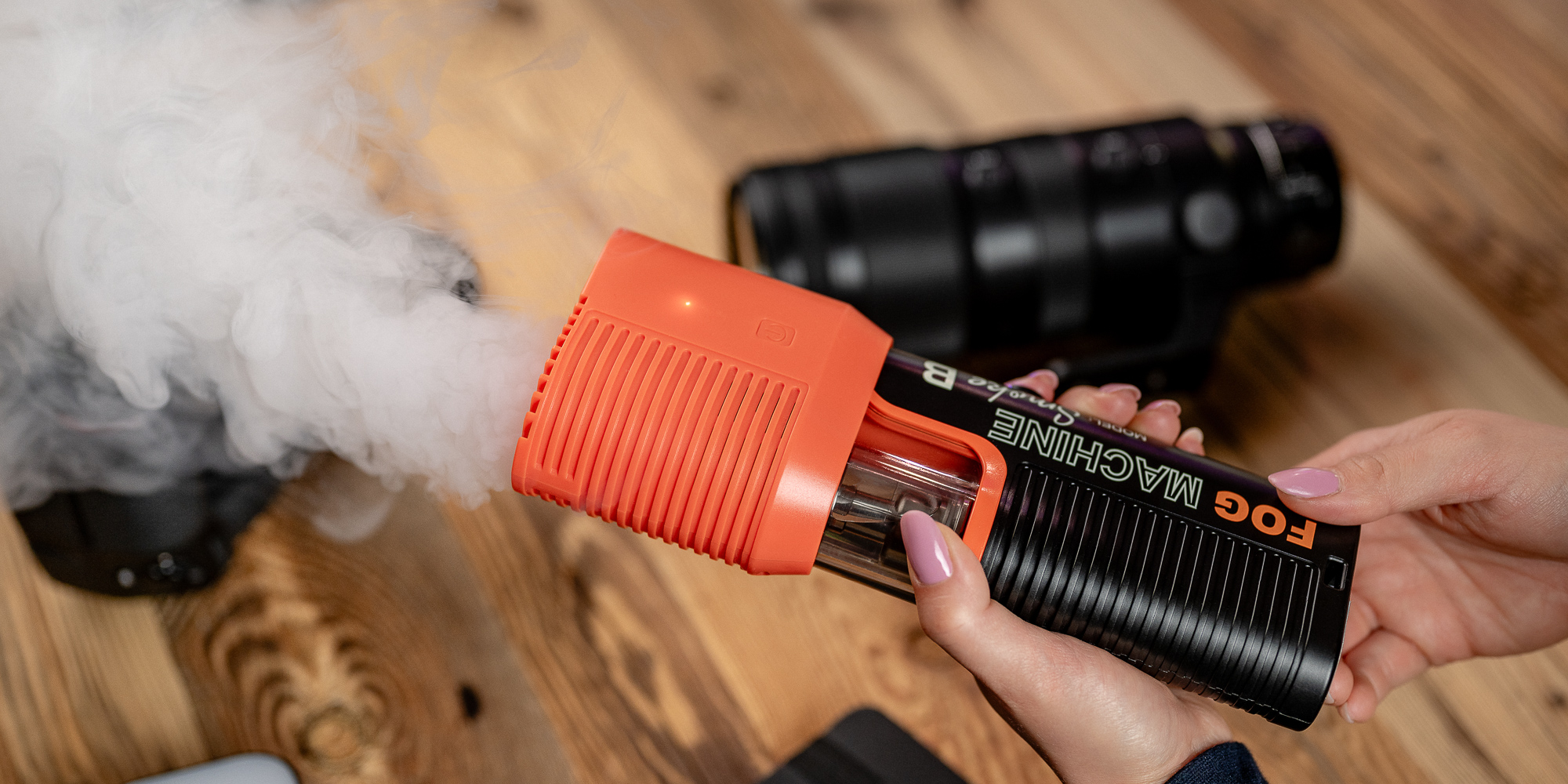 remote control
You don't need to be near the Lensgo Smoke B smoke generator to activate or deactivate it. The included infrared remote control will allow you to quickly and conveniently control the device from a distance. The controller is powered by a single CR2025 battery. It's ideal if you're doing a stage show on your own, recording a vlog or taking product shots in the comfort of your home studio.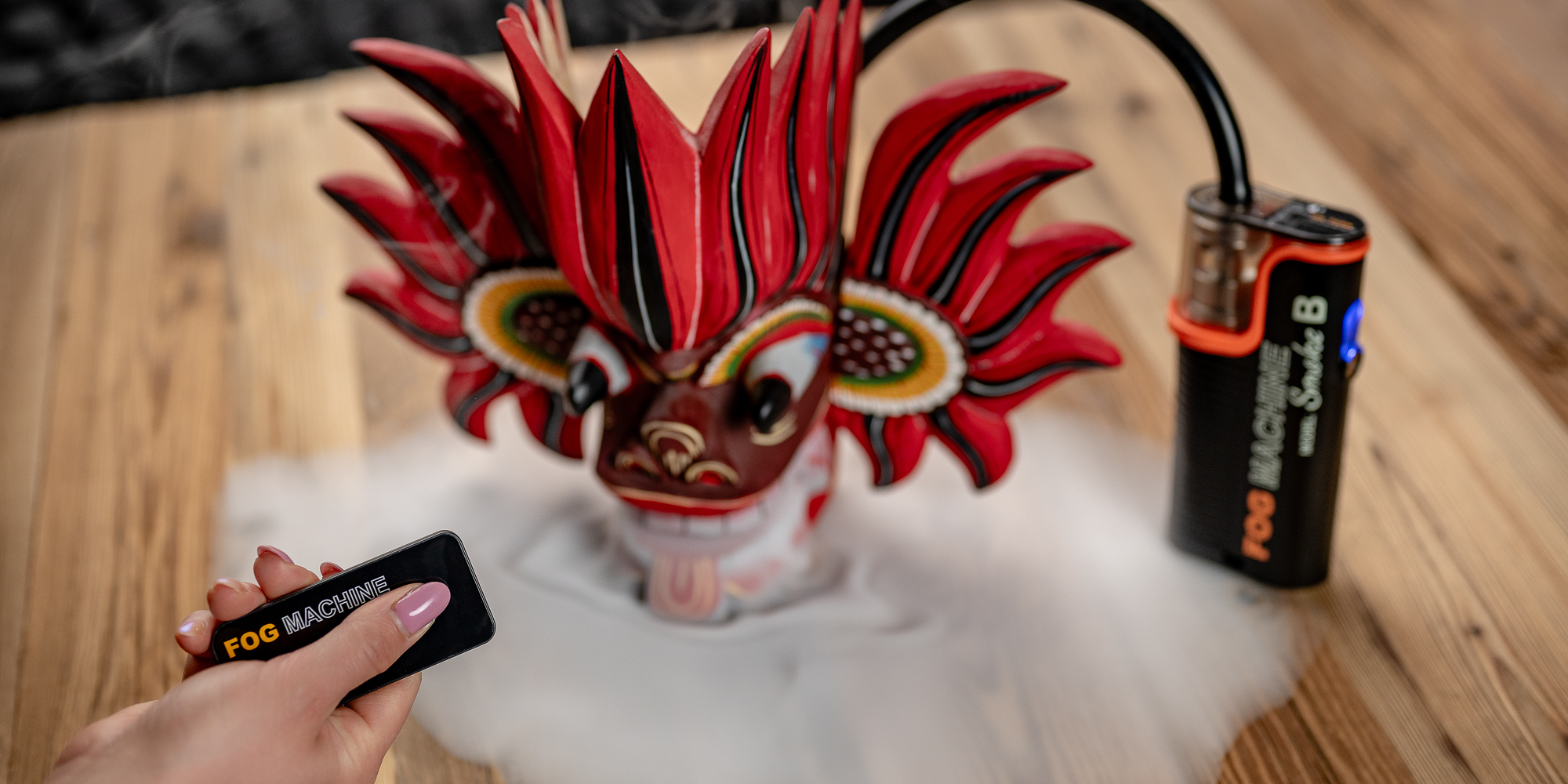 Convenient liquid refill system
Included with the Lensgo Smoke Generator Smoke B you will receive a supply of a special liquid based on vegetable glycerin and propylene glycol. The right proportions of the substances guarantee the best smoke density and unparalleled performance. Refilling the tank is simple and fast. Just remove the silicone plug, which is attached to the atomizer, and then, using the precise dispenser, add a small amount of liquid to the indicated level.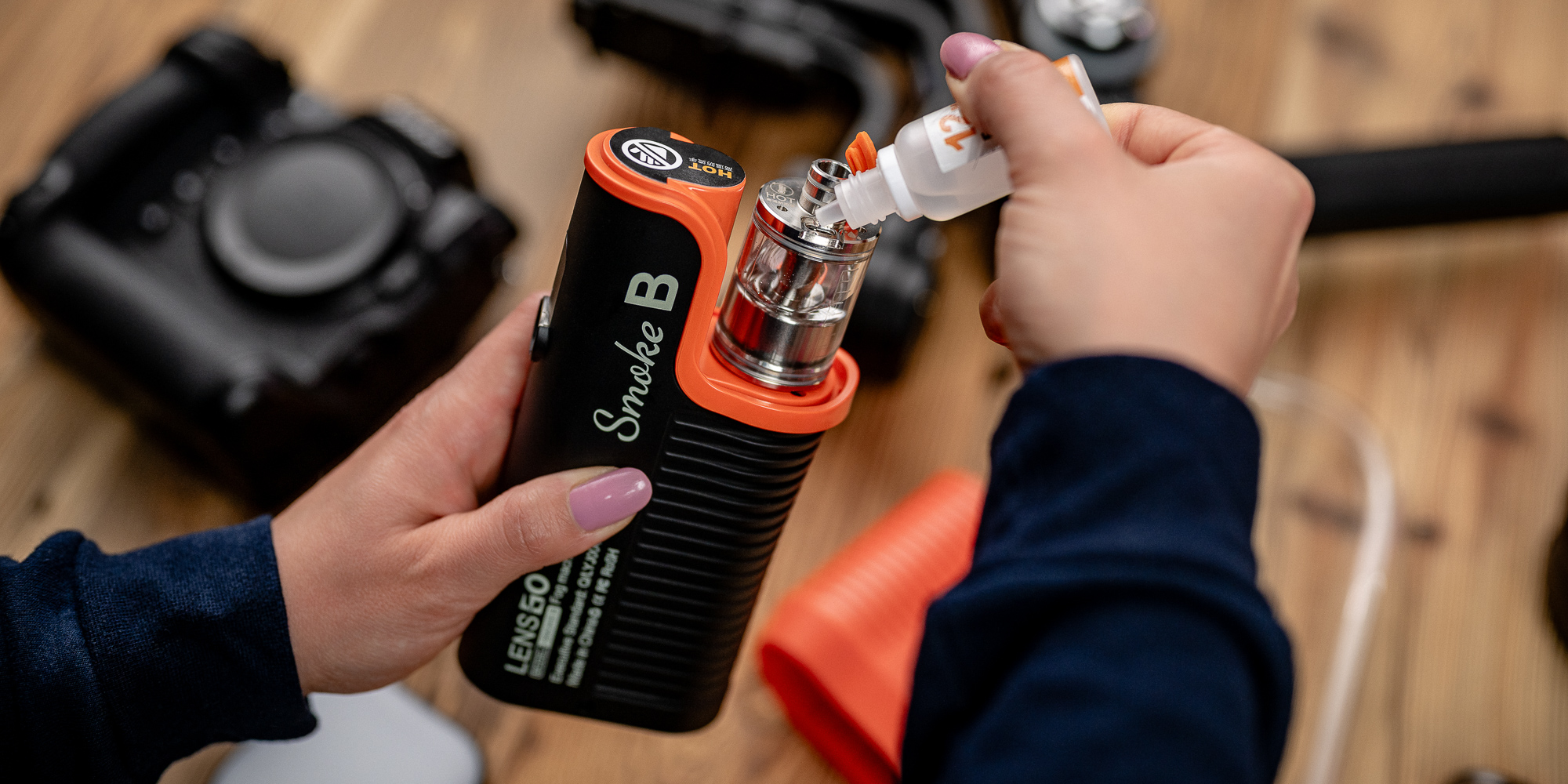 Lensgo Fog Machine Fluid refill kits with smoke maker fluid are also available for sale separately.
Safe use
The Lensgo Smoke Generator Smoke B is made of high-quality materials that ensure durability and strength. The device has adequate safety features that guarantee comfortable use, without the risk of overheating or overcharging. Additional protection is provided by a magnetic shield that prevents accidental contact with the warm elements of the generator housing. The manufacturer even took care of a set of special warning stickers that can be placed on the device, so that you do not forget, among other things, about the high temperature, the correct direction of holding the module or the need to check whether the tank has been refilled with liquid to the required level.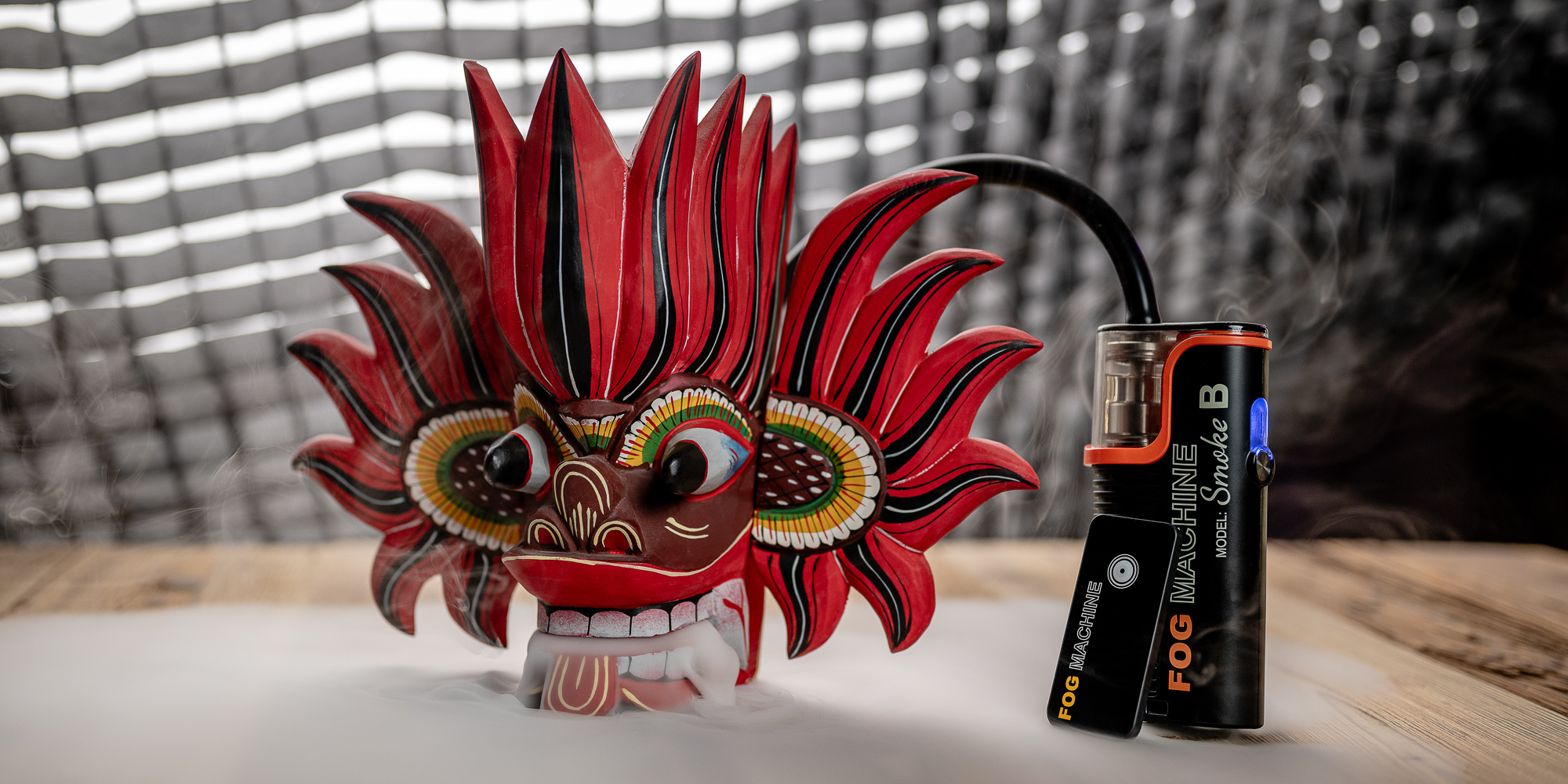 Easy operation
Lensgo Smoke B is a compact device that fits in the palm of your hand. You can successfully operate it with one hand. Simply hold down the switch to activate the smoke generator. Pressing the same button twice will allow you to start aerosol production or instantly stop the process. The LED backlight will allow you to quickly assess whether the device is on.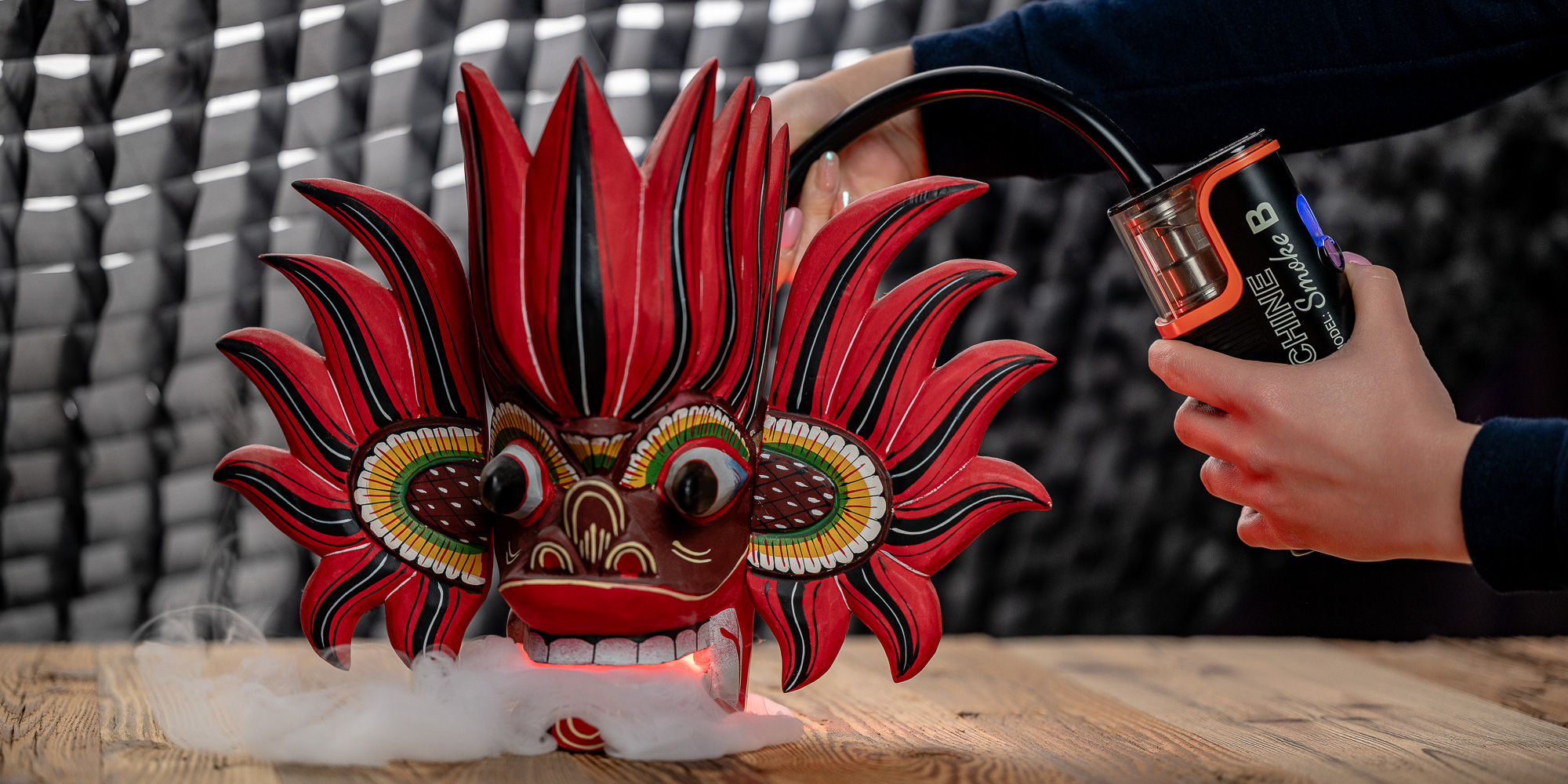 Always-on-your-place
Lensgo Smoke Generator Smoke B is a product that has been refined down to the smallest detail. If you hold the device in your hand while working, it is worth using a special wrist strap mounting point (not included). This solution will allow you to protect the module from accidental falls. The smoke generator is also equipped with a 1/4″ thread, which allows installation on a tripod.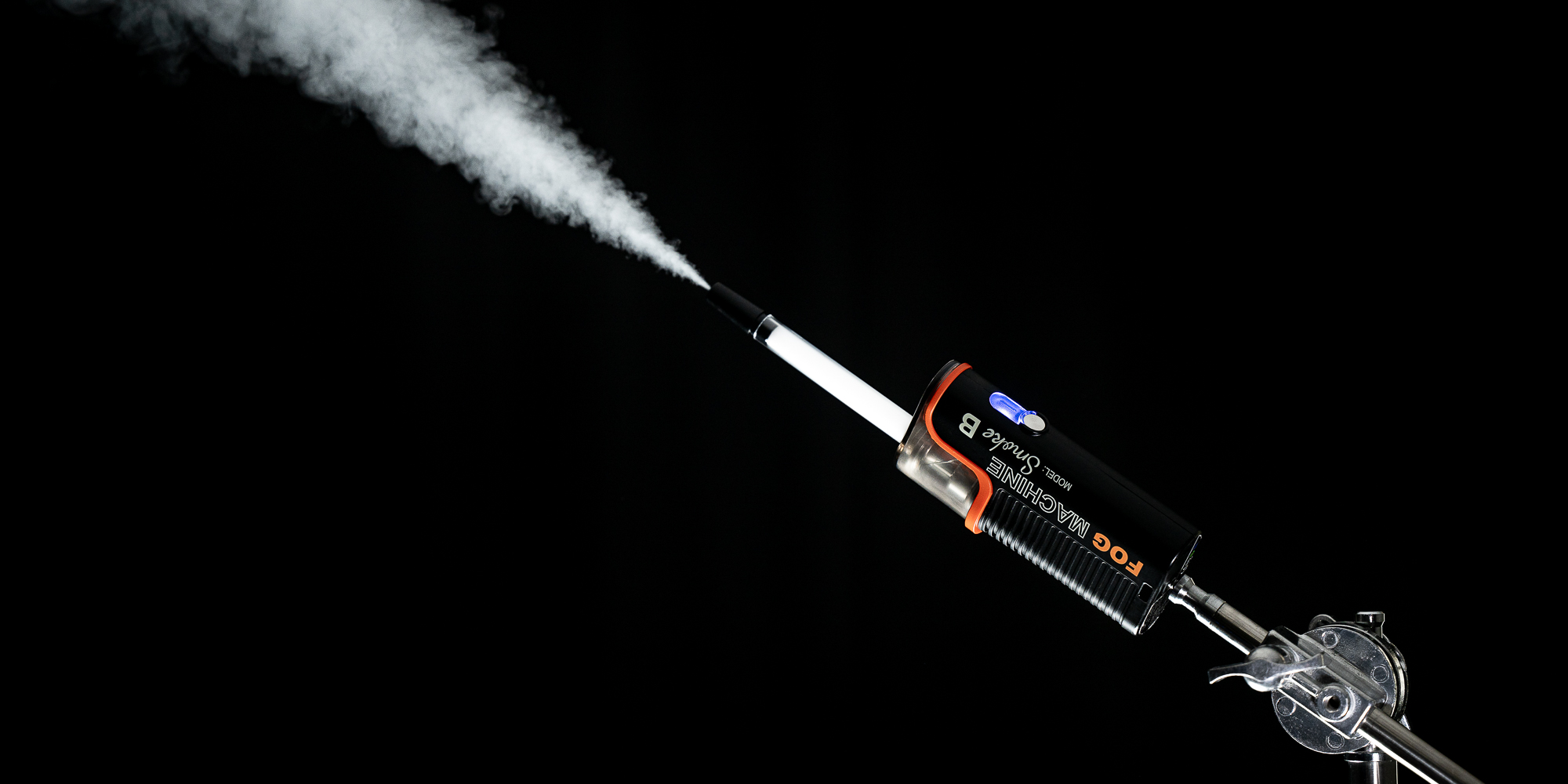 Convenient transport
The Lensgo Smoke Generator Smoke B, along with the included accessories, will come to you in an ergonomic, padded case with compartments. The sturdy case is a guarantee that all elements of the kit will be well protected during transport.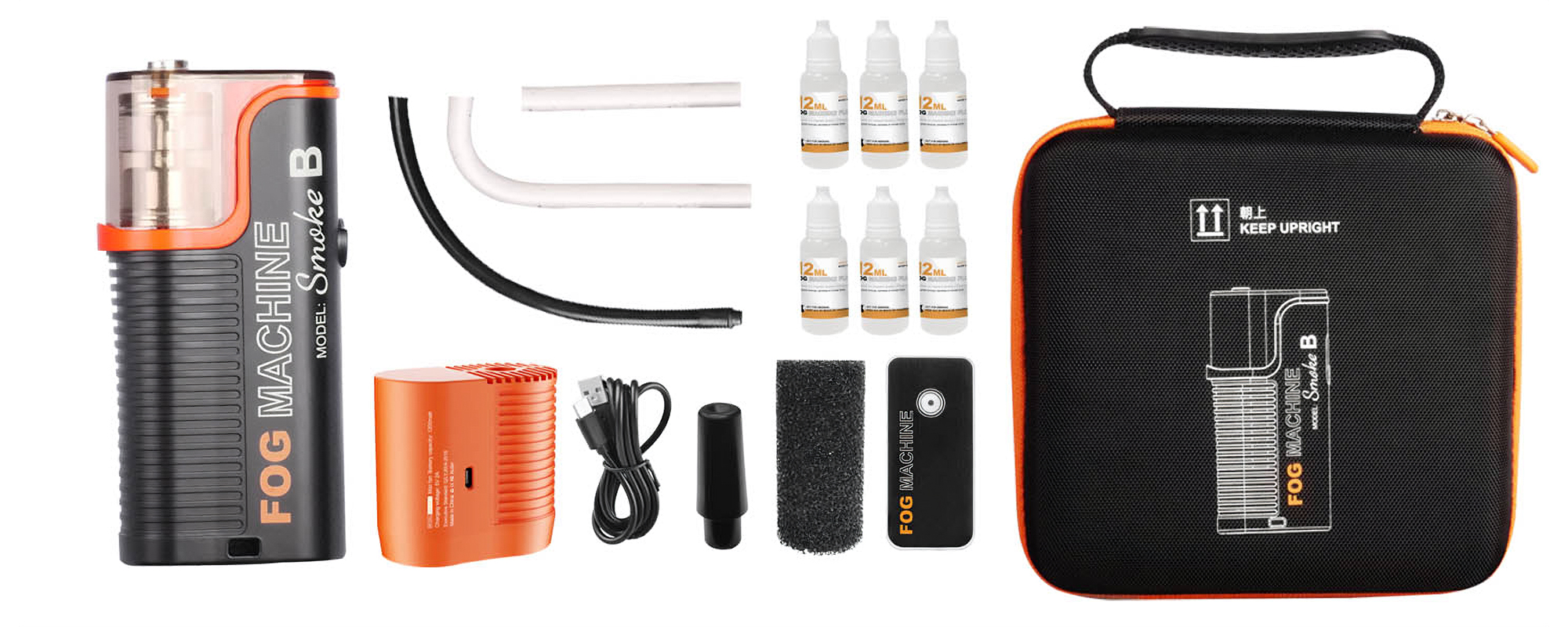 Specification
model: Lensgo Smoke B
power: 40 watts max
voltage: 7.4 volts
battery: 2550 mAh
charging: USB-C (5 V / 2 A)
max continuous operation time: 18 minutes (take a 2-second break every 3 minutes to spray smoke)
charging time: about 3 h
Smoke dispersion cap:

battery: 1200 mAh
charging: USB-C
operating time on a single charge: up to 5 h
charging time: about 2 h

reservoir capacity: 12 ml
composition of smoke generating fluid: vegetable glycerin, propylene glycol
capacity: max 20 m³ of smoke per minute
dimensions: 156.2 x 45 x 77.68 mm
weight: 340 g (generator + atomizer)
Kit contents
Lensgo Smoke B generator
smoke chamber (atomizer)
magnetic shield
electric fan cap for smoke dispersion
remote remote control
rigid straight tube
rigid "L"-shaped tube
flexible straight tube
smoke dilution filter
diffusion nozzle
transport case
smoke generator fluid (6 x 12 ml)