Description
The Zeapon Pons PT Motorised Pan Head is a state-of-the-art 'motion control' system that consists of two electronic Pons Motorised Pan Head modules and a Pons Tilt Arm Kit. This professional kit, which has won acclaim from filmmakers and photographers around the world, will allow you to automate your camera or camcorder in 2 planes – pan (pan) and tilt (tilt). You can use it to program complex motion sequences, create beautiful panoramas, take 360º photos and movies, and capture "Inception"-like shots where the filming device spins around the lens axis! The huge expandability and compatibility with the versatile Slider Zeapon Micro 2 Plus will ensure your video content continues to grow and reach new levels of quality.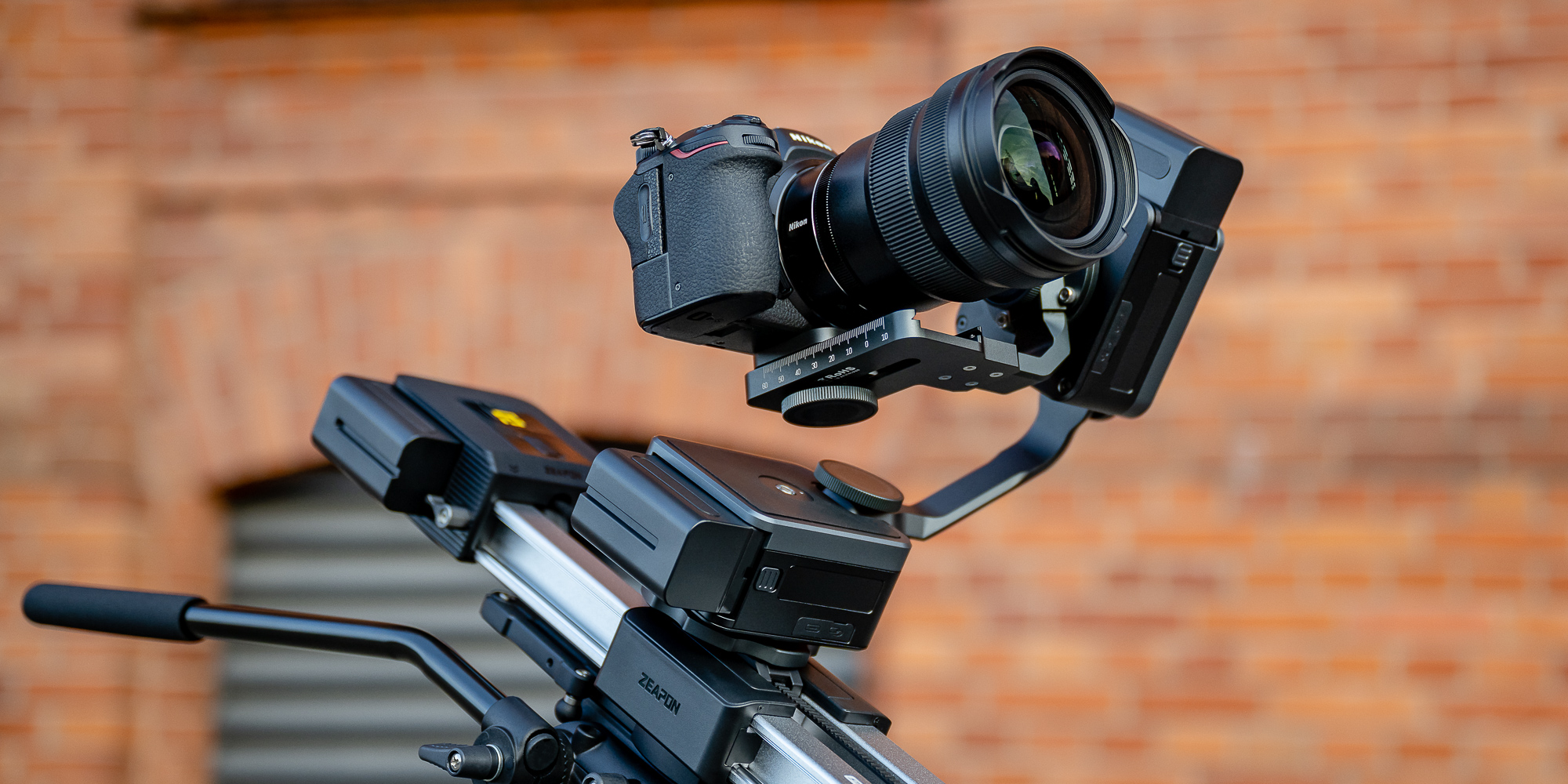 Main product features
set consisting of 2 electronic heads and 2 compatible arms
enables automatic camera or camcorder movement in 2 planes (pan and tilt)
conveniently adjustable arm positions to adjust the centre of gravity to suit lenses of different sizes
maximum weight capacity for a wide range of lenses
maximum load capacity of up to 50 kg (in the horizontal position)
convenient installation on film and photographic tripods
short time to mount
possibility to program as many as 6 different camera positions in a single movement sequence
buttons to control the movement in real time or to program it accordingly
possibility to shoot in "inception" mode (360º rotation about the lens axis)
built-in 1/4″ male thread adapter – 3/8″ for ease of use with various types of cameras, camcorders, heads and adapters
possibility to completely hide the thread inside the swivel head housing
after hiding the male thread, you can turn the device into a 360º rotary table, which is great for product photography
option to expand the kit with additional elements
adjustable speed of head movement
compatible heads
heads compatible with popular NP-F batteries
USB-C socket on each swivel head for charging the battery
2.5mm shutter-release port on each swivel head allowing the module to be connected to the camera
Programming movements
By choosing the Zeapon Pons PT Motorised Pan Head, you gain the ability to program how your camera or camcorder moves in two independent planes – pan and tilt. All you need to do is define the individual points of the movement sequence and set the appropriate speed. Thanks to working with this unique head, you will be able to repeat your shots to your heart's content, without worrying about having to set up your camera or camcorder from scratch every time.
Super-fast assembly
The Pons PT Motorised Pan Head, like the other products in the Zeapon family, features outstanding ergonomics. The arms feature a locking system that allows you to assemble the entire kit and balance it together with your camera or camcorder in a matter of moments. If you have a Slider Zeapon Micro 2 Plus slider with a drive module or other devices between which you interchange with your equipment, you will certainly appreciate how fast and convenient this process can be!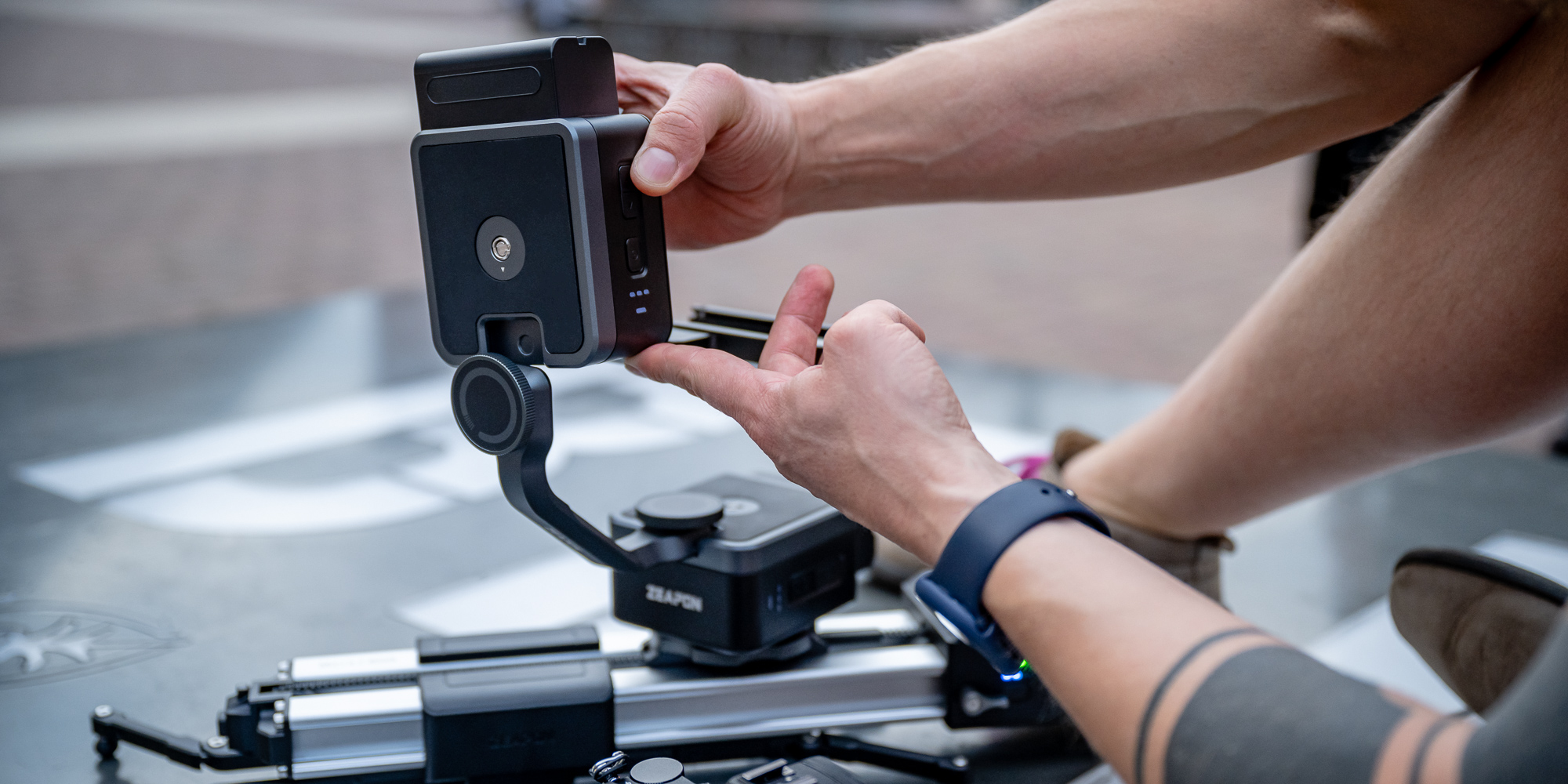 Even more possibilities
Not everyone has the budget for an extensive "motion control" system. By introducing separate modules, the Zeapon brand allows you to tailor the toolkit to your current budget. The Zeapon Pons PT Motorised Pan Head may just be the start of your adventure into motion automation. As your skills develop and new needs arise, you will expand your toolkit with additional components. Zeapon Micro 2 Plus Slider with drive module, Revolver Quick Release handles, more heads from the Pons series, Hand Grip power bank, Timelapse Trigger – more devices will allow you to create elaborate motion sequences taking your video productions to a whole new level.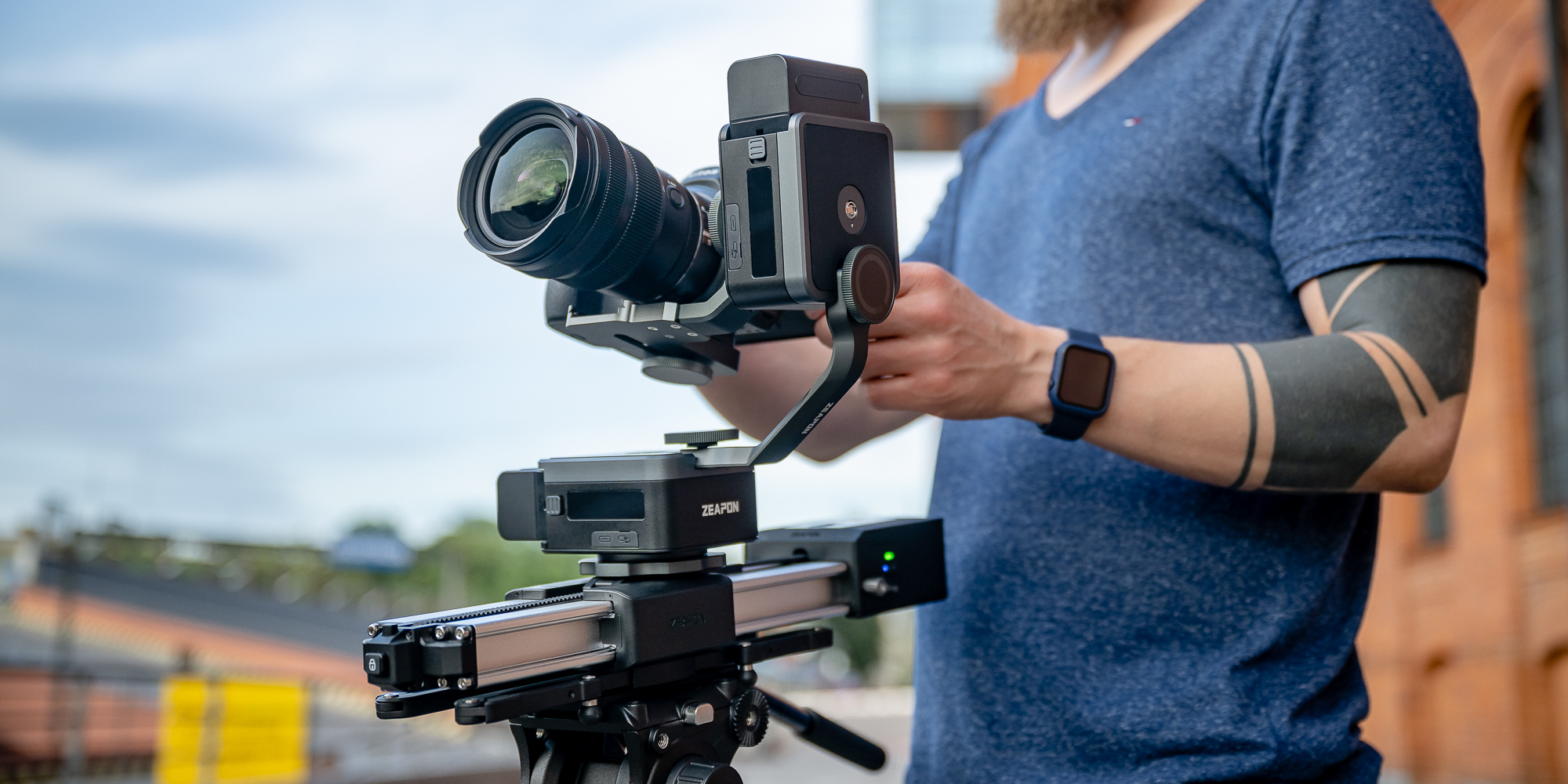 Remote control by app
You can find the free Zeapon Lab app in Google Play and the App Store. With its help, operating the device will become even more convenient and you will gain more freedom of work. Programme movement sequences, set speeds or control individual axes in real time. The app will open up new possibilities for you, giving you access to unique tools that will allow you to create beautiful timelapses for your vlogs, time-lapse animations straight out of professional product videos and breathtaking 360º panoramas.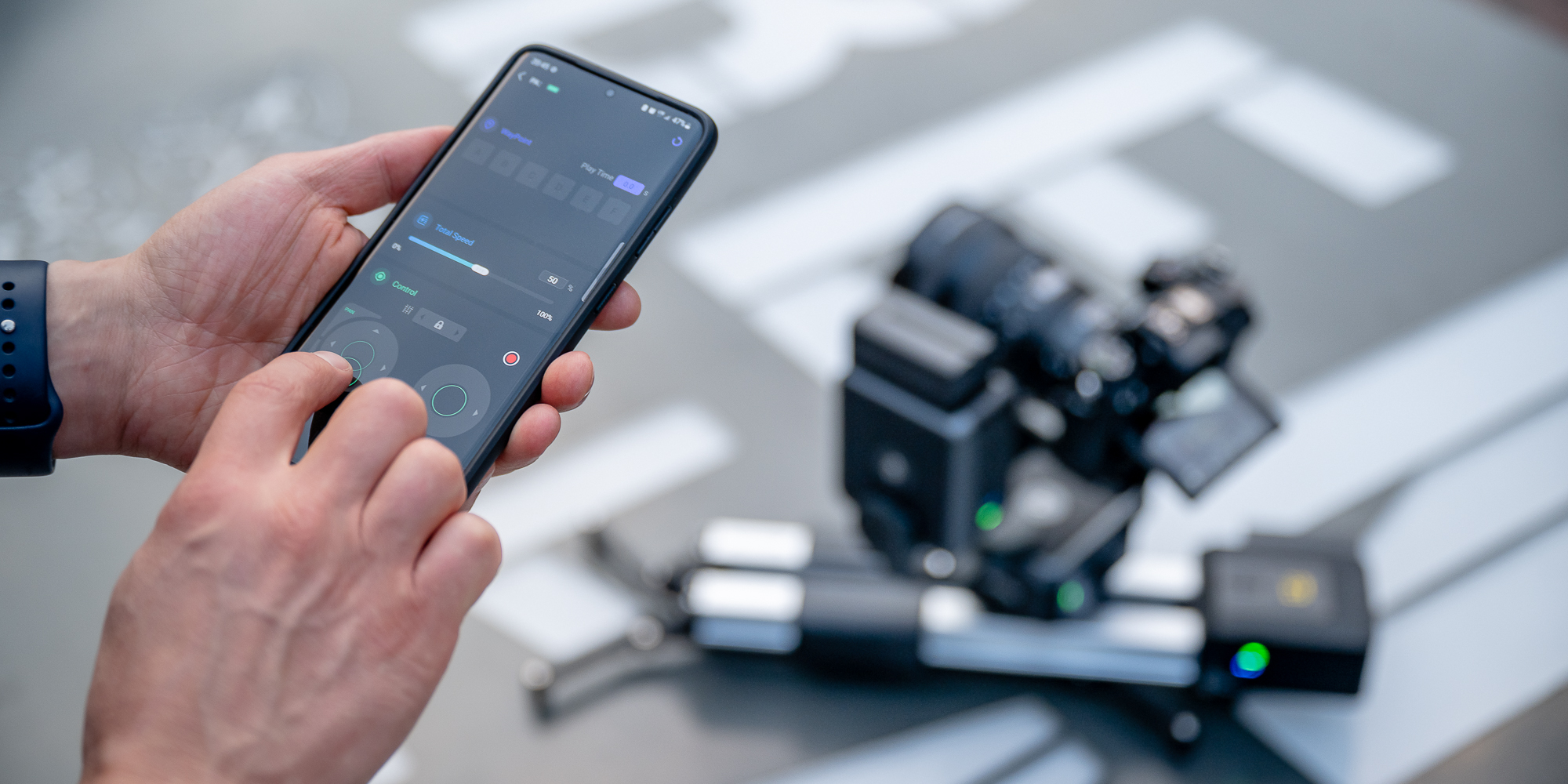 Also for photographers
We associate 'motion control' devices primarily with the world of film. The Zeapon Pons PT Motorised Pan Head will also work well for photographers. In "matrix mode", you will take pictures with enormous resolution, combining several frames into one large image. The precise operation of the motors will make the individual pieces of this puzzle fit together perfectly. This technique will also allow you to create breathtaking panoramas.4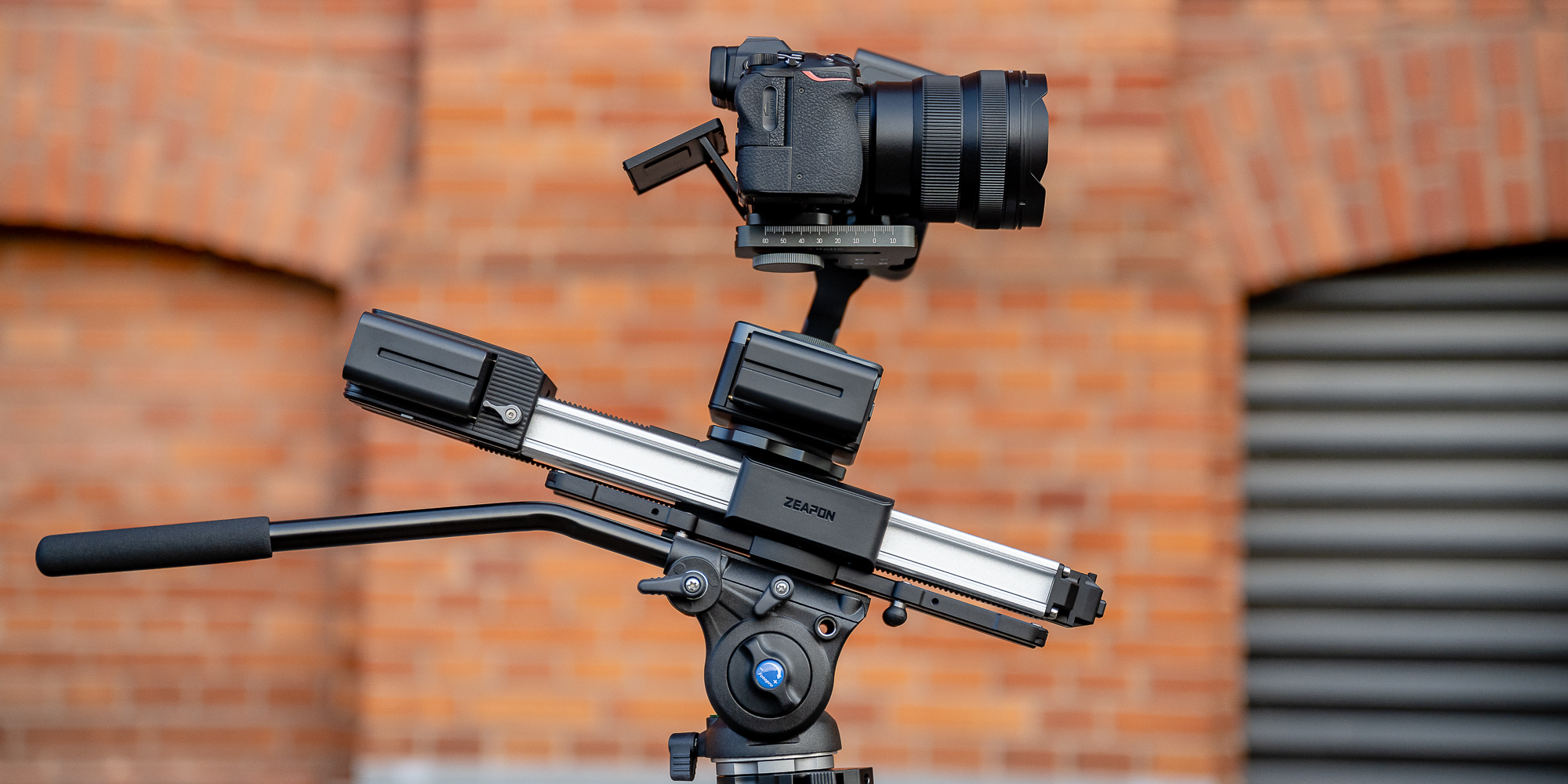 Shots straight out of "Inception"
Performing a full rotation of the camera with respect to the lens axis using a gimbal is not always possible. Weight limitations very often prevent the creation of a spectacular shot straight out of the film "Inception". Fortunately, with the Zeapon Pons PT Motorised Pan Head it will be possible! The effective rotation of the camera will allow you to create unforgettable shots, which will be perfect for example in commercials.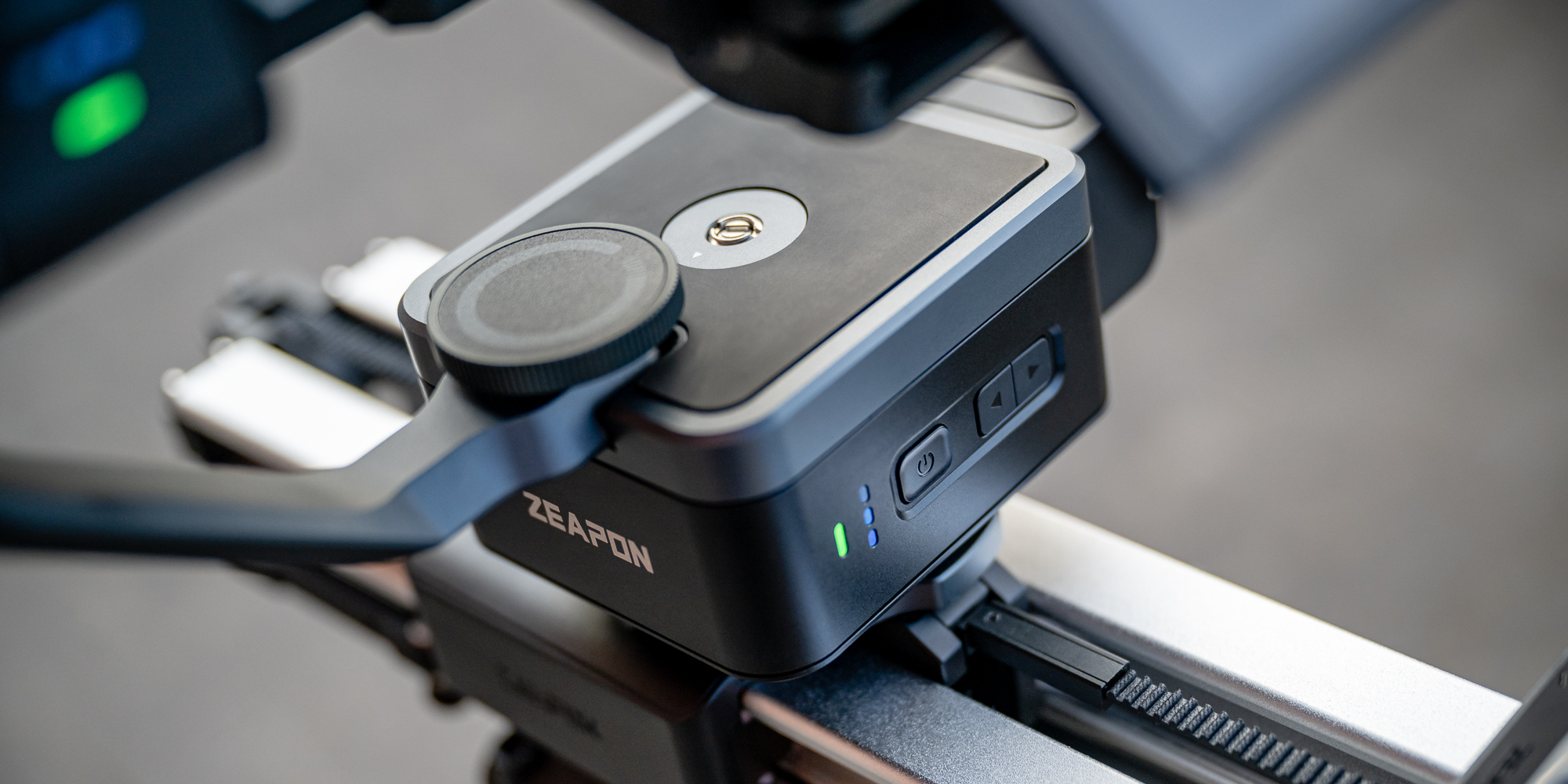 Very versatile applications
The Zeapon Pons PT Motorised Pan Head offers an impressive maximum lifting capacity of up to 50kg when a correctly balanced camera or camcorder is operated in a horizontal position. This means that you can successfully combine it with both popular mirrorless cameras and professional film equipment equipped with large lenses. The operation of the unit is accompanied by the quiet sound of the motors, with a maximum noise level of just 39 dB. This value corresponds to the ambient sounds you hear … visiting a library.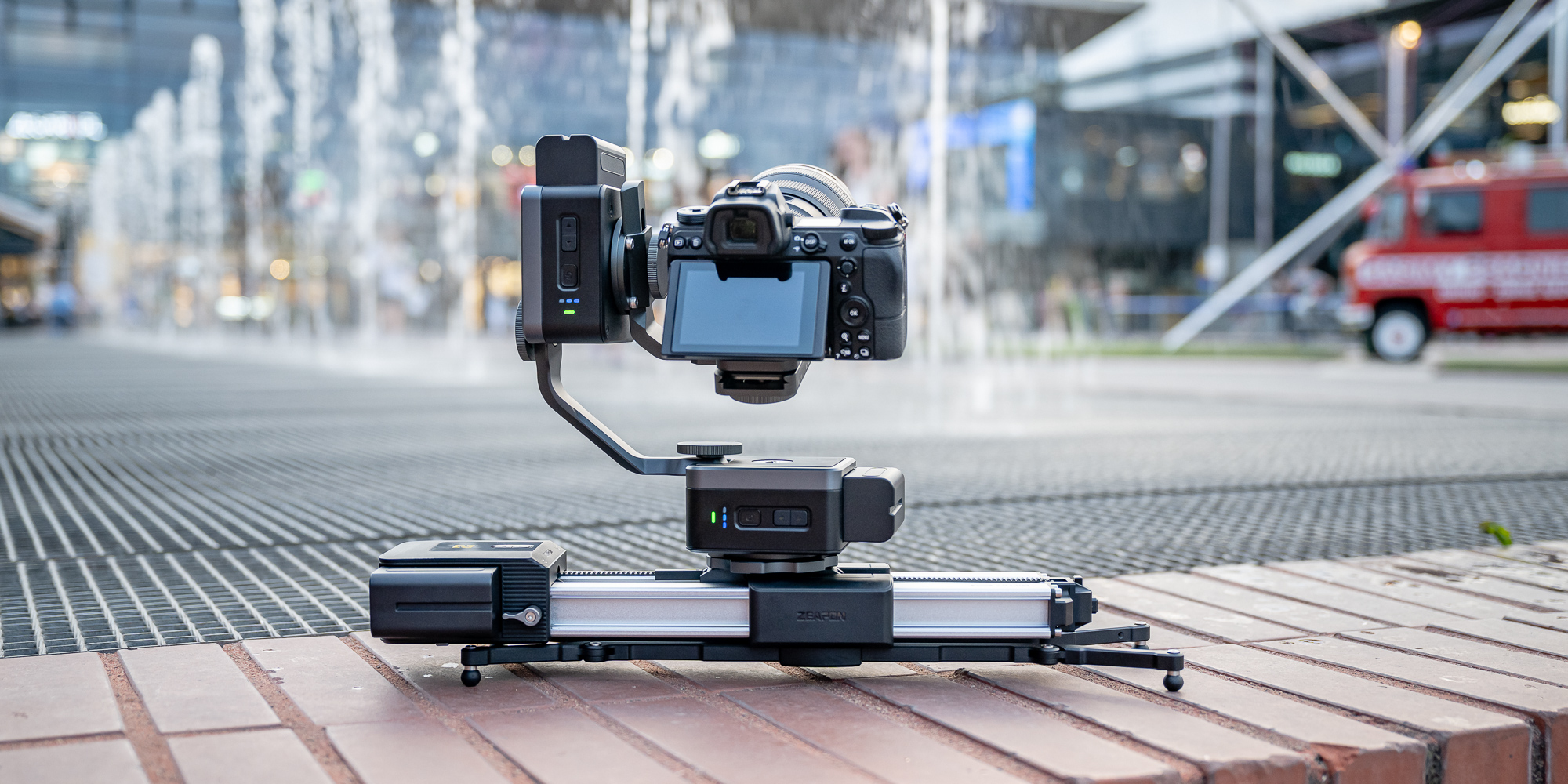 convenient-feedback
The Pons Motorised Pan Head modules feature a socket for NP-F batteries, which are extremely popular in the world of film and photography. Depending on which cell you choose (NP-F550, NP-F750, NP-F970), the operating time on a single charge will range from 4 to 14 hours of uninterrupted operation. The battery mounting point is secured with a robust lock to prevent accidental disconnection. The USB-C port will allow charging the battery (e.g. with a smartphone charger) or with a power bank.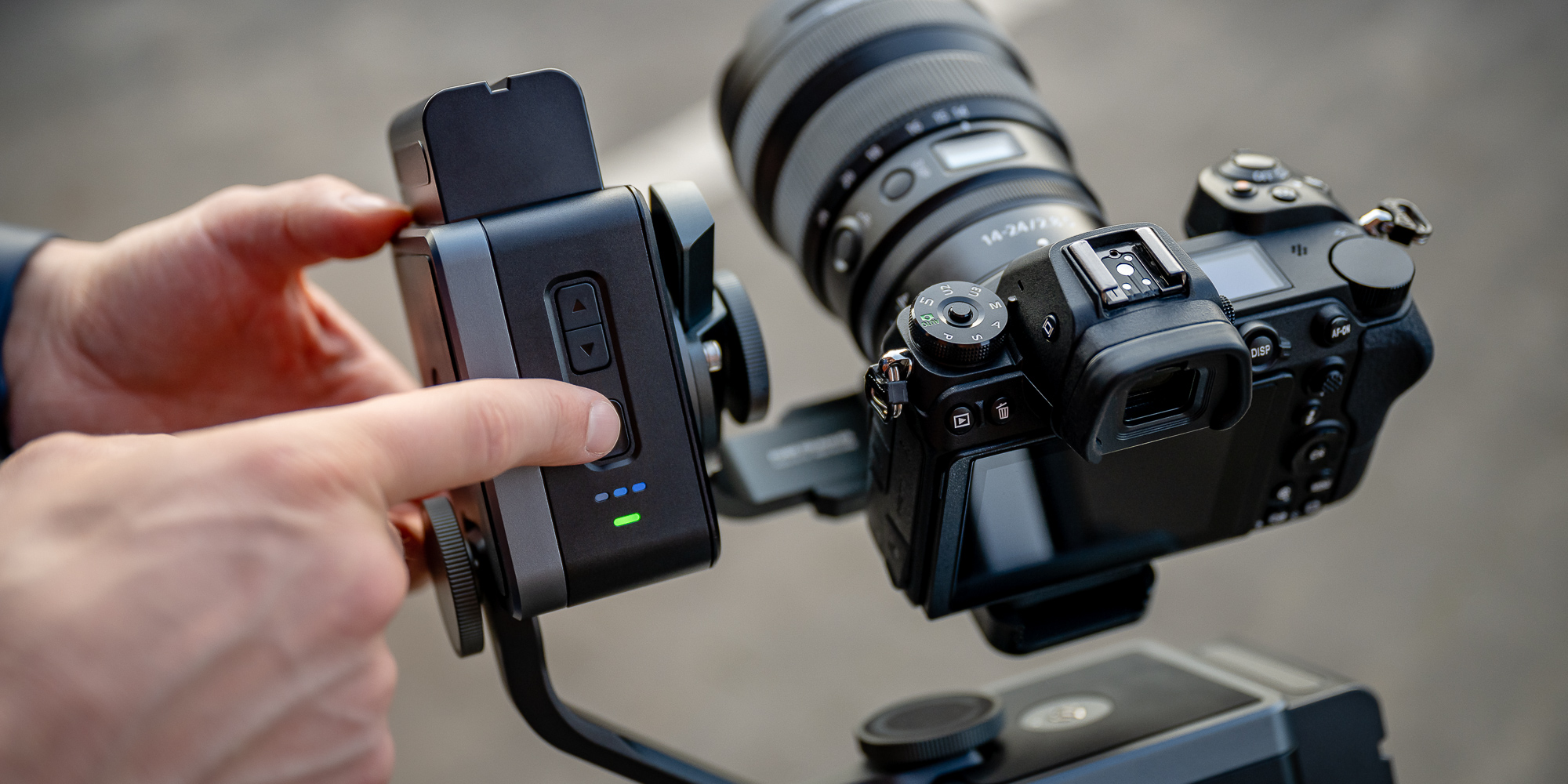 Ideal choice for film and product photography
Do you want it to be the subject you are filming or photographing that rotates around its own axis when the camera is in one position next to the Pons Motorized Pan Head? Nothing simpler than that! The 2-in-1 thread (1/4″ and 3/8″) that crowns the unit can be completely hidden. You can easily position the product you want to film on the flat surface of the head. If you reach for any circular stand, in a few moments you will create a 360º rotating table, which is great for product photography!
Magic of timelapses
The Zeapon Pons PT Motorized Pan Head will allow you to create moving timelapses that depict the passage of time invisible to the naked eye. Program the device, check how the frames look in different camera positions and let the whole process happen automatically. The Zeapon Lab app will itself count how many frames you need to get the desired effect, and will also tell you how long it will take to create a short video from hundreds of photos.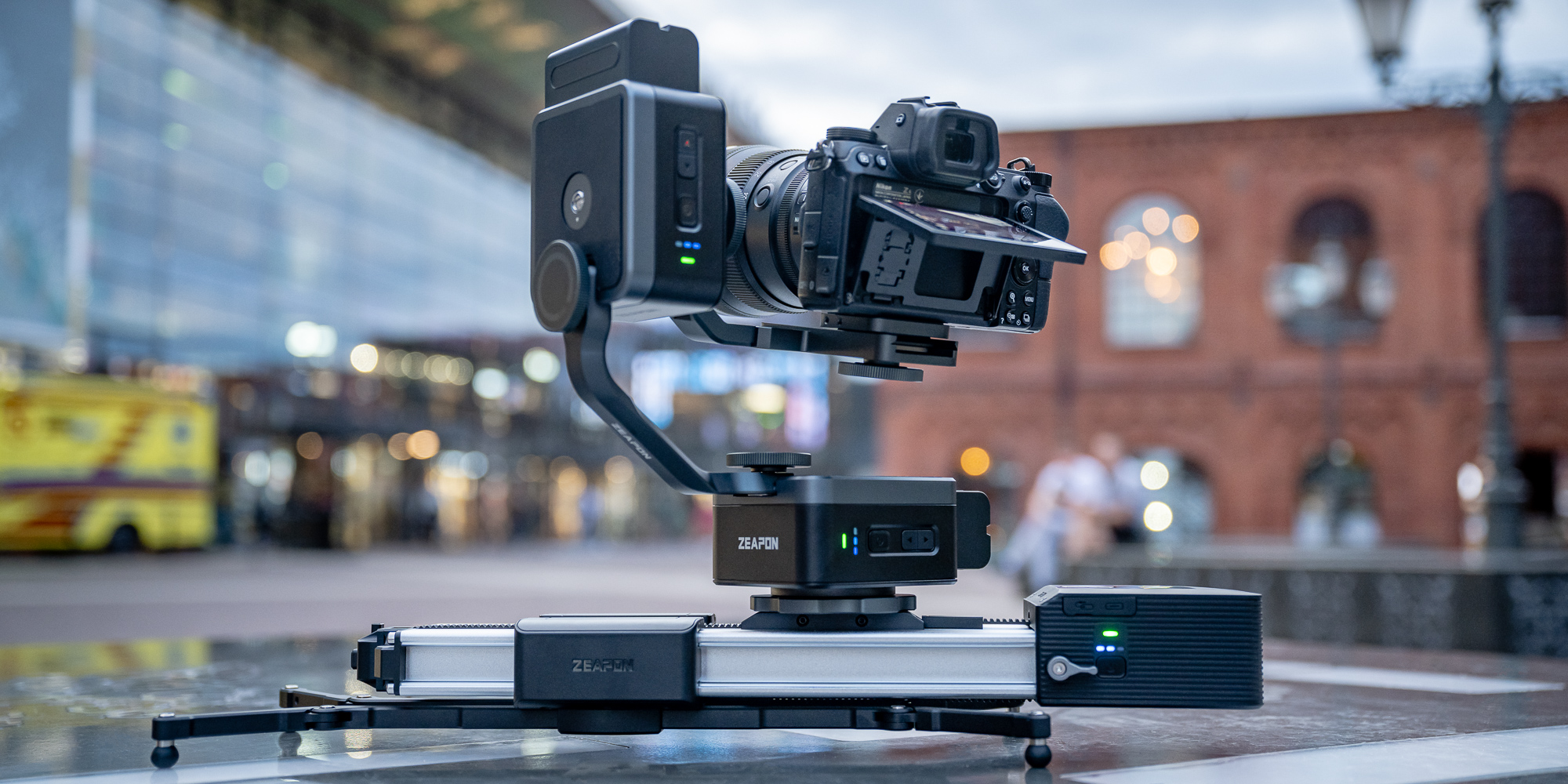 Specification
Model: Zeapon Pons PT Motorized Pan Head
Material: aircraft aluminium alloy/polycarbonate
Input: 5 V / 2 A
Mobile application: Zeapon Lab (iOS / Android)
Communication: Bluetooth
Max load capacity:

in vertical position – 4 kg
in horizontal position – 50 kg

Head rotation speed:

average – 9º per second (full rotation: 40 s)
minimum – 4º per second (full rotation: 90 s)

Power supply:

PN-F batteries
charging the battery via charger or power bank (USB-C with Power Delivery protocol)

Operating time per charge:

PN-F550 battery – 3 h
PN-F970 battery – 12 h

Dimensions: 205 x 235 x 125 mm
Weight: 2026 g
Kit contents
2 x Pons Motorised Pan Head
Pons Tilt Arm Kit