Description
The Newell Air Artha XL RGB RC APP is a modern LED lamp that will open up new possibilities for you to experiment with light. The round panel with integrated diffuser offers a power output of 70 watts, which translates into 2500 lumens of maximum light output. Adjustable colour temperature from 2500 to 8500 K and the HSI colour palette provide enormous freedom to adapt the lighting to different situations. A free mobile app and remote control allow you to remotely control the unit from up to 15 m away. The Air Artha XL RGB also offers the possibility to work with other lamps operating in the same system. There are also 49 special effects on board and 2 power options (power supply or V-Mount battery). A zipped carrying case is included.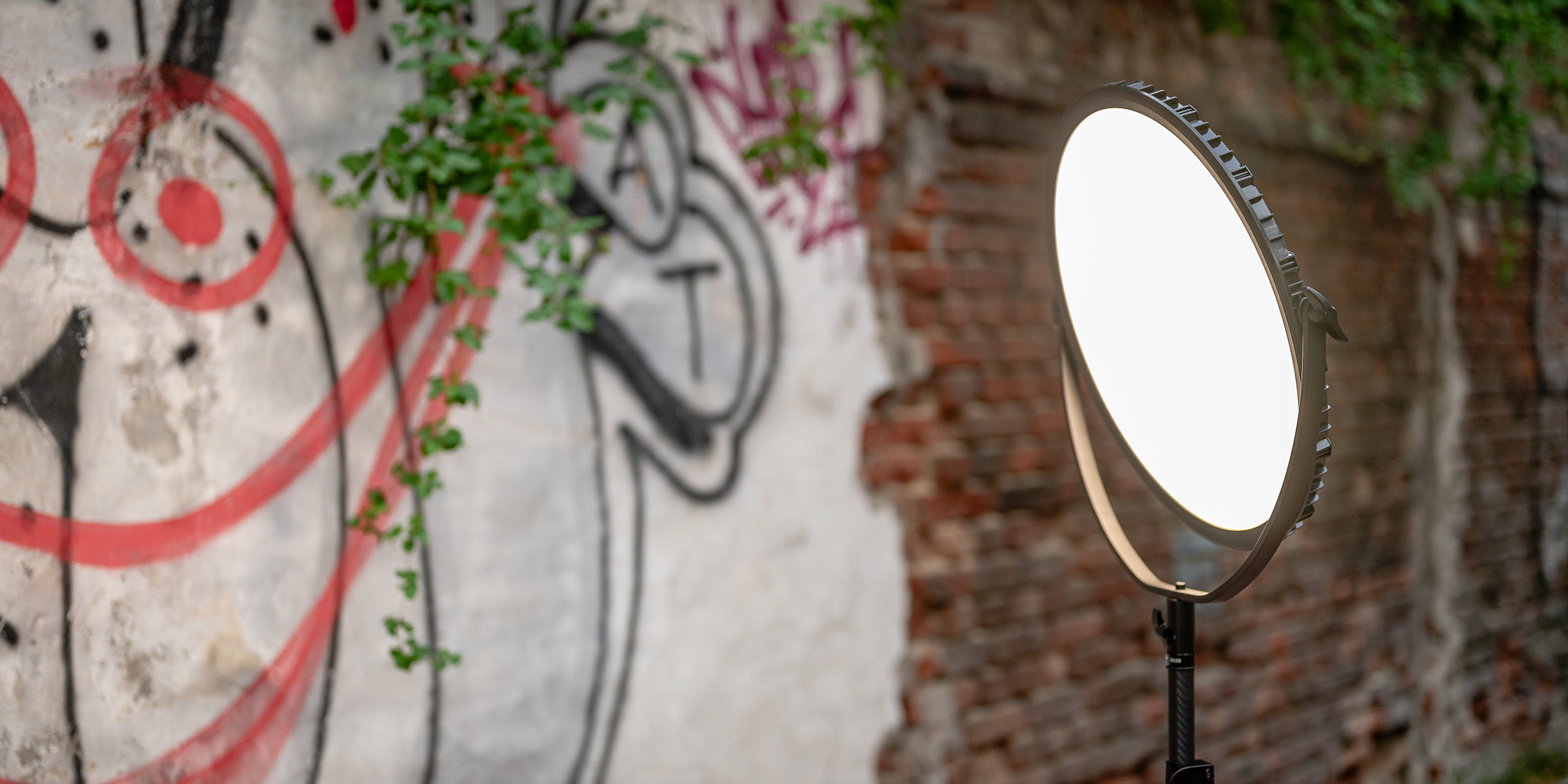 Main product features
round LED panel with integrated diffuser
70 W of maximum power
Adjustable colour temperature from 2500 to 8500 K
360 colours available within the HSI palette
max. luminous flux of 2500 lumens
2 ways to power the lamp: power supply (included) or V-mount battery (must be purchased separately)
equipped with 160 5050 RGB LEDs (0.5 W)
free app (Google Play / App Store) for remote control
remote control included (2.4 Ghz)
a remote control range of 15 m
control panel equipped with a backlit colour LCD screen (1.77″)
possibility to control multiple lamps within 40 channels and 3 groups
possibility to adjust light brightness from 1% to 100%
adjustable colour saturation from 0% to 100%
diffuser for natural lighting and reduction of unwanted shadows
universal tripod mount
conveniently adjustable lamp angle
included zippered carry bag
Magic of colours
The Newell Air Artha XL LED lamp in the RGB RC APP variant offers a whole new way to experiment with light. The lamp offers 360 different colours available within the HSI space. For each colour you can also set a specific brightness and saturation from 0 to 100. The multitude of setting combinations is an indispensable support for transforming artistic visions into impressive photos and videos.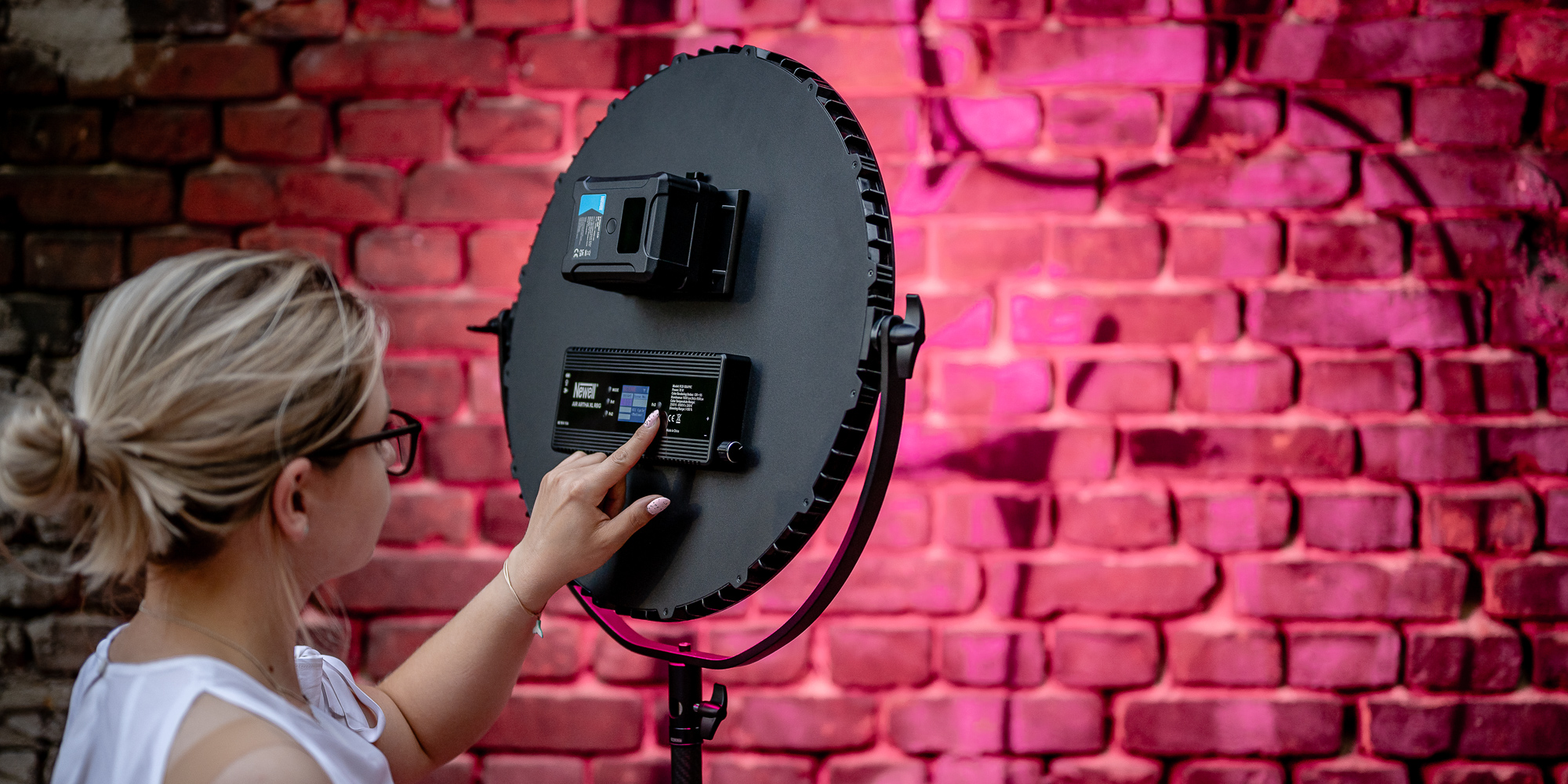 Adjustable power and colour temperature
The Newell Air Artha XL RGB RC APP LED lamp will give you a huge amount of creative freedom. You will set its angle thanks to a movable disc locked by strong screws. The unit also has a built-in diffuser. You can easily adjust the colour temperature from 2500 to 8500 K. The maximum light output you will achieve with the Newell Air Artha XL RGB RC APP lamp is up to 2500 lumens.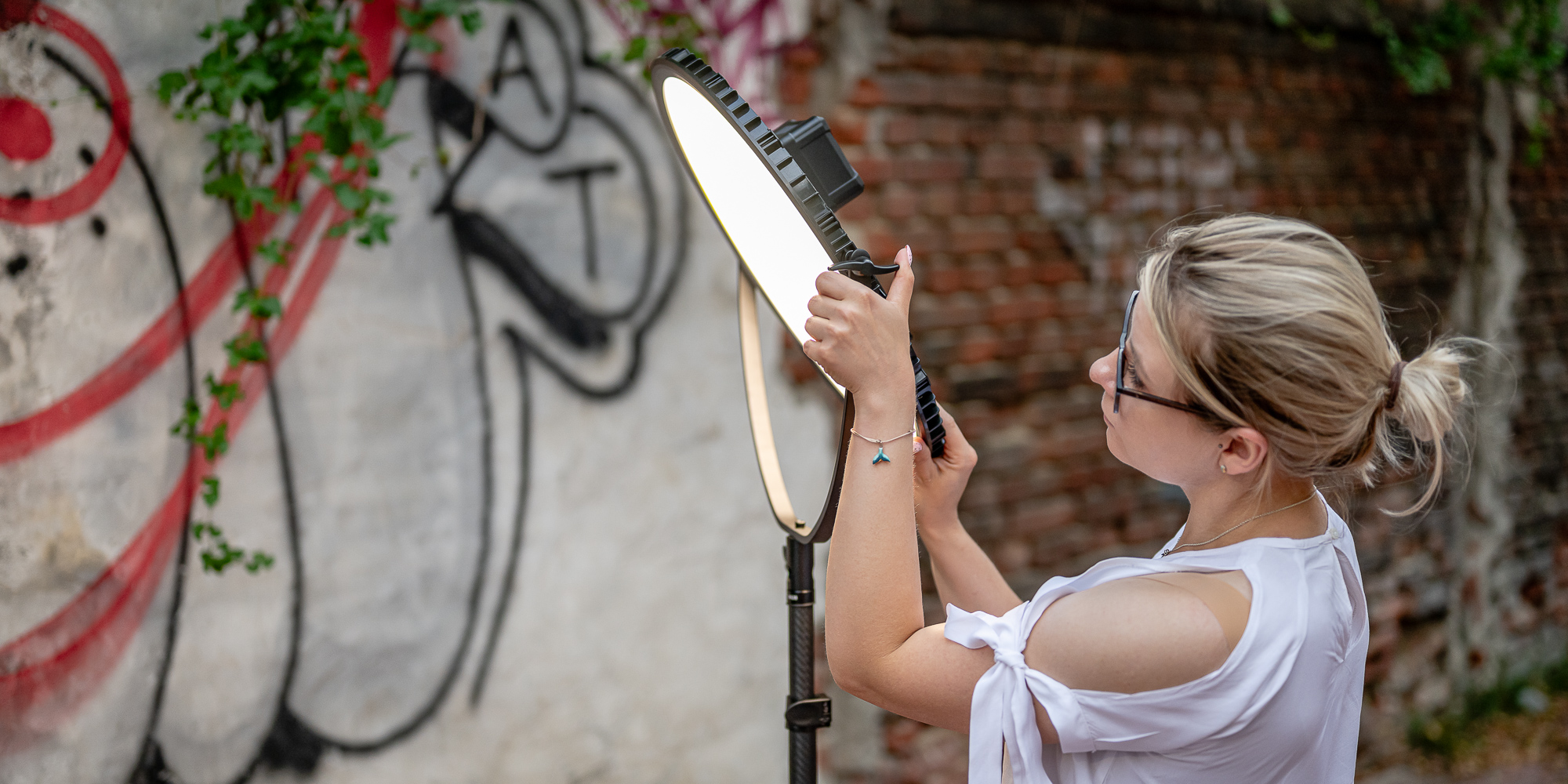 Even light dispersion
The Newell Air Artha XL RGB RC APP LED lamp is equipped with a diffuser made of lightweight plastic with optimum clearance and milky colour. It allows for an even and natural illumination. It also effectively reduces unwanted shadows. Thanks to the diffuser, you no longer need to reach for an additional light modifier to ensure pleasant and soft light.
Remote-control-and-mobile-app
The Newell Air Artha XL RGB RC APP LED light offers a convenient to use control panel with an illuminated screen. However, that's not all when it comes to control options. You will also find a remote control included, powered by two AAA batteries, which allows you to control the lamp from up to 15 metres away. You can also control the device via a mobile app. You can download it from Google Play or App Store completely free of charge.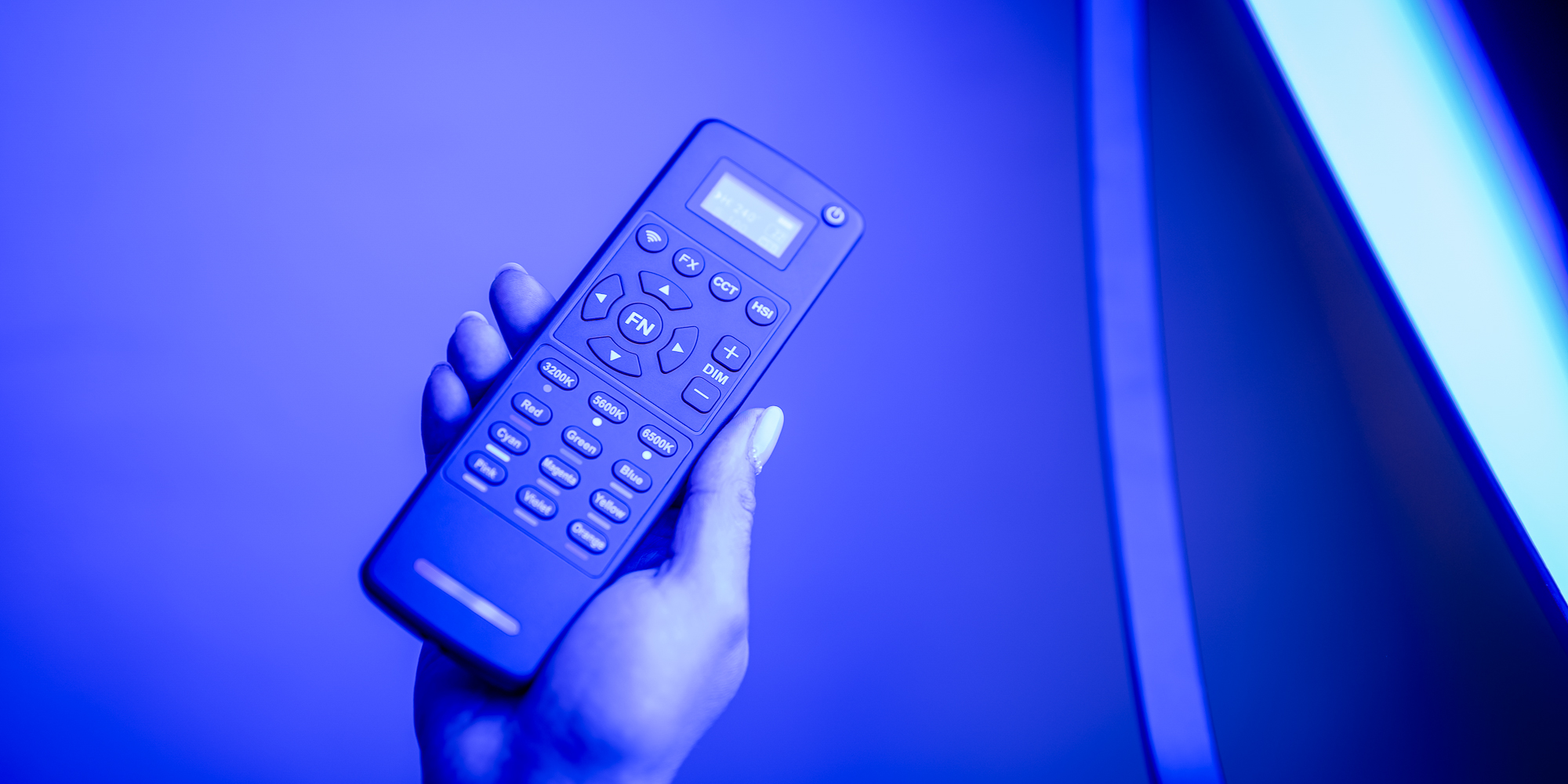 Two power ways
With two different ways to power it, the Newell Air Artha XL RGB RC APP LED lamp will work well anywhere – in the studio, at home, or in the field. You will find a compatible DC 15 V / 5 A power supply included. The unit also features a V-Mount (V-Lock) battery socket. This allows you to enjoy wireless power wherever access to an electrical outlet is limited.
V-MOUNT battery pack MUST be purchased separately.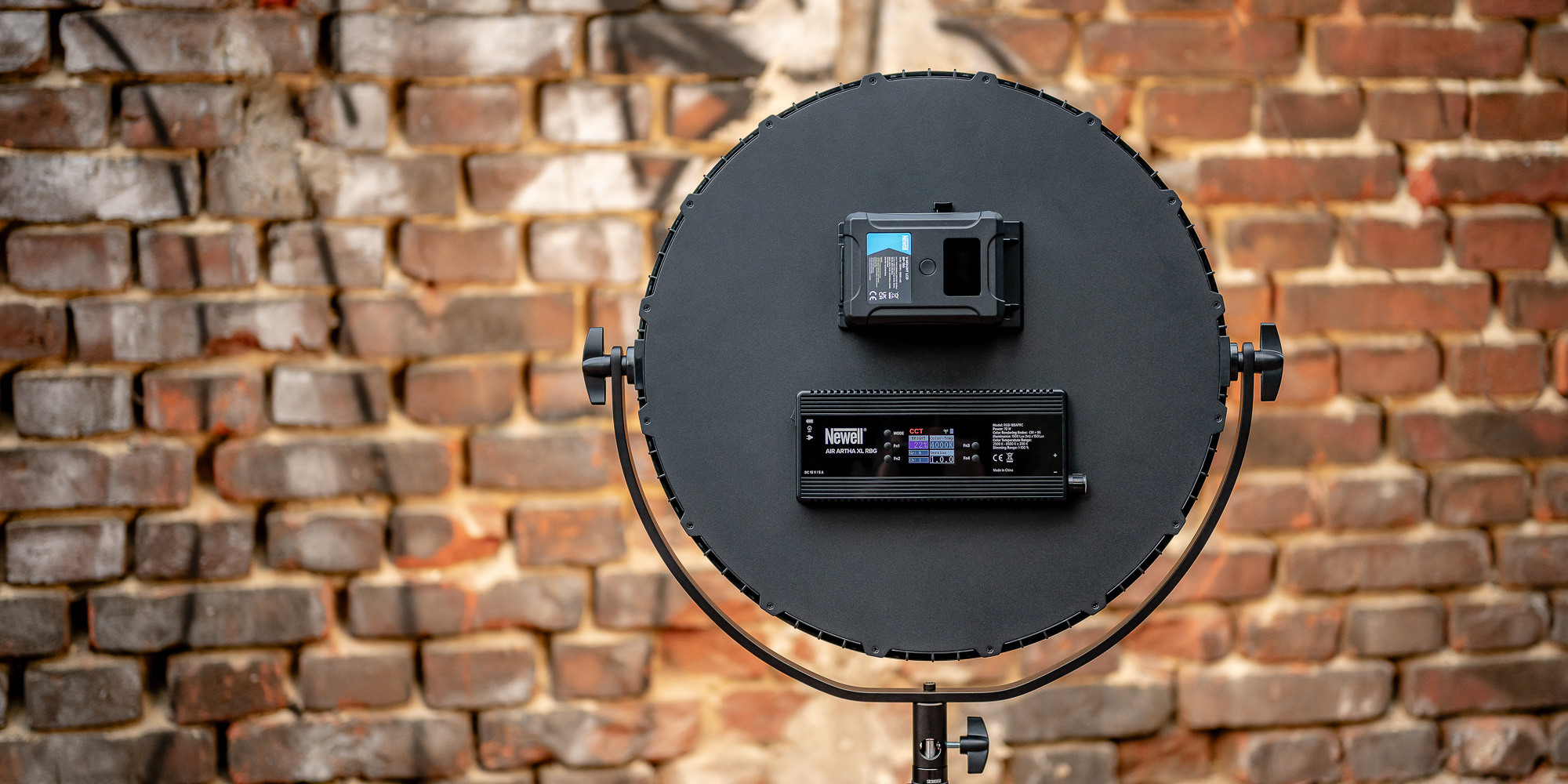 Extended light system
The Newell Air Artha XL RGB RC APP LED lights are the ideal choice for those looking to create an extended lighting system. With 40 available channels that can be divided into 3 independent groups, you have full control over all the fixtures you work with. You no longer need to approach each lamp individually to adjust its parameters to suit your needs. Now you can control all your devices with a single control panel, remote control or mobile app.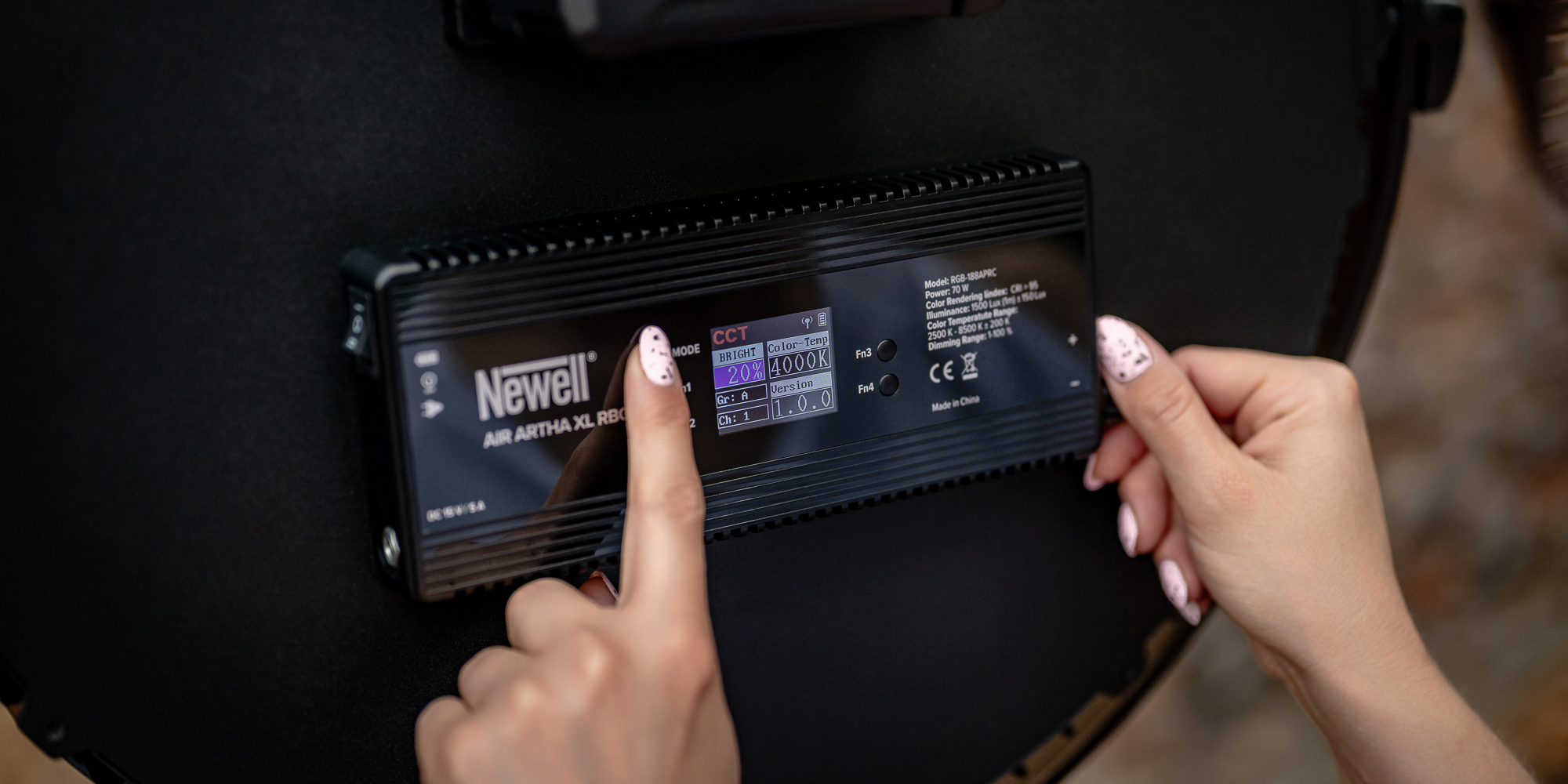 49 special effects
The Newell Air Artha XL RGB RC APP LED lamp offers up to 49 built-in special effects to simulate, among other things: a TV, a broken light bulb, a fire, a thunderstorm, a party, a police car or an ambulance. Most of the settings are available in several variants, differing in the speed of flash transitions and colour transitions. With special effects, you can enhance your videos without having to increase your production budget. This is the ideal choice for video creators who want to spark their creativity and produce even better footage.
Convenient transport
Convenient transport and safe storage of the Newell Air Artha XL RGB RC APP light is ensured by a practical, zipped travel case with a handle. Inside, there are matching compartments for the remote control, power supply and cables. In a special pocket finished with elastic band you will be able to store additional photographic or film accessories.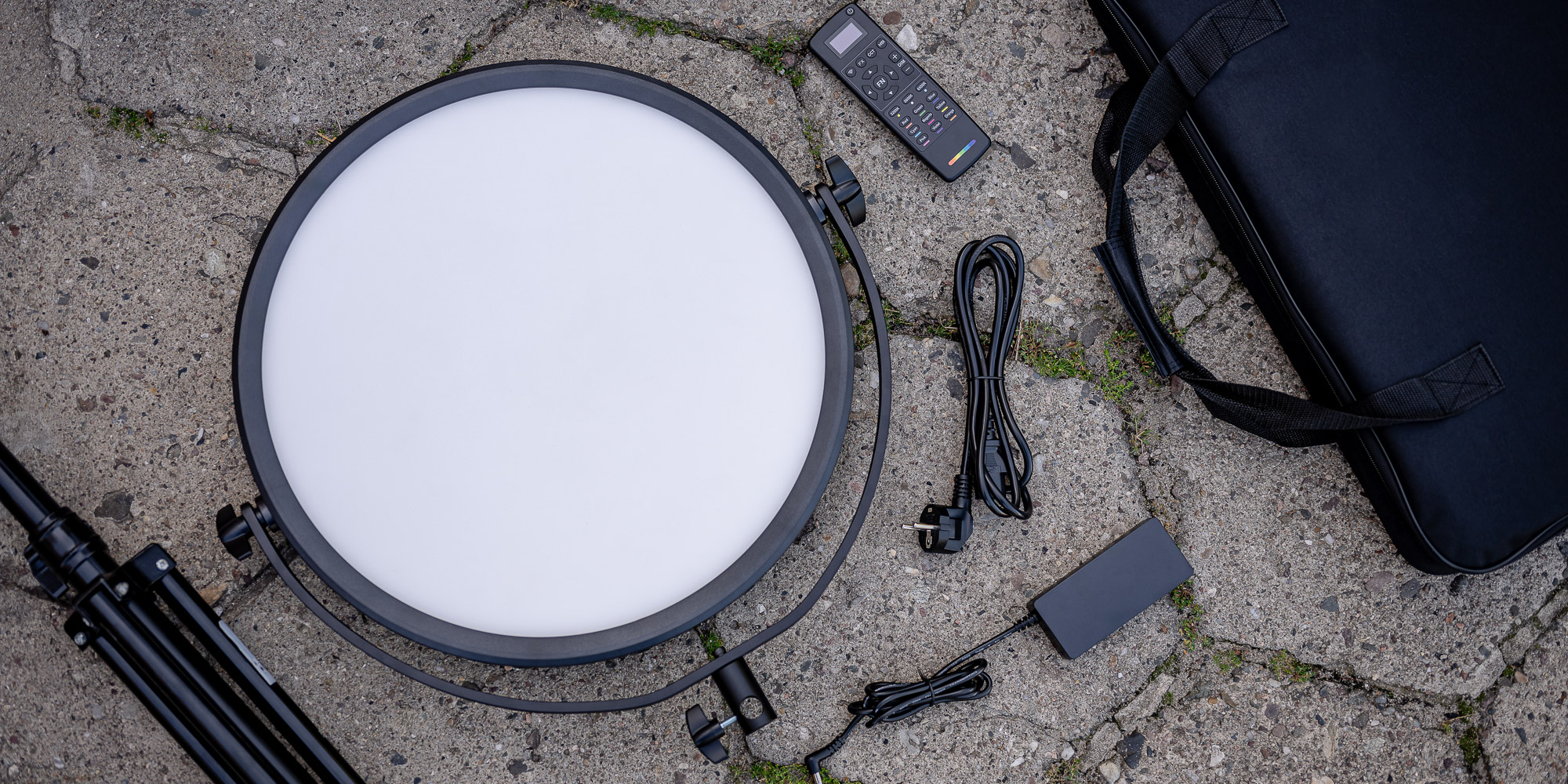 Specification
model: Newell Air Artha XL RGB RC APP
max power: 70 W
LEDs: 160 (5050 RGB / 0.5 W)
max. luminous intensity: 1500 lux (@ 1 m)
max. luminous flux: 2500 lm
colour temperature of light: 2500 – 8500 K
CRI: > 95
TLCI: > 95
colour gamut: 0 – 360
saturation adjustment: 0 – 100
brightness adjustment: 1 – 100 %
display: LCD (1.77″)
Lamp power supply:

DC 15 V / 5 A power supply (included)
V-Mount battery pack (sold separately)

remote control power supply: 2 x AAA battery or rechargeable battery
Remote control – connectivity:

remote control – radio waves (2.4 GHz )
application – Bluetooth

remote range: 15 m
operating environment temperature: 0 – 35° C
storage temperature: -10 – 50 °C
dimensions: 539.2 x 22.9 x 548.3 mm
weight: 3650 g
Kit contents
Newell Air Artha XL RGB RC APP LED lamp
DC 15 V / 5 A mains adapter
power cable
remote control
zippered carrying case