Description
Newell LCD dual-channel charger with power bank function and SD card reader is all you need to successfully replenish LP-E6 batteries for Canons. The innovative device will allow you to even better organize the photographic accessories that accompany you every day. The built-in SD memory card reader allows you to transfer files, without having to reach for additional tools. After installing batteries inside the charger, you can also turn it into a power bank. The device also comes with an integrated USB cable. Intuitive operation, LCD screen and precise port and socket markings guarantee trouble-free operation. It's not just a charger – it's your partner in better organizing your photo-video projects.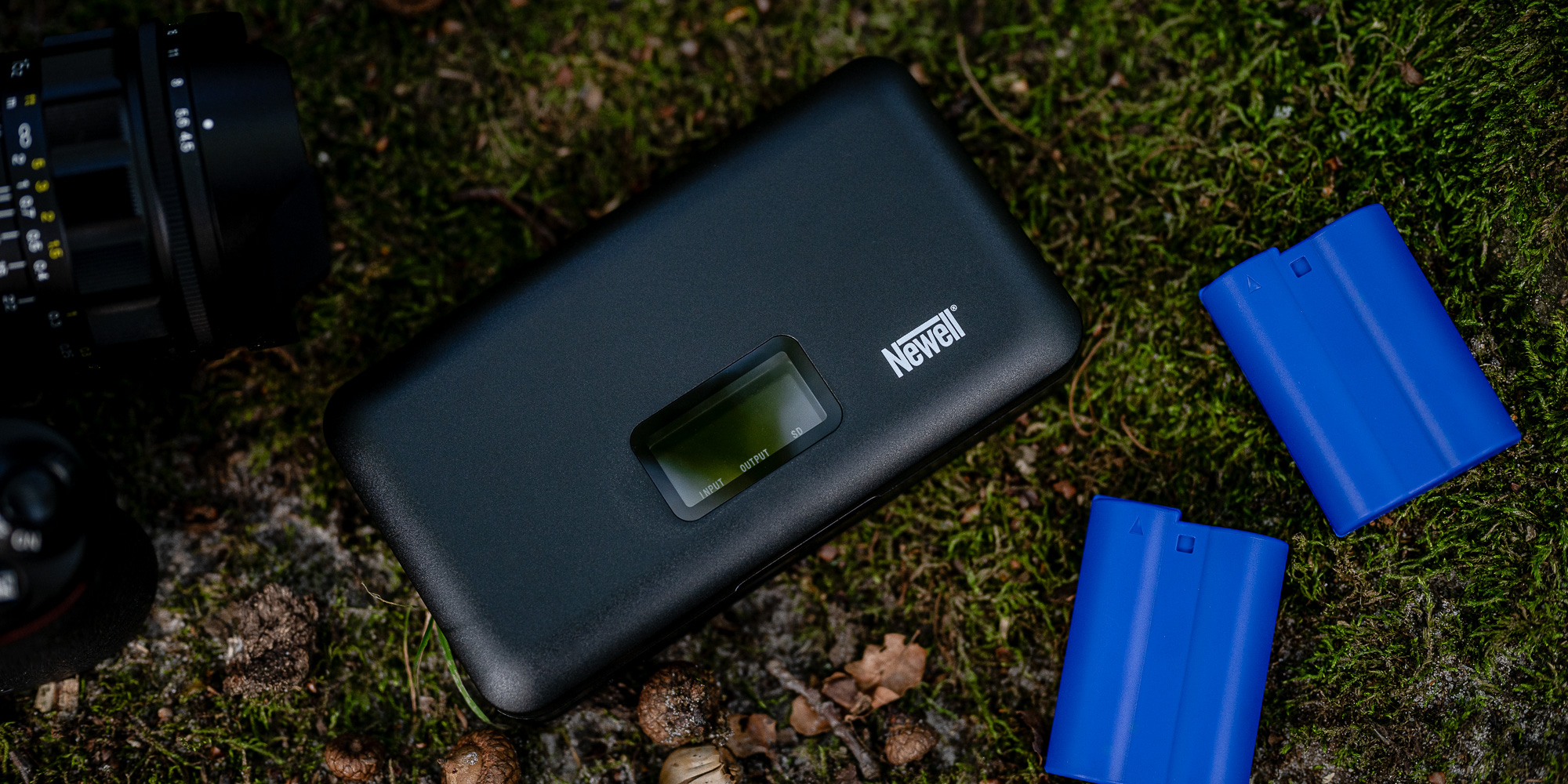 Main product features
compact charger that allows you to replenish 2 batteries at the same time
compatible with LP-E6 batteries (Canon)
built-in SD memory card reader
with 1 or 2 batteries installed in the compartment, it can act as a power bank
USB-A output allows charging of smartphones, e-book readers or wireless headphones, among others
ideally contoured charging ports to match the shape of LP-E6 batteries
USB-A cable integrated into the case (always at hand)
safe storage for 2 batteries
backlit LCD screen
individual charge level indicators for each battery compartment
indicator indicating the presence of an SD card in the slot
protection against overheating, overcharging and overvoltage
lockable case for safe storage
window to track the charging process when the case is closed
convenient charging with integrated USB-A cable
USB-C slot allowing you to use your own cable
the perfect way to better organize your carry-on luggage on the go
lightweight, handy and durable
Conveniently charge 2 batteries
The innovative Newell LCD charger allows you to conveniently charge LP-E6 batteries used in Canon cameras, among others. With two independent charging channels, you get even more convenience. You can charge one battery while leaving the other fully charged, or you can choose to charge both simultaneously. This is ideal for owners of Canon equipment, including such camera models as the EOS 5D Mark iV, EOS 6D, 7D Mark II, 60D, 60Da and 70D, 90d, R, R5, R6, Ra and many others.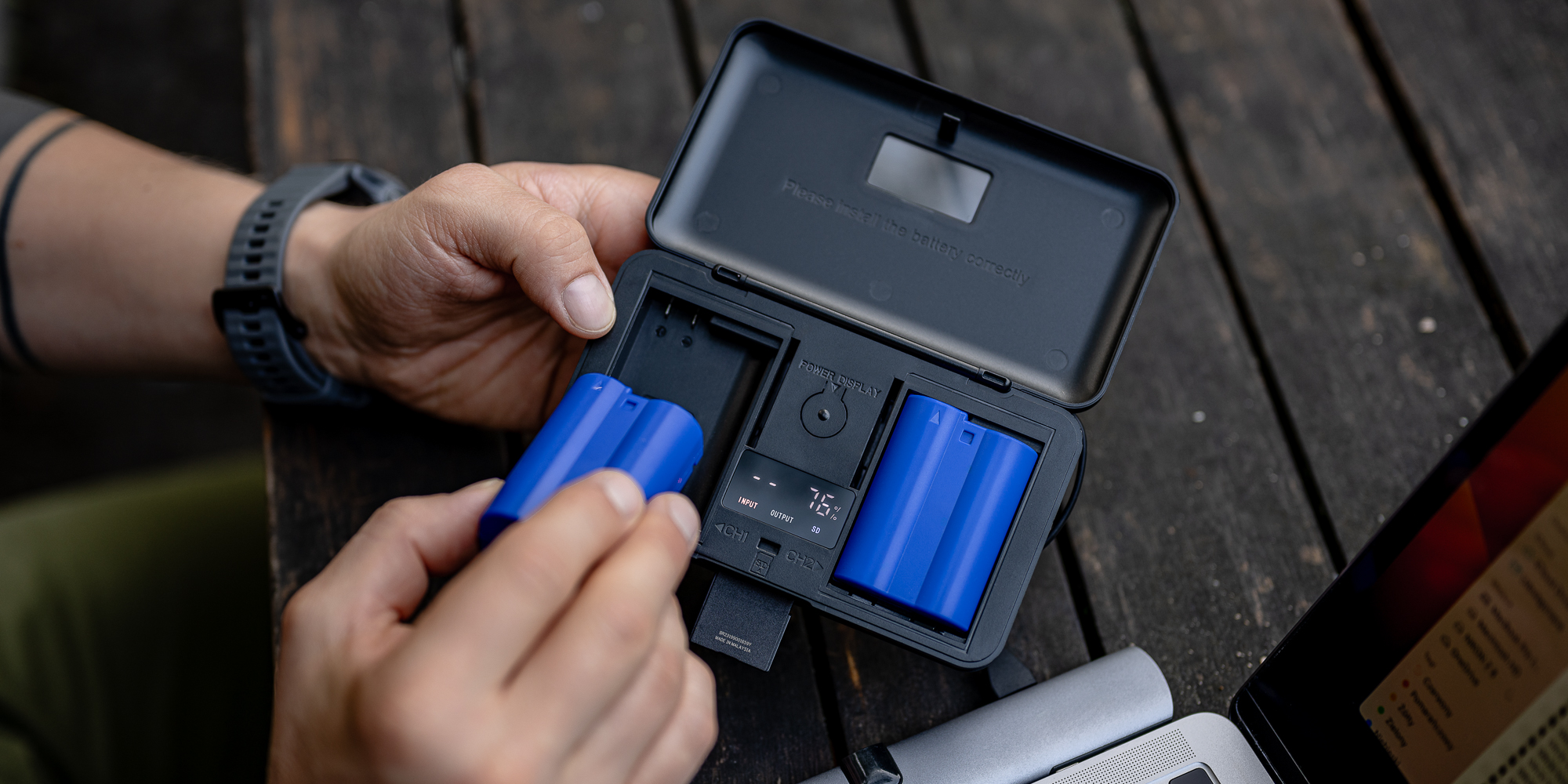 Cable that is always at hand
Don't waste time searching for the right cable. Newell LCD dual-channel charger has a built-in USB cable, which is placed in a special guide. This ensures that nothing gets tangled in transit. This is an ideal choice for forgetful people or those who appreciate order and tidiness in their photographic essentials. With this charger, the cable will always be at hand.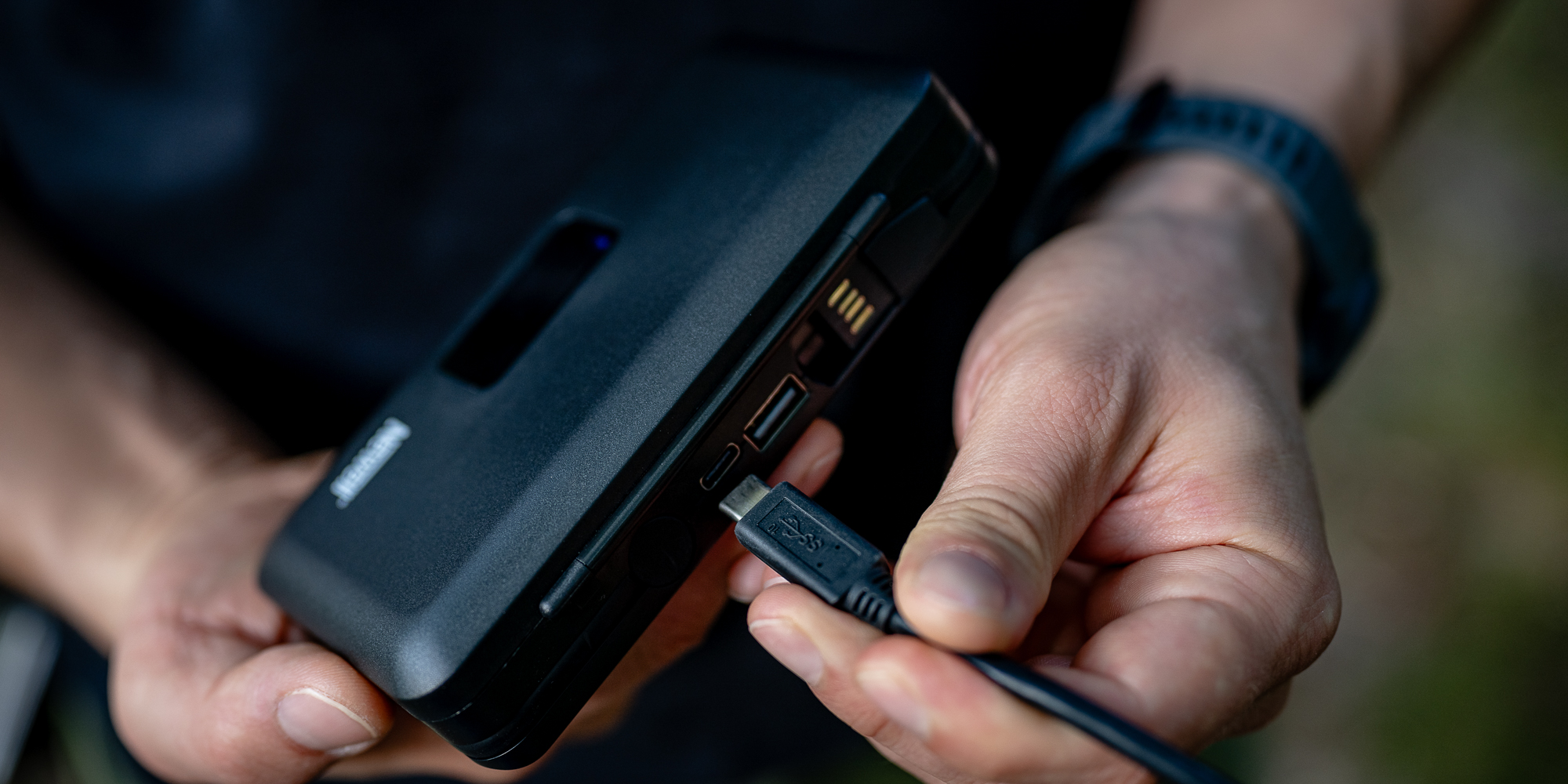 Built-in memory card reader
The presented equipment is more than a two-channel charger for LP-E6 batteries. The integrated SD memory card reader will allow you to become independent of another device, which is very often in the indispensable of photographers and filmmakers. All you need to do is to place the data carrier in the hole located in the front of the case, and then connect the charger to the computer. With this device, the reader will always be at hand, ready to transfer files.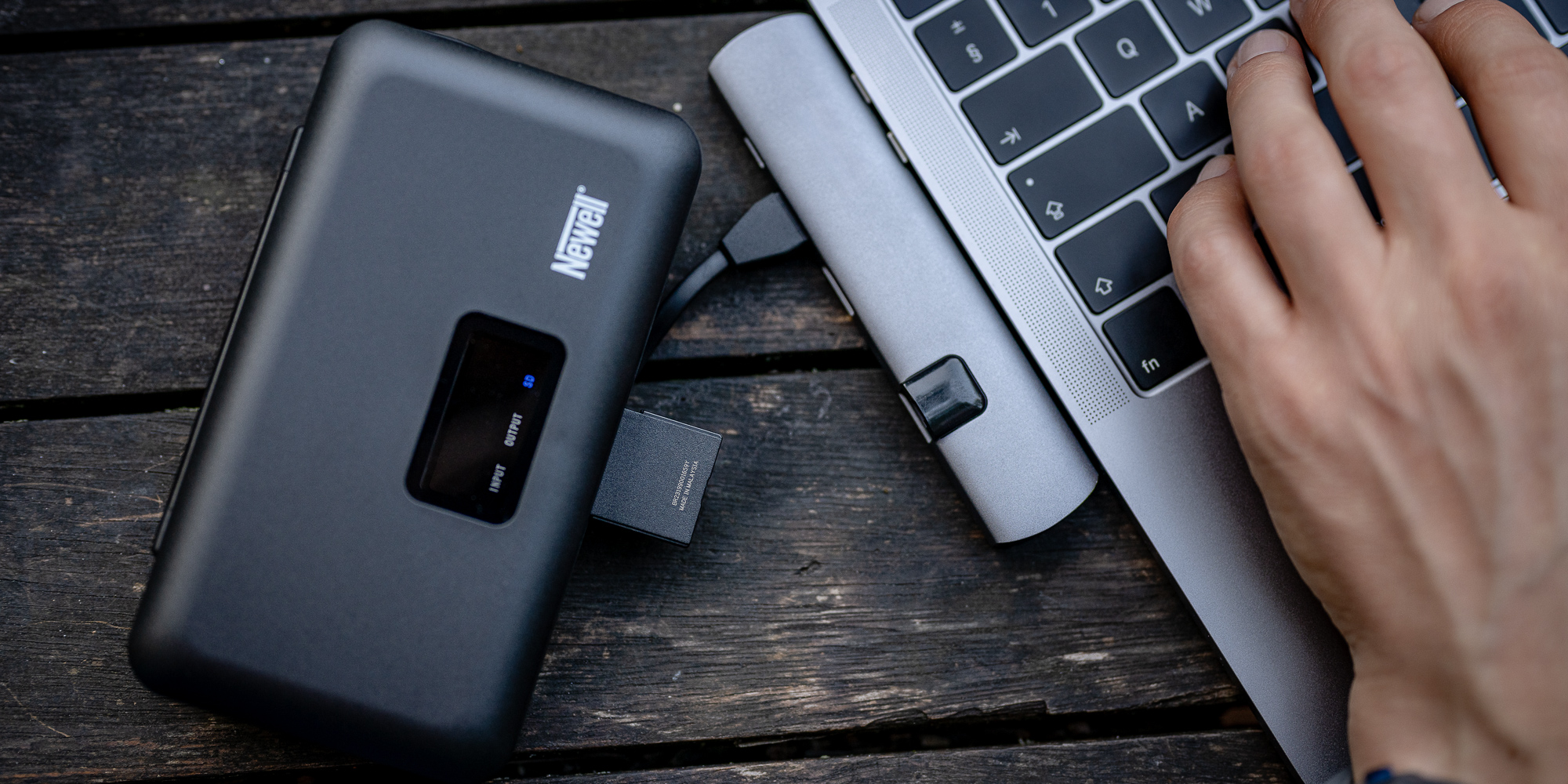 Power bank function
The Newell LCD dual-channel charger is not just for topping up your LP-E6 batteries. You can turn it into a power bank in an instant and use the USB-A port to charge your smartphone, wireless headphones, electronic cigarette or Bluetooth speaker, among others. All you need is at least one charged battery inside the device.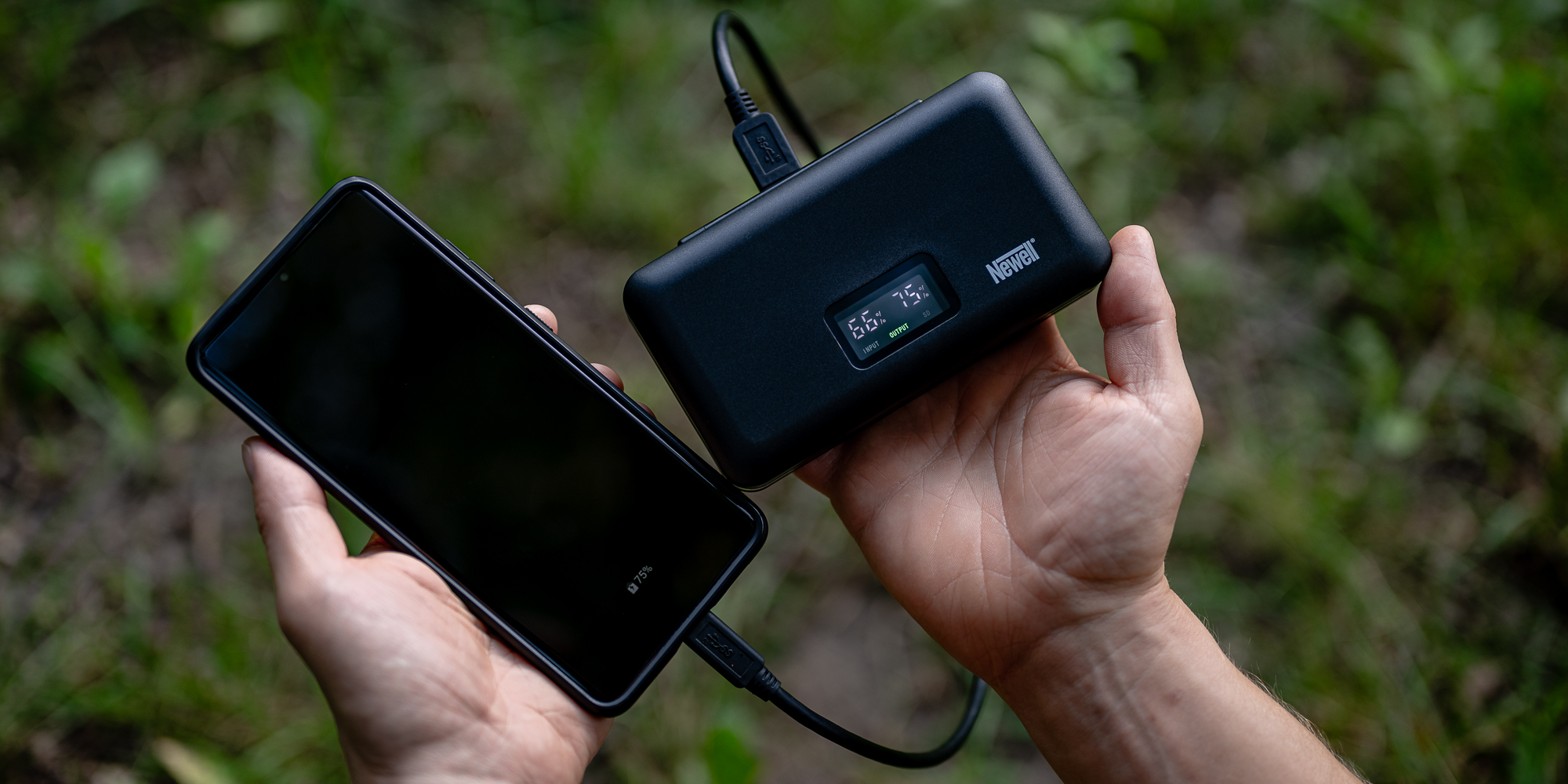 Protection and safety
Newell LCD dual-channel charger with power bank function and SD card reader for LP-E6 (Canon) batteries is equipped with advanced controllers that regulate the parameters of the charging process. They protect the device from overheating and overcharging, while ensuring maximum battery life. No matter where you come to charge the cells for your camera, you are assured that they will be safe and stay with you for a long time.
LCD screen
One glance is all it takes to see how much percent charged the batteries placed in the chambers are. Thanks to the transparent window, you will do this even when the charger is closed. The LCD display will also tell you whether the SD card has been properly inserted into the slot. By using the backlit screen, you gain full control over the charging process.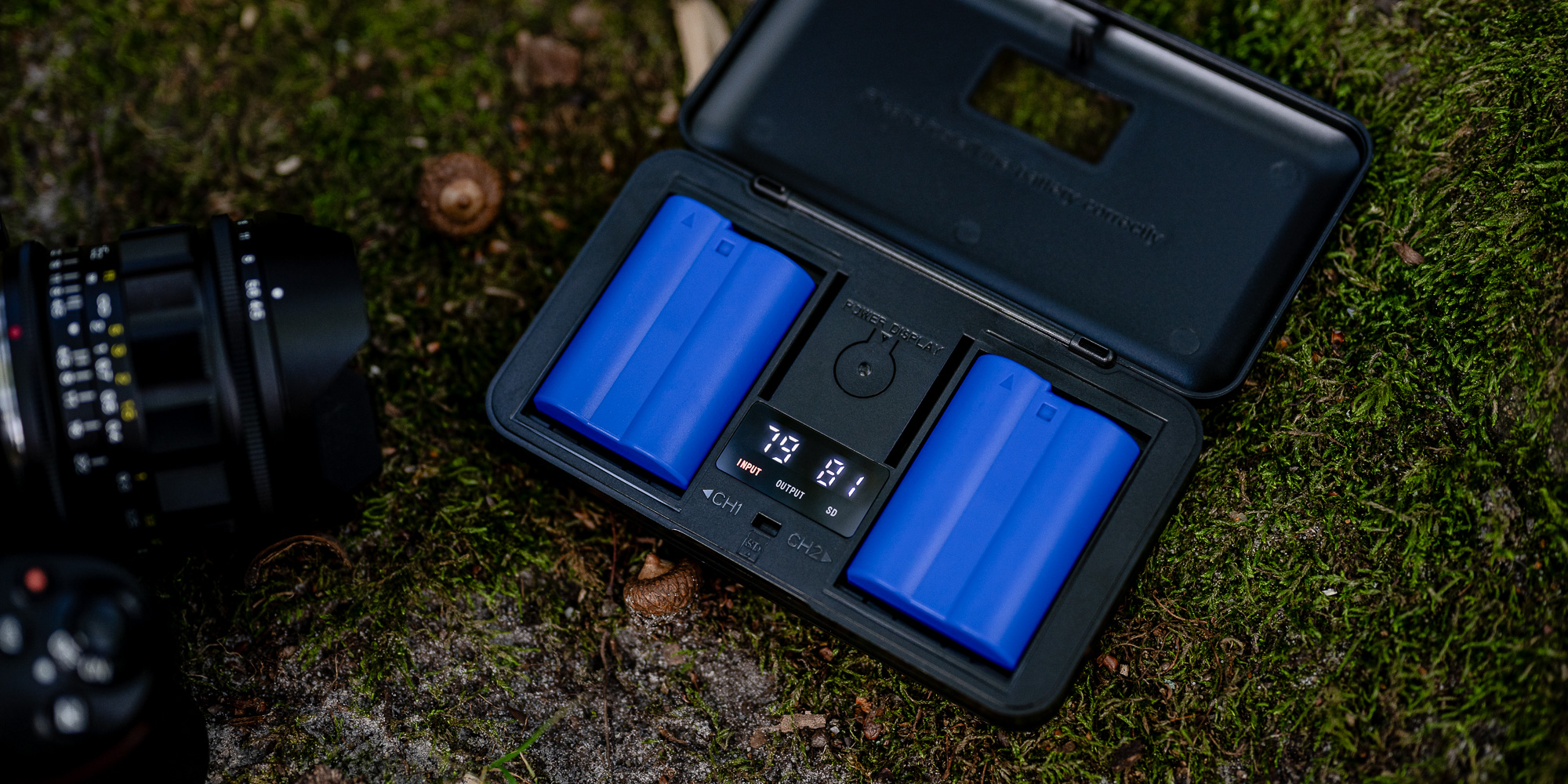 Protective case
The Newell LCD dual-channel charger is also a functional protective case in which you will protect 2 LP-E6 batteries. Each charging slot has been precisely matched to the shape of the cells. With this device, you can be sure that your spare batteries are properly protected during transport and always in place.
Intuitive operation
All the ports and sockets you will find on the housing of the Newell LCD dual-channel charger are precisely labeled. Such a solution will ensure convenient and trouble-free operation. Even if you have several such chargers, and each is designed to work with a different type of batteries, you are sure to quickly find the right one.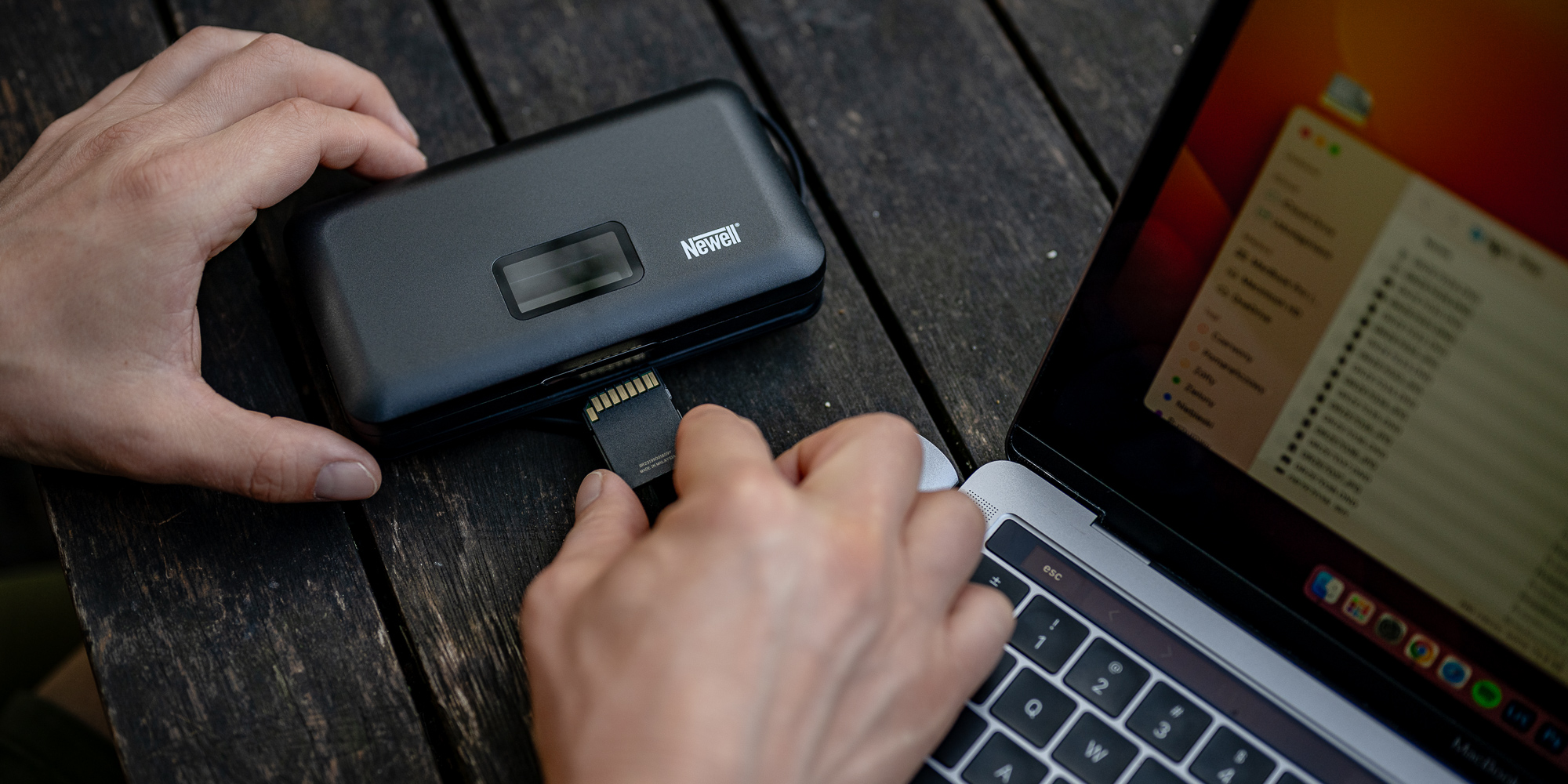 40 month warranty
Newell means hundreds of thousands of satisfied customers from all over the world, who have been able to enjoy high-quality products used in various devices for more than a dozen years. It is with them in mind that the service warranty on the entire range of the brand has been extended to 40 months. By choosing Newell products you can be sure that they will serve you for at least 3 years while working and pursuing your passions!
Compatibility
Specification
model: Newell LCD dual-channel charger with power bank function and SD card reader for LP-E6 batteries for Canon
input: 2.5 V / 2 A
charging output: 2 x 8.4 (0.5 – 1 A)
USB-C output: 8.4 V / 2 A
dimensions: 137 x 78 x 29 mm
weight: 103 g
Kit contents
Newell LCD dual-channel charger with power bank function and SD card reader for LP-E6 batteries for Canon