Description
The Newell M40II Shadowless Tent is a mobile photographic studio hidden in the form of a briefcase. With its help you can make attractive product photos for online auctions and professional catalogs. The set includes backgrounds and LED lighting.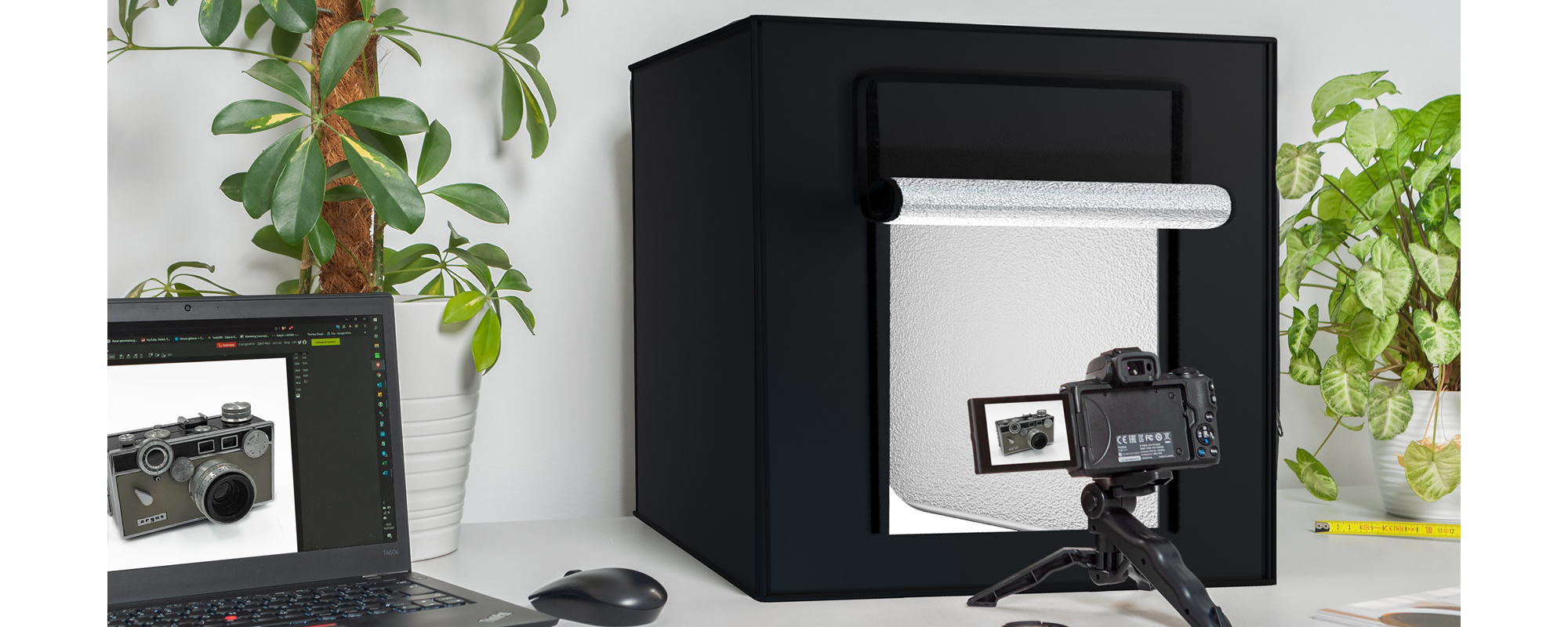 Mobile photography studio
Thanks to the well-thought-out construction, the tent assembly is extremely simple and quick. Concealed frame made of aluminum provides the appropriate rigidity and lightness. Tent cover material is extremely durable and resistant to damage. After folding the entire set takes up very little space in your luggage. You can easily take it with you on a photographic assignment in your company or at your client's home.
Many arrangement possibilities
It comes with six background colors (white, black, orange, red, blue and green). They allow for creative arrangement of the whole composition depending on the specificity of the photographed product. The Newell M40II shadeless tent has two "inputs" You can shoot from either the top or the side, straight on or at an angle. The top window is ideal for taking "flat lay" photos. The composition and lighting possibilities are virtually endless.
Ideal lighting
The tent has been equipped with two LED panels, the position of which can be adjusted in order to achieve various lighting setups. Its interior is covered with a special material that evenly distributes the light generated by the lamps. An additional diffuser allows for a diffused, soft lighting effect, while reducing glare, reflections and shadows on the photographed product.
Super power
8000 Lux, 5500 K and 92+ CRI (Color Rendering Index) allow you to achieve natural and pleasing to the eye results. Photographed products will be well illuminated and colors will be correctly rendered. The built-in controller allows for stepless adjustment of the lighting power. You can easily adjust the parameters in order to achieve the best results.
Eco Energy
Thanks to the use of energy-efficient LEDs, Newell lighting consumes much less electricity than traditional incandescent bulbs. Long hours of sessions will not negatively affect the environment or your wallet. The large space provides adequate air circulation and the modern LEDs ensure that the device does not emit excessive heat. You can shoot for long hours, without worrying about overheating the lamp and damaging the tent. The excellent workmanship of Newell LED lamps guarantees approximately 50,000 hours of trouble-free, trouble-free operation.
Many years of experience
Newell brand has been on the market for many years and has a long list of satisfied customers among both professionals and amateur photographers. Join them by choosing products Newell.
Specification
model: Newell M40II
power: 24 watts
light intensity: max. 8000 lux
color temperature: 5500 K (± 200 K)
CRI: 92+
Number of LEDs: 2 x 32 pcs
voltage: 12 V
current: 2 A
Rating voltage: AC 110 V or 220 V, DC 24 V
estimated lifetime of LED panel: 50000 h
Dimensions: 44 x 44 x 44 cm (after unfolding)
weight: approximately 2.6 kg
Kit contents
Newell M40II shadowless tent for product photography
two LED panels
power supply with adjustable light output
six color backgrounds
user manual in Polish and English