Description
Photopro FB-4 Photo Backpack
Fotopro FB-4 photo backpack is characterized by its huge capacity, carrying comfort and the possibility of personalizing the interior for different sets of video/photo equipment. The use of high quality waterproof outer materials and padded compartments ensures optimal safety when transporting your camera, lenses, drone, laptop and essential accessories. The included rain cover provides additional protection when you're moving in harsh weather conditions. A multitude of useful features, comfortable shoulder straps, hip and chest straps and soft back panel finished with breathable mesh will make every trip with Fotopro FB-4 photo backpack a real pleasure.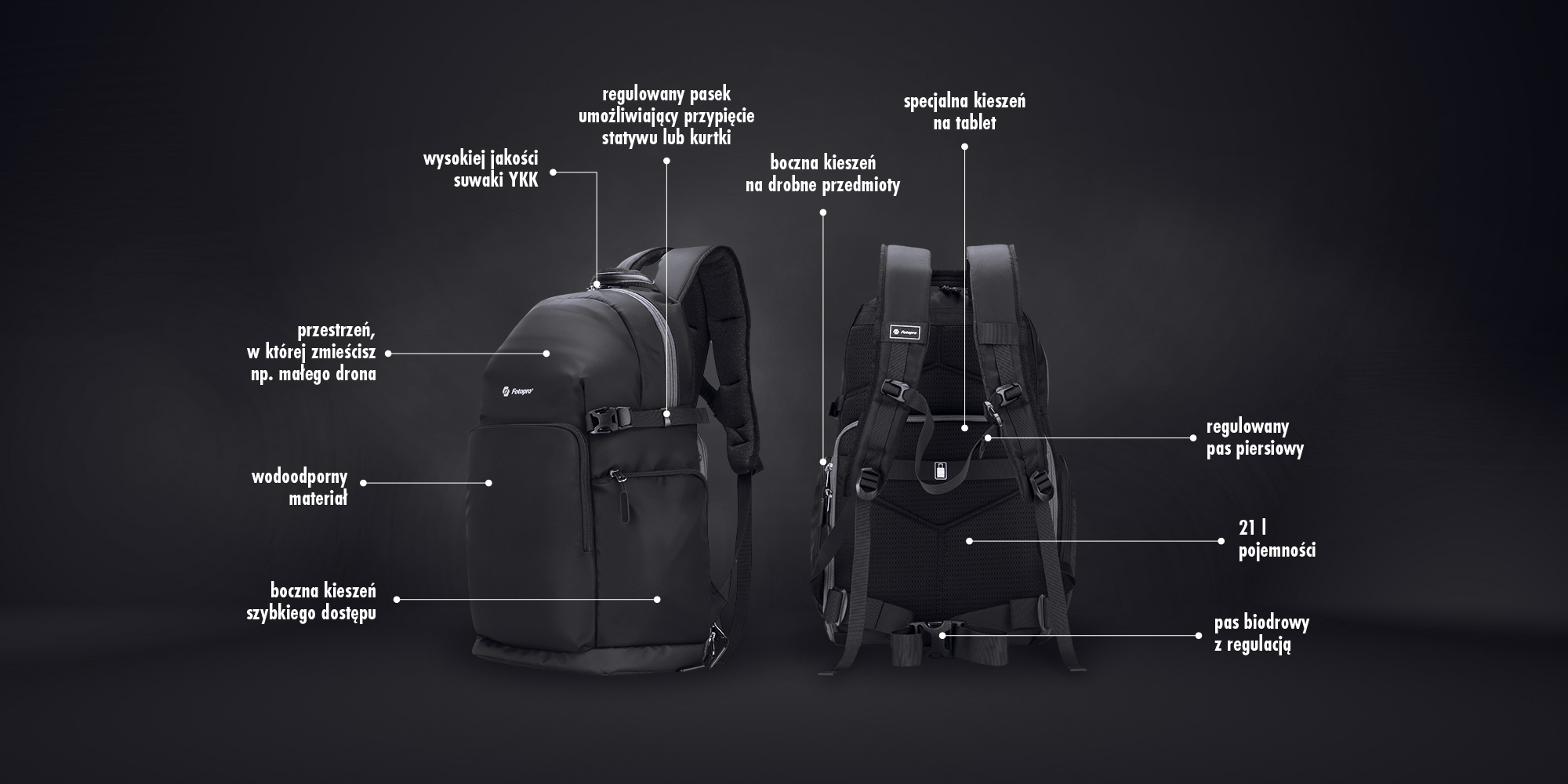 Main product features
a versatile and capacious backpack with a capacity of 21 l
made of waterproof materials
back and shoulder strap with adjustable hip belt and buckle
side pockets for easy access
lateral pockets for convenient transport of bottle or tripod
belt loops and straps to secure elongated items stored in side pockets
9 removable compartments to personalise the main compartment of the backpack
high-quality YKK zippers with comfortable non-slip grips
removable main pocket on the back for convenient access to equipment
laptop and tablet compartments with 2 additional compartments for documents or small items
special strap for convenient mounting of the backpack on the folding handle of a suitcase
anti-skid feet that create distance between the ground and the backpack material
additional pocket for documents or small items
additional pocket, detachable from the top, with 2 compartments for easy organisation
a side pocket which can comfortably fit a book, notebook or documents
rain cover included
adjustable chest strap with buckle
key clip
Ideal for photographers and video makers
Do you want to safely transport cameras, lenses, drones, microphones and other accessories used at work or while pursuing your passion? Thanks to adjustable dividers, you can easily adjust the interior of the backpack's main compartment to make optimum use of space and perfectly fit individual sections to the dimensions of your equipment. The Fotopro FB-4 can easily accommodate a camera, 3 lenses, laptop, tablet, audio recorder, drone, spare batteries and a set of essential accessories. With such a set you can prepare not only for a short photo session, but also for a trip, during which you can successfully make vlogs, for which you will record professional footage, interviews and aerial shots!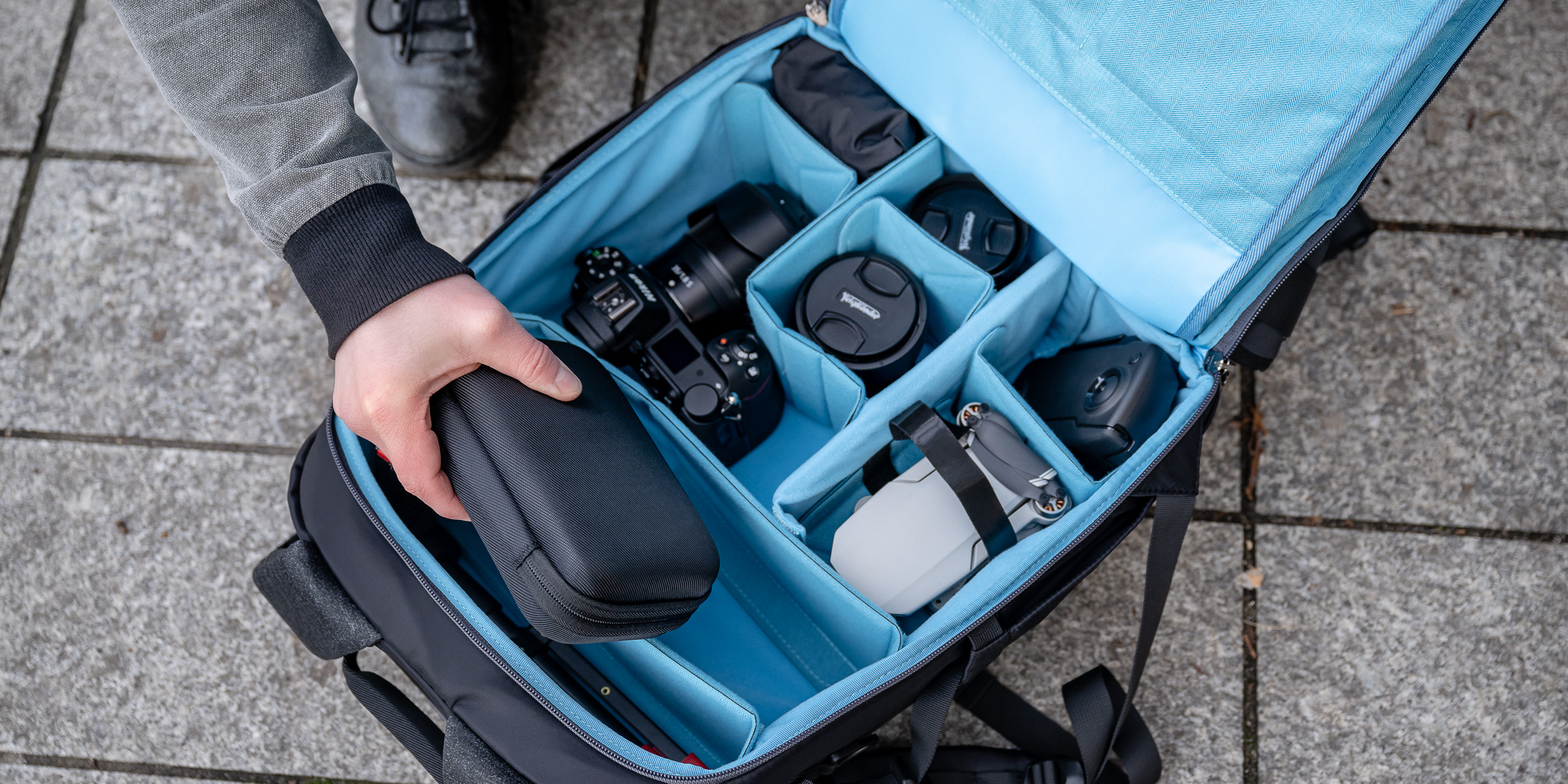 In the city and on the trail
Stylish design and well-thought-out construction make the Fotopro FB-4 backpack ideal both for travelling to work or moving around the city, but also on the plane, train and while traversing mountain trails. Plenty of compartments and pockets, as well as such refined details as reflective logo, key clip, ergonomic zipper handles and non-slip feet make it an ideal companion for short and long trips.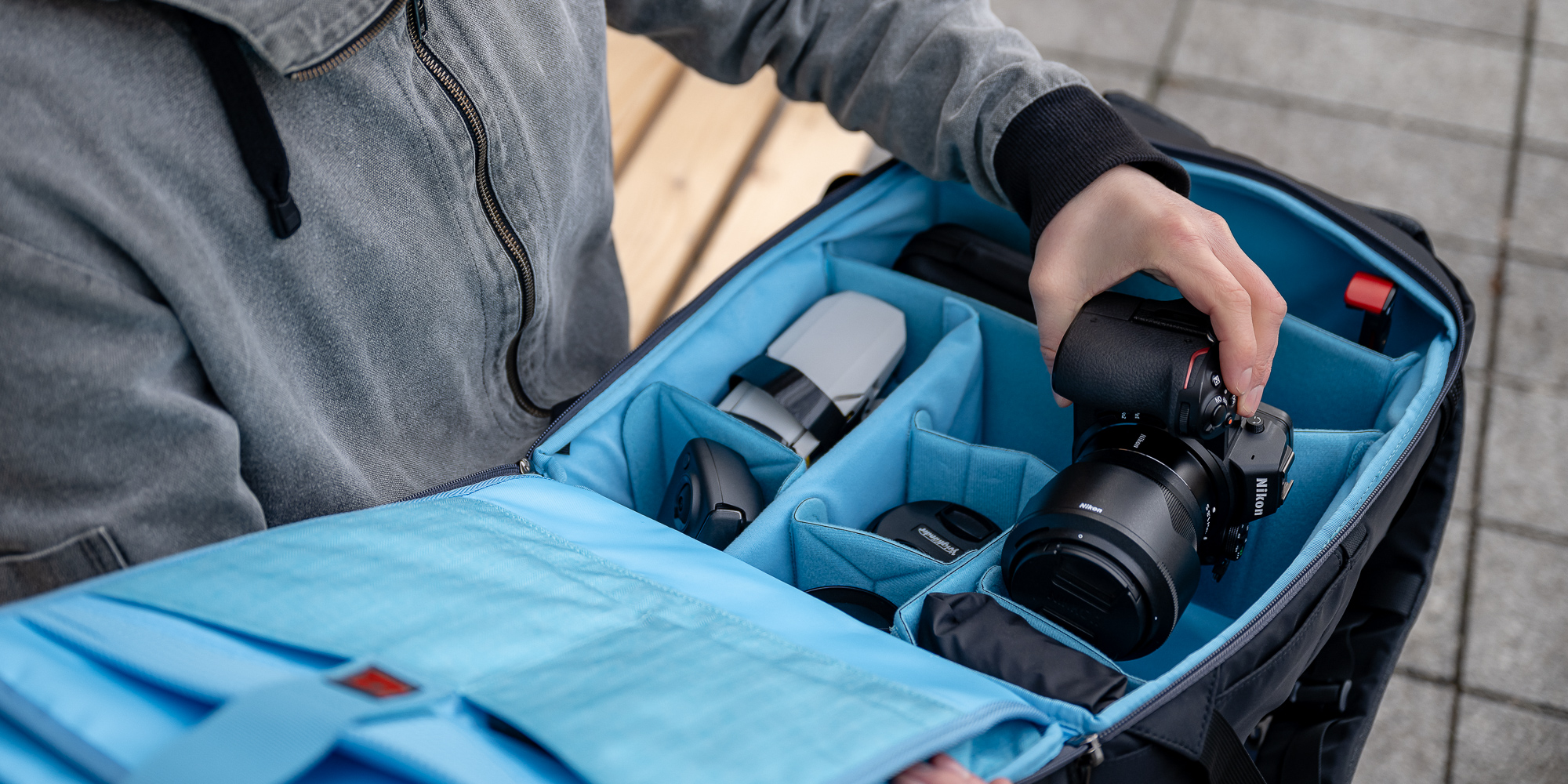 Lenses, drones and much more!
The interior of the Fotopro FB-4 backpack is designed in such a way that no matter what equipment accompanies you during your photographic or filming wanderings, each device or accessory gets its own space, perfectly adapted to its shape. This is thanks to special rigid compartments which you can configure as you wish using Velcro straps. An additional advantage are two bands attached to the set. They will allow you to fasten tangled cables or protect the tripod from unfolding. All this makes your equipment safe and secure!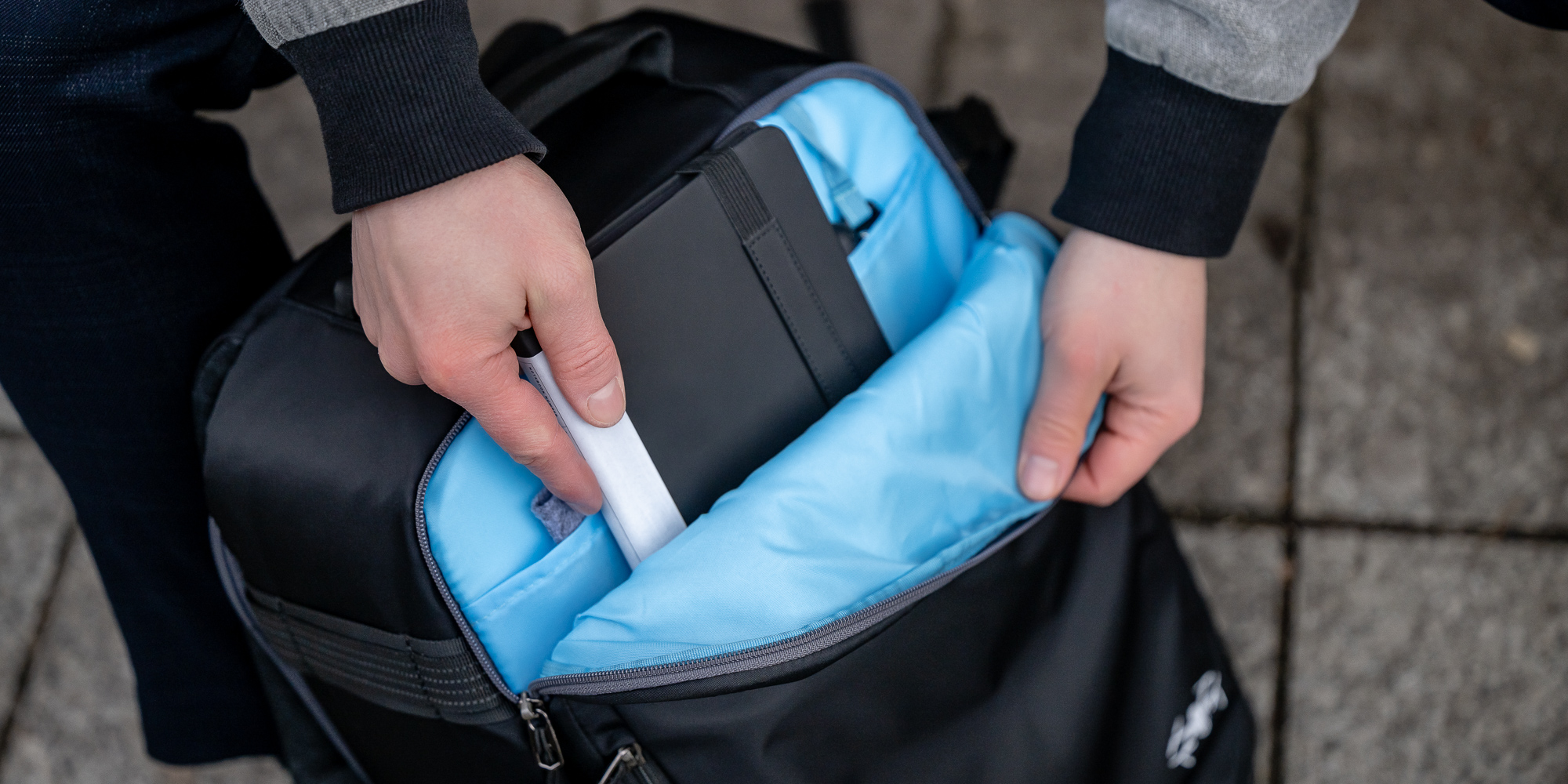 Pod and Bidon
Do you need convenient access to a water bottle or water bottle? Or maybe you always have a tripod with you when working with a camera or camcorder? Fotopro FB-4 photo backpack has two special side pockets to hold all your essentials. An adjustable strap and special loops keep your tripod secure, so you can be sure you won't lose it while traveling. At the top of the pockets you will also find elastic bands, which will adjust to the shape of transported bottles, flasks or other accessories, so they will stay in place while moving.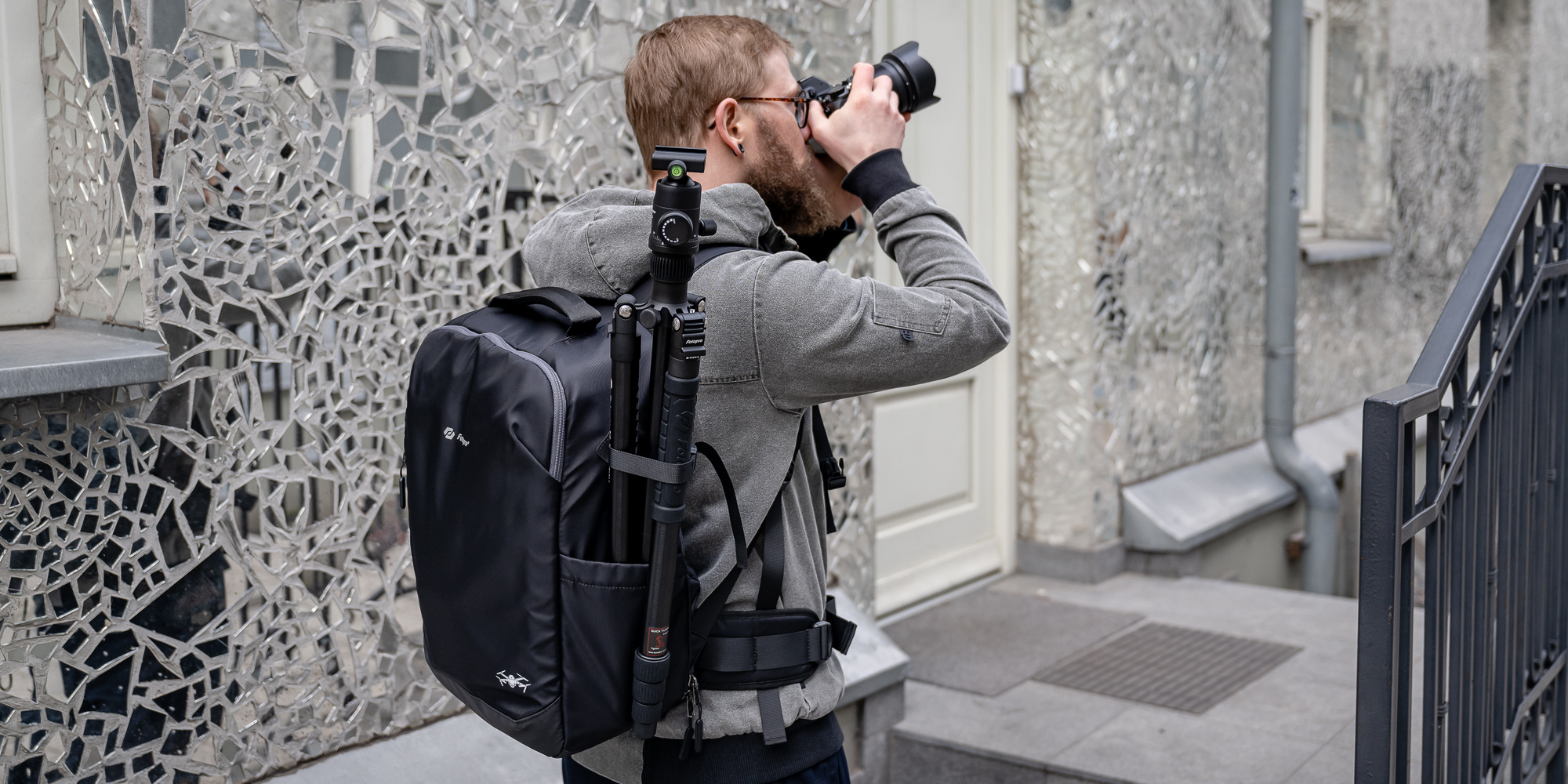 Carrying comfort
Backpack fits very well on the body, and airy mesh, from which the back part was made, provides optimal ventilation. The manufacturer also took care of two adjustable straps to increase the comfort of carrying during long trips – the chest and hip belts. This is a great way to relieve pressure on the shoulders and back, as well as to adjust the entire structure to different body types.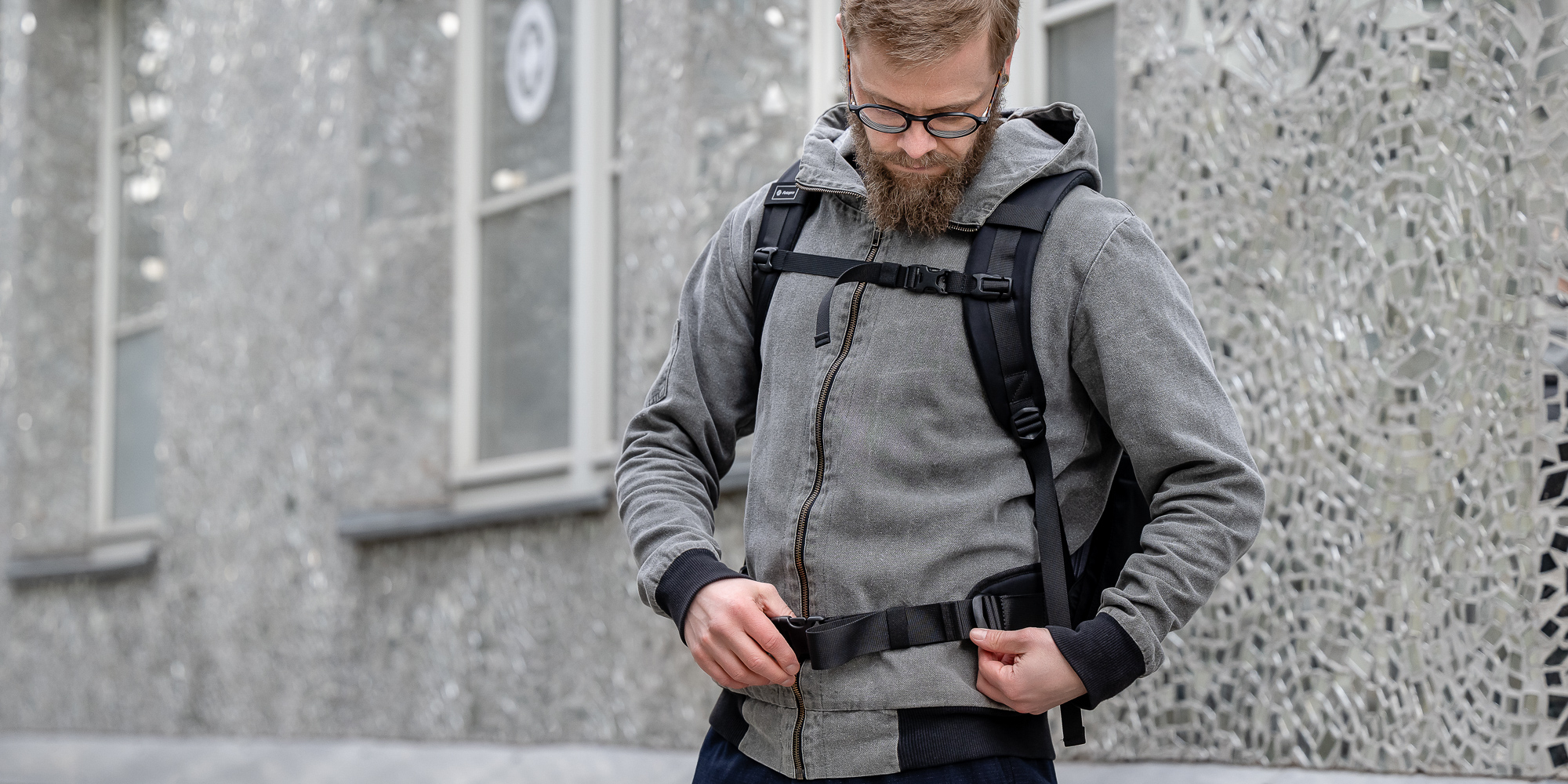 Rainproof
Changeable weather conditions can effectively thwart plans for filming or taking photos. Fortunately, no weather will surprise you with the Fotopro FB-4 backpack! It is made of high quality waterproof nylon composite fabric. It also comes with a special rain cover. It does not take up much space, and in case of an exceptional downpour or snowstorm, you can simply take it out of the integrated cover and install it on your backpack in a matter of seconds using the elastic drawstring.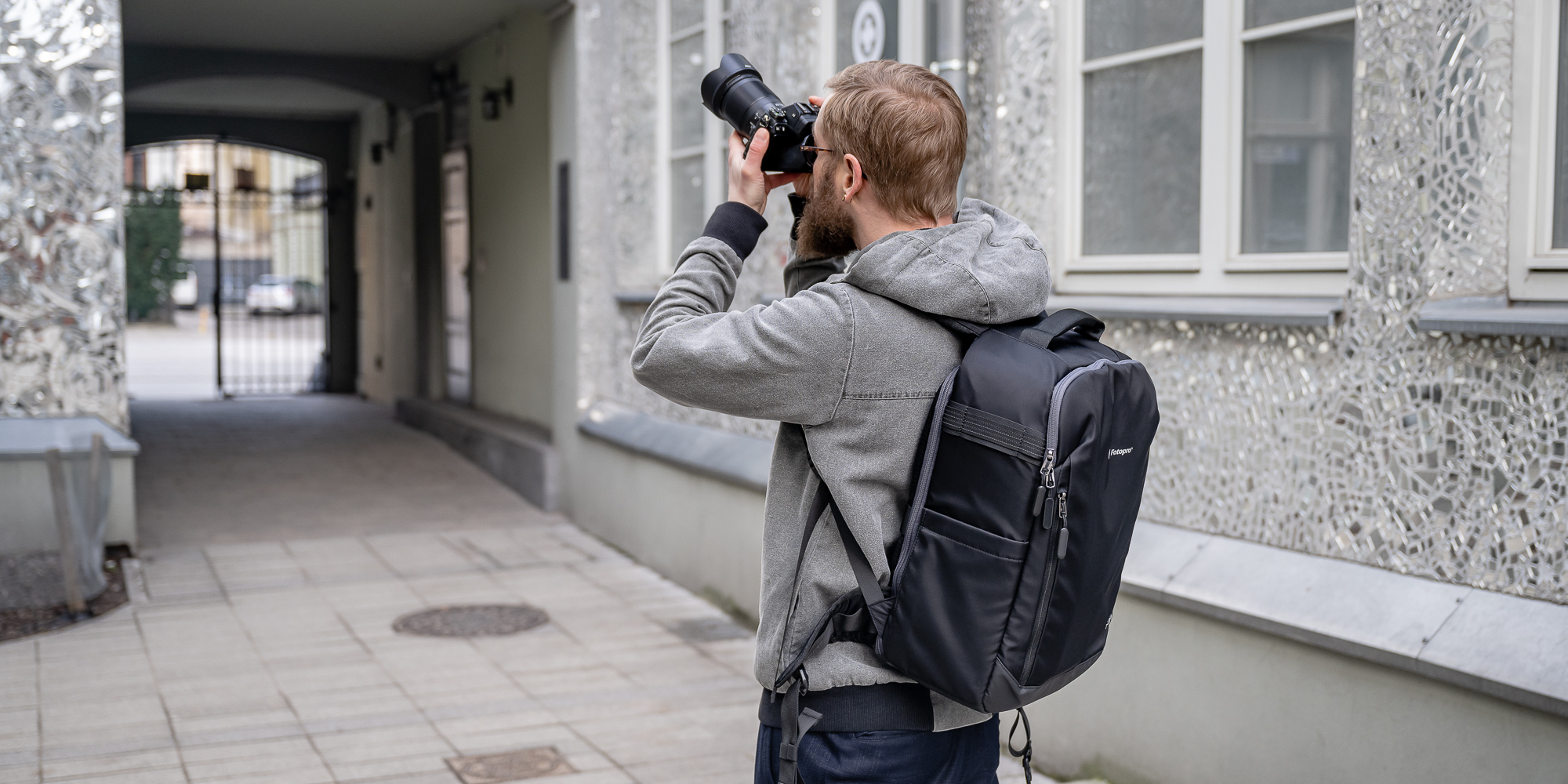 Specification
Model: Fotopro FB-4
colour: black
material: 290T waterproof nylon fabric (composite)
capacity: 21 l
exterior dimensions: 330 x 200 x 470 mm
internal dimensions: 300 x 150 x 460 mm
weight: 1.42 kg
Kit contents
photographic backpack Fotopro FB-4
rain cover
2 velcro straps
9 compartments