Description
The Fotopro TS-01 is a roomy backpack that features a stylish design, multi-point access to your gear and a customisable interior. You can easily fit a camera with a 24-70 mm lens, a drone, a laptop (13.3″), a tablet and additional photo accessories. It's made from tough weather and tear resistant fabric. It also comes with a special rain cover. A multitude of useful functions, chest and hip belts, comfortable shoulder straps and soft back panel finished with breathable mesh will make your every trip with this backpack an extremely comfortable experience.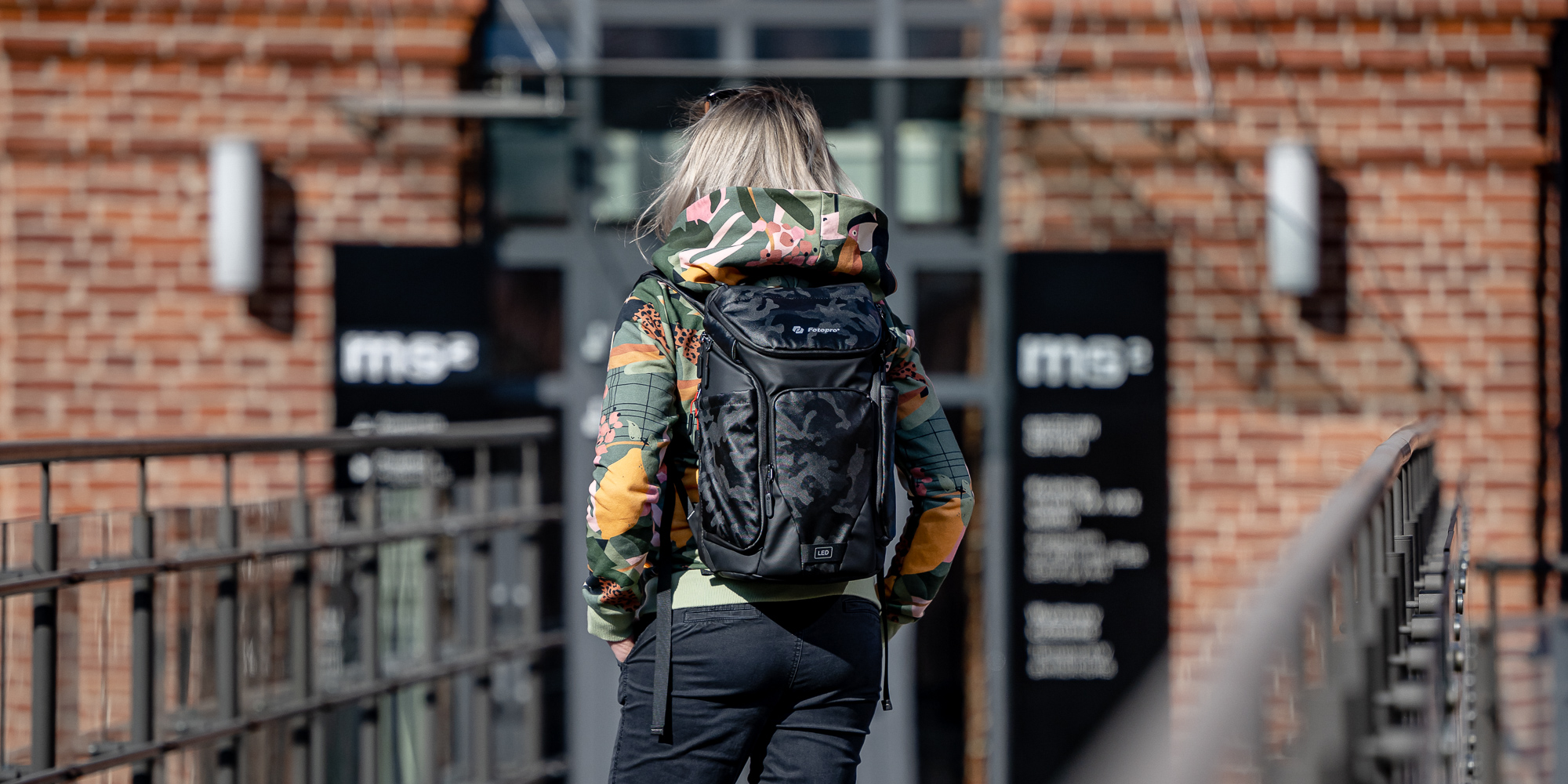 Main product features
compartmental photo backpack with a capacity of 12 l
you can easily fit in it: a camera with a 24-70 mm lens, a drone, a laptop (13.3″), a tablet and additional photo accessories
made from high quality tear-proof fabric and resistant to harsh weather conditions
soft mesh-covered back for high carrying comfort and optimal ventilation
4 removable compartments to personalise the inside of the backpack
a quick access side pocket for quick removal of e.g. a camera
upper quick access pocket (allows you to create a separate compartment for 1 device)
additional zipped compartment in top pocket flap
front pocket to store smaller items
2 side welt pockets to comfortably carry a tripod or water bottle
4 mesh pockets (1 of which is reinforced with transparent film)
2 additional pockets made of elastic material
Back pocket providing access to almost all the contents of the backpack
special pockets providing convenient access to a laptop and tablet
with all compartments removed, the internal space of the backpack can be accessed from 3 access points
belt and chest strap with buckles, improving carrying comfort
little padlock slots integrated into the zippers on the side quick access pocket
high-quality YKK zips with comfortable non-slip grips
YKK WOVEN-IN TOUGH ZIPPER technology for increased zipper tightness
fastening loops and mounting points for attaching additional accessories to the backpack
a special strap enabling comfortable mounting of the backpack on the folding handle of a suitcase
rain cover included
For photographers and vloggers
The Fotopro TS-01 backpack is a proven way to conveniently transport and safely store the tools used by photographers and video creators. You can easily fit a camera with a 24-70mm lens, a drone, a laptop (13.3″), a tablet and additional accessories such as filters, cables, memory cards and spare batteries. With 4 adjustable compartments, you can easily adjust the interior of the main compartment of the backpack to make optimal use of space and perfectly fit the individual sections to the dimensions of your gear.
Style and functional design
Thanks to its modern design and well-thought-out construction, the Fotopro TS-01 backpack is ideal both for travelling to work or moving around town, but also on the plane, train or while traversing mountain trails. A multitude of compartments and pockets, as well as refined details such as reflective "LED" lettering, option to mount the backpack on a folding suitcase handle, non-slip zipper handles and mounting points make it an ideal companion for short and long trips.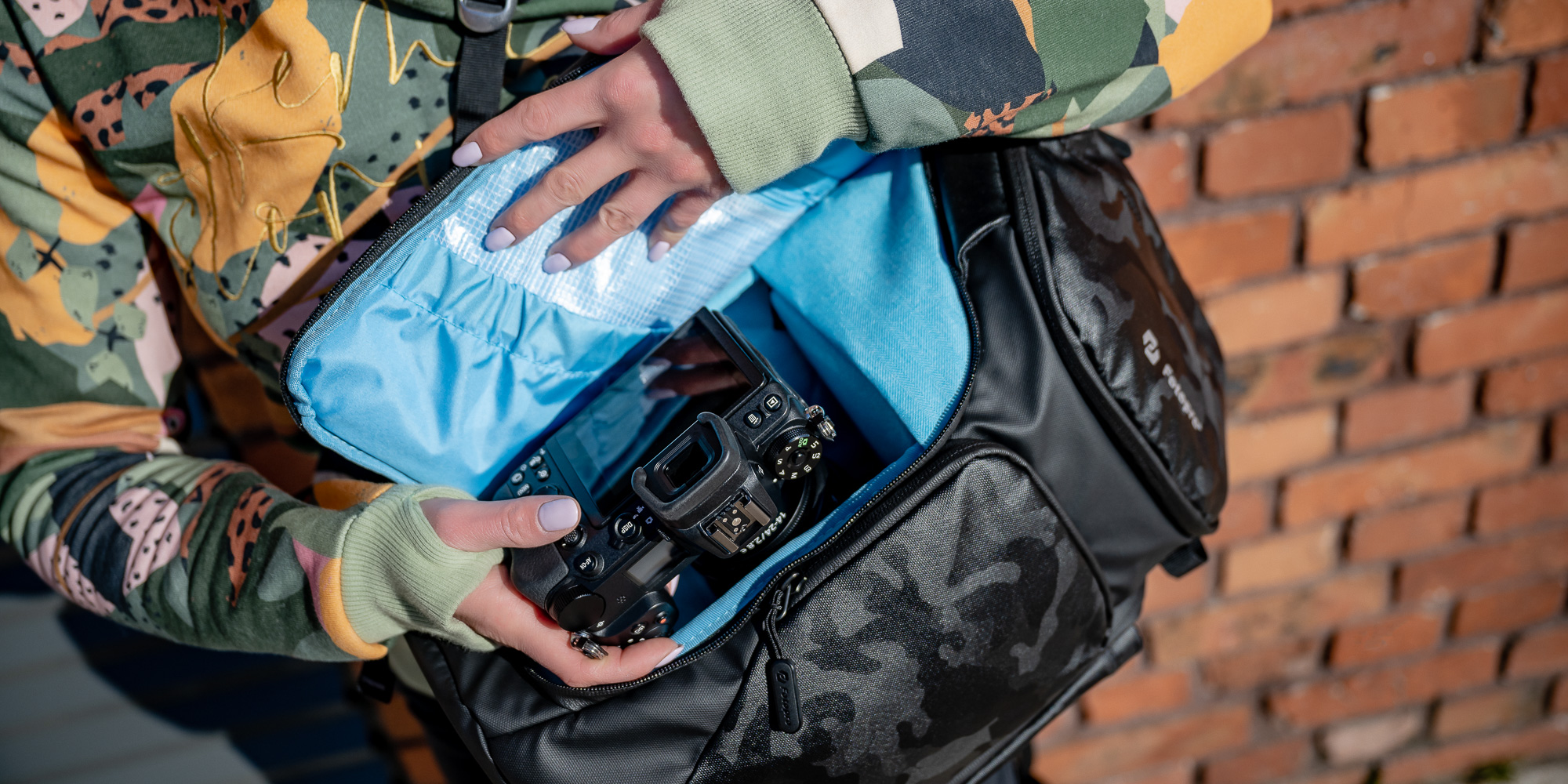 Convenient access to your equipment
The Fotopro TS-01 backpack was designed specifically with photographers and vloggers in mind. That's why, in addition to comfortable access to the interior from the back, quick access pockets were also thought of. These allow you to take specific equipment, such as a camera or drone, out of the backpack in a flash. The highest level of safety has also been taken into consideration. The zippers of the side quick access pocket have been equipped with holes for a padlock, which will prevent the theft of valuable items, e.g. while travelling on the underground.
Back will thank you
The contoured back makes the backpack fit perfectly on your body. Its elastic padding provides high carrying comfort, while the mesh material guarantees optimal ventilation. The manufacturer also took care of two additional adjustable straps – chest and hip. This is an excellent way to relieve pressure on the shoulders and back, as well as to adapt the entire structure to different body types. Many hours of hiking with the Fotopro TS-01 photo backpack will be pure pleasure!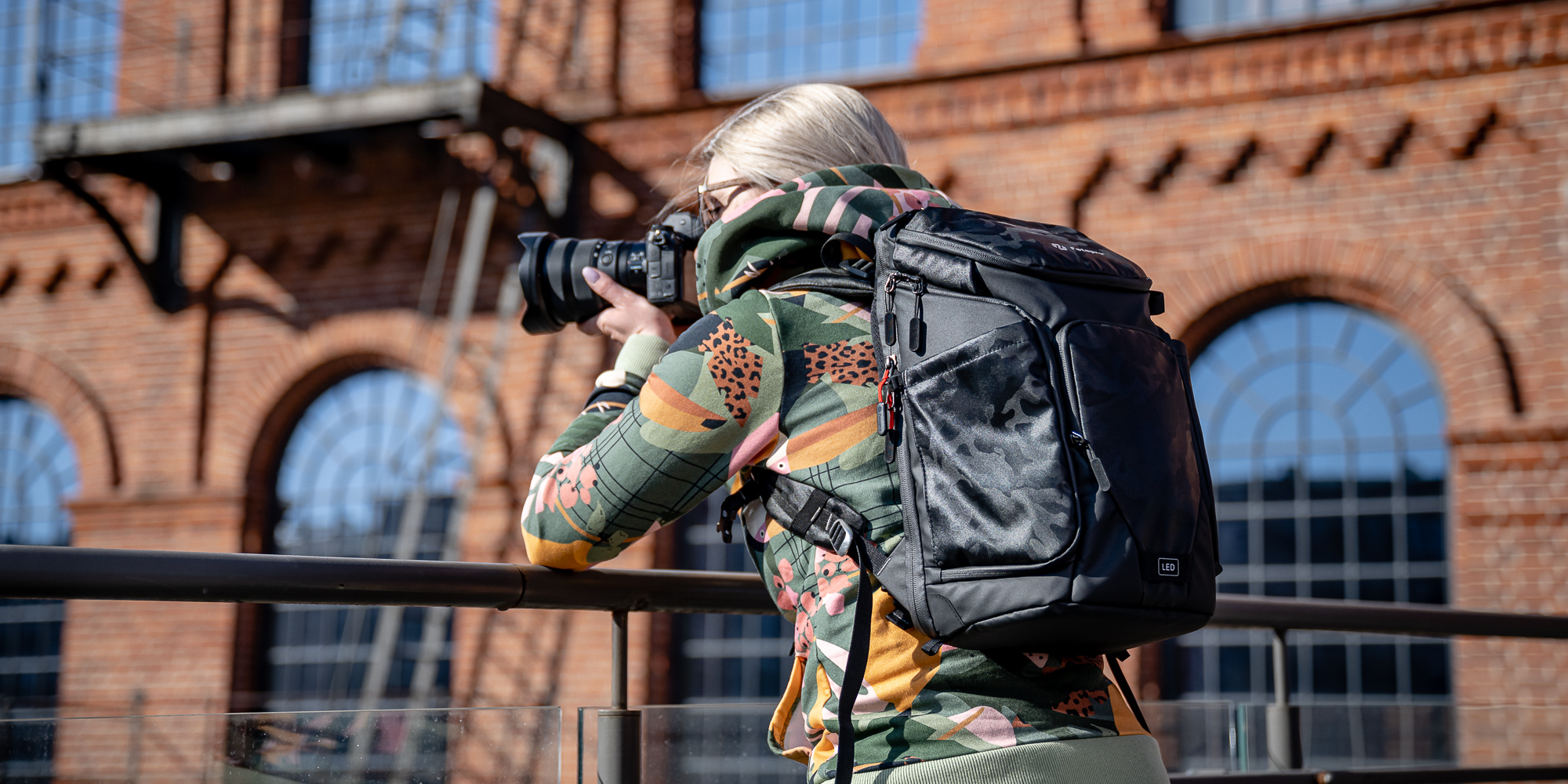 Rain and snow do not frighten it!
Working in the rain is a big risk. We are able to sacrifice a lot for beautiful shots and frames, but not the valuable equipment we work with. That's why the Fotopro TS-01 photo backpack is the perfect solution when it comes to travel accompanied by unfavourable weather conditions. Durable fabric is sure to protect your gear from a little rain or drizzling snow. When the weather turns bad, you can reach for the included rain cover for added water protection.
Even more space
Can't imagine a photo or video trip without a tripod? Or maybe you want convenient access to a water bottle? Fotopro designers have taken care of both. Fotopro TS-01 photo backpack is equipped with two side welt pockets, where you can easily place tripod, bottle or other items you need.
Reliable zippers
To spare you the trouble with jamming zippers, the manufacturer relied on the best zips on the market made by a renowned Japanese company – YKK. Fotopro TS-01 photo backpack is equipped with their improved version – YKK WOVEN-IN TOUGH ZIPPER. Here, the zips are protected with a tight-fitting layer of water-resistant material, which ensures an even higher level of tightness.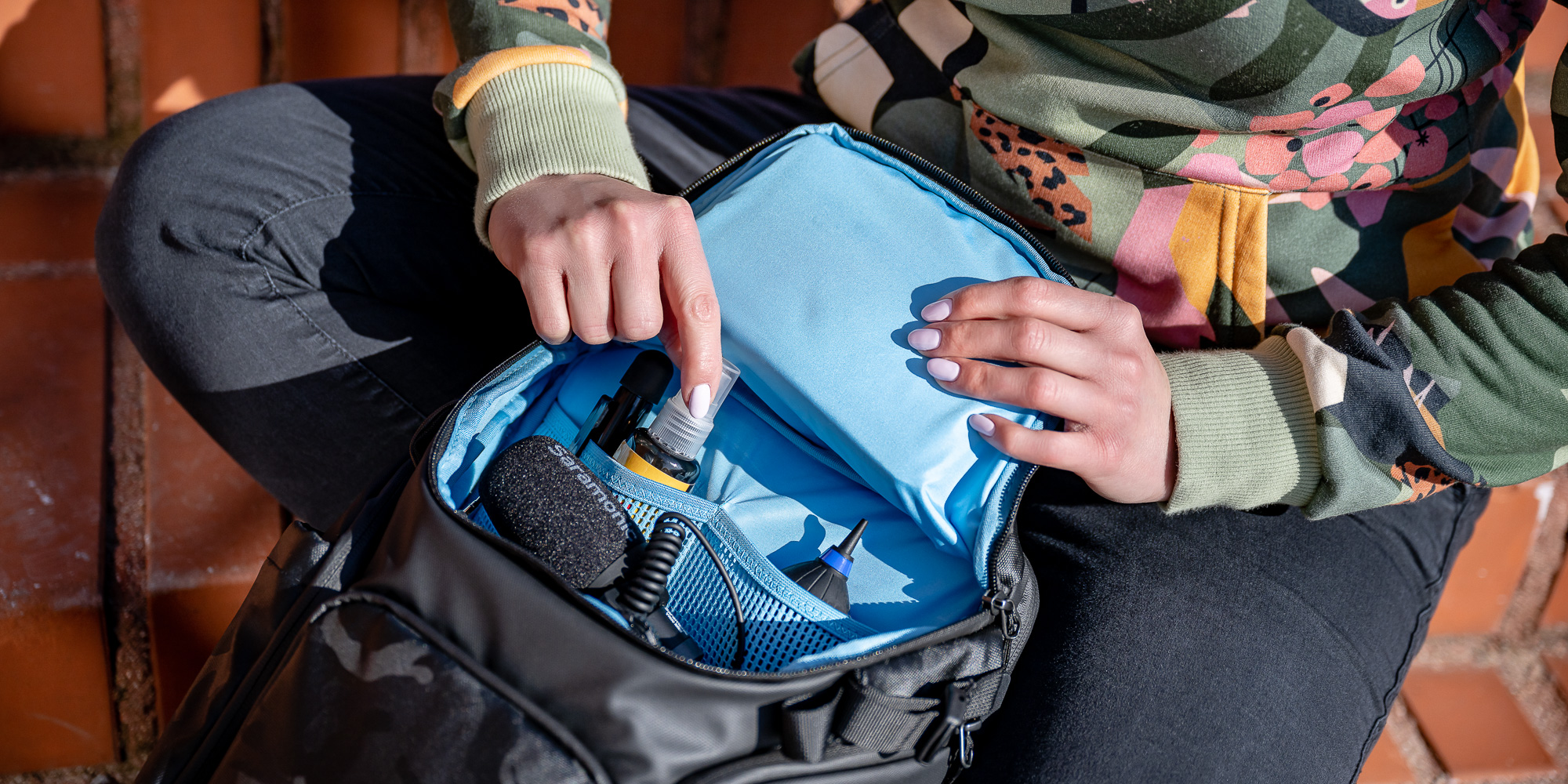 Specification
Model: Fotopro TS-01
Colour: black
Capacity: 12 litres
material: heavy-duty
Could not be used for storage
External dimensions: 280 x 210 x 430 mm
Internal dimensions: 240 x 120 x 410 mm
Weight: 1.25 kg
Kit contents
photographic backpack Fotopro TS-01
rain cover
4 compartments