Description
The Ldnio SE6403 is a modern power strip and USB charger in one. With six F-type AC mains sockets and four USB ports, you can power all your everyday electrical devices and charge the batteries in your smartphone, tablet or smartwatch. The power strip can operate between 100 volts and 250 volts, making it perfect for international travel. No matter what you plug into the extension cord, your equipment will be protected by the device's intelligent systems.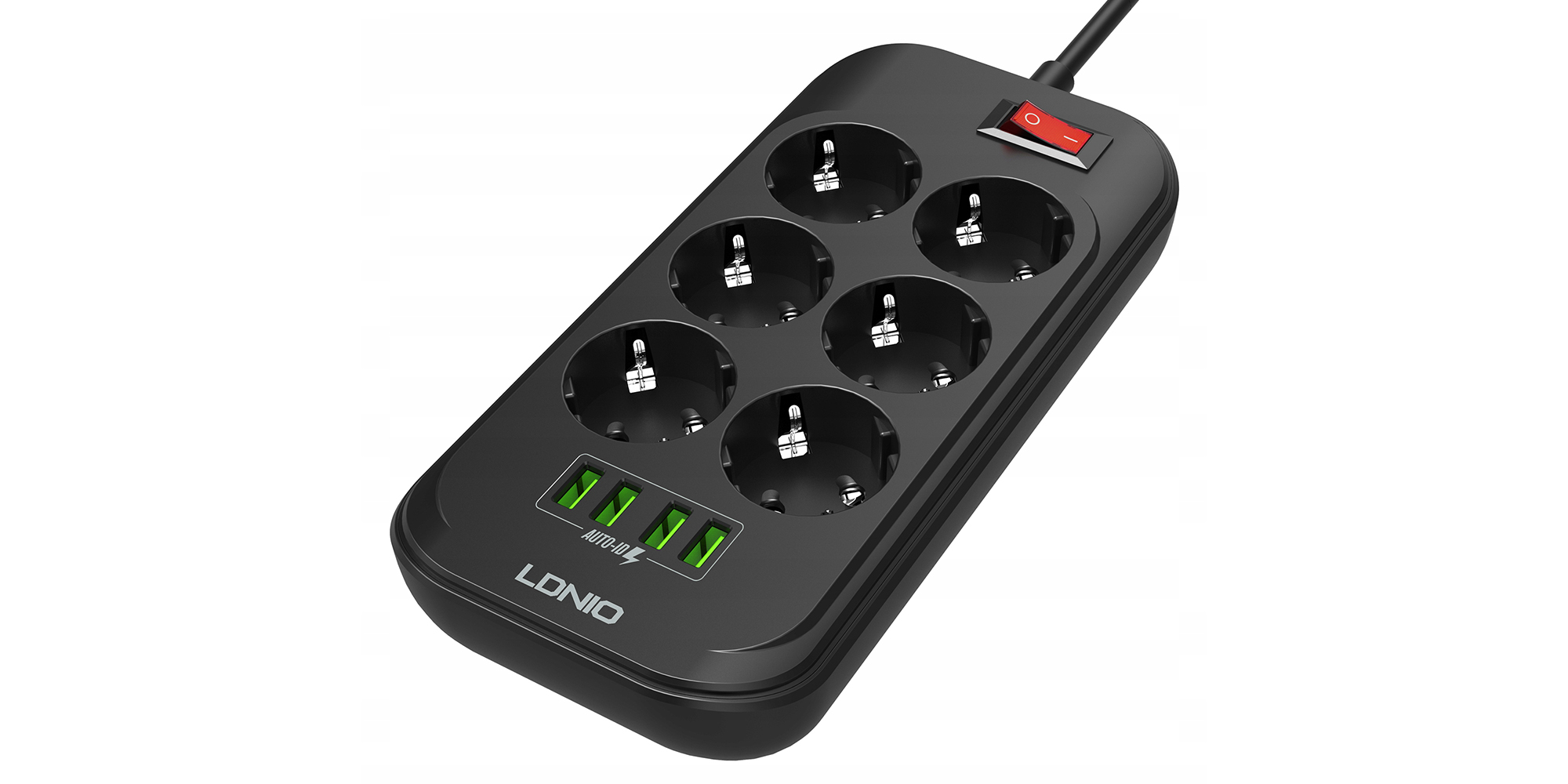 Six mains sockets
The power strip offers 6 F-type sockets, which will allow you to power all sorts of electrical devices encountered at home or in the office, from the computer, through the hairdryer or TV to the refrigerator. The sockets used in the power strip have been manufactured to high EU standards, guaranteeing wide compatibility, safe use and high reliability.
Four-channel USB charger
Ldnio SE6403 has been equipped with 4 USB type A ports with a voltage of 5 V and an amperage of 3.4 A, which will allow you to quickly and very importantly safely charge various mobile devices such as smartphones, tablets or smartwatches. The Auto-ID technology automatically detects the type of connected equipment, adapts the appropriate charging power to it and protects the equipment from overheating and overcharging.
2500 watts of power
The use of the best quality copper components and a 30% thicker cable than the competition allows simultaneous connection to the power strip of devices with a total power of up to 2500 watts.
Taking care of you and your home
The SE6403 extension cord guarantees the safety of the equipment connected to it, but also protects you and your home. The switch used in the power strip is IPX-rated, so you don't have to worry about electrocution if you happen to switch it on with a wet hand. The housing of the device has been made of fire-resistant PC material that can withstand temperatures of up to 700°C. This will protect your possessions from the unpleasant consequences of a possible short circuit.
Safe for children
Of course, we don't advise leaving electrical appliances within reach of small children, but in the event that a curious toddler disappears from your sight for a moment, you don't need to worry. The sockets of the Ldnio SE6403 strip are equipped with a special Child Safety Door mechanism, which blocks access to live components if a compatible plug is not present in the socket.
Convenience and usability
For convenient use, the power strip is equipped with a long – 2 metre – power cable, allowing you to place the strip where you need it. The illuminated switch will allow you to locate the devices even in the dark. The hole at the base of the device will allow you to hang it on the wall.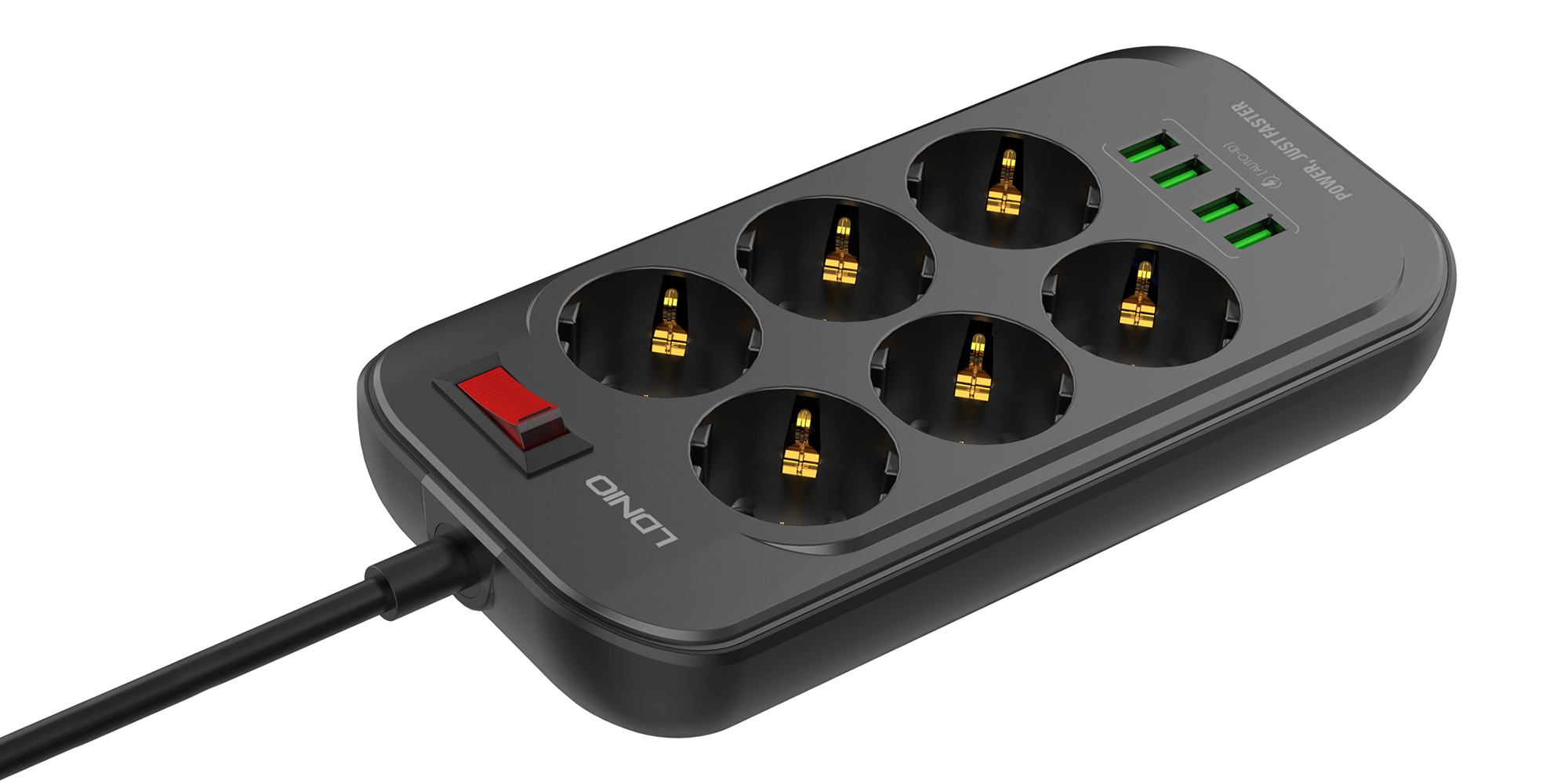 Specification
model: Ldnio SE6403
number of AC sockets: 6
type of socket: F
rating current: 10 A
rating voltage: 100 V – 250 V
rating power: 2500 W
number of USB ports: 4
USB socket current: 5 V; 3.4 A; 17 W
dimensions: 10.8 x 22.0 x 4.4 cm (without cable)
power cable length: 2 m
colour: black
Kit contents