Description
The Redleaf RD3019 Pro surveillance camera acts as a "photo trap" that automatically detects movement and instantly switches to photo or video recording mode. Thanks to the fast response time, you will not miss any game or intruder who entered your private area. The device is ideal for foresters, farmers, hunters, beekeepers and all wildlife enthusiasts who want to learn the secrets of the surrounding nature from a hidden perspective. The camera can be powered in three ways – "from the socket", using rechargeable batteries or rechargeable NiMH (AA). Thanks to the last two solutions, you do not have to worry about access to the mains when you want to install the device in the woods, by the water, in the fields or near farm premises. On one set of batteries or rechargeable batteries, the camera can operate in standby mode for up to 6 months! Thanks to infrared LEDs, videos and photos can be captured in total darkness from up to 20 meters away. The Redleaf RD3019 Pro surveillance camera will also allow you to conveniently control and access the media stored on the memory card from the app for Android and iOS smartphones. You just need to be at a distance of up to 13 meters from the device. Remote control will allow for comfortable access to settings and data, without removing the "photocouple" from the place where it is located.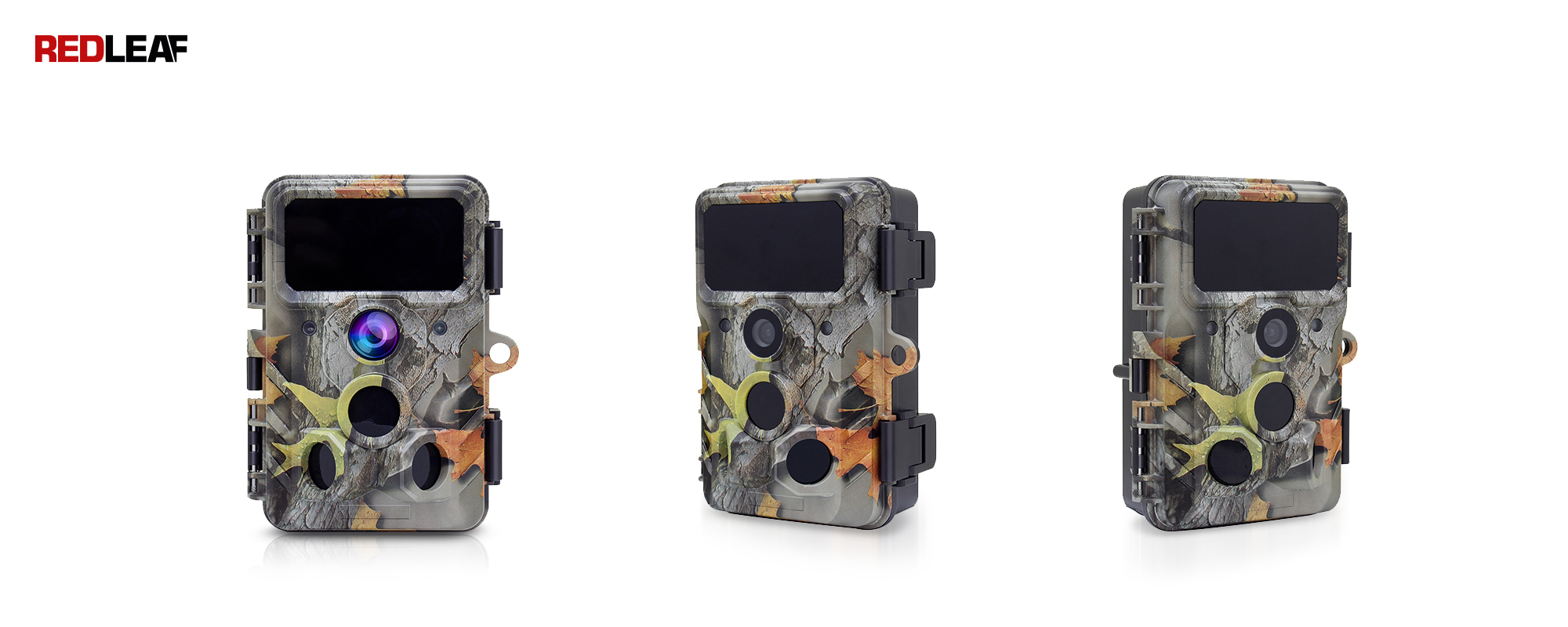 Main Product Features
3-zone motion sensor with 120° range
maximum 4K video resolution
maximum photo resolution of 30 MPX
maximum photo resolution of 30 MPX
ability to record videos and take pictures in the dark
included belt and mounting kit for convenient installation of camera on trees
powered by 8 AA batteries or 8 rechargeable NiMH batteries
built-in sensitive microphone
operates in a temperature range from -20°C to 60°C
a 2.4 x 2.5 mm screen
a 2.4″ screen for easy operation from the panel
a 2.4″ screen for easy operation from the panel
up to 6 months of continuous operation in standby mode
the ability to secure access to the phone
Possibility to protect data access with password
resistant to dust and strong water spray
image storage on Micro SD TF memory cards (up to 256 GB)
remote control and access to the camera's memory card
remote control and access to recorded multimedia via mobile application (Android/iOS)
application: forestry, timber supervision, surveillance of farms and crops, hunting, recreational observation of animals in their natural environment, observation of habitats, observation of animal migration, field research, surveillance of animal feeders, gardening, observation of plant growth, observation of fish ponds, monitoring of orchards and fields, control of illegal waste disposal in forests and poaching, as well as observation of lots, garages, parking lots and houses
Sensitive to any movement
The 3-zone motion sensor used in the Redleaf RD3019 Pro surveillance camera can capture motion within 120°. Such a wide angle will ensure that no animal passes by the device unnoticed. The sensor starts recording videos or taking pictures in just 0.3 seconds after motion is detected. This makes the device useful in places where you need a quick response time. The camera will detect movement both during the day and at night, ensuring high quality recordings and photos. With the help of the device you can also ensure round-the-clock monitoring of property or premises. Thanks to the watchful eye of the camera you will identify any intruder!
Listen to what's going on in the forest
If you want to discreetly record the sounds of animals in their natural habitat, choose the Redleaf RD3019 Pro surveillance camera equipped with a sensitive microphone for sound recording. With its help, you can easily capture the singing of birds, the nightly concerts of howling wolves communicating while hunting and the love songs of bulls calling doe. This feature will also help keep your property safe. If you use the camera to identify vandals or poachers, chances are the recorded sounds will help you more easily identify intruders who have trespassed on your property.
Up to 256GB for your videos and photos
You can put a Micro SD TF memory card of up to 256 GB in the Redleaf RD3019 Pro surveillance camera. This will allow you to archive photos and videos from weeks or even months. This will save you time that you would have to spend on frequent visits to the place where the camera is installed or regularly reviewing the saved footage and deleting those where you failed to capture anything interesting.
The beauty of nature in 4K quality
The 8-megapixel CMOS sensor that the Redleaf RD3019 Pro surveillance camera is equipped with allows you to record detailed videos and take high-quality photos that will impress with the amount of detail and high resolution. Are you looking for a way to identify an intruder who regularly dumps trash on your lot? Or maybe you want to take a close look at the habits of animals living in the nearby forest? The Redleaf RD3019 Pro surveillance camera will allow you to record large and clear photos with a resolution of 7392 x 4160. You can successfully print the images or develop them in a photo shop, maintaining the multitude of details, optimal pixel density and high quality. Thanks to 4K resolution, videos recorded with the camera will impress with their quality both when viewed on a smartphone and on a large TV. If you need to, you can turn your video frames into big, clear photos so you can easily recognise people's faces or analyse the colour of animals in the wild.
Up to 6 months of operation on 1 set of batteries
The Redleaf RD3019 Pro surveillance camera can be powered by LR6 (AA) batteries or rechargeable batteries. A set of 8 popular "sticks", which you can buy at almost any store or kiosk will allow for 6 months of continuous operation of the device in standby mode. During this time, photos or videos will be taken whenever motion is detected near the camera. You can conveniently check the battery and battery charge level from the mobile application that works with the device. And if you use the device near your farm and you can connect a cable to it, you will find an additional socket on the housing that allows you to use the power adapter.
The power adapter is not included and must be purchased separately if needed.
Not afraid of any rain
The Redleaf RD3019 Pro surveillance camera meets the IP66 standard, so it is not afraid of strong streams of water and dust. Thus, when you install it outdoors, you do not have to worry about roofing or additional protective measures. The sealed housing ensures proper operation of the camera both during a blizzard, heavy rain and during extremely hot days. The device can operate at temperatures ranging from -20°C to 60°C, so you can be sure that motion-activated monitoring will be effective in both summer and winter.
Night Infrared Photos
During the day, the Redleaf RD3019 Pro camera allows you to record detailed and colorful videos in 4K quality. After dark, the device automatically switches to night mode, which uses 40 infrared light emitting diodes. The camera then captures high-quality black-and-white video and stills in total darkness. The night sensor will work even if animals, people or any other source of motion appear within 20 meters of the device. Importantly, the infrared band is completely invisible to the naked eye. This prevents animals from being spooked by a traditional "flash".
Remote access from your smartphone
With Wi-Fi and Bluetooth wireless connectivity, you don't have to take the camera away from its location every time you want to check what photos and videos it has captured. All you have to do is get within a range of up to 13 meters from the device. The camera works with the "Hunting Camera 4K" mobile app, which works on Android and iOS smartphones. With its help you can remotely download files stored on the memory card or configure your "photo trap" according to specific needs. With this solution, the camera installed in an unusual location does not have to be dismantled each time you want to change its settings or get acquainted with the recorded material. The Redleaf RD3019 Pro surveillance camera can also be managed from the 2.4-inch IPS screen. If you don't care about remote access, you can also copy all the files to your computer using the included cable, which you connect via the mini USB port on the camera's housing.
Convenient mounting
Included with the Redleaf RD3019 Pro surveillance camera, you will find a special strap and a set of mounting accessories that will make it easy to install the device quickly and conveniently anywhere. This way you can be sure that the device will maintain its position for many months, even if it is installed high in a tree. The unique casing imitating forest camouflage will make the camera unobtrusive – both for forest inhabitants and intruders.
Protection and security
You can password protect access to the files and settings of the Redleaf RD3019 Pro surveillance camera. Even if third parties gain possession of the camera, without the code, they won't be able to see what data is on the media. However, that's not all. Thanks to the special holes located on the housing, you can also secure the device physically by using a padlock. Opening the sealed casing will be then much more difficult, which may discourage accidental people who find the camera e.g. in the forest.
Specification
Model: Redleaf RD3019 Pro
image:

image resolution: 30M: 7392 x 4160, 24M: 6544 x 3680, 20M: 5888 x 3312, 16M: 5376 x 3024, 12M: 4608 x 2592, 8M: 3840 x 2160, 4M: 2560 x 1440, 2M: 1920 x 1088
Video resolution: 4K (3840 x 2160 30fps), 2K (2560 x 1440, 30fps), 1296P (2304 x 1296, 30fps), 1080P (1920 x 1080, 30fps), 720P (1280 x 720, 30fps), 480P (848 x 480, 30fps), 368P (640 x 368, 30fps)
image sensor: CMOS, 8.0 MP (1/2.9″)
lens: F=4.3, F/NO=2.0, FOV=80°, auto IR filter
Motion response time: approx. 0.3 sec
sharpening: from 1m to infinity (day mode) / from 3 to 20 meters (night mode)
Display: 2.4″ IPS, 320×240 px (RGB)
recording format: JPEG (photos) / MPEG-4, H.264 (videos)

Sound

microphone: 48 dB with high sensitivity
speaker: 1 W, 85 dB

connectivity:

WiFi: 2.4 ~ 2.5 GHz, 802.11 b/g/n (up to 150 Mbps)
Bluetooth 5.0: 2.4 GHz (ISM band)

Motion sensor:

Central motion sensor range: 60°
Range of side sensors: 30° on each side
Total range of motion sensors: 120°
Sensor response: up to 20 meters
sensor sensitivity: 3 motion response modes (high, medium, low)
Sensor response.

power source:

8 AA (LR6) batteries / 8 rechargeable NiMH (AA) batteries with low self-discharge / 6V external power supply with minimum charging current of 1.5A
up to 6 months standby operation

night mode:

switching to night mode (infrared): automatic
IR illuminator: 40 LEDs (850 nm)
range: 20 m

protection rating: IP66 (completely resistant to dust and strong water spray from any direction)
connectors: Mini USB 2.0
mobile app compatibility: from iOS 9.0 / from Android 5.1
Support for Micro SD TF card: up to 256 GB
Compatibility with mobile app: from iOS 9 0 / from Android 5 5
Dimensions: 135 mm x 103 mm x 75 mm
Kit contents
Redleaf RD3019 Pro surveillance camera
mounting strap
Mounting accessory kit
Mounting accessory kit
USB A – Mini USB cable
Mini USB cable