Description
The Redleaf RD6300 LTE is a versatile Trail Camera with a photo trap function. With LTE connectivity, you just need to put a SIM card inside to become independent of cables and WiFi networks. Real-time viewing will be possible from your smartphone. The built-in motion sensor will respond within 0.4 seconds, and you will receive a notification in the app. Thanks to IR LEDs, recording can be done in total darkness. The camera is resistant to harsh weather conditions (IPX 5 standard). It allows operation in temperatures from -20°C to 60°C. One battery charge is enough for up to 6 months of use. There is also a microphone and speaker for two-way communication. Data from the camera can be stored on a micro SD card, in smartphone memory or in the cloud.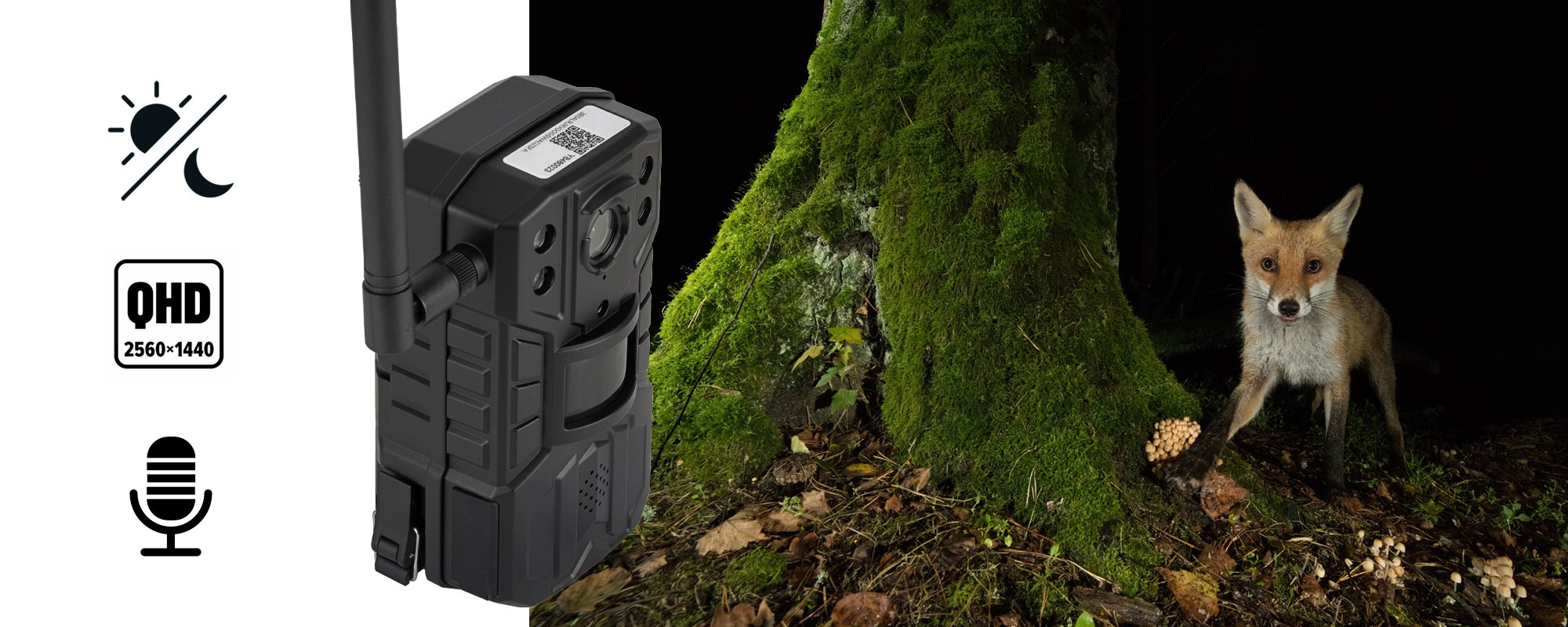 Main product features
A versatile Trail Camera offering LTE connectivity
applications: animal observation in the natural environment, habitat observation, animal migration observation, field surveys, animal feeder surveillance, horticulture, plant growth observation, forestry, hunting, timber surveillance, control of illegal waste disposal to forests and poaching, livestock and crop surveillance, fish pond observation, orchard and field monitoring, as well as observation of lots, houses, garages and parking lots
after installing a SIM card inside the device, you can establish wireless connectivity with the camera, regardless of WiFi access
equipped with a motion sensor that responds at 0.4 seconds
3 motion detector sensitivity modes
capable of recording video and taking photos in the dark
resistant to harsh weather conditions (IPX 5 standard provides complete protection against jets of water flowing from different directions, with a capacity of up to 12.5 liters per minute)
possibility to work in temperatures from -20°C to 60°C
3 18650 batteries (included) provide up to 6 months of operation on a single charge
power the camera or charge the batteries via USB-C port
built-in microphone and speaker for audio recording or two-way communication
free mobile app providing real-time viewing
possibility to save photos and videos on a micro SD card, in the memory of a connected smartphone or in the cloud
supports cards up to 128 GB
automatic video recording upon motion detection (from 5 to 30 seconds)
maximum video resolution is QHD (2560 x 1440 px)
maximum photo resolution is 5120 x 2880 px
save files in JPG and MP4 format
360º antenna for precise targeting
included belt and mounting kit for convenient installation of the camera on trees
included dowels, screws, and a movable head mount for precise installation of the camera on a flat surface
the kit also comes with a SIM card (EIOTCLUB) that provides 100 MB of mobile data transfer (to be used within 7 days of activation)
Wireless LTE connectivity
The Redleaf RD6300 LTE Trail Camera will provide you with a view of any place on Earth where cellular coverage reaches. By using a SIM card, you gain full independence from WiFi access, which opens up new monitoring possibilities. You don't have to take the device away from the places where it was installed every time you want to check what videos have been captured. Wherever you are, all you have to do is reach for your smartphone, open the app and check in real time what the camera's eye is currently capturing.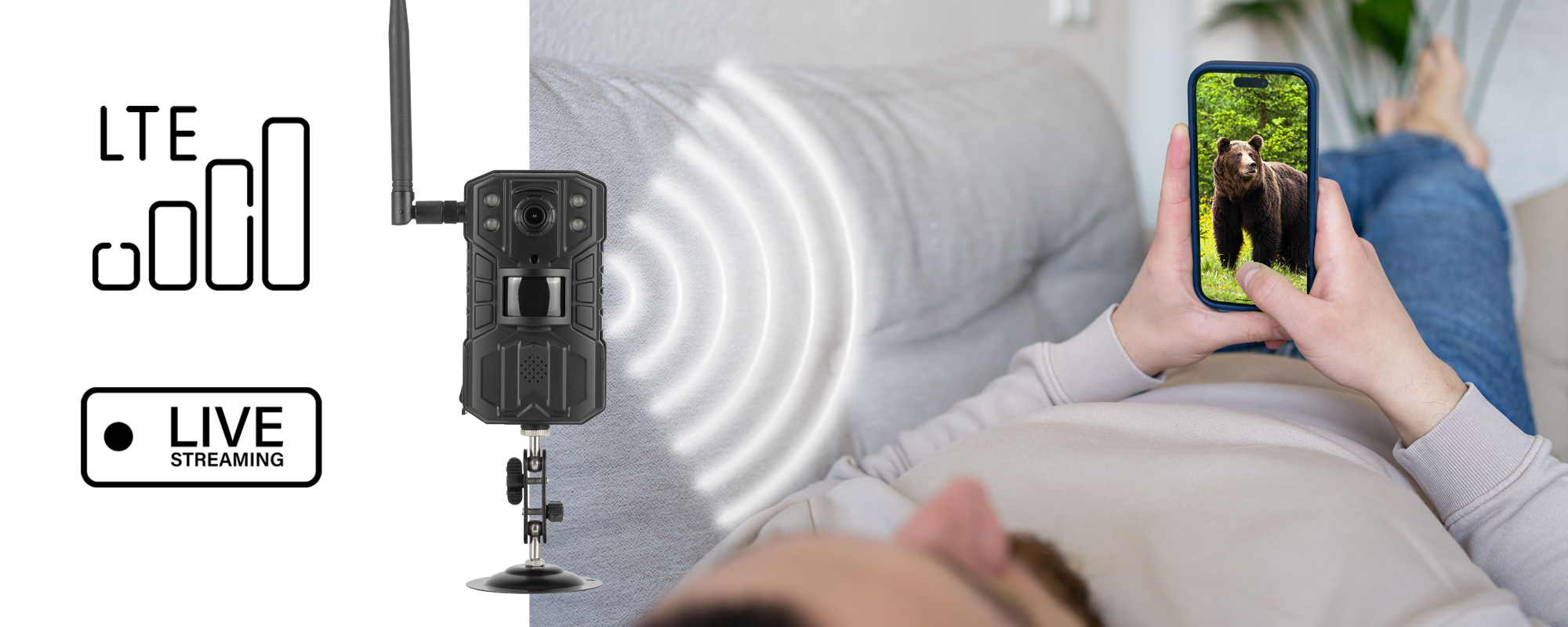 Smartphone app support
The Redleaf RD6300 LTE Trail Camera is compatible with the free Ucon mobile app, which you can conveniently download from Google Play or the App Store. It's not only the best way to view from your device. With its help, you'll start recording, take a photo or configure the photo trap to suit specific needs.
Sensitive to any movement
The motion sensor that the Redleaf RD6300 LTE Trail Camera is equipped with will work in just 0.4 seconds. As a result, the device will work well wherever you care about fast response time. The camera will successfully record video footage to identify animals that approach it both during the day and at night. With its help you will also ensure round-the-clock monitoring of your property or estate. The camera's watchful eye will ensure that no intruder passes unnoticed!
Beauty of nature in QHD resolution
Do you want detailed photos and videos that capture the beauty of the nature around you? Or are you looking for a way to identify an intruder who regularly dumps trash in a nearby forest? Thanks to the QHD resolution, you can enjoy the great quality of the captured video footage. The Redleaf RD6300 LTE Trail Camera will also allow you to take large and clear photos at 5120 x 2880 px resolution.
Two-way audio transmission
Using a sensitive microphone, the Redleaf RD6300 LTE camera will allow you to discreetly record the sounds of animals in their natural habitat. With its help, you will easily capture on recordings the singing of birds, night concerts of howling wolves and love songs of bulls calling doe. The device also has a built-in speaker. No matter where you are, when an unauthorized person approaches the camera, you can react quickly and strike up a conversation with the intruder in real time, using your smartphone.
Redleaf RD Trail Camera
The Redleaf RD6300 LTE Trail Camera meets the IPX 5 standard, so you can use it even in a heavy downpour. When you install it outdoors, you don't have to worry about a canopy or additional protective gear. The sealed housing will ensure proper operation of the camera both during a snow blizzard, heavy rain and during extremely hot days. This is because the device can operate at temperatures from -20°C to 60°C.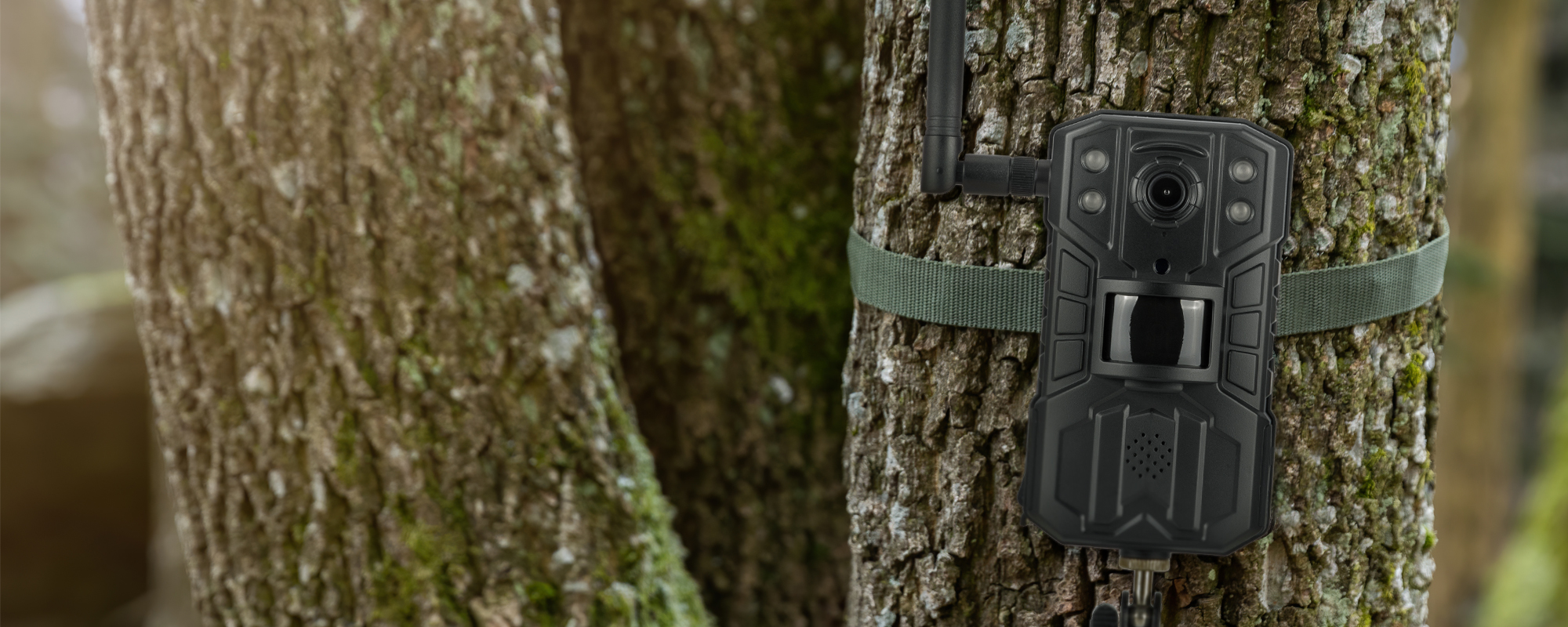 Excellent visibility even at night
During the day, the Redleaf RD6300 LTE camera will provide colorful images for your videos and photos. After dark, you can use the night mode, which is supported by state-of-the-art infrared band LEDs. The camera then captures black and white video footage and photos, even in total darkness. Importantly, the infrared band is completely invisible to the naked eye. This prevents animals from being frightened by the traditional "flash".
6 months of operation on a single charge
Included with the Redleaf RD6300 LTE camera you will find 3 replaceable 18650 batteries with a capacity of 2500 mAh each. Fully charged cells will provide up to this 6 months of operation of the photocamera. During this time, photos or videos will be taken whenever motion is detected near the camera. You can conveniently check the battery and battery charge level from the mobile app. And when the batteries run low, simply reach for the USB-C cable and recharge the batteries without removing them from the photobooth.
Up to 128GB of space for your videos and photos
Under a sealed cap, next to the SIM card slot, you'll find a micro SD card port. The device supports media with a capacity of up to 128 GB. This will allow you to archive photos and videos from weeks or even months. It's ideal if you don't want to miss any activity the camera has recorded.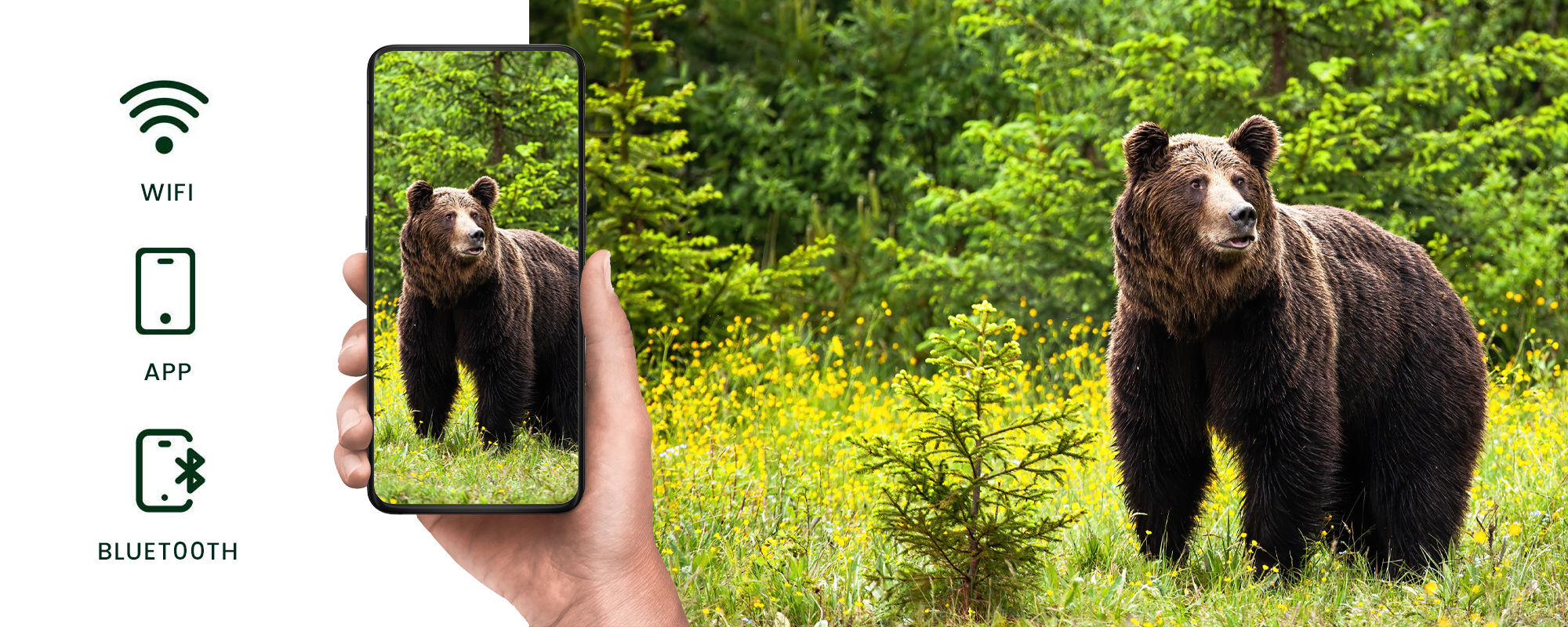 Storage of recordings in the cloud
Recordings captured with the Redleaf RD6300 LTE camera can be accessed from anywhere on Earth. All thanks to the cloud, where you can store them. Memory card failure or unexpected disappearance of the camera from the place where it was installed will not thwart your plans. Just launch the Ucon app, where you can find all your recordings. Storing videos in the cloud is not only security, but also convenience – you have easy access to them – anywhere and anytime.
After the expiration of the one-month trial period, access to the cloud requires the purchase of a subscription.
Convenient installation system
Included with the Redleaf RD6300 LTE Trail Camera you will find a set of mounting accessories to make installation quick and convenient. A special strap, which you will pull through the holes located on the device's housing, will allow you to easily place the photo trap on a tree trunk. The wall mount and special head with 1/4″ thread is the ideal choice when you want to attach the camera to the wall and orient the lens in a precise way.
SIM card included
A prepaid SIM card is also included, allowing you to test the camera right out of the box. It works on the EIOTCLUB network and is designed for the European market. After the first few days of use, you'll decide for yourself whether you want to recharge it or prefer to use any of the domestic mobile internet providers.
AFTER YOU ACTIVATE THE SIM CARD, YOU WILL RECEIVE 100 MB OF DATA TRANSFER (TO BE USED WITHIN 7 DAYS OF ACTIVATION). AFTER THAT TIME IS OVER, THE ACCOUNT MUST BE RELOADED OR USE YOUR OWN SIM CARD FOR MOBILE LTE INTERNET ACCESS.
Specification
model: Redleaf RD6300 LTE
waterproof class: IPX 5
communication: 4G (LTE)
response time: 0.4 seconds
Max resolution:

photos: 5120 x 2880 px
films: 2560 x 1440 px

File storage format:
supported memory cards: micro SD (up to 128 GB, speed class 10 or faster)
charging port: USB-C
power supply: 3 replaceable 18650 batteries (3.7V, total 7500 mAh)
max. operating time on a single charge: 6 months (with about 10 camera wake-ups per day)
microphone: built-in
speaker: built-in
processor: T31
camera sensor: GC4653
allowable operating temperature: -20 – 60ºC
allowable storage temperature: -30 – 65ºC
Dimensions: 80 x 70 x 139 mm
weight: 205 g (without batteries)
Kit contents
Redleaf RD6300 LTE Trail Camera
3 18650 batteries (2500 mAh)
mounting kit (dowels + screws)
head with 1/4″
SIM card (EIOTCLUB)
USB-A / USB-C cable
wall mount
mounting strap
antenna