Description
The Redleaf RD7000 WiFi Solar Panel Trail Camera is a "photo trap" device that allows you to record videos and take pictures when motion is detected. It is ideal for hunters, beekeepers, foresters, farmers and all nature lovers who want to observe animals in their natural environment. The camera does not require access to a power outlet, so installation in the forest, by the water, near the farm, in the fields or in any other place where access to traditional power sources may be difficult is not a problem. The device is powered by solar energy or traditional "sticks". This solution will provide up to 18 months of continuous operation! Observation camera Redleaf RD7000 WiFi will allow for round the clock monitoring available from the smartphone application. Thanks to infrared LEDs it is also possible to record videos and take pictures in total darkness from a distance of up to 20 meters! The materials will be saved on a memory card, and remote access (from a maximum distance of 13 meters) will allow you to view them without having to remove the "photo trap" each time from the place where it was installed.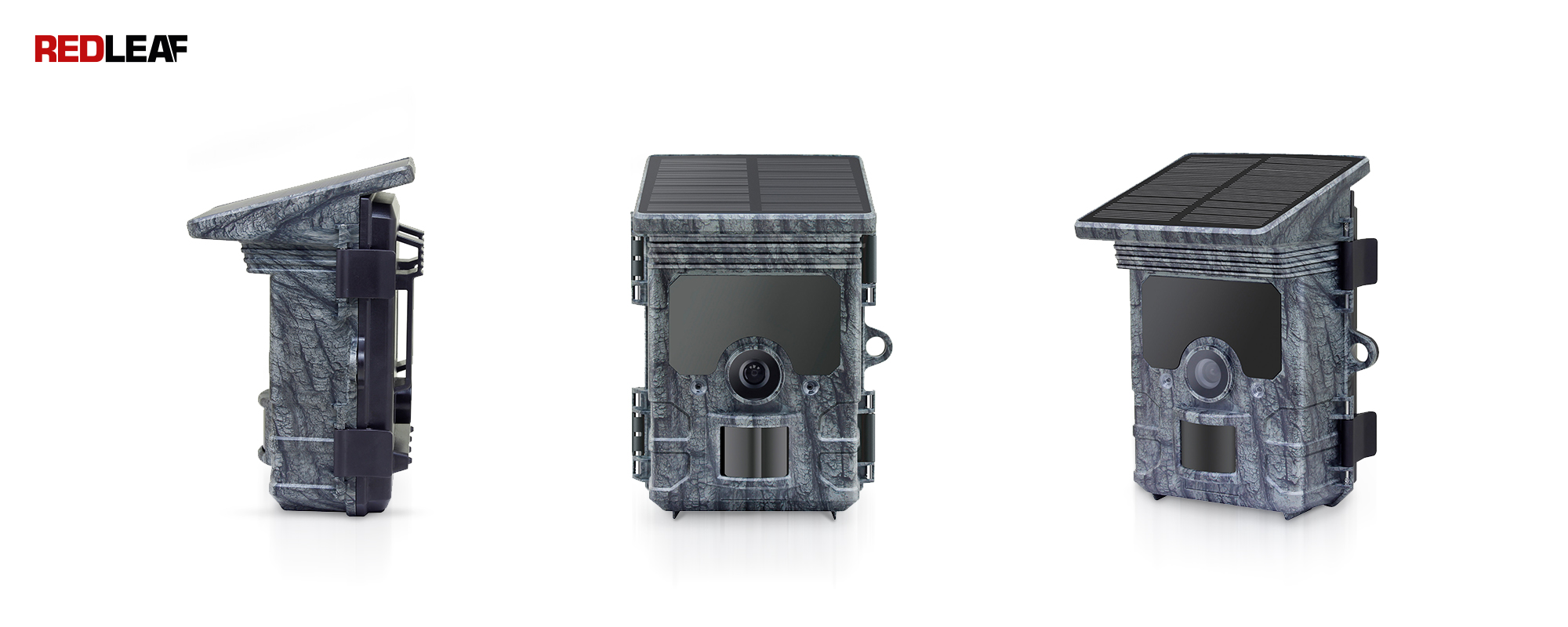 Main Product Features
maximum 2K FullHD video resolution
maximum photo resolution 30 MPX
powered by solar power or 4 AA batteries
motion detection
motion detection working in the range of 60°
could record video and take pictures in the dark
Recording of images on Micro SD TF memory cards (up to 256 GB)
remote control and access to the camera
remote control and access to recorded multimedia from mobile application
built-in microphone
a 2″ screen for easy operation from the panel
a built-in microphone
ability to protect access to data with password
operation at temperature from -20°C to 60°C
resistance to dust and dirt
operation at temperature from -20°C to 60°C
resistance to dust and strong water jets
recording capability
ability to record video in a loop
"time lapse" mode
applications: recreational observation of animals in the wild, habitat observation, animal migration observation, field research, surveillance of animal feeders, gardening, plant growth observation, forestry, hunting, timber surveillance, control of illegal waste disposal to forests and poaching, surveillance of farms and crops, fishpond observation, monitoring of orchards and fields, as well as observation of lots, houses, garages and parking lots
High quality videos and pictures
Do you want detailed photos and videos that capture the beauty of the nature around you? Do you want to have a close look at the animals visiting your plot? Or maybe you are looking for a way to identify an intruder who regularly dumps trash in the nearby forest? Thanks to its 2K Full HD resolution, you can enjoy great quality video footage that will impress with plenty of detail, whether you're watching it on your smartphone or on a large TV. The Redleaf RD7000 WiFi Solar Panel Trail Camera will also allow you to record large and clear photos at a resolution of 7392 x 4160. Such images can be successfully printed or developed at a photo shop, while maintaining optimal pixel density, multitude of details and high quality.
Capture all movement around the camera
The sensor that the Redleaf RD7000 WiFi solar panel Trail Camera is equipped with will work in just 0.3 seconds. This makes the device useful wherever you want fast response time and identification of even the smallest source of motion. The camera will record videos and take pictures of any animal that approaches it, both during the day and at night. With its help you will also ensure round-the-clock monitoring of your property or premises. The watchful eye of the camera will make sure that no intruder passes unnoticed!
Not only video, but also sound!
High-quality videos recorded with the Redleaf RD7000 Trail Camera is not only high-quality images, but also sound, which will record a highly sensitive microphone installed inside the device. If you want to hear "what's squeaking in the woods," there's no better way to capture birdsong, the love songs of bulls calling doe, and the nightly concert of wolves communicating while hunting. If you'll be using the camera to identify vandals or poachers, chances are the recorded sounds will further help identify the intruders.
Memory Card Recording
The Redleaf RD7000 Trail Camera features a Micro SD TF memory card slot. The device supports data carriers with a capacity of up to 256 GB. This will allow you to archive videos and photos from many weeks or even months! This way you don't have to regularly visit the camera's location to delete unwanted media. If necessary, you can also use the loop recording mode, which automatically overwrites old files, just like a car camcorder.
Solar powered camcorder
A solar panel built into the body of the device powers a 4400 mAh lithium battery, so you don't have to worry about replacing batteries regularly. Just install the camera in a place that will allow it to charge the cells on its own! If you're mounting it in the woods and are worried about sunlight reaching it, nothing is lost. The Redleaf RD7000 Trail Camera will also install 4 traditional AA "stick" batteries. The combination of two power sources will ensure efficient operation of the device for up to 18 months!
Excellent visibility also at night
Thanks to the use of 40 infrared light emitting diodes, it is possible to record high-quality black and white video and stills in total darkness. The night-vision detector will work even if any movement occurs up to 20 meters from the device. Importantly, the infrared band is completely invisible to the naked eye. As a result, the camera will not frighten animals, as could happen with a traditional "flash".
Waterproof-case
With the Redleaf RD7000 Trail Camera, you don't have to worry about canopies or special protective conditions. The device meets the IP66 standard, so it is not afraid of dust and strong streams of water. The sealed housing will ensure proper operation of the camera both in the pouring rain, blizzard, and during extremely hot days. The device can operate in temperatures from -20°C to 60°C, so you can be sure that motion-activated monitoring will be effective all year round.
Wireless WiFi and Bluetooth connectivity
With the Redleaf RD7000 Trail Camera, you don't have to take your device away from the locations every time you want to check what pictures and videos have been captured. Use the "Hunting Camera 4K" mobile app for iOS and Android smartphones to control the "photo trap" and download files stored on the memory card using Wi-Fi or Bluetooth connectivity from up to 13 meters away. You can also control the device from the built-in 2-inch screen, and copy data to your computer using the included USB cable. It's up to you which solution is more convenient for you!
Secure your videos and photos
With the Redleaf RD7000 Trail Camera you can be sure that saved photos and videos will not fall into the wrong hands. You can protect access to files and settings of the device with a password. Even if third parties come into possession of the camera, without entering the code, you will not be able to check what data is on the media. If you want to provide additional protection against thieves, you can also secure the device with a padlock. Special holes will allow you to fasten it in such a way as to make it difficult to open the housing and access to the control panel and memory card.
Convenient installation
Included with the Redleaf RD7000 WiFi solar panel Trail Camera, you will find a special mounting strap that will make it easy to install the device quickly and conveniently. By attaching the device with its help (e.g. to a tree) you can be sure that it will keep its position for many months. A special casing imitating a forest camouflage will additionally help to maintain discretion and make the camera unobtrusive – both for intruders and forest inhabitants.
Specification
image:

image resolution: 30M: 7392 x 4160, 24M: 6544 x 3680, 20M: 5888 x 3312, 16M: 5376 x 3024, 12M: 4608 x 2592, 8M: 3840 x 2160, 4M: 2560 x 1440, 2M: 1920 x 1088
Film resolution: 2K (2560 x 1440, 30fps), 1296P (2304 x 1296, 30fps), 1080P (1920 x 1080, 30fps), 720P (1280 x 720, 30fps), 480P (848 x 480, 30fps), 368P (640 x 368, 30fps)
Motion response time: approx. 0.3 s
sharpening: from 1m to infinity (day mode) / from 3 to 20 meters (night mode)
display: 2.0″ IPS, 320×240 px (RGB)
lens: F=4.3, F/NO=2.0, FOV=80°, automatic infrared filter
recording format: JPEG (photos) / MPEG-4, H.264 (movies)

Sound

microphone: 48 dB with high sensitivity
speaker: 1 W, 85 dB

connectivity:

WiFi: 2.4 ~ 2.5 GHz, 802.11 b/g/n (up to 150 Mbps)
Bluetooth 5.0: 2.4 GHz (ISM band)

Motion sensor:

Central motion sensor range: 60°
Sensor response: up to 20 meters
sensor sensitivity: 3 motion response modes (high, medium, low)
Sensor response.

power source:

solar panel (4400 mAh lithium battery) / 4 AA batteries (LR6)
up to 18 months of continuous operation

protection rating: IP66 (completely resistant to dust and strong water spray from any direction)
connectors: Mini USB 2.0
mobile app compatibility: from iOS 9.0 / from Android 5.1
Support for Micro SD TF cards: up to 256 GB
Switching to USB port
switching to night mode (infrared): automatic
dimensions: 143 mm x 107 mm x 95 mm
Kit contents
Redleaf RD7000 WiFi solar panel Trail Camera
mounting strap
USB A – Mini USB cable
Mini USB cable